Mexican Chicken Casserole is everything you want in a weeknight recipe: quick, easy and delicious! With lean chicken, healthy veggies, and perfectly balanced zesty flavor… this one pan meal will definitely be making a regular dinner time appearance!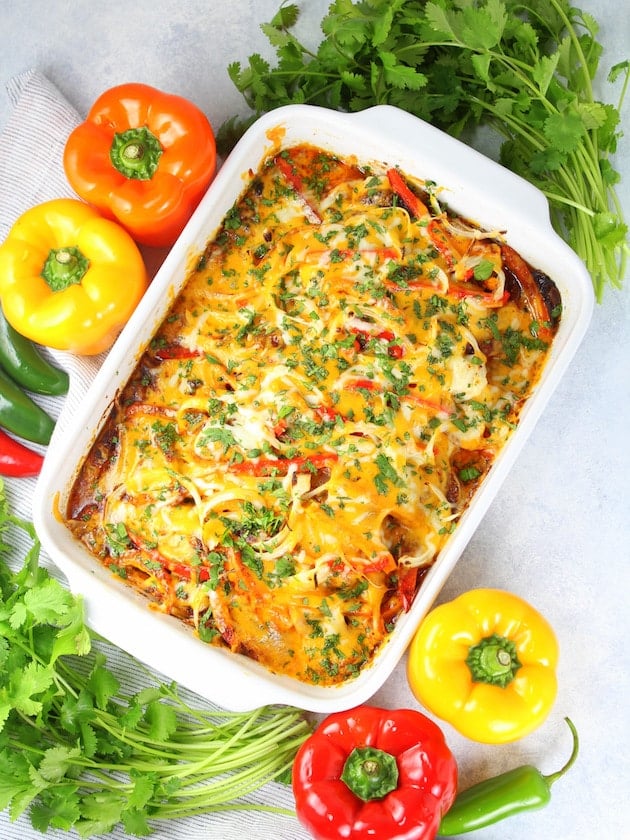 Hey hey, my people! Hoppy Easter! (Get it? Just a little Easter humor for ya.)
Well, surprise, surprise – todays' recipe has absolutely nothing to do with Easter. At all.
Well, except that I guess it's my Easter present to you. And what a gift it is my friend. This Mexican Chicken Casserole is not only ridiculously easy and insanely delicious but it's also quite healthy. It's low calorie, moderately low carb, gluten free, full of lean protein, and brimming with lots of nutritious veggies. I'm sure it's gonna be on repeat in your weekly meal plan menu from now until forever.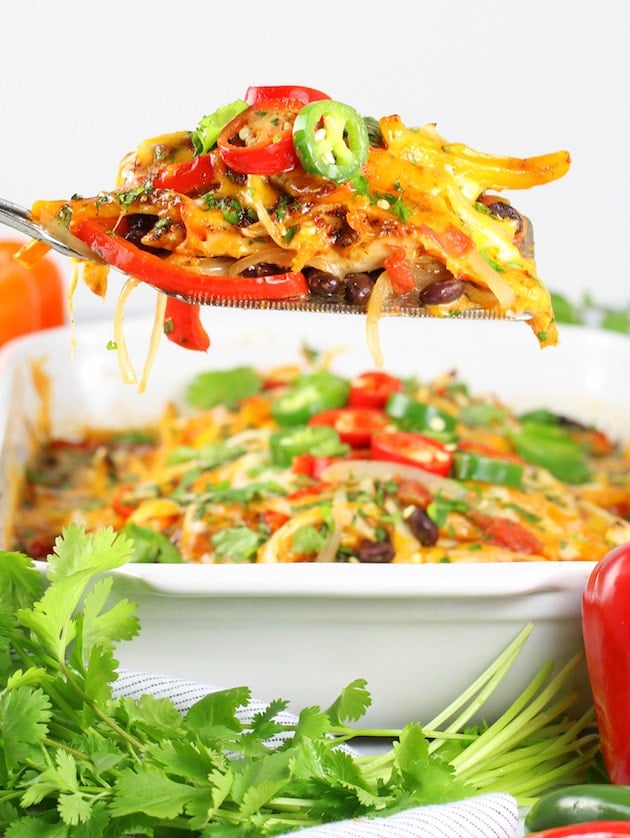 As you know I'm all about some easy weeknight meals. But for me they need to not only be easy, but also mostly healthy and super tasty. I do believe we can have it all.
Case in point… today's recipe. Mexican Chicken Casserole! Nailed it!
This recipe was inspired by my Low Carb Ranch Chicken Casserole. I kept thinking, "there has to be another version of this yumminess I can create…" and here it is.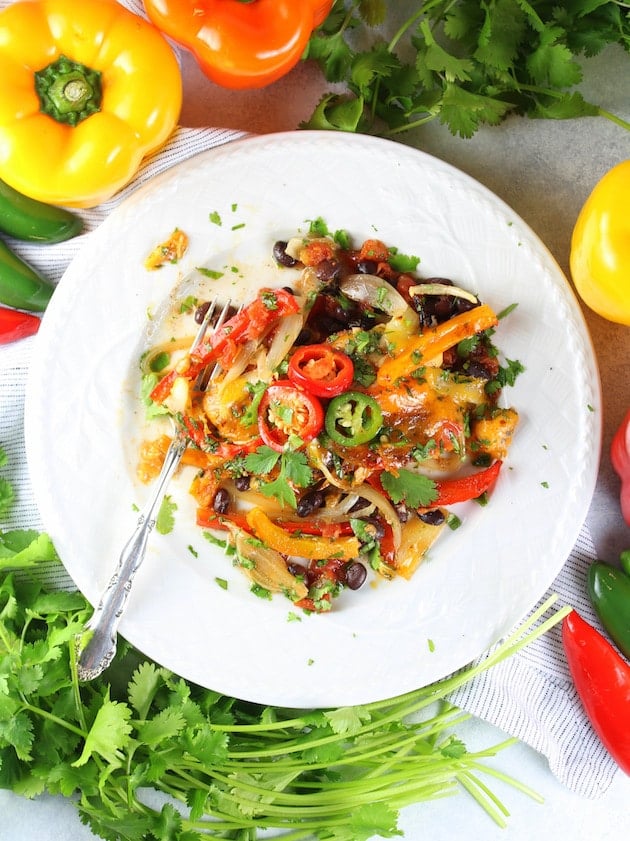 Wondering what can accompany this casserole to round out the meal? Here are a few suggestions to get you started…
What to serve with a Mexican Casserole:
Serve over some quinoa, rice, or cauliflower rice.
Serve with warm tortillas and make tacos.
Add some corn to the casserole or serve a yummy corn salad on the side.
Swap out the chicken for cooked ground beef.
Top each portion with some tortilla strips or chips for some added crunch.
Top with some black olives, jalapenos, cilantro, onions, tomatoes or avocado.
Make it truly low carb just by omitting the black beans.
Skip the black beans in the casserole and make these AMAZING "refried beans" on the side.
Or bring on the chips and salsa, guacamole and you'll have one muy bueno fiesta on your hands.
There are just so many delicious ways to enjoy this zippy meal. You've probably thought of three more variations I didn't even mention. I'd love to hear from you on how you made this recipe your own. Be sure to comment below and tell me all about it!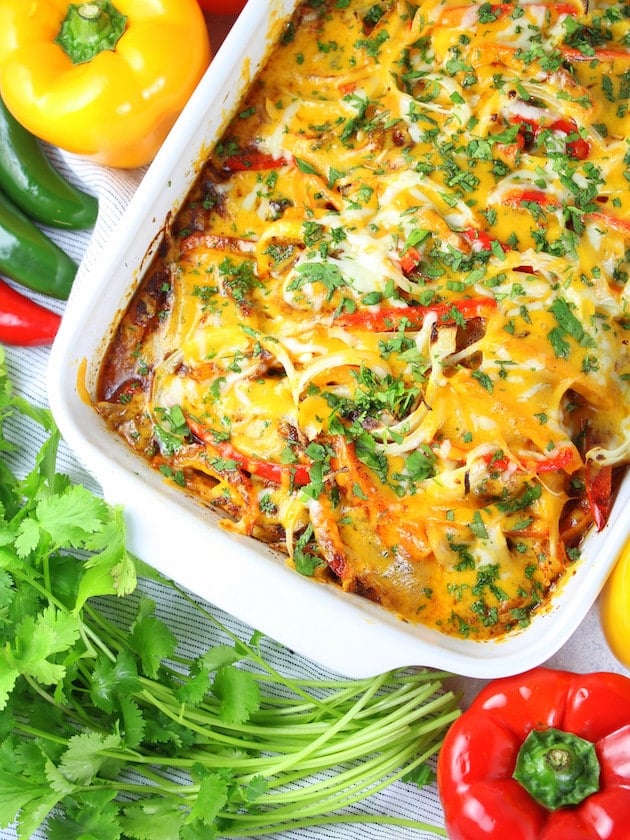 How to make Mexican Chicken Casserole:
First, spray a little cooking spray in the bottom of a 9×13 pan. Next, add your black beans, a can of Rotel, chicken tenders, a little homemade taco seasoning, peppers and onions, even more homemade taco seasoning, and finally the cheese. Bake covered for about 35 minutes on 350 and enjoy!
See? Easy peasy, right!? Annnnd amazingly delicious!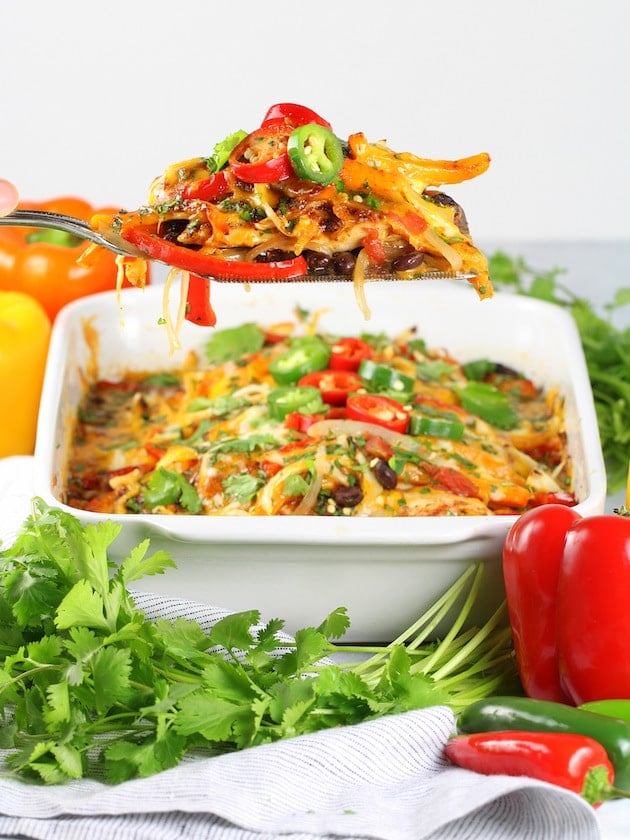 The veggies are just a bit al dente and the chicken is tender and juicy. The seasoning gives it all the perfect amount of zesty flavor. And the cheese coats all this yumminess with a tasty creamy topping. Mmm, just so good.
With such a quick and tasty one pan meal you'll be enjoying this Mexican Chicken Bake on repeat from now till forever!
I would love to connect with you! Leave me a comment and follow me on Facebook, Instagram, Pinterest, and Twitter!
Yield: 5
Mexican Chicken Casserole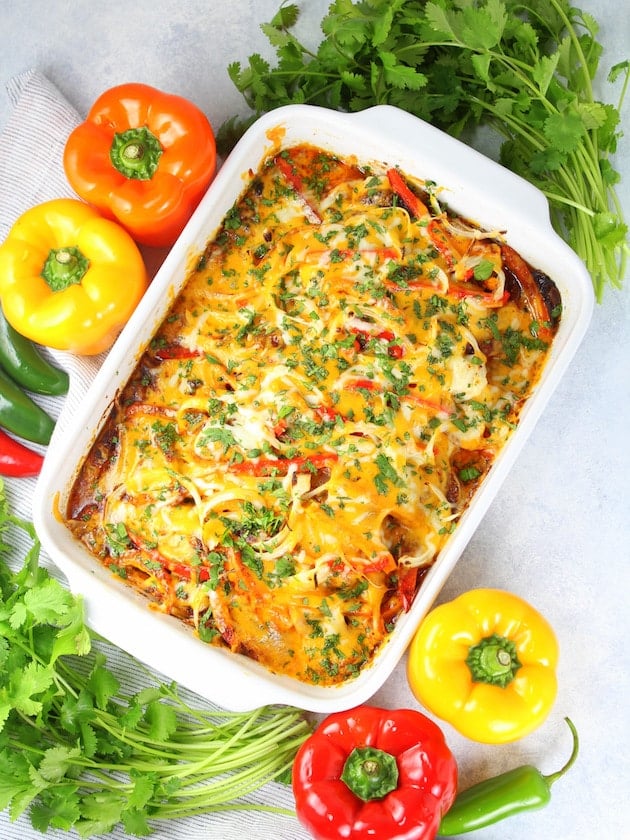 Mexican Chicken Casserole - With lean chicken, healthy veggies, and perfectly balanced zesty flavor… this one pan meal will definitely be making a regular dinner time appearance!
Ingredients
For The Taco Seasoning:
2 teaspoons chili powder
2 teaspoons smoked paprika
1 teaspoon oregano
1 teaspoon garlic powder
1 teaspoon cumin
1 teaspoon salt
1/2 teaspoon pepper
1 pinch cayenne (optional)
For The Casserole:
14.5 ounces black beans, drained & rinsed
14.5 ounces Mild or Original Rotel, juices strained and discarded, (canned tomatoes & chilies - see Note below)
1.5 pounds chicken tenders
2 sweet peppers (yellow, orange or red),, thinly sliced
1 large onion , thinly sliced
8 ounces cheddar cheese or Mexican cheese blend, shredded
Garnish with your favorite toppings: cilantro leaves, avocado, guacamole, green onions, jalapeños, sour cream, salsa or salsa verde
Instructions
Preheat oven to 350F.
In a small bowl, combine all ingredients for homemade taco seasoning then set aside.
Spray cooking spray in the bottom of a 9x13 pan.
Add black beans, cover with a can of Rotel, then layer the chicken tenders on top, spaced evenly.
Sprinkle on half of the taco seasoning, followed by the peppers and onions, and then sprinkle on the rest of the taco seasoning. Cover evenly with shredded cheese.
Bake covered for 35-40 minutes, until the veggies are still a little al dente and the chicken temp reads 165F or higher. Garnish and enjoy!
Notes
Rotel can be found near the canned tomatoes or in the international aisle of the grocery store.  I used the mild version of Rotel for this recipe, for a spicier dish use the original Rotel.
Nutrition Information
Yield
5
Serving Size
8-9 ounces
Amount Per Serving
Calories

482
Total Fat

19g
Saturated Fat

10g
Unsaturated Fat

0g
Cholesterol

134mg
Sodium

997mg
Carbohydrates

27g
Fiber

9g
Sugar

3g
Protein

48g
Looking for more amazing Easy Mexican Food Recipes?
Shredded Mexican Chicken (Instant Pot & Slow Cooker!)