These Homemade "Refried" Beans are creamy and cheesy and bursting with flavor.? They aren't really fried at all but they might as well be, 'cause they taste so stinkin' good!! Like eating hot French fries, onion rings, or a corn dog at the state fair.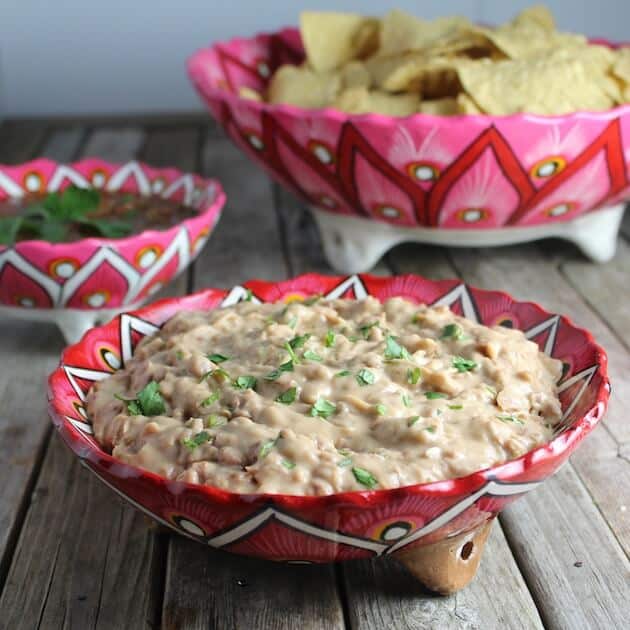 I stumbled onto the recipe while we lived in Virginia several years ago. I was getting my hair cut and highlighted like I do. Christina my stylist was filling me in on important things that had happened since we were last together. Her son getting ready to go off to college, parties or events she had attended and of course the most important topic of all…the food she had been eating! Let me just insert here she was from Arizona and her family is Mexican. Like making homemade tortillas for breakfast – Can you even imagine!
She started talking about the dinner she had made the night before…my ears perked up…homemade refried beans in the crockpot. Ahh, wait, wha? Just think about that for a minute…warm homemade tortillas being dipped into cheesy beany yumminess. Yes please, right now please.
She went on to explain how her daughter liked to scoop out a bowl of beans and broth before they were mashed and eat them like soup. And yes – my mouth was watering (more like drooling) back then and again now! I had to ask her to pause the conversation and I got up to grab a pen and paper. Who cares about my highlights – I must have these beans in my life!! (What can I say? I'm totally dedicated to my craft…of eating.)
I must tell you, to this very day, I have the yellow steno pad paper with my chicken scratch of a recipe all over it. I'm surprised it hasn't been framed and hung over the fireplace. See exhibit A.
Christina went on to explain that when the beans are cooked you ladle off some of the chicken broth and then mash them with a potato masher. Then mix in some evaporated milk, keep mashing, add more milk if needed and then add the chunks of cheddar cheese. Stir it and watch that cheese stretch into long yellow salty ribbons throughout the beans…some of it dissolving into the mixture while the rest of it just takes its time melting – leaving behind small, warm melty ooey cheddar cheese gobs. (Ok, I may have embellished a bit from my own personal experience in that last sentence.)
Anyway the beans are one of the best Mexican recipes I own. They always turn out delicious and there's absolutely no frying required. Bonus!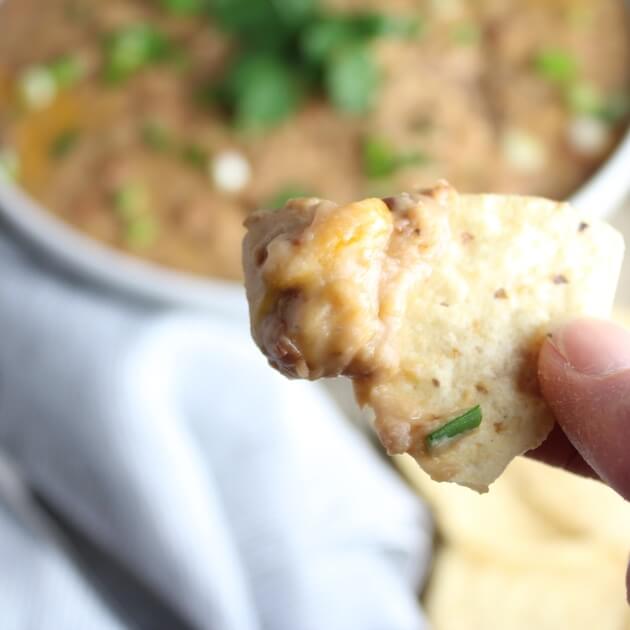 Over the years I've shortened the cook time by using canned pinto beans and cooking them on the stove. Less time waiting for beans to cook and more time stuffing my face. Are you pickin' up what I'm layin' down!
I vary the amount of beans based on how many people I'm serving or how many days I want to eat them. Four cans always seems like a good number – enough to share with others and still have leftovers. Hallelujah!
I would just like to point out that this is not the first time my hair stylist has provided me with invaluable information. Remember the "cooking with oil" post? Just pointing out that we all benefit from our stylists in countless ways: life-preserving health tips, crazy great recipes, AND of course they make us look good! These are all sound claims to bring up when your significant other is complaining about the fact that you're basically making a car payment to your hair person every time you go. Just saying. We patrons have to stick together.
These Homemade Beans are so incredibly delicioso you'll never eat out at a Mexican restaurant again. And don't be surprised if your friends just so happen to start showing up at your house on Taco Tuesday… or if the local Mariachi band asks if they can start holding practice at your house!? Buen apetito!
Yield: 10 servings
Homemade "Refried" Beans
Homemade Refried Beans with onions, garlic, evaporated milk, and cheddar... Ooey-gooey melty cheesy creamy perfection!
Ingredients
60 ounces canned Pinto beans (four 14.5 ounce cans)
1 large onion, chopped
4 cloves garlic, minced
1 teaspoon salt and pepper, (more to taste if needed)
2 tablespoons olive oil
1/2 cup evaporated milk
2 cups chicken stock
8 ounces cheddar cheese, cut into 1-inch cubes
Instructions
Drain and rinse 4 cans of pinto beans.
Add some olive oil to a large sauce pot on medium-high heat, and sauté chopped onion for 6 minutes. Sprinkle with salt and pepper. Stir in minced garlic and cook for another minute.
Add in your beans, 2 cups of chicken stock and ½ teaspoon both salt and pepper. Put the lid on and let it come up to a boil, then turn it down to medium-low for about 30 minutes.
Take off the lid and bring it back up to medium or medium-high to cook off some of the liquid, for about 10 minutes. Stir regularly so the beans don't burn on the bottom.
Turn off the heat, and let the beans cool about 5 minutes. Then mash the beans with a potato masher.
Add half of the evaporated milk and continue mashing until the beans are creamy. Toss in the cheddar cheese, do not stir and let the beans rest for 5 minutes. Add in the rest of the evaporated milk and stir gently. Ideally leave some of the melted cheese in very small chunks or ribbons. Serve warm.
Notes
These Homemade Refried Beans can also be made from dried pinto beans in the slow cooker. Here's how: Rinse dried beans and remove any that look questionable. Add all the same ingredients (swapping out dried beans for the canned beans), set your crock pot on low for 7-8 hours. You will need to add extra chicken stock or even water. Make sure the liquid comes up over the beans by 1-2 inches. You will need drain some of the liquid off before smashing them. When beans are tender smash, add your milk,and smash some more. Add the cheddar cheese chunks and stir. Taste and see if you need to add more salt and pepper. Enjoy!
Nutrition Information
Yield
10
Serving Size
4-6 ounces
Amount Per Serving
Calories

297
Total Fat

13g
Saturated Fat

6g
Trans Fat

0g
Unsaturated Fat

6g
Cholesterol

28mg
Sodium

805mg
Carbohydrates

31g
Fiber

8g
Sugar

5g
Protein

15g
This nutrition card uses an estimate provided by an online nutrition calculator. This estimate is not a substitute for a professional nutritionist's advice!