We've pulled together 10 Awesome Holiday Gift Ideas For Under $50!  Anyone who loves food, entertaining, or grilling will love these gifts!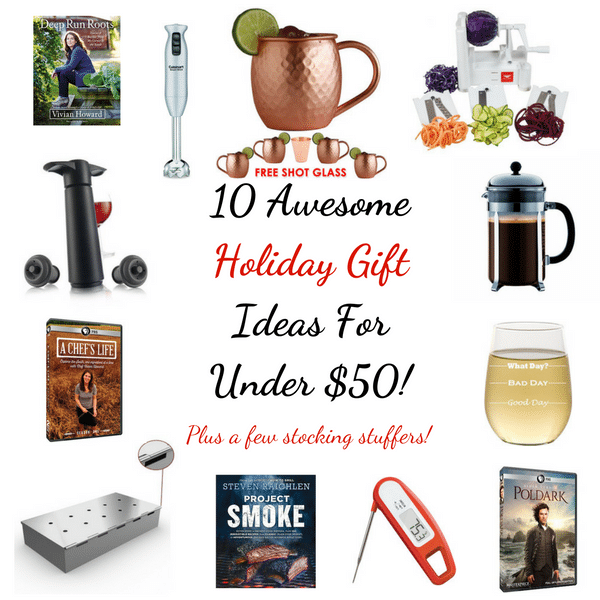 How's the Holiday Shopping going?🎁
If you're like us, you've still got many family, friends, and loved ones to shop for!  We've pulled together some of our favorite gift ideas for under $50 to make it a little easier for you, especially when it comes to anyone you know that loves food, grilling or just something a little unique.
We've also added a few bonus stocking stuffer ideas as well!  Hope you love them like we do!
Happy shopping!
These mugs are all the rage!  Everyone is mixing up Moscow Mules and serving them in these handsome mugs.
These mugs are the real deal - with a handcrafted pure hammered copper mug that allows the citric acid from the lime to react with the copper.
QUALITY 100% Copper: No nickel or stainless steel, pure food grade copper. 100% Copper gives each mug a heavy feel, while the large copper handle provides a sturdy grip for your ice cold drink.
16 OZ CAPACITY HAS NUMEROUS USES - works great for chilled beer, iced coffee, iced tea and any vodka, gin, rum, tequila, or whiskey mixed drinks.
We use and love this spiralizer!
Great to use on a variety of fruits and vegetables… including apples, potatoes, carrots, cucumber, zucchini and more.
BPA-Free and includes three blades made of ABS plastic frames and stainless steel blades.
Super-easy way to incorporate more veggies in your meals!
One of my favorite new cookbooks!
Author Vivian Howard is a chef, author and the first woman since Julia Child to win a Peabody Award for a cooking program... plus she co-created and stars in the PBS series A Chef's Life.
A NEW YORK TIMES BESTSELLER.
This cookbook celebrates the flavors of North Carolina's coastal plain in more than 200 recipes and stories.
Wine saver to the rescue!
Keeps wine drinkable for up to 2 weeks - technology removes air from your wine bottle!
Creates an airtight seal that preserves wine after the bottle has been opened.
Patented "Click" technology lets you know when all air is removed.
Our number-one best selling reader favorite!!
Hands down best meat thermometer for the money! For. Real. People.
Do you overcook your chicken because you're not sure if it's cooked all the way through? Never again – this meat thermometer will make sure your chicken is tender, moist, and juicy every time!
LIFETIME SATISFACTION GUARANTEE - If at any point you are unhappy with your smoker box you can return it for a full money back refund.
Extremely durable – so no warping.
Hinged lid for easy access to chips while smoking.
Large wood chip capacity – more wood = more smoke for your meat!
Fits perfectly between flavorizer bars and grill grates or directly on top of charcoal.
No holes on the bottom so the chips smolder instead of burning.
Steven Raichlen is a multi-award winning author of  The Barbecue Bible, How to Grill and the New York Times bestselling Planet Barbecue.
A step-by-step guide to cold-smoking, hot-smoking, and smoke-roasting.
100 innovative recipes for smoking every kind of food, from starters to desserts, including Bacon-Crab Poppers, Cherry-Glazed Baby Back Ribs, Slam-Dunk Brisket, Jamaican Jerk Chicken—even Smoked Chocolate Bread Pudding.
The perfect tool for pureeing soups. Just blend directly in the pot you're cooking in!  Also, great for smoothies and sauces.  Love this!
2 speeds for all your blending tasks.
Stick design reaches into pots, pitchers, and bowls to extend blending options
Dishwasher-safe blending shaft and beaker.
Operates with a one-touch control for easy, one-handed blending.
Coffee enthusiasts will tell you French Press makes the best tasting coffee and is their preferred brewing method.
Pressed coffee extracts the perfect amount of essential oils and acids from the bean for the maximum amount of flavor from your coffee.
Serves 3-4 people.
Carafe is made of durable, heat-resistant borosilicate glass; Stainless Steel frame and heat resistant handle. Both Dishwasher Safe
No need for parchment paper when you've got these!
Use Silpat®  for any baking recipe (sweet or savory) that calls for parchment paper; Silpat® replaces the need for butter, grease, oils, and sprays.
Turn ANY pan into a non-stick surface and save time cleaning up!
Comes in four sizes:  7-⅞" x 10-⅞", 8-¼" x 11-¾", 9-7/16" x 14-⅜", 11-⅝" x 16-½"
STOCKING STUFFERS!!!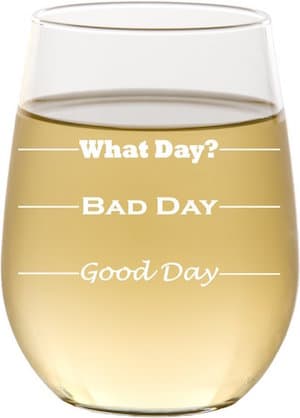 17 ounce wine glass.
Engraving is on one side of the glass.
Etching is permanent, flawless and requires no maintenance.
DISHWASHER SAFE! Because who has time to do dishes?
It's the perfect, funny yet unique gift for the person who has everything and really just needs a good laugh!
One of my favorite shows to watch – there's nothing else like it on television today!
A day-by-day story of chef Vivian Howard and her family, as they encounter the struggles, surprises and thrills of running restaurants in Eastern North Carolina.
The show highlights the rich bounty of farm fresh cooking, family and community.
Each episode follows Vivian out of the kitchen and into cornfields, strawberry patches and hog farms as she hunts down the ingredients that inspire her seasonal menus.
Oh Poldark (big swoon). My Downton Abbey replacement show! And the best TV series to come along since color TV!
The most amazing tea drinking, family-feuding, horseback-riding show in the history of all time!
Aidan Turner (The Hobbit) stars as Captain Ross Poldark, who returns to Cornwall after the American Revolution to find that his fighting days are far from over. Feeling betrayed by everything he loves, Ross must rebuild his life, embarking on a risky business venture and finding love where he least expects it.
More clips and episodes can be found on PBS if you want to try before you buy…
I hope these gift ideas help you out with your holiday shopping needs!  For even more gift ideas head over to our Taste and See Shop.  We've got something for everyone... the Little Cooks, the Grill Master, the Cook's Bookshelf, Stocking Stuffers for Foodies, and of course for the Cook!
Happy shopping and Happy Holidays!!🎁
~ Holly & Bryan