Lemon Harissa Chicken with Sheet Pan Veggies! Sweet smoky red Harissa flavored veggies and tender chicken. This chicken harissa recipe has just the right spice for a simple quick, easy, and flavorful weeknight chicken dinner!
Jump to:
Recipes with Harissa are a great way to add spice and flavor to your weekday meals! Whether it's veggies and rice, some grilled salmon, or a sheet pan dinner - it's a win every time.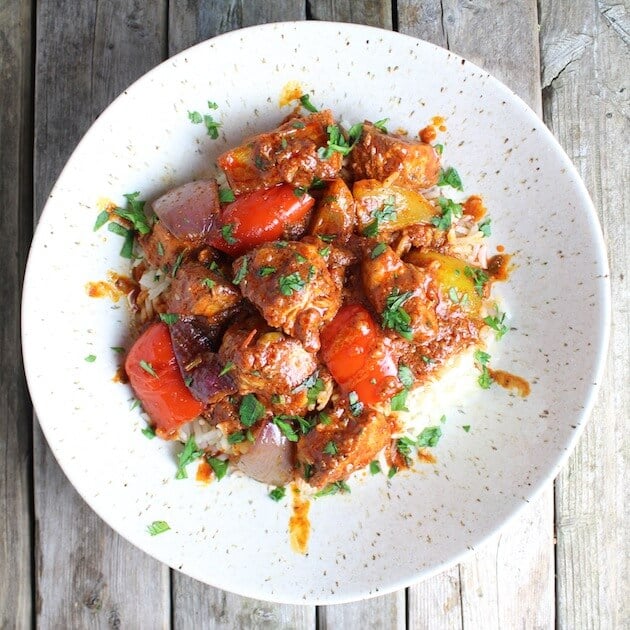 Lemon Harissa Chicken with Sheet Pan Veggies is a total win with my crew!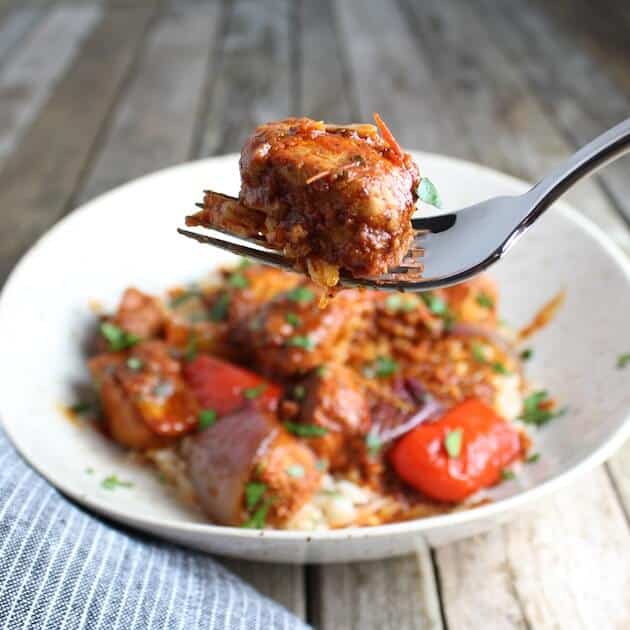 What is harissa you ask?
Harissa paste is a zesty and aromatic chile paste that's considered a staple in North African and Middle Eastern cooking. There are a few variations out there but recipes with harissa all usually include smoked hot chile peppers, tomatoes, garlic, olive oil, and spices like cumin, coriander, and caraway.
You can usually find Harissa as a paste in a jar, can, or tube in the international aisle or condiment aisle of your grocery store.
If you're feeling particularly energetic you can also make it yourself but ain't nobody got time for that around here.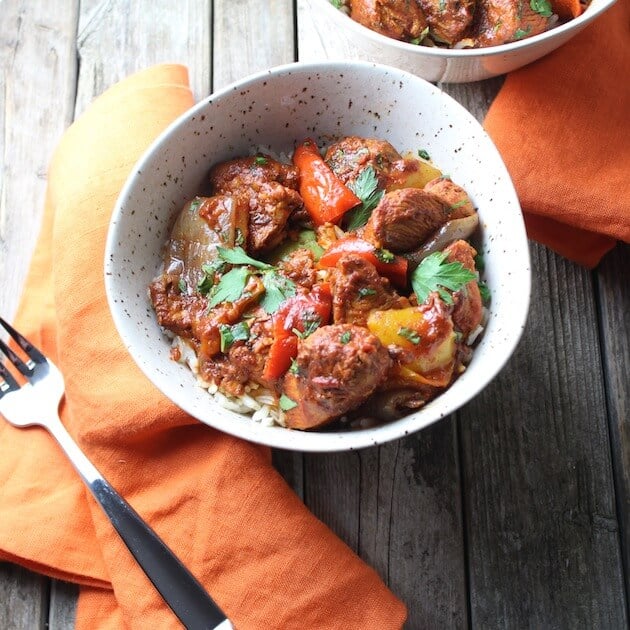 So the first ingredient you're gonna need for this harissa chicken is... you guessed it - Harissa!
Another very important point for me to go over is that you can purchase it in different heat levels: spicy or mild. You know where you and your crew live, so you do you. Mild or spicy, either is delish!
But the spicy version is spicy. Just saying.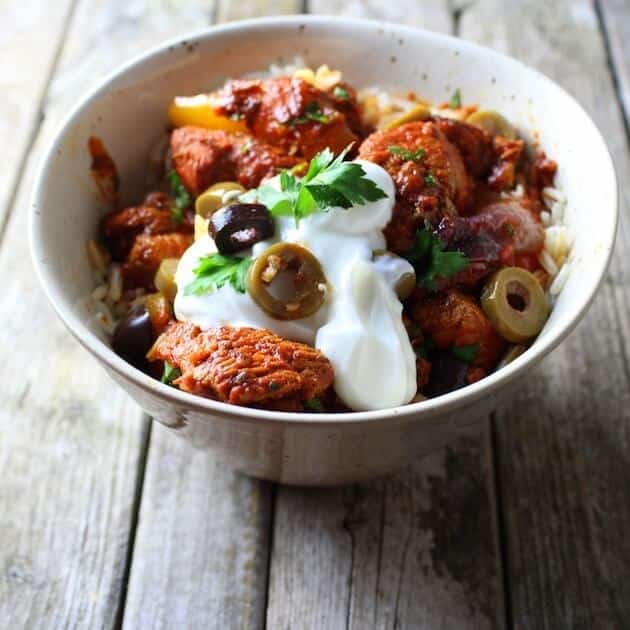 We like it hot over at the Taste And See kitchen so I went with the spicy version. It was spicy but not too hot for us. Here's how I know: the B man gets hiccups when food is too spicy. I'm happy to report he was completely hiccup-free during this meal.
Check, it passed the "B not too spicy" test.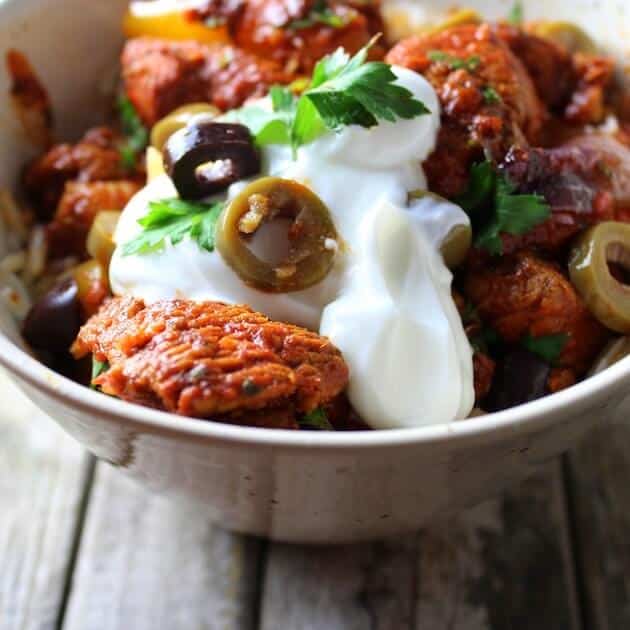 How to make Harissa Chicken:
The harissa chicken recipe is pretty easy.
You cut up your chicken breast just like you would if you were going to make kebabs and drop it in a gallon-size resealable bag.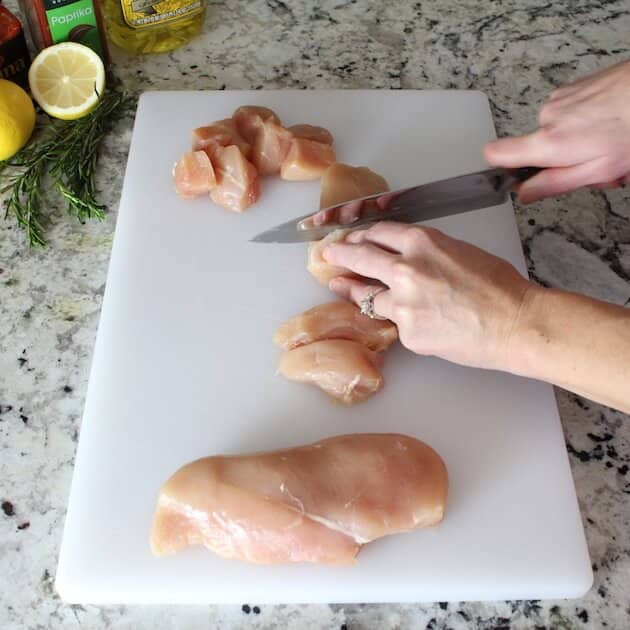 Then make your marinade… a little garlic minced garlic,...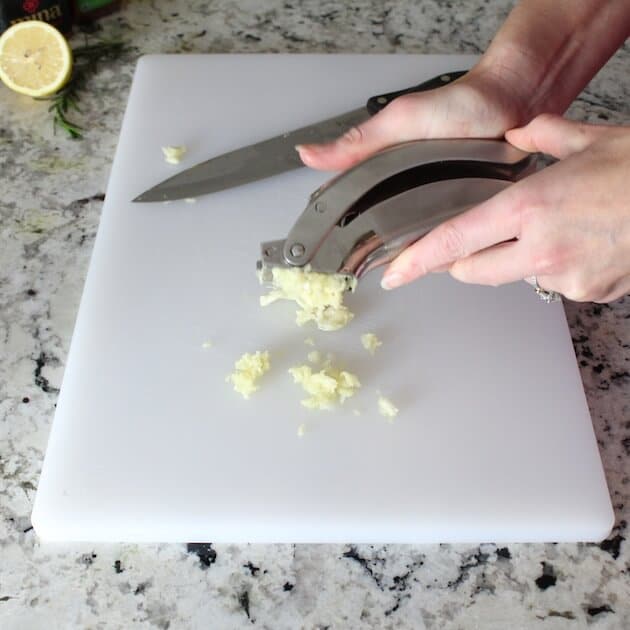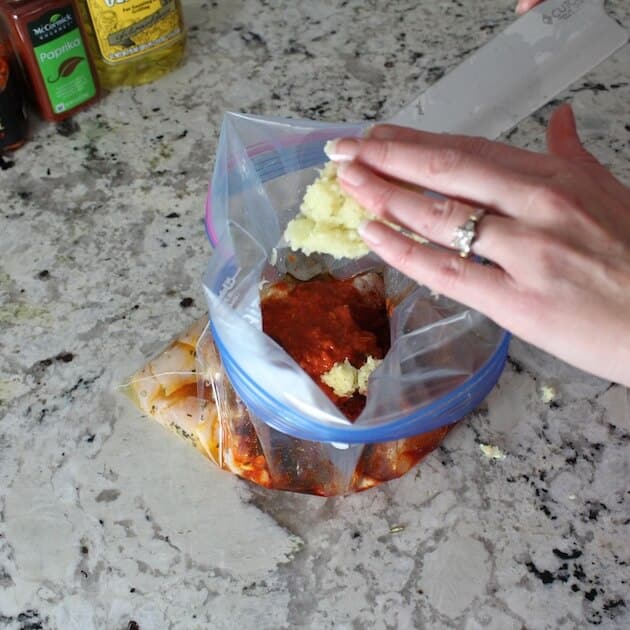 ... some chopped rosemary,...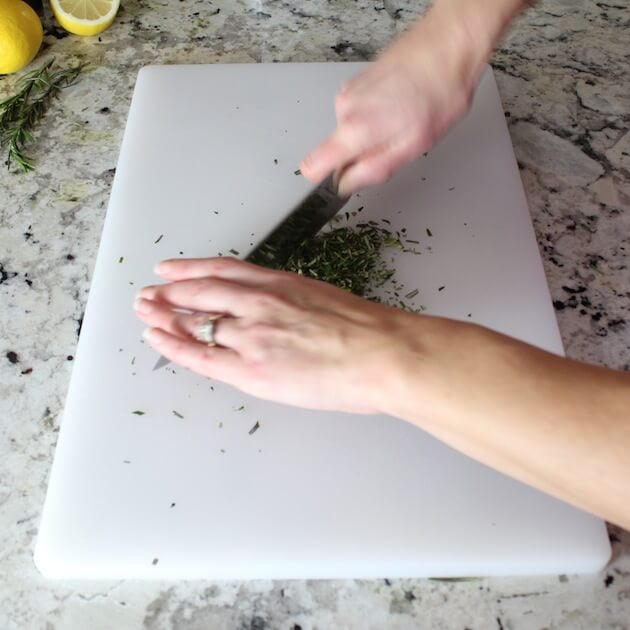 ... Harissa paste...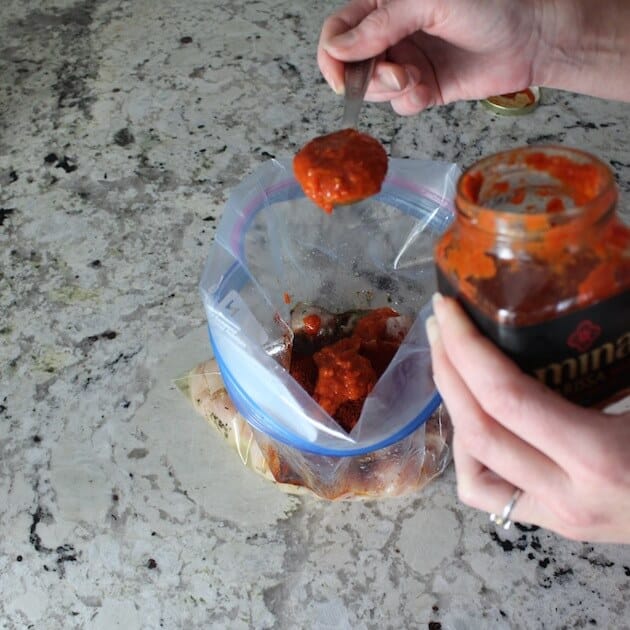 ... fresh squeezed lemon juice...
... olive oil...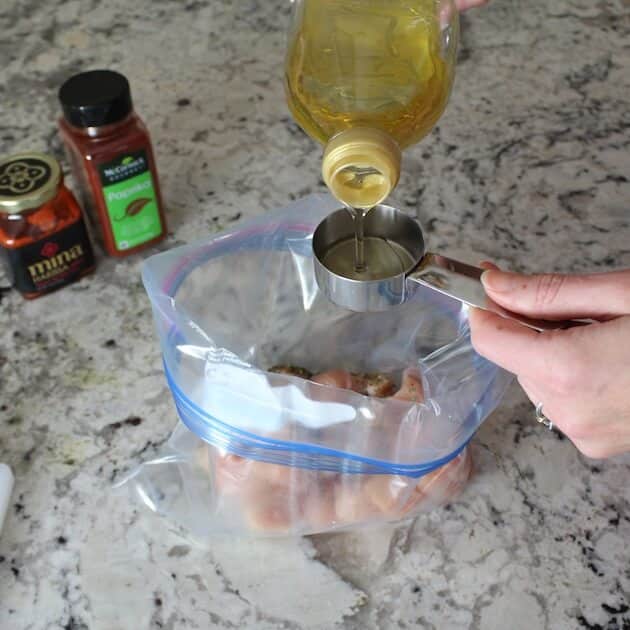 ... paprika, salt, and pepper…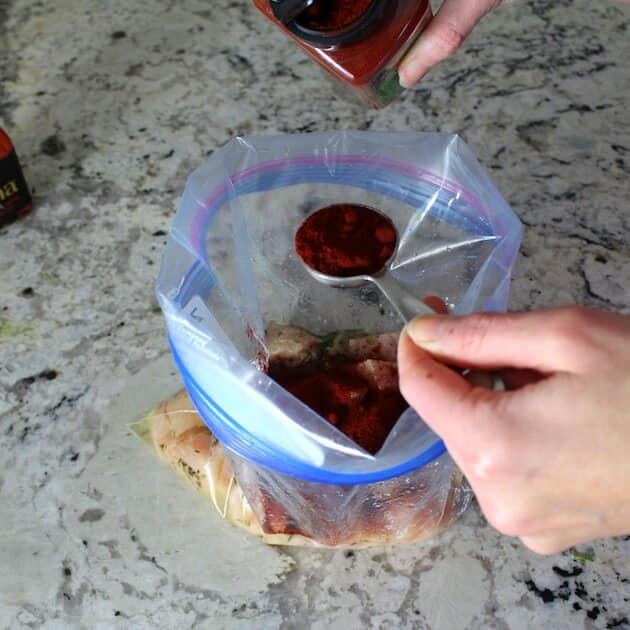 Combine it all with the chicken in the resealable bag and let it hang out, and get happy in the fridge for at least 3 hours - 6 is even better.
Now add your chicken and marinade to a medium heat pan and cook for 8-10 minutes or until the chicken temps at 165.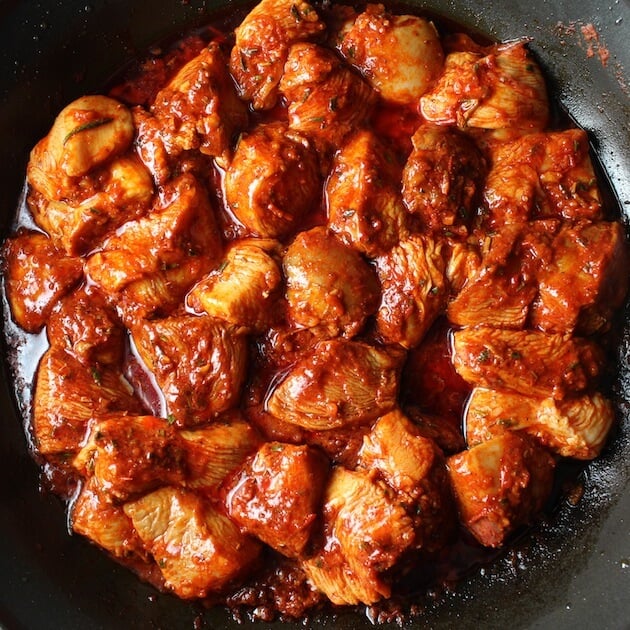 Let me just take a quick moment to urge you to purchase a meat thermometer. There is no way for you to know if your chicken is fully cooked unless you temp it!
And if you're over-cooking it to make sure it's fully cooked, then you're never gonna enjoy the succulent, tender chicken you should be.
The one I use is amazing and it's relatively inexpensive – $25 (check it out here in my shop). It's a small price to pay to guarantee you never experience food poisoning.
And that's my public service announcement for the month.
Soapbox is put away under the bed. I promise.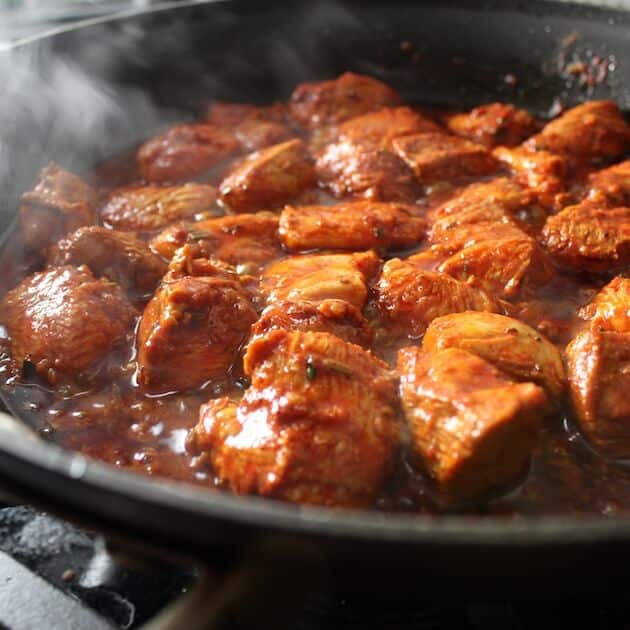 Ahem, back to the recipe: cut up your fresh veggies and slide them into the oven.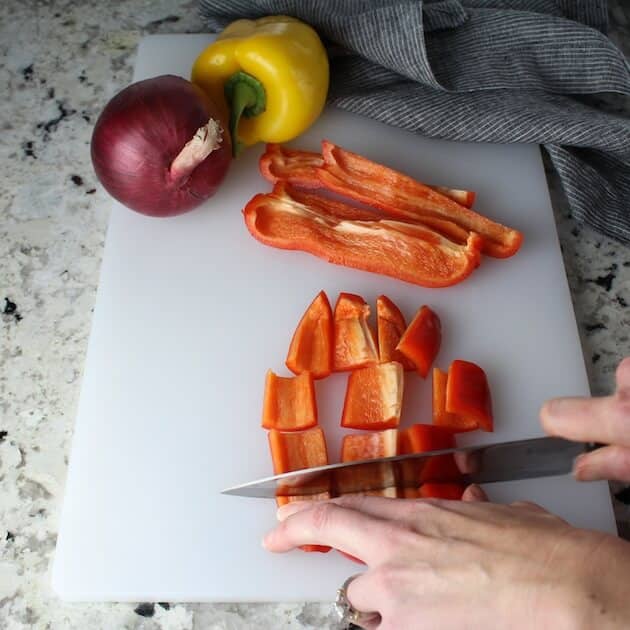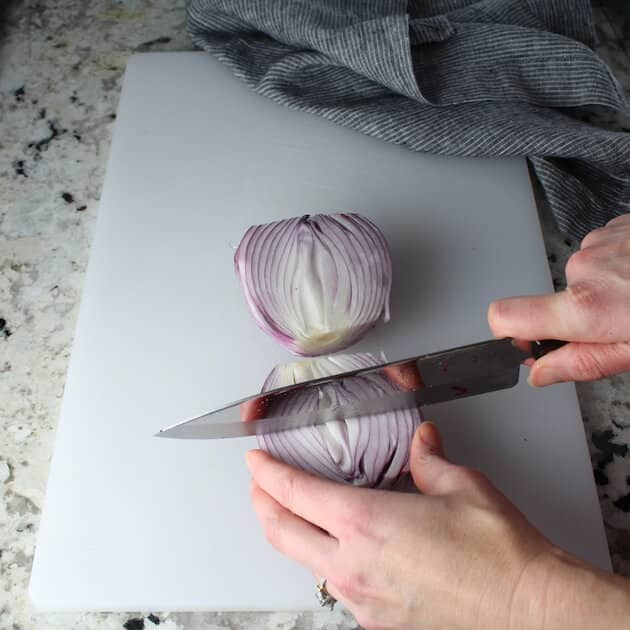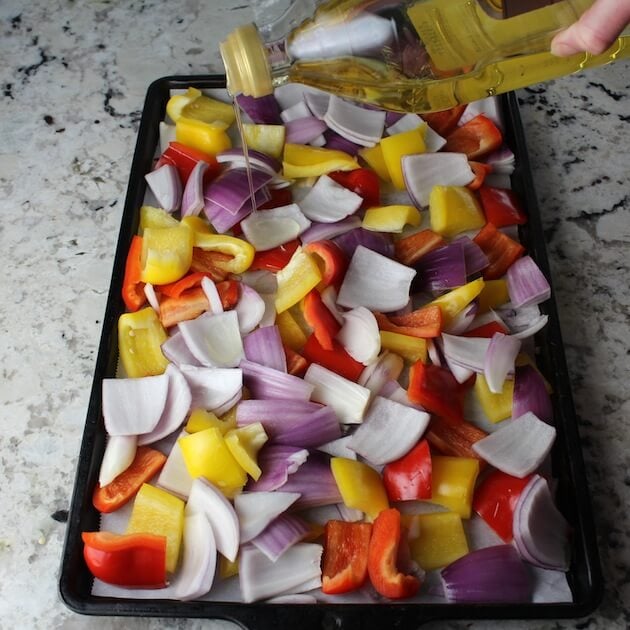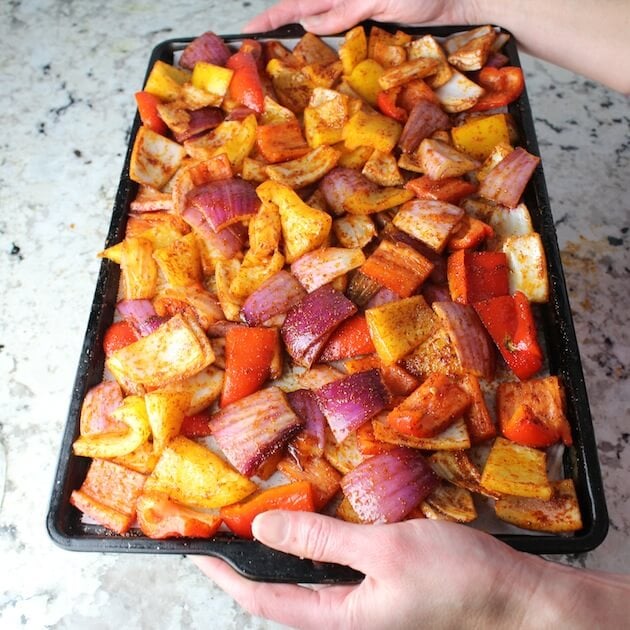 Now plate up over your favorite rice or cauliflower rice, and finish with a little Greek yogurt or sour cream!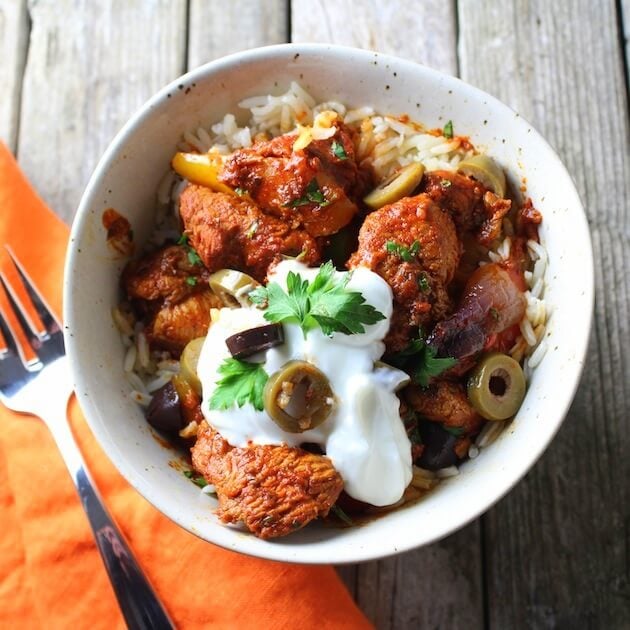 This quick, flavorful, easy Chicken Harissa Recipe will totally wow you and your guests!
And it's a really fun way to spice up an average weeknight meal. Plus, it will allow you lots of time to kick back, relax, and pin all of your favorite photos of it!
Enjoy my friend!
Other delicious chicken recipes you should try:
Yield: 6 Servings
Lemon Harissa Chicken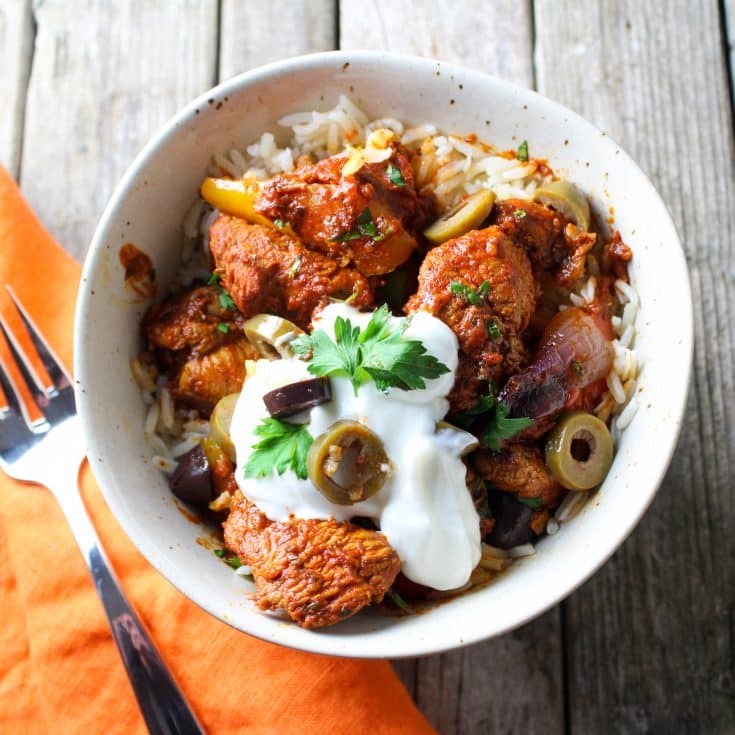 Lemon Harissa Chicken - Amazing North African chicken with red harissa, smoked hot chile peppers, tomatoes, garlic, cumin, coriander, caraway, & lemon.
Ingredients
For The Chicken And Marinade
3 tablespoons extra virgin olive oil
4 garlic cloves, minced
2 tablespoons freshly squeezed lemon juice
2 tablespoons fresh rosemary, finely chopped
2 tablespoons paprika
2 tablespoons spicy Harissa
1 teaspoon salt and pepper
4 boneless skinless chicken breasts, cut into 1 ½-inch cubes
¾ cup plain Greek yogurt for garnish
Parsley, finely chopped for garnish
Sliced green and black olives for garnish, (optional)
Capers for garnish, (optional)
For The Roasted Vegetables:
2 tablespoons olive oil
1 yellow pepper
1 red pepper
1 red onion
1 teaspoon salt
1 teaspoon pepper
1 teaspoon paprika
Instructions
For the marinade, combine olive oil, garlic, lemon juice, rosemary, paprika, harissa, salt and pepper in a ziploc bag. Seal and mix the ingredients together.
Add the cubed chicken. Refrigerate for at least 3 hours and up to 6 hours.
Cut up the peppers and onions. Mix in 2 tablespoons of olive oil. Season with salt, pepper and paprika and mix together. Bake in a 400 degree oven for 18 minutes.
While the veggies are roasting, pour the chicken and marinade into a sauce pan and cook on medium until chicken temperature is 165 degrees, about 8-10 minutes.
Layer the roasted veggies over jasmine rice, then add the chicken and sauce. Finally add a dollop of Greek yogurt over the chicken, and garnish with parsley, sliced olives or capers.
Notes
The nutrition calculations in this recipe do not include rice.
Nutrition Information
Yield
6
Serving Size
8-10 ounces
Amount Per Serving
Calories

299
Total Fat

16g
Saturated Fat

3g
Trans Fat

0g
Unsaturated Fat

12g
Cholesterol

69mg
Sodium

739mg
Carbohydrates

10g
Fiber

3g
Sugar

3g
Protein

29g
This nutrition card uses an estimate provided by an online nutrition calculator. This estimate is not a substitute for a professional nutritionist's advice!