Looking for some new recipes for chicken thighs? These Grilled Rosemary Lemon Chicken Thighs are a super-tasty way to create flavorful and juicy boneless skinless chicken thighs… I promise you'll be making these all summer long!☀️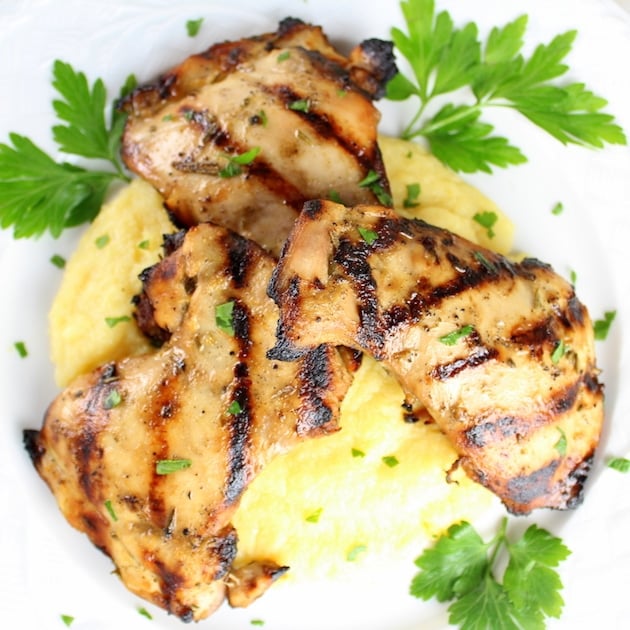 Did somebody say road trip???? Oh yeah, that was me.
So, I'm not sure whose idea it was to drive from Massachusetts to Maryland with a stop in NYC to pick up Grandma and Uncle Alan on the busiest traffic day of the year, but they might not need to be in charge of planning any future road trips (annnd that would be me again.) I'm just saying my giftings are probably in more of the procurement, culinary, and entertainment departments…less in the logistics and strategic planning arena.✌️
Oh well, what's a girl to do? I guess just eat all those delicious snacks I procured and enjoy the scenery…which is easy when your average speed is 12.5 miles per hour. Woohoo road trip!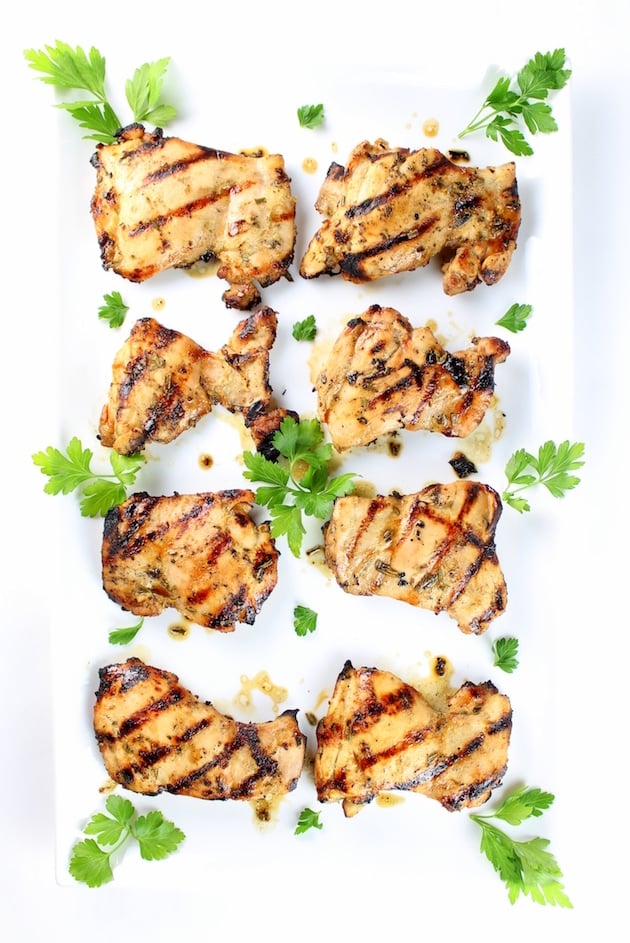 Even with this long scenic drive, and hours upon hours of quality time the B man and me get to enjoy, we are very excited about the Memorial Day weekend.
We're actually going to B's cousin's wedding, and getting to see family we haven't been around for way too long. I guess that's what happens when you live in the US and part of your tribe lives in Israel - it's a bit more than a hop skip and a jump away. Anyhow, we're looking forward to celebrating such a wonderful occasion with wonderful people.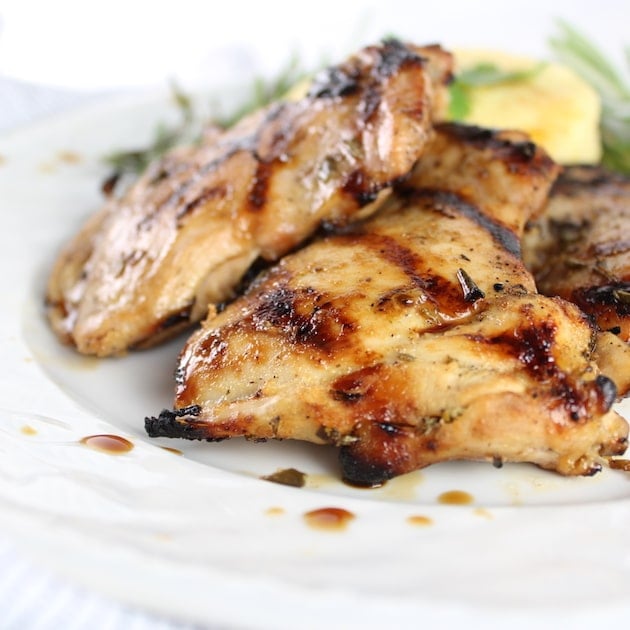 How are you celebrating this Memorial Day weekend?
I'm guessing it will involve the grill, some friends and family and some tasty BBQ grub!♨️ I must admit I LOVE to grill. Your food cooks pretty quickly, everything tastes amazing and there are no pans to wash!
Can I get an amen???
Enjoying delicious food, fast, with zero cleanup is the way to go.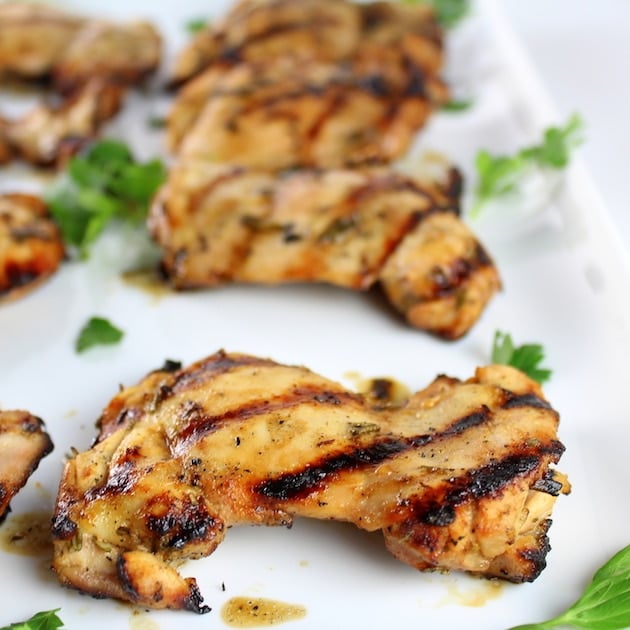 Like these Grilled Rosemary Lemon Chicken Thighs… I love using boneless skinless chicken thighs because they are healthier and faster - they literally cook in 8 minutes. And with this marinade, they taste all juicy, caramelized, and delicious!
Some other great ideas for chicken thighs to try are these Asian-style grilled chicken thighs or cilantro lime chicken thighs.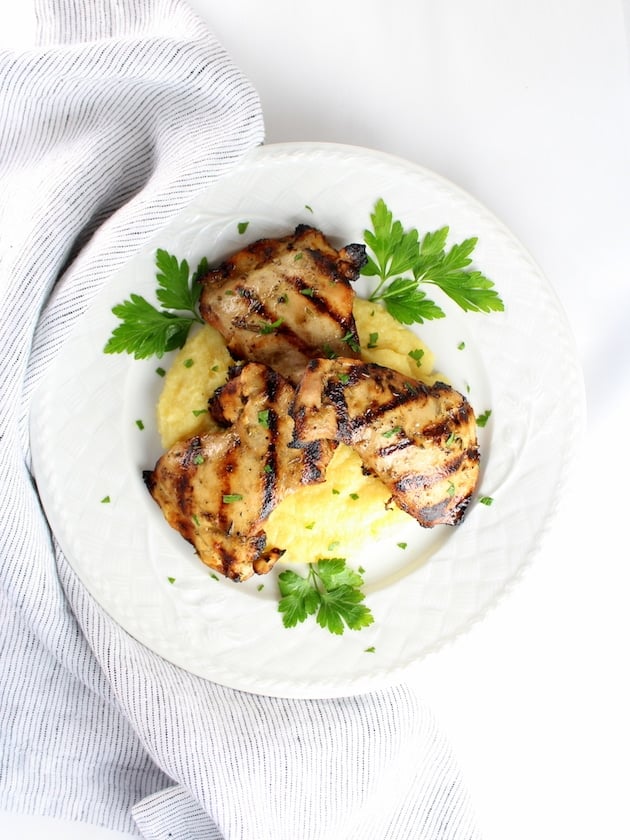 One of the best boneless chicken thigh recipes ever:
The recipe is super-simple: just 7 ingredients mixed together and thrown in the fridge to marinate overnight. Then when you're ready to eat, onto a high heat grill and then into your belly!
Done and done.✅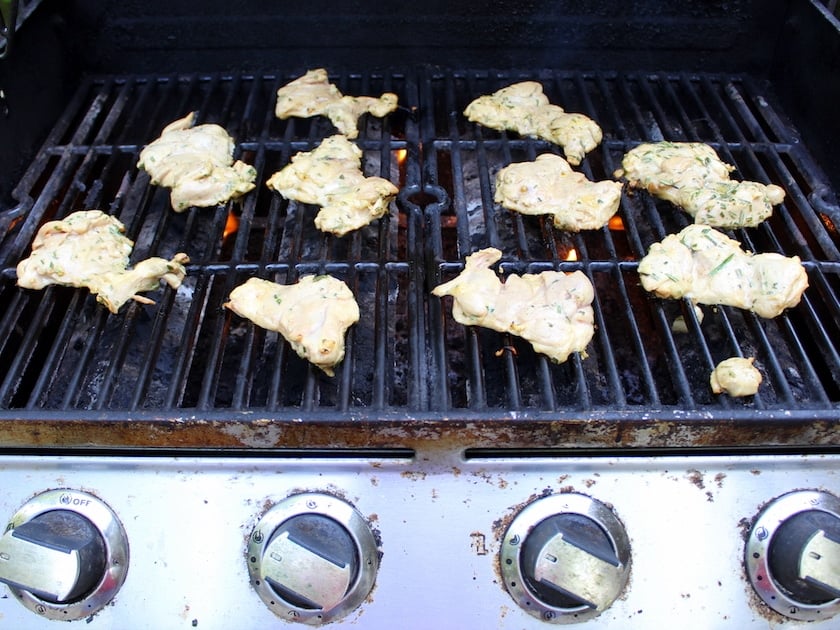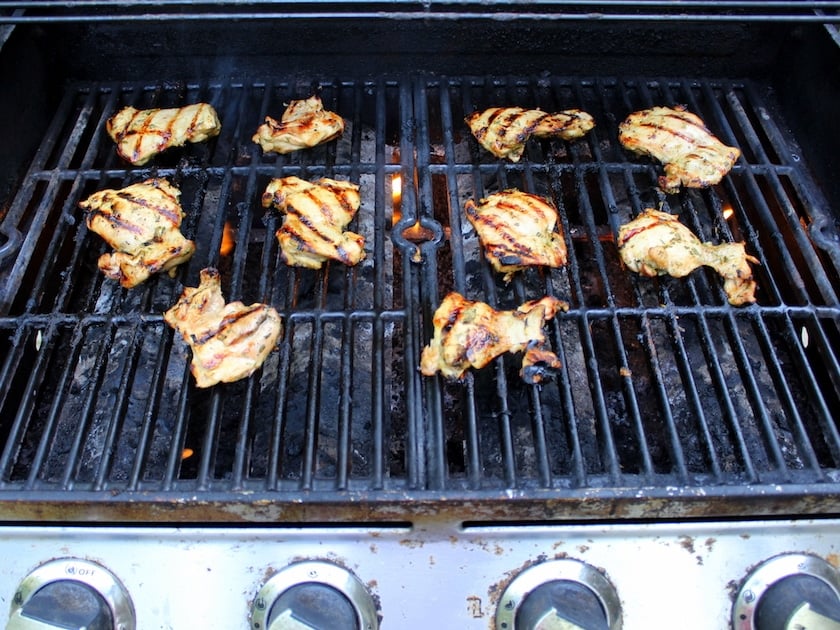 The marinade is delicious: it has lemon juice, fresh rosemary, Dijon mustard, minced garlic, salt and pepper, and honey. Mmm honey. The honey is truly the magic ingredient of this marinade.✨ Not only does it balance out the lemon and the Dijon but it also caramelizes on the chicken thighs when you grill them.
Yumamlicious! No wonder Pooh Bear loves honey so much…it's nectar of the gods or the bees. Samething.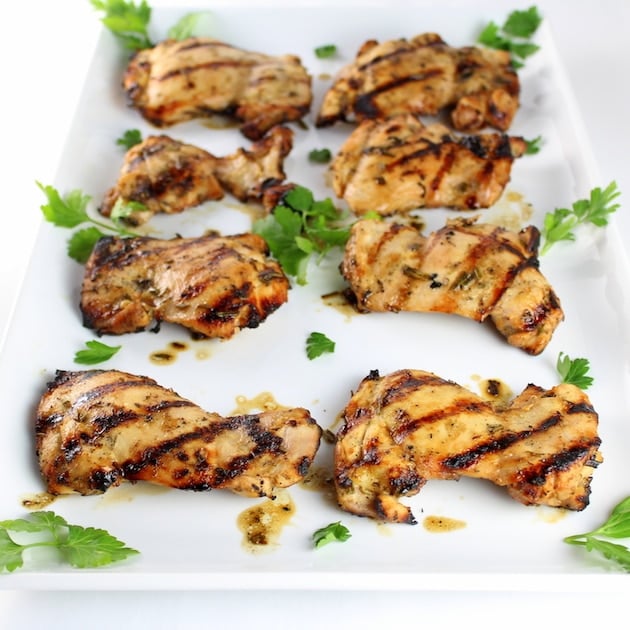 We like to serve our Grilled Rosemary Lemon Chicken thighs over some creamy Parmesan Polenta. It's all cheesy and yummy and pairs perfectly with these barbequed hunks of meat. And just like the chicken, the polenta is really quick to whip up. And that's exactly what you want when the days are longer and the weather's warmer.☀️
Less time sweating over a hot stove and more time sipping Elderflower Margaritas by the pool! Real talk.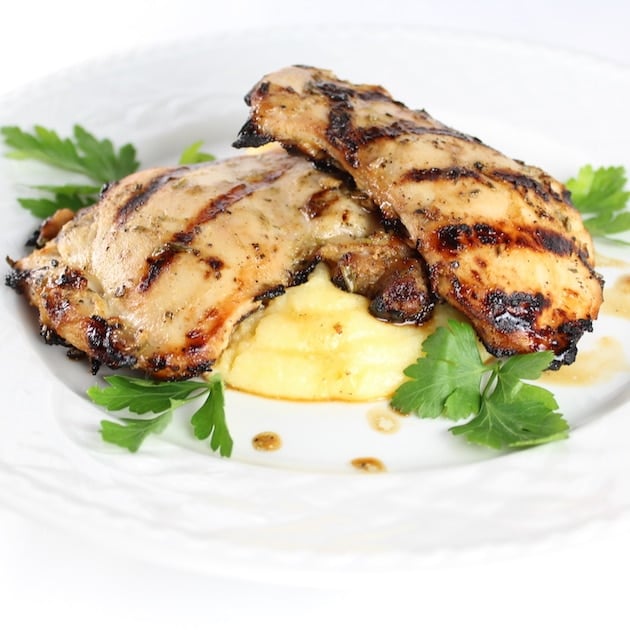 So get your pinning finger ready, cause these Grilled Rosemary Lemon Chicken Thighs are one recipe you're gonna want to save and enjoy all summer long! In fact I'd say it may be among the best boneless skinless chicken thigh recipes I have ever encountered!
Here's more wisdom on food - and more specifically on honey - from our favorite bear of all time - Pooh:
"It is more fun to talk with someone who doesn't use long, difficult words but rather short, easy words like 'What about lunch?'
"Nearly eleven o'clock," said Pooh happily. "You're just in time for a little smackerel of something."
I would love to connect with you. Leave a comment or follow me on Instagram, Twitter, Facebook, and Pinterest!
Yield: 6 servings
Grilled Rosemary Lemon Chicken Thighs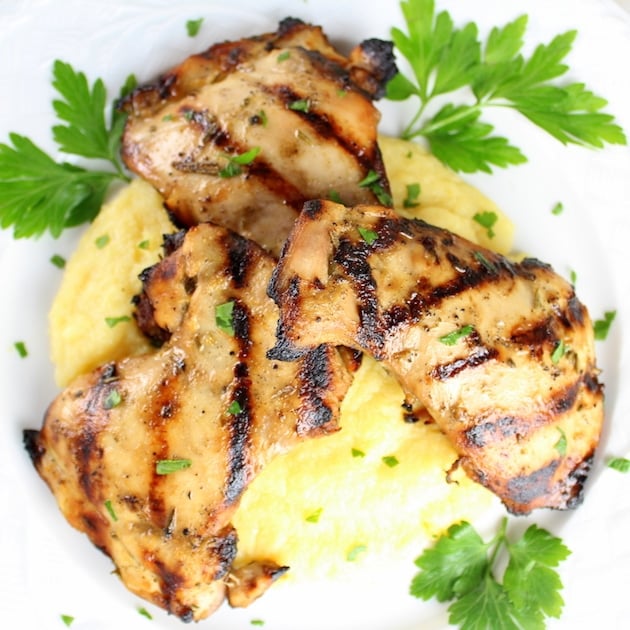 Grilled Rosemary Lemon Chicken Thighs – marinated in lemon, rosemary, Dijon mustard, & honey… full of flavor, juicy, & beautifully caramelized.
Ingredients
1 tablespoon finely chopped Rosemary
2 cloves garlic, minced
2 tablespoons lemon juice, (about 1 lemon)
1 tablespoon olive oil
2 tablespoons honey
2 tablespoon Dijon mustard
1 teaspoon salt
½ teaspoon pepper
8 boneless skinless chicken thighs trimmed of any excess fat
1 large plastic resealable bag
Instructions
In a small bowl, mix the first eight ingredients together.
Place the chicken thighs in a large resealable plastic bag and pour the marinade over them.
Seal the bag, and massage the marinade into the chicken, turning to coat.
Marinate in refrigerator for at least 2 hours (or ideally overnight).
Preheat grill to 450 degrees F. Spray each chicken thigh with canola cooking spray. Grill chicken thighs for 4 minutes per side, or until the internal temperatures reaches 165.
Notes
Note this recipe requires an overnight marinade!
Nutrition Information
Yield
6
Serving Size
1-2 thighs
Amount Per Serving
Calories

294
Total Fat

14g
Saturated Fat

4g
Trans Fat

0g
Unsaturated Fat

10g
Cholesterol

182mg
Sodium

754mg
Carbohydrates

7g
Fiber

1g
Sugar

6g
Protein

37g
This nutrition card uses an estimate provided by an online nutrition calculator. This estimate is not a substitute for a professional nutritionist's advice!