Thanks to our friends at Heluva Good! for sponsoring this Easy Pimento Cheese and Bacon Burger - just what your taste buds ordered! This burger is true summer eating, perfected with a lightly toasted brioche bun, a grilled angus beef patty, and the most creamy cheesy pimento cheddar and bacon dip!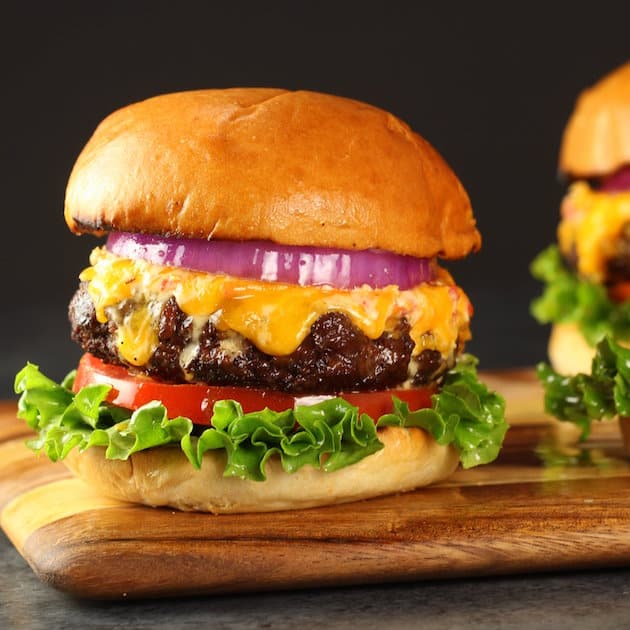 Whatcha making the big guy for Father's Day?
I'm guessing something on the grill? Maybe a big ole' T-bone steak, or possibly some yummy cheesy beer brats, or how about a juicy meaty bacon cheeseburger!🍔
Ok, now I'm drooling on myself.😁 #notagoodlook
The B man would devour all of the above, and just maybe all in one setting. Seriously, I've told you before the guy can eat. And I'm so grateful for it 'cause as you can imagine we have a lot of food being produced over here at the Taste And See kitchen. AND the more he eats the less I do, which is just better everyone.✌️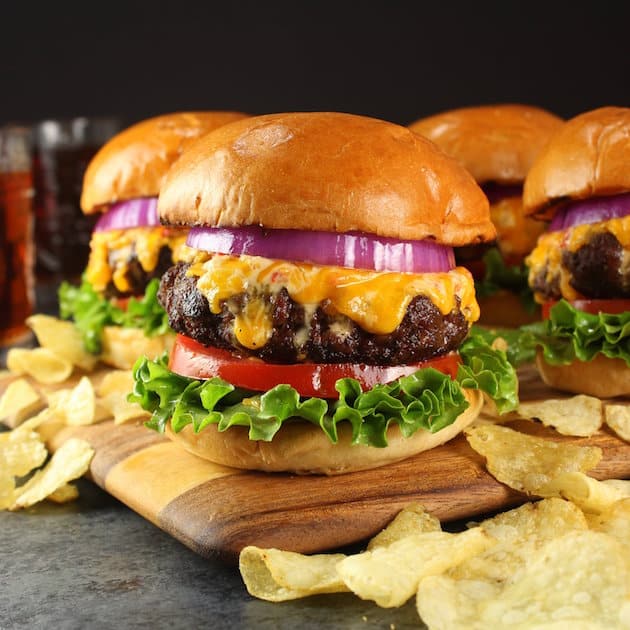 This year we're celebrating this special dude day with an Easy Pimento Cheese and Bacon Burger.🖕 Yep – it's happening people.🙌
This very special sandwich is just as easy as it is cheesy thanks to the Heluva Good! White Cheddar & Bacon Dip. PS: With a name like that it can't not be good – right!?👌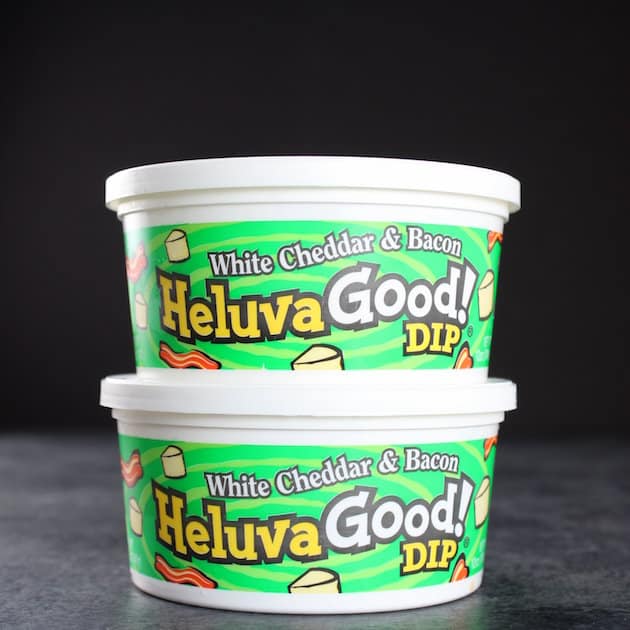 Isn't that what we all want, something that tastes like heavenly goodness but doesn't require much time and effort?
Less time grillin' = more time chillin'.👏 #winning
I must tell you I'm a huge fan of all the Heluva Good! dips. They are so tasty and they offer a bunch of unique flavors like Bacon Horseradish, White Cheddar & Bacon, and Jalapeño Cheddar.
They're the perfect dip for dunking those chips when hosting a graduation party, a summer cookout or a Friday night family dinner – you truly can't go wrong with these delicious dips.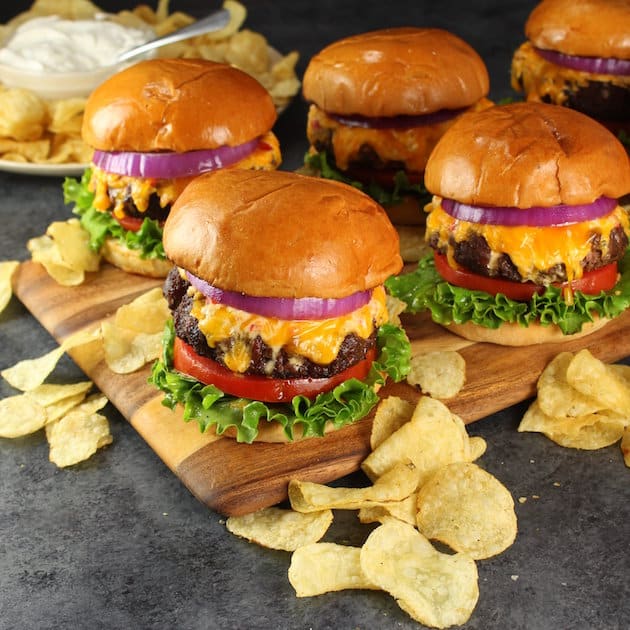 Also, they have THE best (and my go-to) French Onion dip!💯 You have to try it! No joke - I serve it regularly with potato chips, pretzels and even cut up veggies. It's always a fan favorite.👍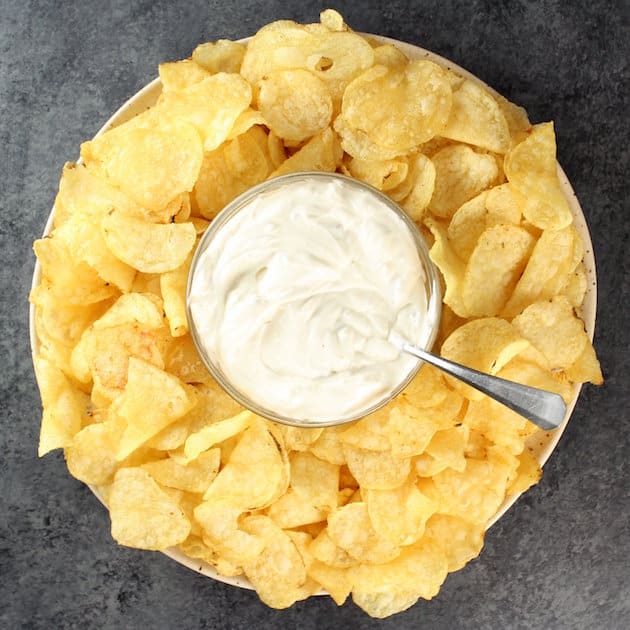 Since I know their dips are tried and true I thought why not use them as a condiment to elevate a classic burger? Brilliant – right!??😃
White Cheddar & Bacon Dip + hamburger = mouth watering, yummalicious Pimento Cheese and Bacon Burger!!! AHH- mazing… and a "heluva" good burger if I do say so myself. But don't take my word for it… taste and see for yourself!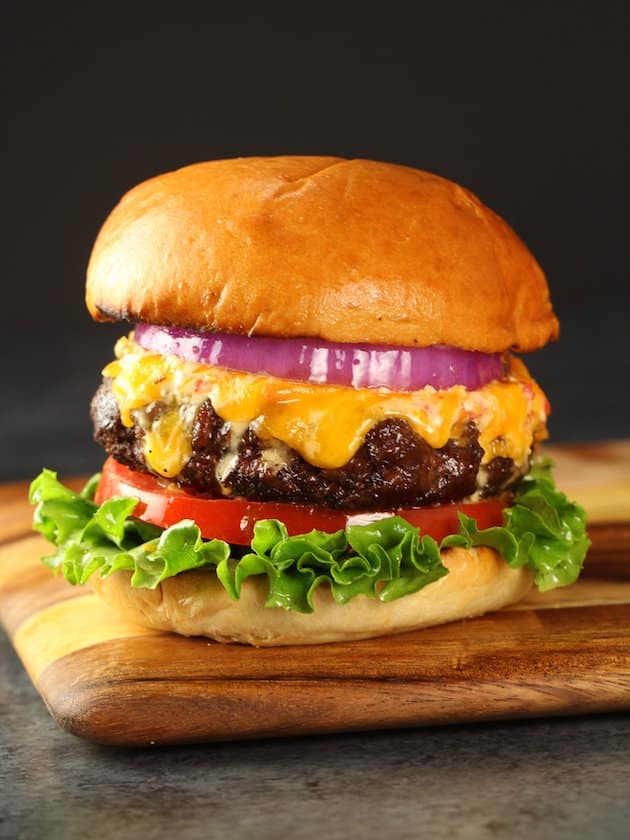 The process for this tasty treat is pretty simple. You mix some diced pimentos and shredded cheddar cheese into 1 cup of the Heluva Good! White Cheddar & Bacon Dip.
Then form your patties, season them with salt and pepper and grill them to your preferred doneness.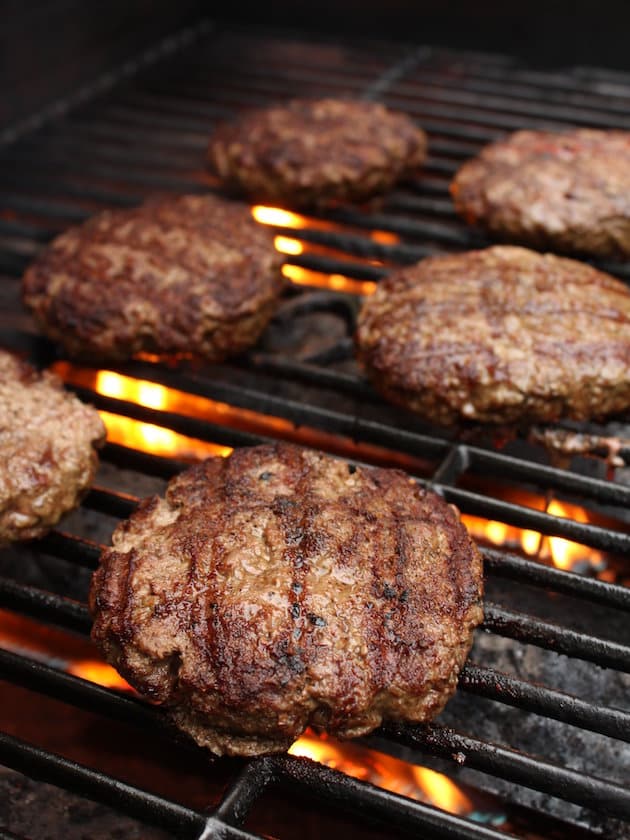 Next, while they're resting, top them off with a nice dollop of the cheesy bacon dip.
Grab your bun and give it a quick sear on the grill, then start assembling this manly masterpiece… the toasted bun, the meaty cheesy patty, some lettuce, a slice of tomato and a red onion, and you're golden.✨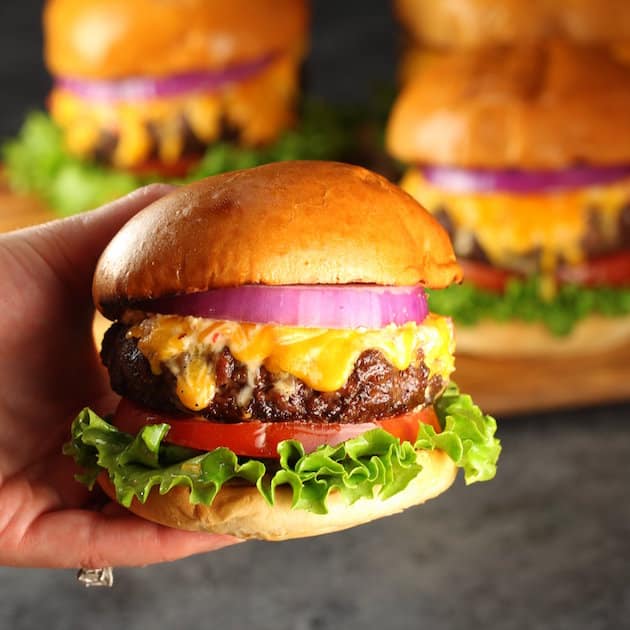 This Easy Pimento Cheese and Bacon Burger is the perfect meal to celebrate your fabulous fathers, hunky husbands or just any of the great guys in your life.👍
Plus it's super low maintenance, which is a gift for you gals as well. What can I say – I'm your girl!
Wishing you all a very fun Father's Day!
Let's hear it for the boys‼️🎉
You can find Heluva Good! dips in the dairy aisle of your neighborhood supermarkets.
Yield: 6 servings
Easy Pimento Cheese and Bacon Burger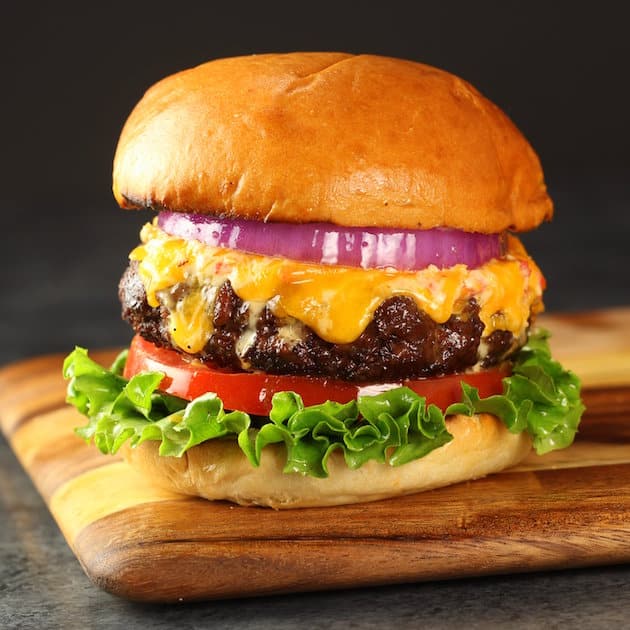 Easy Pimento Cheese and Bacon Burger - just what your taste buds ordered
Ingredients
8 ounces shredded sharp cheddar cheese
1 cup Heluva Good! White Cheddar & Bacon dip
4 tablespoons pimentos, drained and sliced
3 pounds Angus ground beef
Salt and pepper
6 Brioche buns
Grilling spray
Green leaf lettuce, sliced tomato, sliced red onion
Instructions
Mix together the White Cheddar & Bacon dip, shredded cheese, and diced pimentos. Set aside.
Form beef into ½-pound patties. Make a little indentation in the center of each one. Season with salt and pepper, and spritz with grilling spray.
Preheat grill to high heat. Add the burgers and cook 4 minutes on one side, and 3 on the other for medium doneness.
Remove from heat and dollop the cheesy bacon dip onto eacy patty, then allow them to rest for 5 minutes.
Meanwhile spritz the cut side of each bun with grilling spray, and grill for 10-15 seconds. Watch them closely to prevent them from burning.
Add all toppings and serve immediately.
Nutrition Information
Yield
6
Serving Size
1 Burger
Amount Per Serving
Calories

895
Total Fat

57g
Saturated Fat

26g
Trans Fat

2g
Unsaturated Fat

24g
Cholesterol

287mg
Sodium

829mg
Carbohydrates

28g
Fiber

1g
Sugar

5g
Protein

63g
This nutrition card uses an estimate provided by an online nutrition calculator. This estimate is not a substitute for a professional nutritionist's advice!
I would love to connect with you! Leave a comment and follow me on Instagram, Twitter, Facebook, & Pinterest!
Looking For More Great Grilling Recipes?
Cheesy Beer Brats with Fried Pickles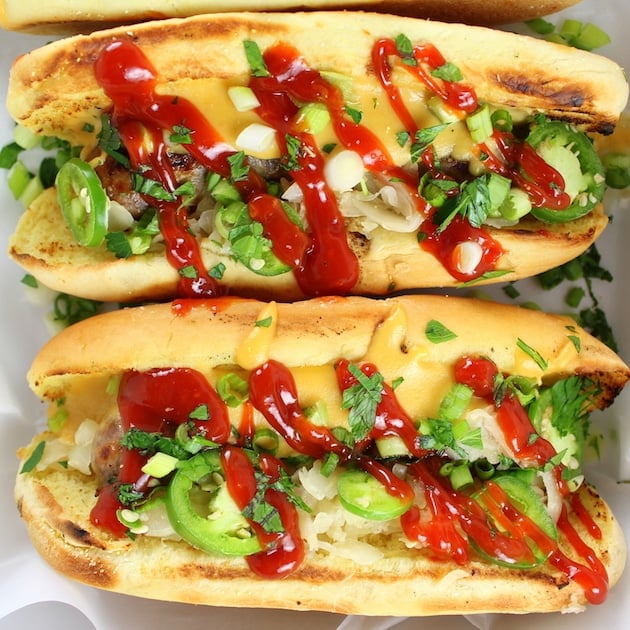 Grilled Chicken Caprese with Balsamic Sauce