Mozzarella and Pesto Stuffed Chicken with Zoodles is a fresh and cheesy well-balanced meal the whole family will enjoy.  With a smoky homemade pesto sauce (or your favorite store-bought version), boneless skinless chicken breasts and zucchini noodles.  A delicious meal that will satisfy your cravings without the carbs!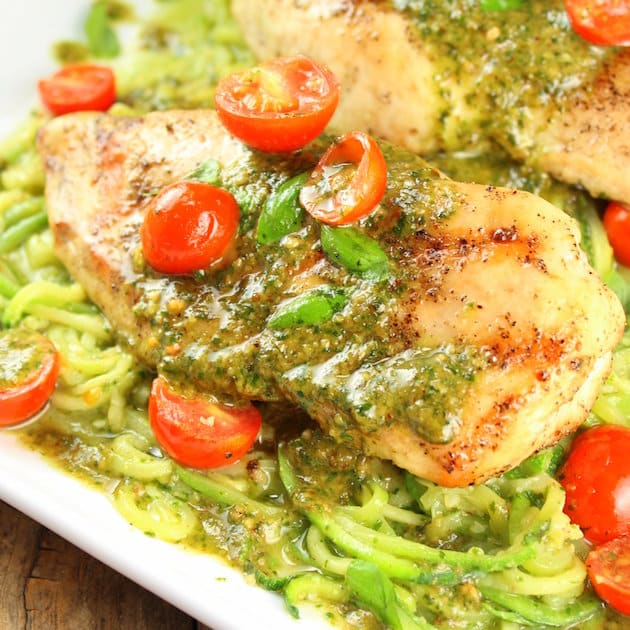 *This post contains affiliate links – read more here.*

I've got another sensational summer recipe for you!🌟  It's fresh and cheesy and full of good-for-you ingredients!
I make my own pesto with smoked almonds so it adds an extra kick of flavor.💥  And when you pair it with the smokiness from grilling the chicken it's OOTW!🙌
Of course you can always buy your own pre-made pesto.  There are many options out there but the America's Test Kitchen recommends Buitoni Pesto with Basil found in the refrigerator area… here's the complete article on their taste-testing.
My personal favorite pesto (other than homemade) is actually from Costco.
It's their Kirkland Signature Imported Basil Pesto and comes in a 22-ounce jar.  Yes – that's a lot of pesto but you can always freeze it in smaller containers and pull it out for the next time you make this recipe!😁  Always looking out for you.✌️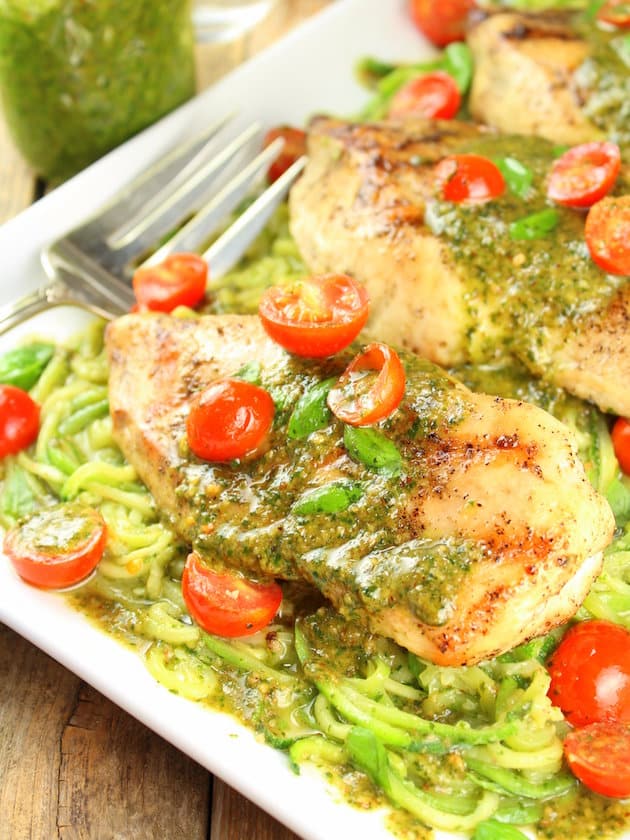 I also added some zucchini noodles to the mix to make this a low-carb, well-rounded meal.✨
Many grocery stores offer different types of veggie noodles in their produce department, which is super convenient if you don't own a spiralizer.  But for around $30 you can pick one up from Amazon and zoodle till your hearts content.   Here's the one I use!👇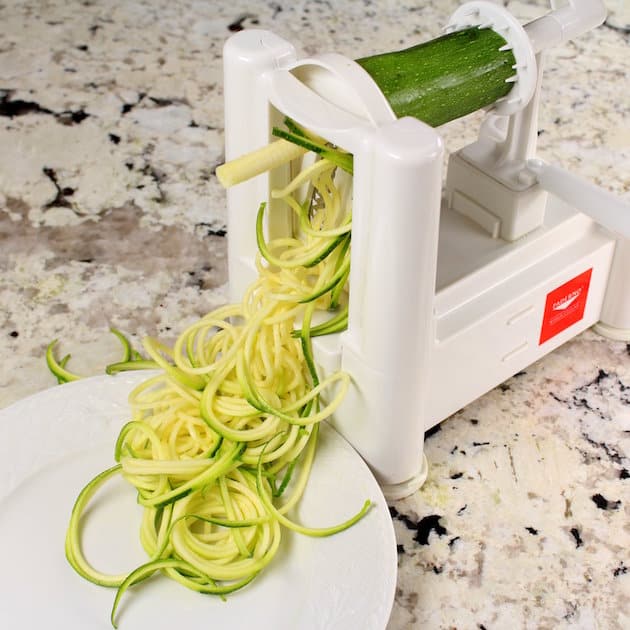 Aren't those zoodles gorgeous?  Wait until you taste them with the mozzarella and pesto stuffed chicken.  So good!👏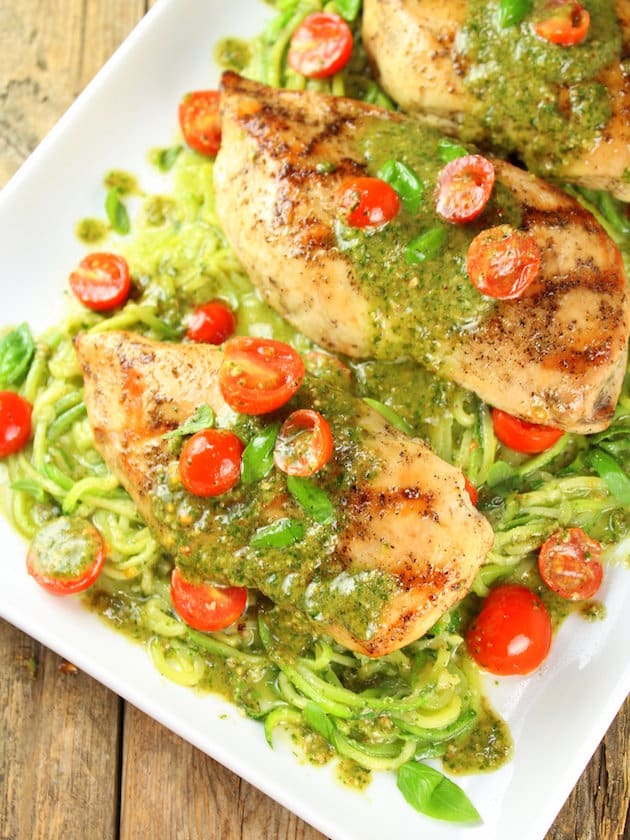 First I made my pesto: 2 cups of basil, ½ cup of smoked almonds, ¼ cup of Parmesan cheese, 3 cloves of minced garlic and 1 tablespoon of olive oil.
Then processed the mixture until it became a paste, and drizzled in two more tablespoons of the olive oil while it was processing.  Next I scooped it into a container and added a little more olive oil on top to prevent it from oxidizing (AKA turning a dark greenish scary black color).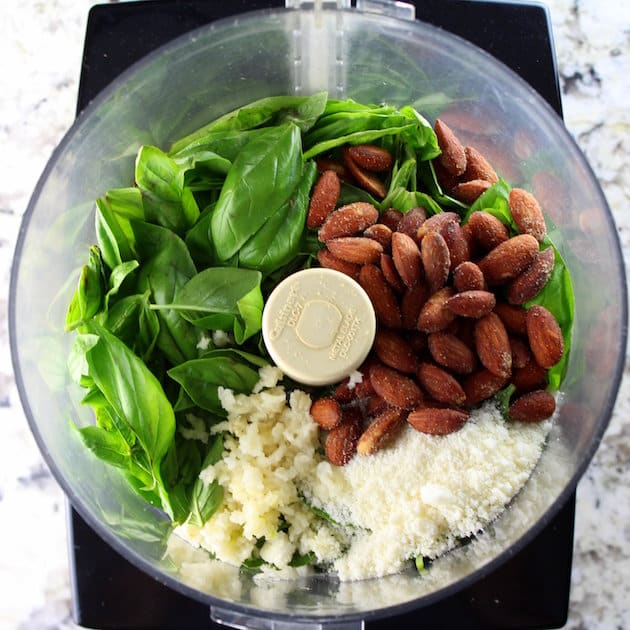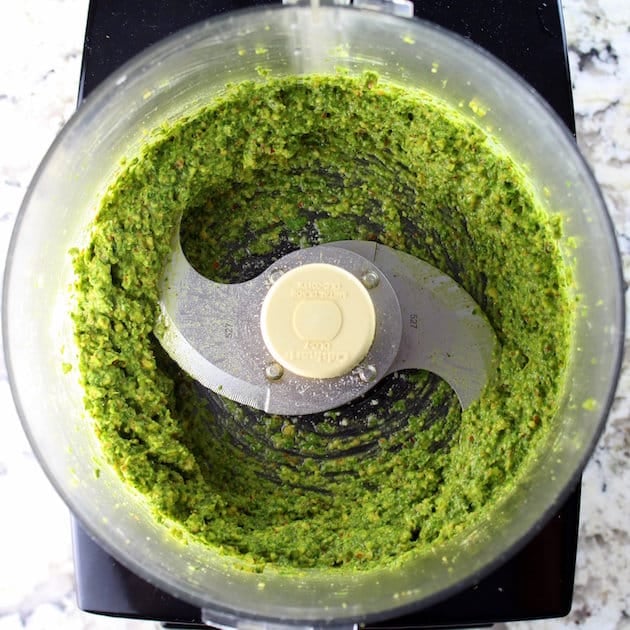 Next, I spiralized my zucchini, sprinkled them with a little salt and allowed them to drain in a strainer while I prepared the chicken.
Then I cut a slit lengthwise and a little over halfway into the center of each chicken breast.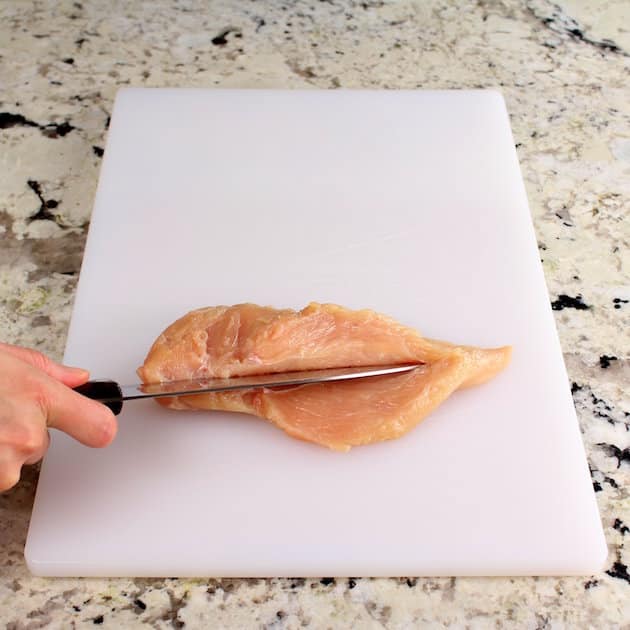 I cut up ½-inch cubes of fresh mozzarella and mixed them with 1/4 cup of the prepared pesto and mixed in a tablespoon of water.  Then filled each chicken breast with a rounded tablespoon of the mixture.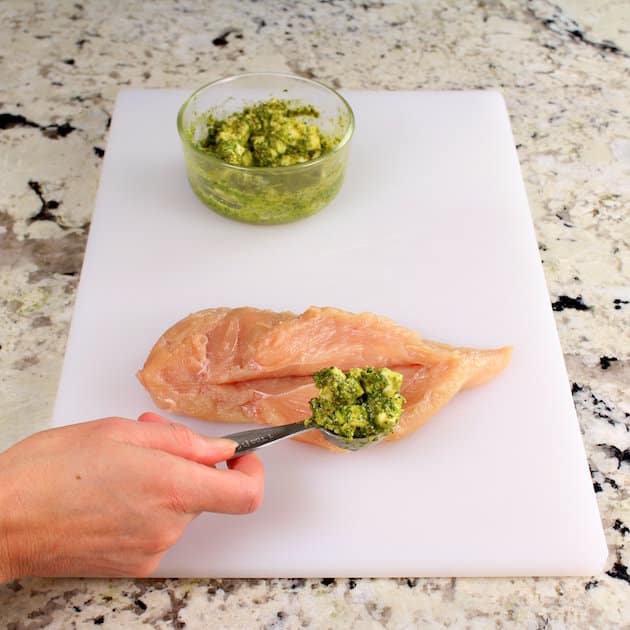 Next I used toothpicks and stitched up the slits to prevent the cheese and pesto from oozing out while cooking.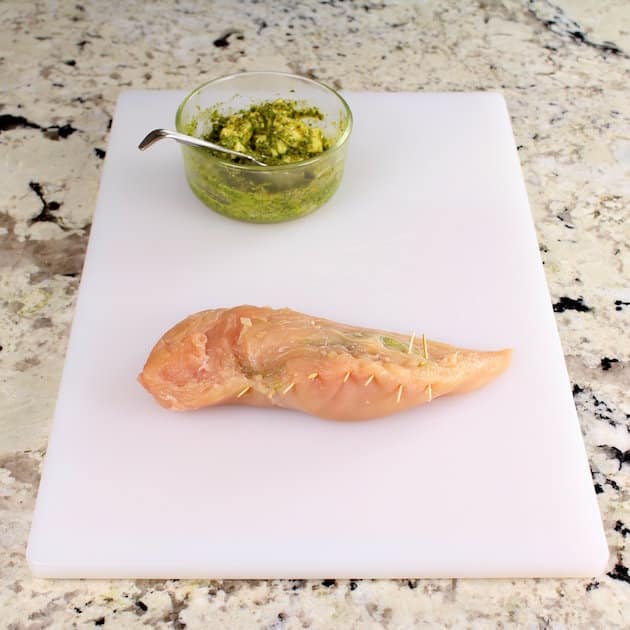 I placed the chicken on a hot grill with the sliced sides facing upward and grilled for 7 minutes on the first side.  Then I gently flipped them over and grilled the other side for 3-4 more minutes or until they reached 165 degrees on my handy dandy digital thermometer
.  Love that thing!❤️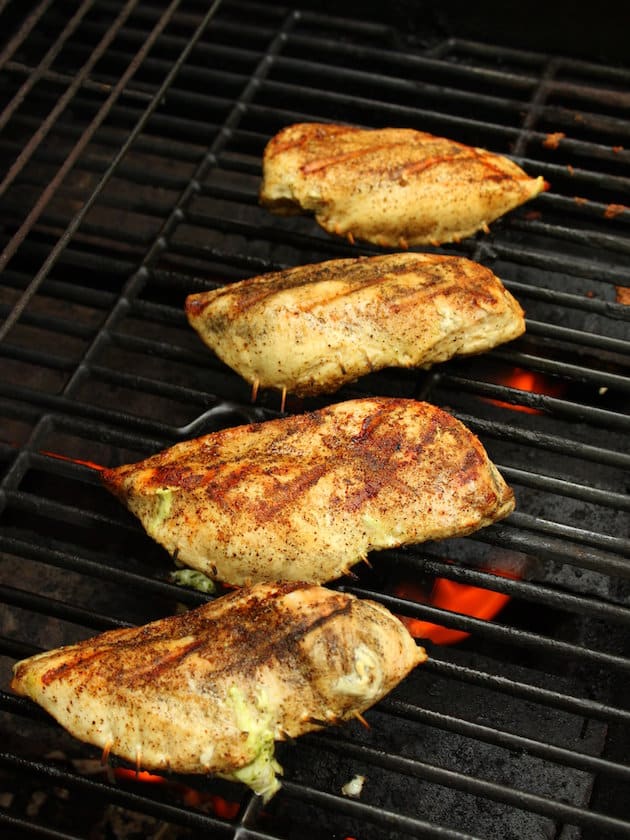 I let them rest for 5 minutes and meanwhile cooked my zoodles in a medium-high heat sauté pan with another couple tablespoons of the pesto mixed with a tablespoon of water.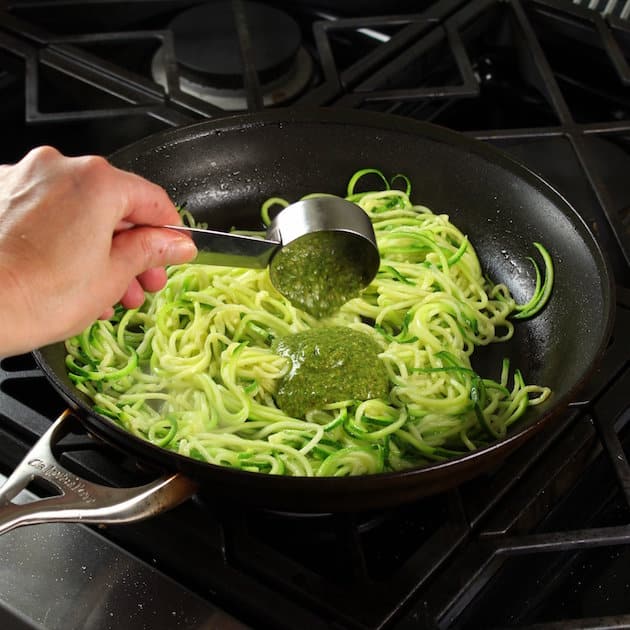 Finally, I added some halved cherry tomatoes and gave it all a good toss.😍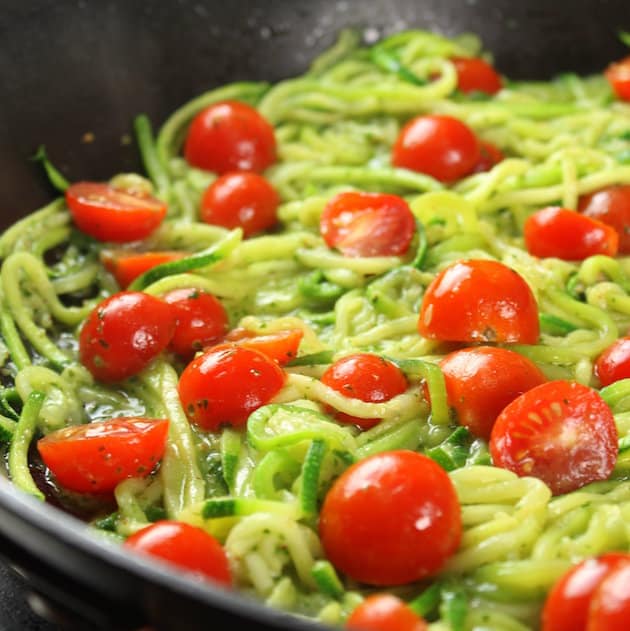 The only thing left is to plate this masterpiece and dinner is served!👇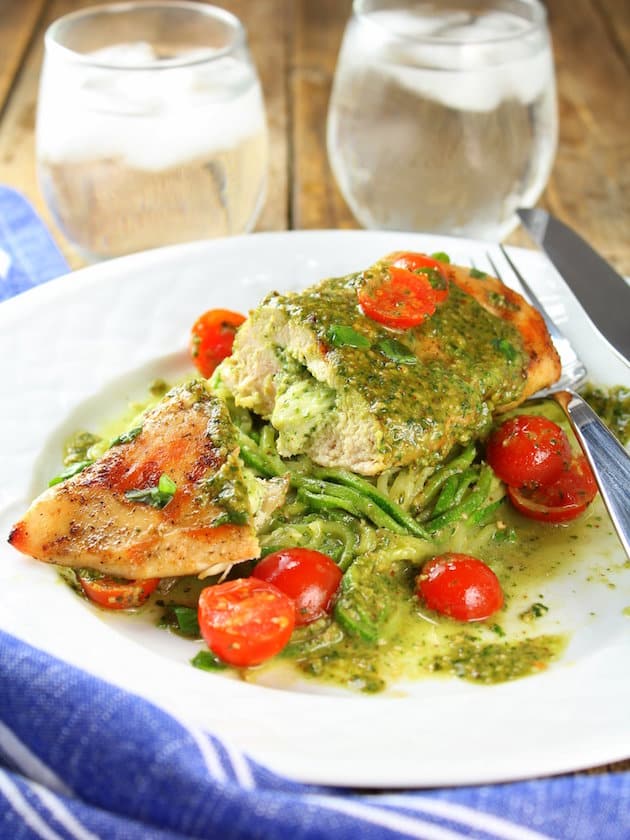 Another delicious, fresh, and healthy meal to add to your summer time recipe line up!
Buon Appetito!🍴
I would love to connect with you!  Leave a comment and follow me on Instagram, Twitter, Facebook, & Pinterest!
Looking For More Great Zucchini Noodle Recipes?
Sausage and Peppers with Zucchini Noodles