These Balsamic Baby Back Ribs are fall-off-the-bone tender and slathered in a garlicky, brown sugar, balsamic sauce with just a touch of "cayenne kick." Finger-licking good and perfect for summer grilling!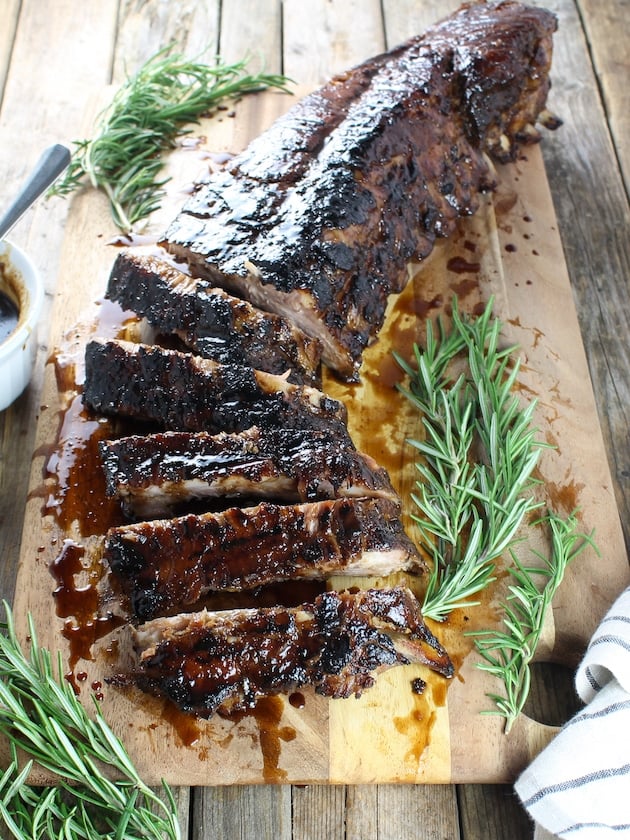 There are just a few meals around here that the hubs cooks. One being the Cilantro Lime Grilled Shrimp and another being these sticky, hearty, zesty Balsamic Baby Back Ribs!
You might be saying to yourself "well of course he makes the ribs, he's the man of the house." And although he is, the B man could care less about being the pit master, the grill guy or any other stereotypical roles assigned to men in this area.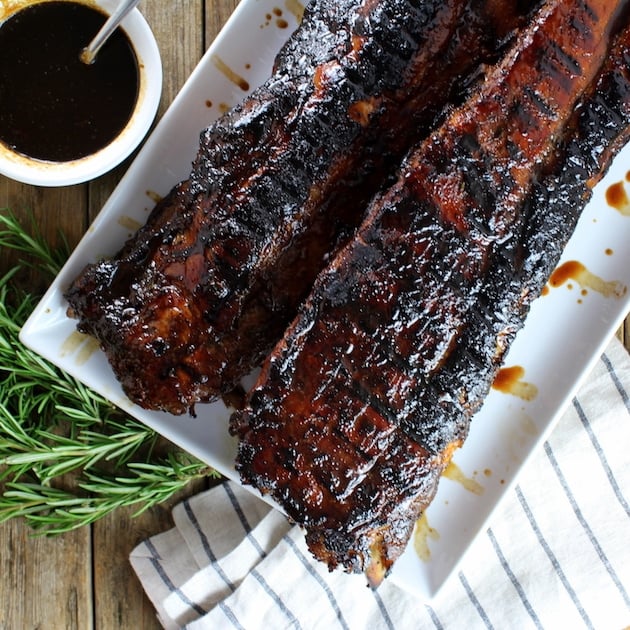 Don't get me wrong, he isn't avoiding work - oh no! He will jump in and lend a hand with any task - any day of the week. He is a lawn-mowing, faucet-changing, bathroom-cleaning, roof-raking machine!
And as much as he is helpful, he is also very self-aware. He knows his culinary limitations and he's not afraid to embrace them. Grilling would be one of those, and we're both good with that.
The B man is quite technical, he loves a good spread sheet and he will PowerPoint you under the table all day err day. If you want to see him light up just throw out questions like "what are we solving for?" or "what's our process for this?" mid-conversation. Like a kid on Christmas morning.
It will probably come as no surprise to you that one of his nicknames is simply "Business," but truth be told he really prefers the name "Lord Business." LOL #kidding #notkidding
You may be wondering what all of this has to do with ooey gooey meaty sticky Balsamic Baby Back Ribs! I'm getting there I promise.
Since Lord Business is all about following formulas, a good process, and using his favorite app Evernote, well, once he's got a method that works, he can replicate it in his sleep. Now do you see where this is going?
The B man holds the title, wins the medal and takes the crown for… The. Best. Ribs. On. Earth. (and all of his close friends and dinner guests joined the angels in heaven rejoicing).
Literally he is the Rib Sensei… he makes the most amazing Jamaican Jerk Ribs, classic BBQ Ribs, and yes these ridiculously mouthwatering Balsamic Baby Back Ribs!
And because he's such a giver he's allowing me to share one of his most closely held cooking secrets with you today!
How to make balsamic baby back ribs:
These Balsamic Baby Back Ribs are all sweet and zesty and full of so much hearty flavor. Inspired by a recipe from Ian Knauer, B has modified the ingredients – and the cooking process – to make it even better (in his humble opinion). The rub coats the meat for hours and infuses all that rosemary, brown sugar, garlic, and cayenne right into every fiber.
I have to say that this method of cooking ribs makes them perfect for summer entertaining. Starting these baby back ribs in the oven is the key... once B figured out how to cook baby back ribs in the oven, he officially became the master of ribs in our home!
You can even bake them the day prior, and store them in the fridge until you are ready to grill them. Just remember to pull them out of the refrigerator so they can come up to room temperature before you finish them on the grill.♨️
The method B uses for cooking the ribs is "low and slow." Cooking baby back ribs in the oven allows them to retain their nutrients and hearty flavor. It's all very technical and there is an equation (AKA process) for it all, which is probably the reason B is so proficient at it.
Cooking each rack of ribs in its own sealed foil "boat" will ensure that they stay incredibly tender and juicy.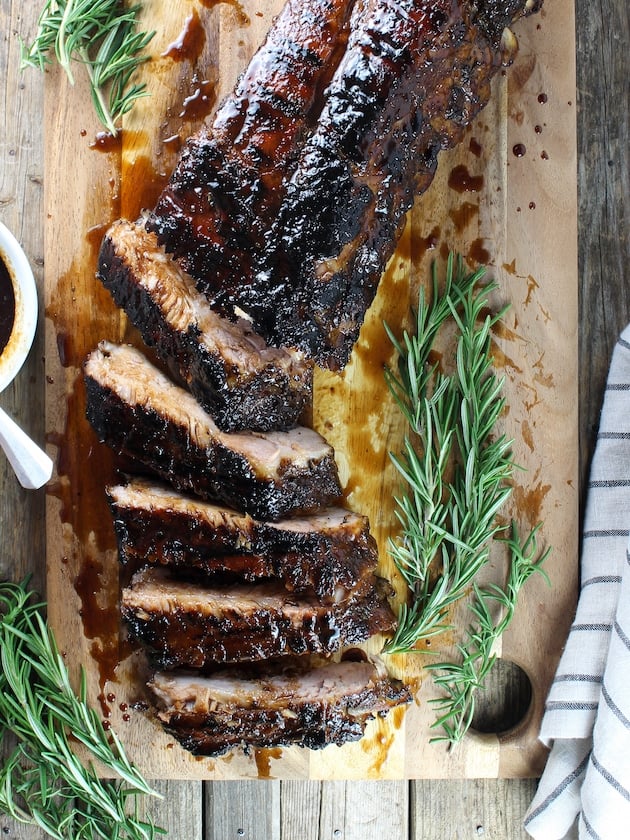 The article "Slow Goes It" published by the Washington Post explains the science behind all this magic:
"…the significant action occurs when the meat's internal temperature is between 100 and 140 degrees.
"At approximately 100 degrees, the strands of proteins that make up the muscle and connective tissues begin to cook but also unwind," he says. "The water and juices are released at around 120 degrees, and the collagen in the connective tissue in meat begins to melt and gelatinize at around 140 degrees. By using your oven to create a beneficial combination of low temperature and time you can achieve excellent results."
It makes perfect sense – right?
After the ribs have cooked for several hours in the oven you can make the balsamic reduction on the stove. The only thing better than aged balsamic vinegar is reduced aged balsamic vinegar. It just doesn't get much sweeter than this – literally.
You actually cook down the juices from the meat, plus a little balsamic vinegar, brown sugar & spices to create your basting sauce for grilling. You want to reduce it to the perfect consistency: thick enough to stick to the ribs, but loose enough spread over them easily.
Then you're in the home stretch - time to get those ribs on the grill! Heat up that grill and get to basting... cover the meat side first, before you even take them out to your grill.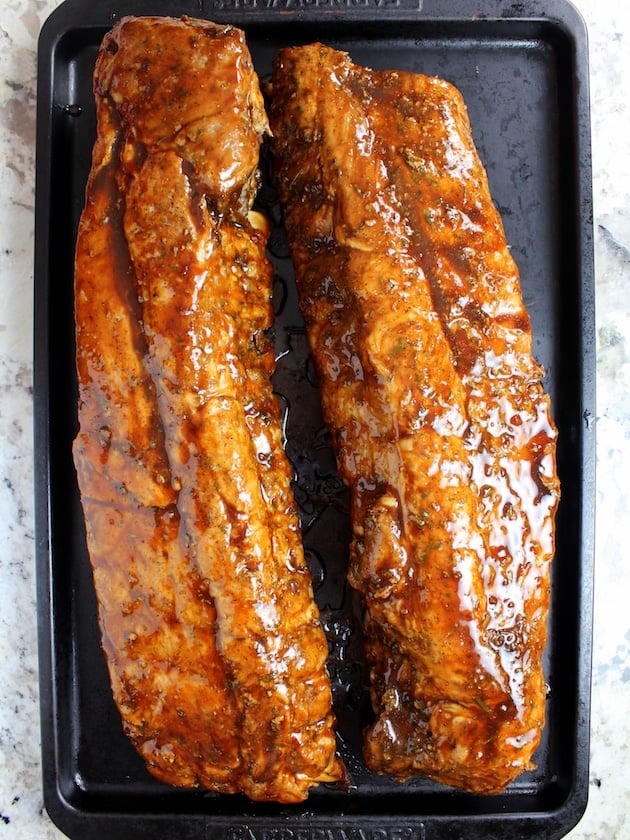 Start grilling them with the rib bone side down, then flip and baste the other side. 5 minutes later you will be enjoying these sticky, hearty, spicy and sweet, slow-cooked, fork-tender, award winning ribs.
Trust me, one bite of these Balsamic Baby Back Ribs and all of your dinner guests will be asking for to-go boxes and singing your praises for weeks to come!
PS: In spite of all that "low and slow cooking" advice, there are some times when you just can't wait... or just didn't plan far enough ahead. If that's your story, then you will be amazed with these Instant Pot Baby Back Ribs!
I would love to connect with you! Leave a comment and follow me on Instagram, Twitter, Facebook, & Pinterest!
Want to turn these ribs into a complete meal? Try these ideas to go along with them!
Broccoli Grape Salad

Yield: 12 Servings

Balsamic Baby Back Ribs Recipe

Balsamic Baby Back Ribs – sweet, zesty & full of hearty flavor. Fall-off-the-bone tender! With Rosemary, Cayenne, Brown Sugar, & Balsamic.

Total Time

16 hours

30 minutes

Ingredients

For The Rub:

Extra-wide heavy duty aluminum foil
1 Large sized disposable aluminum roasting pan
10 pounds baby back pork ribs – also sold as "pork loin back ribs," (3 large racks)
¼ cup plus 2 tablespoons light brown sugar
1 teaspoon salt & pepper
1 teaspoon cayenne pepper
¼ cup fresh finely chopped rosemary
¼ cup balsamic vinegar
13 cloves of garlic, minced
1 tablespoon onion powder

For The Balsamic BBQ Sauce:

1 ¼ cups balsamic vinegar
½ cup dark brown sugar
¼ teaspoon cayenne, (more if you like it spicy)
rib cooking liquids

Instructions

Rub & Marinate The Ribs:

Combine all ingredients for the rub in a medium bowl. Mix well.
Tear off three pieces of foil at least 8 inches longer than the racks of ribs. Place them where you have easy access to them, shiny side facing down.
Spoon ⅓ of the rub over one rack of ribs and coat thoroughly. Then place the rack meat-side down onto a piece of foil.
Carefully bring together the long edges of the foil, then roll them together down toward the ribs. Close and roll up the short ends of the foil to seal the ribs for cooking.
Transfer all the foil-enclosed ribs to the aluminum roasting pan. If you have three racks of ribs, you can stack the third one right on top of the other two.
Refrigerate and marinate for at least 12 hours.

Slow-Cook The Ribs:

Place oven rack in center position, and preheat oven to 350 degrees.
Place baking tray with ribs in the oven. Cook at 350 for the first 30 minutes, then reduce heat to 300 and bake for another 90 minutes.
After the first 2 hours, rotate the foil packets. Leave the temperature at 300 and cook for another 90 minutes.
At this point check to be sure the ribs are done: leaving the ribs in the baking tray, carefully open one end of one foil packet. (Be careful the steam is extremely hot.) You should see that the meat has started to pull away from the bone. Gently test with a fork to ensure that they are tender and give easily, but still hold their shape to be able to survive grilling or broiling. Check multiple foil packets in the same way. If they need more time, re-seal the foil and return them to the oven for another 15-30 minutes.
Carefully pour all the cooking liquid from the ribs into a large saucepan. If desired, skim off fat. Gently place the ribs on a large cookie sheet with the bone side down and set aside. Discard the foil that was used to bake the ribs.

Make Balsamic BBQ Sauce & Grill The Ribs:

Add the additional balsamic vinegar, brown sugar, and cayenne to the saucepan with cooking liquids. Mix thoroughly over medium heat, and bring the sauce to a gentle boil. Allow it to cook long enough to reduce somewhat and thicken… usually about 15-20 minutes. The result should be somewhere around 1½ cups of sauce.
Using a basting brush, cover the meat side of ribs with the sauce. Don't worry about the bone side at this point.
Thoroughly oil grill grates using paper towels and canola or olive oil, then bring grill to 450 degrees.
Place ribs bone-side down on the grill, cook with lid closed for 3 minutes.
Gently turn the ribs over, meat side down. Brush the bone side of the ribs with a small amount of BBQ sauce. Leave the grill open, and closely monitor the ribs during this step! Grill the ribs long enough to caramelize, without burning them. You may need to adjust grill heat as necessary to achieve this, but normally this takes around 5 minutes. Place the grilled ribs bone-side down onto a cookie sheet, then re-apply BBQ sauce over the meat side.

Notes

This cook time includes 12 hours of marinating.
Some recipes advise removing the thin membrane from the bone side of the ribs when prepping them but we don't find this necessary (marinating the ribs 12+ hours and using a "low-and-slow" cooking method help break down the membrane). However, if you want to remove the membrane, use a knife to loosen it from the bone at one end of the rack... then use a paper towel to get a firm grip and gently peel the membrane away from the bone.
If no extra-wide heavy duty foil is available to you...
- You can combine two regular-size pieces of foil to create the needed size. Just cut off two long sheets, lay them next to each other with the long sides slightly overlapping, and roll/crimp them together.
- Also, you should consider using two layers of foil for each rack of ribs to ensure the bones don't puncture the foil.
When baking the ribs, be very careful not to overcook them! Otherwise they tend to fall apart before you've gotten them onto the grill.
For the final cooking step you can broil instead of grilling. This is helpful when the ribs have been over-cooked in the baking step and just won't hold together well on the open fire, or if a grill is not available.
- Just raise the oven rack to the broiler height, place the ribs meat-side up on a broiler tray or cookie sheet, and broil until ribs start to caramelize. Just like grilling, this should take around 5-10 minutes max, and you want to watch the ribs carefully to make sure they don't burn.
- When done, apply a little more BBQ sauce to the meat side of the ribs. Also, if you use the broiler, it is not necessary to flip the ribs over during this step.

Nutrition Information

Yield

12

Serving Size

4-5 ribs Amount Per Serving

Calories

678

Total Fat

46g

Saturated Fat

16g

Unsaturated Fat

0g

Cholesterol

197mg

Sodium

490mg

Carbohydrates

7g

Sugar

4g

Protein

55g