These Maple Sriracha Grilled Bone-In Pork Chops are sweet, spicy and absolutely delicious! They're marinated in lime juice, Sriracha, pure maple syrup and fresh minced garlic, then grilled and on the table in less than 10 minutes!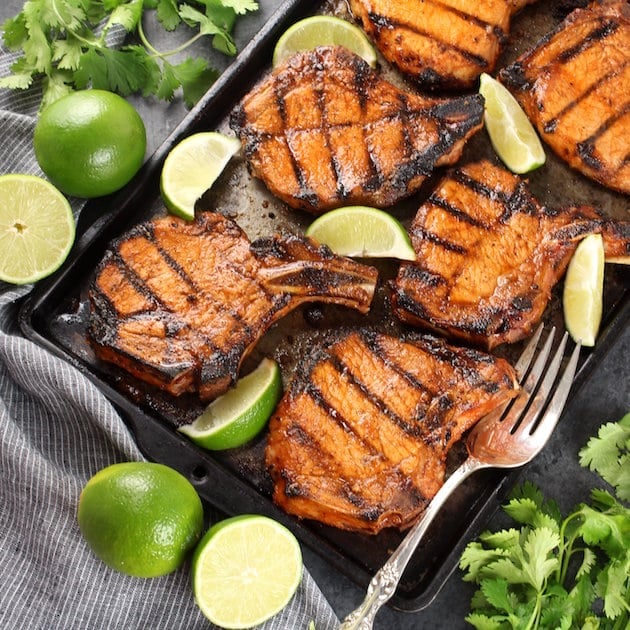 I can't express how happy I am that it's grilling season. I mean technically we grill all year round, but when it's 10 degrees outside it takes a bit more time, dedication, and, well, propane, to get our grill on.
It's just so amazing to not dirty any pans, and have your dinner ready in less than 10 minutes. Can I get an amen??👌🙌
Especially when you're jet lagged and just got off an airplane at 3 in the morning. Hello.✌️
Which if it isn't obvious, is exactly my current situation.😁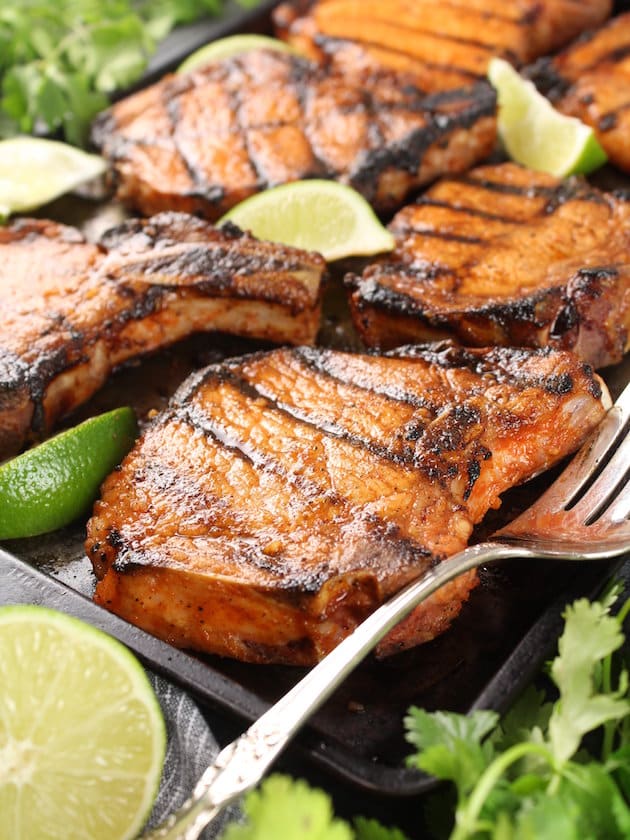 So, we just got back from Seattle where we watched our sweet precious cherub baby niece graduate from high school.🎓 Where does time go?? It seems like we were just having snowball fights in Central Park a few months ago.❄️
Can I take a few minutes and tell you about Tamar Hope? She's kind of remarkable.💕👇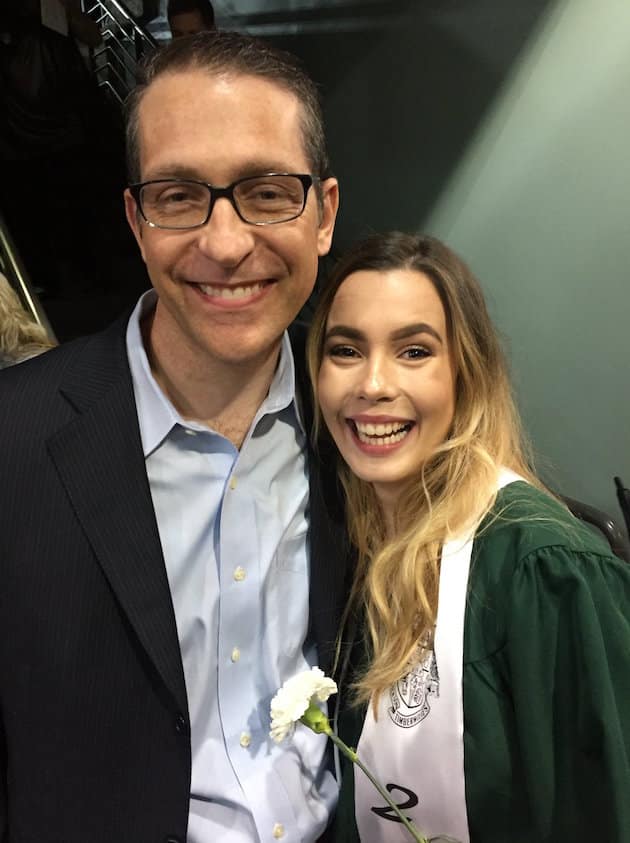 She was born with Cystic Fibrosis and immediately rushed into emergency surgery to remove a blockage in her bowel.
In case you're not familiar with CF, it's a genetic disease that causes persistent lung infections and limits the ability to breathe over time. It can have negative impact on the lungs, pancreas, and other organs as well. For more info about Cystic Fibrosis or to support research to find a cure and improve the quality of life for those living with the disease, check out the Cystic Fibrosis Foundation.
Tamar is one tough cookie, and a "cutie patootie" as her grandma says. She's fun-loving, strong and so courageous.💪 She's a leader among her peers, and a lover of her family and Creator.❤️
From a very young age she refused to let her condition define her, slow her down or keep her from living life to the fullest.
She went on to play soccer in preschool, dance ballet in kindergarten, participate in choir since 4th grade, play the viola, become a peer tutor working with special needs kids at her school, join the Link Crew (welcoming, tutoring and mentoring incoming freshman students every year), make the honor roll throughout high school, and become the Senior Treasurer and Senior Class Officer… all while fighting for every breath.
Tamar is not a girl held captive by this disease – no, not at all. She is a kind heart, a bright light and a spreader of "Hope." She is inspiring.✨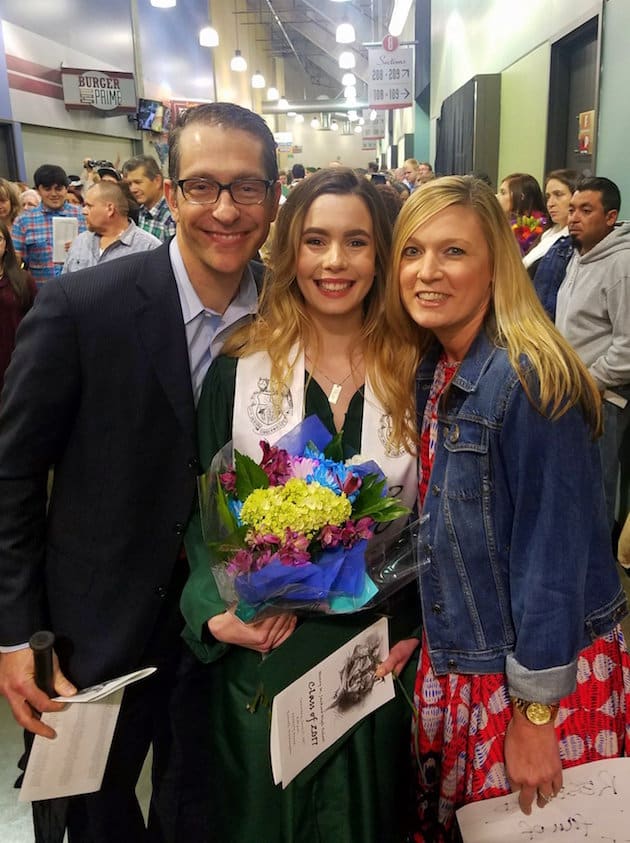 Life can be impossibly hard and many times we can't control the cards we are dealt but Tamar's story reminds me… we can still play our hands wisely, relying on the strength, courage, and grace of our God and Savior to live a very full and joyful life.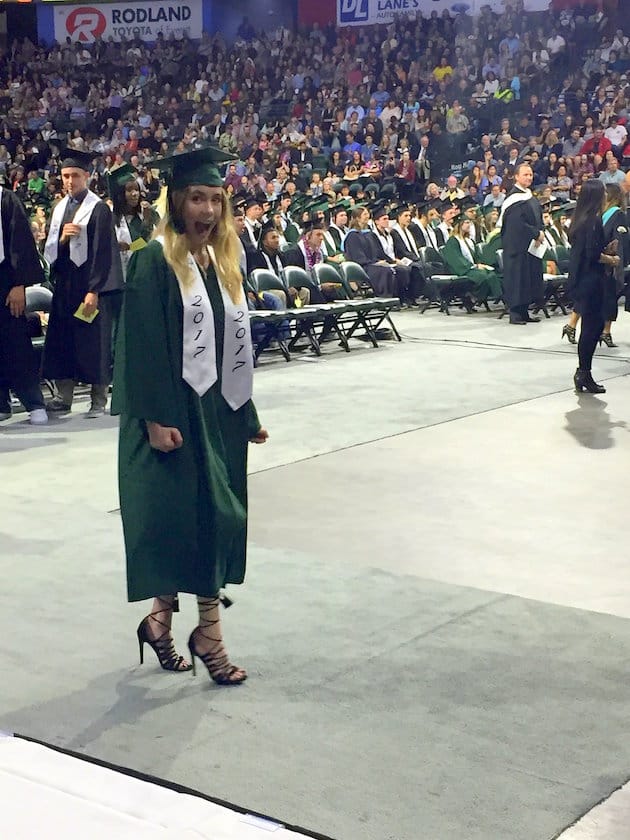 So I'll take the long flight across the country, the jet lag, and the flight delays, to celebrate this remarkable young woman. To watch her walk across that stage in her fabulously fashionable heels reminding me to keep fighting, running and pressing on to fulfill my purpose one step at a time.👍
Can you tell I'm just a little proud of her??😄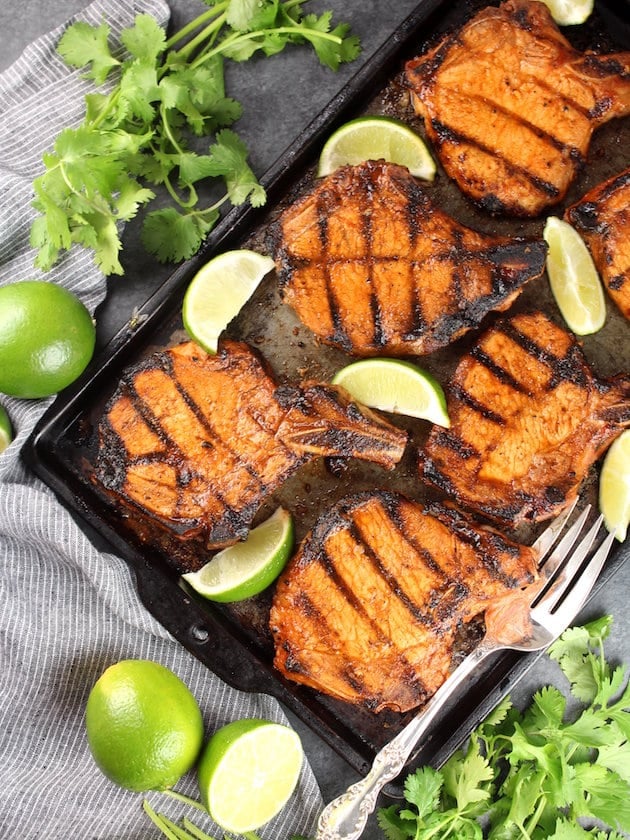 So since I'm still feeling the effects of our cross-country trip and moving pretty slow, I definitely needed to hit the "easy" button for dinner. So Maple Sriracha Grilled Bone-In Pork Chops is what's for dinner.👇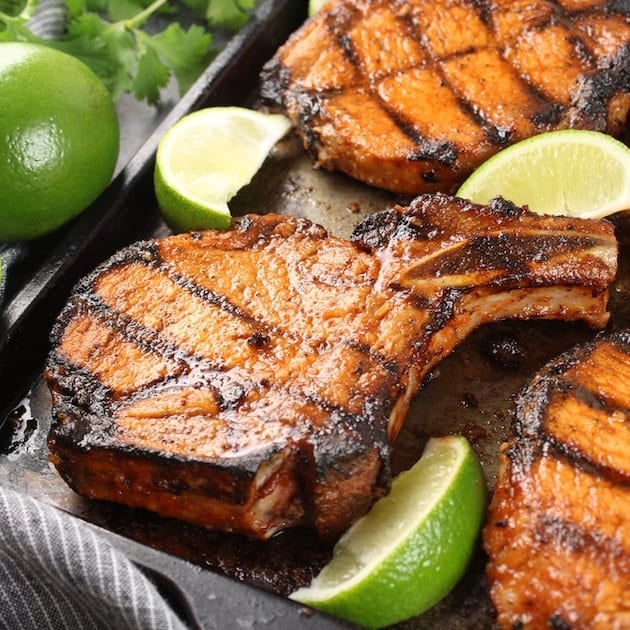 This recipe is so easy but so tasty. The sriracha adds a little kick of heat, the maple syrup brings a touch of sweetness, and the lime juice provides the perfect balance of flavor.
I like to use rib loin bone-in pork chops. They are so tender and juicy. And when grilled the maple sugar gets all caramelized and yummy. So good my friend, and so easy!💯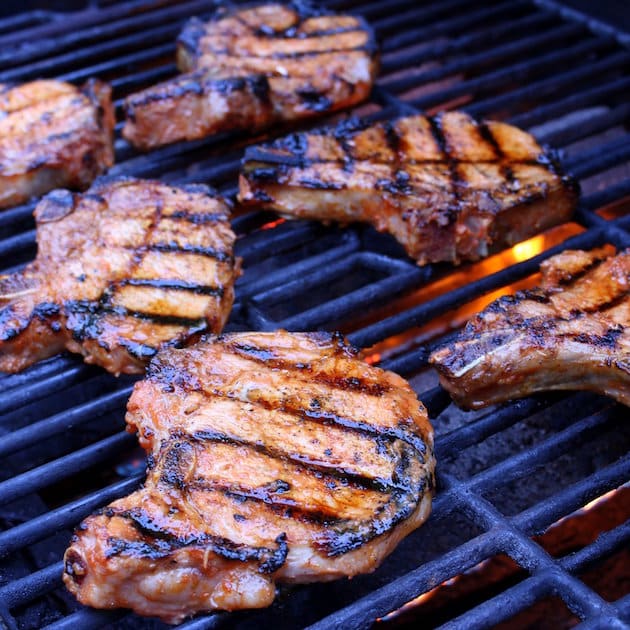 The marinade is pretty simple… Sriracha, Maple Syrup, lime juice and fresh minced garlic. Then add your pork chops and let them sit anywhere from 1 to 8 hours. Sprinkle with a little salt and pepper, spritz with grilling spray and grill on high heat for 3-4 minutes a side.
If you want to add even more flavor, mix up a little extra marinade and brush it on the chops just before serving.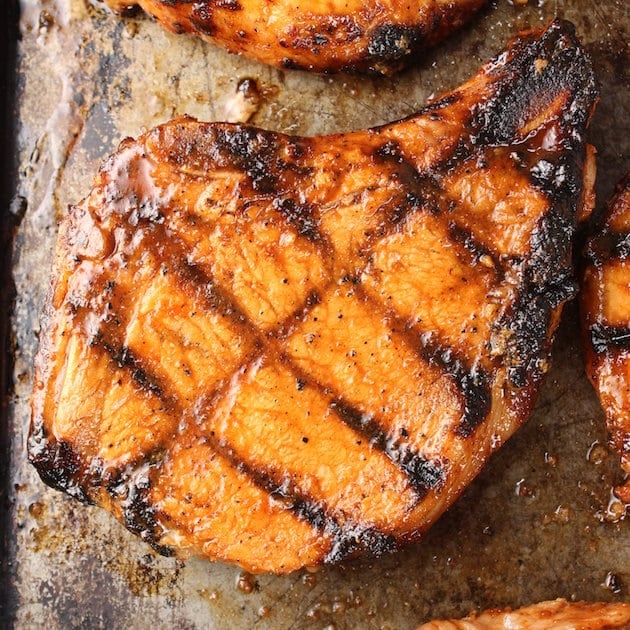 These Grilled Maple, Lime and Sriracha Pork Chops are sweet and spicy and the perfect meal to make when you want something really delicious in a hurry! Enjoy!
I would love to connect with you! Leave a comment and follow me on Instagram, Twitter, Facebook, & Pinterest!
Yield: 6 servings
Maple Sriracha Grilled Bone-In Pork Chops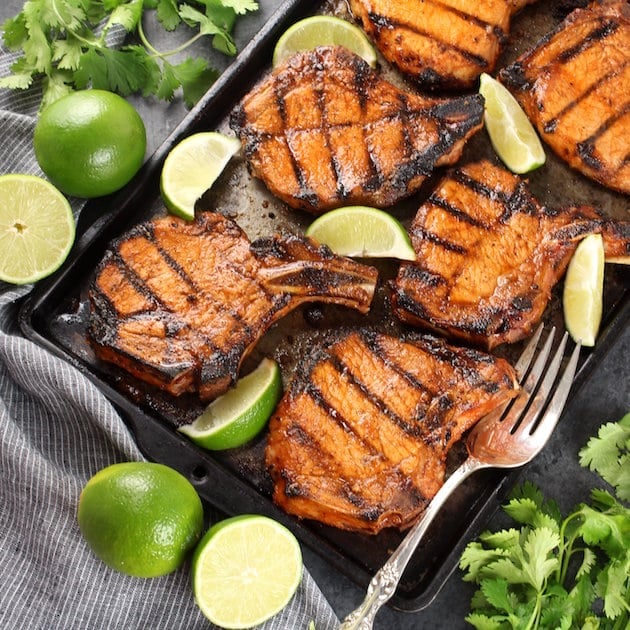 These Maple Sriracha Grilled Pork Chops are sweet, spicy and absolutely delicious!
Ingredients
6 one-inch thick pork chops (I used bone-in pork loin rib chops )
4 garlic cloves, minced
2 tablespoons Sriracha Sauce
3 tablespoons maple syrup
½ lime, juiced
Salt
Pepper
Cooking spray
Instructions
Combine garlic, sriracha, maple syrup, and lime. Thoroughly coat the pork chops and marinate 1-8 hours.
When ready to grill, remove chops from marinade and sprinkle with salt and pepper. Spritz with cooking spray then grill on high heat for 4 minutes on the first side and 3-4 more minutes after flipping, until the internal temperature of the meat reaches at least 145 degrees.
Notes
For even more flavor mix up some extra sauce and brush on the chops before serving.
Nutrition Information
Yield
6
Serving Size
1 chop
Amount Per Serving
Calories

239
Total Fat

9g
Saturated Fat

3g
Unsaturated Fat

0g
Cholesterol

89mg
Sodium

180mg
Carbohydrates

8g
Sugar

6g
Protein

29g
Looking For More Easy Weeknight Dinners?
One Pan Parmesan Pork Chops with Asparagus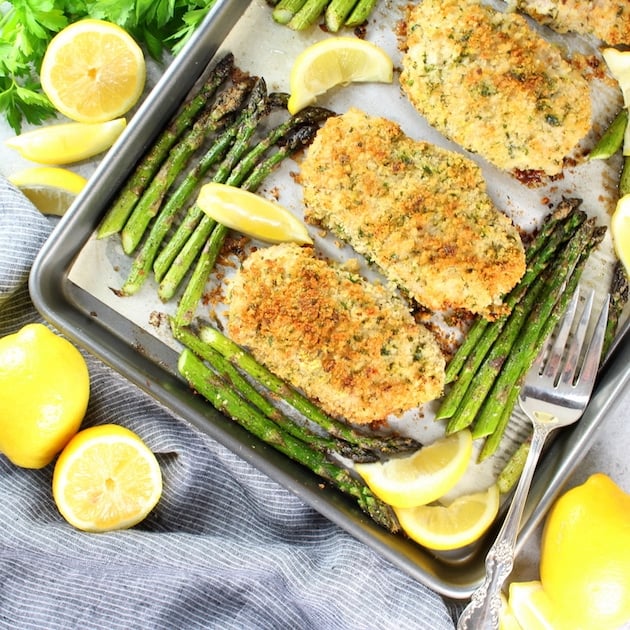 Teriyaki Chicken Meatball Kabobs