This post was sponsored by Heluva Good! as part of an Ambassador Program and all opinions expressed in my post are my own. We're making your holidays delicious and stress-free with these 3 Easy Dippers for the Holidays! We've got sweet potato tots, waffle-cut sweet potatoes, and sweet potato fries all served up with Heluva Good! Buttermilk Ranch for the ultimate holiday dipping experience.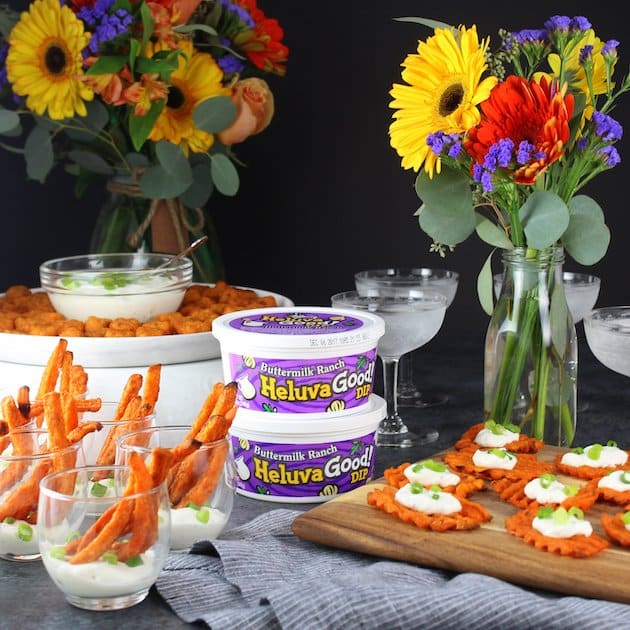 So we're at T-minus 8 days until Thanksgiving and just 40 days until Christmas!! Where oh where has time gone?
I'm guessing you're smack dab in the middle of menu planning and party prepping. Oh, how I love a good party!
If I wasn't food blogging I would totally be party planning. I love all of it: the decorating, the food, bringing people together. I thoroughly enjoy being among family and friends, watching them laugh, catch up with one another, and just plain enjoy themselves.
I've definitely learned a few things over the years from throwing Friendsgivings, Holiday Parties, and New Year's soirees.
It can all be stressful but someone once said "stress comes from the unknown and the undone." So, it always helps when you can hit the easy button and have some "known" go-to snacks for serving.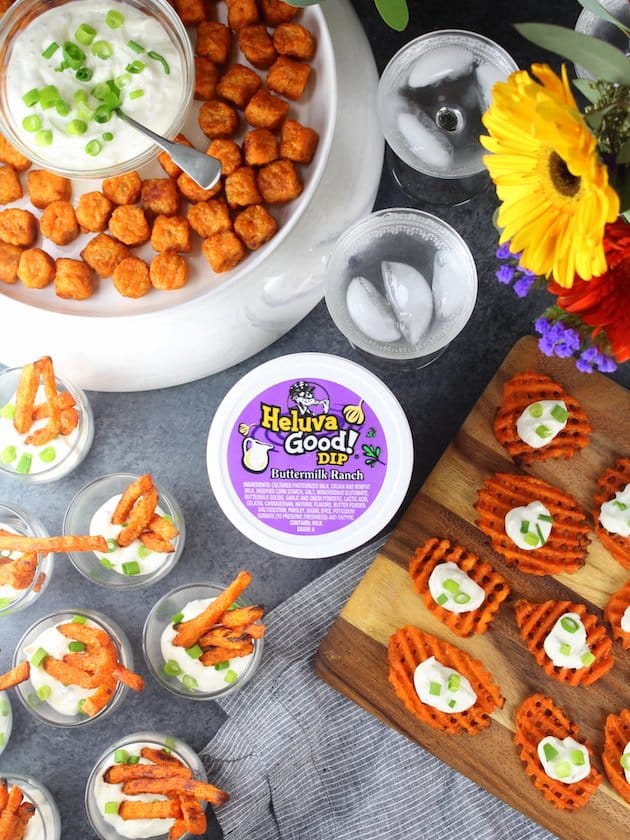 No matter what kind of party you are throwing you always need an appetizer or finger-food ready and waiting for your guests when they arrive. This serves both you and your guests nicely.
It gives your guests something to munch on while waiting for others to show up. And it gives you peace of mind knowing that you've taken care of them while you're greeting people and handling last minute to-do's.
Well, let's get to it - we've totally got you covered!
Enter these 3 Easy Dippers for the Holidays using Heluva Good! amazingly delicious dips!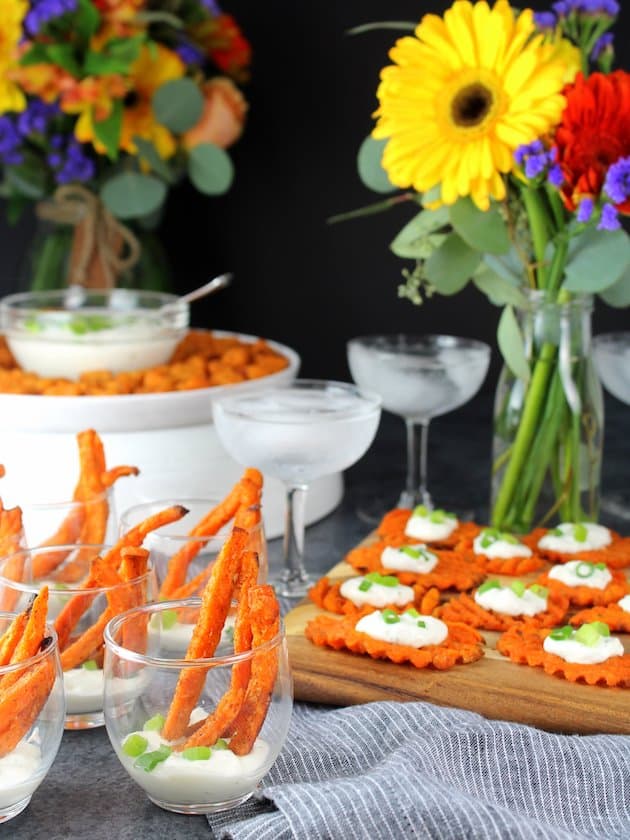 Seriously, no party, holiday event, girl's night in, or family movie night is complete without a dip to sink your chips into. And I love Heluva Good! dips because of their bold and exciting flavors. They have so many to choose from – 7 to be exact – and they're all soo delicious!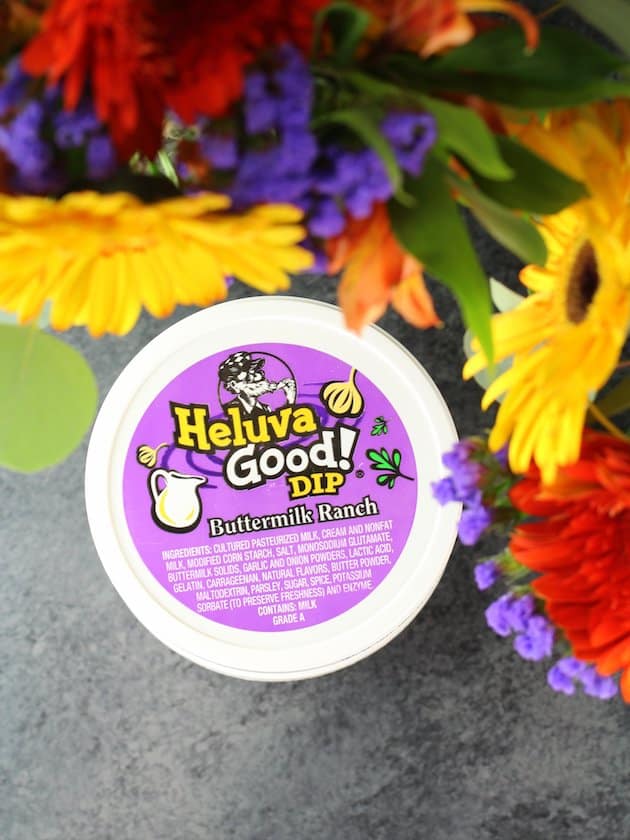 They're each made with real sour cream and flavorful spices, including French Onion, Buttermilk Ranch, White Cheddar & Bacon and Bodacious Onion! Mmm.
And although we all know dips were made for chips they were also made for so much more. Like these sweet potato fries and tots!!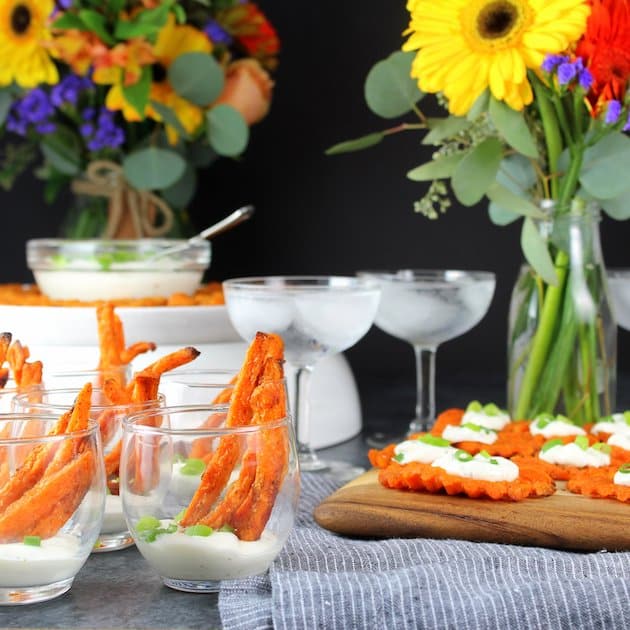 We love to be creative and use Heluva Good! Dips for everyday snacks as well as entertaining. The tasty dipping ideas are endless – for example there's pickle spears and pickle chips, cucumber slices, celery sticks, sliced peppers, pretzels, pizza bites, mozzarella sticks, and even fruit like apple and pear wedges for a savory and sweet flavor experience.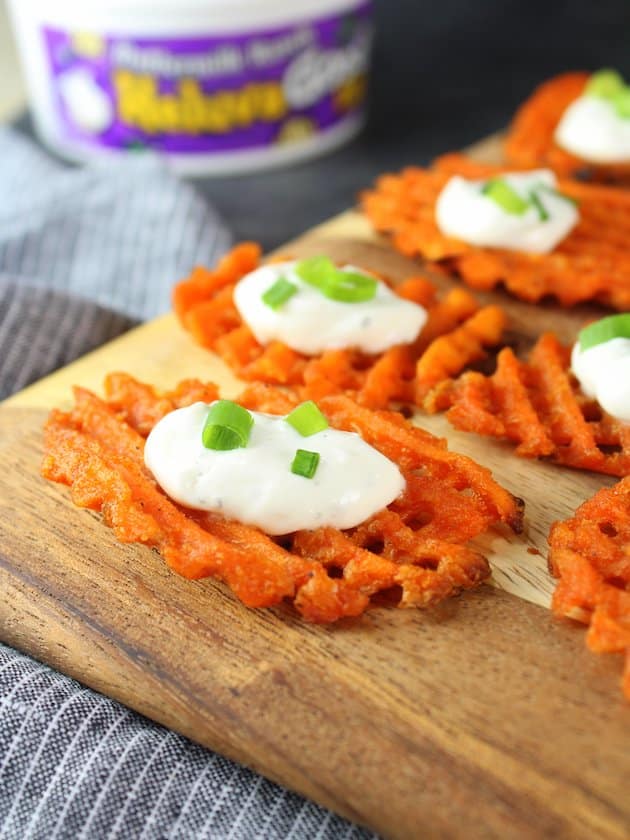 Just so many possibilities!
Today I'm sharing some delicious and easy dipping options that will be sure to impress all your guests this holiday season.
We've got sweet potato waffle fries, served with a dollop of Heluva Good! Buttermilk Ranch dip and sprinkled with some chopped green onions. The combination of flavors is so addicting there's no way you can eat just one. Plus, they're the perfect finger-food for your guests to grab and go.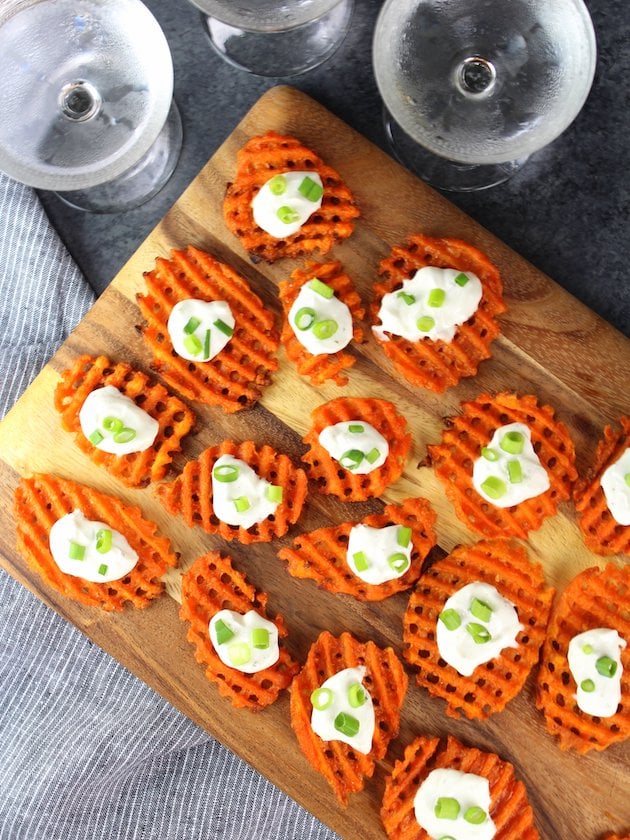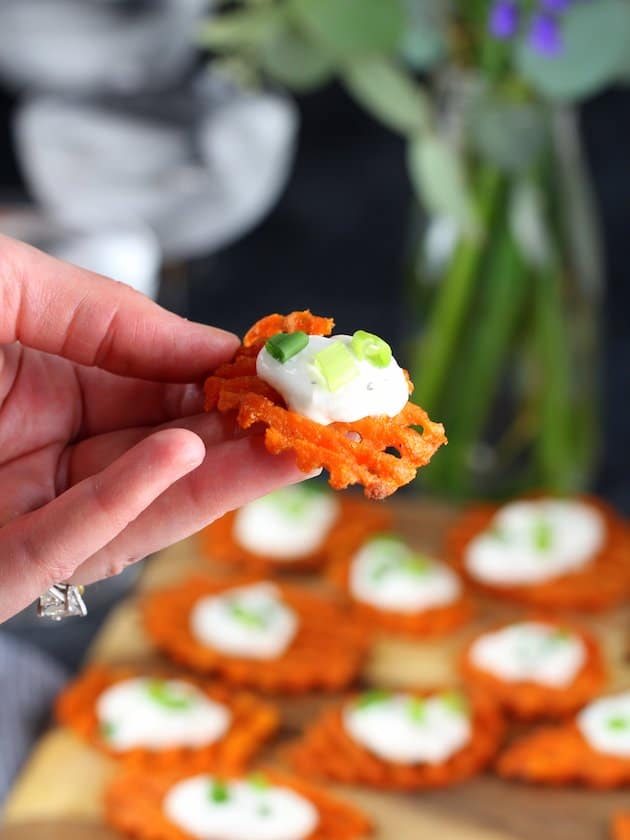 Another great idea using the same flavor profile is sweet potato tots. Serve them on a platter with the Buttermilk Ranch dip right in the center. Set out some party toothpicks so guests can stab, dip and devour.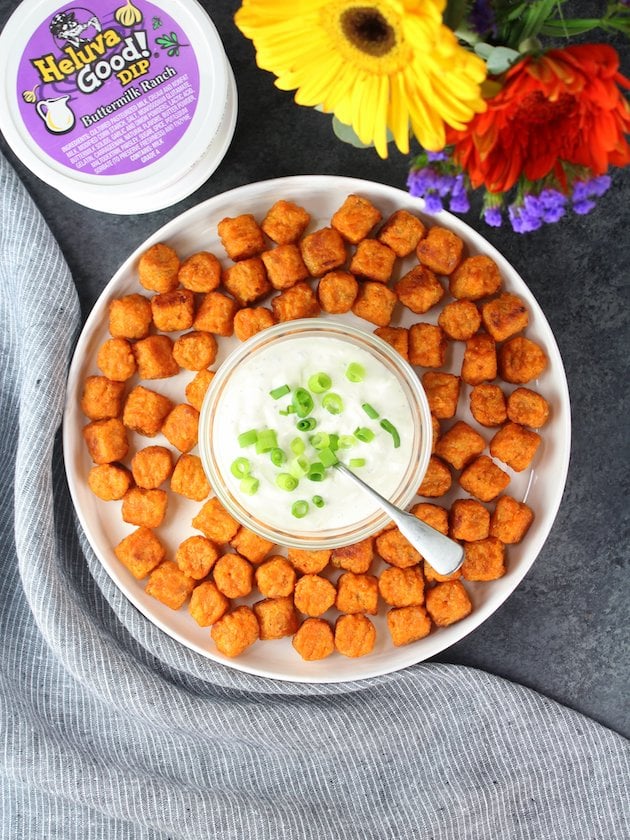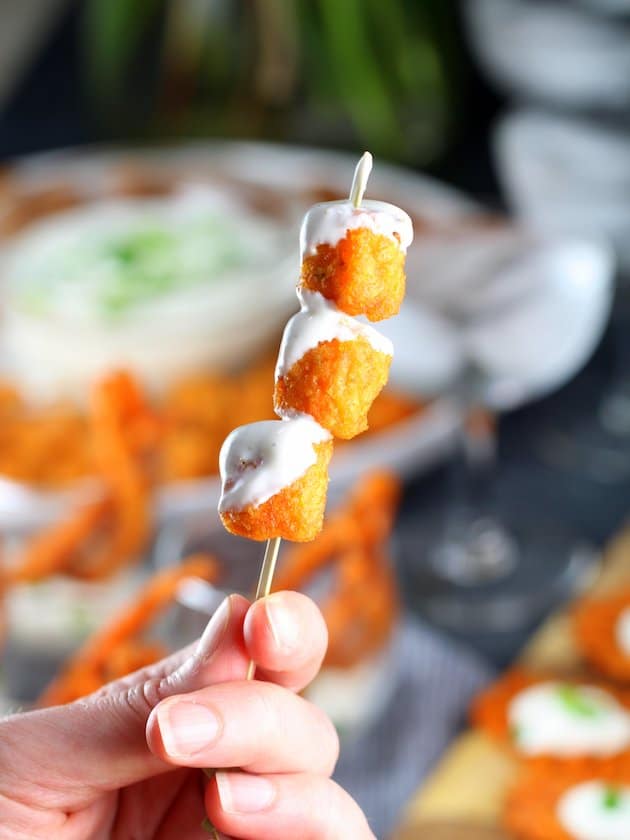 And then there's your traditional sweet potato fries. I like to serve them in individual shot glasses (or even votive candles holders) with the Buttermilk Ranch dip already in the bottom. This presentation looks a bit fancy and elevates those fries and dip to a whole notha' level.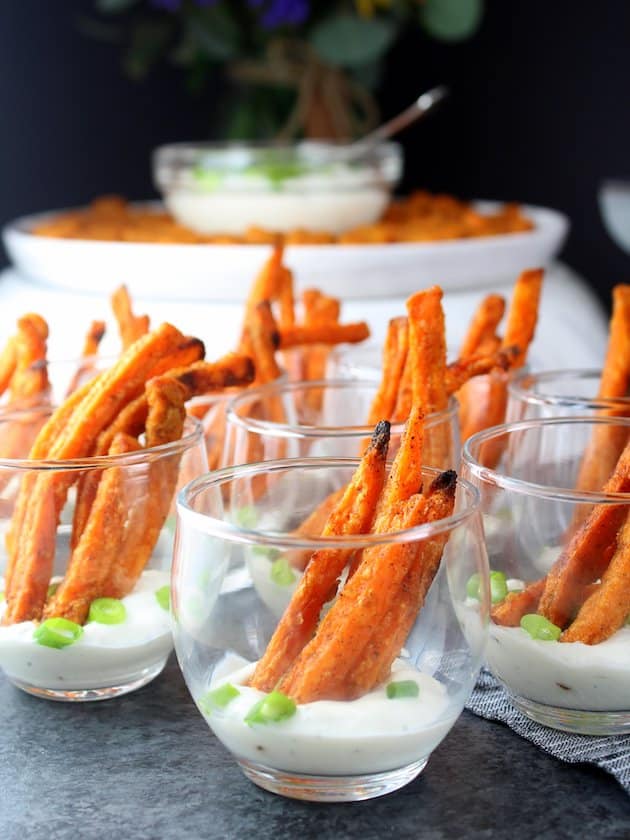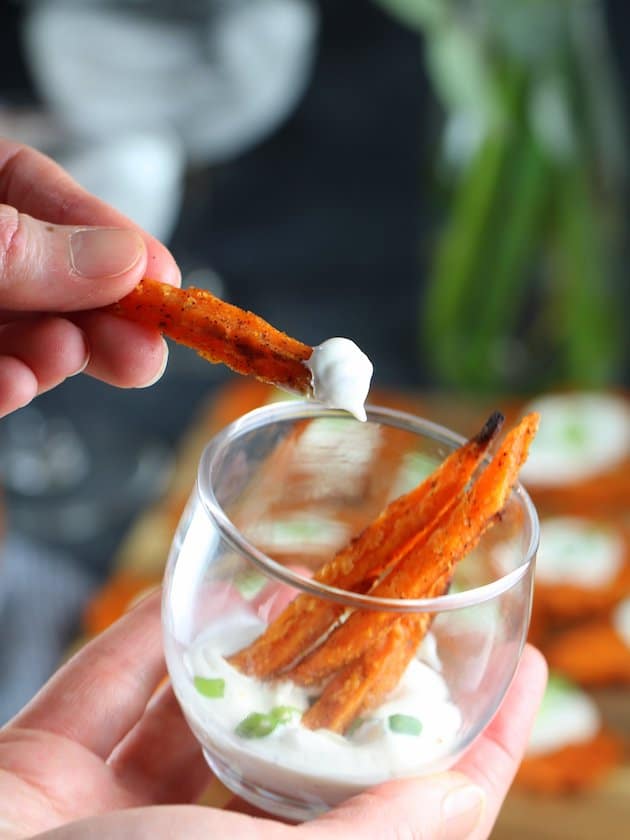 These 3 Easy Dippers for the Holidays using Heluva Good! dips are sure to be crowd-pleasers and allow you to enjoy stress-free entertaining you deserve.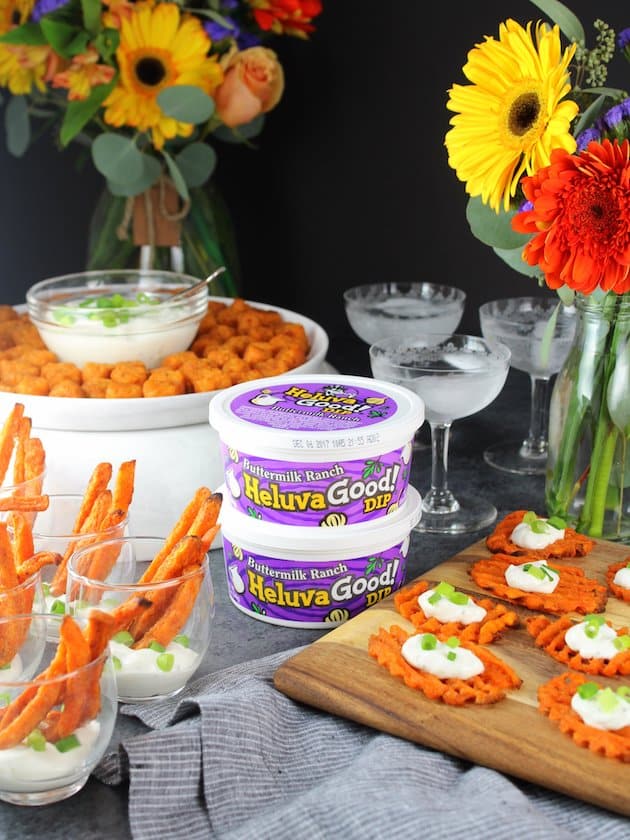 You can find these bold-flavored dips in the dairy aisle of your neighborhood supermarkets.
Happy dipping to you!
I would love to connect with you! Leave a comment and follow me on Instagram, Twitter, Facebook, & Pinterest!
Looking for more great Holiday Appetizer Recipes??