Caribbean Cornbread is extremely moist with bits of corn, crushed pineapple and the perfect amount of sweetness.✨ It pairs perfectly with your BBQ ribs or some Smoky Chicken Chili. This sweet cornbread is the epitome of island comfort food and will make you feel like "everting wi be irie!"✌️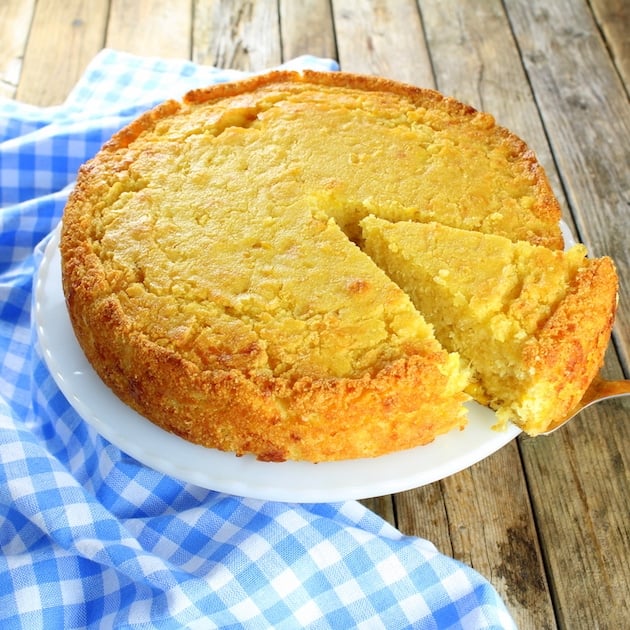 (This post contains affiliate links - read more here.)
What do you think of sweet cornbread?
To sweeten or not to sweeten?
Apparently there's quite the controversy over putting sugar in your cornbread.
Many people would just as soon eat cardboard than allow their precious golden bread to be corrupted with sweetness. I on the other hand just think we should all relax a little… because life's too short to get upset over a few spoonfuls of sugar. After all it does help the medicine go down. #inthemostdelightfulway #marypoppinsrocks
Not to beat a dead corn stalk, but one of the inherent - and if you ask me most outstanding - qualities of corn is its sweetness. Therefore I do believe sugar and cornbread are able to coexist.
Personally, I will take my cornbread any way you cook it, just as long as it's warm and slathered with tons of butter. Ahh butter. (heart eyes)
I think unsweetened corn bread goes best with chili, soups and stews (yep like that Smoky Chicken Chili). But when I'm getting on the outside of some BBQ ribs I'll take that sweet, golden goodness all day long! Like the Good Book says, "For everything there is a season, a time for every activity under heaven… and a time for sugar in your cornbread." Ok, so I added that last part.✌️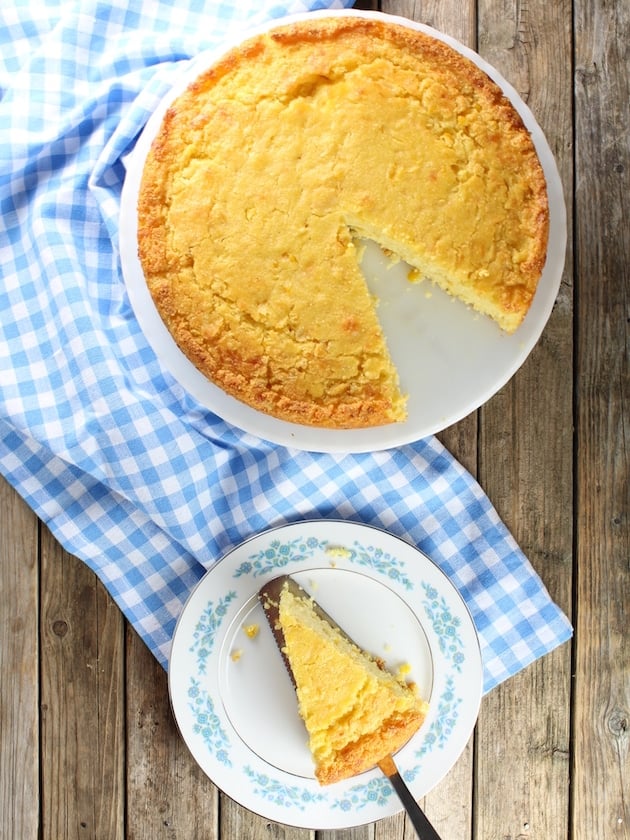 In light of this warm summery season, and my deep adoration for turquoise beaches, today we're talking about sweet golden Caribbean Cornbread.
How I discovered the best sweet cornbread recipe!
This recipe originates from Bob and Melinda Blanchard's Cookbook, At Blanchard's Table - A Trip To The Beach Cookbook. They are authors and serial entrepreneurs who owned a number of successful businesses including a million-dollar sauce and salad dressing company in Vermont... and sold it all to open a restaurant on the Caribbean island of Anguilla. It's an inspiring story about following your dreams, and a lot of hard freaking work. Because as John C. Maxwell says "Dreams don't work unless you do." And along those same lines Ann Landers once noted, "Nobody ever drowned in his own sweat."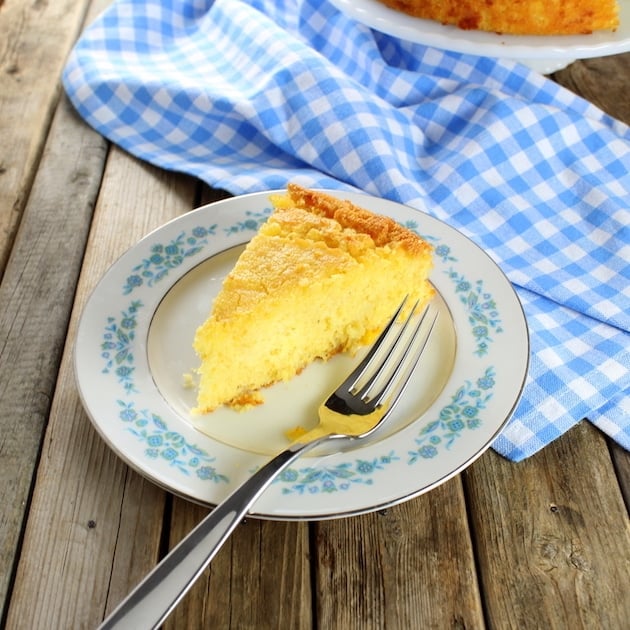 I happened to catch an interview with the Blanchards on the Today Show many moons ago. They were promoting their newly released book A Trip To The Beach and their first cookbook At Blanchard's Table. The B man surprised me with both books, and I was in enraptured. Their story was awe-inspiring. They had a dream, worked hard, took risks, and it all paid off.
It wasn't too long after both B and I read their story that we made our first trip to the beautiful Anguilla beaches. It was everything.
Anguilla is a small island 16 miles long and 3 miles wide. It's near other well-known islands like St. Maarten and St. Kitts and Nevis, located in the eastern part of the Caribbean Sea.
Anguilla is a hidden gem, partly because it's too small to handle cruise ships, and partly because the airport is too small for large jets. That is all perfectly ok with us, and in part makes the island a peaceful paradise.☀️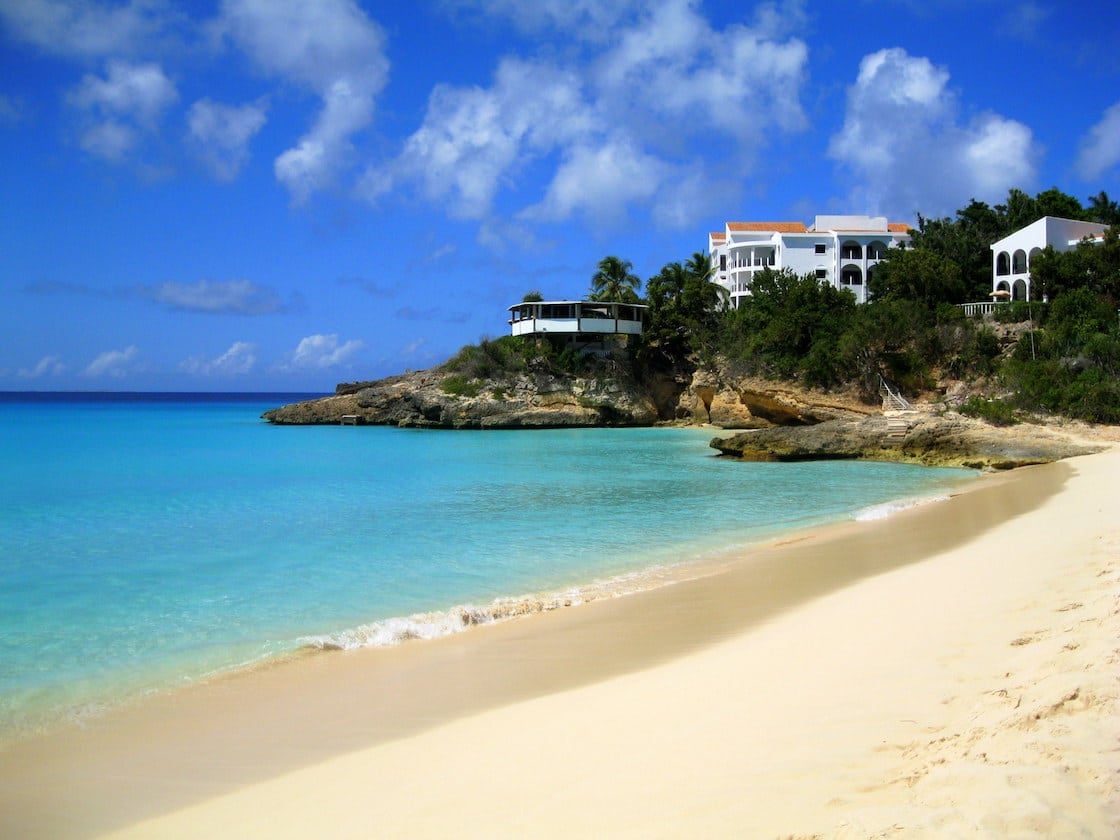 It truly has everything… powdery white sand beaches, gorgeous places to stay, abundant tropical foliage, friendly locals, and of course delicious cuisine from wonderful places like Blanchards Restaurant. Oh, and lots of goats – can't forget about those adorable fury creatures! We've continued to visit Anguilla many times over the years and it never disappoints. Truly tropical perfection.✨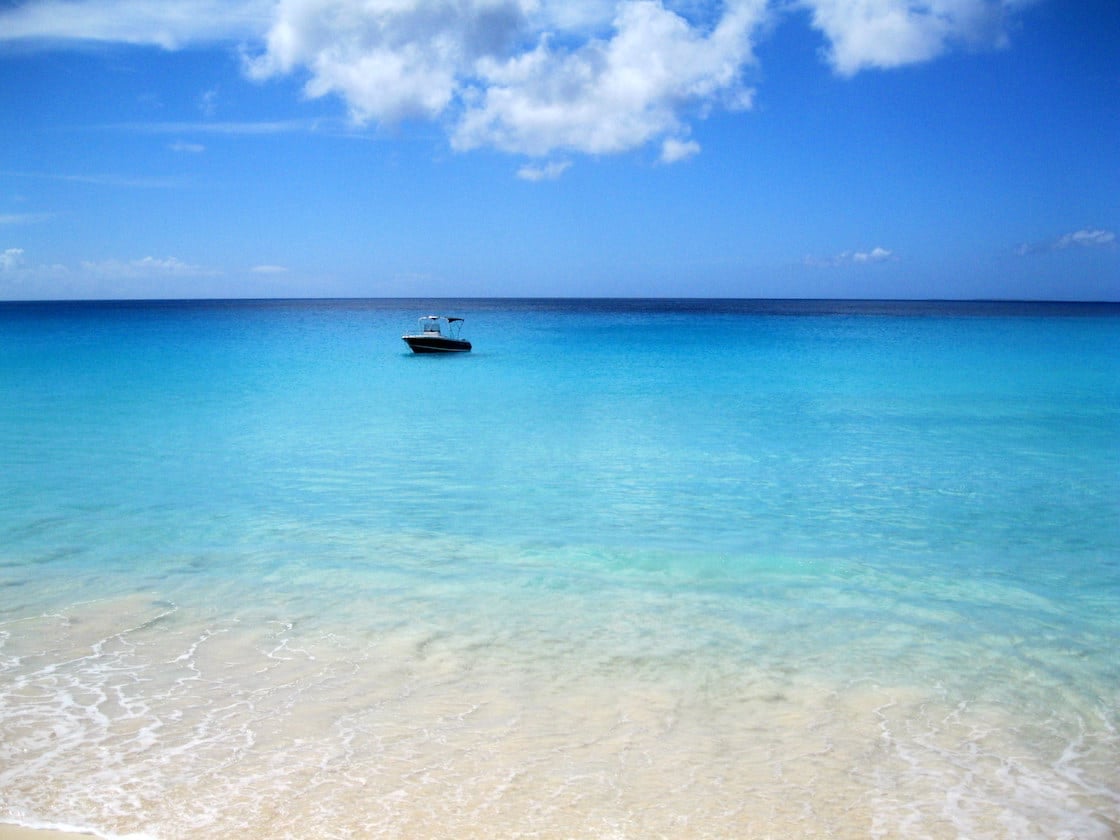 The Blanchard's restaurant is one of the not-to-be-missed dining spots on the island. It's located right on the beach and is enveloped in lush tropical gardens. They offer a creative menu with flavors from the Caribbean, Asia, America and the Mediterranean in a comfortable, candlelit setting.
The perfect alternative to southern cornbread:
The Caribbean Cornbread is one of the many fusion dishes served at the restaurant, and has quite the fan base. Lucky for all of us this sunny sweet manna recipe can be replicated, like so many delightful treasures found in their cookbooks.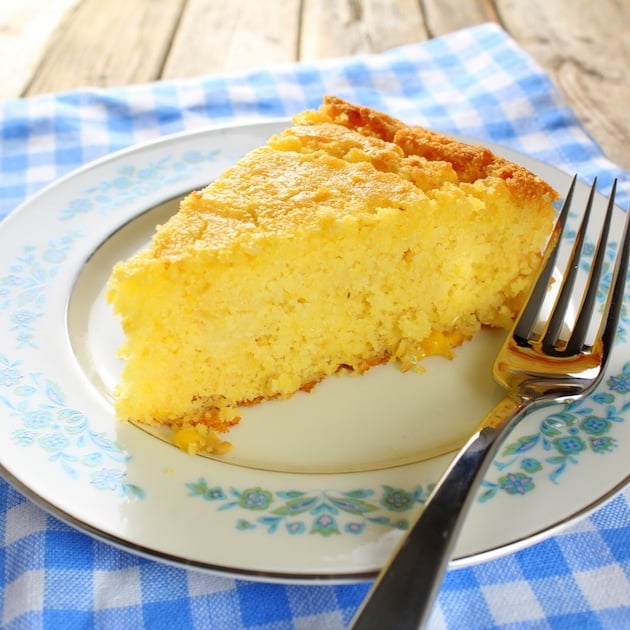 The cornbread recipe actually reads like a cake: creaming the butter and sugar together, slowly adding one egg at time. There special ingredients that separate this cornbread from the rest… can you even stand it?
It's creamed corn and strained crushed pineapple that take this cornbread up a notch. Making it a super moist cornbread recipe, and fruity-sweet. And interestingly enough, you can't really taste the pineapple or the creamed corn, but it's all part of the magic that makes this tropical loaf so delicious.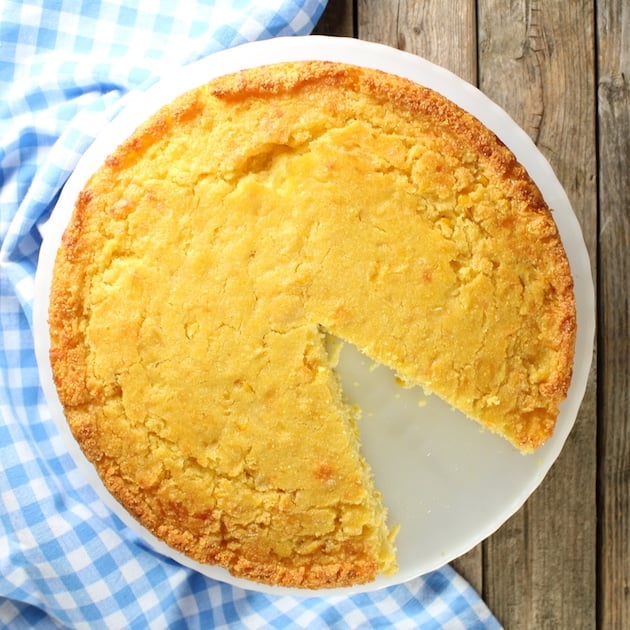 I did alter the recipe a bit. It originally called for 2 sticks of butter and ¾ cup sugar… Because I don't want the nutrition police to come calling, I cut the butter down to one stick and added ¼ cup canola oil, and reduced the sugar down to ½ cup. Who knows, the wellness PoPo will most likely still have some, ahem, constructive criticism about the healthiness of this recipe but I've got my hater-blockers on so I'm all set. #youdoyou #dontjudge #ihadsaladforlunch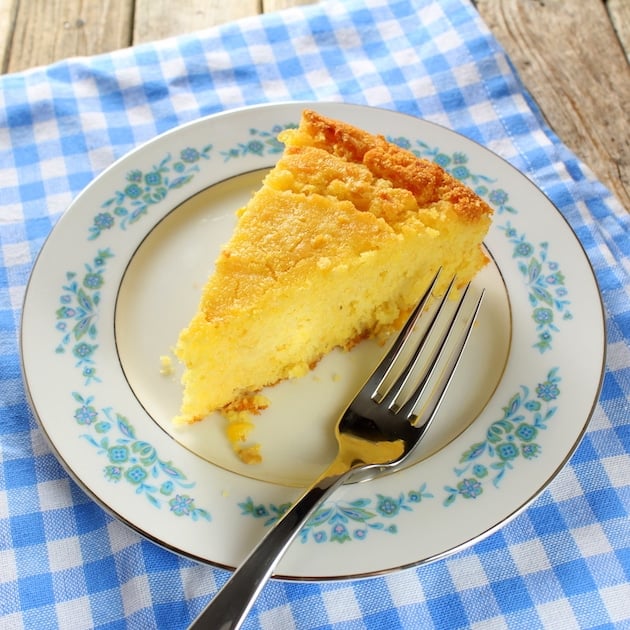 This Caribbean Cornbread is pretty amazing! It's extremely moist, with the perfect amount of sweetness.
Just add a slather of butter and you have the perfect accompaniment for those BBQ baby back ribs, "Secret Sauce" Baked Beans and Smoky Salt and Vinegar Potato Salad! Or if you're in the "sugar equals dessert" camp, then just have cornbread for dessert - add some sliced strawberries and call it Strawberry Corncake!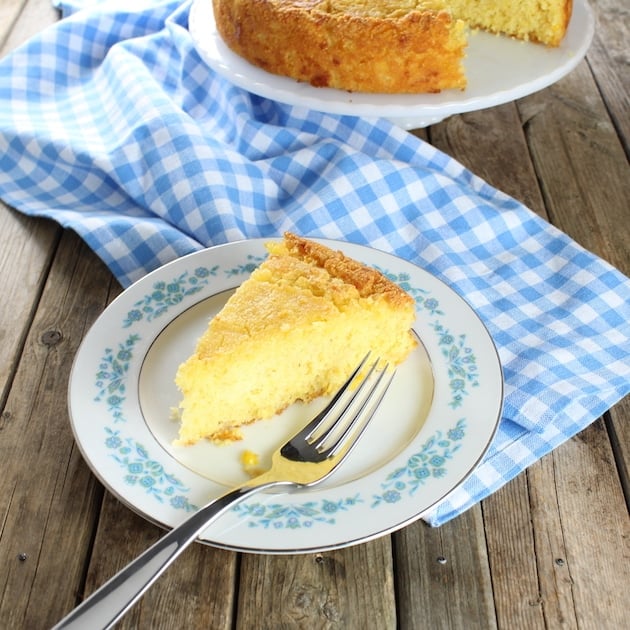 Whatever you do, be sure to give this lush summery cornbread a try... soon you'll be saying "everting be irie!"✌️
And if you need a few more recipes to round out the menu, check out this broccoli grape salad with bacon, these low carb Brussel sprouts, and these mac n cheese bites!
I would love to connect with you! Leave a comment and follow me on Instagram, Twitter, Facebook, & Pinterest!
Yield: 8 servings
Caribbean Sweet Cornbread Recipe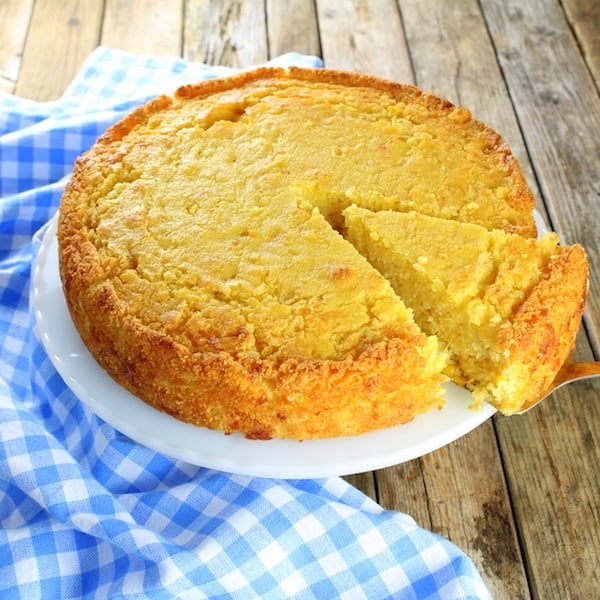 Caribbean Cornbread is extremely moist with bits of corn, crushed pineapple and the perfect amount of sweetness.
Ingredients
1 cup flour
¾ cup yellow corn meal
1 tablespoon baking powder
1 teaspoon salt
1 stick butter
½ cup sugar
3 eggs
14.5 ounces canned creamed corn, (one 14.5 can, or 1 ½ cups)
½ cup drained crushed pineapple
4 ounces shredded Monterey Jack cheese
¼ cup canola oil - plus 2 tablespoons!
Instructions
Preheat oven to 325
In a large bowl, combine the flour, corn meal, baking powder, and salt. Set aside.
In a mixer, cream the butter and sugar. While the mixer is running, add the eggs one at a time beating well after each egg.
Continue running the mixer and slowly one at a time, add the creamed corn, pineapple, cheese and the ¼ cup canola oil. Mix until well blended. Slowly add the bowl of dry ingredients, and mix until well blended.
Grease a 9x2-inch round metal pan (or 9x9 square baking dish) with the remaining 2 tablespoons of canola oil and set in the oven for 5 minutes. Remove pan from oven and immediately pour the batter into the pan and bake until a toothpick stuck in the center comes out clean, 45-50 minutes. The cornbread should be golden brown when done. (You can also separate the mixture into into two round greased pans if preferred.)
Nutrition Information
Yield
8
Serving Size
1 slice of bread
Amount Per Serving
Calories

299
Total Fat

7g
Saturated Fat

3g
Unsaturated Fat

0g
Cholesterol

73mg
Sodium

540mg
Carbohydrates

51g
Fiber

2g
Sugar

19g
Protein

9g
Looking for the perfect match to this cornbread? Check out our Smoky Chicken Chili!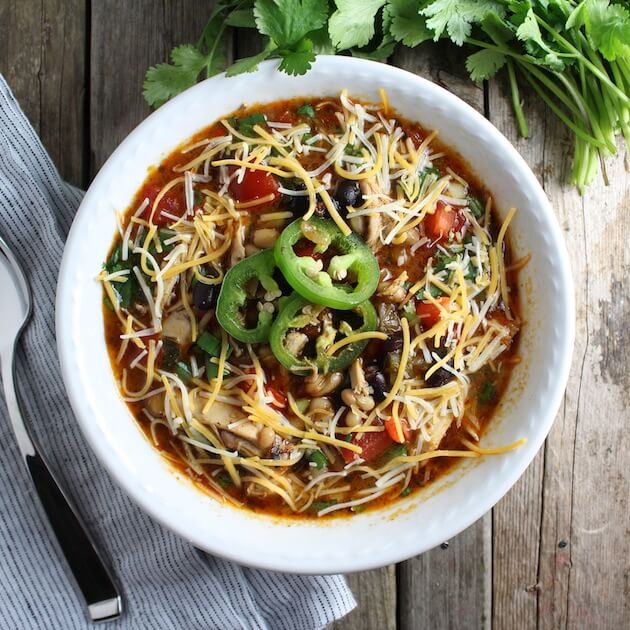 ... or this Stout Beer Chili!