Strawberry Peach Sangria... what could be better? Well, summer just got a little sweeter with this Strawberry Peach Rosé Sangria! This picture-perfect refreshment is full of fresh strawberries and peaches, strawberry liqueur, peach nectar, vodka and Rosé wine. All of our faves in one glass!✨
Sangria has long been a common beverage in Portugal and Spain… and now everywhere. It has been around in some form for over 2,000 years, and it's believed that the Romans started the trend by mixing wine into their drinking water in order to sanitize it. I guess they were onto something because the trend has caught on and everyone seems to be pouring wine and stirring in all kinds of goodness.
This simple warm-weather libation can vary, but most often includes white, red, pink or even sparkling wine, a sweetened juice, some spirits, and beautiful fresh fruit. I personally love to savor mine over brunch on lazy summer Saturdays.☀️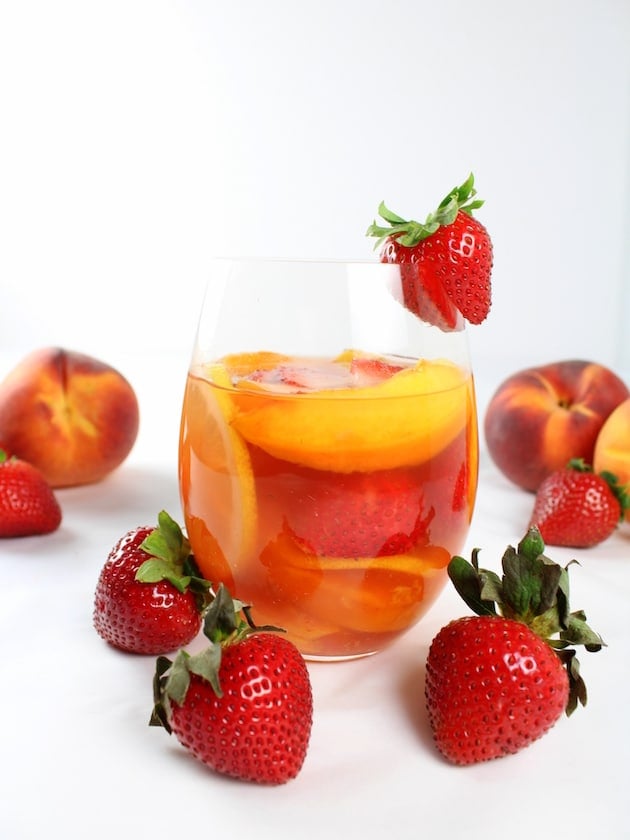 Speaking of which, I've started a bit of a tradition. Every Saturday morning I make a "Clean Out the Fridge Frittata." It's usually full of whatever veggies, cheeses and sometimes meats are lingering in the fridge. But I'll be honest, with Ole' Sanderino (AKA Mr. Carnivore) around there's rarely ever random meat leftovers in the fridge.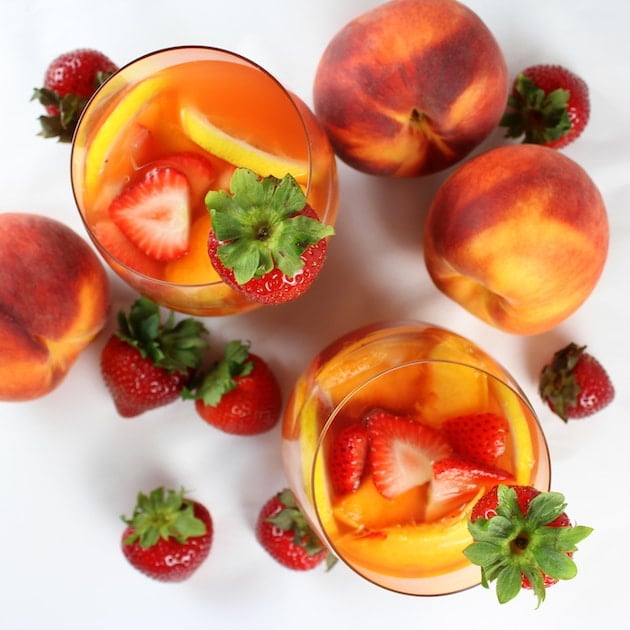 This past Saturday's creation was full of grilled squash, zucchini and potatoes, chopped up Smoked Mozzarella Chorizo Peppers, turnips and turnip greens, spicy chicken sausage (that I hid from B), green onions, cilantro and some Monterey Jack cheese. It was super tasty and quite healthy. Plus, I didn't waste any food this week! Snaps for Holly!
There are only a few things in this world that I truly dislike (OK so that's not totally true 'cause I just thought of 10 things in like 10 seconds). But on the very top of my apparently long list would most definitely be frogs (childhood trauma), and being wasteful. It literally hurts me when I waste things. Like I really feel physical pain. I know, it's a strange neurosis, but it could be worse - right!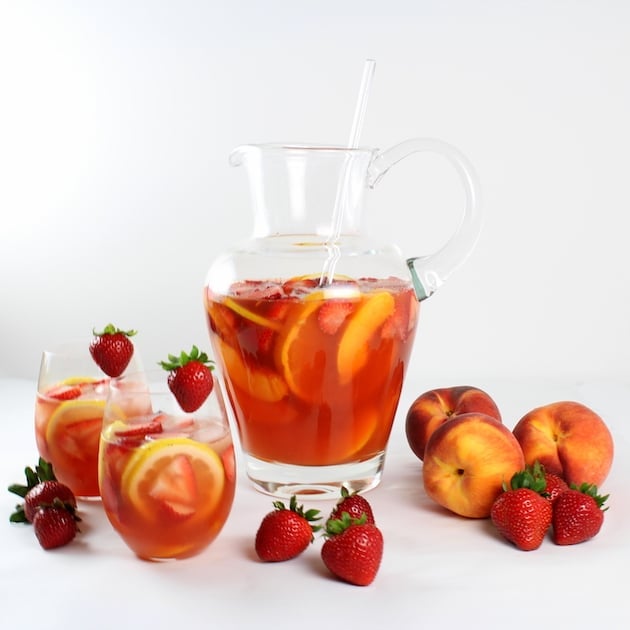 I pride myself on getting every tad of toothpaste out of tube. No kidding, I'll stand on it if I have to. I'll add a little water to the remains of the ketchup container and use it in a sauce. Leftover morning coffee goes in the fridge for an iced treat later in the day.☕️ I have so many kitchen devices that aid me in my obsession. There's no licking the brownie bowl around here cause there's nothing left to lick. I use my handy dandy scraper and it's as clean as a whistle my friend. Poor Sanderino – oh how he loved his chocolate brownie batter.❤️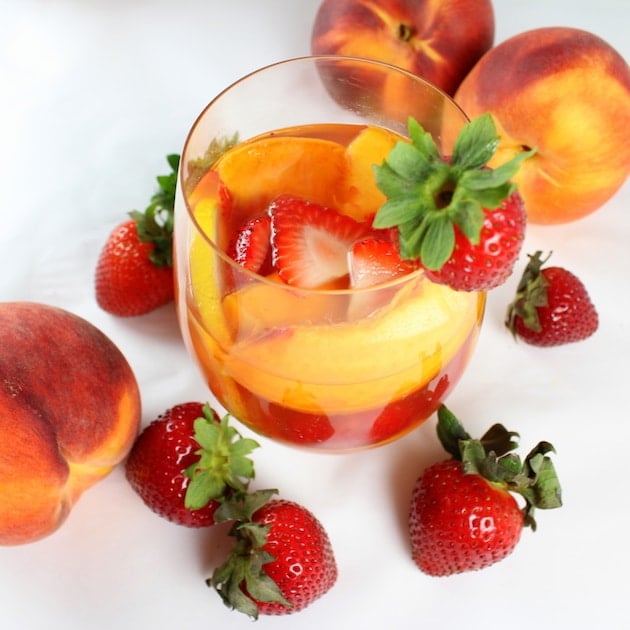 And I'm proud to say there are no exceptions when it comes to leftover wine. I'll add it to a pasta sauce, soup or gravy. Or one of my favorite things to throw together with it is a Saturday morning Sangria! Fun – right? It's just delicious and always something different. Plus, it goes so perfectly with my "Clean Out the Fridge Frittata!" It's just a beautiful thing I tell ya.
One of my favorite Saturday morning concoctions is this Strawberry Peach Rosé Sangria! It's fresh and berry fruity and pretty as pie.
In this strawberry peach sangria, I use my favorite strawberry liqueur – I just love it - because it's not too syrupy and tastes like you're eating fresh strawberries straight from the berry patch. I also add in some fresh ripe peaches and strawberries, alongside some store-bought peach nectar. Then mix in little vodka for an extra kick and some delicious Rosé wine. It really pairs perfectly because it's slightly sweet already and just so pretty.✨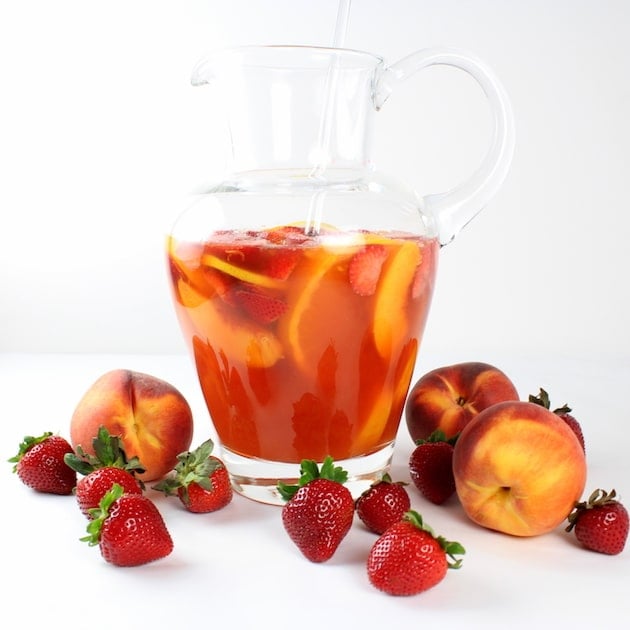 I absolutely love this sangria.❤️ It's such an easy make-ahead/serve-yourself cocktail for any event - any time of year.
So whether you stir up a batch for your next Saturday brunch or neighborhood cookout, you can bet this summer sipper will be sure to please.
Easy to make and even easier to drink - Strawberry Peach Rosé Sangria! Salud!
I would love to connect with you! Leave a comment and follow me on Instagram, Twitter, Facebook, and Pinterest!
Yield: 10
Strawberry Peach Rosé Sangria Recipe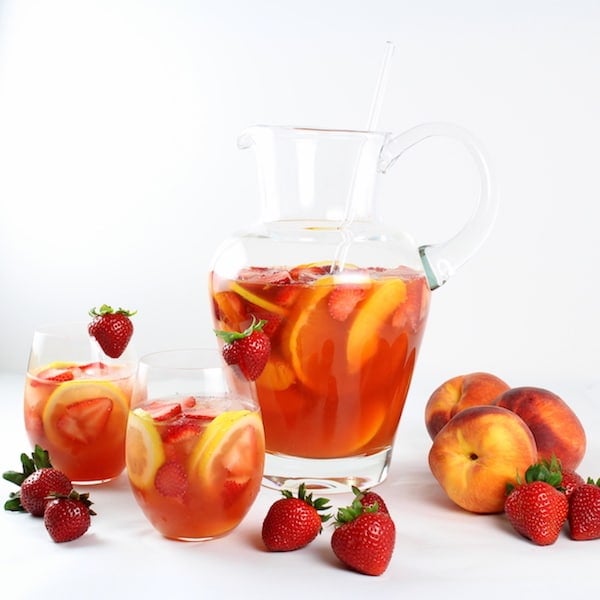 Strawberry Peach Rosé Sangria - Full of fresh strawberries and peaches, strawberry liqueur, peach nectar, vodka and Rosé wine. All of our faves in one glass!
Ingredients
5 ripe fresh peaches
16 ounces fresh strawberries
2 lemons
1 bottle Rosé wine, chilled
¾ cup strawberry liquor
1 cup peach nectar
1 cup vodka
Instructions
If desired, remove peach skins and pits (see *note), and cut into ¼ inch slices.
Rinse strawberries and dry them. Reserve enough whole strawberries to garnish each glass. Hull the rest of the strawberries and slice.
Slice one lemon into ¼-inch thick wheels and set aside.
Combine Rosé, strawberry liquor, peach nectar, vodka, and juice from one lemon juice in a glass pitcher. Shortly before serving, add the sliced strawberries, the sliced peaches, and the lemon wheels to the pitcher.
Fill glasses with ice and add 5 ounces of Sangria plus some of the fruit from the pitcher. Garnish each glass with one of the whole strawberries you reserved.
Notes
Sometimes fresh peaches aren't completely ripe when purchased. So plan to purchase them a few days before you actually need to use them, and leave them sitting out to ripen.
I prefer to remove the skins from the peaches. To do this:
 - Use a sharp paring knife to make an "X" at the base of each peach.
- Drop them into boiling water for about 30 seconds.
- Quickly remove them and drop into ice water for 1-2 minutes.
- Once cool enough to handle, slip off the skins.
Many recipes recommend adding the sliced fruit to the pitcher and chilling overnight so that the fruit is infused with the flavors. However I find that the strawberries and peaches can lose too much of their texture, and also change the consistency of the Sangria. For this Sangria I prefer adding the fruit within an hour before serving.
Nutrition Information
Yield
10
Serving Size
1 glass
Amount Per Serving
Calories

234
Unsaturated Fat

0g
Sodium

8mg
Carbohydrates

23g
Fiber

2g
Sugar

18g
Protein

1g
Looking for the perfect tapa to pair with this Strawberry Peach Rosé Sangria Recipe? Check out these Sun-Dried Tomato Garlic Chorizo Shrimp! And if you'd rather have a lemony, whiskey-based libation by the pool, try this Loaded Lemon Iced "Tea"!