Spicy Chicken Pasta and Peas with Sun-Dried Tomato Sauce is my new favorite meal! Spicy chicken sausage folded into a decadent sun-dried tomato goat cheese sauce, and topped off with some sweet fresh summer peas. Easy peasy and so delicious!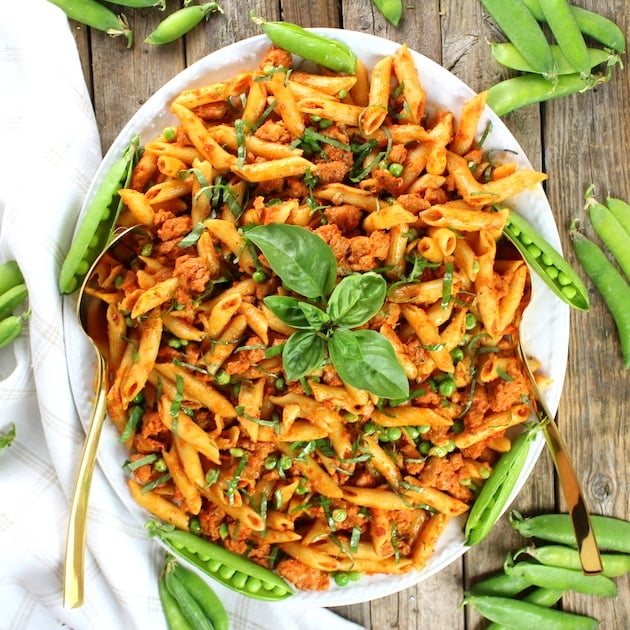 A few weeks ago I made a yummy Sun-Dried Tomato Goat Cheese Dip to go with a nice fresh veggie platter. Since I had some extra dip left over, I used it to develop this new creation.
Umm mind-blowing!
It would not even be an exaggeration to say it was life-changing, because I will forever be enjoying this delectable new pasta dish.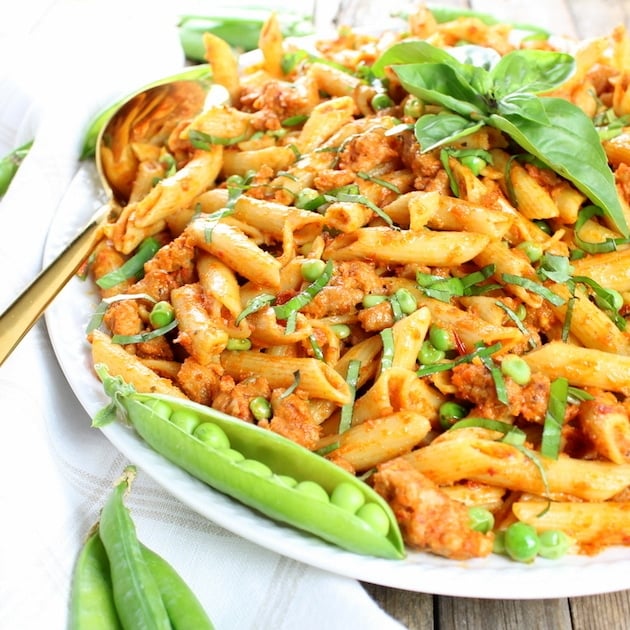 Plus, I was able to use the peas from my garden for this recipe. Yay!! Nothing makes me happier than utilizing the bounty of my harvest - and by that I mean fresh vegetables straight from my garden.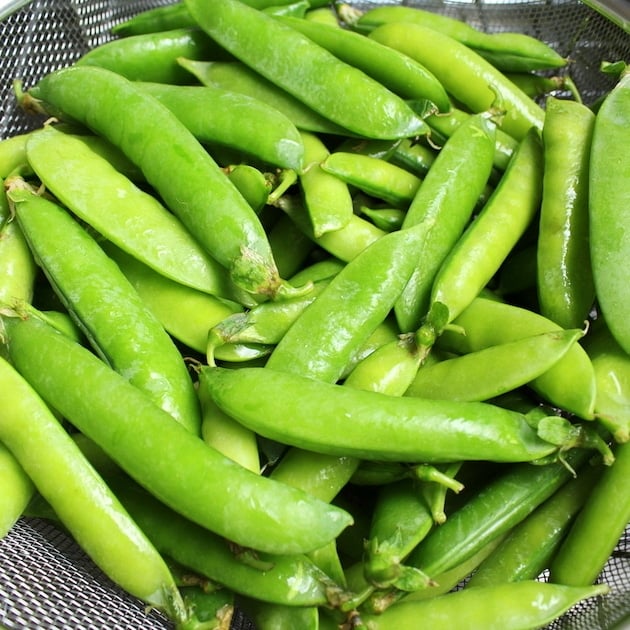 I seriously think peas may be my new favorite veggie! It's so crazy how much better produce tastes when it's fresh, instead of frozen or canned.
I planted peas for the first time this year and I absolutely love them. And apparently so do the rabbits, deer, and whatever else is eating them! Such is the life of a gardener: if it's not fungus or insects devouring your vegetables, then it's furry creatures.
Can't we all just get along!??? And by that I mean – can you stop eating my tomatoes, peas and pepper plants?!?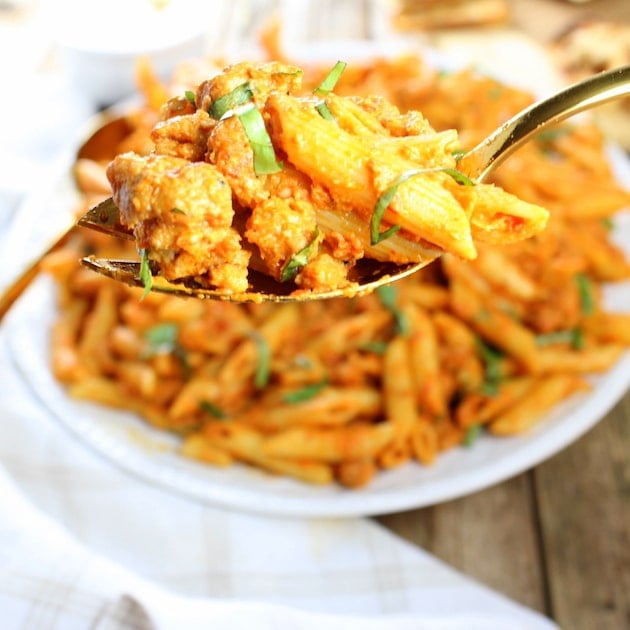 For now I guess I will have to settle with sharing.
Think about it: I'm sure there's nothing more fabulous for a little critter than to be hopping along and discover a community garden. Not just one garden full of yummy treats, but 70 gardens all in a row.
It's like they rolled a strike, hit the jackpot and won the lottery all at once.? Veggie heaven I tell ya!???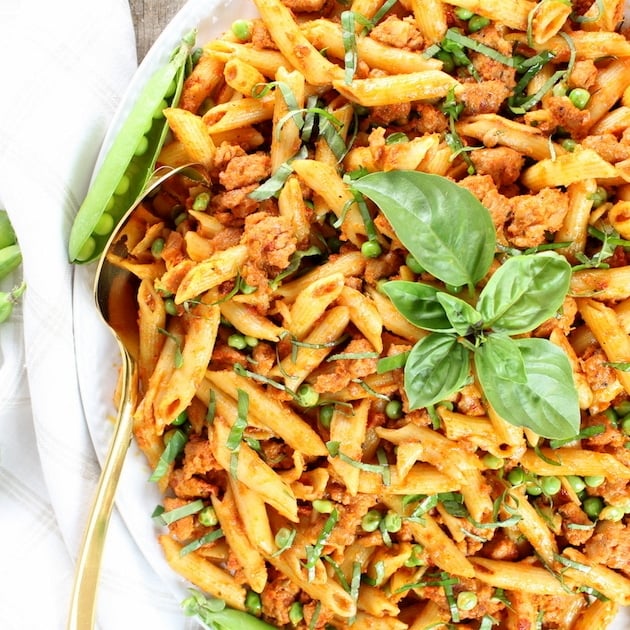 There's so much to love about this Spicy Chicken Pasta and Peas with Sun-Dried Tomato Sauce: I love the deep intense tomato flavor the sauce gets from the sun-drieds, and the goat cheese makes it really creamy and cheesy.
The peas are just barely cooked, so they add a nice texture and some sweetness, not to mention the beautiful vibrant green color.
The spicy chicken adds a nice hearty kick and really brings balance to the dish. As I said… there's just so much to love about this dish.❤️
I used spicy chicken sausage and removed it from the casing. Then sautéed it for about 5 minutes until it was cooked through.
I added the goat cheese sun-dried tomato mixture and stirred until it was thoroughly mixed.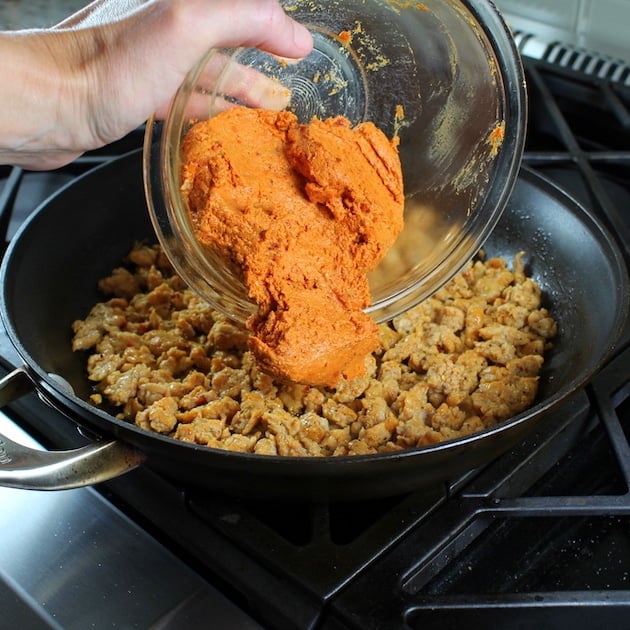 I carefully folded in my al dente penne pasta.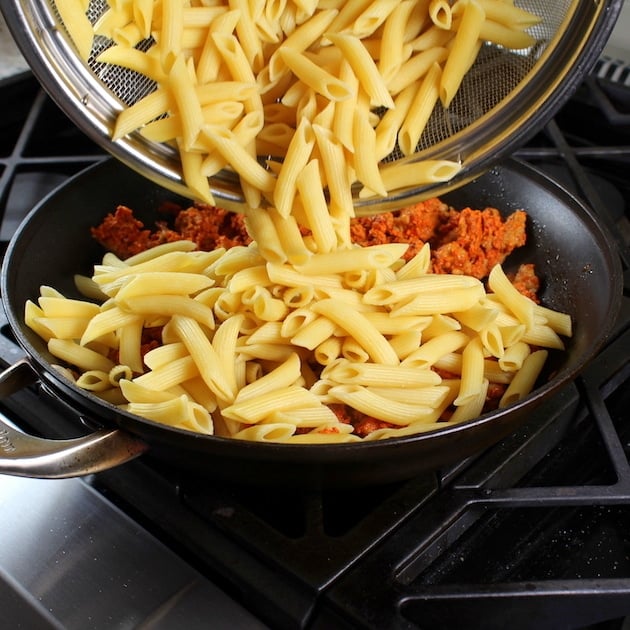 Next I stirred in some unsweetened almond milk and let the mixture come together. Just a quick tip for you about cooking with milk…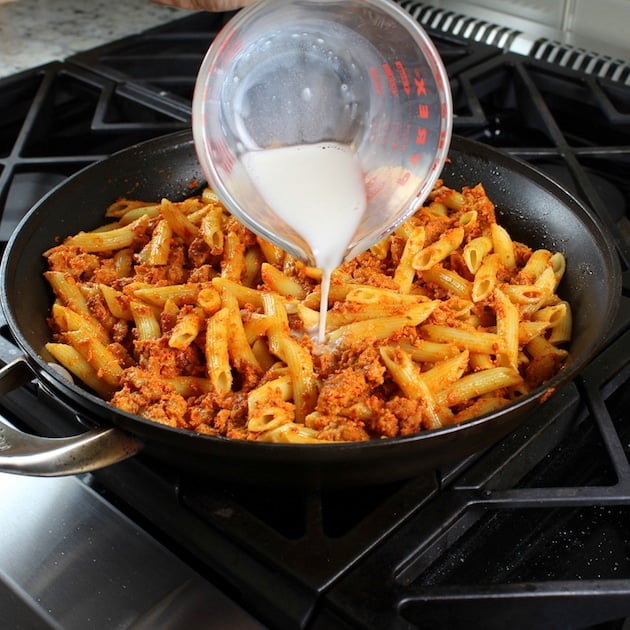 Almond milk is really great to use for sauces and soups that require boiling or simmering (like this Spicy Italian White Bean and Sausage Soup), because almond milk doesn't curdle. Unlike regular milk, which curdles during the cooking process if not handled properly.
Curdling happens when the milk proteins thicken or solidify and separate from the water, making a funky/clumpy texture in your dish - no thank you! This is actually how cheese is made: The milk solids coagulate through cooking, the enzyme called rennet is added, and then the liquid is drained away.
Science is crazy cool – isn't it? (For more pro tips on cooking with milk, read this article: How to Prevent Milk from Curdling When You Cook It.)
OK, since we're not actually making cheese today, science class is dismissed. Back to the assembly of this marvelous pasta creation!✨
Finally I stirred in the peas then garnished with some fresh chopped basil, Parmesan cheese, and served it with some crusty grilled bread. Yummalicious and lip-smacking good!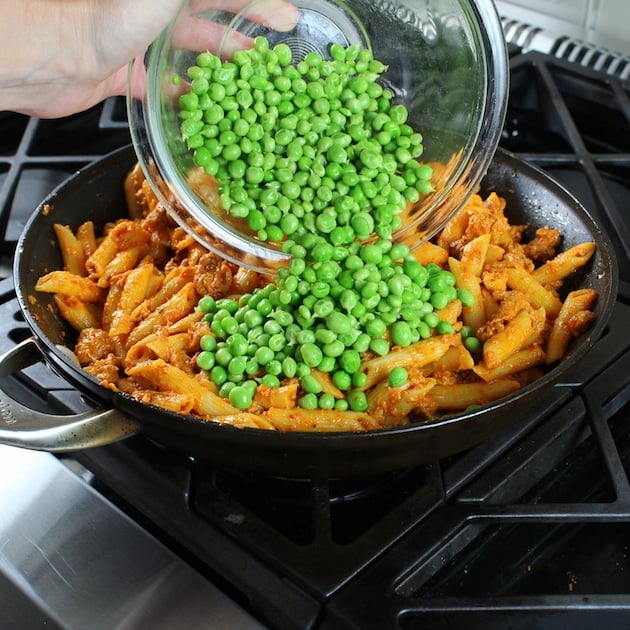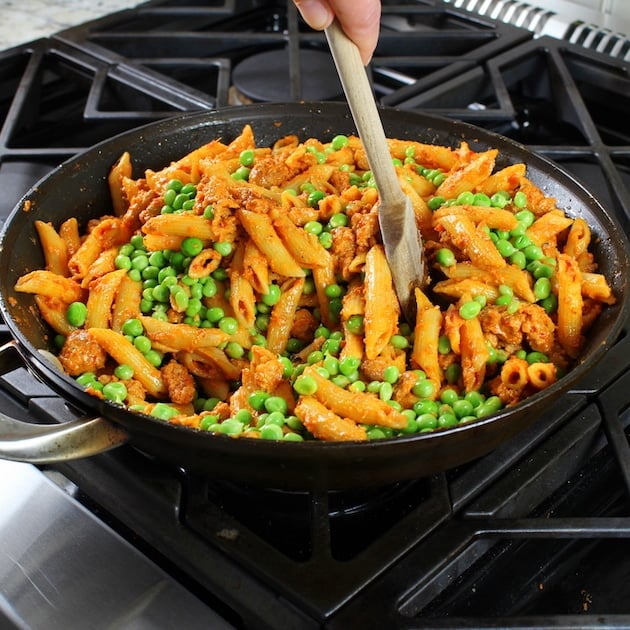 Spicy Chicken Pasta and Peas with Sun-Dried Tomato Sauce is the perfect balance of creamy cheesy goodness, fresh crisp veggies, savory sun-dried tomatoes, and pasta with a little heat.
It's an amazing contrast of flavors and textures that's just right for summertime eating – or really all year round!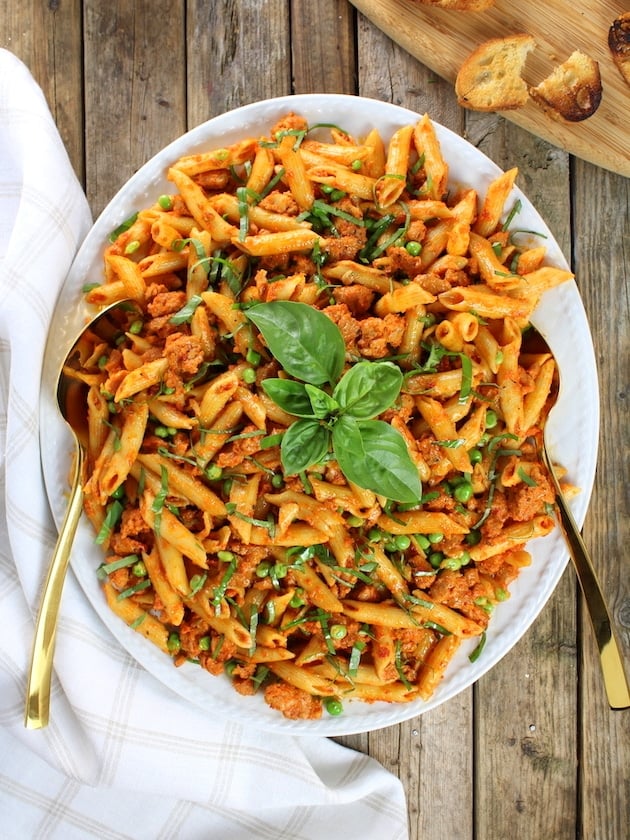 I would love to connect with you! Leave a comment and follow me on Instagram, Twitter, Facebook, and Pinterest!
Yield: 6 Servings
Spicy Chicken Pasta and Peas with Sun-Dried Tomato Sauce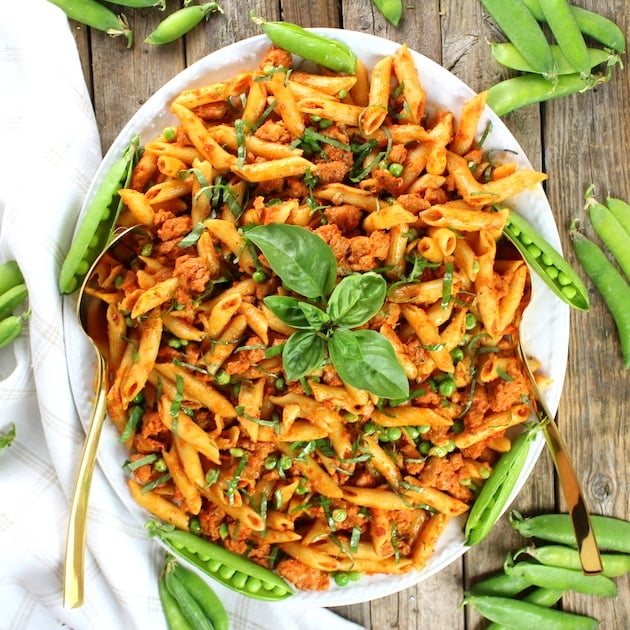 Spicy Chicken Pasta and Peas with Sun-Dried Tomato Sauce - Spicy chicken sausage in sun-dried tomato goat cheese sauce, topped w/sweet fresh summer peas.
Ingredients
4 ounces goat cheese
3-4 ounces sun-dried tomatoes in oil
2 cloves garlic, minced
2 green onions, cleaned, ends trimmed and rough chopped
2 tablespoons oil from sun-dried tomatoes, (or olive oil)
¼ teaspoon salt and pepper
1 ½ pounds fresh shelled sweet peas (you want about 2 cups of peas total
½ pound penne pasta, (or other pasta of your choice)
1 pound hot chicken sausage links, casings removed
¾ cup almond milk
Grated Parmesan cheese for garnish
Fresh basil julienned for garnish
Instructions
Combine goat cheese, sun-dried tomatoes, garlic, green onions, salt, and pepper in food processor and process for about 2 minutes. While processing add only enough oil to reach a smooth and creamy texture.
Remove all peas from their shells and drop into an inch of boiling water for two minutes. Immediately strain them and shock in a bowl with ice and cold water, or spread them out on a cookie sheet and refrigerate them (this will prevent them from overcooking and getting mushy).
Cook pasta to al dente, strain, and set aside.
Remove spicy chicken sausage from the casing. Saute in a large saucepan over medium-high heat for about 5 minutes, until cooked completely.
Add the goat cheese sun-dried tomato mixture, and stir until thoroughly mixed.
Stir in almond milk, then let the mixture heat up completely.
Carefully fold in the al dente pasta and sweet peas.
Garnish with fresh chopped basil, Parmesan cheese, and serve with crusty grilled bread.
Notes
You can use frozen peas for this recipe. Follow the preparation instructions on the package and be careful to not overcook.
Nutrition Information
Yield
6
Serving Size
1 grams
Amount Per Serving
Calories

513
Total Fat

23g
Saturated Fat

5g
Unsaturated Fat

0g
Cholesterol

62mg
Sodium

1026mg
Carbohydrates

51g
Fiber

8g
Sugar

8g
Protein

27g
Looking for another amazing chicken pasta recipe? Try this Grilled Chicken and Squash with Tomato Feta Pasta!