Thanks to our friends at al fresco all natural for sponsoring these Teriyaki Chicken Meatball Kabobs - your new easy go-to summer meal! With fresh pineapple, red and green peppers, red onions, Teriyaki Ginger Chicken Meatballs and the most delicious homemade Teriyaki sauce your lips have tasted!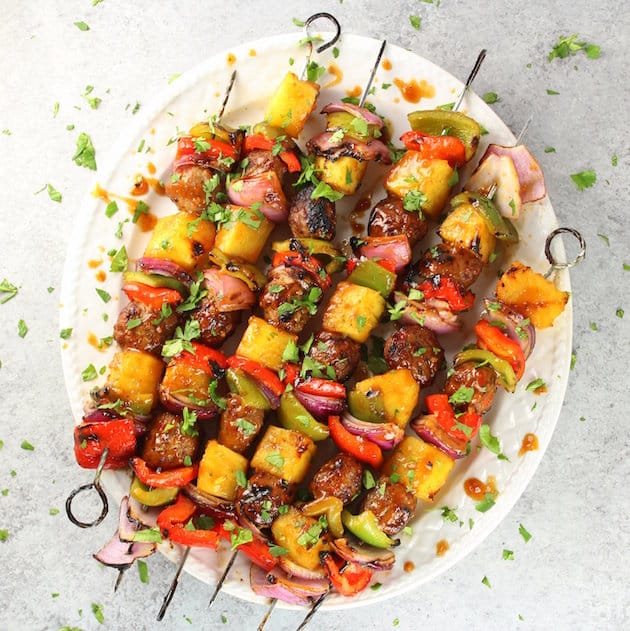 I'm not sure you know this about me but I adore meatballs. Mmm, those hearty bites of protein - LOVE them.💕 2 years ago I did a month of meatball posts during March and called it March Meatball Madness. Get it – they're round like a basketball???🏀 Clever – right!??😁
Yes – it was madness in the best way possible. It was so much fun and I do believe I perfected the art of a tender, juicy, flavorful meatball. Not to toot my own horn but you know what they say… practice makes perfect. And I got A LOT of practice.👌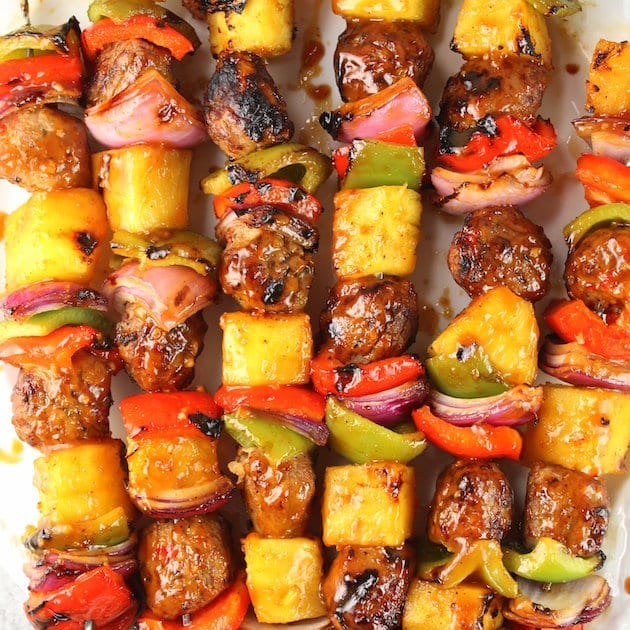 You know who else makes perfect meatballs? My favorite chicken sausage brand on the planet – al fresco!💯 Not kidding people. I have a massive crush on all their products.💚 They taste amazing and since they're pre-cooked they're ready in just a few minutes.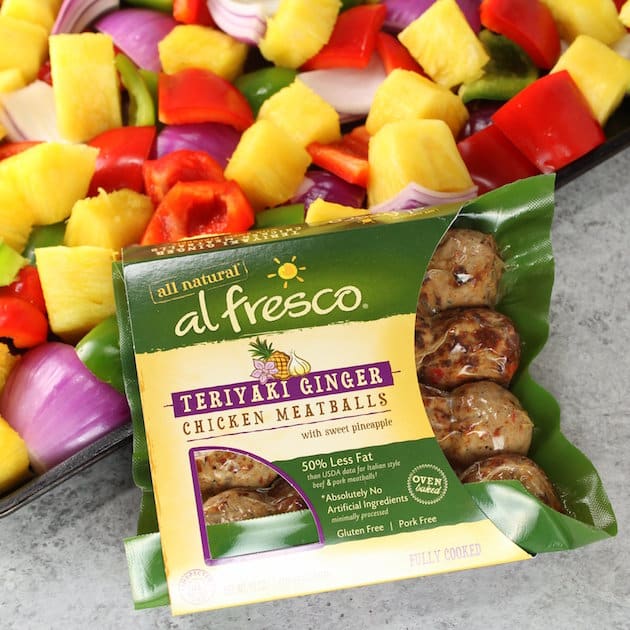 Recently, I was at the grocery store deciding which flavor chicken sausage I was going to use for dinner and there they were… Teriyaki Ginger Chicken Meatballs, all cute and pre-cooked and calling my name. Into my basket they went and now I'm all kinds of crazy about them. They. Are. Amazing.
Tender, juicy, flavorful and ready in 5-7 minutes. Shut the oven door. No seriously, do it 'cause these babies are going on the grill. Hello.🙌
Summertime grillin' and chillin'.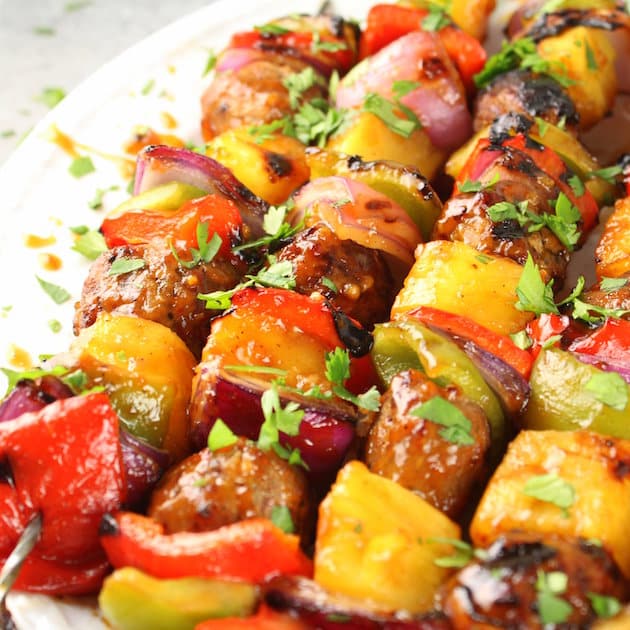 I think it's safe to say we all are looking for ways to create good-for-us, easy, meals that taste fabulous. Amiright?
No need to keep mining for diamonds 'cause your search is over - al fresco to the rescue!✨ They make so many delicious pre-cooked chicken sausages, meatballs, and even bacon. You can literally replace their pre-cooked products for the chicken in any recipe to make every meal quick, easy and even more delicious. Seriously, it's chicken, only better.👍
Like these Teriyaki Ginger Meatballs. I used them instead of cutting up and marinating chicken breasts for my Teriyaki Chicken Kabobs. It was so much easier - no raw chicken to contend with and they only required 7 minutes on the grill.
All you need is some veggies, a yummy Teriyaki sauce, and these meatballs.👇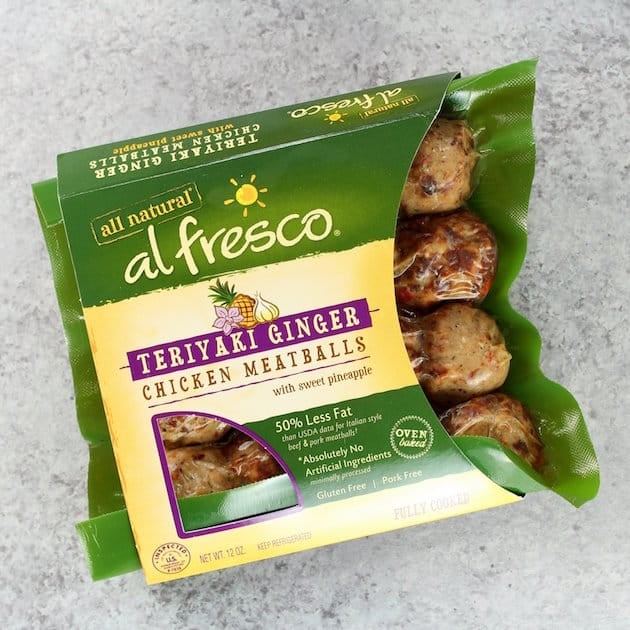 First things first, I mix up my sauce in a pan on the stove. Heat some olive oil and cook the minced garlic for a minute. Then add the soy sauce, honey or maple syrup, pineapple juice, lime juice, ginger spice, onion powder, pepper, cornstarch and a pinch of cayenne. Whisk it together for a few minutes then remove it from the heat.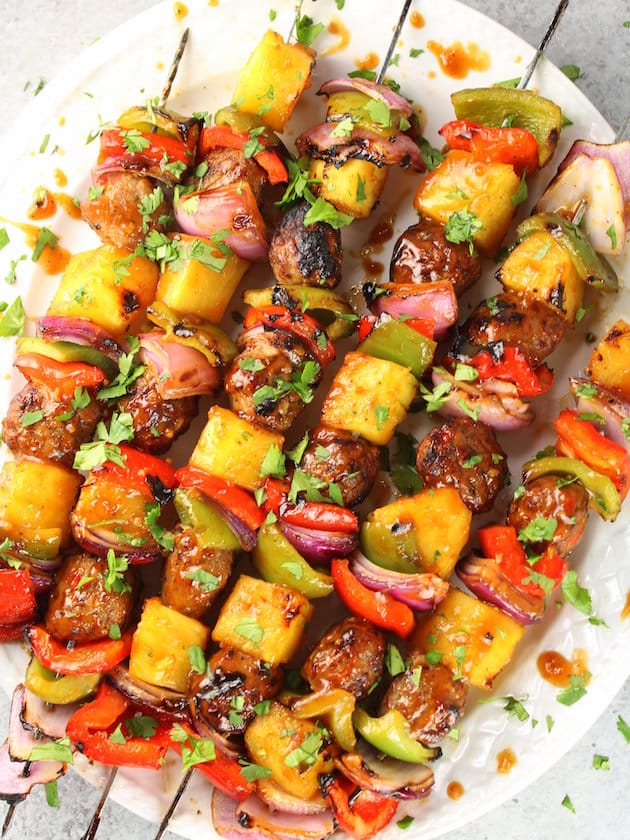 Now preheat the grill and cut up a red and green pepper, red onion and fresh pineapple into 1-inch pieces and start skewering.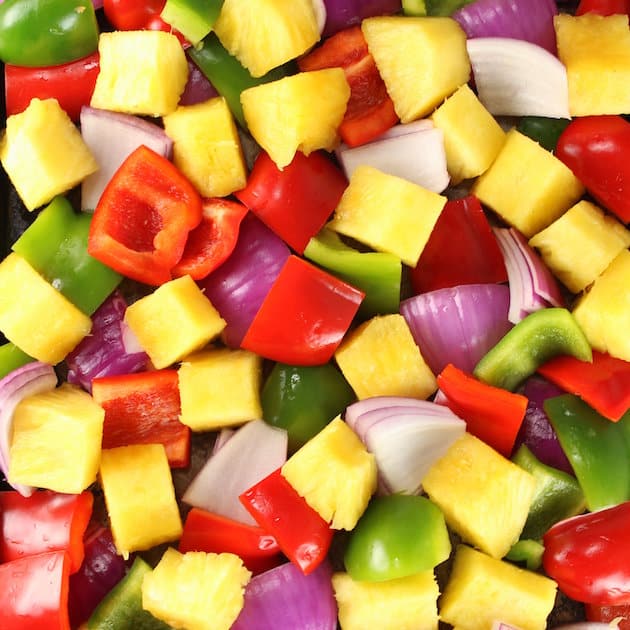 Then brush the kabobs with the Teriyaki sauce and spritz them with some grill spray. Grill them on high for 3 ½ minutes on the top and bottom sides.
And that's it - Teriyaki Chicken Meatball Kabobs, another easy chicken recipe for entertaining with al fresco all natural.👏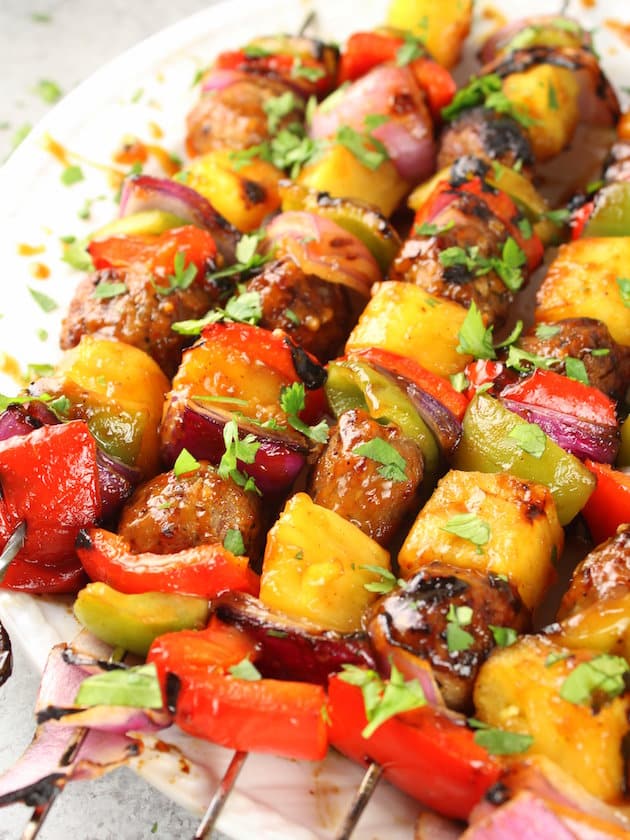 Easy-peasy and super yummy.
Trust me – once you try them you'll be serving up these Teriyaki Meatball Kabobs all summer long.☀️ And when summer's over you'll want to try these French onion chicken meatballs next!
I would love to connect with you! Leave a comment and follow me on Instagram,Twitter, Facebook, & Pinterest!
Yield: 6 Servings
Teriyaki Chicken Meatball Kabobs Recipe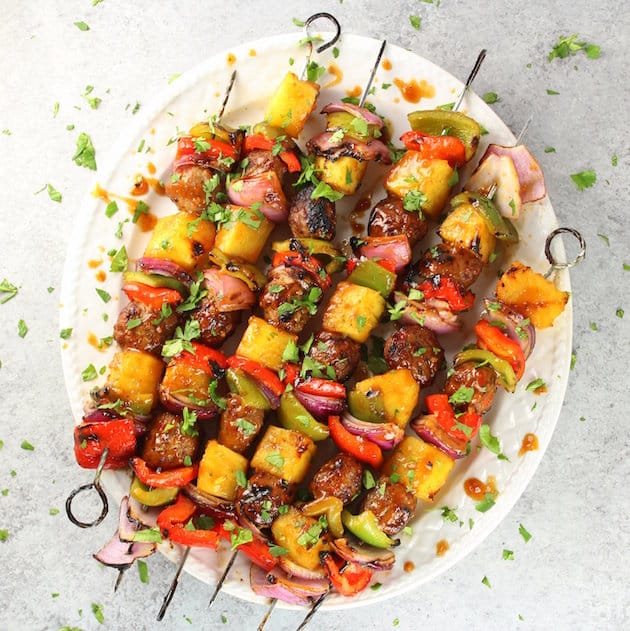 Teriyaki Chicken Meatball Kabobs Recipe - your new go-to summer grilling favorite! On the table in under 30 minutes.
Ingredients
For The Teriyaki Sauce:
1 teaspoon olive oil
1 garlic clove, minced
¼ cup reduced sodium Tamari (gluten-free) or reduced sodium soy sauce
¼ cup pure maple syrup or honey
1 cup pineapple juice
½ teaspoon ginger spice
2 tablespoons fresh lime juice
¼ teaspoon onion powder
¼ teaspoon pepper
pinch of cayenne (optional)
2 teaspoons cornstarch
For The Kabobs:
grilling spray
1 green pepper, stem, seeds and core removed and cut into 1-inch pieces
1 red pepper, stem, seeds and core removed and cut into 1-inch pieces
1 large red onion, stem and root removed and cut into 1-inch pieces
1 whole pineapple, trimmed and cut into 1-inch cubes
1 package al fresco all natural Teriyaki Ginger Chicken Meatballs
Cilantro chopped for garnish
Instructions
For The Teriyaki Sauce:
Add olive oil to a small sauté pan over medium high heat. Add garlic and sauté for 1 minute.
Add the soy sauce, maple sugar, pineapple juice, ginger, onion powder, pepper, cayenne and cornstarch and whisk. Cook over medium-high heat for about 3 minutes until it starts to thicken. Remove from heat and let cool.
For The Kabobs:
Preheat grill to high heat.
Assemble kabobs and brush with the Teriyaki marinade. Spritz with grilling spray and grill on both the top and bottom sides for 3-½ minutes.
Serve warm and garnish with chopped cilantro.
Nutrition Information
Yield
6
Serving Size
8-10 ounces
Amount Per Serving
Calories

241
Total Fat

5g
Saturated Fat

1g
Unsaturated Fat

0g
Cholesterol

48mg
Sodium

39mg
Carbohydrates

38g
Fiber

3g
Sugar

28g
Protein

11g
Looking for more delicious easy chicken recipes?
Andouille Chicken Sausage Kabobs (Deconstructed)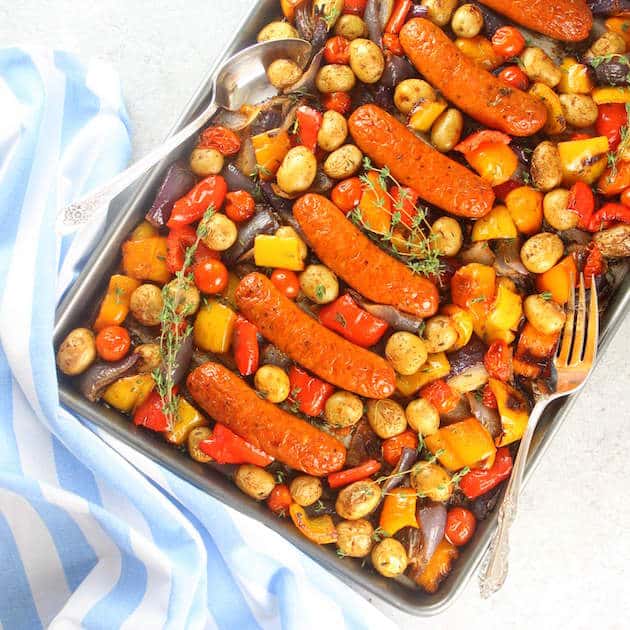 Grilled Chicken Caprese with Balsamic Sauce