This Greek Tzatziki Potato Salad is your new go-to summer side dish! It's creamy, herbaceous and so good for you! Made with baby Dutch yellow potatoes and a creamy Greek yogurt sauce with English cucumbers, dill, and garlic.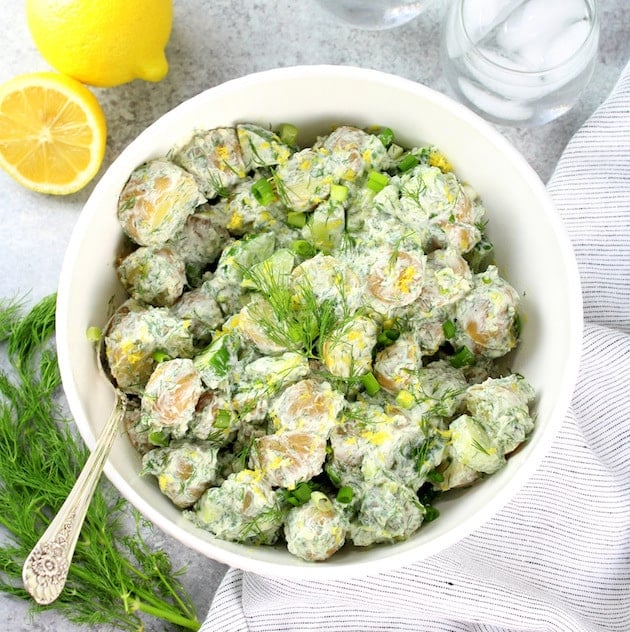 Recently I was at our community garden plot prepping and planting this summer's crops. It's always a fun time because not only do I get to play in the dirt, but I also get to reconnect with all my gardening buddies that I don't really see otherwise.🌱
During my last visit, I had one of my friends mention she hadn't seen my recipes in the local paper too much lately. (Quick side note: You most likely don't know this but my recipes and blog posts are published in one of our area's local newspapers. I give them the content for their paper and they give me the exposure. It's all dependent on what newsworthy stories they have to cover that week and if they have space for the content. Apparently, there's been a lot to report about because they haven't run too many recipes lately.😐)
My friend went on to comment on how "upbeat" I am when I write. It struck me as an interesting comment but I tucked it away to ponder later.
So for the past few days, I've taken the time to reflect.🤔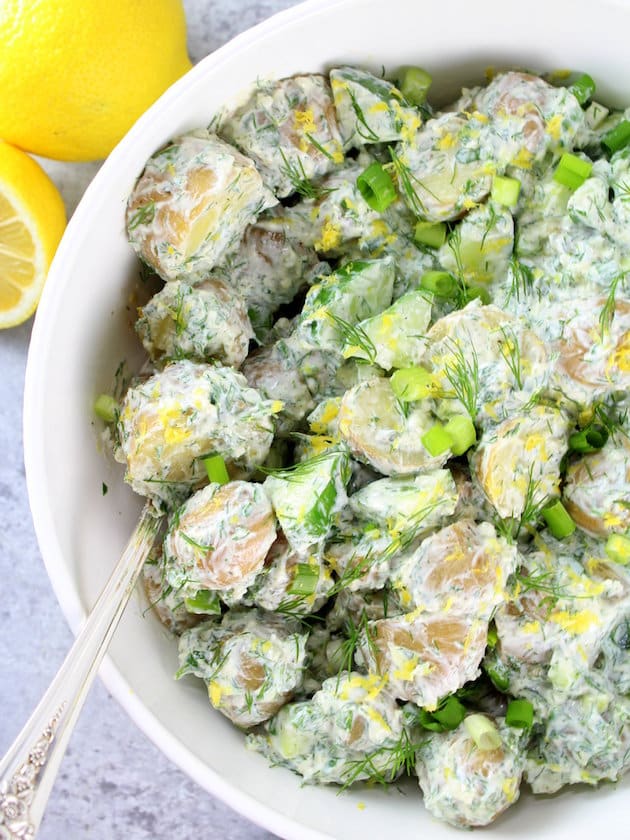 Does this mean I come across fake? Or out of touch with reality?? Or maybe it just means that I'm a really grateful, happy person?? After giving it some thought, here is where I landed:
I try my best to be upbeat and positive not only here on the blog, but also in life. I figure, why complain about my issues or the things that are annoying me because that just causes me to focus on them even more? No thanks.✌️
Don't get me wrong, I have plenty of problems. A car that needs to be fixed and the repairs cost more than what the car is worth. Health issues that cause challenges for me every day of my life. A rental property that has been without AC for over a month and my property manager is just telling me about it. The fact that it's been raining and 50ish degrees here in MA for what feels like forever and oh-by-the-way it's June 7th!😳 That's just not right people!👎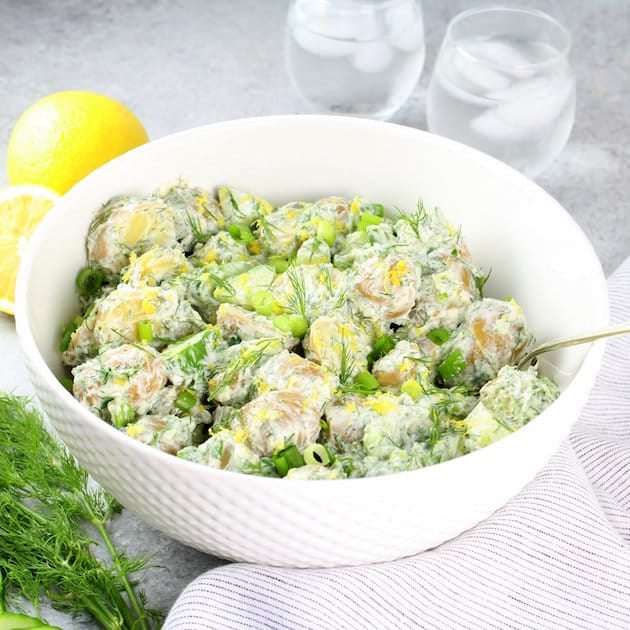 The list is much longer but why do I want you focusing on my issues when you have plenty of your own – amirite⁉️
I'm truly not looking for sympathy but I never want to give the impression that my life is perfect, or that the struggles of life don't affect me. That is definitely not the case.
The thing is, I prefer to laugh rather than cry. After all, it's been said that "A cheerful heart is good medicine, but a broken spirit saps a person's strength." Proverbs 17:22
And I have so much to be grateful for, so why not dwell on those things? It's kind of therapeutic actually.
When we think about the gifts in our lives rather than our problems, it actually makes us feel better.😊 And don't get me wrong I'm not suggesting we bury our heads in the sand and ignore reality, but I am suggesting that we handle our business as best we can and not make ourselves sick by worrying about things we can't control.👍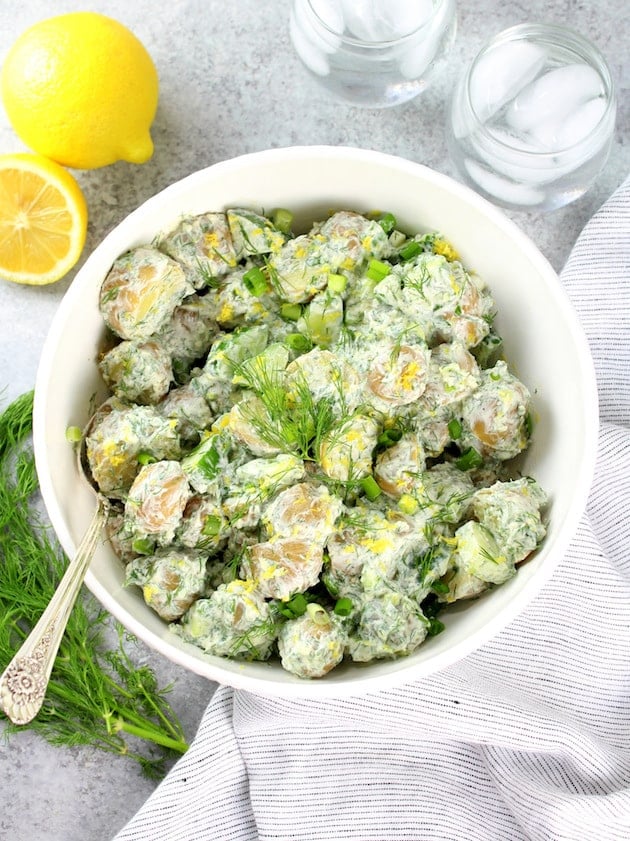 Yes – I know it's not always easy – after all, I'm human too. But worry and stress only cause more problems. Seriously, there are so many health conditions that are directly related to stress: ulcers, acid reflux, adrenal fatigue, migraines, insomnia, high blood pressure… the list goes on and on.
Trust me I can worry like it's my full-time job.👌 But I know in the end it just makes things worse.
So I choose to distract myself with the gifts in my life, however big or small. And sometimes I really have to work hard at this but with God's help, it is possible.🙏💯
AND those are my "upbeat" thoughts at this time.😁 LOL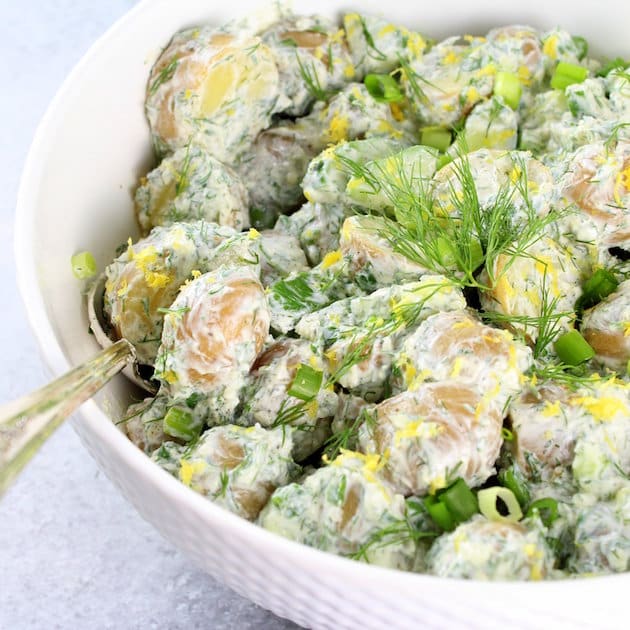 You're probably wondering what in the world this all has to do with Greek Tzatziki Potato Salad? The answer is plain and simple – absolutely nothing.😮 That's right –zip, zero, nada.😵
But I figured a few of you might be wondering the same thing so why not divulge.
Less about my positive thinking habits and more about this yummy side dish!👇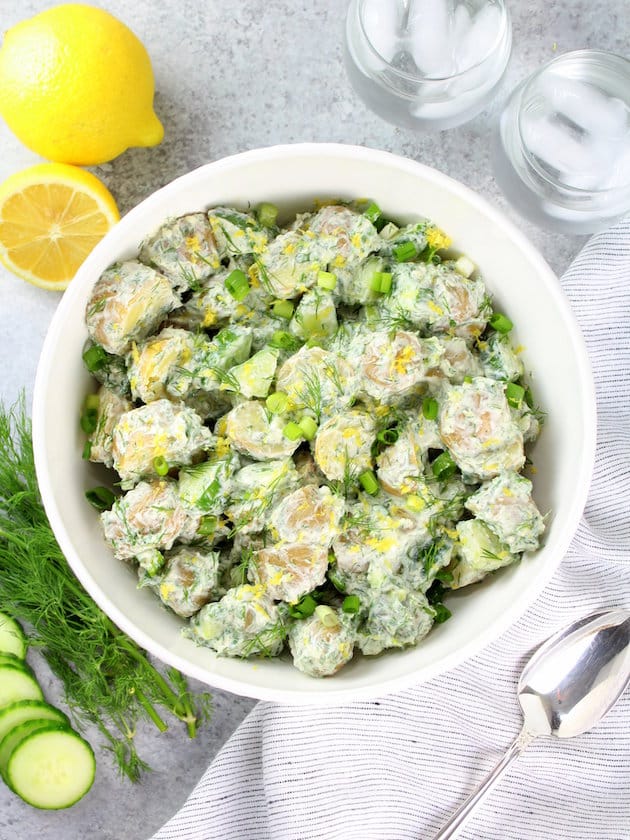 A potato salad with no mayo??
So summer picnic season is upon us.☀️ Never mind that it's 50 degrees and raining (again) today here in Boston (think positive thoughts, think positive thoughts…).
There are graduation celebrations, cookouts with friends, neighborhood block parties, and family reunions… just so many opportunities for sharing our favorite warm weather dishes.
Like this Greek Potato Salad!✨ It's herbaceous and creamy and super delicious! But that's not all - it's all kinds of healthy!!👌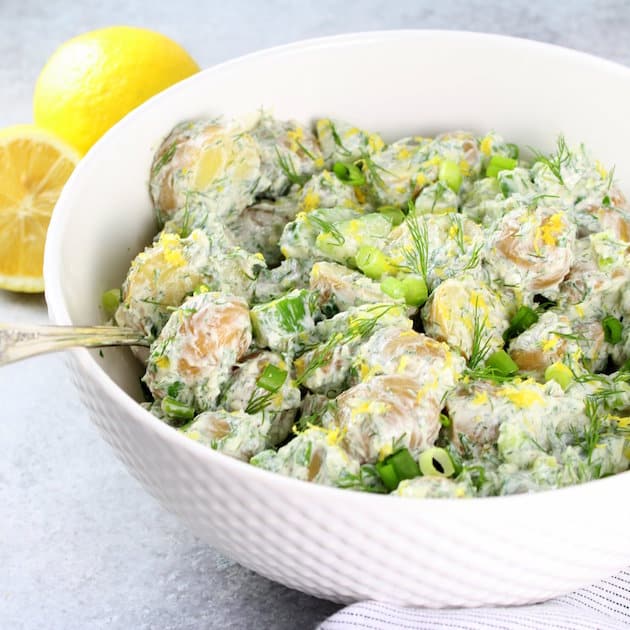 Basically, I thought why not use one of my favorite sauces to make a yummy and healthy potato salad!?? So that's what I did.
How To Make Greek Potato Salad:
I used my recipe for Greek Tzatziki Sauce and adjusted the ingredients to make this fabulous summer salad!
It has cucumbers, lemon juice and lemon zest, Greek yogurt, salt, pepper, and olive oil, along with fresh dill, parsley, and mint. Oh and baby Dutch yellow potatoes.
It's such a brilliant combination I just can't get over it. Seriously, I may hurt myself over here patting myself on the back.👋
The process is simple. You cut the potatoes in half and boil them for 10 minutes, then allow them to cool.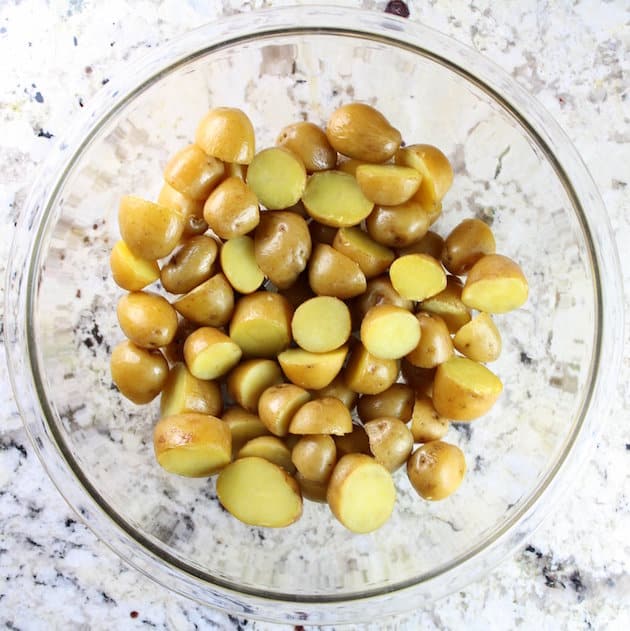 Add the rest of the ingredients and gently fold it all together.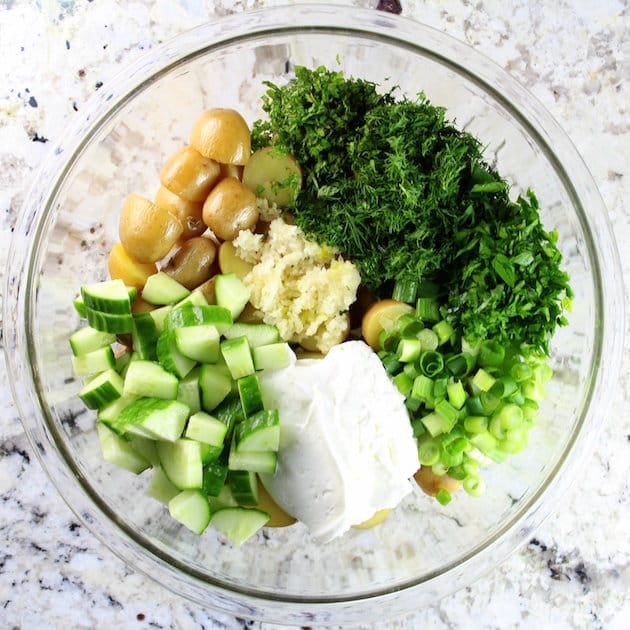 Then garnish with some more lemon zest, dill and if you want to get really crazy add some feta cheese! Whaaa!!???
Yep - that's some good Greek eating right there, my friend!
All you need is a few lamb meatballs and your Mediterranean feast will be complete.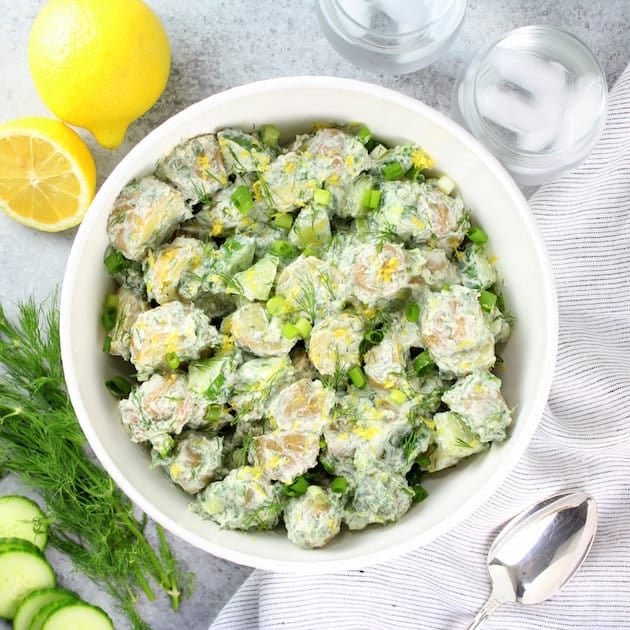 I can't wait for you to try this tasty Tzatziki Potato Salad. You'll definitely be taking it to all your summer barbecues, picnics, and potlucks. And your friends and family will all be so happy you did.😄
For the perfect summer time flavor combo, try these potatoes with boiled lobster in drawn butter - you'll love them together!
Whether you make-and-take or host at home, count your blessings and start seizing that sunshine!
Here's to sunny days ahead!🙌
I would love to connect with you! Leave a comment and follow me on Instagram, Twitter, Facebook, & Pinterest!
Yield: 6 servings
Greek Tzatziki Potato Salad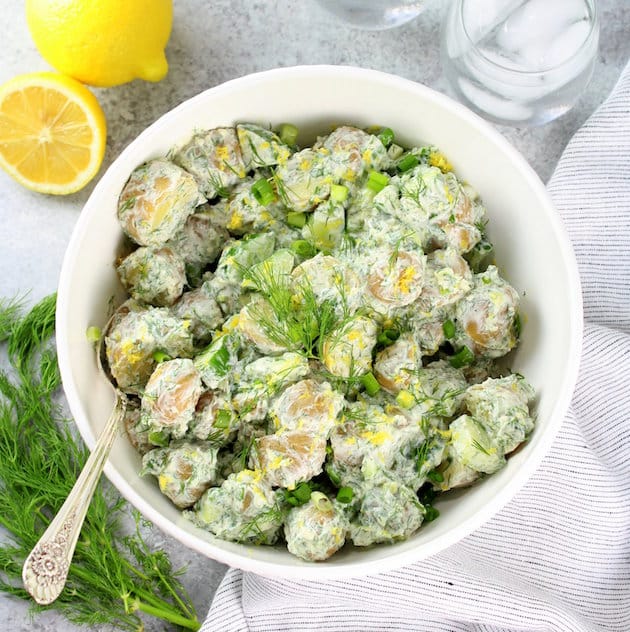 Greek Tzatziki Potato Salad - Creamy, herbaceous and so good for you!
Ingredients
For The Potato Salad:
2 pounds baby Dutch yellow potatoes (¾"), halved
1 English cucumber sliced into ½" medallions and then quartered
3 cloves garlic, minced
1¼ cup plain Greek yogurt (I used nonfat)
5 green onions, chopped (reserve 1 tablespoon for garnish)
½ cup fresh dill, chopped (reserve 1 tablespoon for garnish)
¼ cup fresh parsley, chopped
1 tablespoon fresh chopped mint
2 tablespoon fresh lemon juice
zest from one lemon (reserve 1 tsp for garnish)
1 tablespoon salt to cook the potatoes, plus ½ teaspoon
½ teaspoon pepper
1 tablespoon Extra Virgin Olive oil
For Garnish:
1 teaspoon lemon zest
1 tablespoon chopped dill
1 tablespoon chopped green onions
crumbled feta (optional)
Instructions
Place the halved baby potatoes in a pot on the stove. Add 1 tablespoon salt and enough cold water to cover the potatoes. Bring to a boil at high heat, then reduce the heat to medium (with a gentle boil) and cook the potatoes until fork-tender, about 10 minutes. Drain and set aside on a baking sheet to cool.
Add all the other ingredients, except for the garnishes, to a large mixing bowl. Add the potatoes and gently fold together.
Garnish with additional fresh dill, green onions, lemon zest and feta cheese if desired.
Nutrition Information
Yield
6
Serving Size
5 ounces
Amount Per Serving
Calories

150
Total Fat

3g
Saturated Fat

1g
Unsaturated Fat

0g
Cholesterol

2mg
Sodium

1200mg
Carbohydrates

24g
Fiber

5g
Sugar

2g
Protein

9g
Here are some of my favorite potato recipes!