Broccoli Salad with Grapes and Bacon - a delicious salad that is full of flavor and texture. With blanched broccoli, red grapes, sliced almonds, green onions, yummy bacon, and the most delicious creamy dressing! This side dish will definitely be on repeat for all your summer parties and BBQs.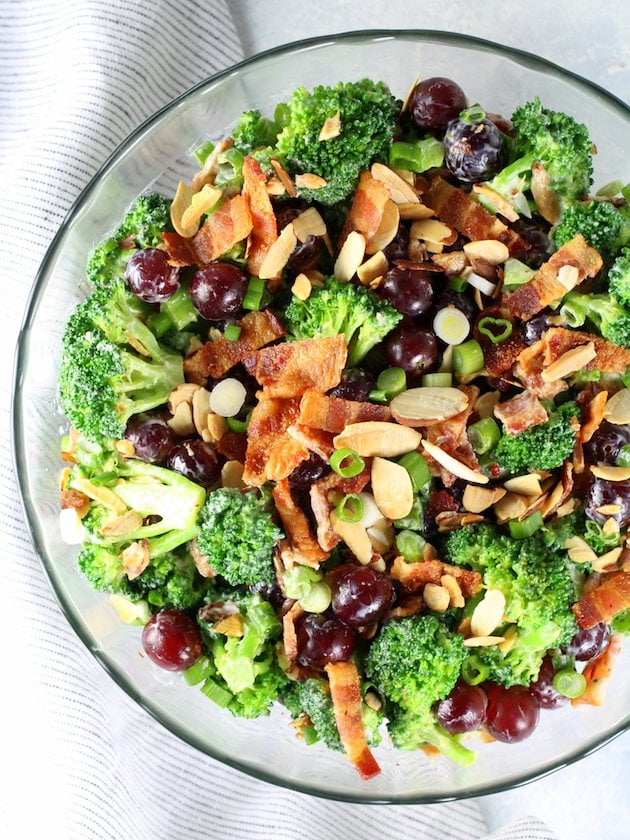 What is in Broccoli Salad?
Broccoli salad could also be called broccoli slaw because it's very similar to cole slaw since it features a semi-raw vegetable from the brassica family, tossed in a creamy dressing. With several other amazing ingredients like BACON and grapes.
So, what are your thoughts on Broccoli Salad? It seems to be one of those side dishes that people REALLY love... or don't.
I would like to mention that broccoli is the most popular, family-friendly veggie on the planet. Which is a huge win all the way around 'cause it's SO good for us. And that's just one of the reasons why I'm crazy about this Broccoli Salad with Bacon!
Some crunchy nuts, sweet fruit, a tangy sweet dressing, and boom! Addictive deliciousness, please get in my belly. Amiright?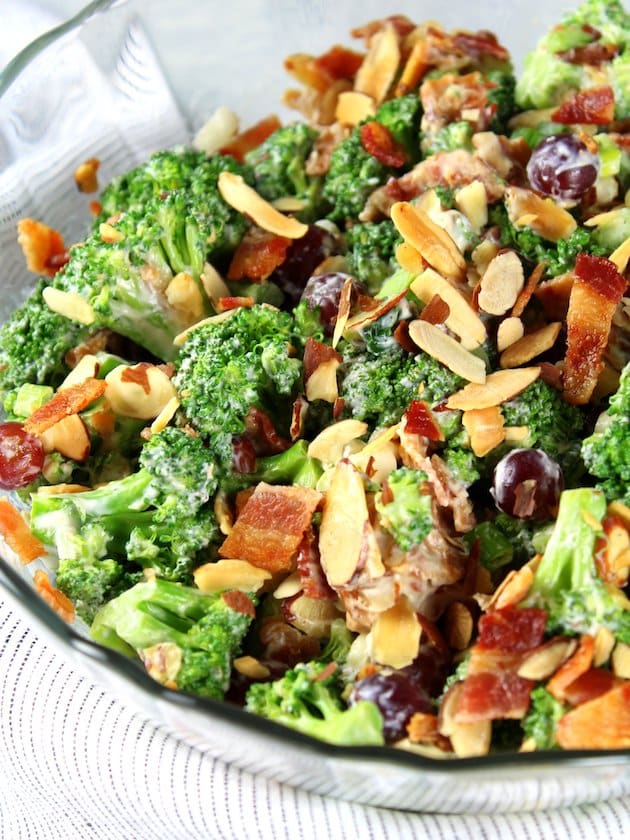 I decided to create my own rendition of this ever-popular veggie side dish. And I decided to add fresh grapes for my fruit, toasted sliced almonds for my crunch, and bacon, 'cause… BACON!!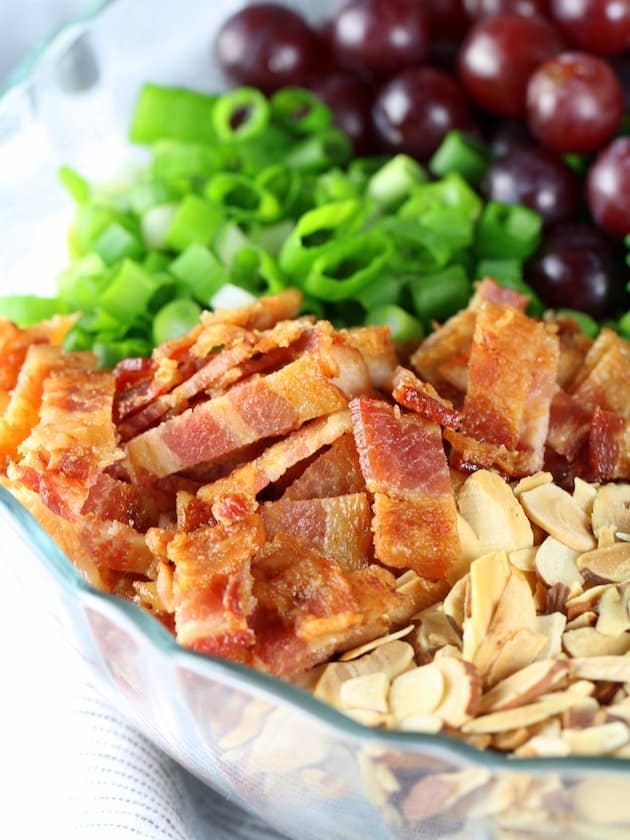 So, I'm a little late to the Broccoli Salad party but you know what I like to say… "better late than later."
My girlfriend Jaime asked me to crack the code for the Chick Fil A Superfood Salad a while ago. I have to admit I'd never had their superfood salad, but since I love a good food challenge I scooted on over and ordered one to go.
It had lots of kale, a little tiny bit of broccolini, some sweet and tart cherries, and the most interesting dressing. It was sweet for sure, with some vinegar... but it had this aftertaste I couldn't place. I was feeling pretty confident I could crack this code and take it to a whole 'natha level!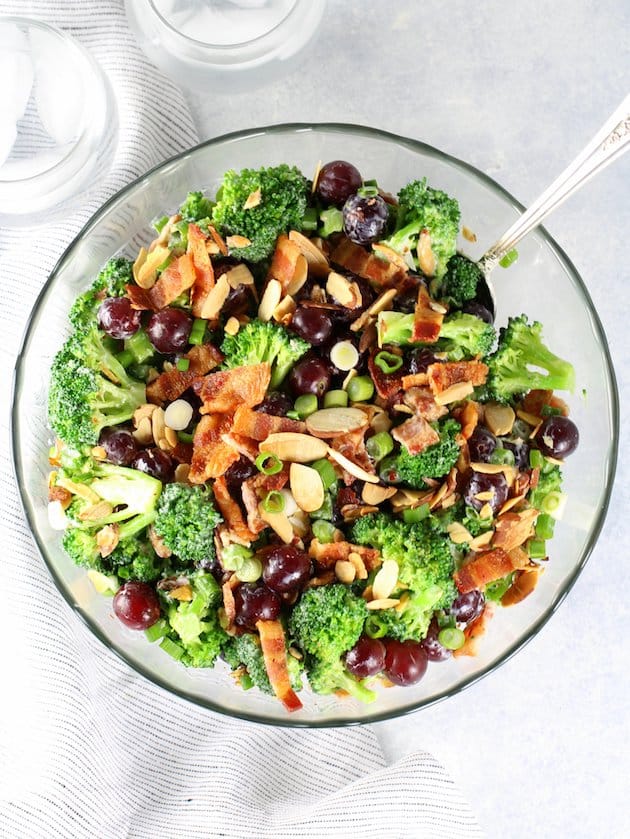 Sooo I went to work. And well, I have to report this isn't really their salad… but it's mine - and now it's yours. I just know you're gonna love it!
It's pretty amazing. Salty, sweet, crunchy, creamy, filling, and just so delicious. Ahhh now I get it! I may be a "Broccoli Salad Newbie," but I'm a believer all the same!
I'm not gonna lie: it's actually kind of addictive. I have to put a portion on my plate and put the rest of the salad away, so I don't just stand there and eat the entire bowl. And all you BSB's (Broccoli Salad Believers) are nodding in agreement – aren't you?
Allow me to share my process for making this delicious and nutritious broccoli salad!
How to make broccoli salad: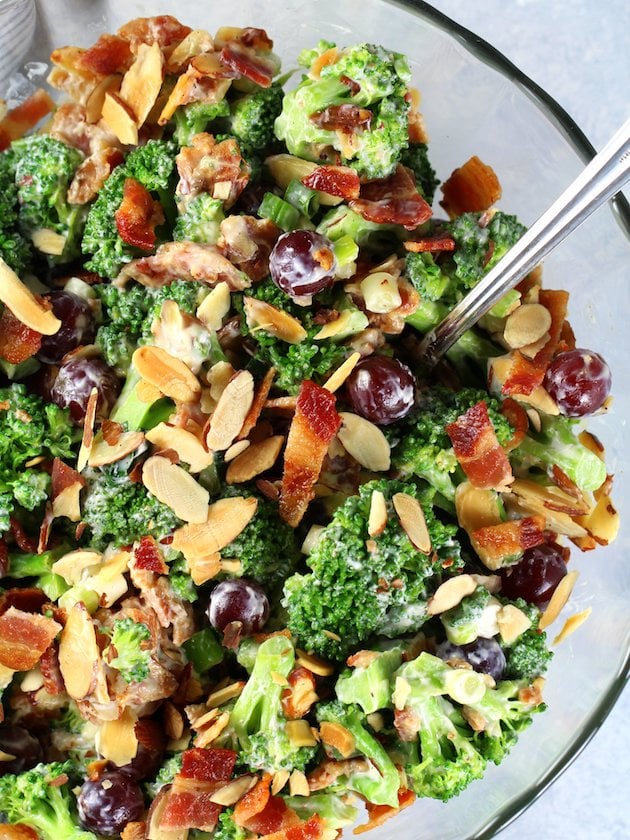 Why you should always blanch broccoli:
This first step may seem a little different than most recipes you've tried. I actually like to blanch my broccoli. And although it takes a few minutes longer to heat up the water, it's totally worth it. You still get all the liver-cleaning enzymes and other health benefits but you also get a more tender and moist veggie. And according to Healthy Eating, it may be the best way to eat broccoli!
Here's the deal: raw broccoli can be difficult for some people to digest due to the sugars it contains. And it can cause unpleasant side effects like gas and bloating. Also, raw (uncooked) cruciferous vegetables contain thyroid inhibitors that can worsen thyroid conditions.
Hmm, good to know and just so interesting – right!??
(Random fact about Holly… I had allergy testing done a few years ago and it was determined that I have a high sensitivity to broccoli. Crazy right? I know I'm just keeping it interesting over here. So for me and my house we will blanch our broccoli.)
Food Science class is over. Back to our regularly scheduled programming…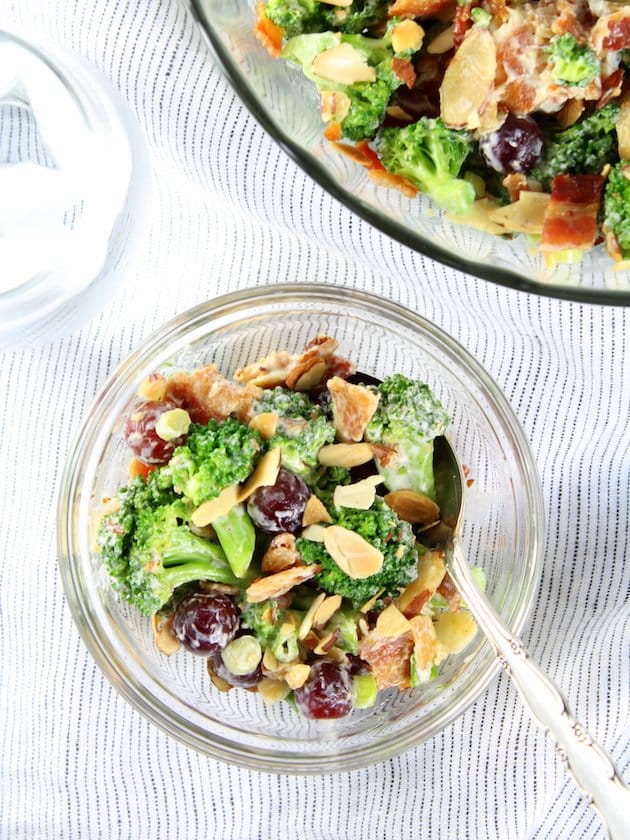 How To Make Broccoli Salad:
Blanching the broccoli is actually a relatively quick process. Just heat a large pot of water on the stove until it boils. Drop your broccoli florets in there, stir for about 30 seconds, and then dump the pot into a strainer and let the broccoli cool.
Next, mix up the sauce in a large bowl: Greek yogurt, mayo, olive oil, cider vinegar, pure maple syrup (or honey), salt, and pepper.
If your grapes are small like mine, you don't need to cut them. But if they're larger, you should slice them in half.
Now it's time to assemble: add your cooled broccoli, grapes, green onions, most of the almonds and bacon to the large mixing bowl with your sauce.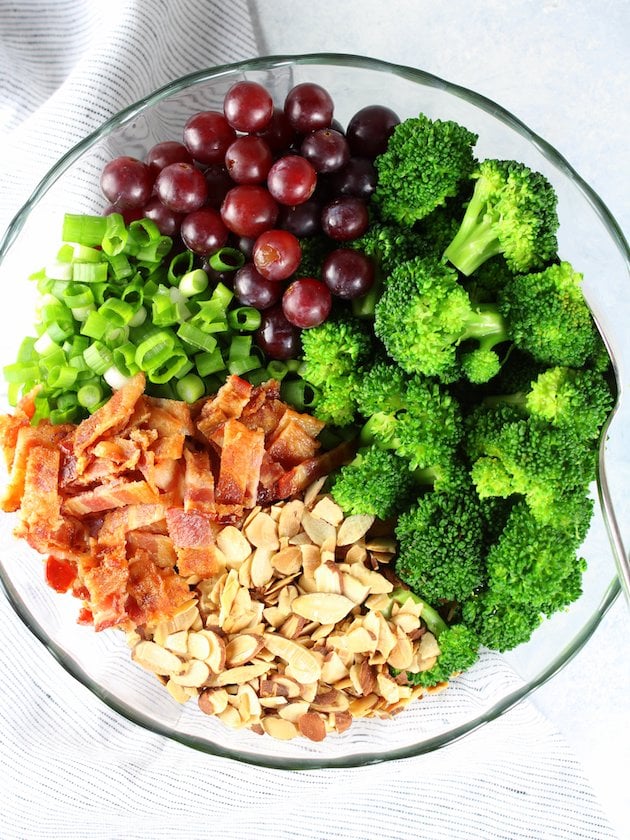 Fold it all together and be sure everything is coated in the sauce. Now sprinkle the rest of the almonds and bacon on top and if you can stand it, cover and chill it for about an hour (or longer) before eating.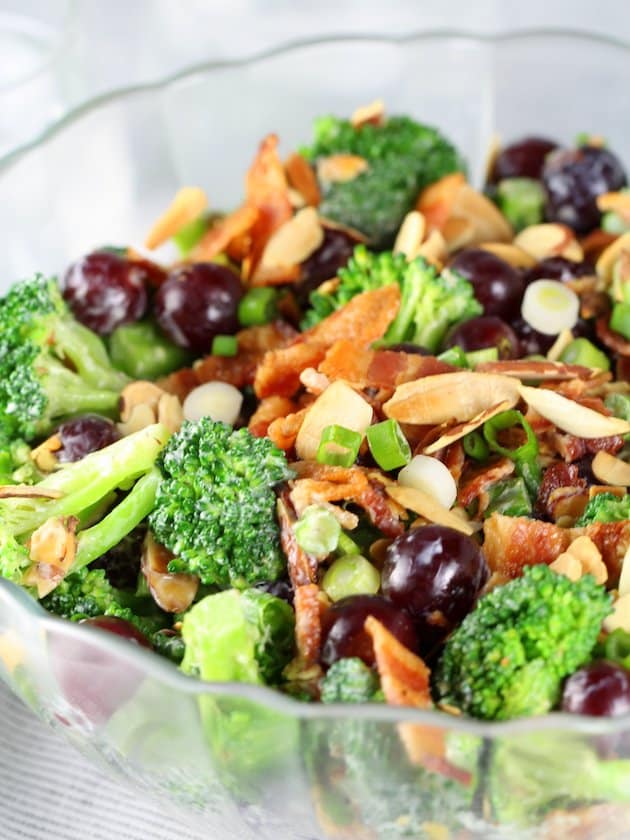 Yummy, yummy in your tummy! It's just the most delicious salad recipe that can even double as a meal. This Stealthy Healthy side dish will definitely be on repeat in your weekly meal plans from now on.
And you'll be taking this tasty Broccoli Salad with grapes and bacon to potlucks, picnics, BBQ's and all your family get-togethers!
I can't wait for you to try it! Enjoy my friend!
I would love to connect with you! Leave me a comment and follow me on Facebook, Instagram, Pinterest, and Twitter!
Yield: 8 servings
Broccoli Salad with Grapes and Bacon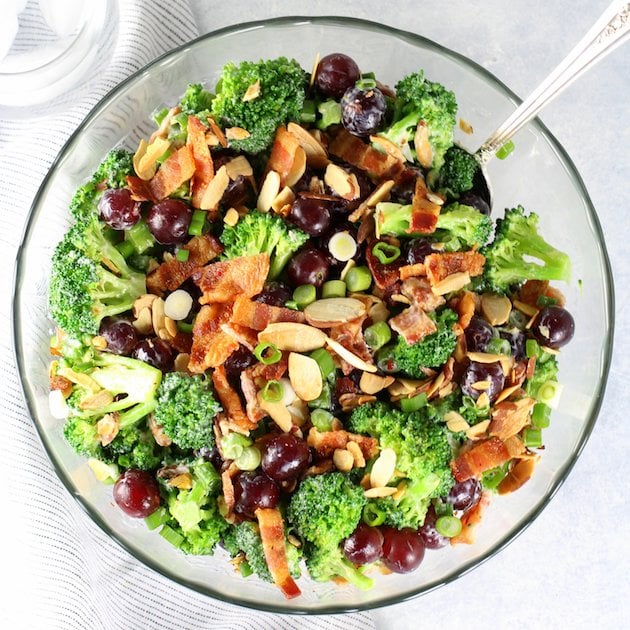 Broccoli Salad with Grapes and Bacon - an updated rendition of the classic with crunchy nuts, sweet grapes, and a tangy sweet dressing.
Ingredients
1 large head broccoli, cut into bite-sized florets
2 tablespoons mayonnaise, (I use canola mayo) *See note
1 tablespoon extra virgin olive oil
⅓ cup 2% reduced-fat Greek yogurt
1 tablespoon cider vinegar
1 rounded tablespoon pure maple syrup, (or honey)
¼ teaspoon salt
¼ teaspoon freshly ground black pepper
10-12 ounces red grapes, (I used really small grapes but if you can't find those use regular grapes and cut them in half)
½ cup chopped green onion
½ cup sliced almonds, toasted
6 slices thick center cut bacon, cooked and chopped
Instructions
To blanch the broccoli: Boil a large pot of water, then drop broccoli florets in and stir so all the broccoli gets submerged. When the broccoli changes from a dark green to a pretty bright green (about 30 seconds), pour into a strainer in the sink, then set aside.
In a large mixing bowl combine mayonnaise, olive oil, Greek yogurt, vinegar, maple syrup, salt and peppers. Stir well.
Fold in the broccoli, grapes, green onions, ⅓ cup of the almonds and three-fourths of the bacon. Once completely combined, sprinkle the rest of the almonds and bacon on top. Cover and chill 1 hour before serving.
Notes
*If you're not a fan of mayo you can swap it out for extra virgin olive oil.  The dressing will still be good just a little thiner.  
Nutrition Information
Yield
8
Serving Size
6 ounces
Amount Per Serving
Calories

215
Total Fat

17g
Saturated Fat

4g
Unsaturated Fat

0g
Cholesterol

18mg
Sodium

290mg
Carbohydrates

10g
Fiber

1g
Sugar

6g
Protein

6g
Looking for more Easy Lighter Recipes?