Asparagus Egg and Bacon Salad with Dijon Vinaigrette – a fabulous spring salad or side dish, bursting with so much flavor and deliciousness! With asparagus, bacon and eggs, green beans, and the most delicious Dijon dressing!
Asparagus Salad with green beans and eggs:
If your weather is not cooperating maybe this salad will help put you in the mood for spring!
Isn't she just gorgeous!??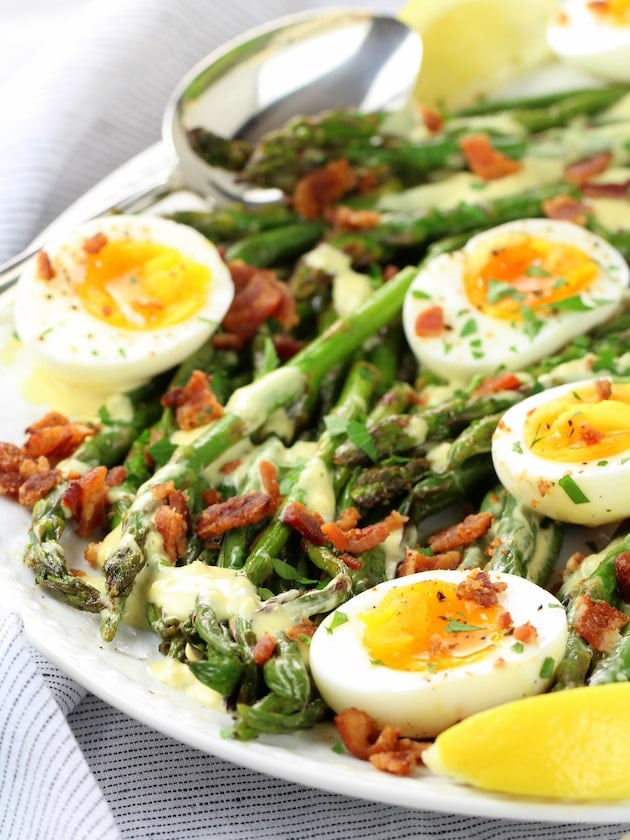 And full of so many of my favorite things… asparagus, green beans, jammy soft-boiled eggs, bacon and the most delicious lemon Dijon dressing. It makes my mouth water just thinking about it!
It's perfect for a spring brunch, a Sunday Supper side dish or a salad for a special holiday like Easter or Mother's Day.
Yes – it's hard to believe it's already time for those daffodils to be poking their heads out of the ground.
If I'm honest I kind of lose track now that we live in Florida.
There's not a dramatic difference in the weather or the topography so spring really just means it's a bit more sunny and warm and soon it's gonna be blazing hot so enjoy it while it lasts. And all my Florida peeps say – AMEN!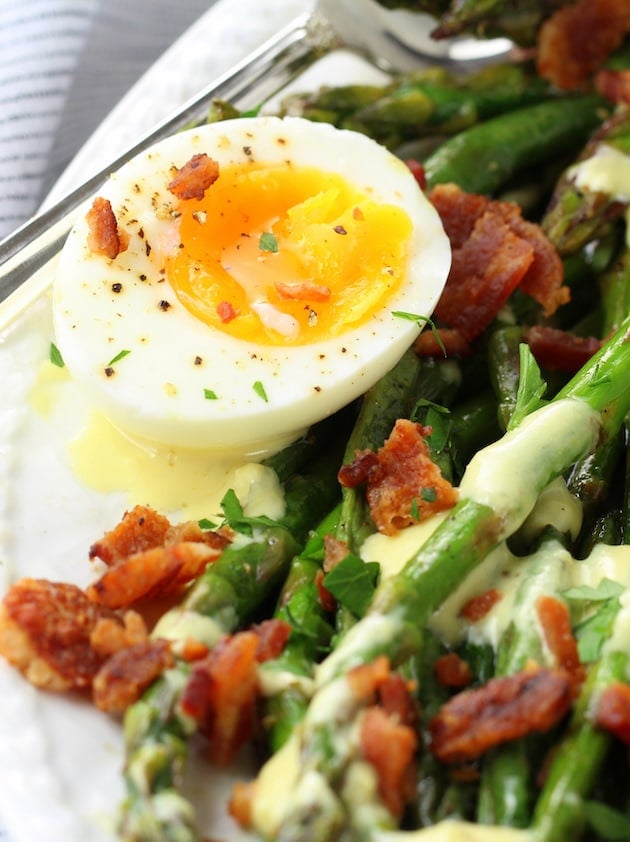 But there is one thing that really screams or should I say squawks "spring!" around here.
It's when the Sandhill Cranes have their babies (cute factor overload)!!!!
If you're not familiar with them they are these 3-4 foot, long-legged, long-necked, grayish colored birds that look all regal and walk slowly with all kinds of purpose.
Oh and their knees bend the opposite way from ours when they walk. They are beautiful creatures for sure. And their babies - Oh my goodness - I can't even tell you how precious they are… but let me try…
They are fuzzy light brown little chicks and they are right by mom and dad's side - all the time. Something to note about Florida is that we have LOTS of predators lurking about and they enjoy tasty little baby chick morsels... so mom and dad are always on high alert. They are winning as parents for sure!
The cranes usually live in shallow marsh lands, pastures and farmlands. And they are omnivores so they eat all kinds of delicious cuisine like seeds, plant tubers, grains, berries, insects, earthworms, mice, snakes, lizards, frogs and crayfish - but let's not think about that right now.
Moving on.
We have a pond area in our neighborhood and that's where they eat their dinner every night. So we make sure we head over to watch them in all their cuteness (big swoon).
And since we feel like they're part of the family now, we had to name the 2 newest chicks - of course. Can you even stand it!??? Wait for it… Pecan and Sandy. Brilliant – right!? That was all the B man's genius.
Pecan is the baby boy and Sandy is the lil girl. Pecan is a little bigger than his sister and when he runs he likes to flap his wings. I'm guessing it's because he likes to go faster and thinks if he runs and flaps his wings he'll get there sooner. Boys will be boys!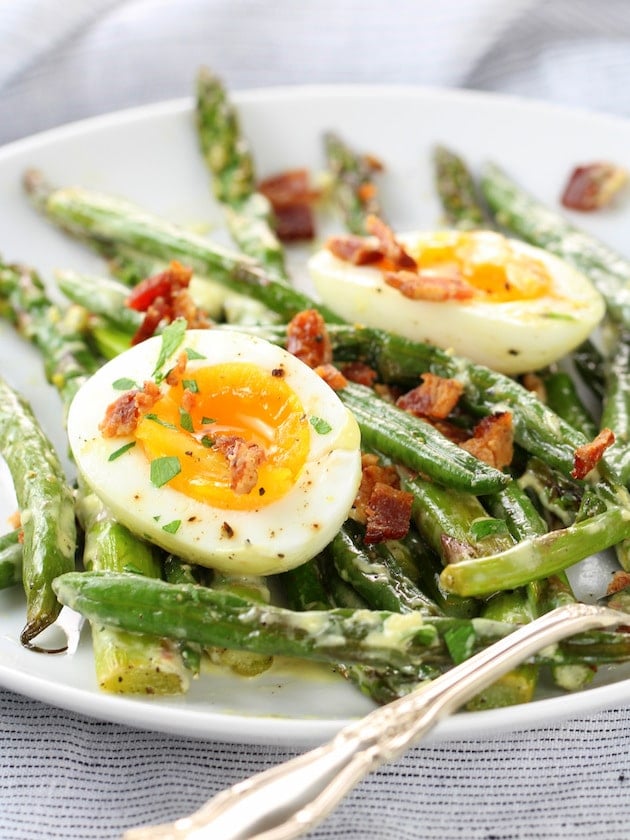 To be transparent I'm not sure why I'm telling you about these precious cherub babies… other than I want you to appreciate and love them like I do. I mean they are part of the family now – right!??
So I guess what I'm saying is in honor of Easter and all things spring we'll be over here enjoying this tasty asparagus salad and watching these fur babies grow.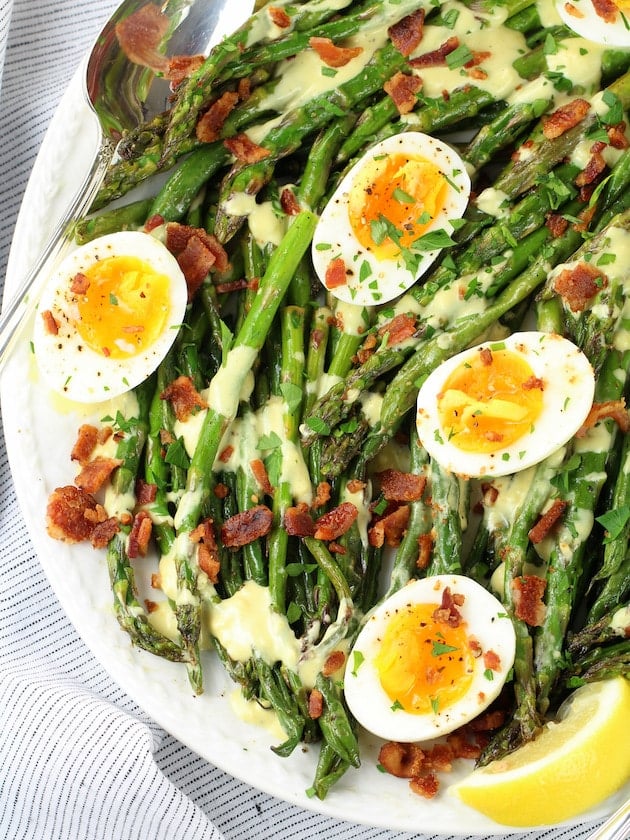 I would LOVE to share with you how I made this Green Bean and Asparagus Salad so you can enjoy it as well!
How to make asparagus salad:
Step 1: First, I preheat my oven to 400 degrees then wash and dry the beans and asparagus, and trim their ends.
Step 2: Next, I toss the green beans with salt, pepper and olive oil...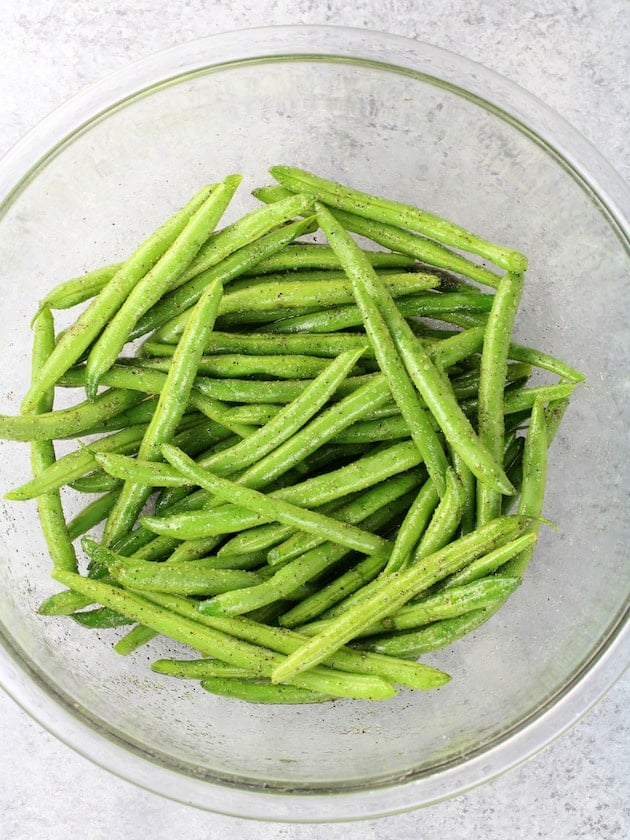 and roast on a baking sheet for 15 minutes.
Step 3: Then, I start boiling water for my eggs and toss my asparagus with salt, pepper and olive oil.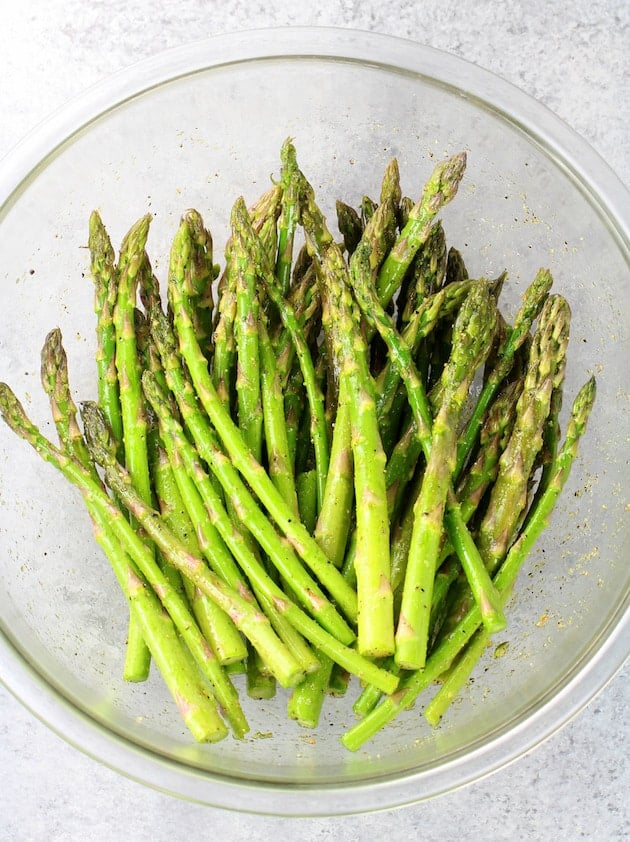 Step 4: I pull the beans out and add the asparagus to the baking sheet, roast for 7 more minutes, then transfer them to a different sheet pan so they can spread out and cool off. (No body likes overcooked asparagus – AmIRight!?)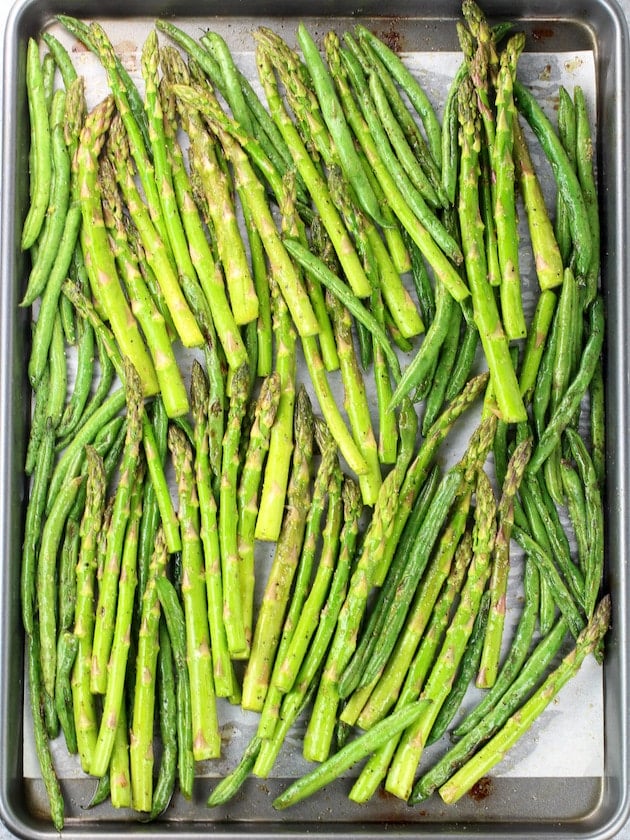 Step 5: By then the water is boiling so I add a tablespoon of oil to my water and gently add my eggs to the water with a spoon. BTW adding olive oil to the water ensures easy peel eggs every time.
Here's why this works from my super smart friend, Elizabeth at Bowl of Delicious: "The porous nature of the eggshells is what causes this method to work: the oil seeps inside the shell right in-between the egg white and the shell/membrane, causing a slippery barrier that makes peeling the egg VERY easy."
Meanwhile, I make an ice bath (cold water plus ice) for my eggs, and when they've boiled for 7 minutes I gently drain them and add them to the ice water. I like to crack my eggs after 10-15 minutes and place them back in the water. This allows the water to get between the egg shell and the egg, so it peels effortlessly.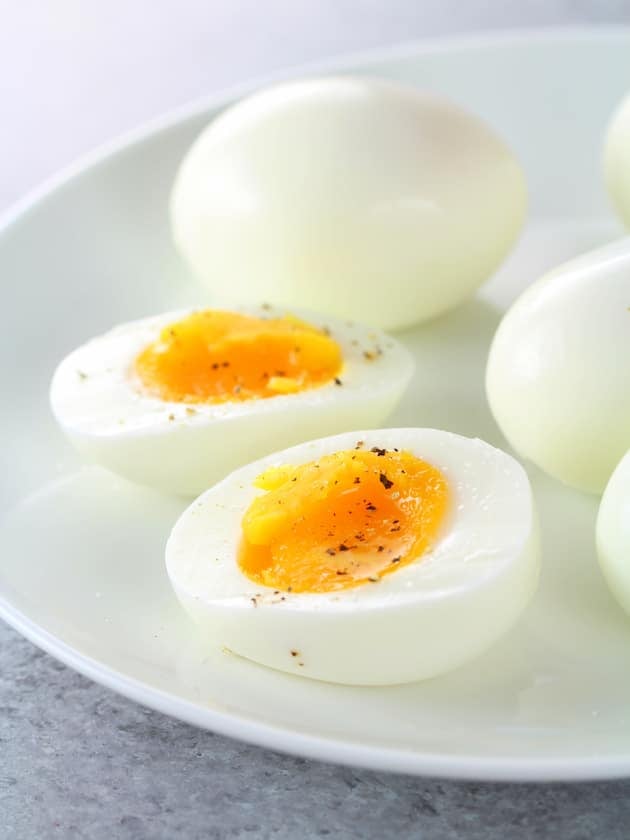 Step 6: Now I mix up the lemon Dijon Vinaigrette. And then it's time to assemble this delicious asparagus creation!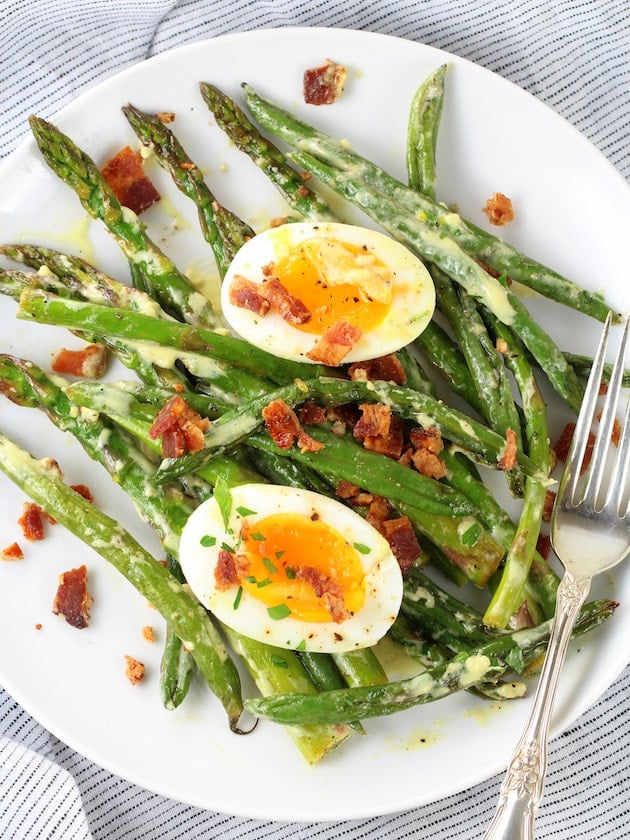 It's fresh and tangy, creamy and unctuous and pretty much all I want to eat for breakfast every day. Cause bacon and eggs are made for each other and green beans and asparagus are like everyone's favorite veggies.
Boom! Asparagus Egg and Bacon Salad with Dijon Vinaigrette ready to serve - the prettiest and most delicious salad, side dish, or supper a girl could ask for!
Enjoy my friends!
Yield: 8 people
Asparagus Egg and Bacon Salad with Dijon Vinaigrette
Asparagus Egg and Bacon Salad with Dijon Vinaigrette – a fabulous spring salad or side dish, bursting with so much flavor and deliciousness!
Ingredients
For The Salad:
1 pound fresh green beans, washed, dried and stems removed
1 teaspoon salt and pepper (divided)
4 large eggs
2 bunches asparagus (about 24), stalks trimmed
2 tablespoons olive oil (divided)
6 pieces of cooked crispy bacon, crumbled
For The Vinaigrette:
3 tablespoons Greek Yogurt
2 tablespoons extra-virgin olive oil
2 tablespoons Dijon mustard
1 tablespoon fresh lemon juice
2 cloves of garlic, minced
pinch of salt and pepper
Instructions
For The Salad:
Preheat oven to 425 degrees. Toss green beans with ½ teaspoon salt and pepper and 1 tablespoon olive oil, then roast for 10 minutes on a parchment-lined baking sheet.
Prepare an ice bath for the eggs. Then bring a small pan with water and 1 tablespoon olive oil to a boil. (Be sure the water fully covers the eggs.) Carefully add the eggs with a spoon, then cook 7 minutes for soft-boiled eggs, or to your desired doneness. Transfer the eggs to the bowl of ice water, and let them stand for 5-10 minutes. Crack the eggs carefully on the counter and add them back to the water for 5 more minutes. Peel them and carefully cut in half.
Next, toss the asparagus with 1 tablespoon olive oil and ½ teaspoon salt and pepper. Add them to the baking sheet with the beans and roast for 5 more minutes. When the beans and asparagus are finished roasting, transfer them to a different baking sheet to cool. This will prevent them from continuing to cook and getting mushy.
For The Vinaigrette:
Combine all dressing ingredients in a bowl, and whisk until sauce comes together.
To Serve:
Add the beans and asparagus to a platter, then place your cut eggs throughout. Drizzle on your dressing and sprinkle on the bacon.
Nutrition Information
Yield
8
Serving Size
6-8 ounces
Amount Per Serving
Calories

209
Total Fat

16g
Saturated Fat

3g
Unsaturated Fat

0g
Cholesterol

93mg
Sodium

481mg
Carbohydrates

9g
Fiber

4g
Sugar

4g
Protein

9g