The first time I had Chicken Pot Pie Soup was in Massachusetts at the New England Soup Factory. It was love at first slurp.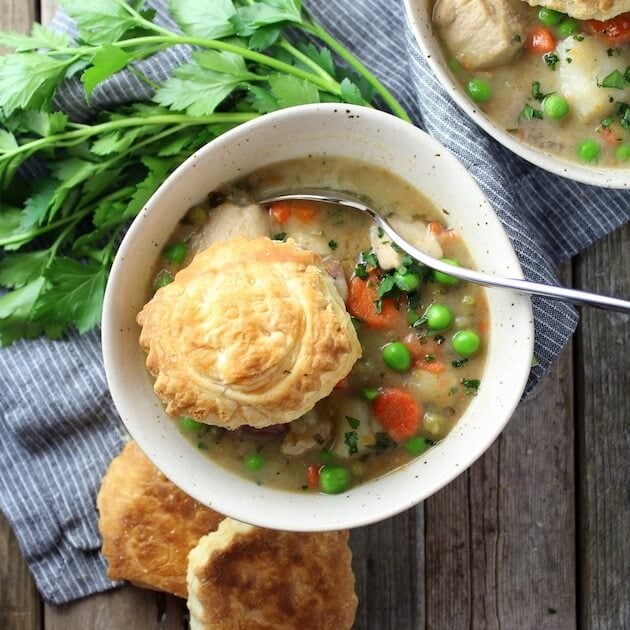 First of all, you know a place is dedicated to making delicious soups when they name their restaurant a "Soup Factory." Not only do they make Chicken Pot Pie Soup, but they make any and every soup you can think of… and then some more (they don't call it a factory for nothing people)! They are churning out some pretty amazing warm bowls of comfort over there.♨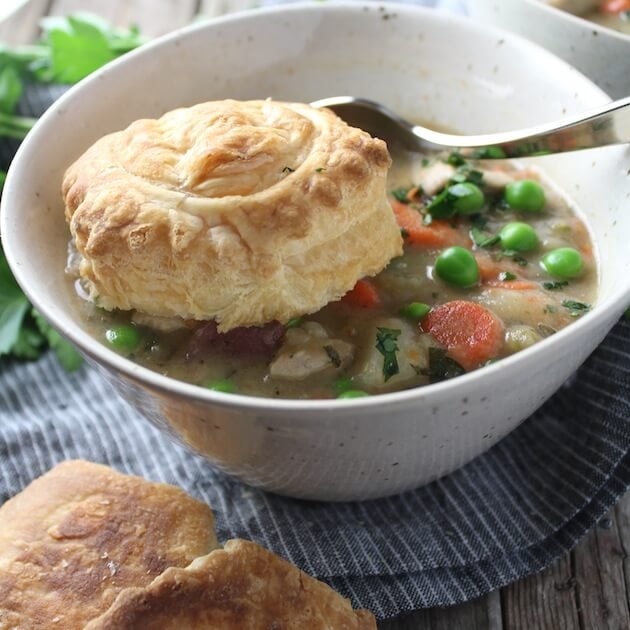 So of course I did what any food blogger dedicated to their craft would do – I created my own version. And I'd like to say it's pretty darn scrumptious! It's like a warm fuzzy blanket for your belly and all your insides.
I think one of the most important components is a good quality chicken stock. Personally I like stock over broth. The only real difference is that stock is normally made with bones, and broth normally from meat. The bones give stock a fuller, richer flavor.
You know what's even better than using chicken stock?? Using homemade chicken stock! It's so easy and it's so worth the tasty results.
Whenever I have chicken bones leftover, I grab a carrot, a small onion, some filtered water, and boil it for an hour or so. Then let it cool off, toss it in a labeled Ziploc and into the freezer it goes. It usually makes about 2 cups of silky warm elixir of life.
I love having it on hand whenever I need it for soups and sauces, and I love that I made it myself. I think it's much more flavorful than any store-bought stock and I'm guessing probably healthier as well. You should totally give it a try!
The other thing that takes this soup over the top, other than all the love I put into it, is the individual puff pastries that go with each bowl!! I just can't get enough of them! Warm, soft, yet crispy, these toasty sleds send warm cozy soup blankets down to your nourishment bucket (AKA tummy). Mmmmm…nourishment bucket happy.
Chicken Pot Pie Soup is the ultimate comfort food. Full of veggies, chicken and tons of soothing flavors, it's just what your belly ordered!
Trust me…your taste buds will definitely thank you!
Yield: 10 servings
Chicken Pot Pie Soup
Chicken Pot Pie Soup is the ultimate comfort food. Full of veggies, chicken and tons of soothing flavors, it's just what your belly ordered!!
Ingredients
1 ½ pounds red potatoes, washed and dried, chopped into one-and-a-half inch cubes with skin left on
5 carrots, diced
3 celery sticks, diced
1 large yellow onion, diced
2 cloves garlic, minced
1 cup frozen green peas, defrosted
3 uncooked chicken breasts, cut into one-and-a-half inch cubes and seasoned with salt & pepper
½ cup almond milk
¾ cups white wine or vermouth
3 tablespoons olive oil
½ cup flour
2 teaspoons salt & pepper
6 leaves sage finely chopped
2 tablespoons thyme finely chopped
Frozen puff pastry shells
Instructions
Preheat the oven to 425 degrees.
Heat olive oil in a large soup pot on medium-high until shimmering, then add carrots, celery, and onion. Sprinkle with a bit of salt and pepper and sauté for 6 minutes. Add garlic, sage, and thyme then cook for 2 more minutes.
Add the flour, and combine thoroughly. Cook for 3 minutes, stirring regularly.
Slowly stir in the chicken stock and wine, bring to a boil, and simmer for 5 minutes.
While the soup is simmering put the frozen puff pastry shells in the oven and bake (usually about 20 minutes at 425 degrees).
Next stir in 1 teaspoon salt and pepper and the almond milk. Add the cubed chicken and chopped potatoes to the pot and simmer for at least 10 minutes, until potatoes are tender.
Finally, add the defrosted peas just before serving and cook for 3 minutes.
Serve the soup hot with puff pastry shell on top, and say out loud three times: "there's no place like home..." 🙂
Nutrition Information
Yield
8
Serving Size
10 ounces
Amount Per Serving
Calories

343
Total Fat

9g
Saturated Fat

2g
Trans Fat

0g
Unsaturated Fat

7g
Cholesterol

39mg
Sodium

461mg
Carbohydrates

40g
Fiber

5g
Sugar

6g
Protein

20g
This nutrition card uses an estimate provided by an online nutrition calculator. This estimate is not a substitute for a professional nutritionist's advice!