This Gluten Free Meatloaf is straight from the Farmer's Market! With a combination of ground chicken and turkey, it's loaded with farm-fresh veggies and packed with flavor.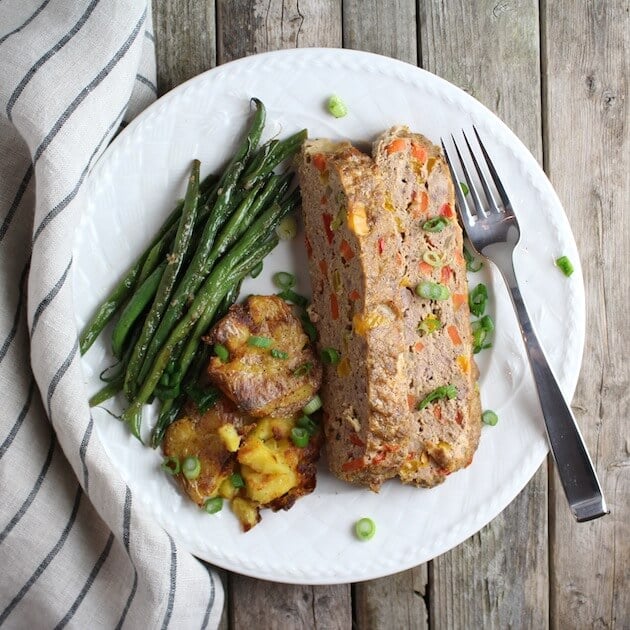 Welcome to the New Year! I can't believe it's already January 5th of 2016! Can we hit the pause button! I haven't even had time to think about resolutions for this year, let a lone properly reflect on last year's accomplishments or lack thereof. Geeeez!!
One accomplishment from last year that doesn't require much reflection is Taste And See! The blog is growing in recipes and popularity all the time. Yayyy!! It is such a gift to be able to do what I love: cook, take pictures, write about food, and hang out with you!! Your comments, questions, pictures, emails and enthusiasm are truly the best inspiration for me! Thanks so much for visiting Taste and See, for reading the posts, cooking the recipes, pinning, commenting and sharing the love! Group hug errbody!!!
Now let's talk turkey…(hehe)
Nothing says "Happy New Year" like meat loaf! Well, this Farmer's Market Meat Loaf that is. I'm sure you're all making healthy New Year's goals and resolutions which is awesome, but a girl's still gotta eat!
Healthy Gluten Free Meatloaf!
I like to think of healthy eating as more of a lifestyle and less of a diet. Basically I try to cut as much processed food out of my diet as possible, and I focus on eating lean protein or veggies most of the time. Then when it's time for celebrations or holidays I allow myself to indulge a bit 'cause I figure I can.✌ I've made this meat loaf a hundred times and played around with the recipe to make it low carb, and honestly it's always amazing. So I guess what I'm saying is go ahead and play with your food. LOL
I've used all ground chicken before, a combination of ground chicken and turkey, and this time around/my all-time favorite is ground turkey and beef. I've reduced the amount of ketchup or swapped it out with maple syrup and tomato paste, used almond meal instead of the breadcrumbs – plain and simple it's always delicious. The one thing I don't mess with is the veggies! Always, always add in the veggies. This makes the meat loaf super-moist and gives it lots of flavor. I'm not gonna tell you to finish everything on your plate, but I am gonna tell you to "eat your veggies!" Don't you feel the love?
How to make gluten free meatloaf
In case you haven't noticed, this isn't your mom's meat loaf, friends. Well, at least it's not my mom's meat loaf. This is full of veggies and spices like cumin, nutmeg and cayenne and it's super moist and soooo delicious. Seriously, you don't even use a baking dish to cook it – oh no – you can't contain the Farmer's Market Meat Loaf! You just shape it into a loaf on a cookie sheet lined with parchment paper. And it's ready in 45 minutes or less. That's 3 lbs of meat, plus veggies, spices etc and it's done before you can make a salad and clean up the mess. It's truly a beautiful thing.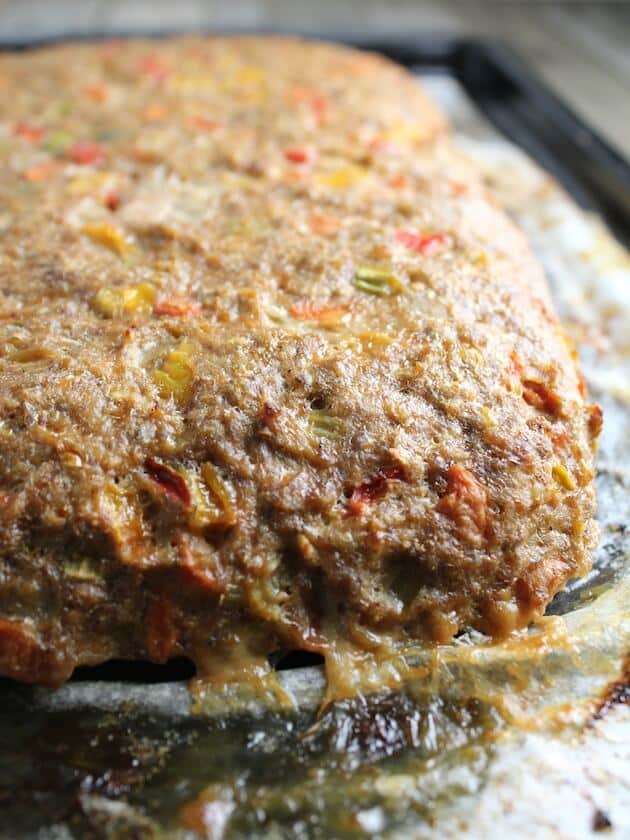 The good news is whatever diet or eating restrictions you've imposed on yourself for the new year – none of it will keep you from indulging in the Farmer's Market Meat Loaf. It is one flexible, adaptable and perfectly delicious dish! Happy Eating!
Yield: 12 servings
Gluten Free Meatloaf (Farmer's Market Meat Loaf)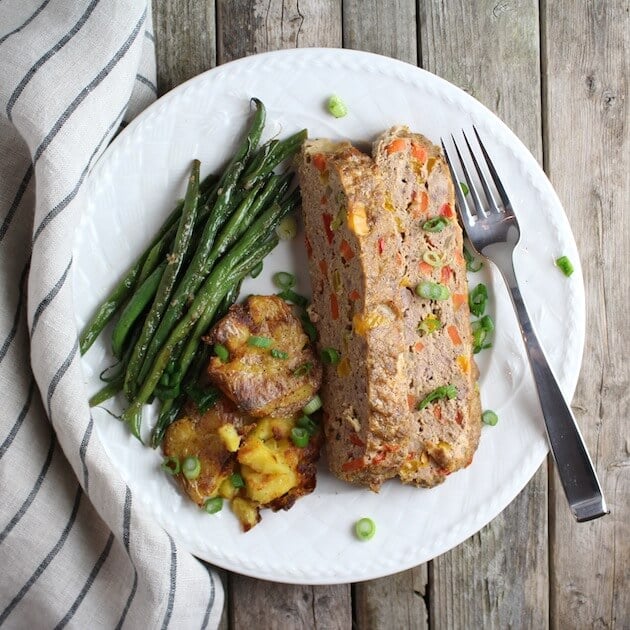 Super-moist meat loaf packed with veggies & flavor
Total Time
1 hour
15 minutes
Ingredients
2 tablespoons olive oil
2 medium onions, finely chopped
¾ cup finely chopped scallions, including the green
3 carrots, finely chopped
2 sticks celery, finely chopped
2 red or orange bell peppers, seeded and finely chopped
2 teaspoons minced garlic
2 teaspoons salt
1 teaspoons pepper
¼ teaspoon cayenne pepper
1 teaspoon ground cumin
½ teaspoon ground nutmeg
3 eggs, well-beaten
⅓ cup Simply Heinz Ketchup, (contains no partially hydrogenated oil or high fructose corn syrup)
½ cup almond milk
2 pounds lean ground beef chuck
1 pound lean ground turkey sausage
¾ cup gluten free bread crumbs (or almond meal)
Instructions
Preheat the oven to 375 F.
Heat the olive oil in a heavy skillet, and add the onion, scallions, carrots, celery. Cook, stirring often, for about 8 minutes. Add the garlic and peppers and cook for another 7 minutes. Set aside in a bowl and allow to cool until they can be handled.
Combine all dry seasonings with eggs in a mixing bowl, and beat well. Add the ketchup and milk, then blend thoroughly.
Add the beef, turkey, and bread crumbs to the egg mixture. Ensure that the vegetables are sufficiently cooled, then add them and mix thoroughly.
Place the meat loaf on a cookie sheet lined with parchment paper, with damp hands, form the mixture into a rectangle approximately 17 x 6 ½ x 1 ½ inches (resembling a long loaf of bread).
Bake for 35 to 40 minutes or until a meat thermometer (inserted in the middle) reads 165 degrees. Allow the meat loaf to rest for 20 minutes before slicing and serving.
Notes
For a quick gluten-free alternative to bread crumbs, swap them out for almond meal.   It turns out equally delicious both ways.
Nutrition Information
Yield
12
Serving Size
4 ounces
Amount Per Serving
Calories

243
Total Fat

8g
Saturated Fat

2g
Unsaturated Fat

0g
Cholesterol

108mg
Sodium

614mg
Carbohydrates

12g
Fiber

1g
Sugar

4g
Protein

28g