Crispy, golden Smashed Potatoes with sour cream and green onions!  Crispy on the outside and tender on the inside, these baby Yukon gold potatoes are sure to be your new favorite side dish!  These little spuds are boiled until tender, smushed, and then finish in the oven until crispy. Add your favorite toppings and you have one fantastic smashed potatoes recipe!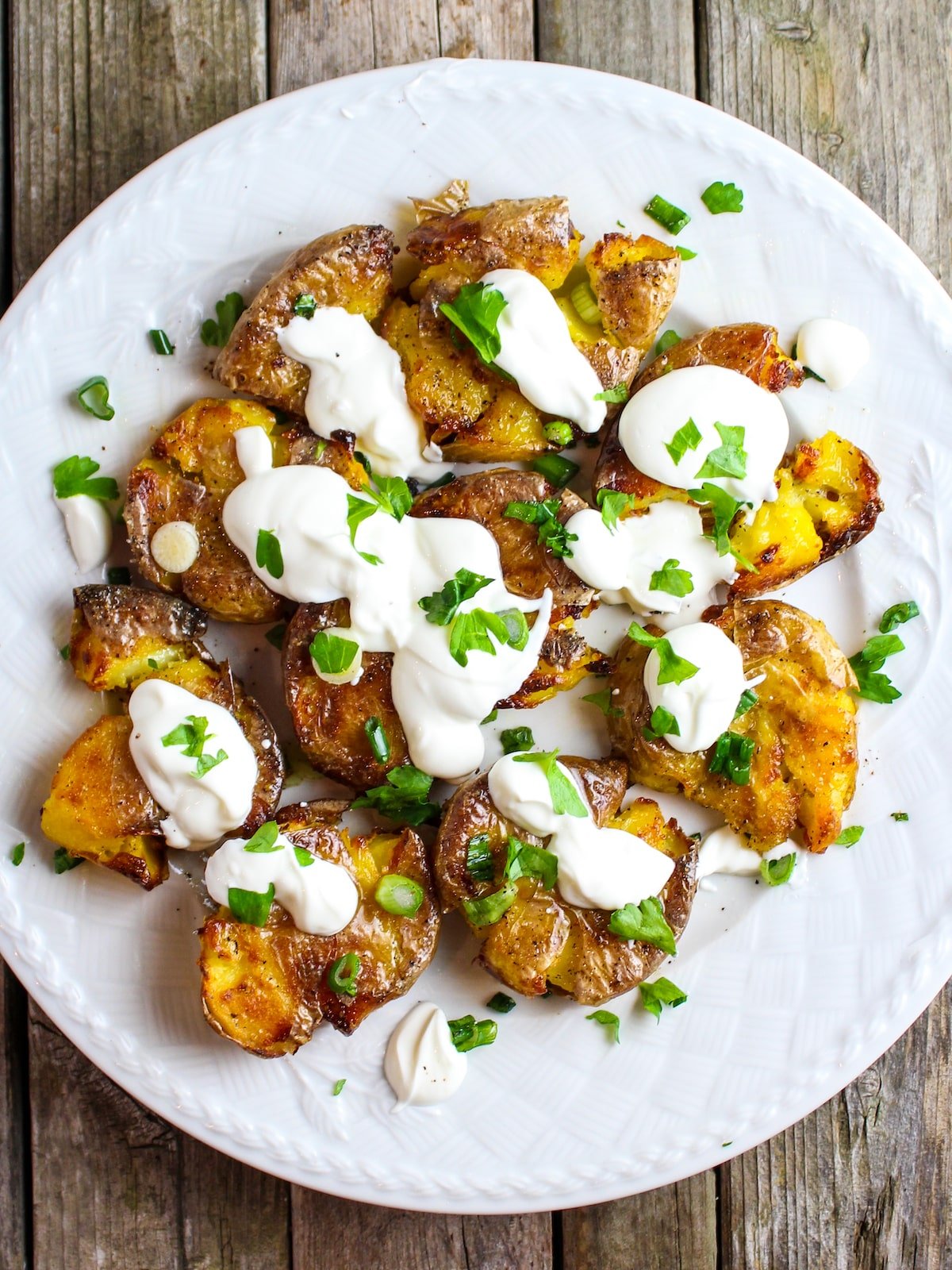 Jump to:
This post has been updated since it was originally posted in March 2016.
I'm all about sour cream and onions. On my baked potatoes, on my smashed potatoes, the seasoning on my potato chips... give me all that tangy earthy flavor!
There's is just something magical about potatoes. Don't you think? They are filling, full of nutrician (especailly if you eat the skin), super versitile becasue they can be turned into fries, breafast hash, a gratin sidedish, mashed, steamed, baked and of course smashed! Plus, they go with everything - steak, chicken, fish, pork and more.
When mom was struggling with ovarian cancer and going through chemo, potaotes were the only thing she could even get down. They litereally sustained her body through a very difficult time.
Just to give a little background on potatoes... did you know they are considered a root vegetable?
You might care but it's my passion for gardening coming out.
Here's the back story on these earth dwellers…to be a "true" root vegetable, the vegetable should meet two criteria: they should be grown underground, and act like a root for the plant - absorbing moisture and nutrients from the ground.
We consider the potato a root vegetable but the portion of the plant that is underground is considered a tuber or an underground stem. So some might get a little crazy technical and try to exclude the potatoes from the root category. But that's not how we roll. We say the more roots (or ahhem, "tubers") the better!
Just a little root veggie trivia for you to enlighten your family and friends while serving these yummy Smashed Potatoes.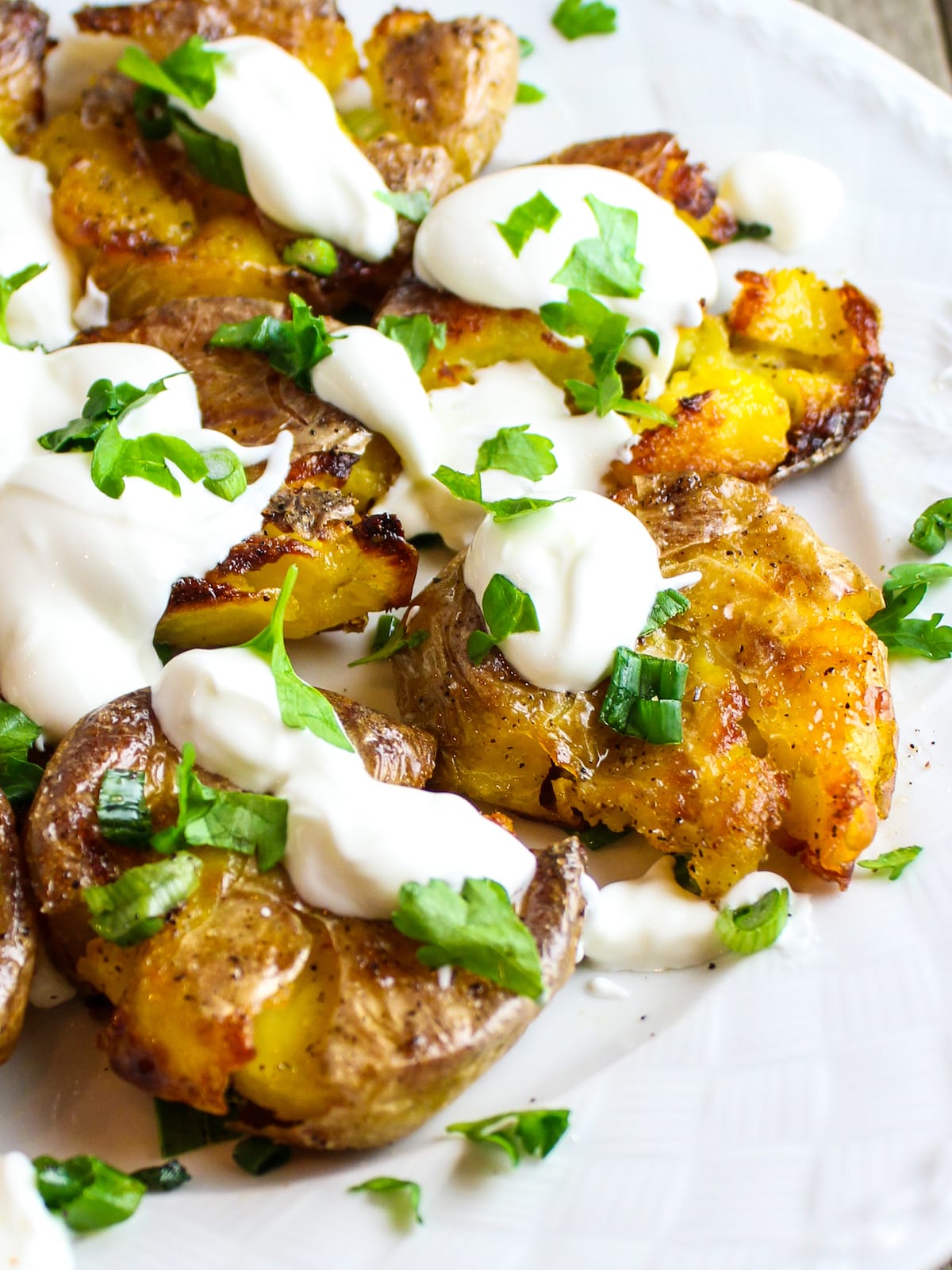 These Smashed Potatoes are the bomb! Especially with some luscious sour cream and savory green onions!
They are crispy on the outside and tender on the inside. So buttery, tasty, and a fun way to enjoy potatoes.
And even better they are naturally Gluten-free.
And they go great with my farmer's Famer's Market Meatloaf and Garlic Green Beans to make the perfect meal.
Or if you feel like chicken, pair them with my Parmesan Crusted Chicken and Balsamic Glazed Brussels Sprouts instead! 
There's just a handful or ingredients that you'll need for this Smashed Potaotes Recipe which is yet another reason to love it.
Ingredients for this Smashed Potatoes Recipe:
1-1 ½ pounds yellow baby potatoes
4-6 tablespoons olive oil
1 ½ teaspoons salt
1 teaspoon pepper
sour cream
finely chopped parsley
chopped green onions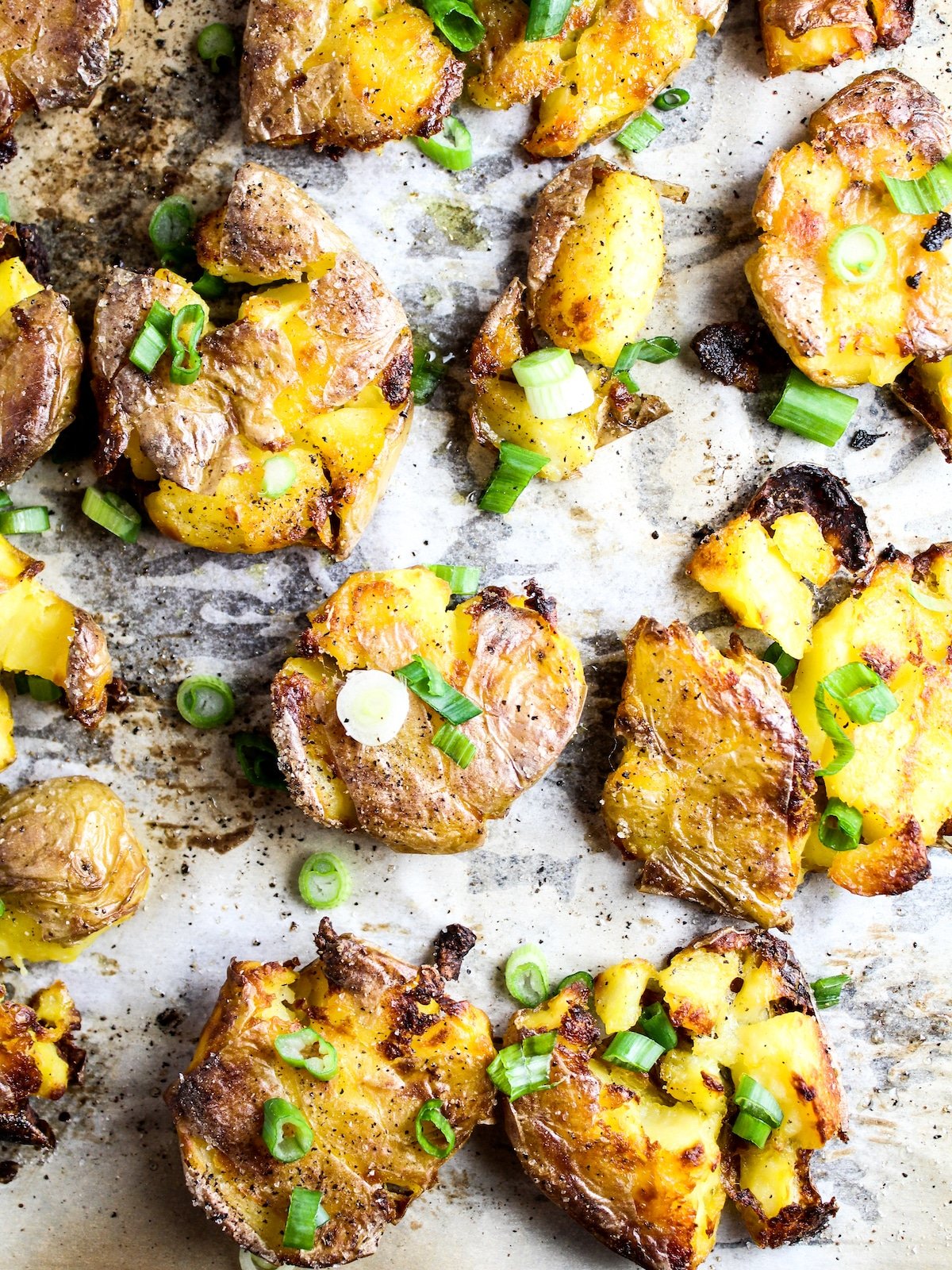 I like to use baby Yukon gold potatoes for this recipe. They are starchier than red potatoes, so they stay together after smashing and keep their shape nicely.
How To Make Smashed Potatoes:
You start by boiling the potatoes for 10 minutes, gently smashing them, seasoning them with salt and pepper, and baking for 30 minutes.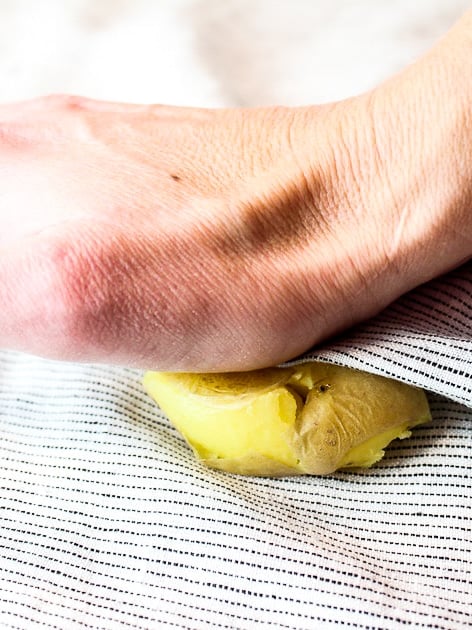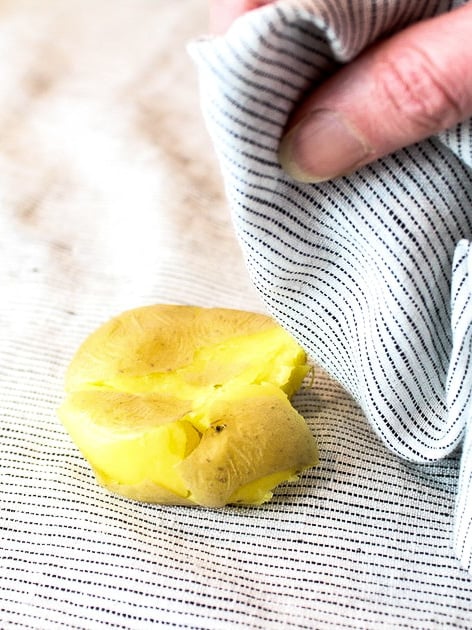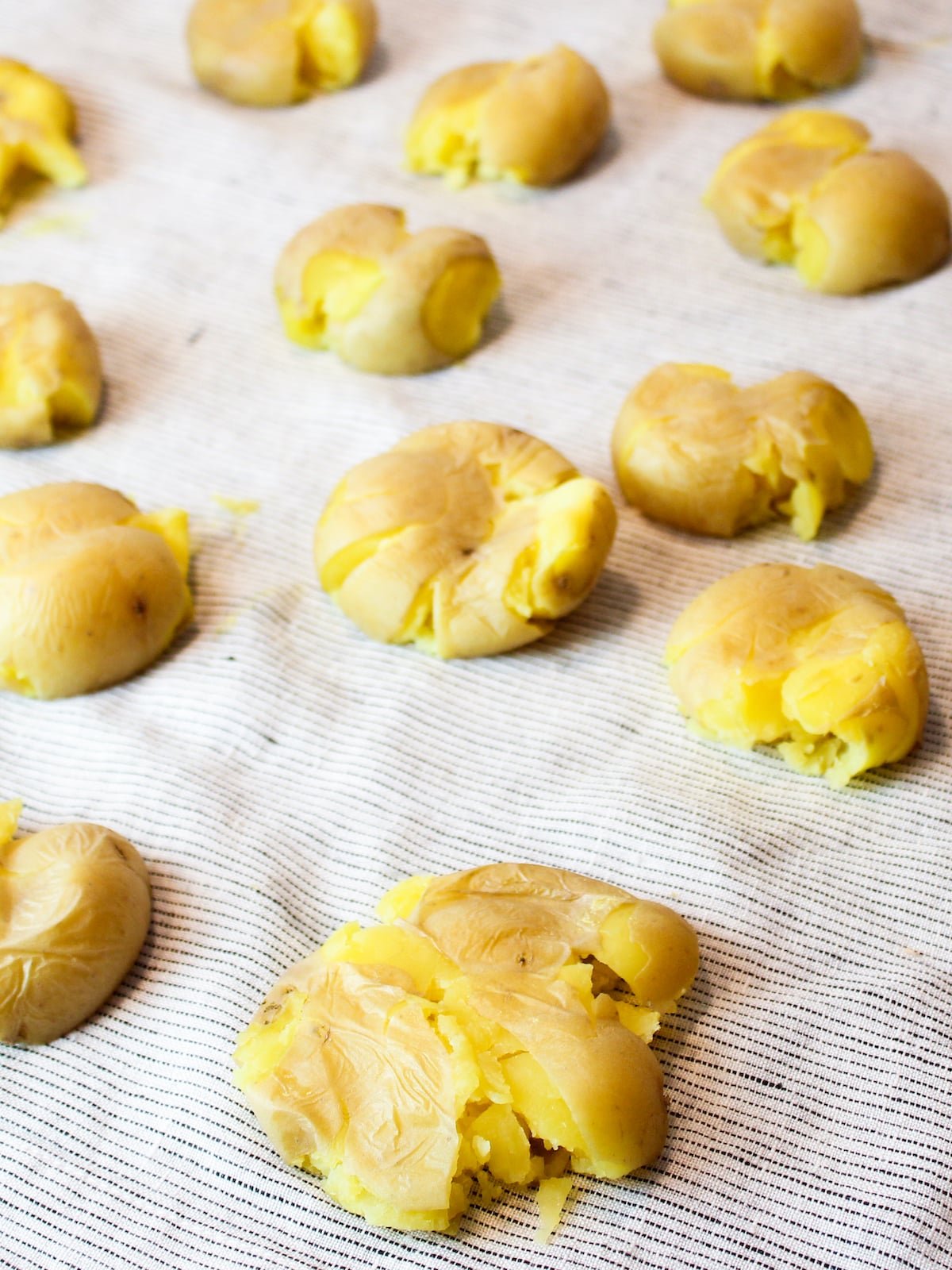 Voila…delectable crazy Crispy Smashed Potatoes!  So easy and soooo good!
But what would a potato be without some sour cream and chopped green onions?
Well, always delicious, but go ahead and take them up a notch with some tasty toppings.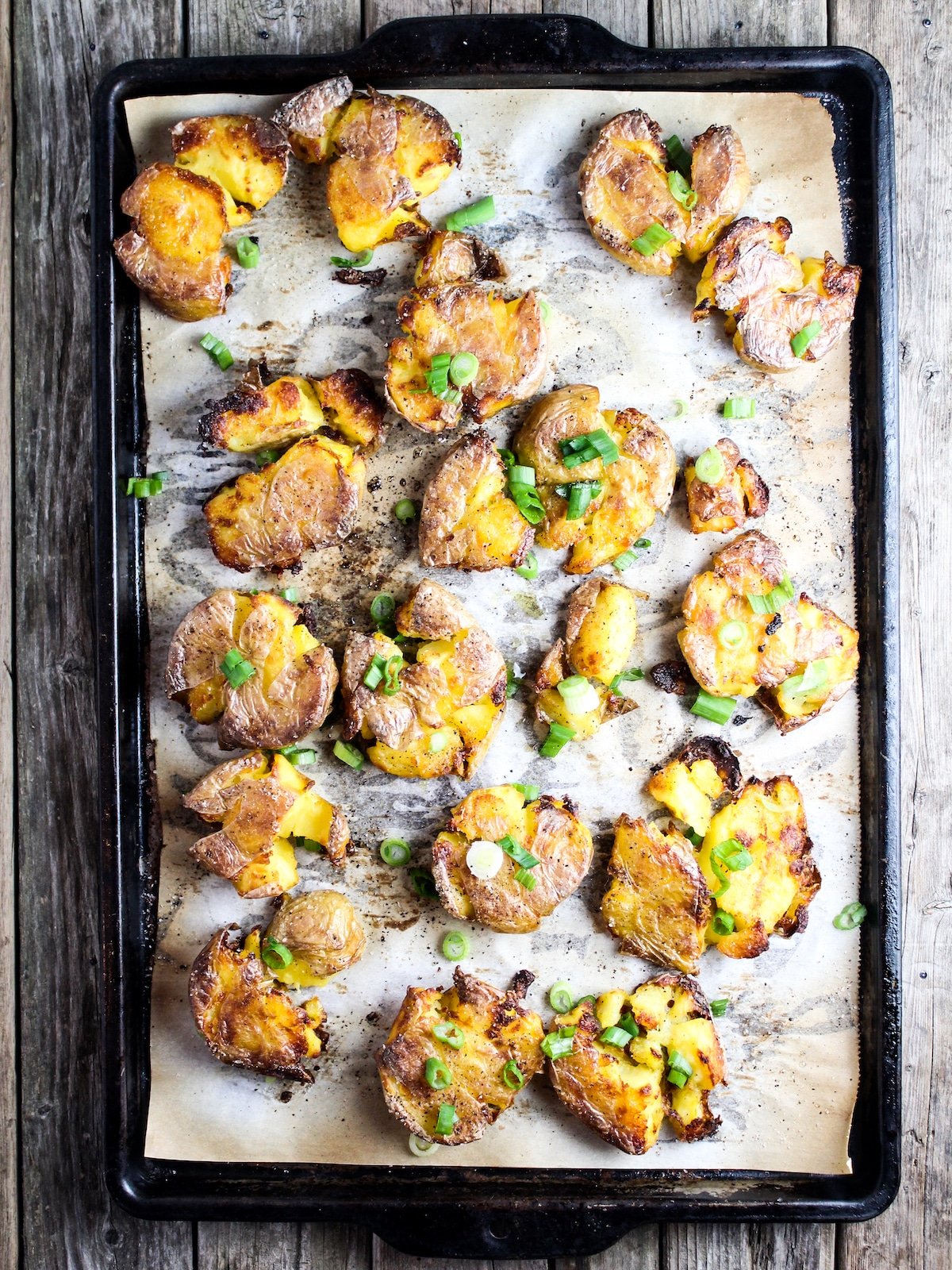 Toppings for Crispy Smashed Potatoes
You can top these crispy smashed potatoes with any of your favorite fixings...
bacon
shredded cheese
bbq sauce
ketchup
butter
parsley
sour cream,
and chives or chopped green onions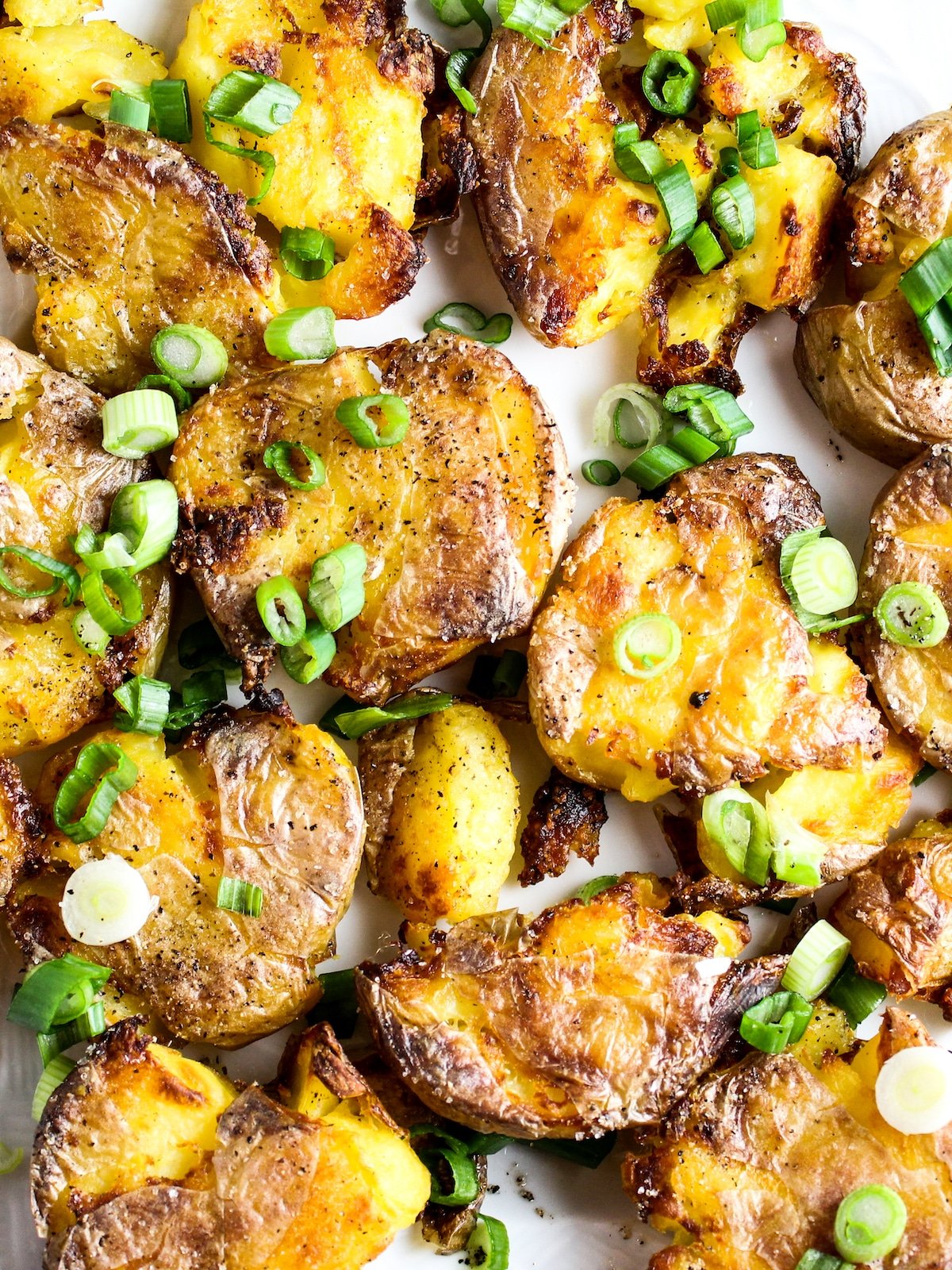 This smashed potato recipe requires slightly more attention than a baked potato, but they are nice and crispy and look fun and delicious – totally worth it!
So, go ahead and put these Sour Cream and Onion Smashed Potatoes on your list of recipes to make this week – trust me you'll be glad you did!!
Delicious recipes to serve with smashed potatoes:
Yield: 8 servings
Sour Cream and Onion Smashed Potatoes
A fun twist on roasted potatoes, topped with sour cream & green onions!
Ingredients
1-1 ½ pounds yellow baby potatoes
4-6 tablespoons olive oil
1 ½ teaspoons salt
1 teaspoon pepper
sour cream
finely chopped parsley
chopped green onions
Instructions
Preheat oven to 450ºF, and line a baking sheet with parchment paper and drizzle with olive oil.
Place the potatoes in a large pot and cover with water. Bring them to a boil and cook at a steady simmer for about 10 minutes or until fork tender. Drain and let them cool slightly - about 10 minutes.
Either on a dish towel or directly on the baking pan - gently but firmly crush each potato until their about ½ inch thick.
With a spatula transfer them carefully to the baking pan.
Drizzle the olive oil evenly over the potatoes. Sprinkle with salt and pepper and bake them for 15 minutes. Flip them over and cook for another 15 minutes, or until they're crisp and a bit brown around the edges. Transfer to a serving platter and sprinkle with additional salt and pepper to taste. Drop dollops of sour cream over the potatoes and sprinkle with scallions and parsley.
Notes
There are so many topping options for these Smashed Potatoes. Here's some more ideas to get your wheels turning: bacon, shredded cheese, BBQ sauce, chives, green onions, sour cream, ketchup or buffalo sauce.
Nutrition Information
Yield
8
Serving Size
6 ounces
Amount Per Serving
Calories

173
Total Fat

11g
Saturated Fat

2g
Trans Fat

0g
Unsaturated Fat

9g
Cholesterol

1mg
Sodium

406mg
Carbohydrates

18g
Fiber

2g
Sugar

1g
Protein

2g
This nutrition card uses an estimate provided by an online nutrition calculator. This estimate is not a substitute for a professional nutritionist's advice!