This Stout Beer Chili is rich and hearty, with a touch of sweetness. With stout beer, kidney beans, ground beef, and molasses it's the perfect bowl of yumminess to cozy up to on those long chilly winter nights! If you've already got a chili recipe with beer... well, you may not need it any longer. 🙂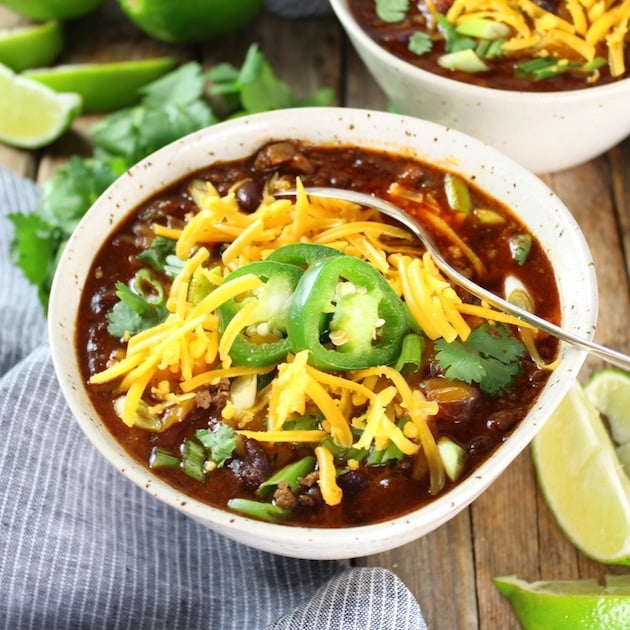 (This post contains affiliate links... read more here.)
Doesn't it feel like chili season? Something warm, hearty and comforting!?♨️
Here in Massachusetts we're having cold dreary days and even colder darker nights.❄️ The sun sets so early here in the winter - 4:05 pm today to be exact. That's only about 8 ½ hours of sunlight total today.☀️ Ahhh!😩 I feel like a vampire… or at least a big brown bat.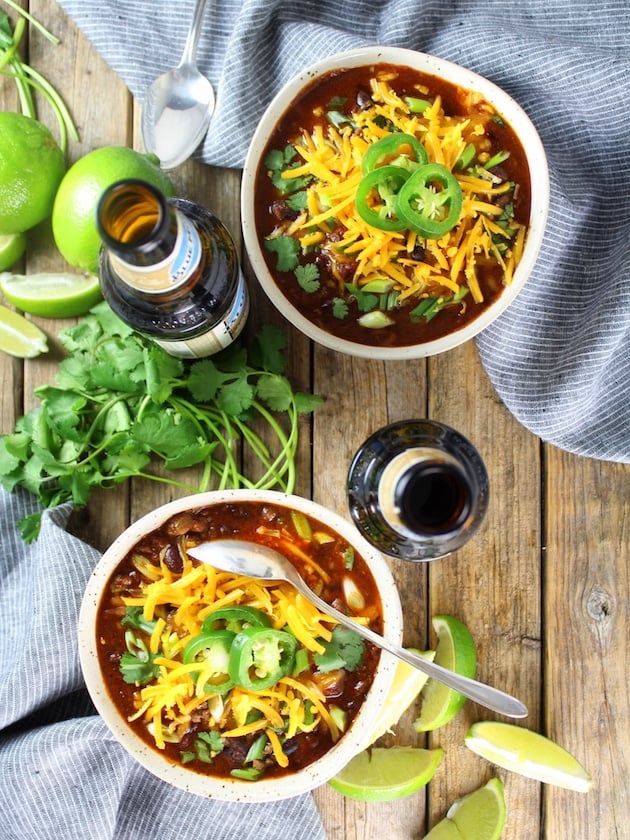 I'm seriously considering investing in a light therapy lamp. You know, the ones that are designed to boost your mood and energy by mimicking the effects of a sunny sky?🌞 Apparently, clinical studies show that ion light therapy provides an automatic antidepressant effect within a few days of use.😊 I'm not even kidding. If you experienced what I did at the grocery store tonight you would encourage everyone living in New England to get one.👌
My fellow Bostonians for the love of peace, on earth and good will toward men - get yourself a light therapy lamp for Christmas!🎁 Try this one from Amazon – it gets really good reviews!✌️
Can you tell the struggle is real here people? Sorry for the tirade.😬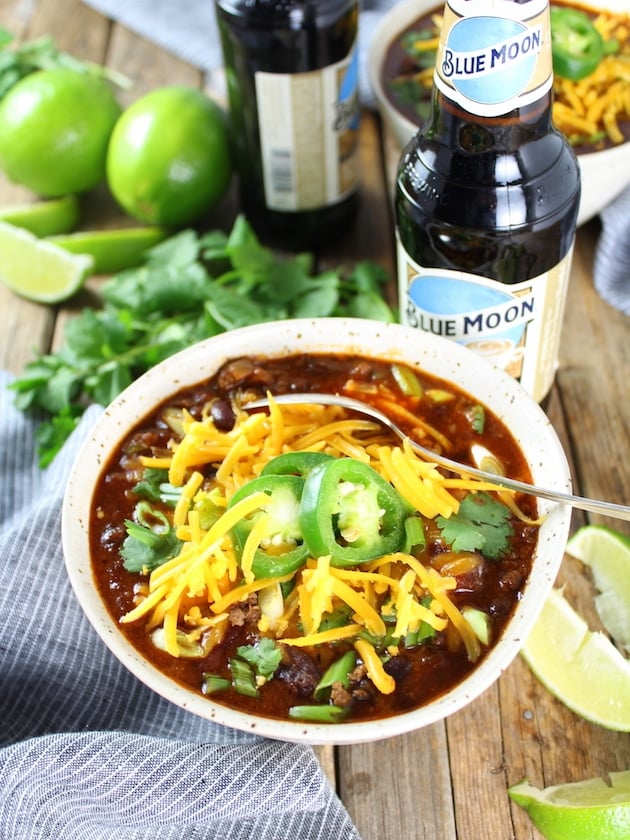 The best beer chili recipe... ever!
Another thing that helps me when I'm feeling like a cave-dweller is hearty, meaty, comforting food. Like chili. But not just any chili - no, no, Stout Beer Chili with molasses.✨ YES!👏 That is what I need! Calling in the big guns my friend.👇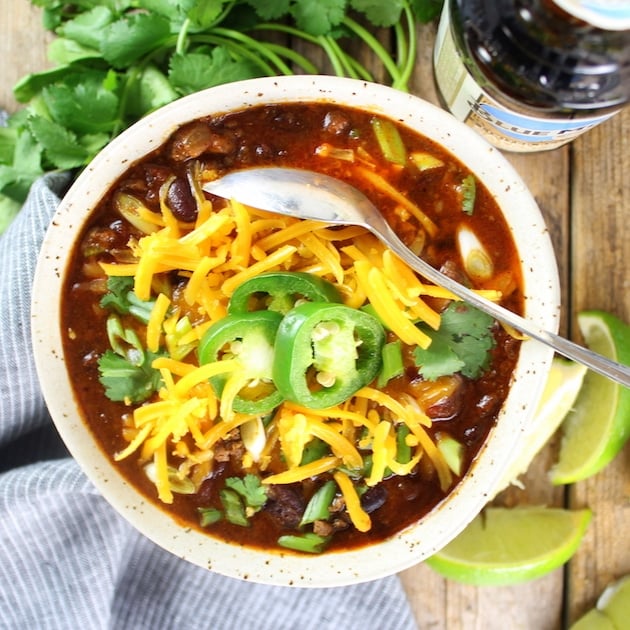 It's deep and rich with a hint of sweetness. With beer and beans and lots of beef.😋
I knew just what needed to happen, I grabbed my apron and off I went… chopping, mincing and stirring away.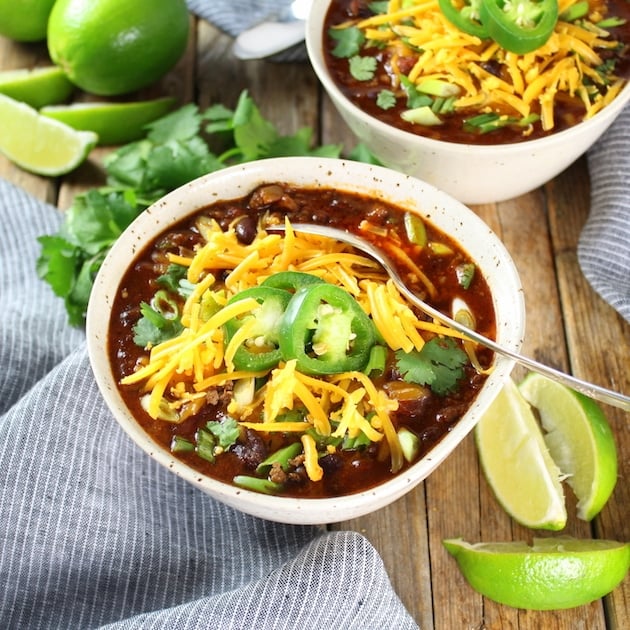 It started out like any other pot of chili. Sautéing onions, garlic and spices. Then adding some fresh chopped oregano, lots of ground beef, kidney beans, tomato paste and fire-roasted diced tomatoes.🍅
Then it took a slight turn toward something different, and so amazing… dark, malty and chocolaty. Whaa?? Not even kidding.
Pop the top and pour in some stout beer, & a tad of molasses. OMG! SO GOOD.🙌 I don't have words – and that never happens.🤐
This Stout Beer Chili is like a toasty, spicy nourishing hug.🤗
It understands it's cold outside and you haven't seen sun in days but it sustains you like nothing else could. It encourages you to keep on keeping on, 'cause the sun will come out tomorrow… well, maybe not here but somewhere else much further south - like the Caribbean.⛱ But who needs sunshine when you have yummy, life-giving Stout Beer Chili!!??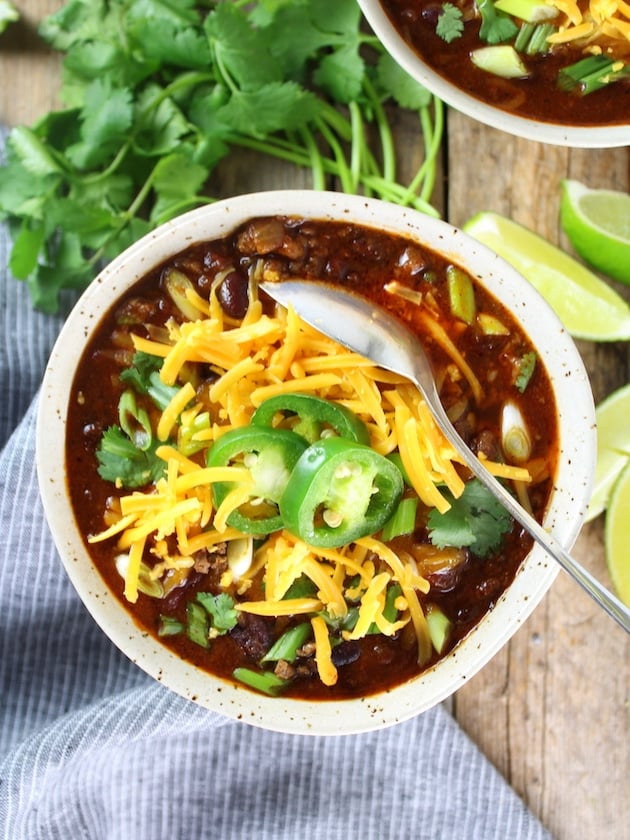 This chili is so rich and thick and full of goodness. It's great for a quick weeknight meal with the family, or watching the game with friends. And it's the perfect bowl of yumminess to cozy up to on those extra long chilly winter nights.💙
I would love to connect with you! Leave a comment and follow me on Instagram, Twitter, Facebook, & Pinterest!
Yield: 10 servings
Stout Beer Chili Recipe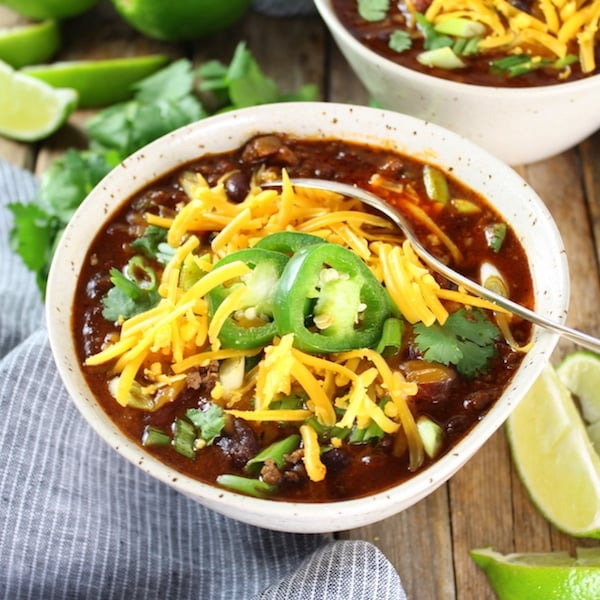 Stout Beer Chili - rich and hearty with a touch of sweetness.
Ingredients
For The Chili:
2 tablespoons olive oil
2 cups yellow onions chopped (2 medium onions)
1½ teaspoons salt and pepper
4 cloves garlic, minced
2 tablespoons fresh oregano (or 1 teaspoon dried)
⅓ cup chili powder
2 tablespoons ground cumin
1 tablespoon coriander
¾ teaspoon cayenne
2 pounds lean ground beef (or ground turkey)
2 15-ounce cans kidney beans, drained & rinsed
1 28-ounce can fire roasted diced tomatoes
4 tablespoons tomato paste
18 ounces stout beer (about 1 ½ bottles)
1-2 tablespoons molasses (depending on your preferred sweetness)
For Serving:
Shredded cheddar cheese
Sliced scallions
Sour cream
Cilantro
Fresh or jarred jalpenos
Instructions
Heat the oil in a large pot. Add the onions and season with ½ teaspoon salt and pepper. Cook on medium high heat, stirring occasionally, until softened, about 6 minutes.
Stir in the garlic and oregano and cook for 1 more minute.
Add chili powder, cumin, coriander, and cayenne, and stir for about 1 minute.
Add the ground beef and another ½ teaspoon salt & pepper. Break the meat into small pieces with a spatula, and cook for 8 minutes or until meat is no longer pink.
Stir in the kidney beans, diced tomatoes and the tomato paste, and bring to a simmer. Mix in the stout beer, molasses, and final ½ teaspoon salt and pepper and return to a simmer.
Serve with shredded cheddar cheese, chopped green onions, cilantro, sour cream and jalapenos.
Notes
The flavors continue to develop as the chili sits, so you can make it a day or two in advance.
Nutrition Information
Yield
10
Serving Size
10 ounces
Amount Per Serving
Calories

307
Total Fat

21g
Saturated Fat

7g
Unsaturated Fat

0g
Cholesterol

64mg
Sodium

465mg
Carbohydrates

8g
Fiber

1g
Sugar

3g
Protein

16g
Looking for more hearty healthy soup recipes?