This hearty Grilled Mediterranean Chicken Salad is full of grilled veggies and chicken, feta cheese and a delightful Basil Balsamic Dressing. This salad is such a tasty way to get your veggies, and it's such a delicious and satisfying meal!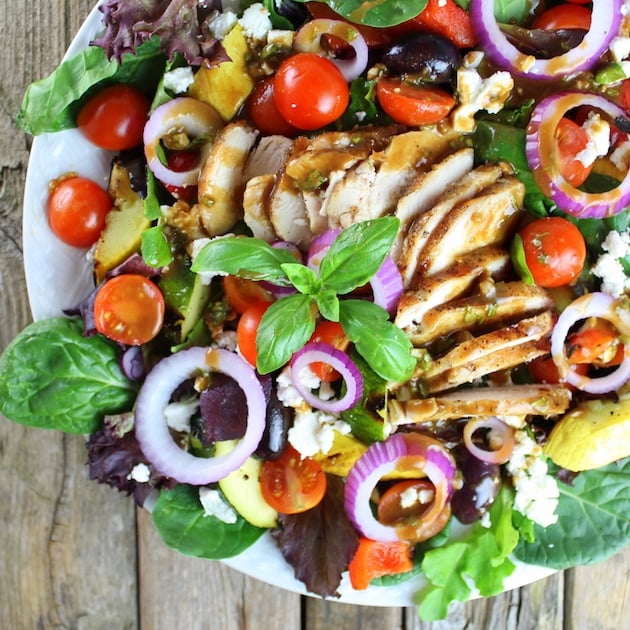 I love a good hearty salad as a meal. Especially when I just indulged way too much over the Memorial Day weekend.
If you read my last post then you know we were in Maryland for our cousin's wedding. We actually drove down for all the festivities on Friday, May 27th – one of the busiest traffic days of the year. I may have mentioned driving in traffic at an average speed of 12 miles an hour?
Annnd I also may have exaggerated a tiny bit. I know you're so shocked.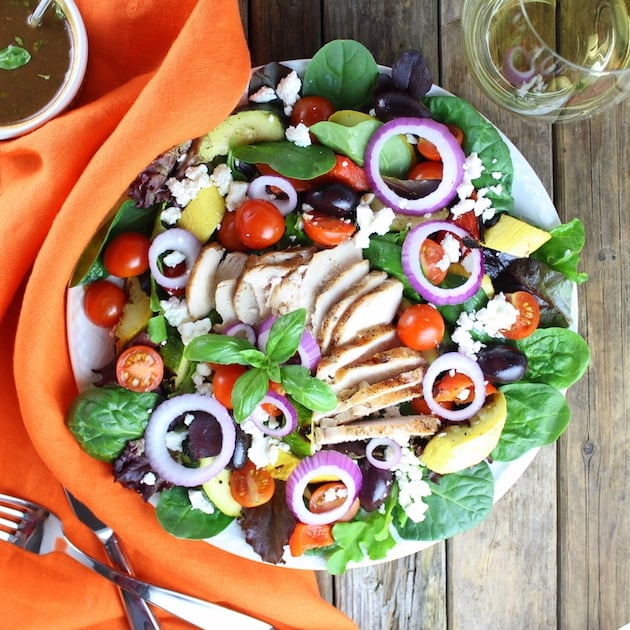 The traffic situation and all that it entailed turned out to really be quite mild. Or maybe we just experienced many Memorial Day Miracles along the way? Let me share a few with you.
Made it from Boston to Grandma's apartment in Manhattan, NY in 3½ hours. This is one of our best driving times ever (reminder: this was one of the busiest recorded traffic days of the year).
When we got to Grandma's apartment, there was one empty metered parking spot at her building, front and center waiting for us. Never. Happens (it is not unheard of for B to drive around for an hour looking for a place to park).
Got to our hotel in Baltimore and found out they had put us in a suite. Without us even asking! Whaaa???
Reconnected with family, made new friends and had a delightful time. That's maybe not a miracle but just thought I should mention it 'cause it was so great.
The trip back to NYC from Maryland was smooth sailing - absolutely no incidents to report.
We stopped at a service center for a bathroom break and a quick lunch. I can honestly say I've never seen so many cars circling a parking lot for a place to park. Like a shark circling its prey I tell ya! But the B man gassed up the truck and found a spot no problem.
Next, Me, Grandma, and her walker head in to the restrooms, a door opens to one of the only two handicapped stalls and Grandma is sitting pretty. Literally. Sorry for the visual. Just to paint a clear picture for you…when we were leaving the service center the line for the ladies bathroom literally wrapped around the inside of the building – probably 50 women in line. Yet we had absolutely no wait – a major Memorial Day Miracle!
When leaving the service center I did happen to take notice of the line of cars waiting to gas up. Literally almost backed up to the service center entrance - yet we had zero wait time. No joke people.
We got into Manhattan very quickly, pulled up to Grandma's apartment and what do you know: the same parking spot in front of her building, available and waiting for us. How is that even possible?? A Divine intervention, I tell you.
The last leg of our drive from NYC to Massachusetts was completely uneventful and we made our very best time in our history of making the trip in the last 7 years – a short and sweet 3 hours! Unheard of my friend!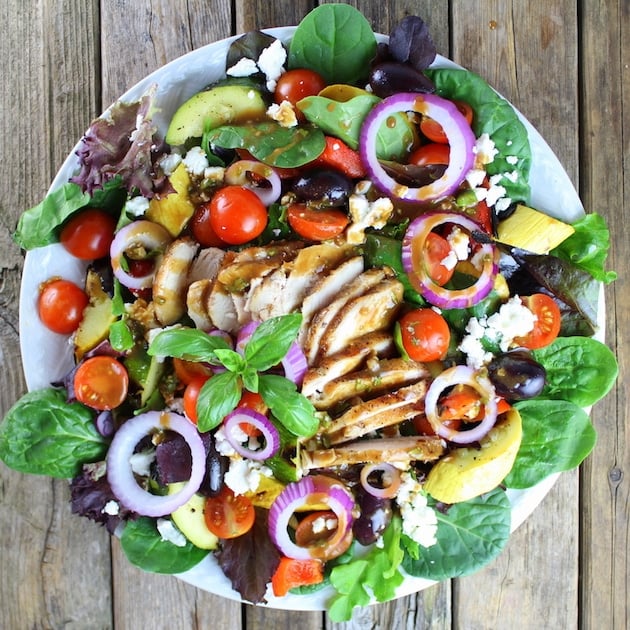 Maybe you don't believe in miracles but trust me; you would if you had been with us this weekend. AAA-mazing! There were probably even more that I'm leaving off the list, I'm sure I'll remember them and be sure to thank God for all these gifts He gave us along our Memorial Day journey.
And speaking of gifts, today's recipe is my gift to you. A delightful and hearty salad that is super tasty and doubles as a meal!
Truly my favorite salads are those that have lots of veggies, some good protein, possibly a little cheese, and of course a homemade dressing.
I especially like to try new and different salad creations when we're eating out.
Like the Mediterranean Mixed Green Salad from a restaurant in Virginia we would frequent called Old Town Grill & Café - or the "no name restaurant" as it was referred to because there was no signage out front. It was located in Old Town Fredericksburg (thus the restaurant name), a quaint area of town with old brick paver streets, one-of-a-kind cafes and eateries, antique shops for days, upscale salons, specialty gift stores and Civil War reenactments on the weekends.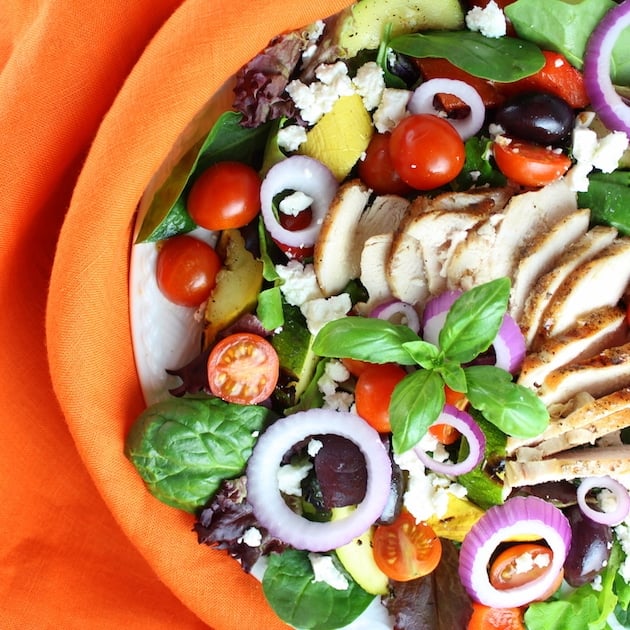 The Old Town Grill was a great spot for breakfast or lunch. They closed around 5pm, so dinner wasn't an option. They had a delightful French Dip Sandwich and a Tuna Melt that kept people coming back for more. Mmm Mmm!
Honestly, everything was great there – you couldn't make a bad decision.
My very favorite thing to order from the cafe was the Mediterranean Mixed Green Salad. It was full of marinated grilled veggies like squash, zucchini and red peppers, over a generous bed of mixed greens. It was all topped off with some feta crumbles, kalamata olives, and a drizzle of their homemade balsamic vinegar. Oh and grilled chicken for $1.50 extra.
Which is how I roll. Sooo good I tell you.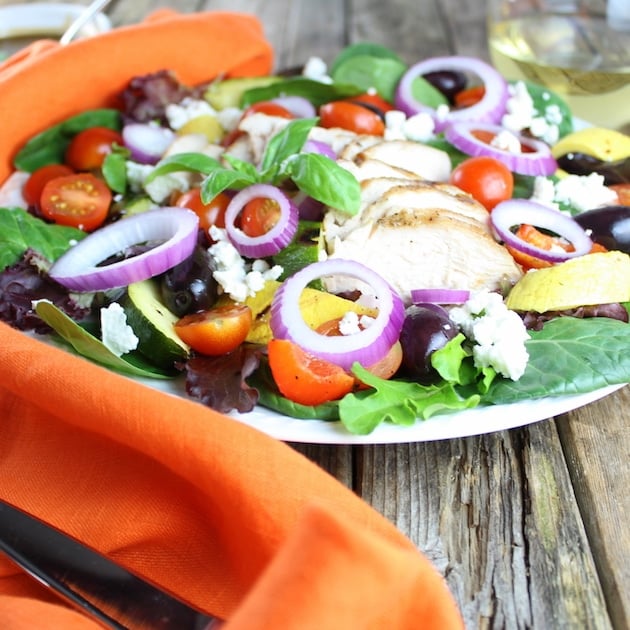 The other thing I appreciate about hearty salads as a meal is that they're usually quick to make, and with the combination of a variety ingredients they can be so versatile. Not to mention really healthy.✅
I created my own version of this delicious salad so we could enjoy it whenever we wanted. And it's a good thing I did because The Ode Town Grill closed down after several years, but their salad lives on!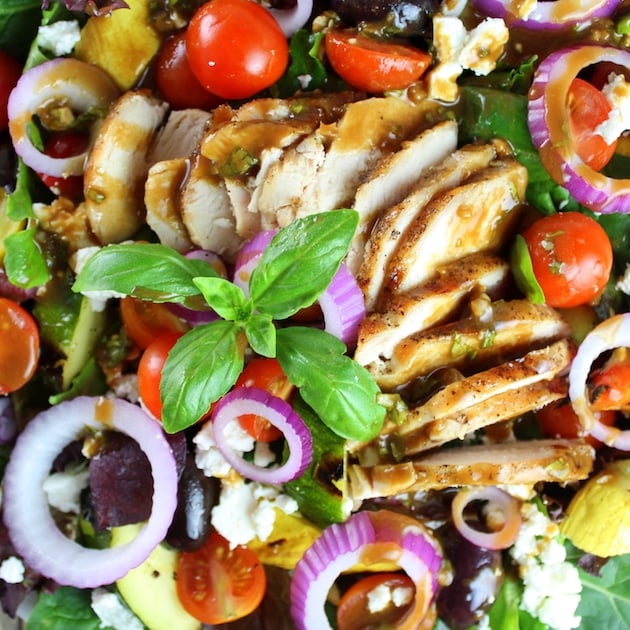 My version is just a bit different than the original.
First, because I changed the name to highlight one of its best features: The Grilled Mediterranean Chicken Salad. I also don't marinade my veggies, because to be honest, there's really no need to. Fresh grilled veggies have so much wonderful flavor all on their own.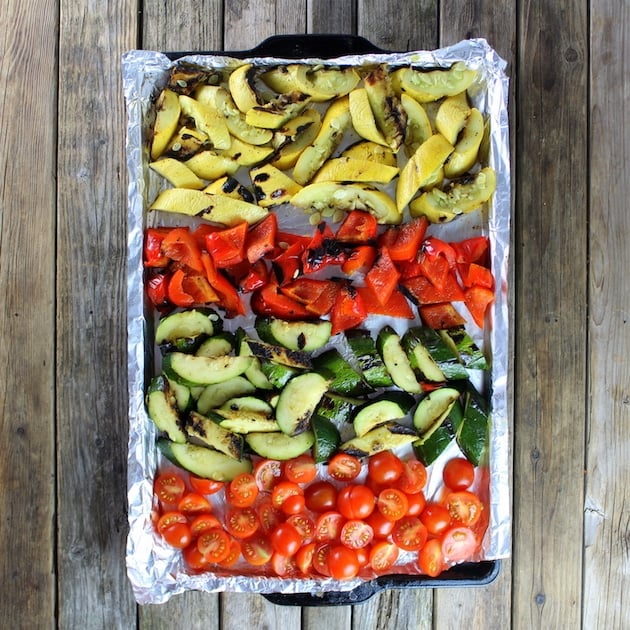 I also use French Feta for my crumbles. As I've mentioned before it's creamier than regular feta, and has a smoother milder flavor.
My mixed greens include a heartier mix…I like spinach, baby kale, chard. They just seem to stand up to the grilled veggies and chicken nicely.
I also added cherry tomatoes because they bring another fresh and bright dimension. And in keeping with tradition, I used kalamata olives and my own rendition of Basil Balsamic Vinaigrette.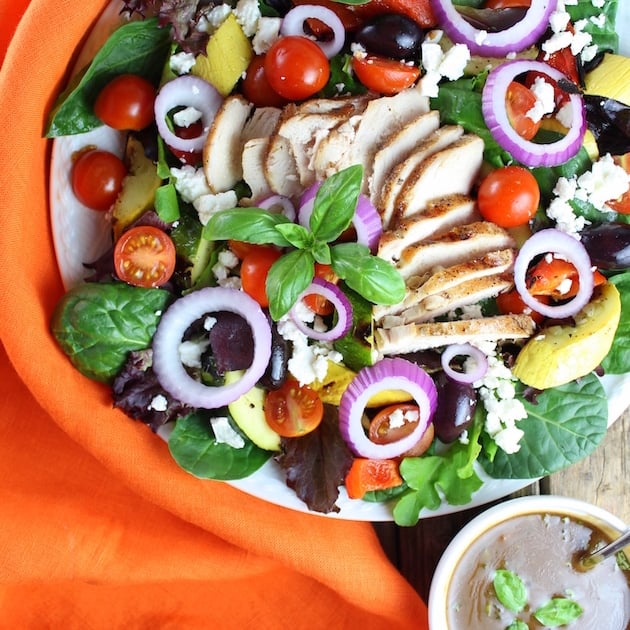 I like to cut my squash, zucchini, and red peppers in half, grill them, and then slice them up into smaller bite-sized pieces after they've been cooked.
This is helpful for a couple reasons; leaving them in larger pieces prevents them from falling through the grill grates, and helps to keep them from getting overly charred since not as many sides are exposed to the heat.
I grill them for 3-4 minutes a side on a 450-degree grill.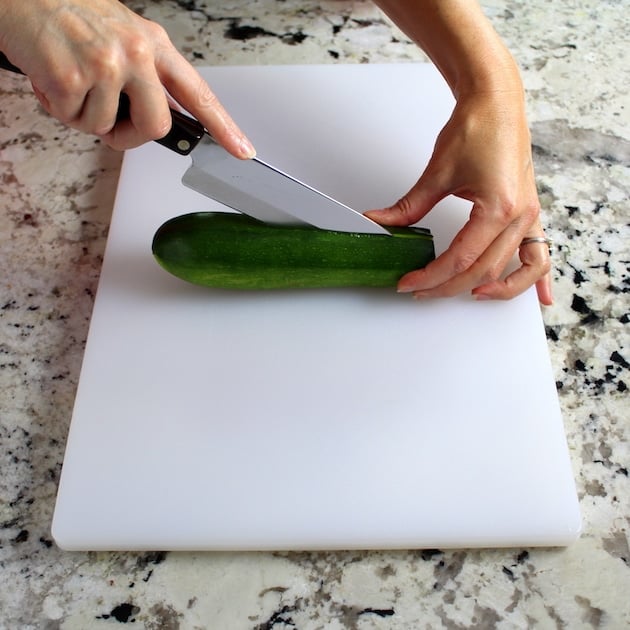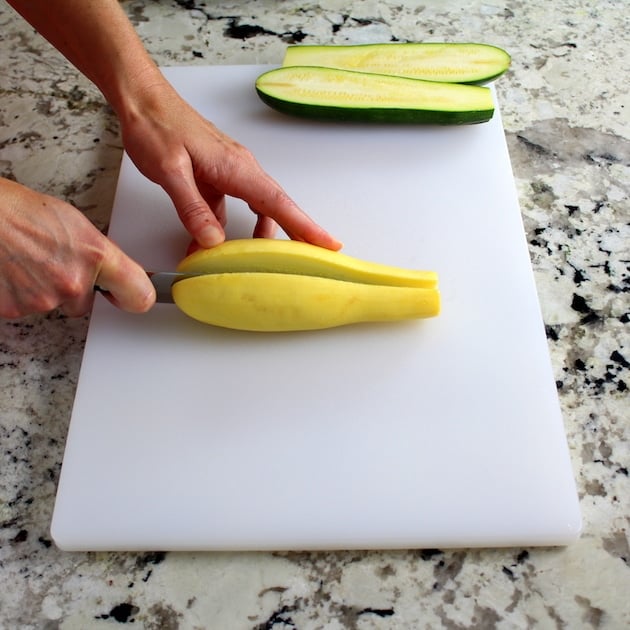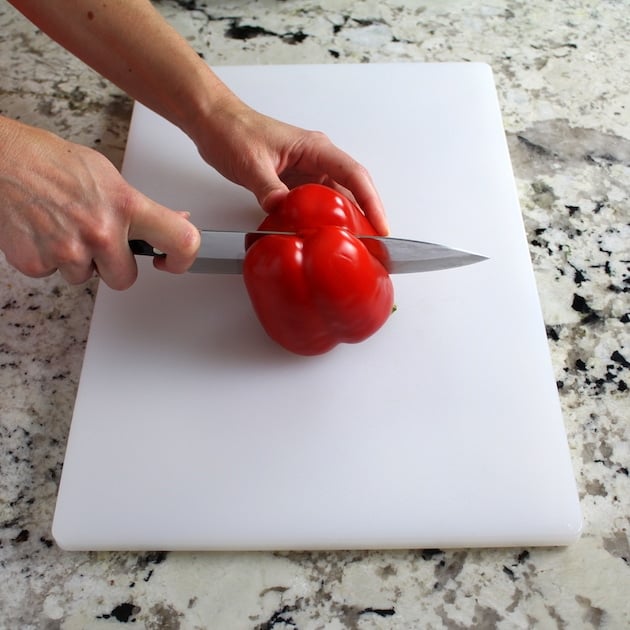 At the same time on a different part of the grill I cook my chicken breasts 5-6 minutes per side. Let them rest for 5 minutes and meanwhile make the salad dressing.
I like to start with aged balsamic vinegar (because it is sweeter and a bit thicker)… stir in some chopped fresh basil, extra virgin olive oil, salt and pepper and it's salad time! (Like Hammer Time but it tastes way better.)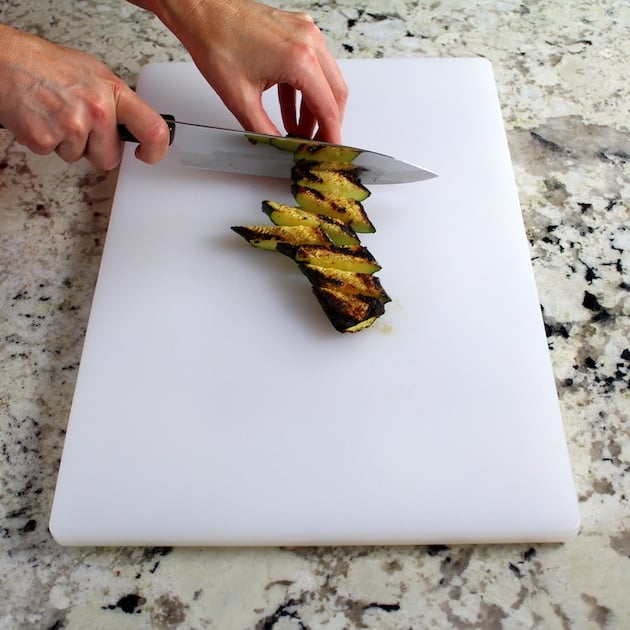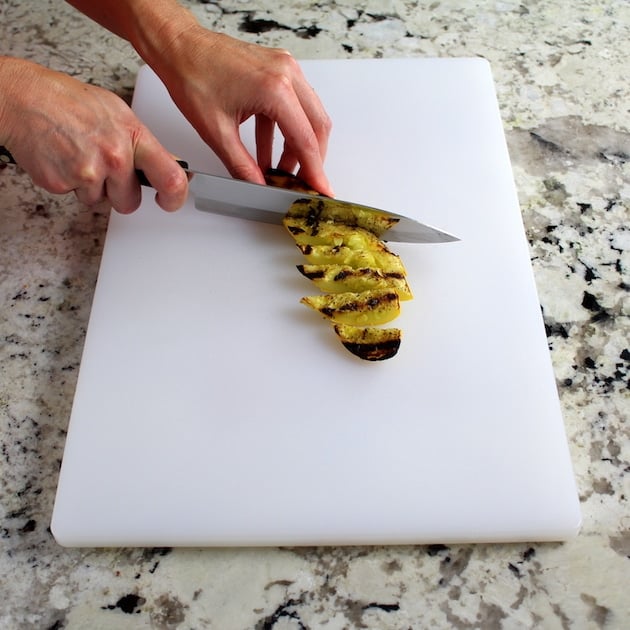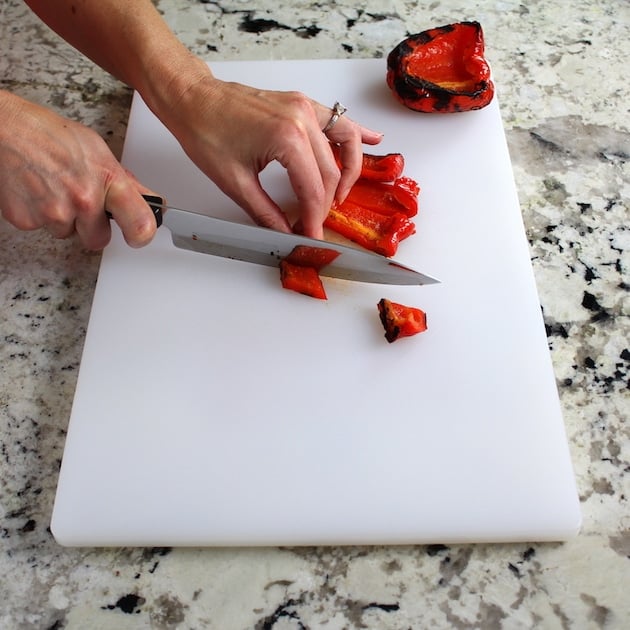 The only thing left is assembly.
Make your bed of lettuce, top it with the grilled veggies and tomatoes, sprinkle on the feta cheese and olives, and top off with the dressing!
I'm sorry you won't be able to experience The Old Town Grill & Café for yourself, but at least you can enjoy part of their legacy… with this delicious and healthy Grilled Mediterranean Chicken Salad.
Enjoy!
I would love to connect with you. Leave a comment or follow me on Instagram, Twitter, Facebook, and Pinterest!
Yield: 4
Grilled Mediterranean Chicken Salad
This hearty Grilled Mediterranean Chicken Salad is full of grilled veggies and chicken, feta cheese, and a delightful Basil Balsamic Dressing.
Ingredients
For the salad:
2 large chicken breasts
2 small squash
2 small zucchini
1 large red pepper
Salt and pepper
20 kalamata Olives, about 5 per salad
½ red onion, sliced thinly into rings and separated
10 ounces cherry tomatoes cut in half
4 ounces French Feta, crumbled, (regular feta if preferred)
5 ounces mixed lettuce greens
For The Basil Balsamic Vinaigrette Dressing:
1 clove of garlic, minced
1 tablespoon chopped fresh basil
3 tablespoons extra virgin olive oil
1 tablespoon Dijon Mustard
3 tablespoons aged Balsamic Vinegar
salt and pepper to taste
Instructions
Season the chicken liberally with salt and pepper and spray with Canola cooking spray. Cook on a 450 degree grill for 6 minutes on the first side and 5 minutes on the second. Be sure to temp the chicken to be sure it reads 165 degrees.
Let chicken rest for 5 minutes, slice width-wise into ¼ inch slices.
Cut squash, zucchini and red pepper in half lengthwise. Salt and pepper liberally and spray with canola cooking spray. Grill for 4 minutes on the first side and 2 minutes on the other side. Let rest for 5 minutes.
Slice squash and zucchini on the diagonal. Cut pepper into long one-inch wide slices and then cut each slice on the diagonal into ½ inch pieces.
Mix all the ingredients together for the vinaigrette dressing.
Place a bed of mixed greens on each plate, then layer on grilled veggies, onions, olives, and feta. Top with you grilled chicken slices and drizzle with the vinaigrette.
Nutrition Information
Yield
4
Serving Size
12 ounces
Amount Per Serving
Calories

404
Total Fat

23g
Saturated Fat

6g
Unsaturated Fat

0g
Cholesterol

97mg
Sodium

822mg
Carbohydrates

17g
Fiber

4g
Sugar

12g
Protein

32g