Smoky Salt and Vinegar Potato Salad - full of tangy smoky flavored baby yukon potatoes, crispy bacon, fresh green onions, parsley and smoked salt. Clearly this is not potato salad like mom used to make - nope - we think it's even better!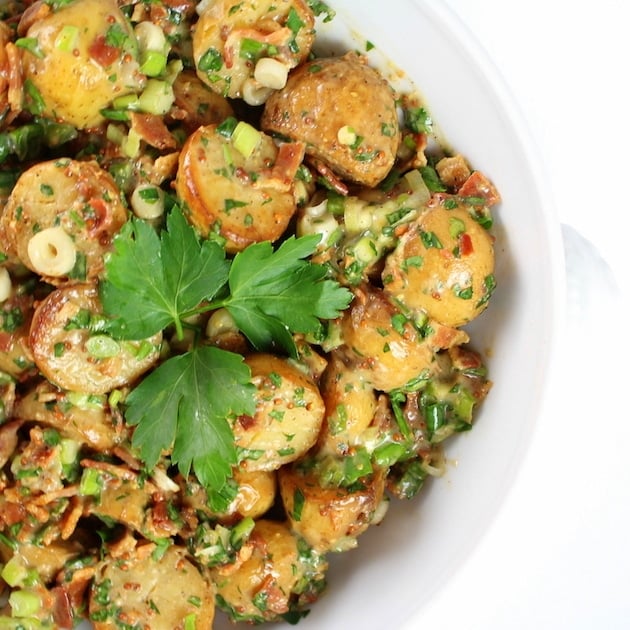 I can't believe it's June 5! I feel like summer is trying to sneak by me before I can enjoy it. Unacceptable!
There's just so much going on this time of year: graduations, weddings, birthday parties, showers, housewarming parties, the list goes on and on. Not to mention planting, watering and mulching the garden. Ahhh the garden. (Swoon)
If I'm not intentional to literally stop and smell the roses (or really lilacs in my case), it will be October and I'll be talking about making Smoky Chicken Chili and Roasted Fall Vegetables!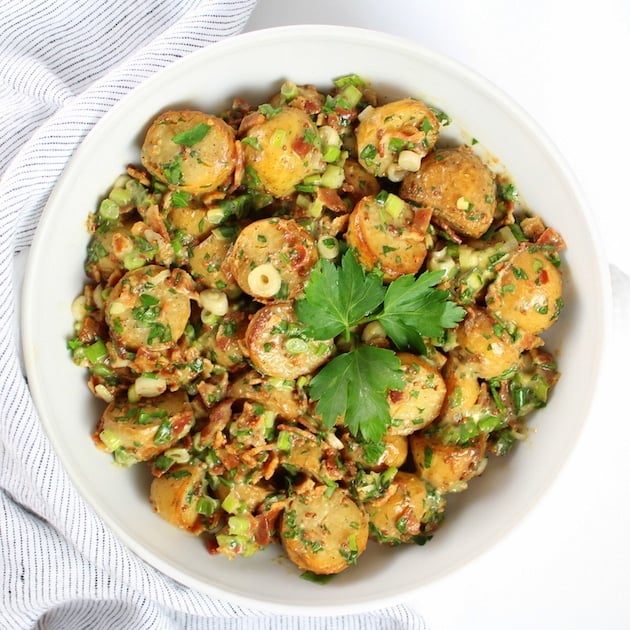 I need to head to the beach and stare at the ocean. Literally that's what I do 'cause the water is so cold here in New England I can't get in. But as my mom would say "it's such a sight for sore eyes."
Ah the beach, my happy place…warm sun on my skin, soft sand between my toes, the salty ocean breeze gliding by, and the most gorgeous royal blue eye candy ever to look at (double swoon).⛱ Oh yeah, AND some yummy snacks to eat!
I can't believe I forgot about the food. I don't even know myself right now. A trip to the beach would not be complete without a picnic lunch.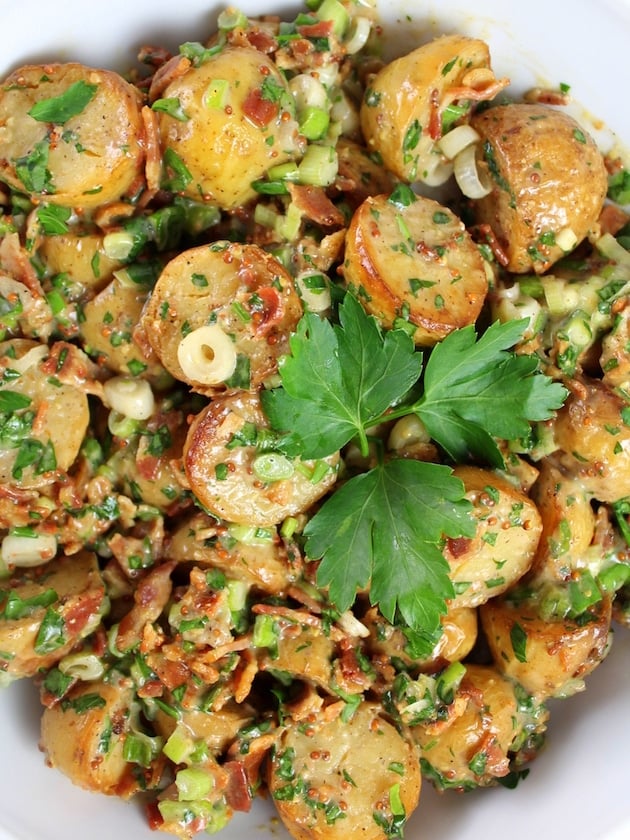 Our pic-a-nic basket usually contains some fresh veggies like cucumber slices, cut up peppers, & snap peas with some zesty green goddess hummus. There may also be some fresh cut up watermelon, some strawberries or sweet cherries, or maybe the random pink lady apple.
There would also be some sort of protein because like I've said before, when you're with the B man protein is always a must. So we usually go with a nice turkey, provolone wrap of some sort, maybe with some avocado, tomato and bacon. Mmm bacon.✨ (How can there not be a bacon emoji!!)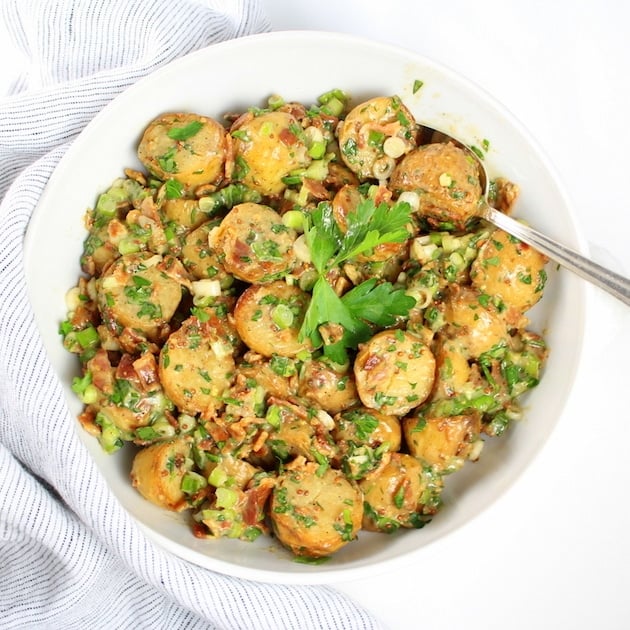 Why do we all have such big heart eyes for bacon? It's just so salty and smoky and fatty and super satisfying.
Recently I discovered yet a new way to incorporate more bacon in my life. I know what you're thinking: "that shouldn't be very difficult." And you're right – it's not hard at all, especially when it's paired with potatoes!
Aren't they like first cousins - or maybe they're more like siblings? Anyway, after much research, taste testing and many slabs of crispy salty pork sticks, I give you your new favorite recipe…Smoky Salt and Vinegar Potato Salad with BACON!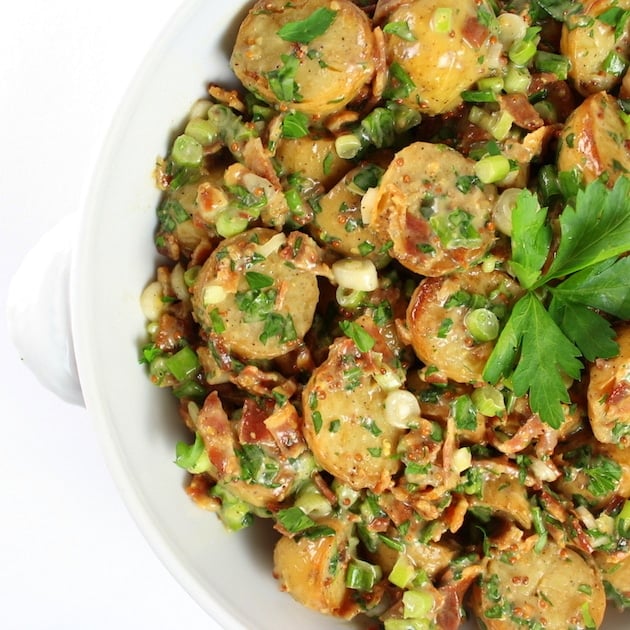 Brilliant – right?? Potato salad is just begging for some bacon. And I don't like to see anyone beg, so bacon it is!✨
I need to come clean here and let you know, I did leave the boiled eggs out of this potato salad rendition. You could definitely add them to the recipe, and then you could just call it breakfast.
I chose to let the potatoes be the star of the show, and I didn't want the potatoes to get too jealous since bacon and eggs are so close and all. I mean, they are essential fraternal twins, and we all know how tight twins are.
Less about bacon and its family relations, and more about this delicious Smoky Salt and Vinegar Potato Salad!!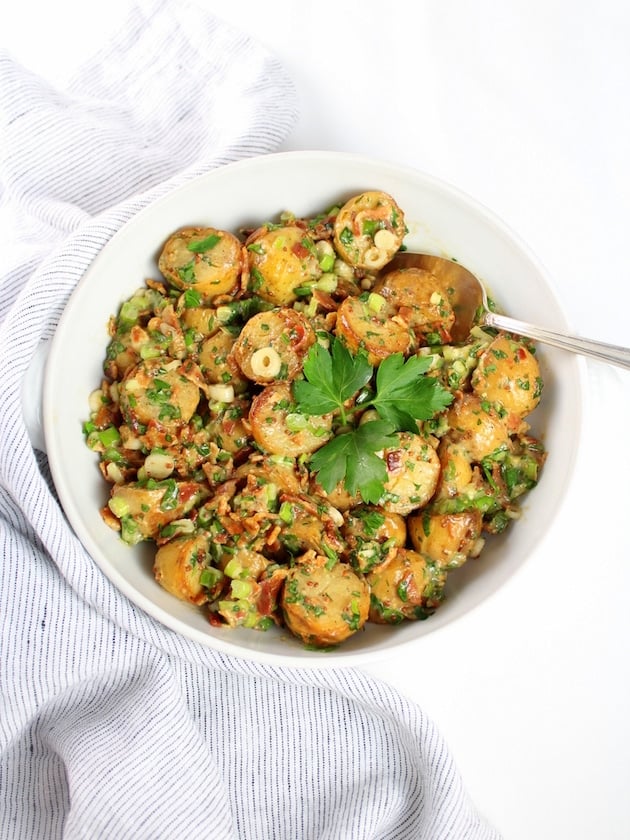 I wanted my potatoes to be really infused with the vinegar and smoke, so I incorporated it at several stages throughout the cooking process. First I steamed them in a water + vinegar + liquid smoke solution.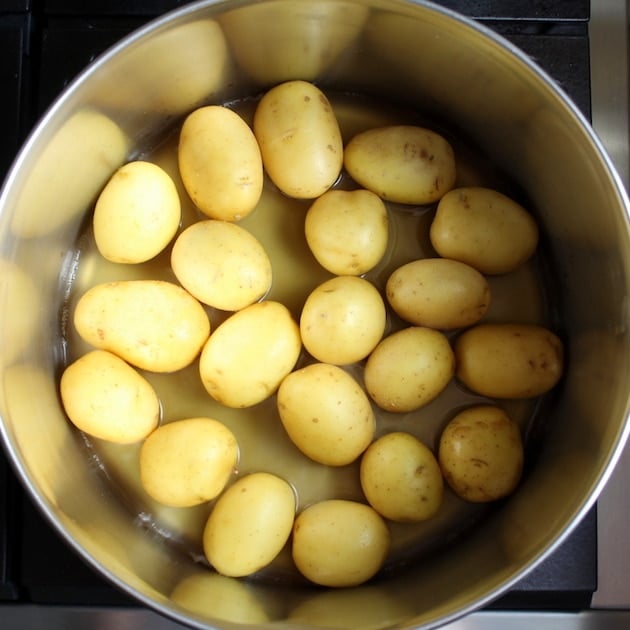 Then I cut them in half so the inside of each potato was exposed, and tossed them in a quick marinade of vinegar, liquid smoke, smoked salt, and pepper.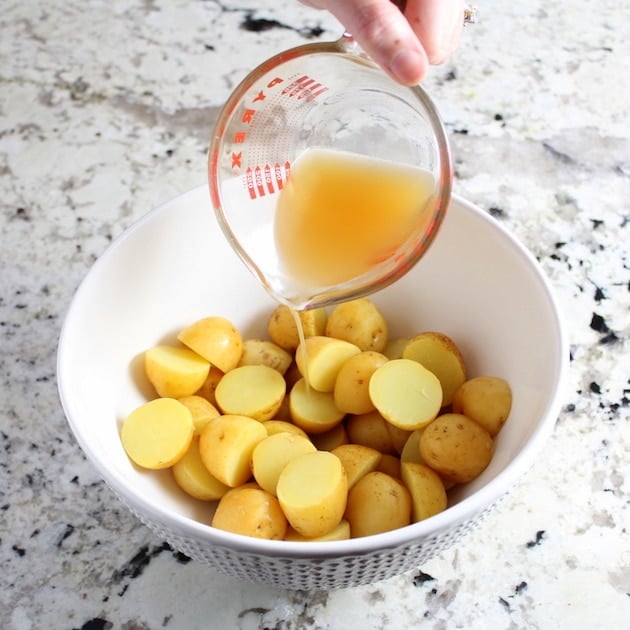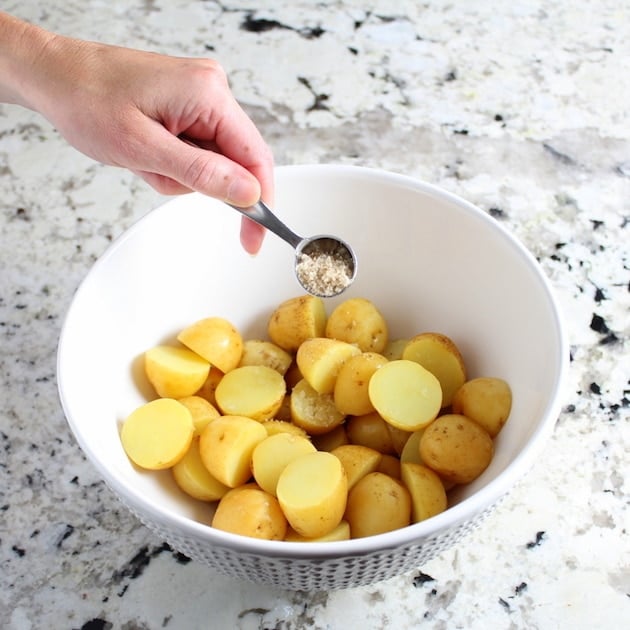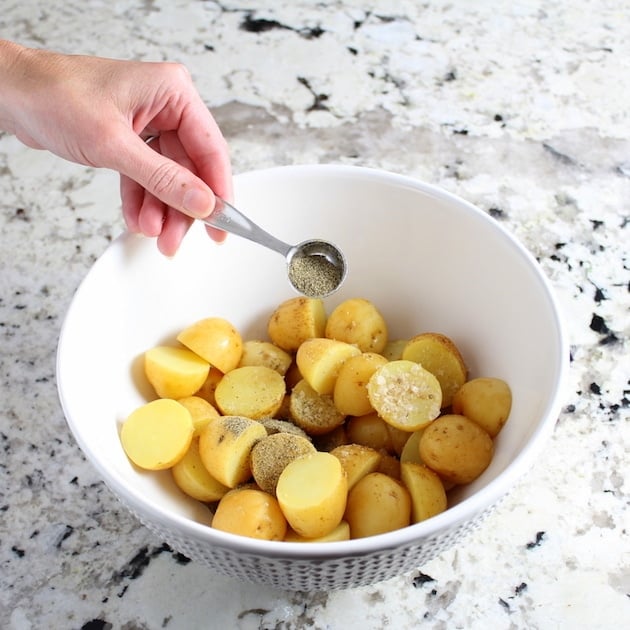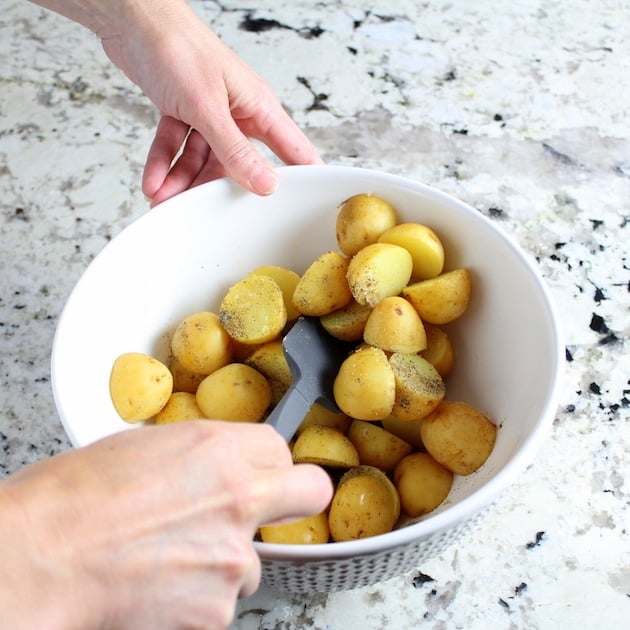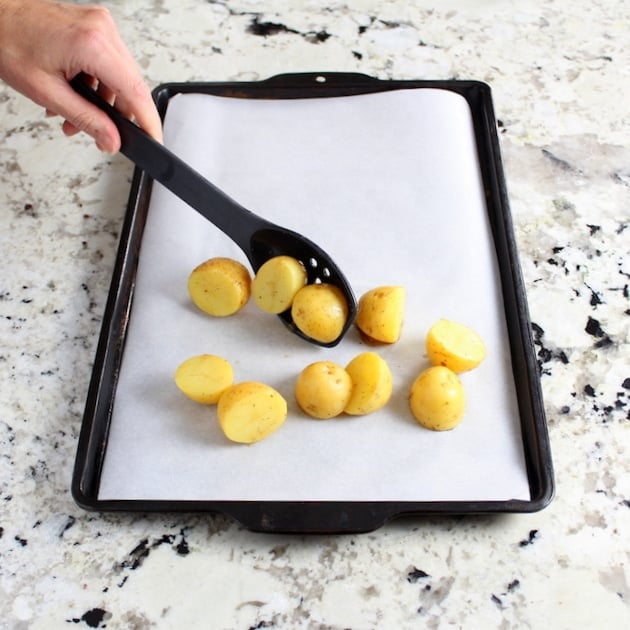 Next I tossed them in a little olive oil and roasted them until they were golden and slightly crispy.♨️
A quick tip for you...put the olive oil on the potatoes after the vinegar mixture has had time to soak in. If you add the oil first - or at the same time as the vinegar - it will create a barrier, preventing the potatoes from soaking up all that tangy goodness. Ok, class dismissed.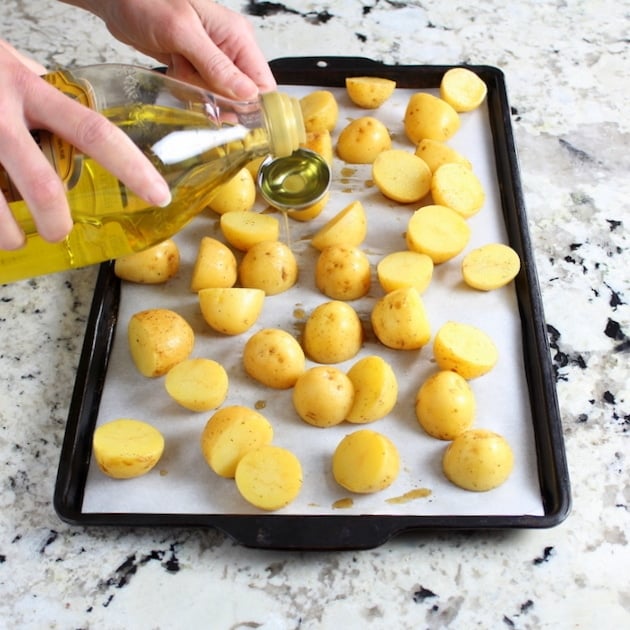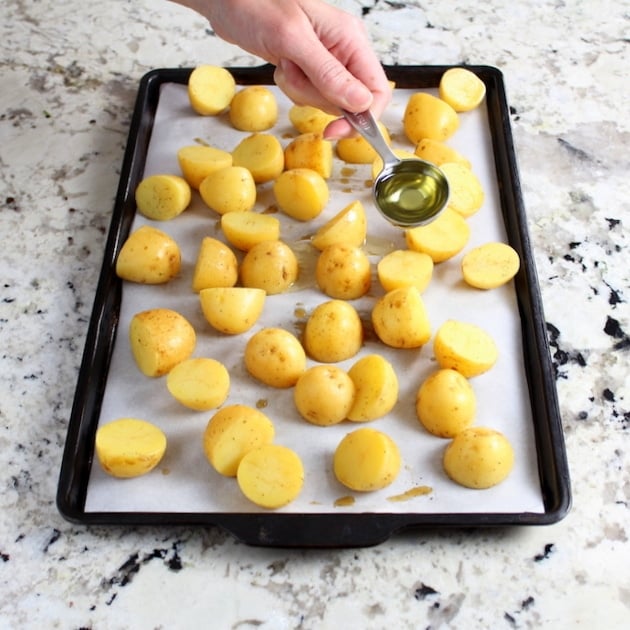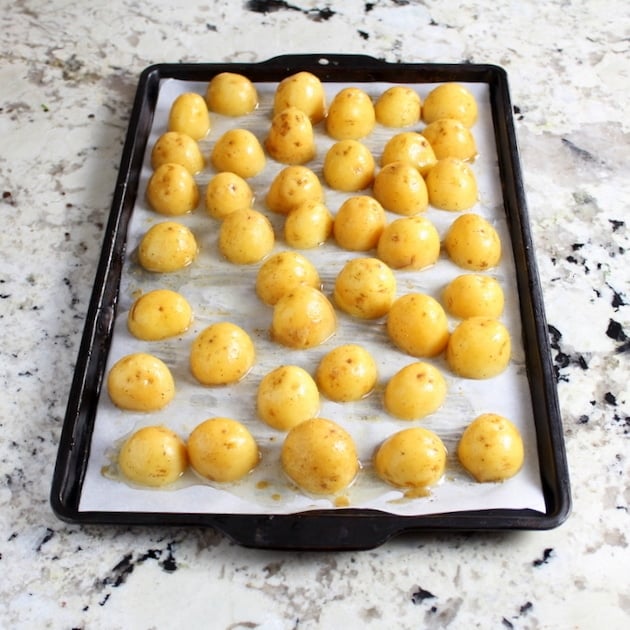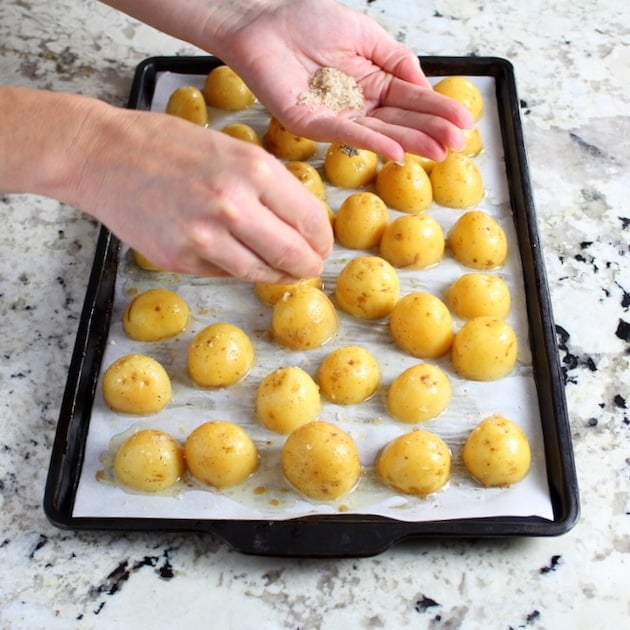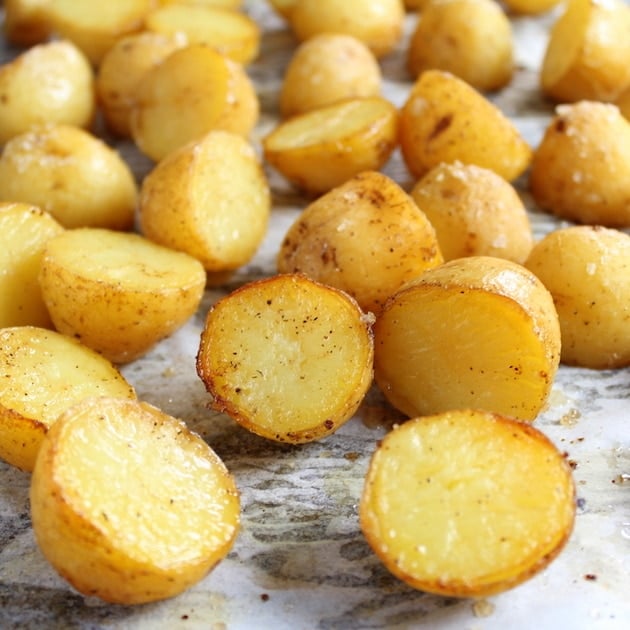 Finally I added the dressing mixture (vinegar, mayo, stone ground mustard, olive oil, and liquid smoke), chopped parsley, sliced green onions, and crispy salty chopped BACON!✨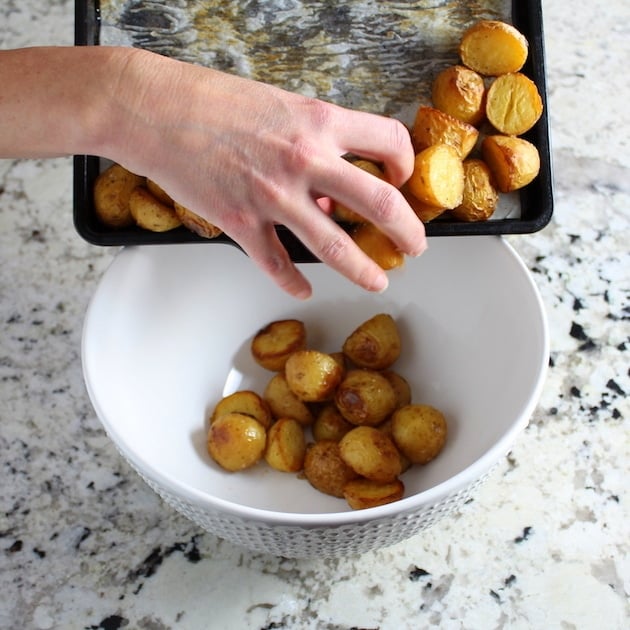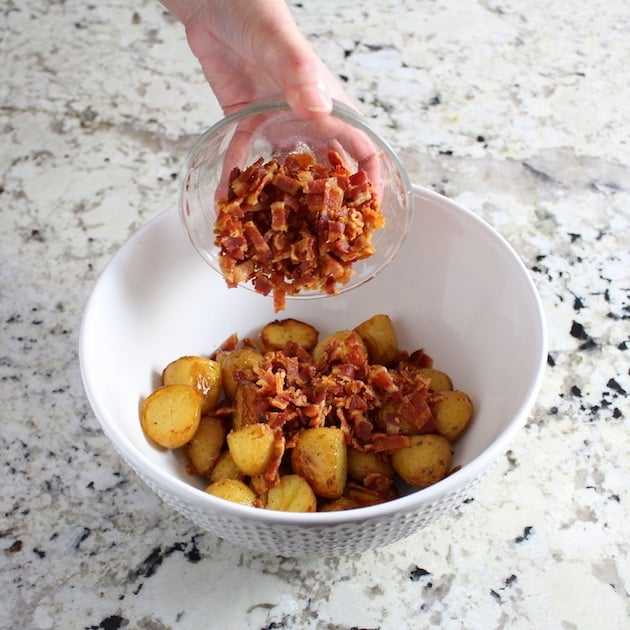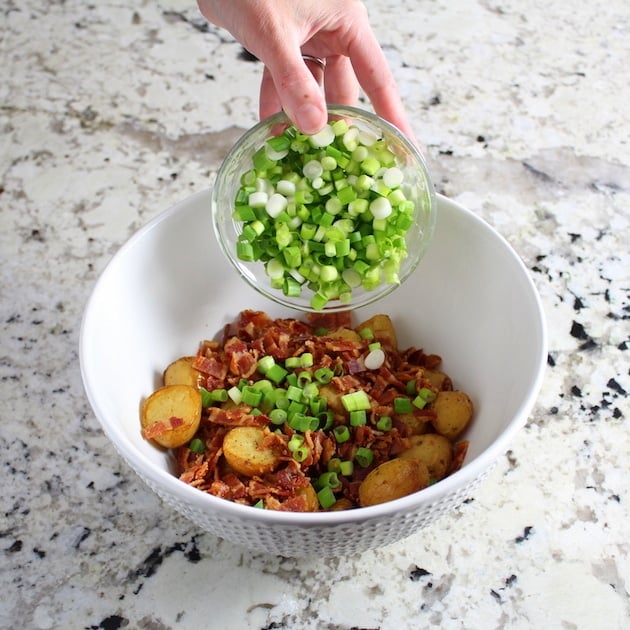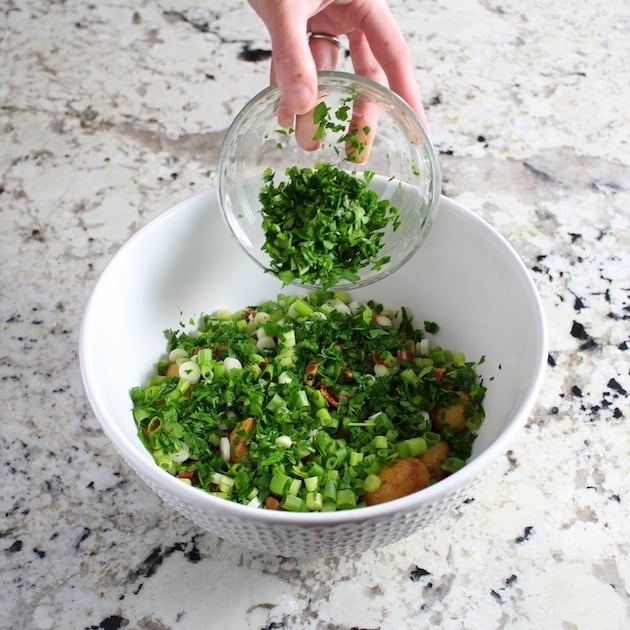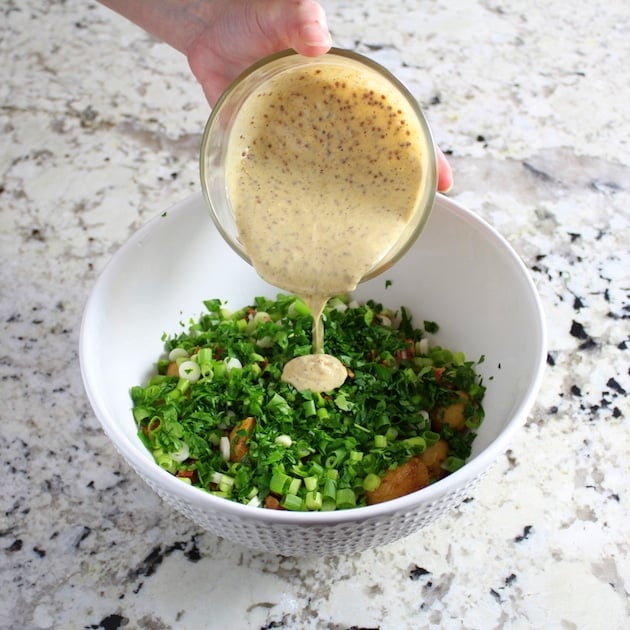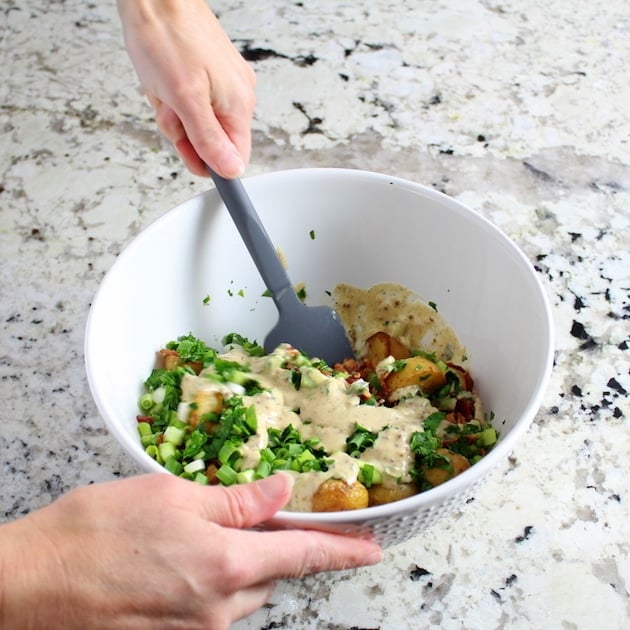 Gave it all a good stir and project warm Smoky Salt and Vinegar Potato Salad was complete. And it's a major league home-run if I do say so myself. Out. Of. The. Park. We're talking grand slam here people!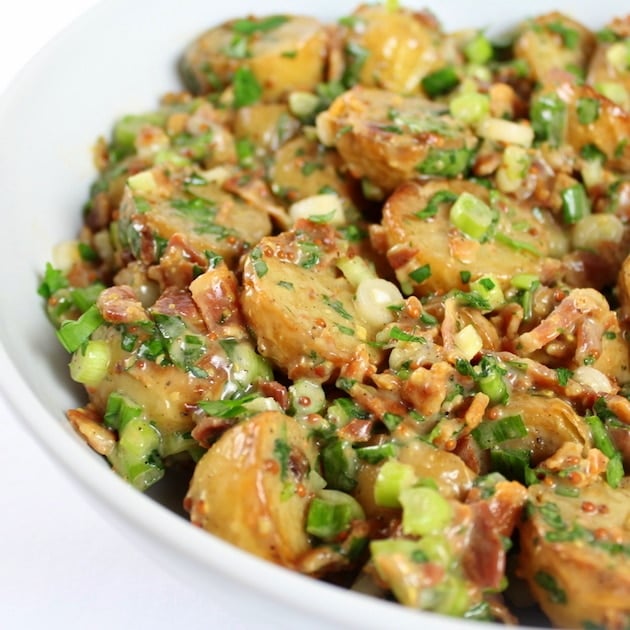 The smokiness from the smoked salt and liquid smoke was the perfect accompaniment to the vinegar, and it totally elevated the bacon to baller status. Just so delicious.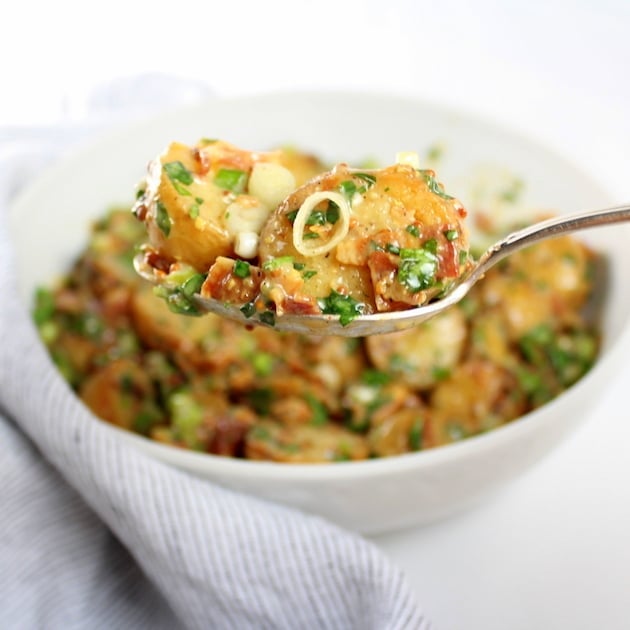 This Smoky Salt and Vinegar Potato Salad would be perfect for your next cookout, picnic or graduation party, or maybe just for a tasty protein infused snack while you're worshipping the sun and staring at the beautiful blue ocean. This recipe would go beautifully with some ribs or BBQ Pulled Pork Sliders! And if you're debating between potato salad or say coleslaw for your next picnic, try this smoky tangy heavenly potato salad for a definite crowd-pleaser!
Until next time my friend… love, peace, and bacon grease.✌️
What things do you look forward to in the summer? What's your favorite potato salad?
PS: I'm also loving these potatoes with a simple boiled lobster with drawn butter - check it out!
I would love to connect with you! Leave a comment and follow me on Instagram, Twitter, Facebook, and Pinterest!
Yield: 10 servings
Smoky Salt and Vinegar Potato Salad Recipe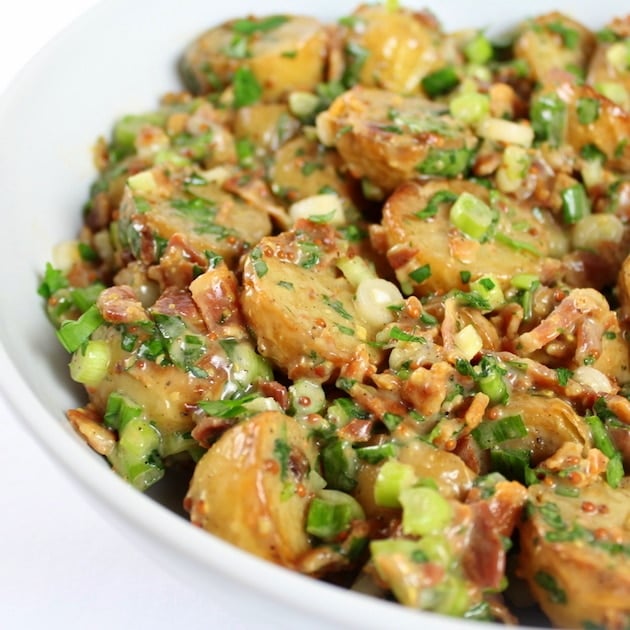 Smoky Salt and Vinegar Potato Salad Recipe – full of tangy smoky flavored baby yukon potatoes, crispy bacon, fresh green onions, parsley and smoked salt.
Ingredients
For the potatoes:
2 pounds baby yukon gold potatoes, (the best potatoes to use for this recipe)
10 pieces baked bacon, chopped
1 bunch green onions, (5-6 onions)
¼ cup finely chopped parsley
1 cup apple cider vinegar, (¾ cup for steaming, ¼ cup for marinade)
¼ cup water
2 tablespoons olive oil
1 teaspoons smoked salt, (½ teaspoon for marinade, half teaspoon for baking potatoes)
½ teaspoon pepper
For the dressing:
2 tablespoons apple cider vinegar
1 tablespoon olive oil
1 tablespoon honey
2 tablespoons stone ground mustard
¼ cup mayonnaise
¼ teaspoon liquid smoke
smoked salt and pepper to taste
Instructions
For the potatoes:
Preheat oven to 400 degrees. Bake the bacon on a tin foil lined baking sheet (for easy clean up) for 13-15 minutes or until moderately crispy.
While cooking the bacon place the potatoes in a pot on the stove. Add ¾ cup cider vinegar, ½ cup water and 1 tablespoon liquid smoke. Cover and steam over medium-medium low heat for 20 minutes.
Remove the bacon from the oven and place on paper towels, dab to remove some of the grease. (Leave the oven on to bake the potatoes.)
When potatoes are cooked drain and discard liquid and cut eat potatoes in half cross wide and place in a large bowl.
Mix together ¼ cup cider vinegar ¼ teaspoon liquid smoke, ½ teaspoon smoked salt and pepper. Pour over cut potatoes and fold in several times.
With a slotted spoon place potatoes on a parchment lined baking sheet. Sprinkle 2 tablespoons of olive oil over the potatoes and toss with hands. sprinkle with ½ teaspoon smoked salt and place cut side down on the baking sheet. Bake for 20-25 minutes or until cooked through and golden. (Discard the vinegar mixture after using.)
While the potatoes are baking mix together all the dressing ingredients.
Remove potatoes and from the oven, place them in a large bowl and add chopped bacon, green onions, parsley and the dressing. Fold all the mixture together and serve warm.
Nutrition Information
Yield
10
Serving Size
6 ounces
Amount Per Serving
Calories

234
Total Fat

17g
Saturated Fat

4g
Unsaturated Fat

0g
Cholesterol

16mg
Sodium

460mg
Carbohydrates

13g
Fiber

2g
Sugar

2g
Protein

5g