These Mini Strawberry Rhubarb Pies in Muffin Tins are the most delicious and adorable summer treats! This semi-homemade recipe is an easy dessert that will impress all your guests.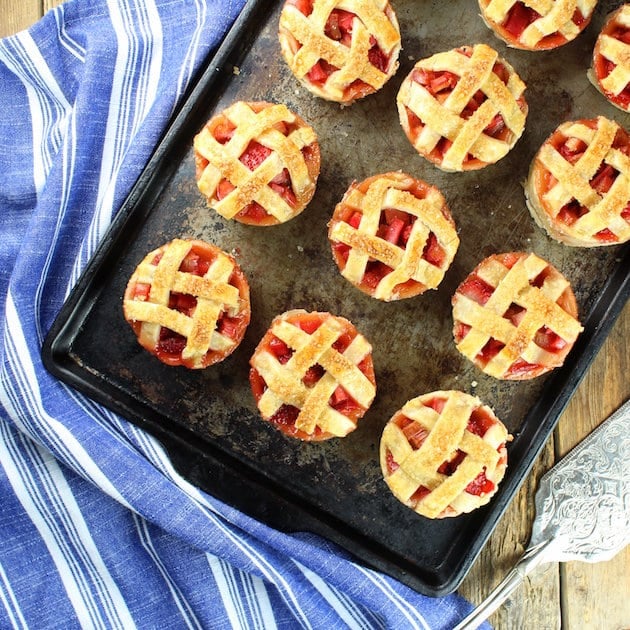 Why is everything mini so adorable???  Baby goats wearing pajamas in videos on Facebook, little ducklings trying to cross the road, kittens pouncing on dangling string – it's just way too much cuteness for words!!😲
And then there's miniature food like Kale Egg Breakfast Cups, Tuna Casserole Muffins, and now these Mini Strawberry Rhubarb Pies in a muffin tin!!!  I can barely stand it!
They are almost too adorable to eat… almost.😋
The strawberry/rhubarb flavor combo is just delicious.  It's tart and sweet and tastes like spring.✨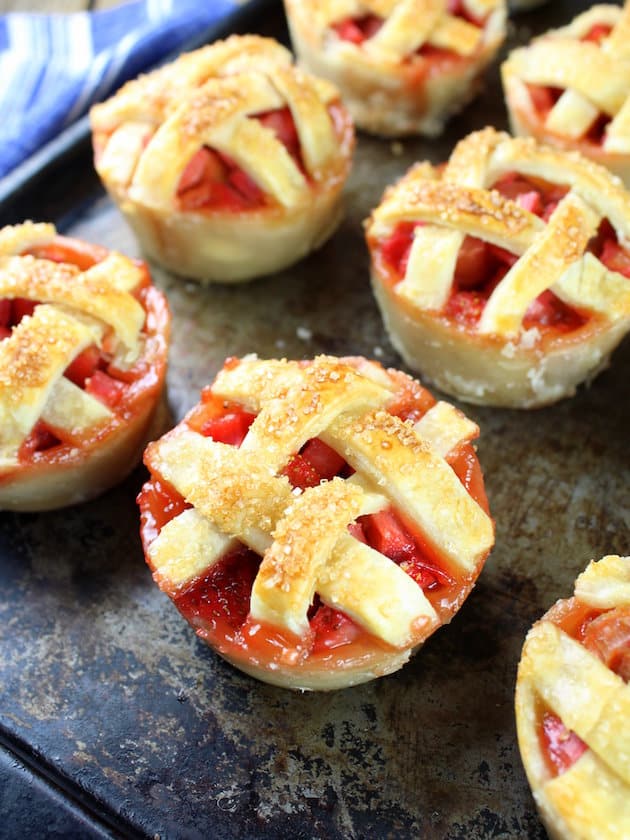 Growing up we had tons of rhubarb plants along the side of our house.  It didn't look like anything special really, just some overgrown green leaves with some reddish green thick stems.  But my mom would magically turn that stalky green stuff into yummy rhubarb bread and sugary rhubarb jam.  It was like, "abracadabra" and poof💥… the most amazing thing my taste buds had experienced.👌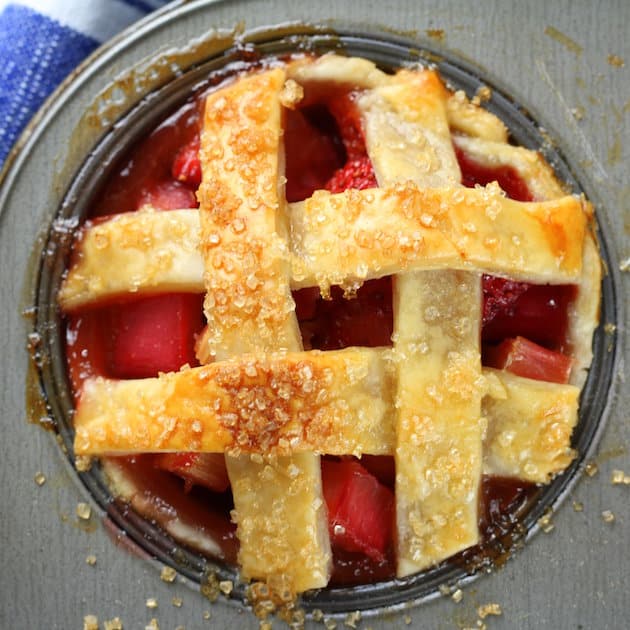 As you probably know rhubarb is VERY tart.  It requires a good amount of sweetness in order to be edible.  That's why strawberries are the perfect accompaniment to this lip-puckering fruit (or veggie if you want to get technical).  All of that berry bursting sweetness helps balance out that tangy tartness – it's like they were made for each other!  Rhubarb + Strawberries = BFF's.💕
Just so tasty.👇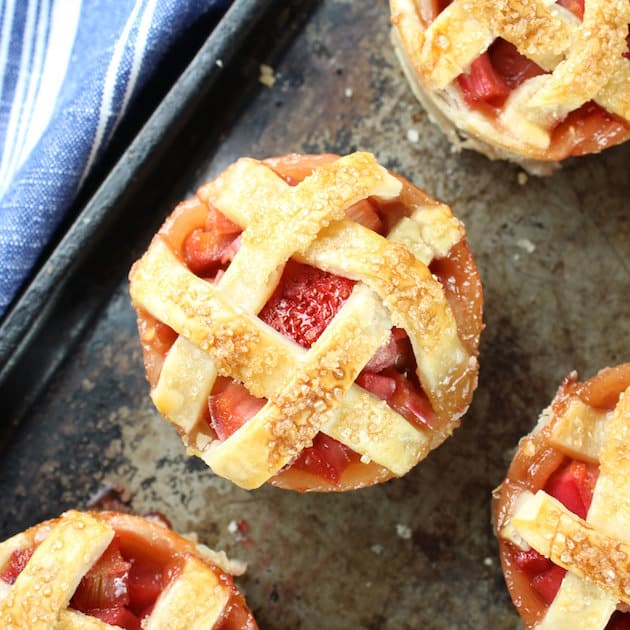 But rhubarb isn't just a tasty treat… it's also pretty healthy for you.  It's packed with healthy components, vitamins and minerals like dietary fiber, protein, vitamin C, vitamin K, B-complex vitamins, calcium, potassium, manganese, and magnesium.  And in case you were wondering, here are some of the known health benefits of rhubarb:
Helps with weight loss– it's one of the lowest caloric vegetables available.
Improves digestion – due to its high amount of dietary fiber.
Prevents Alzheimer's disease – thanks to the high amount of vitamin K that plays a very significant role in brain and neuronal health.
Stimulates bone growth and repair – with its high amount of calcium and vitamin K.
Protects against various cardiovascular conditions. Due to its trace amounts of copper and iron, it stimulates the production of new red blood cells and increases oxygenation in the body.
Who knew this sour plant could be so saweet!!!🙌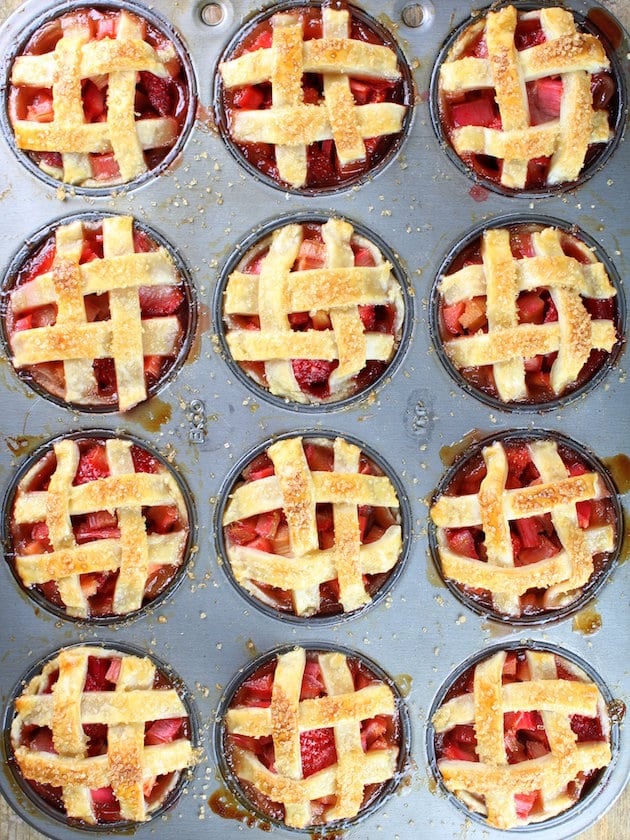 With all this healthfulness you can guiltlessly whip up a batch of these Mini Strawberry Rhubarb Pies – right!?
I used store-bought pie crust for this recipe but if you've perfected the art of making pie crust then go for it.  Like I always say – you do you!👍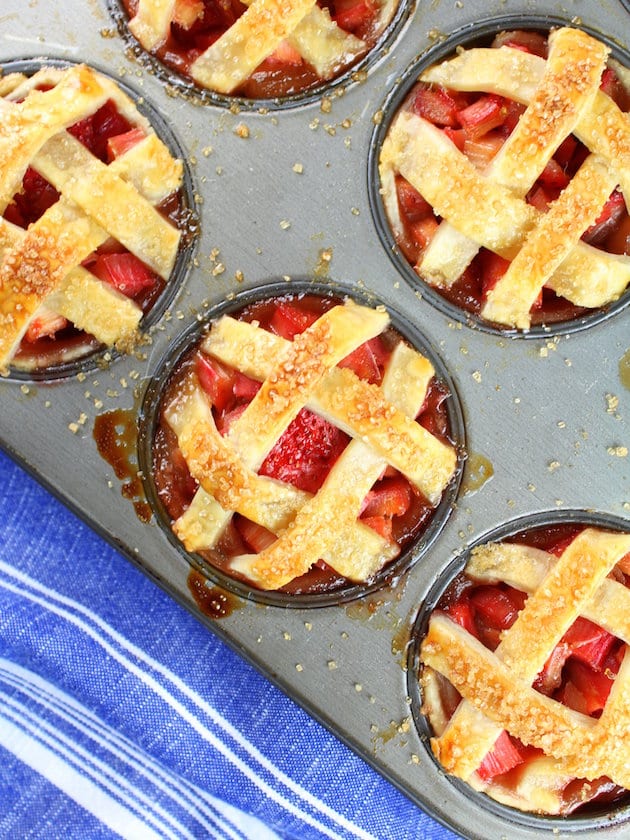 I rolled out three pie crusts into 12-inch circles.  Then used a plastic lid from my breadcrumb container to press the 4-inch rounds for my crust.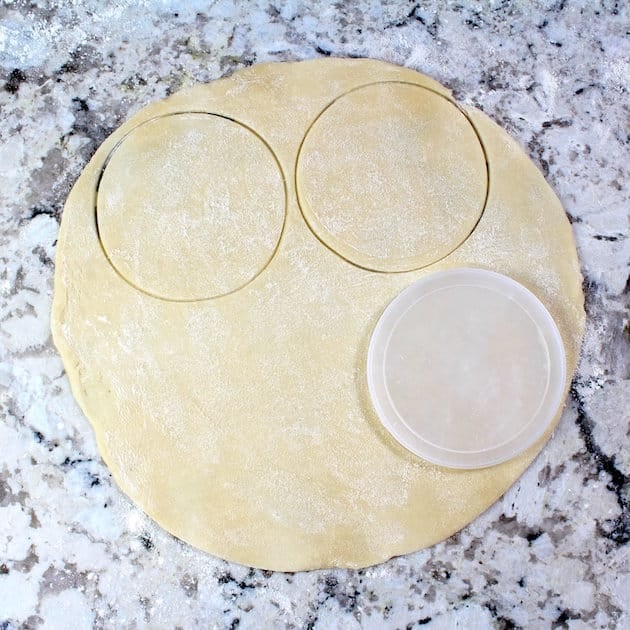 Then I gave the muffin tin a spritz of cooking spray, and placed my dough rounds into each muffin hole, overlapping the dough in a few places to get it to fit perfectly.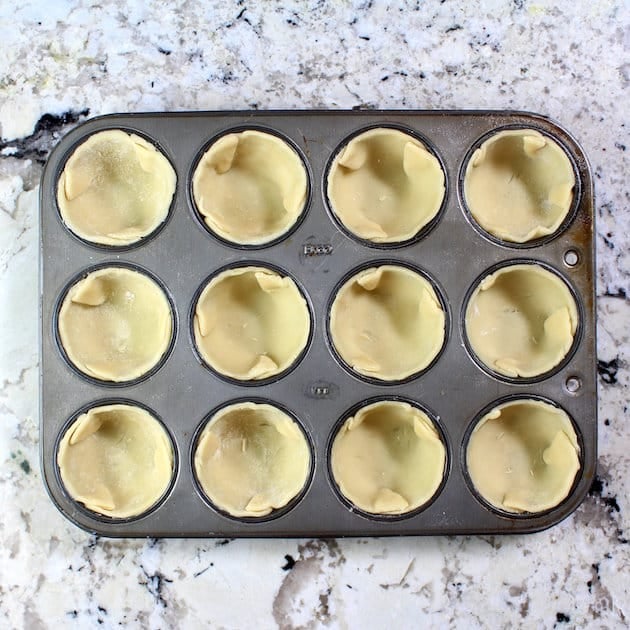 I then used my dough scraps to make ½ inch strips for the lattice top.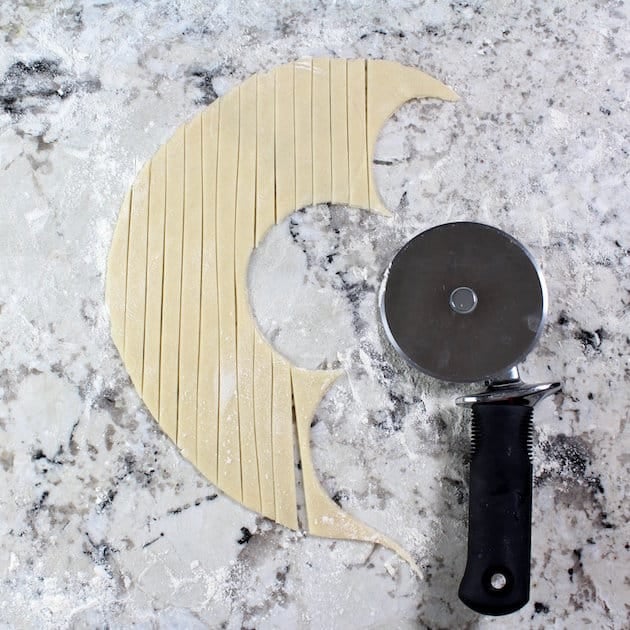 Next, I went to work on my strawberry rhubarb filling.  I chopped the rhubarb into ½ inch pieces, sliced my strawberries ½ thick, and placed them in a large mixing bowl.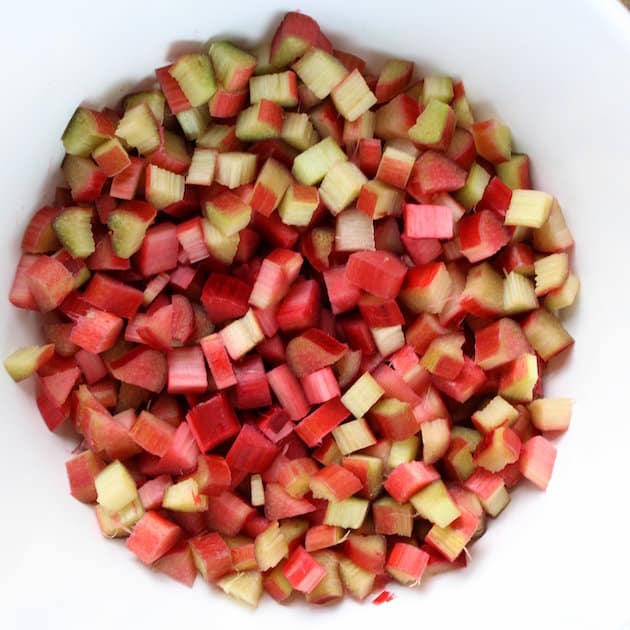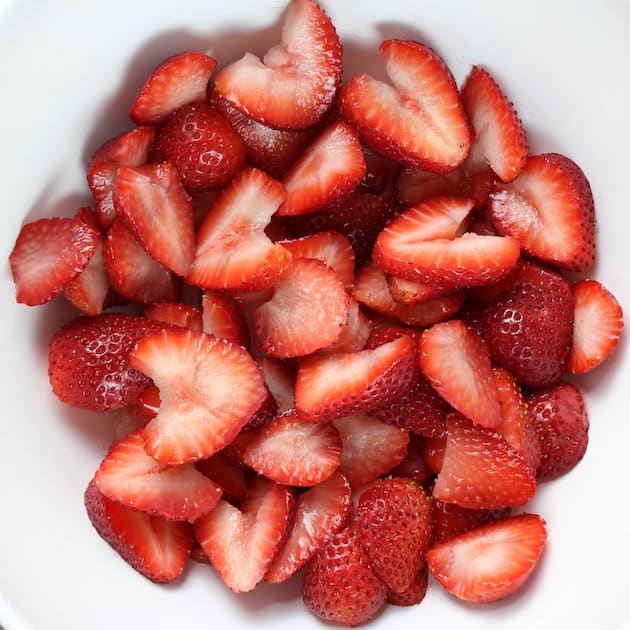 Then folded in some raw sugar, brown sugar, lemon zest, cornstarch, vanilla extract and a pinch of salt.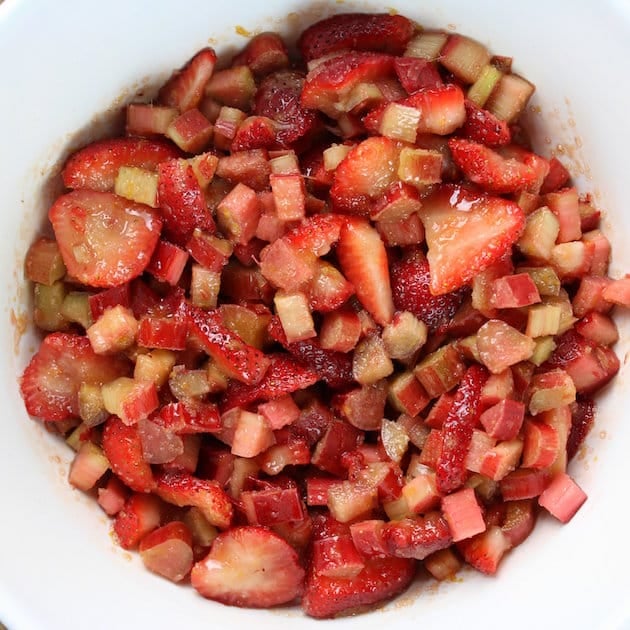 Using a 1/3 measuring cup I scooped the fruit mixture into each muffin cup.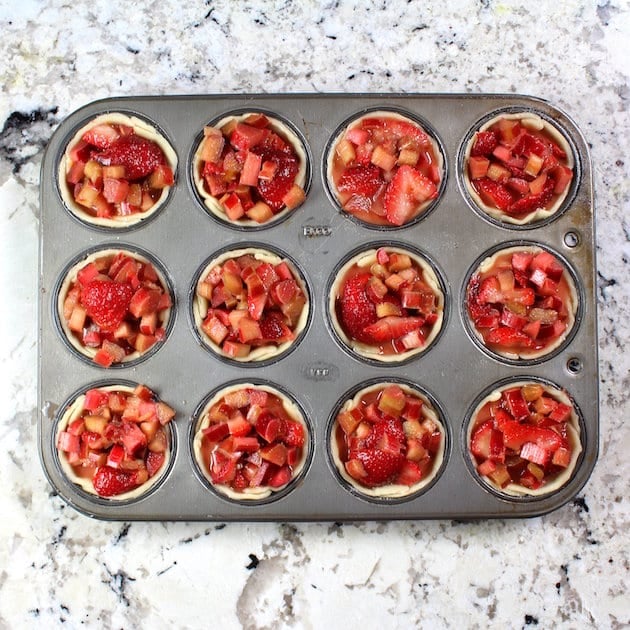 Then used my dough strips to make the lattice tops. I gently brushed the strips with an egg wash and sprinkled with a little more raw sugar.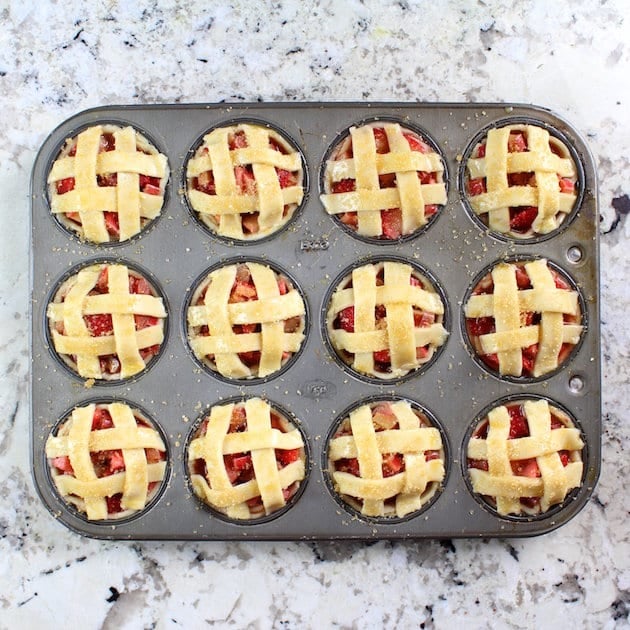 Finally, into a 400-degree oven, they went for 23ish minutes.
And VOILA… The cutest little desserts I've ever seen!❤️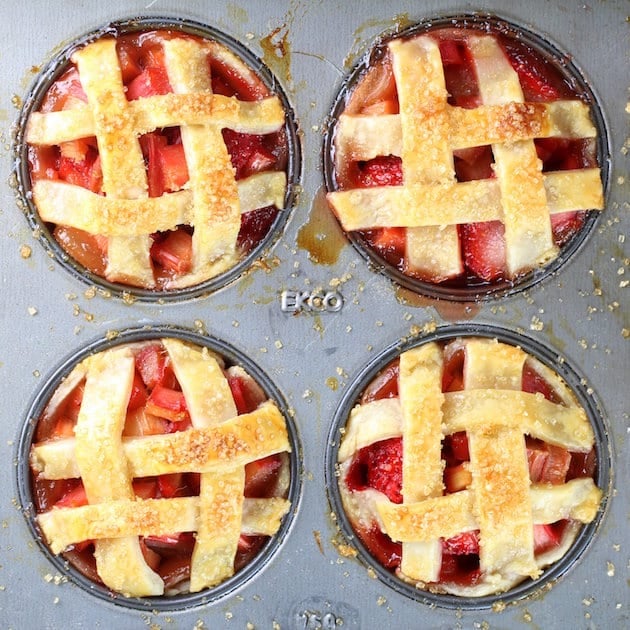 These Mini Strawberry Rhubarb Pies in Muffin Tins are perfect for sharing at a summer picnic with friends or to have on hand as a perfectly portioned snack for the kiddos.
They're a yummy finger-friendly dessert or a fancy treat when served with a scoop of your favorite vanilla ice cream.  Mmm, mmm!😋
I would love to connect with you!  Leave a comment and follow me on Instagram, Twitter, Facebook, & Pinterest!
Looking For More Delicious Summer Dessert Recipes?
Summer Blueberry Mascarpone Tart