Peppermint Marshmallow Hot Chocolate Cookies are super easy, delightfully scrumptious and the perfect holiday treat. Plus, they're full of all of our favorite things... cocoa, peppermint flavoring, marshmallows, and chocolate ganache!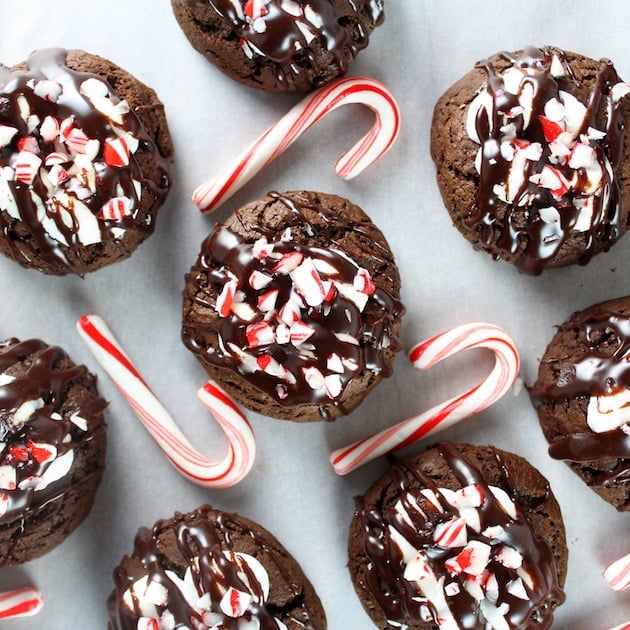 It's just a few days before Christmas and if you're like me you're ready to take a long winter's nap. LOL Or at least a quick siesta. Ahh heck, I'd settle for just sitting in a chair for 15 minutes.
There's just so much to do during this most wonderful time of the year.
Since many of us are still on the prowl for those last few gifts and Wrapping-Fest 2016 is still in front of us, I thought a quick, easy, festive and delicious dessert option was in order.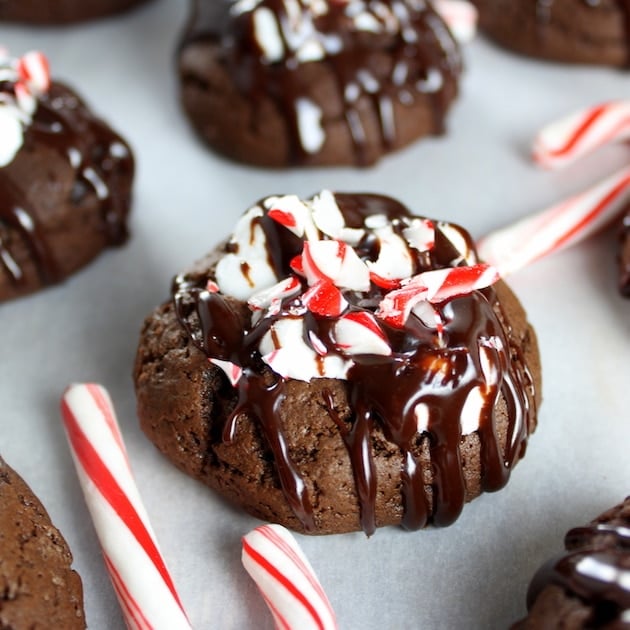 As you already know chocolate chip cookies, brownies and Oreos are all some of the most popular cookies around. What can I say - we all love to eat chocolate!! And when it's cold outside we like to drink it too!
Mmm hot chocolate with marshmallows. And even better - peppermint hot chocolate with marshmallows!!! YUM!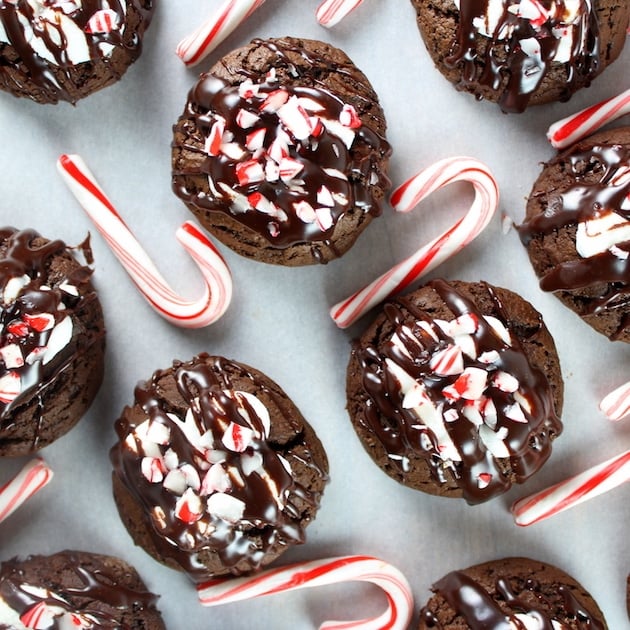 I absolutely love peppermint and chocolate together. AHH-MAZING! They were totally created for each other. This got me thinking why regulate my peppermint and chocolate consumption to only hot chocolate??? Why not turn it into a cookie too!?? Brilliant - right? Ahh, yes.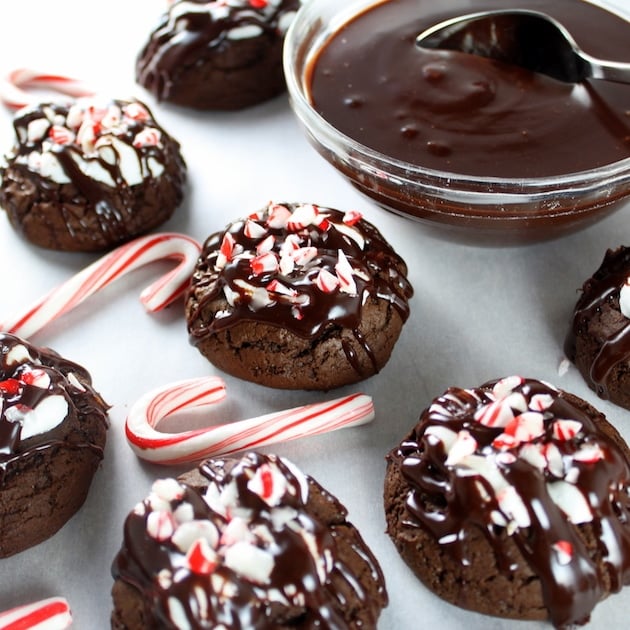 So that's what I did. Off the hook - people!! Seriously, so delicious! If you're still baking up treats for Christmas day (or any day for that matter), I highly recommend these moist, delicious, minty, chocolatey, yummy cookies. Allow me to spell out why this is the absolute right choice for your dessert tray this holiday season.
You have 5000 Christmas gifts to wrap; your kiddos aren't napping so you definitely deserve a treat right about now.
These peppermint cookies require very little effort. Seriously your kids could make them for you. And why not - they're not napping anyway?
Foolproof! Everyone loves chocolate!
They scream Merry Christmas!
The peppermint/chocolate flavor combo is the best fusions of flavor ever created.
They contain candy canes. And marshmallows. Need I say more!?
See number 1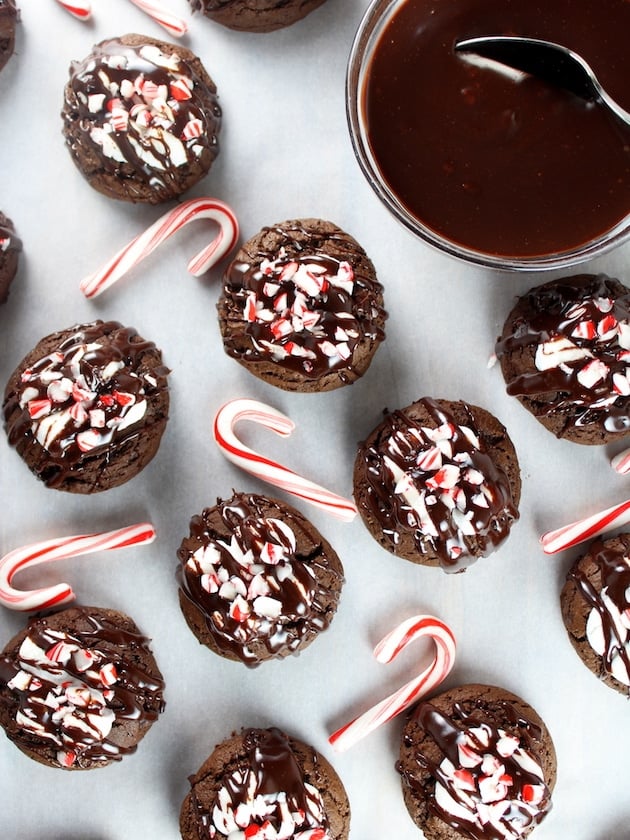 These Peppermint Marshmallow Hot Chocolate Cookies are seriously packed with a few of everyone's favorite things. There is cocoa, candy canes, fluffy little marshmallows, peppermint flavoring and a chocolate ganache drizzle!
Not only is the flavor combo amazing but the variety of texture is swoon-worthy. You have the chewy, moist, cookie, the light and fluffy marshmallow, the gooey drizzle and the crunchy candy canes. SO good! Having a MWM (mouth watering moment) over here!!!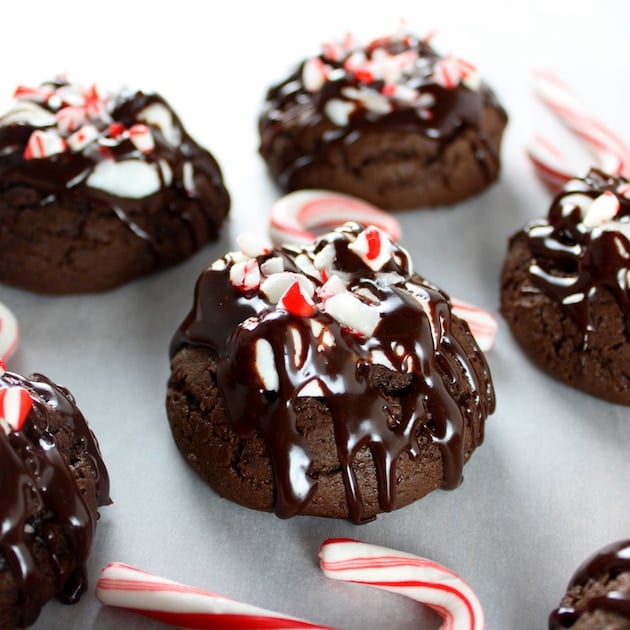 Peppermint Marshmallow Hot Chocolate Cookies are super easy, delightfully scrumptious and the perfect holiday treat. These minty cookies will be sure to get the whole family rockin' around the Christmas tree this year!
Merry Christmas!!
I would love to connect with you! Leave a comment and follow me on Instagram, Twitter, Facebook, & Pinterest!
Yield: 24 cookies
Peppermint Marshmallow Hot Chocolate Cookies Recipe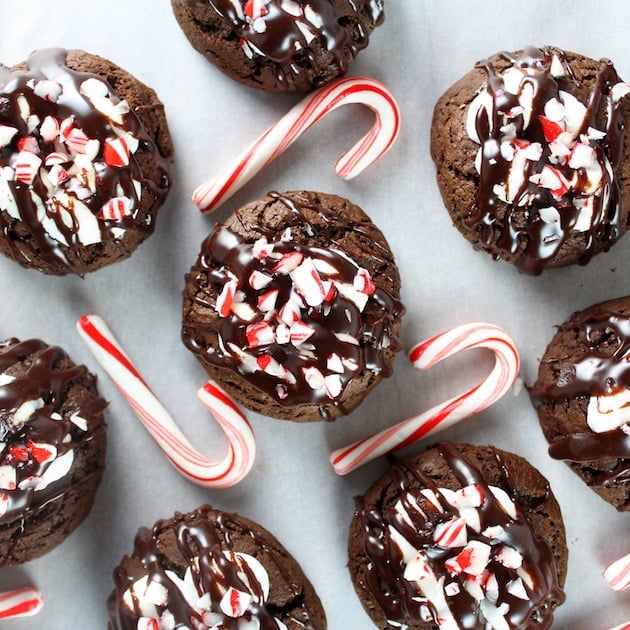 This Peppermint Marshmallow Hot Chocolate Cookies Recipe is super easy, delightfully scrumptious and the perfect holiday treat.
Ingredients
For The Cookies:
1 ¾ cups all-purpose flour
¾ cups cocoa powder
½ teaspoon baking soda
½ teaspoon salt
½ cup unsalted butter, softened (1 stick)
1 cup sugar
1 large egg
½ cup almond milk (or regular milk)
1 teaspoon peppermint extract
1 teaspoon vanilla extract
10 ounces mini-marshmallows
8 mini candy canes gently broken into small pieces (or use 4 large-sized candy canes)
For The Chocolate Ganache Drizzle:
⅜ cup heavy whipping cream
5 ounces semi-sweet chocolate morsels
Instructions
Unwrap candy canes (if they are wrapped) and place them in a freezer-weight resealable bag. Using the flat side of a kitchen mallet or meat tenderizer, gently tap on the canes to break them into small pieces (do not over-do this or you will end up with only peppermint dust!). Separate the pieces from the dust, and set aside.
Preheat oven to 375 degrees. In a medium bowl, whisk together flour, cocoa powder, baking soda, and salt. Set aside.
Use an electric mixer to cream together butter and sugar until light and fluffy, about 2-3 minutes. Add egg, milk, vanilla, and peppermint extract, then beat until well combined. Add the flour and other dry ingredients from the first bowl a little at a time, and mix on low speed until combined.
Using a 2-tablespoon scoop, drop dough onto parchment-linked baking sheet. Arrange cookies evenly with plenty of room between them. Bake until they start to spread and become firm, 10 minutes.
Remove from oven, place four mini-marshmallows in the center of each cookie, and bake another 2 minutes, or until the marshmallows begin to melt. Transfer cookies to a wire rack to cool completely.
While the cookies are cooling, make the chocolate ganache drizzle: place semi-sweet chocolate chips in a heat-proof mixing bowl. Heat the heavy cream in a small saucepan until it is almost simmering, then pour it over the chocolate chips. Wait 3 minutes then whisk thoroughly and then allow the ganache to rest for about 5 minutes.
Using a fork, carefully drizzle the chocolate ganache across each cookie, leaving some of the marshmallow exposed. Test the ganache on a side plate to make sure it is ready, and if it's too thin, allow it to cool further before using.
Top each cookie with the candy cane pieces and enjoy!
Nutrition Information
Yield
24
Serving Size
1 cookie
Amount Per Serving
Calories

212
Total Fat

8g
Saturated Fat

4g
Unsaturated Fat

0g
Cholesterol

22mg
Sodium

126mg
Carbohydrates

34g
Fiber

1g
Sugar

20g
Protein

2g
Looking for more holiday dessert ideas? Check these out:
Cranberry Orange Creamsicle Cookies: