Peppermint Marshmallow Hot Chocolate Cookies are super easy, delightfully scrumptious and the perfect holiday treat.  Plus, they're full of all of our favorite things… cocoa, peppermint flavoring, marshmallows, and chocolate ganache!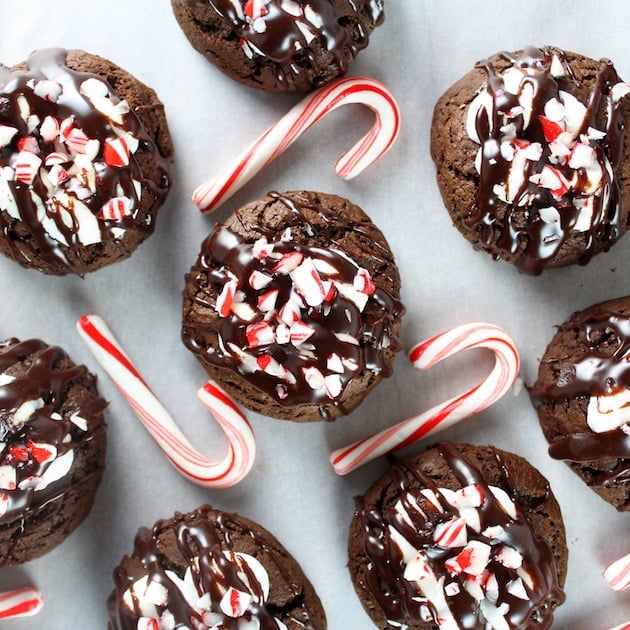 It's just a few days before Christmas and if you're like me you're ready to take a long winter's nap.  LOL  Or at least a quick siesta.  Ahh heck, I'd settle for just sitting in a chair for 15 minutes.
There's just so much to do during this most wonderful time of the year.
Since many of us are still on the prowl for those last few gifts and Wrapping-Fest 2016 is still in front of us, I thought a quick, easy, festive and delicious dessert option was in order.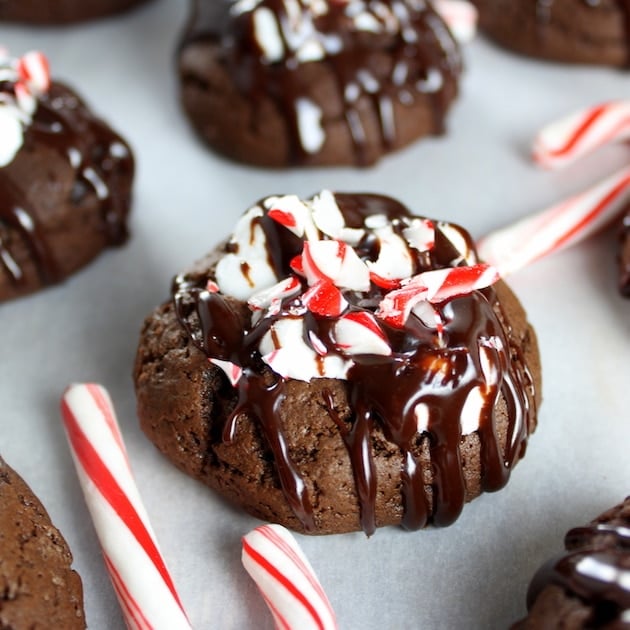 As you already know chocolate chip cookies, brownies and Oreos are all some of the most popular cookies around.  What can I say – we all love to eat chocolate!!  And when it's cold outside we like to drink it too!
Mmm hot chocolate with marshmallows.  And even better  – peppermint hot chocolate with marshmallows!!!  YUM!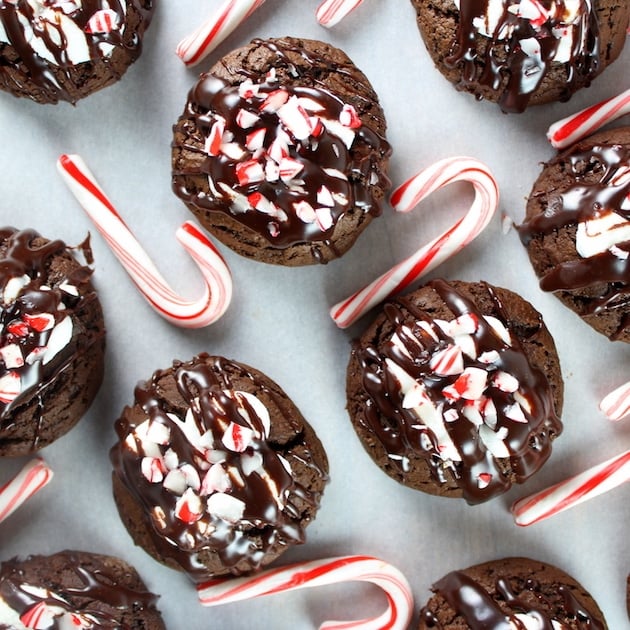 I absolutely love peppermint and chocolate together.  AHH-MAZING!  They were totally created for each other.  This got me thinking why regulate my peppermint and chocolate consumption to only hot chocolate???  Why not turn it into a cookie too!??  Brilliant – right?  Ahh, yes.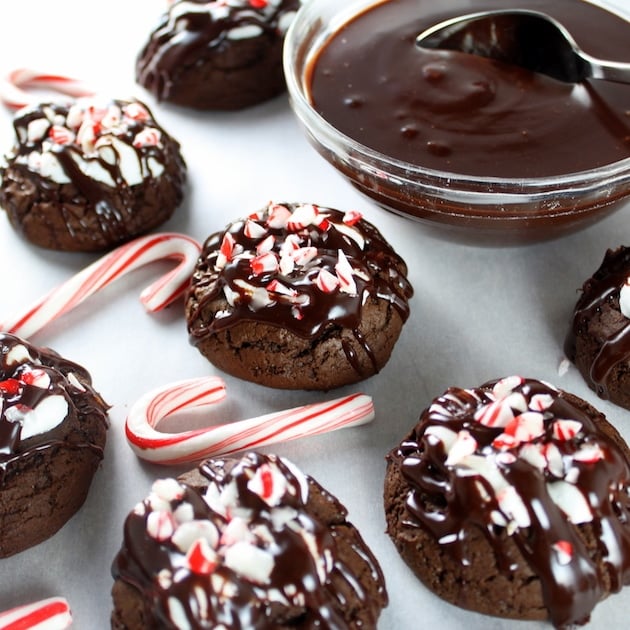 So that's what I did.  Off the hook – people!!  Seriously, so delicious!  If you're still baking up treats for Christmas day (or any day for that matter), I highly recommend these moist, delicious, minty, chocolatey, yummy cookies.  Allow me to spell out why this is the absolute right choice for your dessert tray this holiday season.
You have 5000 Christmas gifts to wrap;  your kiddos aren't napping so you definitely deserve a treat right about now.
These peppermint cookies require very little effort. Seriously your kids could make them for you. And why not – they're not napping anyway?
Foolproof! Everyone loves chocolate!
They scream Merry Christmas!
The peppermint/chocolate flavor combo is the best fusions of flavor ever created.
They contain candy canes.  And marshmallows.  Need I say more!?
See number 1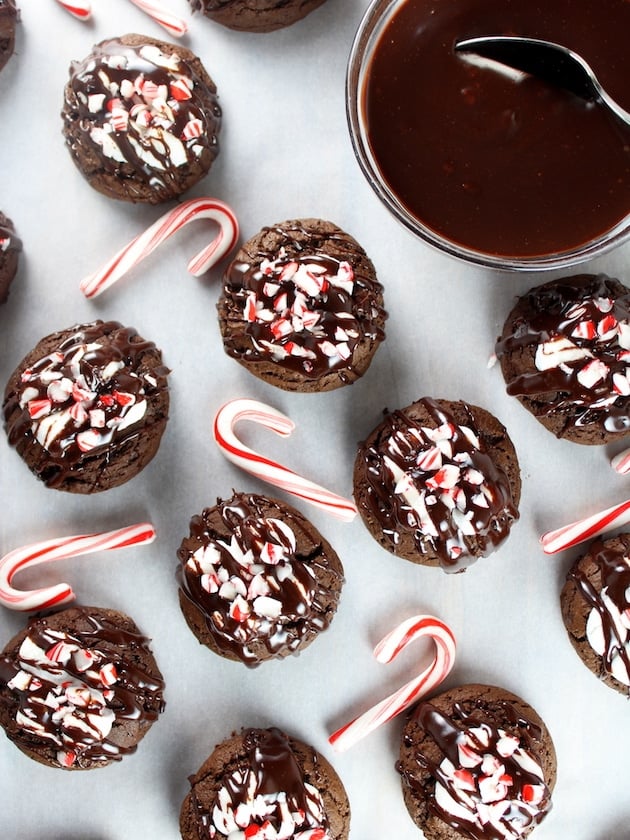 These Peppermint Marshmallow Hot Chocolate Cookies are seriously packed with a few of everyone's favorite things.  There is cocoa, candy canes, fluffy little marshmallows, peppermint flavoring and a chocolate ganache drizzle!
Not only is the flavor combo amazing but the variety of texture is swoon-worthy.  You have the chewy, moist, cookie, the light and fluffy marshmallow, the gooey drizzle and the crunchy candy canes.  SO good!  Having a MWM (mouth watering moment) over here!!!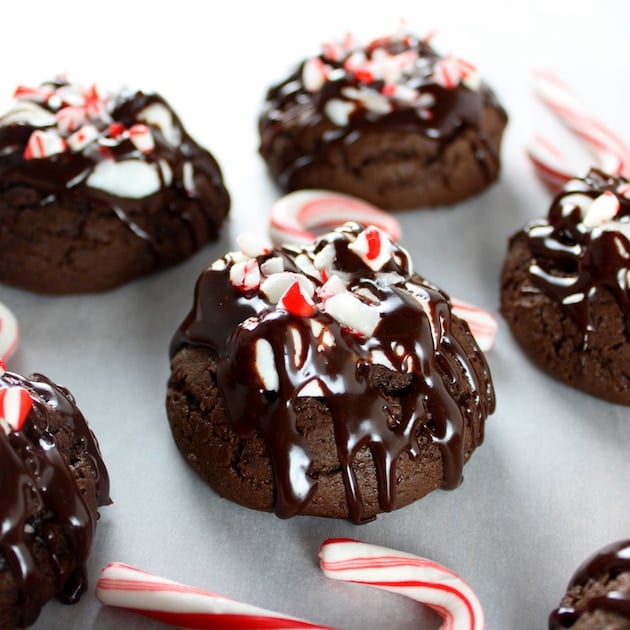 Peppermint Marshmallow Hot Chocolate Cookies are super easy, delightfully scrumptious and the perfect holiday treat.  These minty cookies will be sure to get the whole family rockin' around the Christmas tree this year!
Merry Christmas!!
I would love to connect with you!  Leave a comment and follow me on Instagram, Twitter, Facebook, & Pinterest!
Love these Peppermint Marshmallow Hot Chocolate Cookies!
Click To Tweet
Looking for more holiday dessert ideas?  Check these out:
Cranberry Orange Creamsicle Cookies: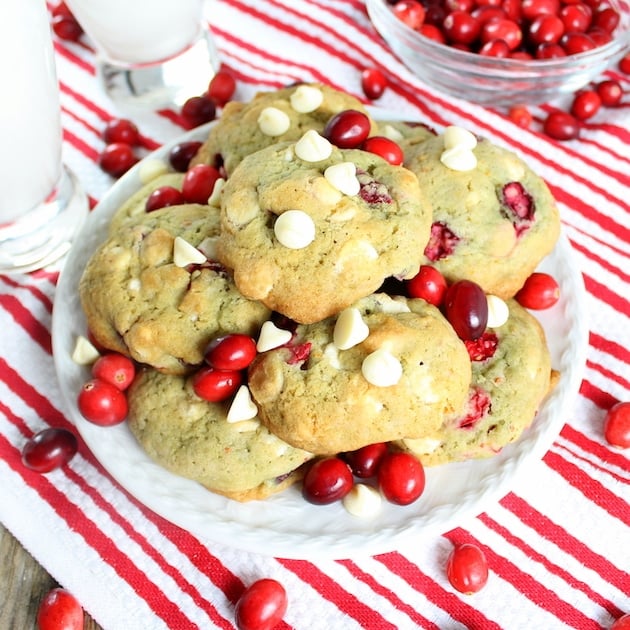 White Chocolate Gingerbread Thumbprint Cookies: