The Smoky Mango Margarita - your new favorite sipping sensation! It's a little sweet from the mango, tart from the fresh lime juice, and earthy/smoky from the tequila and mezcal. The perfect libation for your next soiree!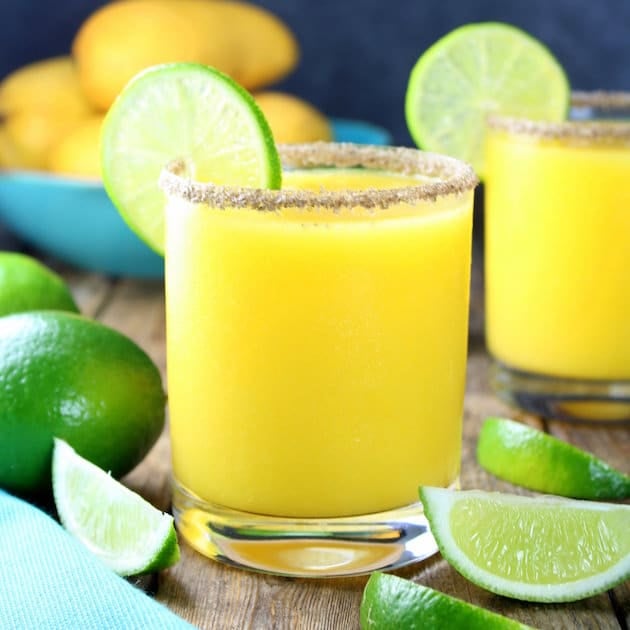 Friends, we need to talk about smoky margaritas! Yep – it's totally a thing.
Not like "call the fire department" smoke. You know, more like a fire pit with friends on a cool night, a whole turkey smoked over some apple wood chips, salmon grilled on a cedar plank, or the rich smell of someone enjoying a Cuban cigar.
In case it's not obvious, I'm all about the smoke! I like smoked cheese, smoked almonds, adding a little smoky flavor to chili or even some tomato soup, and now I'm thoroughly enjoying this Smoky Mango Margarita!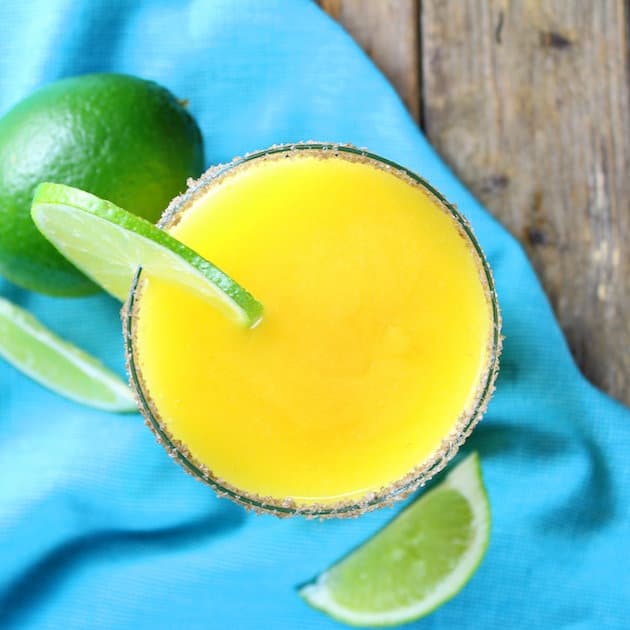 It's everything a margarita should be and more. It's sweet, tart, a little fruity and a little smoky thanks to my latest libation obsession: Mezcal.
Have you tried it? It's smoky and earthy and sooo delightfully delicious!
Mezcal is basically tequila's smoky cousin - or wait, maybe they're fraternal twins separated at birth? Regardless of their family tree, Mezcal is muy bien and you need to get on that bus, Gus!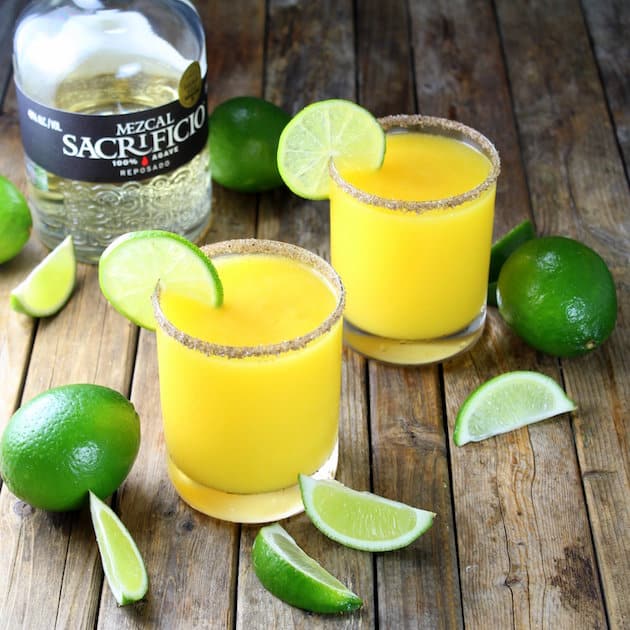 Mezcal has become more and more popular over the years. Our friends over at Liquor.com report that "from 2005 to 2015, Mezcal sales in the U.S. increased by almost 300 percent, making it one of the fastest-growing spirits in the country and indeed the world." Whaaa!? True story.
I've got a few more details to share with you about this lovely libation. Get out your pen and paper, Mezcal 101 is now in session.
Mezcal and Tequila are both made from agave but that is about the extent of their similarities. See, like I said – fraternal twins.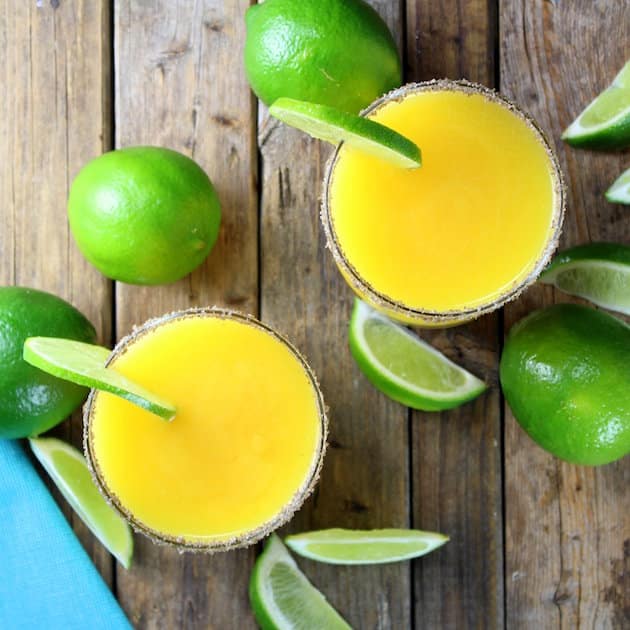 There are three main ways that Mezcal differs from Tequila:
Tequila and Mezcal are mostly produced in different states of Mexico (although there are three that overlap).
They are made with different kinds of agave. By law, Tequila can ONLY be with one variety of agave – and that would be Blue Agave. Mezcal can be made with more than 30 varieties of agave, although most are made with the Agave Espadin.
The production process for mezcal is different from Tequila, which leads to a very different flavor profile for Mezcal… aka SMOKE!!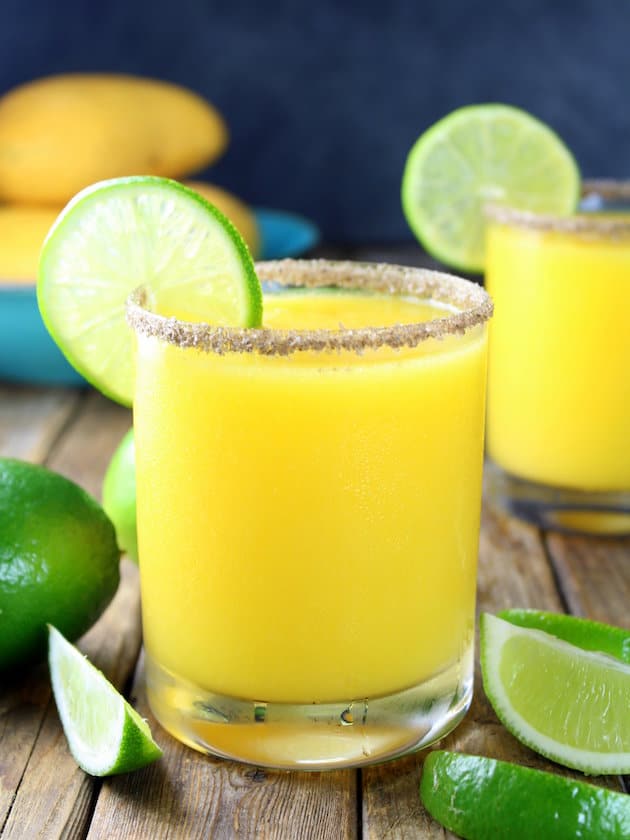 I find the traditional production method of Mezcal to be quite fascinating…
Just like the process of producing tequila, the agave plant is harvested by slicing the long spear-like leaves off the plant leaving the core or "pina" intact. Next, the pinas are cooked in a large underground earthen pit. The pit is 10 feet wide by 10 feet deep, cone shaped at the bottom and lined with volcanic rock. Firewood is burned down to the embers, which heats the volcanic rock to extreme temperatures. The pinas are then piled into the pit and covered with about a foot of earth. This underground "oven" now smokes, cooks and caramelizes the pina over a multi-day cooking process.
But buyer beware: All Mezcals are not equal. Some of them are mass-produced in large stainless steel industrial ovens and then distilled. These don't bear the same smoky quality of other traditionally produced Mezcals. And as you may have guessed, I'm not a big fan of these.
Isn't this all so exciting!??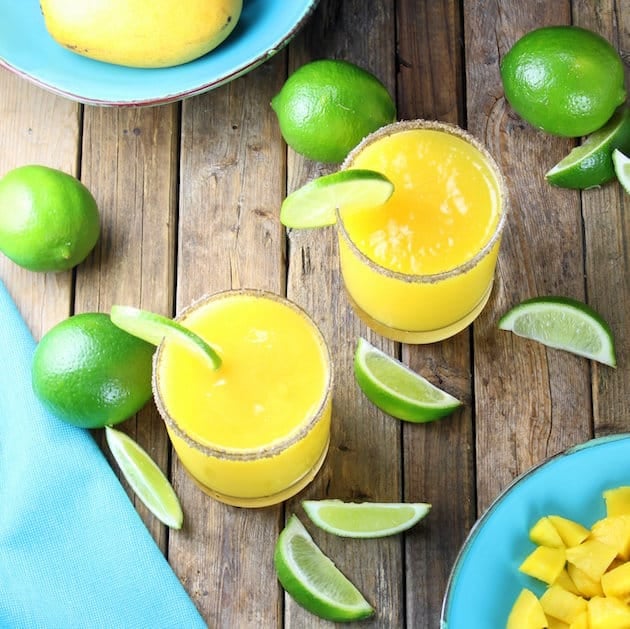 Ok, Science class is dismissed, but don't go anywhere cause Chemistry Lab is starting right now – if you know what I mean!!??
This delicious drink is made with just 4 ingredients and tastes like you've roasted mangos over an open mesquite wood fire for hours. Mmm. So yummy.
But the process is not nearly as involved as that – oh no – ain't nobody got time for that.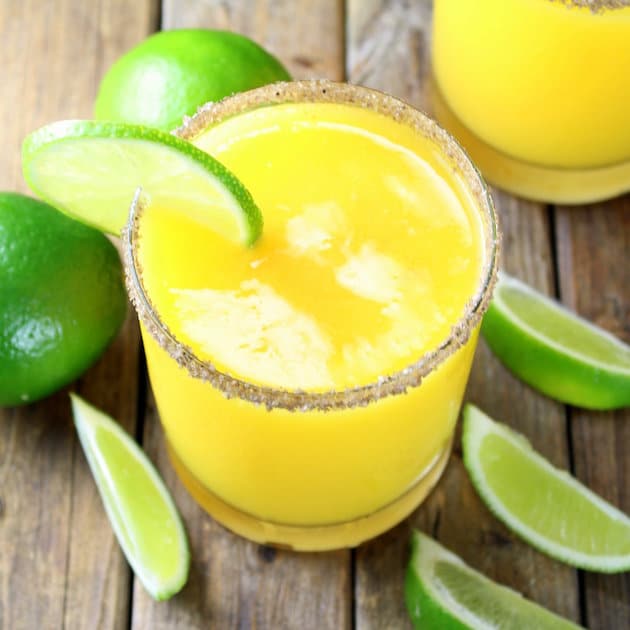 First you add the flesh from one mango and juice from one lime to a blender and puree until smooth. Add in one ounce of Mezcal and one ounce of tequila and blend. Rim two glasses with a lime wedge and dip your glasses in sugar, salt or if you want to get really crazy - a blend of sea salt and smoked salt!
As the saying goes… smoke 'em if you got 'em!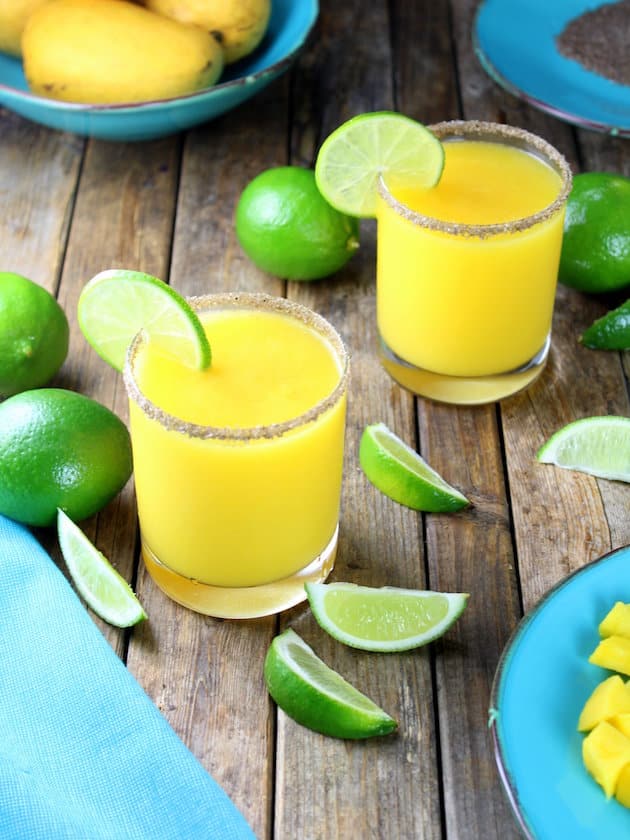 Now fill your glass halfway with ice and pour your sensational smoky mango margarita over it - abracadabra… a sublime concoction for your sipping pleasure!
The tart lime juice and sweet mango combo pairs absolutely perfectly with the smoky, rich mezcal.
I just love how a little smoky flavor transforms this margarita into something so special and delicious!
Salud!
I would love to connect with you! Leave a comment and follow me on Instagram, Twitter, Facebook, & Pinterest!
Yield: 2 servings
Smoky Mango Margarita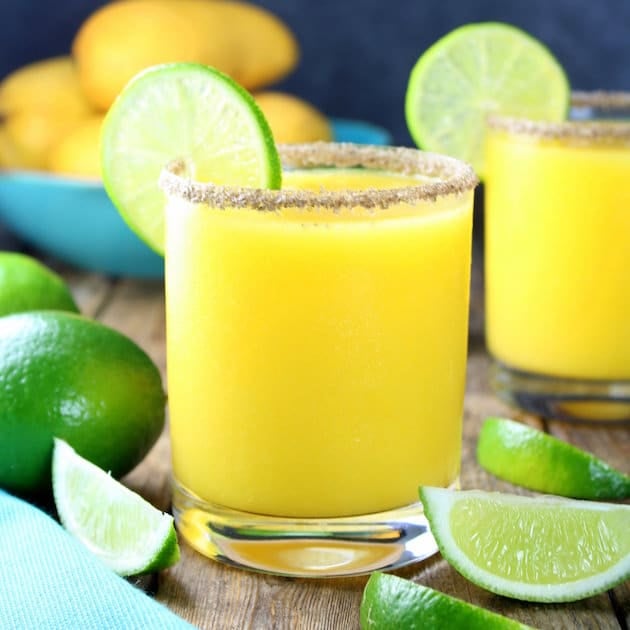 The perfect blend of sweet and citrus with a touch of smoke!
Ingredients
1 mango, peeled and pit removed (or substitute 9 ounces mango puree)
1 ounce fresh-squeezed lime juice (juice from one lime)
2 ounces Mezcal
2 ounces Tequila
sugar or salt for glass rims
lime wedges or wheels for garnish
Instructions
Puree mango & lime juice in a blender.
Add Mezcal & Tequila, then blend at low speed for a few seconds to combine thoroughly.
Rim two glasses with salt, sugar, or a combination of smoked and regular salt. Fill glasses with ice then add margaritas. Garnish with lime slices or wheels.
Nutrition Information
Yield
2
Serving Size
1 cocktail
Amount Per Serving
Calories

180
Unsaturated Fat

0g
Sodium

1mg
Carbohydrates

12g
Fiber

1g
Sugar

11g
Looking For More Tasty Beverages?