You asked for it and now here it is... Tuna Cakes with Spicy Lemon Yogurt Sauce! Low-carb, low-fat, high-protein, budget-friendly and absolutely delicious! Serve these Tuna bombs over a salad or with some quinoa and veggies and you have the tastiest meal you've eaten all week!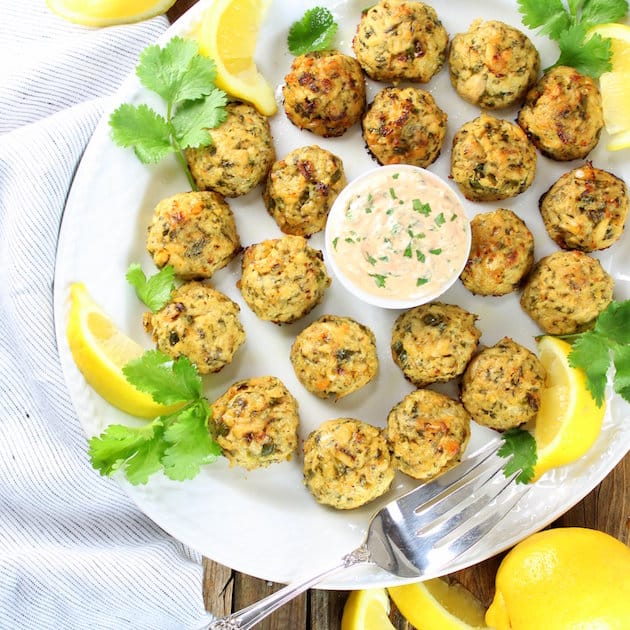 Over a year ago I posted my recipe for Tuna Cakes with Jalapeno and Cilantro. It's one of those yummy meals I've been making for my own family for a while now. We LOVE these Tuna bombs❤️ for many reasons…
They're super budget-friendly since they involve canned tuna.
They are low-carb and packed with tons of protein so they keep you feeling satisfied. No snacking necessary after you've had these for dinner!
They are low-calorie and low-fat so they're easy on the waistline – if you know what I mean.
The recipe makes over 15 good-sized cakes, which means it provides several meals from just one batch. We're talking a "fish and loaves" situation. (Also, contributing to the first point of being easy on the wallet.)
And finally, they are SO DELICIOUS you would never think they are budget friendly, low-carb, and low-calorie!🙌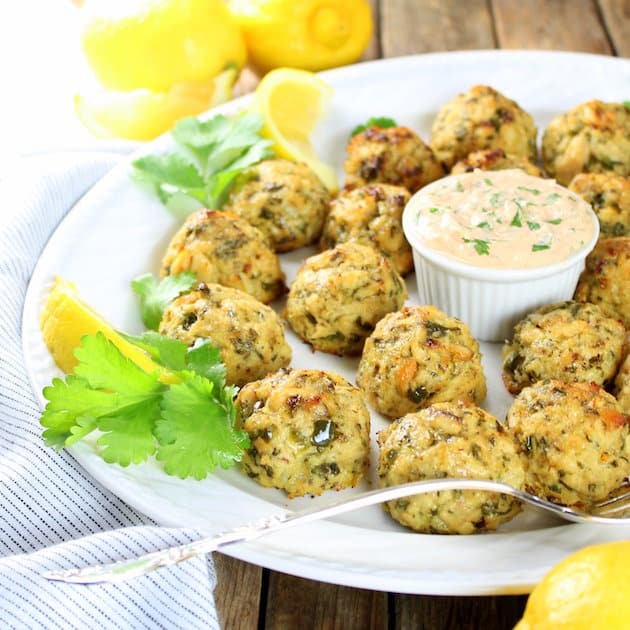 Apparently, we're not the only ones crushing on these meaty cakes. You all seem to really like them as well.😊
At least it would appear so from your hundreds of rave reviews and your 1.1 MILLION shares across the World Wide Web.😳 Yep, I said over a million shares! Not. Even. Kidding.
Don't take my word for it, head over to that Tuna Cakes post on my blog to see for yourself.
But WAIT, you're gonna want to do that after you've read today's post because those amazing Tuna Cakes just got even better!! The new and even lighter version = Tuna Cakes with Spicy Lemon Yogurt Sauce!👇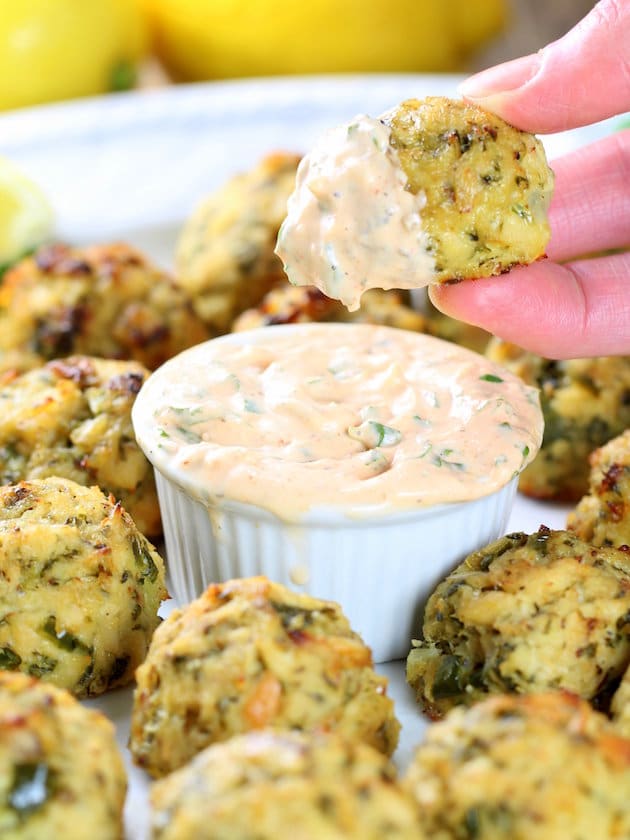 I really love it when you comment on my blog.😍 It's helpful to know when you make a recipe, and what you think.
It's also helpful when you ask questions like "when does the salt go in, it's in the ingredients but not in the instructions." It's like you're editing my work for me. You help me to be better.💕 Thank you!!🙏
Other than all your rave reviews, there were several re-occurring questions that you asked about in the comments of the other Tuna Cake recipe.
Can you swap out Greek yogurt for mayo?
Can you use something other than breadcrumbs?
Can these be baked not sautéed?
The answer was always "yes" and then followed by some suggestions, well, except for #3. I had never baked them so I didn't know how they would turn out.🤔 But it was a fabulous question/suggestion for a couple of reasons.
Baking would mean no oil splattering around the stove, making for easy cleanup and quicker cook time.
And using less oil = lower fat = #winning!🏆
So I put on my apron, headed into the test kitchen and went to work. These were big shoes to fill, size 700 thousand to be specific, so this recipe had to be awesome!👍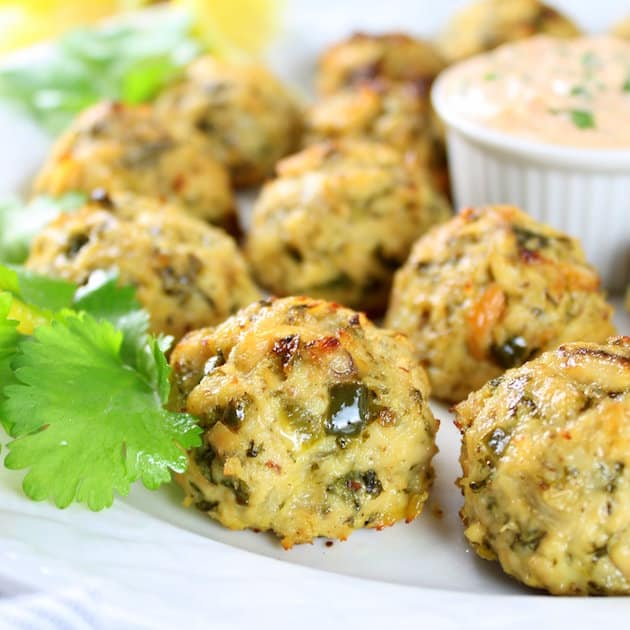 Annnd in my not so humble opinion – it is!!👌🎉
I'll be honest; the first test batch I made was slightly dry. Other adjectives that may have been used to describe them might be aired, torrid or droughty. I promise no one was harmed in the creating of this recipe (thank you, Julie for taking one for the team and "weathering" the taste test.🤗)
But the second batch I made was top notch!!💯 Yep – prime time eating experience goin' on up in herrr!
Here are my final results!👇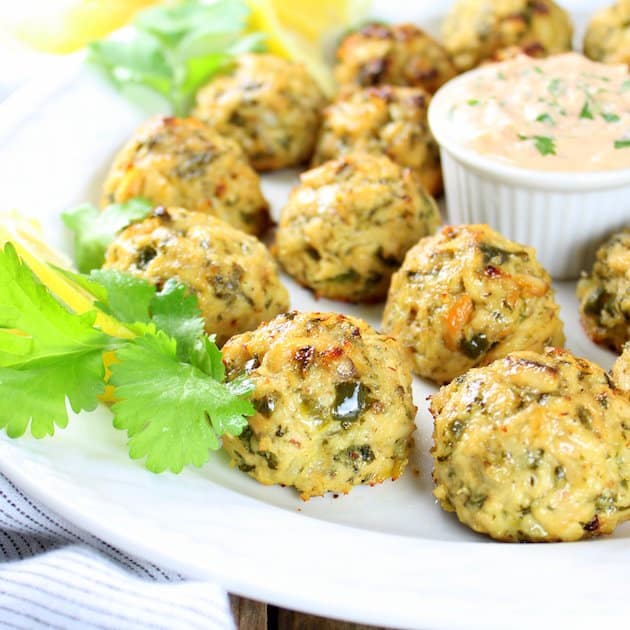 Whachathink??? D-licious with a capital D!😋 Other words used by taste testers to describe them were… delectable, exquisite, and heavenly.👍 #humblebrag #maybenotsohumble
These yummy protein balls couldn't be any simpler to make and include: 4 cans of solid white tuna packed in water (drained), 2 eggs, ¼ cup almond meal (or bread crumbs if preferred), ⅓ cup low-fat Greek yogurt, 3 Jalapenos chopped (I left the seeds in mine), 1 whole bunch of cilantro, salt and pepper and 3 tablespoons of fresh lemon juice.
They're scooped and formed into 2 inch balls, spritzed with cooking spray, and baked on a parchment-lined baking sheet for 20 minutes at 425.♨️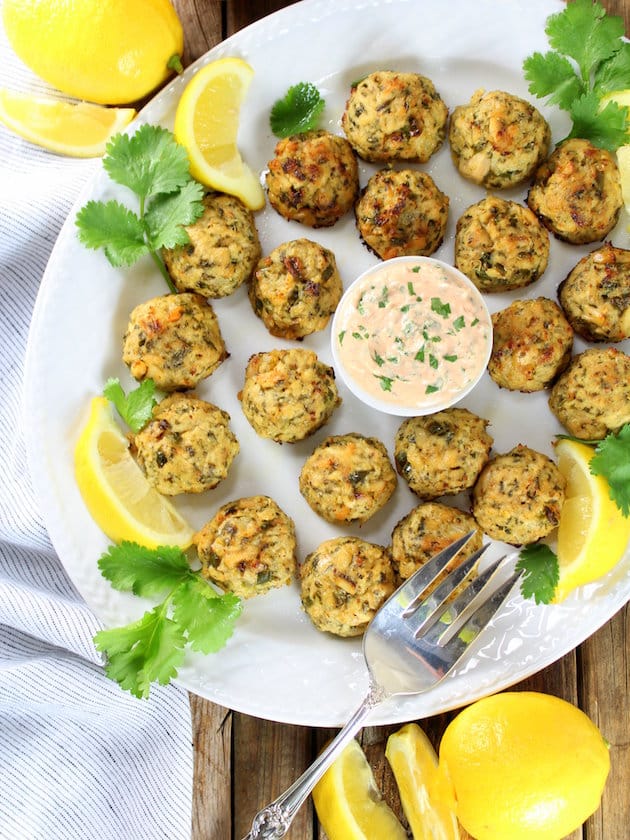 Next, comes the sauce.
The Spicy Lemon Greek Yogurt Sauce includes: ½ cup low-fat Greek yogurt, 1 garlic clove minced, 4 teaspoons fresh lemon juice, 1 large tablespoon cilantro and a teaspoon of Sriracha sauce.
And finally what you've all been craving... Ta Da… dTuna Cakes with Spicy Lemon Yogurt Sauce!✨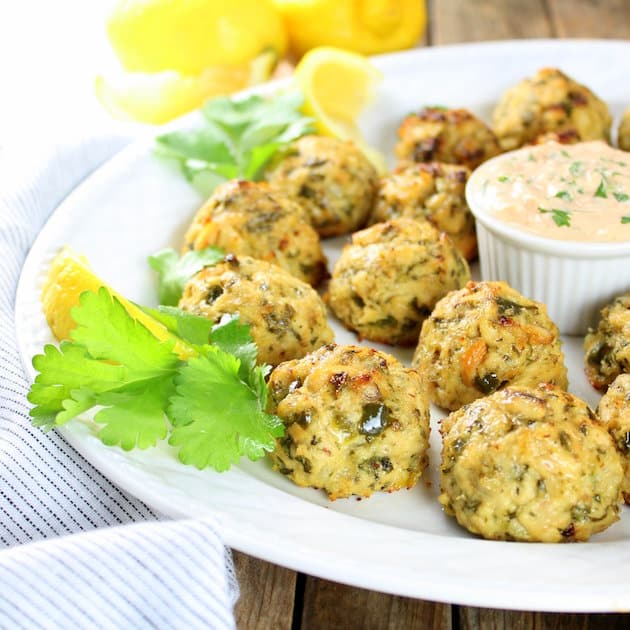 I've listed out all the nutrition info on these tuna bites because I know you want to know:
Serving size: 3 cakes w/sauce:
177 calories
17 grams of protein
10 grams of fat
4 grams of carbs
I can't wait for you to give these Tuna Cakes a try.😃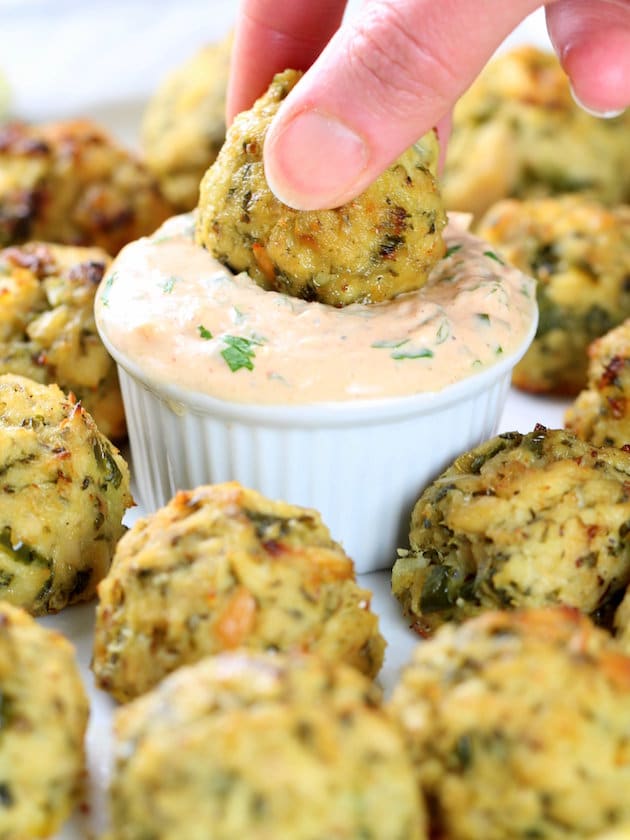 For those of you who put in this request – I hope they satisfy your eating desires. AND for those of you just getting on this Taste And See tuna train - I truly hope they're "everything you never knew you always wanted!"
If you're looking for more amazing ideas, make sure you check out these zippy tuna croquettes or these tuna casserole muffins!
Enjoy my friend!💕
I would love to connect with you! Leave a comment and follow me on Instagram, Twitter, Facebook, & Pinterest!
Yield: 9 servings
Lighter Tuna Cakes Recipe with Garlic Lemon Yogurt Sauce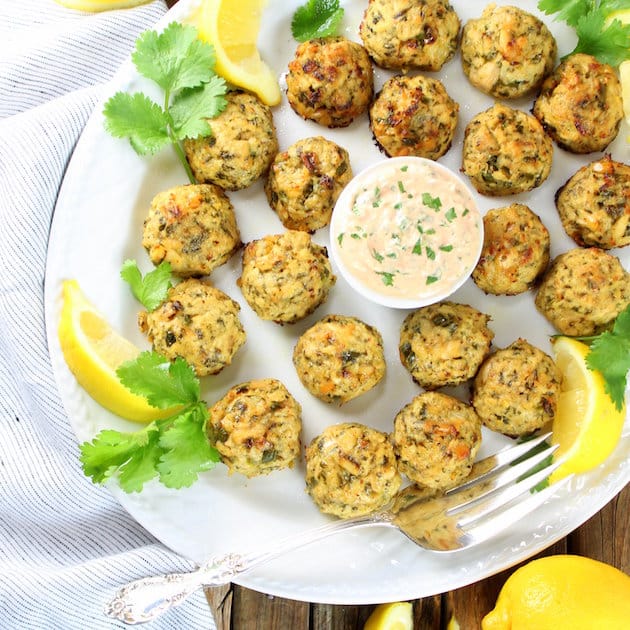 Low-carb, low-fat, high-protein and absolutely delicious!
Ingredients
For The Tuna Cakes:
20 ounces canned solid white tuna in water (four 5-ounce cans)
1 large onion, diced
1 tablespoon olive oil
⅓ cup low fat Greek yogurt (or mayo if you prefer)
3 tablespoons lemon juice
1½ teaspoons salt
½ teaspoon pepper
1 bunch chopped fresh cilantro
3 jalapeno chile peppers finely chopped (ribs and seeds removed unless you like it a little spicy)
2 large eggs, lightly beaten
¼ cup almond meal (or plain dried breadcrumbs)
cooking spray
For The Spicy Lemon Yogurt Sauce:
½ cup low-fat Greek yogurt
4 teaspoons lemon juice
1 teaspoon Sriracha sauce
1 clove garlic, minced
1 tablespoon cilantro (a rounded tablespoon!)
¼ teaspoon salt
¼ teaspoon pepper
Instructions
For The Tuna Cakes:
Preheat oven to 425.
Empty 4 cans of tuna into a large strainer over the sink, and let them drain while you prepare the following ingredients.
Sauté onions in olive oil for about 8 minutes in a sauté pan, until translucent. Set aside and let cool.
While the onions are cooking, in a large mixing bowl, add Greek yogurt, lemon juice, salt and pepper and whisk till combined. Then add cilantro and peppers to the mixture.
Add the tuna, beaten eggs, cooked onions and almond meal, and mix gently.
Using a 1 ½ inch scoop (or your hands), form the mixture into balls and place on a parchment-lined baking sheet.
If you are freezing the tuna cakes, leave them on the baking sheet and place them in the freezer. Once firm, store them in a re-sealable freezer bag until needed.
To finish the cakes, bake on 425 for about 20 minutes, just until they start to crisp and become golden.
For The Spicy Lemon Yogurt Sauce:
Combine all ingredients in a small mixing bowl, and whisk thoroughly. Adjust salt and pepper to taste.
Notes
If you are freezing the cakes, leave them on a cookie sheet and place them in the freezer for a few hours. Once they have firmed up you can transfer them to a resealable storage bag. When you want to cook them, place them back on a baking sheet while still frozen, and allow them to thaw in the fridge for at least 4-5 hours. Then proceed with baking per the instructions.
For an extra spicy kick add a tablespoon or two of Sriracha sauce to the mixture before forming the cakes.
Nutrition Information
Yield
9
Serving Size
3 tuna cakes
Amount Per Serving
Calories

122
Total Fat

4g
Unsaturated Fat

0g
Cholesterol

60mg
Sodium

642mg
Carbohydrates

3g
Sugar

1g
Protein

16g
Looking for more easy lighter recipes?
Greek Chicken Sheet Pan Dinner