Southwestern Chicken Corn Chowder - a hearty meal all in one big bright sunny pot!☀️ Full of zesty spices like cumin and chipotle chili pepper and tons of fresh veggies like sweet corn, onions, garlic, jalapeños, and yellow squash.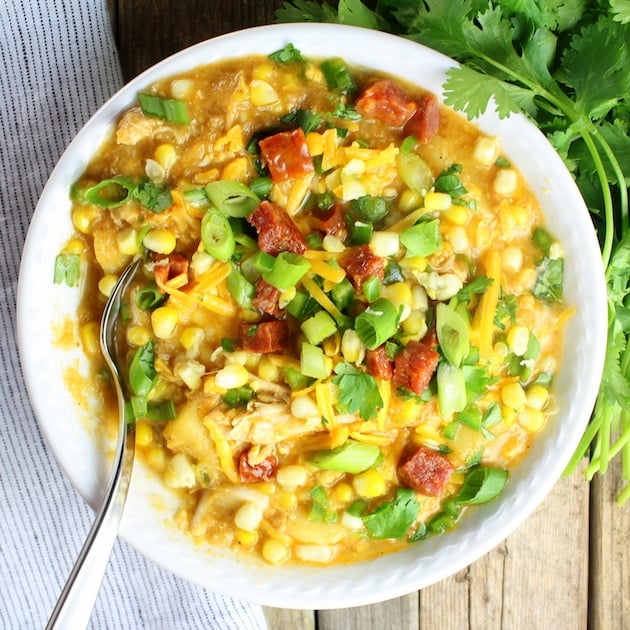 Undeniably, fresh corn on the cob is the epitome of summer. Oh sure you can buy frozen corn all year round, but there's nothing in the world like fresh corn! I get so excited when those hot sunny days roll around… because with them comes mounds of sweet golden glorious corn on the cob. Can I get an amen!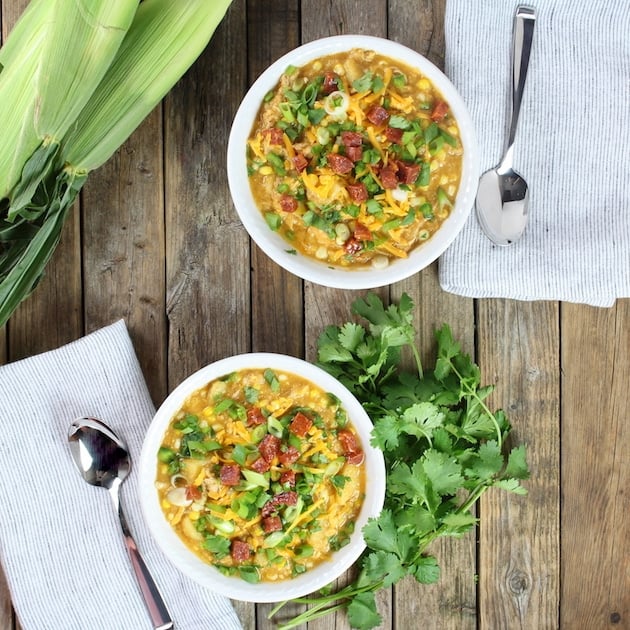 As I've said before we live in a perfectly picturesque town in New England. We have access to exceptional produce through farms, farmers markets and even grocery stores. I really enjoy the corn my local grocery store sources; it's super sweet with pearly-white and straw-yellow kernels. Just so tasty.
Another gardening adventure: growing our own corn!
Last year we actually tried our hand at growing our own sweet corn in our plot at the town community garden. We may have been a bit overzealous: we planted four rows of two different varieties, which equaled a total of about 150 stalks!
The package tells you to plant them closer than needed because inevitably some of the seeds won't produce. But I'm pretty sure that every one of ours came popping up out of the dirt, all loud and proud. This was all really wonderful except I had a super-hard time pulling up and throwing out extra seedlings. But it's extremely necessary in order for each corn plant to have enough nutrients and room to grow.
I'm happy to say none of my seedlings were harmed during this process! My girlfriend's corn crop was destroyed and she was more than elated to transplant my extra seedlings to her garden. Win - win for all of us!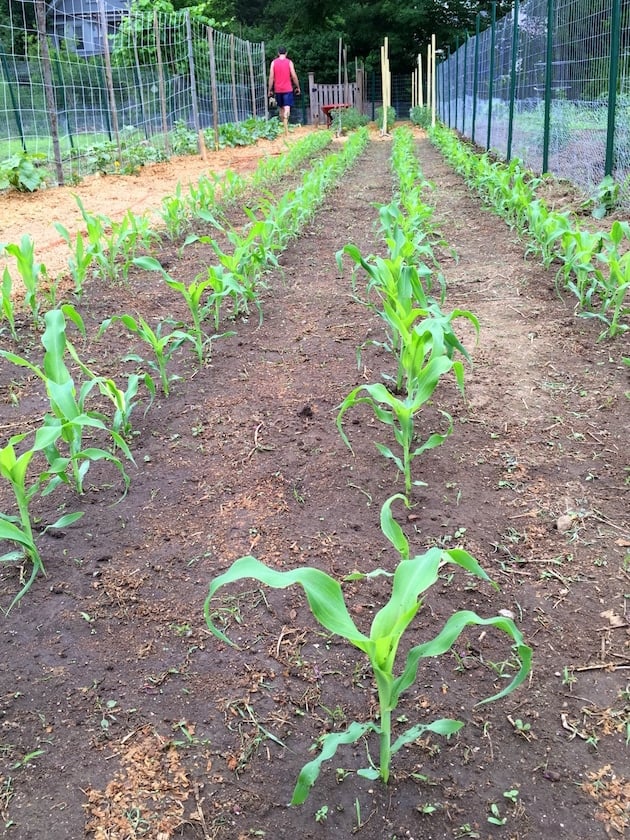 I must tell you we nurtured and cared for those little seedlings like they were our own precious children. They were fed, watered and weeded and they were thriving nicely if I do say so myself. And apparently Mr. Raccoon agreed with us as well.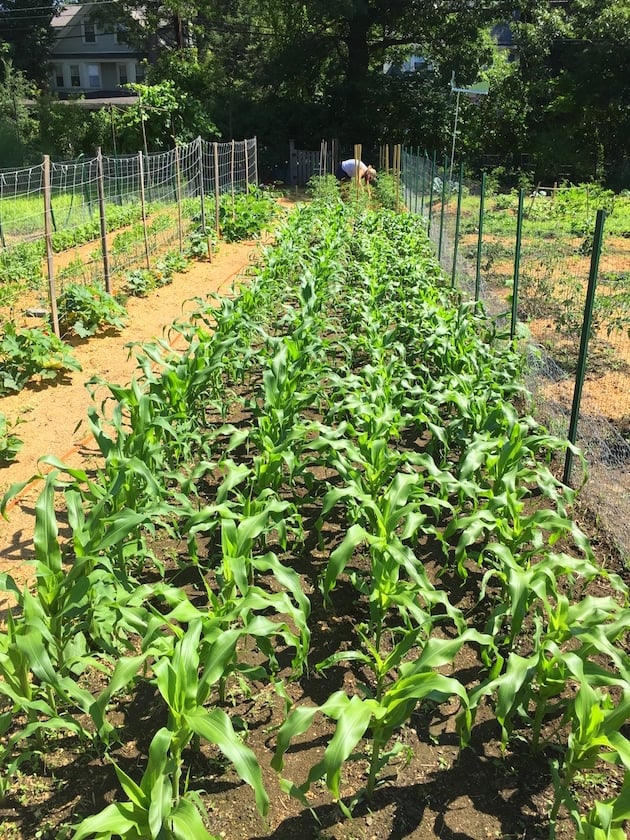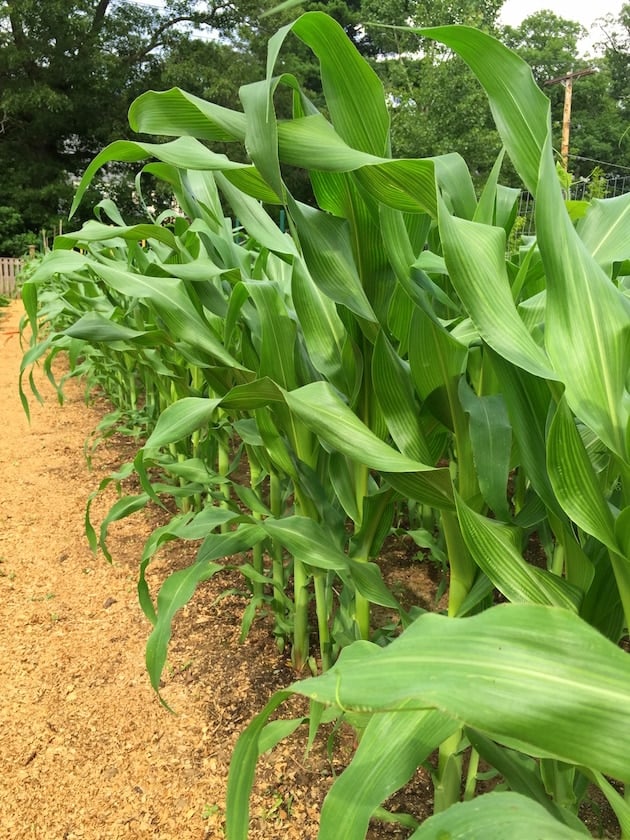 One day while making our regular visit to tend the garden, we noticed some corn stalks looked a bit mangled. Upon closer inspection and to our horror we realized two rows of the corn had been slashed and partially eaten. This was clearly the work of Mr. Raccoon. Heartbreaking I tell you. I had been told that the raccoons know the exact time the corn is ripe. I guess they can smell the sweetness. So upsetting.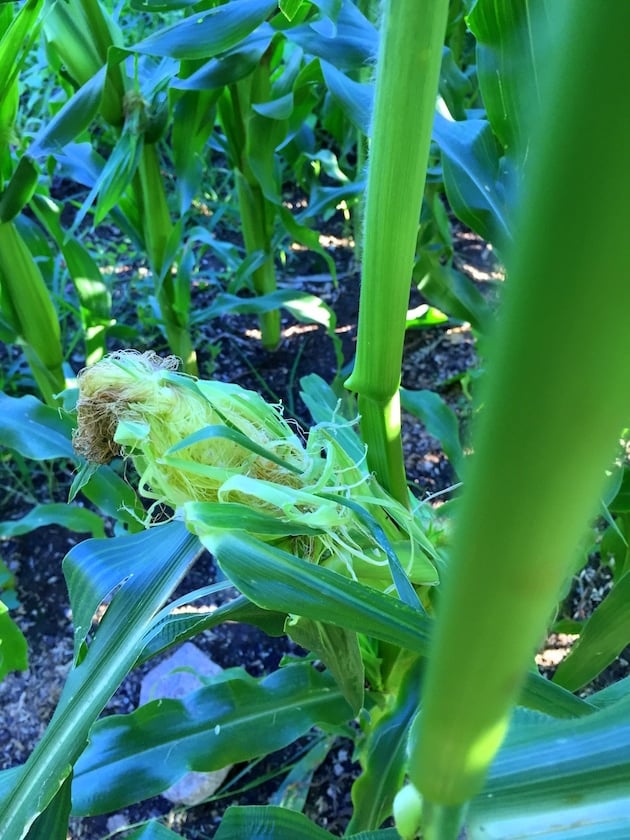 I allowed myself a few minutes to mourn my fallen stalks and then we went to work… or should I say war! Rather than crying over killed corn we decided we had two more solid rows of corn, and you better believe we were gonna eat them!
We did extensive research and by that I mean we googled "How to keep raccoons out of corn?" Honestly there wasn't a ton of hope for us. Other than an electric fence or having a dog live in the garden plot, not so many viable solutions. That is until I came across a slightly tedious but potentially effective remedy. Can you even stand the suspense?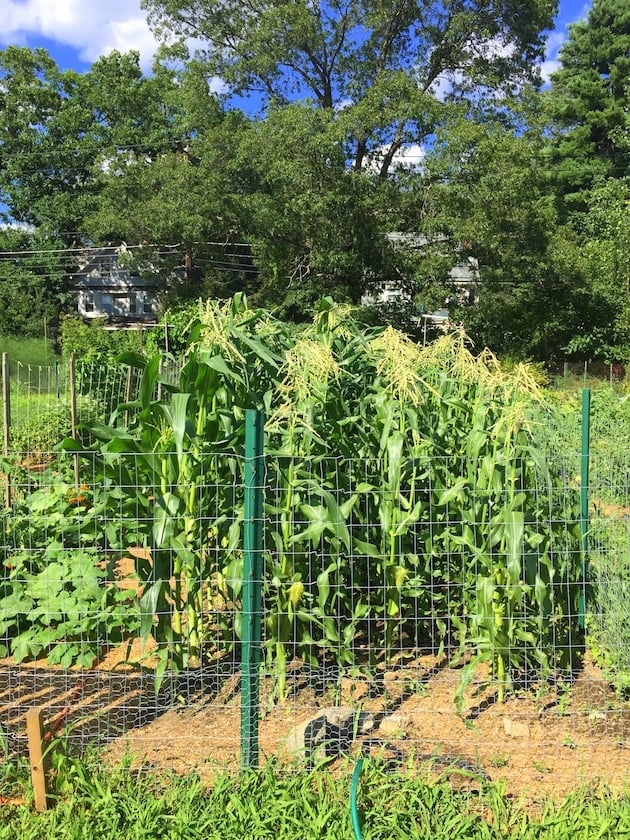 Somehow I found our corn-saving raccoon antidote!! The process involved purchasing enough brown paper lunch bags to fully cover each individual ear of corn. At the end of the day, just before sundown, you place a paper bag over each ear, being sure to completely cover each one. Then first thing the next day you remove the bags. And continue the process until the corn is completely ripe. For us that took about a week and a half. Apparently this makes the fragrant sweet corn smell less noticeable to raccoons, and also makes it a nuisance for them to get at the corn. Yay for lazy raccoons!!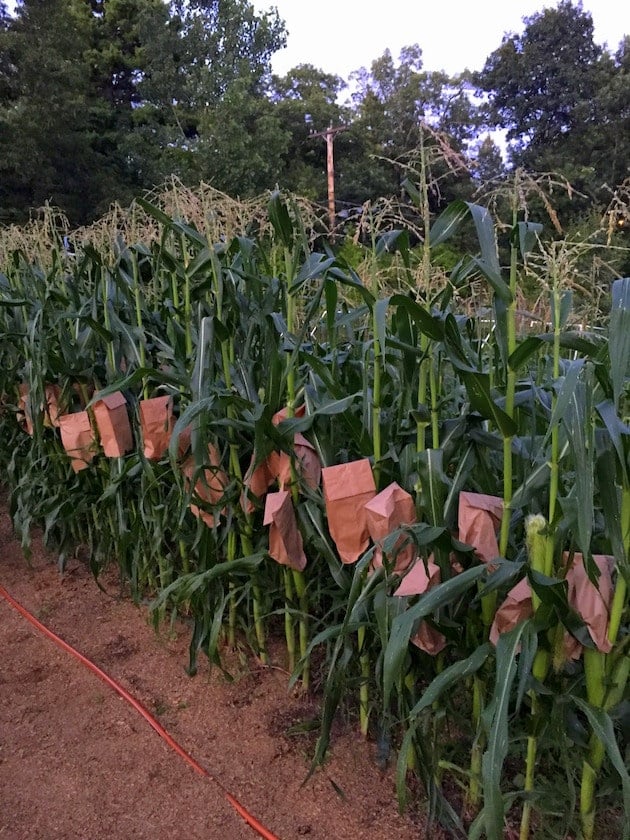 I'm overjoyed to report that it worked - we grew our sweet corn and we ate it too!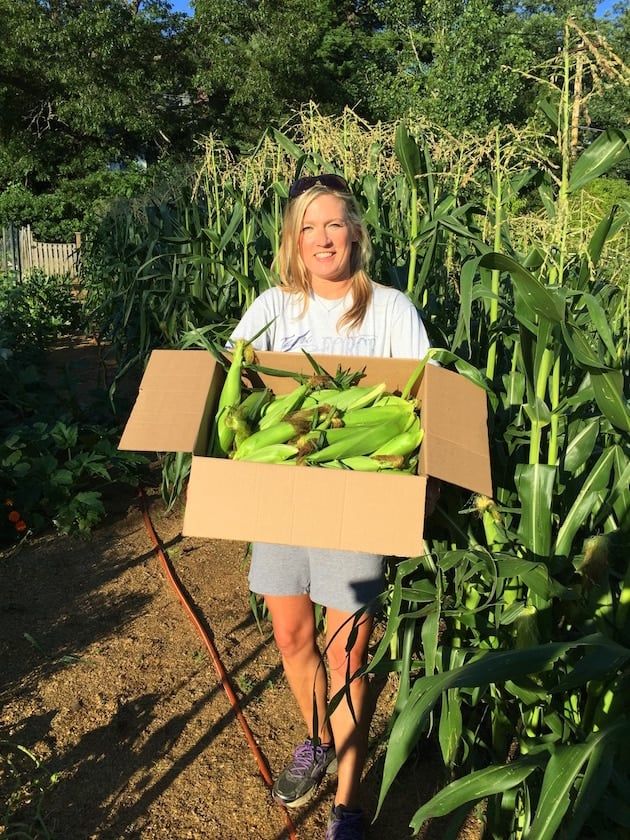 A side tidbit to share with you: the morning after the first night we placed the bags on the corn, the B man was heading over to remove them and noticed an animal that had been killed on the side of the road just outside our garden plot. It was a raccoon! It was as if Mr. Raccoon couldn't handle the disappointment of not partaking in the rest of our sweet golden corn kernels and he ended it all by throwing himself in front of a car. Ok – so that's probably not how it went down, but a coincidence? I think not!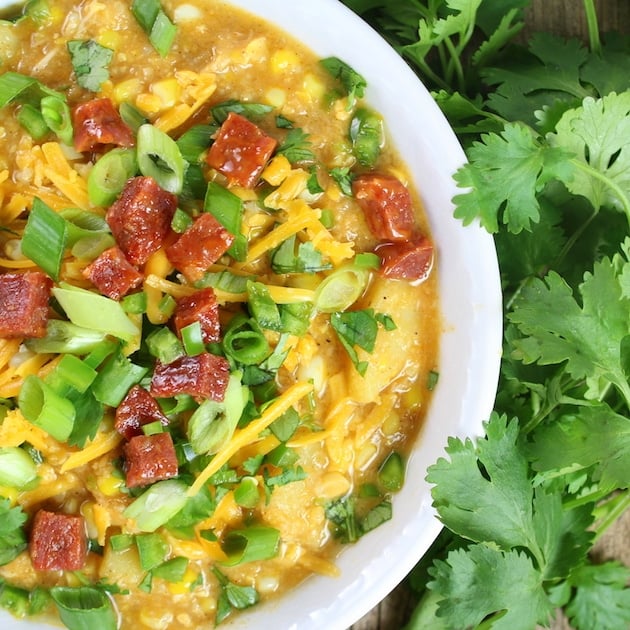 Everything I've learned about corn on the cob:
I thought I would pass along some tips on how to select the perfect ears for your own yummy pot of gold.
Fully ripe sweet corn has bright green, moist husks that are tightly wrapped against the cob.
Look for corn with well-filled in ears, with plump kernels. You should be able to feel individual kernels by pressing gently against the husk.
The kernels at the tip of the ear should be smaller than the rest—large kernels indicate corn that is overly mature.
The brown hair-like stuff coming out of the top is called silk. The silk at the tip should be stiff, dark and moist.
Each strand of silk is attached to a kernel of corn. When the corn is in the final development stage all the silk strands need to get pollinated in order for each kernel of corn to develop. Isn't that pretty miraculous?
Sweet corn should be refrigerated immediately and eaten 2-3 days after purchase, as the quality deteriorates rapidly after harvest. To retain moisture, leave the husks on until you are ready to prepare the corn.
As soon as corn is picked, its sugar begins to gradually convert to starch, which reduces the corn's natural sweetness. Corn will lose 25% or more of its sugar within 24 hours after harvesting it.
Refrigerating the corn helps it stay sweet by not letting the sugars turn to starch.
It is said that sweet corn has an 80:20 sugar-starch ratio when harvested but within 3 days that ratio will shift to 20:80.
If I'm not purchasing my corn straight from the farm I will add sugar to the water to replace any sweetness that has been lost. I add about a half a cup of sugar for a large pot of water.
If you need more info on how to buy corn or how to cook corn on the cob, check out How to Buy and Cook Corn on the Cob or this guide to Fresh Corn.
And if all of this wasn't enough, I also have a recipe for a delicious new take on a summer classic: Southwestern Chicken Corn Chowder! (Or is it "chowdah??")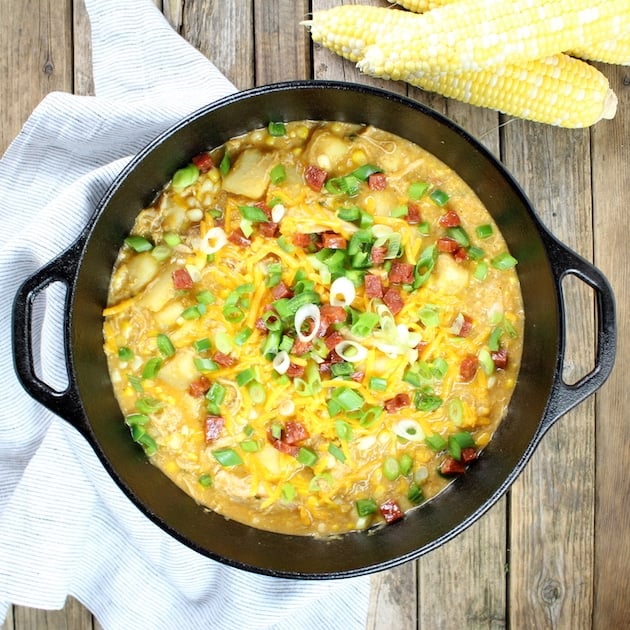 Chicken Corn Chowder!
This version is actually crazy good for you: it's low in fat thanks to unsweetened almond milk, chicken stock and roasted chicken breasts… full of tons of veggies like onions, garlic, potatoes, squash and jalapenos… and so flavorful with zesty spices like cumin and chipotle chili pepper… and of course perfectly sweet thanks to the star of our show fresh sweet corn! Bowl-licking good! Did I mention it's topped off with chorizo! It's all sweet and spicy and downright amazing!✨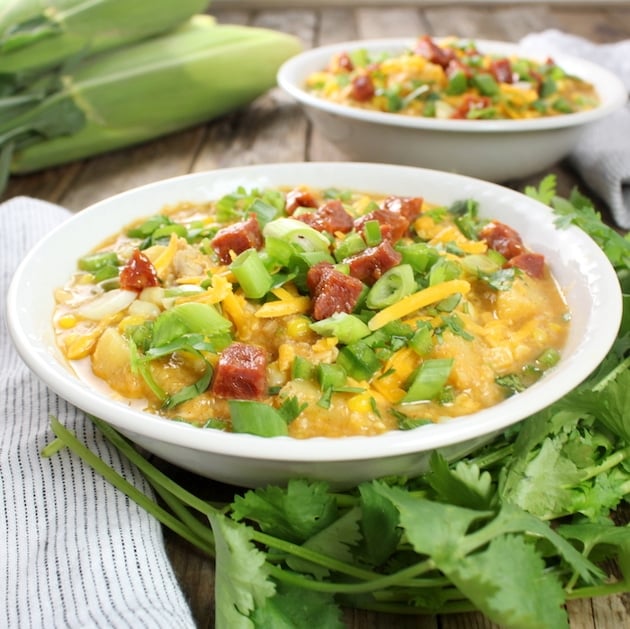 I use fresh corn and cut it off the cob for this recipe.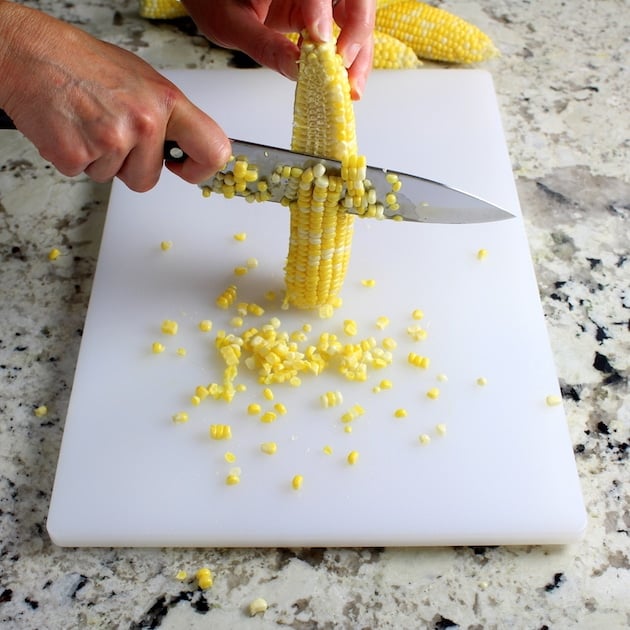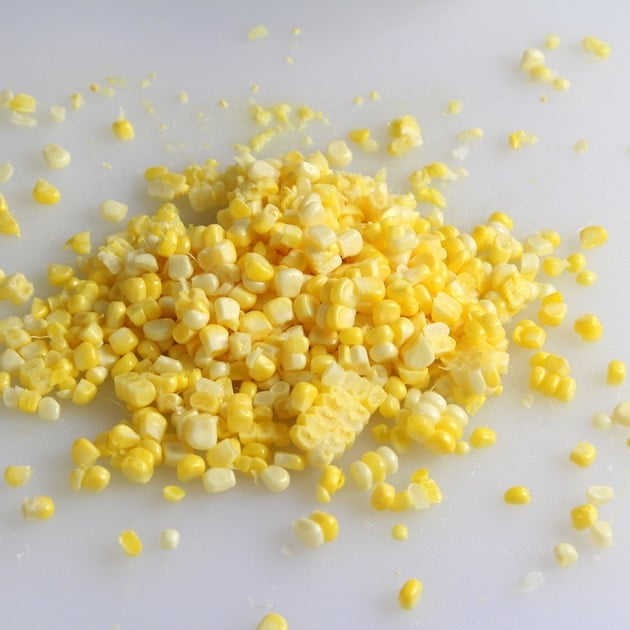 Usually I would cook the corn first and then cut off the kernels but there's no need to cook it twice… that's just a waste of time and it won't turn out as tender and delicious.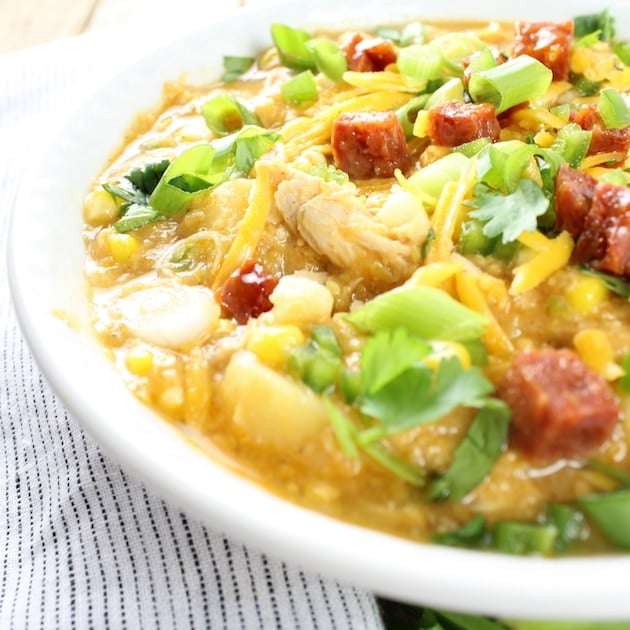 If there's no way around it you could also use frozen or canned corn. That would be a good option if you were craving this pot of gold come midwinter.❄️ But for the love of hungry raccoons everywhere, try to use fresh corn while you can this summer. Chances are it's readily available and on sale at your local grocery store or farmers market right now.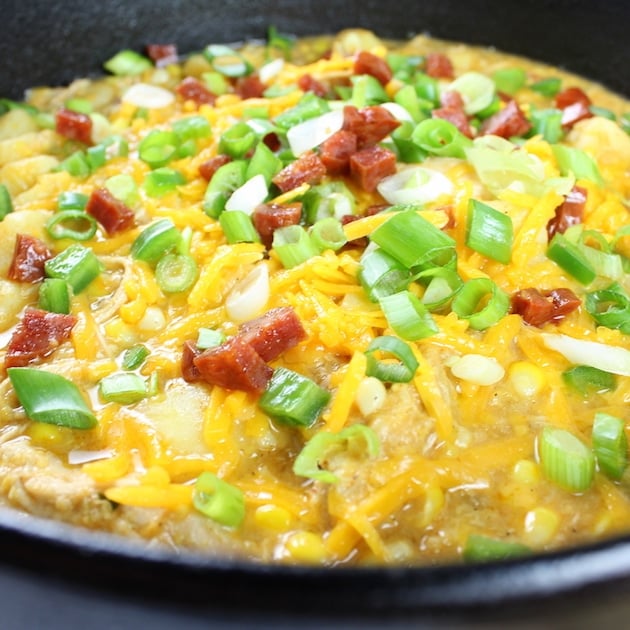 Southwestern Chicken Corn Chowder - a sweet and hearty flavorful meal all in one big bright sunny pot!☀️
I would love to connect with you! Leave a comment and follow me on Instagram, Twitter, Facebook, and Pinterest!
Yield: 12 servings
Southwestern Chicken Corn Chowder Recipe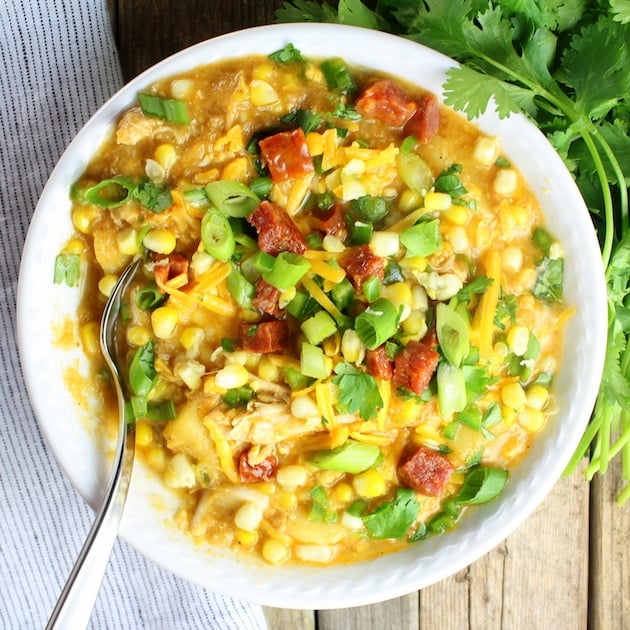 Southwestern Corn Chowder - sweet & hearty flavorful meal in one big bright sunny pot! With Chicken, Potatoes, Corn, Chorizo, Squash, Onion, & Jalapeño.
Ingredients
For The Chowder:
2 tablespoons olive oil
1 large yellow onion, chopped
3 Jalapeño peppers, ribs & seeds removed, finely chopped (use 2 peppers for the chowder and hold back 1 for garnish).
4 cloves of garlic, minced
1 ½ teaspoons chipotle chili pepper, (this adds a slightly hot and smoky flavor)
1 ½ teaspoons cumin
1 ½ teaspoons salt
1 teaspoon freshly ground black pepper
2 tablespoons flour
2 small yellow summer squash,, chopped
2 ½ cups unsweetened almond milk
6 cups fresh ears of sweet corn, cut off the cob (uncooked) (should yield 4 )
3 inch large Yukon gold potatoes, skins removed and chopped into 1 cubes
4 ounces shredded Monterey Jack cheese
15 ounces roasted chicken,, shredded into large chunks (I used a store bought rotisserie)
For The Garnish:
4 ounces dry cured chorizo, finely chopped
4 ounces shredded extra-sharp cheddar cheese
⅓ cup chopped cilantro
½ cup sliced green onions
Instructions
In a large Dutch oven, sauté chopped onion in olive oil over medium-high heat for 3 minutes. Add 2 chopped jalapeños and cook for 2 more minutes, then add garlic, chili powder, cumin, salt & pepper. Cook for another 30 seconds.
Stir in flour and cook for 2 minutes.
Add chopped squash, chicken stock, and milk. Bring to a boil, partially cover with a lid, and cook at a simmer for 8 minutes.
Add 2 cups of corn and cook for 5 minutes.
Reduce heat to low. Using an immersion blender, thoroughly blend the vegetables until they are finely pureed. (This is the immersion blender I use; you can also use a food processor or blender to process the chowder. *See note.)
Raise heat back to medium, then add the chopped potatoes and cook about 10 minutes.
Add 2 more cups of fresh uncooked corn, and cook for another 5 minutes.
Stir in Monterey Jack cheese, until melted. Fold in the shredded chicken and allow the chowder to cook for 2-3 more minutes to heat the chicken and combine into the chowder.
Serve while hot, and top with chorizo, shredded cheddar cheese, chopped jalapeño, cilantro, & green onions.
Notes
You can substitute the smoky chili pepper spice for smoked paprika or chili powder if preferred.
Use a little more almond milk to loosen the chowder when reheating.
Frozen sweet corn can be substituted for fresh corn.
To process chowder in a blender you need to take caution and follow these steps to prevent it from exploding hot soup everywhere:
Fill the blender no more than halfway with soup.
Place the lid on the blender and remove the small cap.
Cover the hole with a thick folded kitchen towel, holding it in place with your hand.
Start the blender on low; slowly lift up the towel to let some of the steam escape.
After it starts to purée, turn up the power to reach your desired consistency. Being sure to continue to allow steam to escape.
Nutrition Information
Yield
12
Serving Size
6-8 ounces
Amount Per Serving
Calories

316
Total Fat

17g
Saturated Fat

6g
Unsaturated Fat

0g
Cholesterol

61mg
Sodium

768mg
Carbohydrates

22g
Fiber

2g
Sugar

5g
Protein

21g
Looking for more amazing soup recipes?