Spicy and Sweet Brussels Sprouts – an explosion of tangy, sweet and zesty flavors.  A quick and easy side dish that you'll make again and again.?
I can't seem to get enough of veggies lately.  I think it's because I spend so much time either thinking about my garden, or tending to it.  The more I'm around those radishes and squash… the more I want to eat them.  That is if the voles – yes I said "voles" – don't eat them first!?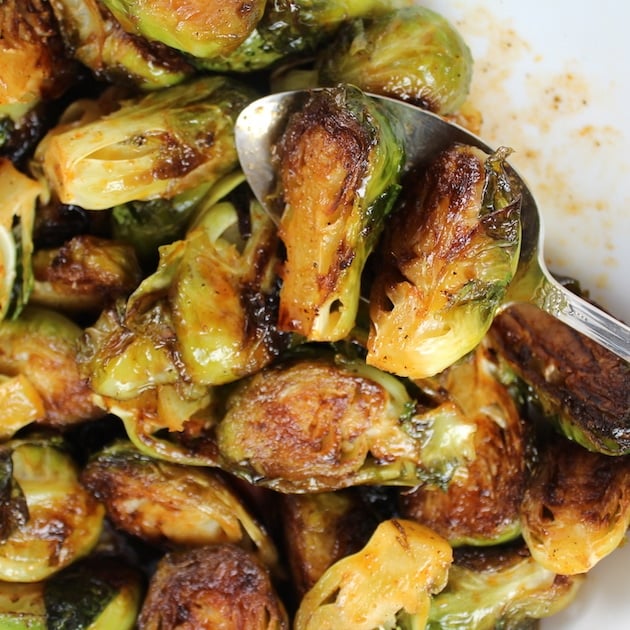 Before my gardening career in New England I had no idea what a vole was.  Just in case you haven't been introduced to these pesky creatures, I'll divulge.  Apparently they are similar to a mole in that they are small rodents that burrow and do subterranean damage, but a mole prefers a more carnivorous diet (worms, grubs and adult insects) where a vole is a vegetarian.  Thus the incredible attraction to my garden!!?
And since the ones in my garden are so well-fed, these guys happen to be a bit on the large size. Yes, I am unintentionally raising a family of fat, happy voles.?
There's not too much to be done about my well-fed guests that have taken up residence under my large squash plants, except learn to coexist.  I mean there's enough squash and zucchini for all of us – right??
Umm let me think about that… ahhh that's a big N – O‼️  I've worked too long and hard to share my veggies with an ungrateful rodent.  It is so frustrating!  They take a few bites out of a beautiful zucchini and just leave it there.  I have an idea Mr. Picky Pants, since you really don't care for my zucchini stop sampling them!  For real though – stop it already!?  Or at least have the decency to finish your meal you garden veggie snob.
The B man has had enough.  He's decided he's not going out like this.  He's been researching and plotting on the best way to eradicate or let's just say permanently "relocate" our unwanted fury guests.  I'll spare you all the details but let's just say the vole's days are numbered – and the number I have in mind is less than one, and rhymes with "hero."  Sanderino to the rescue!  (superman emoji)
Speaking of gardens and veggies and heroes… one bite of these Spicy and Sweet Brussels Sprouts and you'll be your family's hero!?
I have to say I've been crushing on these little guys for a while now.  They are crunchy and bite-sized and act like little sponges, soaking up whatever goodness you cook them with.?  They are so versatile!  A couple of my other favorite flavors are these Balsamic Glazed Brussels Sprouts or these Asiago Cheese Brussels Sprouts.
If you've been following Taste And See for a while, you know my preferred method of cooking Brussels sprouts is on the stove in a sauté pan with some olive oil.  I love that it takes only 10 minutes to produce a beautifully golden seared, slightly crunchy sprout, with not even a hint of bitterness.   I really feel like I've cracked the code on making these veggies brains the best they can be.  Truly Brussels sprout perfection.✨  Not even exaggerating.?
This preparation is literally the perfect balance of spicy, tangy and sweet.
First you salt and pepper them.  Then sauté cut side down for 5 minutes on medium-high heat.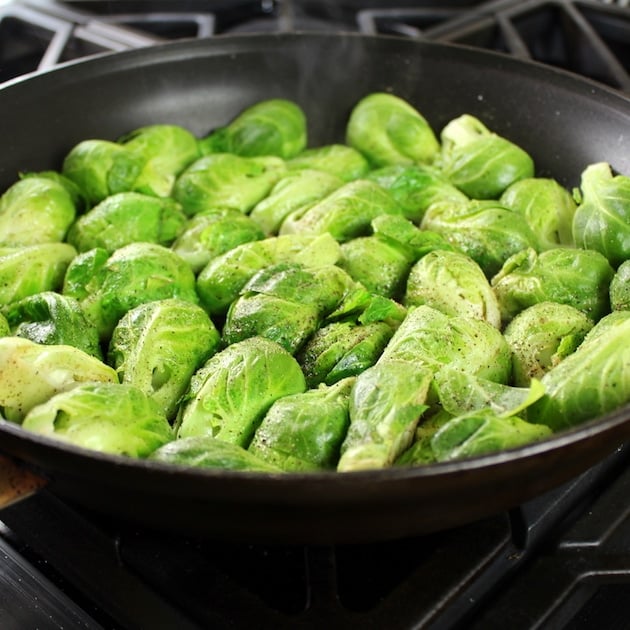 Next turn them all over and cook for 3 more minutes, add in the prepared Sriracha, honey, lime juice mixture, toss, and cook for 2 more minutes.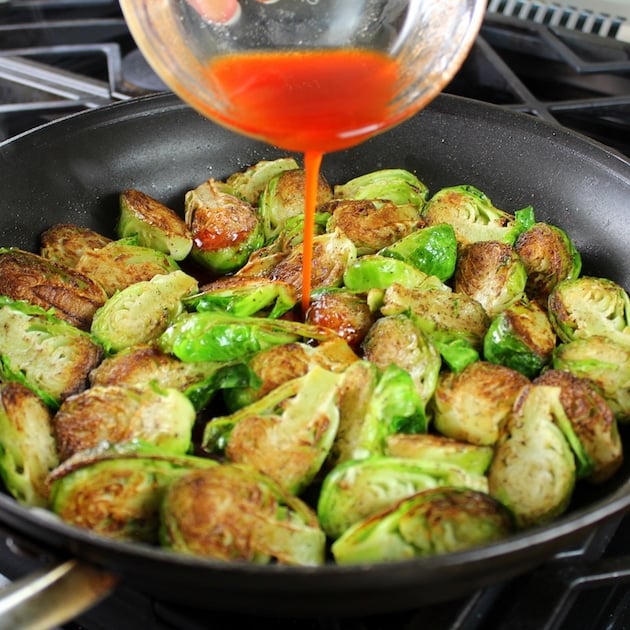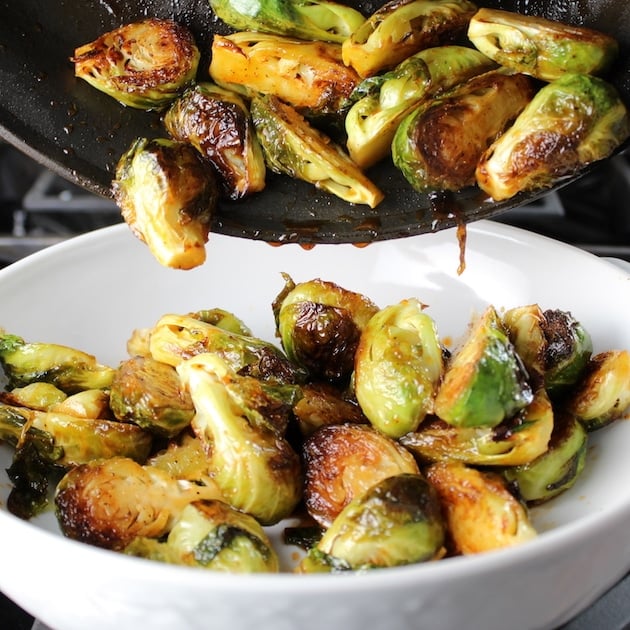 Now try your best to not eat them all before you serve them.  Maybe have some frozen broccoli on hand in case the Spicy and Sweet Brussels Sprouts mysteriously disappear (wink wink).  What can I say?  I'm here for you.  Delicious recipes that make you look like a superhero, along with suggestions on how to keep them all to yourself.?✌️  You're so welcome!!?
I would love to connect with you!  Leave a comment and follow me on Instagram, Twitter, Facebook, and Pinterest!
If you're looking for more delicious veggie ideas, check these out! 
Grilled Broccoli with Garlic Roasted Red Pepper Sauce: