This Strawberry Lemon Creme Crepe Cake Recipe is light and creamy and perfectly sweet!  With mascarpone cheese, lemon juice, fresh strawberries, and buttermilk crepes – it's the perfect recipe for celebrating a Happy Valentine's Day and sharing the love this holiday.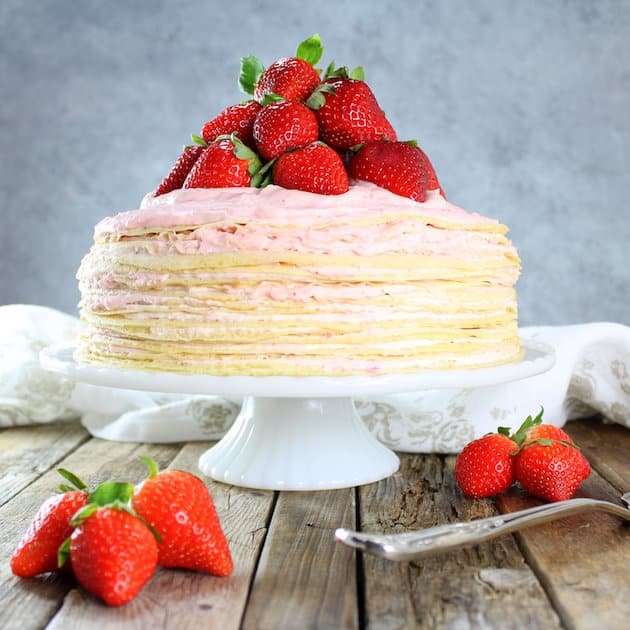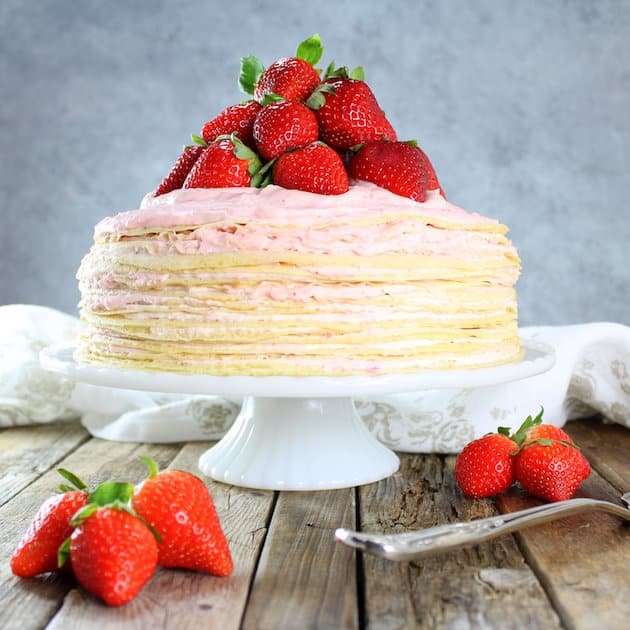 Strawberry Lemon Creme Crepe Cake
Strawberry Lemon Creme Crepe Cake - light and creamy and perfectly sweet!

Ingredients
For The Crepes:
2

cups

buttermilk

2

cups

almond milk

4

cups

flour, sifted

1

teaspoon

salt

½

cup

sugar

4

eggs
For The Strawberry Lemon Creme:
3

tablespoons

plus one teaspoon lemon juice

3/4

cup

powdered sugar

2

cups

mascarpone cheese

2

cups

heavy whipping cream

2

cups

sliced strawberries washed, dried, then pureed (1 cup pureed strawberries)

12

additional strawberries for the top
Instructions
For The Crepes:
Mix all the crepe ingredients together except the eggs and beat until very smooth (no lumps). Beat the eggs in a separate bowl, then whisk into the crepe batter until completely incorporated.

Over a medium high heat burner, add 1 teaspoon vegetable oil to a hot 10-inch non-stick pan. Use a paper towel to quickly spread it around, and remove any visible pooling oil.

Put the pan on the heated burner and allow to cook until the crepe looks dry – about 20 seconds. The edges of the crepe should pull away from the pan.

Use a spatula to gently flip the crepe, then cook for about 20 more seconds. Check the underneath side to make sure it's cooked and slightly golden. Remove crepe from the pan and place on wax paper. Continue until all the batter is gone, layering wax paper between each crepe. Allow crepes to completely cool.
For The Strawberry Lemon Creme:
Mix lemon juice, powdered sugar and mascarpone together in a medium size bowl and set aside.

Whip the heavy cream until soft peaks form. Add the mascarpone mixture to the whipping cream, and gently fold together until completely mixed. Add the pureed strawberries and mix on low until thoroughly mixed together.
To Assemble:
Once crepes are cool you can assemble the cake. Start with one crepe face-down on a cake plate or serving dish. Spread two heaping tablespoons of strawberry lemon creme evenly over each crepe.

Add the next crepe and continue until cake is assembled.

Spread the remaining strawberry lemon creme on the top of the cake. The top layer should be much thicker than the other cream layers.

Top with whole or sliced strawberries, chill for 30 minutes, and enjoy.
Recipe Notes
This cake is not overly sweet, by design. It's more of a light creamy dessert.  If you prefer desserts on the sweeter side, I recommend alternating between the Strawberry Lemon Mascarpone mixture, and seedless strawberry jam when assembling the cake.  You will only need to make half of the creme mixture in the recipe if you choose to do this.  Use only two level tablespoons of jam for every other crepe layer, and two heaping tablespoons of strawberry lemon creme mixture for the others.  Top with the remaining creme, and strawberries.
MY LATEST VIDEOS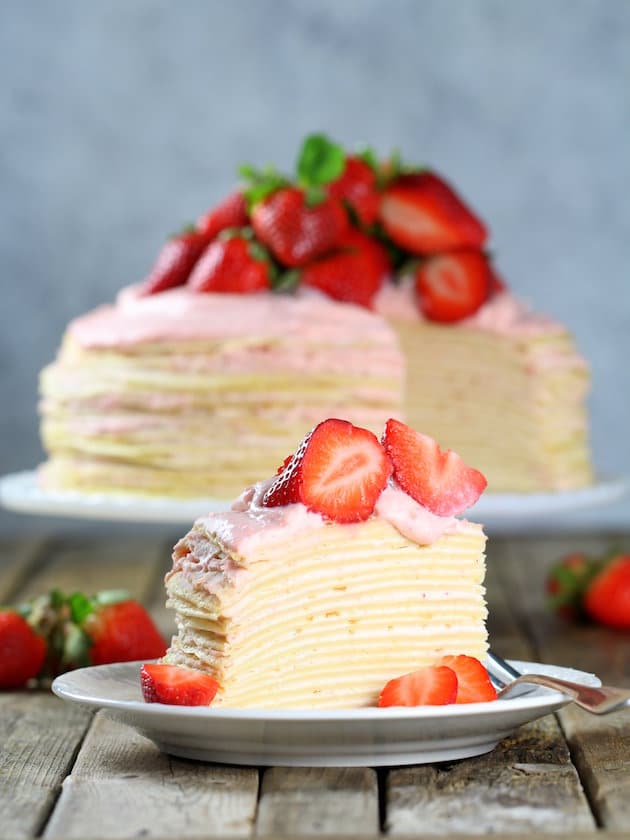 Looking for more sweetness for your sweetie?