This Strawberry Lemon Creme Crepe Cake is light and creamy and perfectly sweet!  With mascarpone cheese, lemon juice, fresh strawberries, and buttermilk crepes – it's the perfect recipe for celebrating a Happy Valentine's Day and sharing the love this holiday.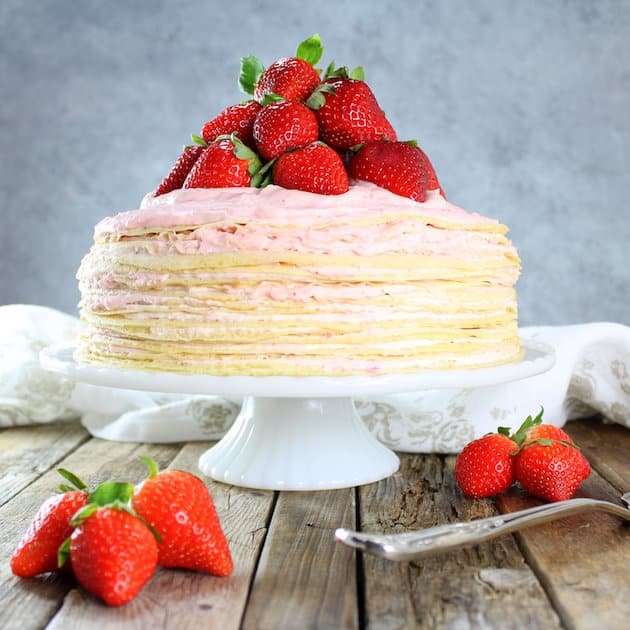 Is Valentine's Day just for kids?  Giving out valentine cards and sweet treats to all your friends and classmates?  In theory, it's a really nice idea.  A day centered around being sweet to others.  And most especially your sweetest sweetie.❤️
I remember in grade school I would collect Valentines like they were priceless valuables.  Taking time to open each one, carefully reading the words, lining them up like little men, and savoring all of their cuteness.💌  Ahh, the innocence of days gone by.  The good ole' days when we took the time to encourage one another with a sweetly written note.✏️
Many people say it was a holiday created by Hallmark so you'd have a reason to buy a card between Christmas and Easter, unless of course, you're a big card giver on St. Patrick's Day.🍀  I mean it's not easy being green.  And we must all do our part to stimulate the economy.💵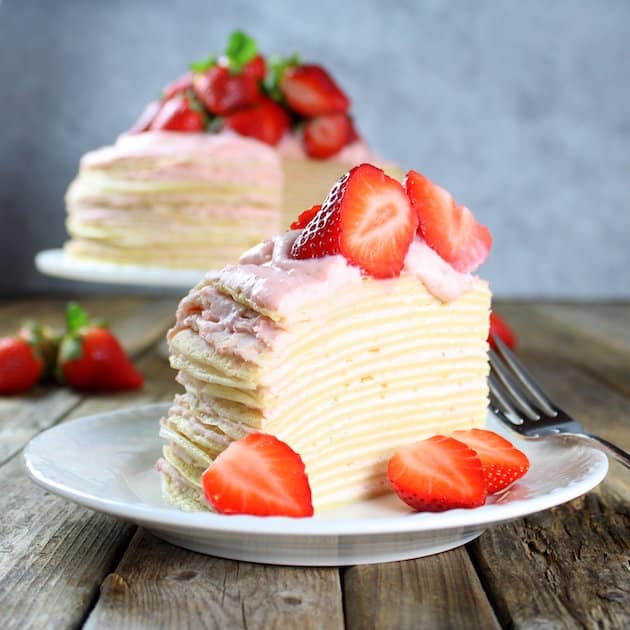 The month of February is kind of a big deal for our family.  My mom and dads' birthdays were both in the love month.  They're no longer with us in body, just spirit and always in our memories.💕
My in-laws' anniversary is also this month.💑  Isn't that sweet – AND they got married in Tahoe, in matching black turtlenecks.  Not sure why I remember that random tidbit but it makes me smile.😄
Then there's my sweetie's B-Day.  No, not the B man – my other sweetie… my nephew Nathan.😍😍  I've mentioned him before, he is my sweet nephew who is now a sweet husband, father, and author.  Lots more heart eyes.
I told you this was a big month for us.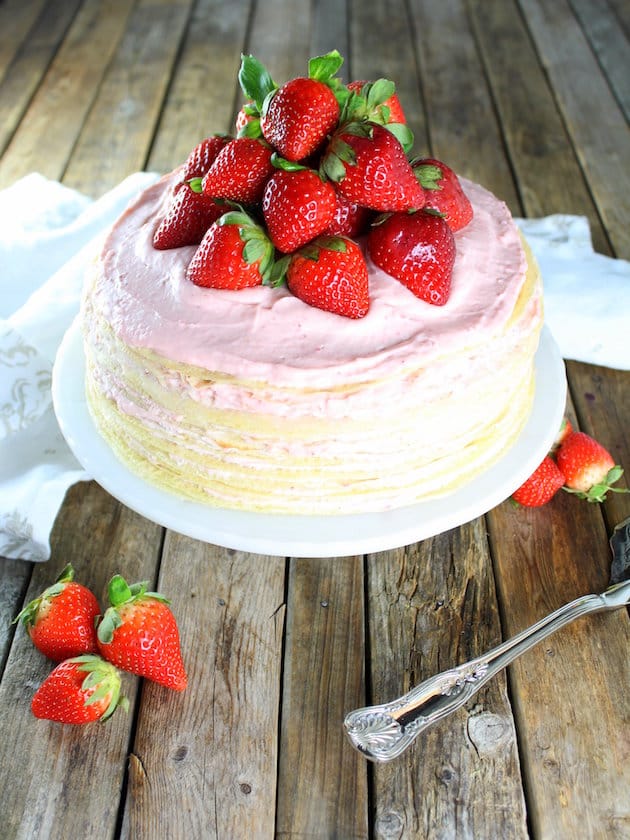 How do you and your family celebrate the month of love?  Any special Valentine's Day traditions?  Baking cookies with the kiddos?🍪  Getting a sitter and enjoying a night out with your boo-bear?👫
The B man and I usually celebrate by going out to dinner to a place we don't normally visit.  This is a big treat for me because as you can imagine, I'm usually the one making the meals around here.  Cards are exchanged (sometimes home-made), flowers are delivered, cigars are smoked, and our love is celebrated.❤️  Ok so not really the cigar part but it was really funny in my head.😂  Not so much?? Moving on.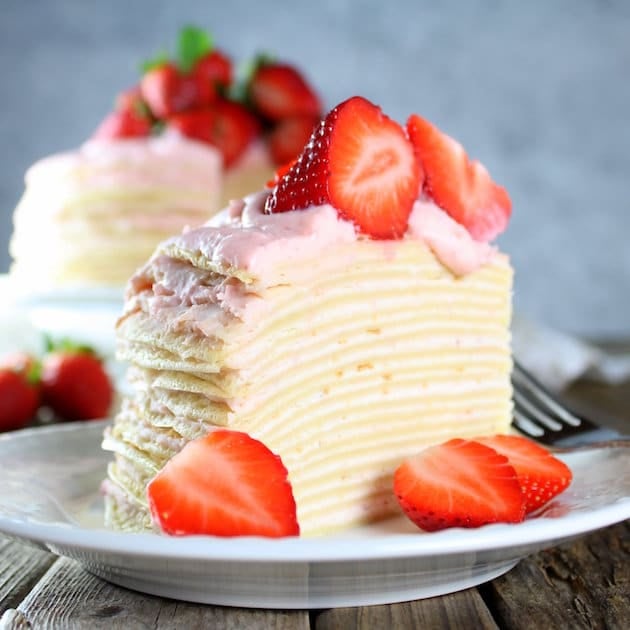 This year I have something else I'm pondering.🤔
My mind drifts off thinking about those who don't have someone extra special to share the day with.  Friends who long to be loved but haven't found that special someone.  Or even those who did but for whatever reason don't have them anymore.  So maybe this "lovely" holiday actually becomes a dread, a reminder of what isn't, or what use to be sweet but is now bitter.
All of this got me thinking.  What if we made V-Day more than a Hallmark holiday?  More than candy grams and chocolates?  More than flowers and cigars?  (Just making sure you're paying attention and a little comic relief.🤗)
What if we not only celebrated the "love of our life" but the "loves of our lives"?  What if we all took 5 minutes and made a list of 5 people we know that could use a little extra loving this Valentine's Day?👍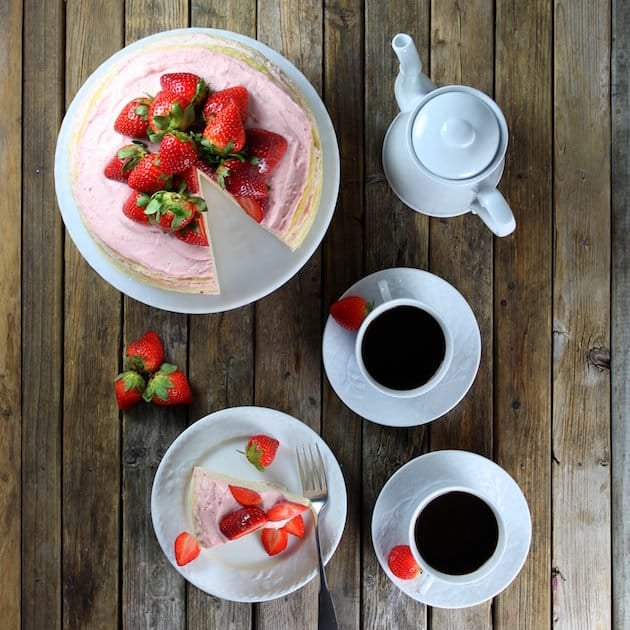 It could be a divorced friend, a widowed neighbor, or a single classmate or co-worker.  Maybe it's a family member that lost their job or a teenager that is struggling to be accepted at school.  Your list might be 10 or 20 people long.  And probably should be – we all know people who could use some encouragement.👌
And maybe, just maybe, that someone is you.  Maybe you need some reassuring, consoling or cheering up.  If so, this is even more the reason for you participate in sharing the love-fest 2017.💗
Because as we all know…"it's better to give than to receive".  No, for real.  How great do you feel when you give someone a gift?  Whether that's taking the time to meet for coffee, a sweet note delivered by carrier pigeon or cell phone, or a Dunkin Donuts or Starbucks gift card.  You feel awesome – right!?
Then share the love, my friend.  Because we all need it and it's the best gift we could give.💯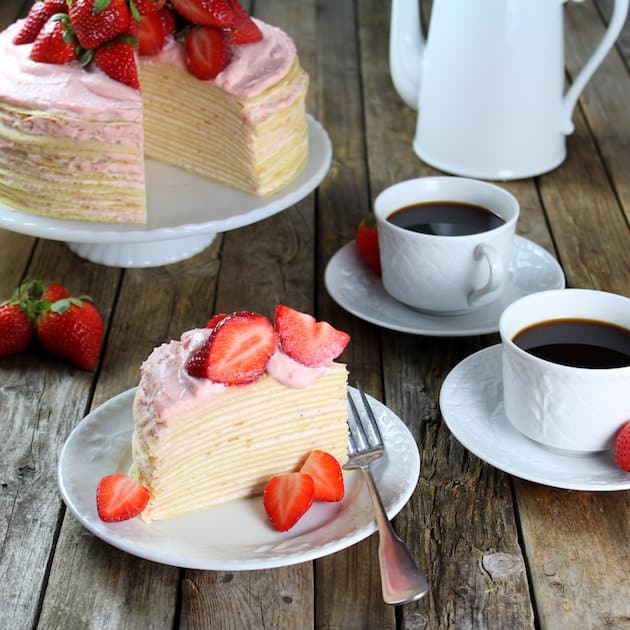 So, I'm not real sure how I got up here on this soapbox but before I get down, will you join me in this challenge?  Will you take a lesson from our grade school Valentine-sharing days gone by?  In whatever way you can – will you take the time to be sweet to others this holiday?  I'm so proud of you!!!👏
I promise – I'm getting down before I break something.
Now it's time for me to share the love with you, I give you… the Strawberry Lemon Creme Crepe Cake!!!🍓🍋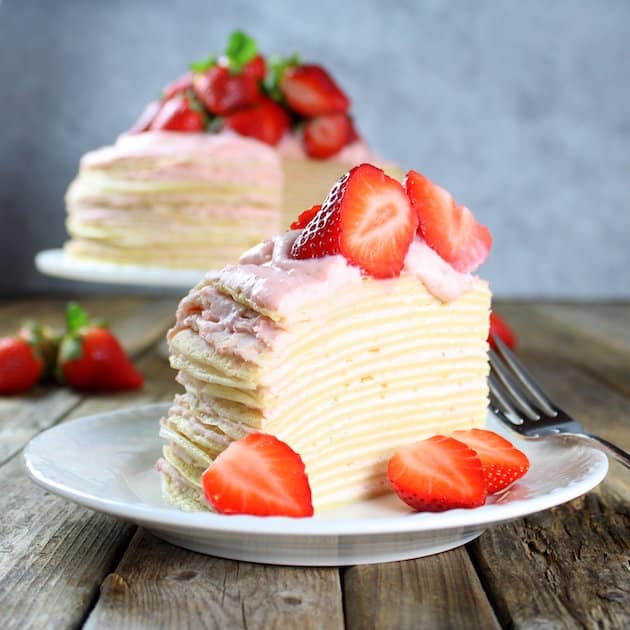 This crepe cake recipe is creamy, and lite, and perfectly sweet.  Plus, there are crepes!!😋
Oh, how I love crepes!!💟  Crepes for dessert, crepes for dinner, crepes for anytime you want something delightfully delicious!
I was always intimidated by the thought of making them.  I didn't feel qualified to create something so delicate and special. Then one day I just did it.  I made manicotti and used homemade crepes instead of noodles.  In a word, fabulous!✨  And the best part – I made them myself!!💁
How To Make Crepes For This Strawberry Lemon Creme Crepe Cake: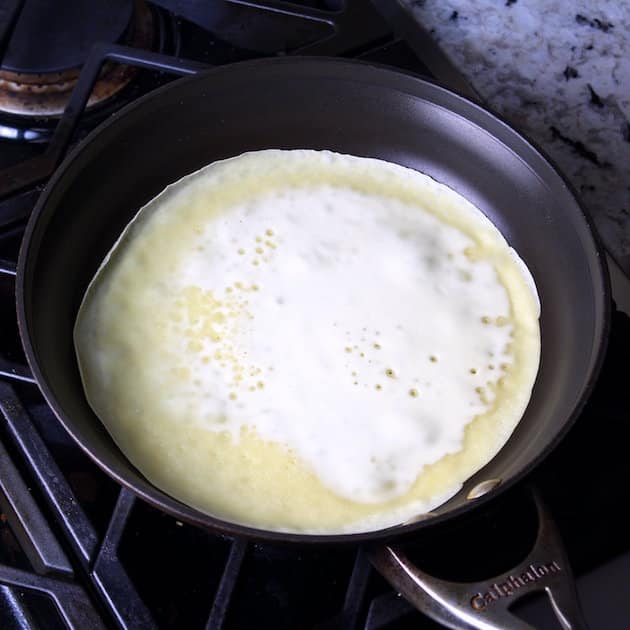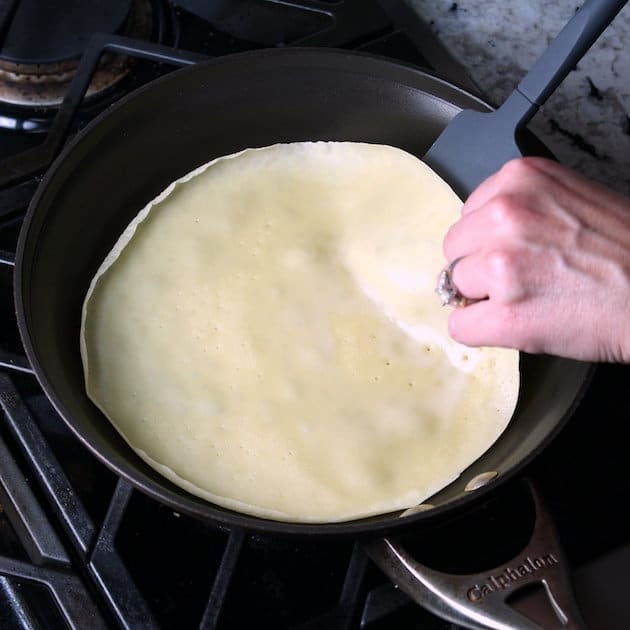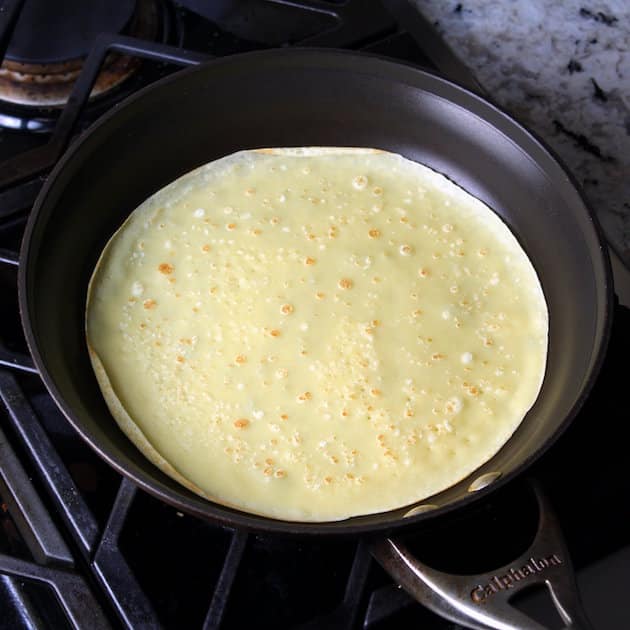 It was so rewarding AND it's so easy to make a crepe cake!  Are you convinced??  'Cause I can go on for days.  But not really because there's more yumminess to tell you about…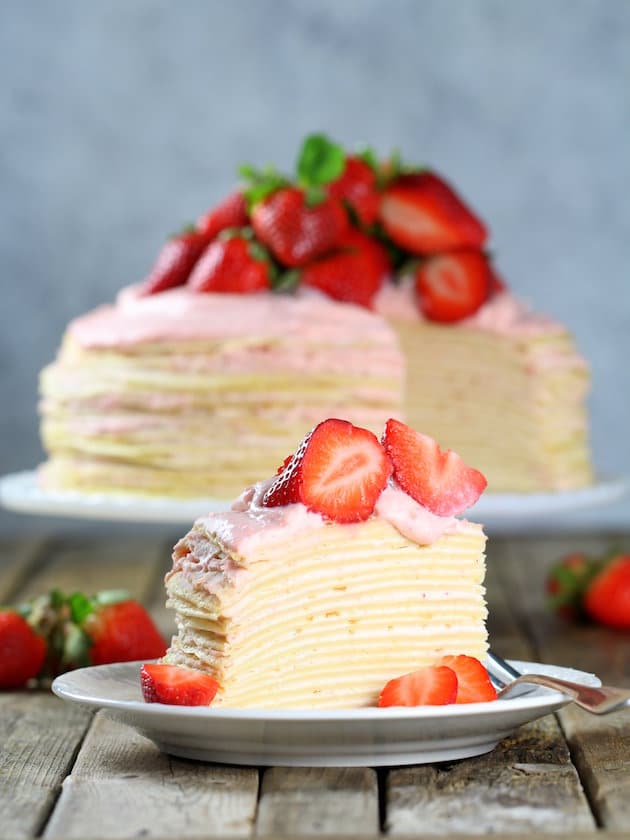 The strawberry lemon creme – Mmm.  It's a mixture of mascarpone, whipping cream, fresh lemon juice, fresh pureed strawberries, and powdered sugar.  So light and creamy and satisfyingly sweet.
And that's really all you need to make this show-stopping, yummy dessert.  Well, that and a few more strawberries for the top.👇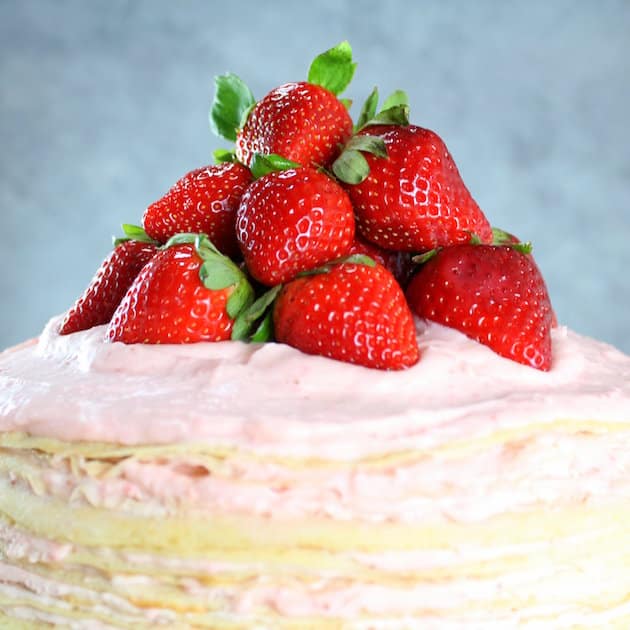 Now the assembly can begin: You start with one crepe face down, spread on two heaping tablespoons of the strawberry lemon crème and repeat with all the crepes.  Then slather the rest of the creamy mascarpone goodness on top, add your fresh strawberries, and voila – your Strawberry Lemon Creme Crepe Cake is complete!🌟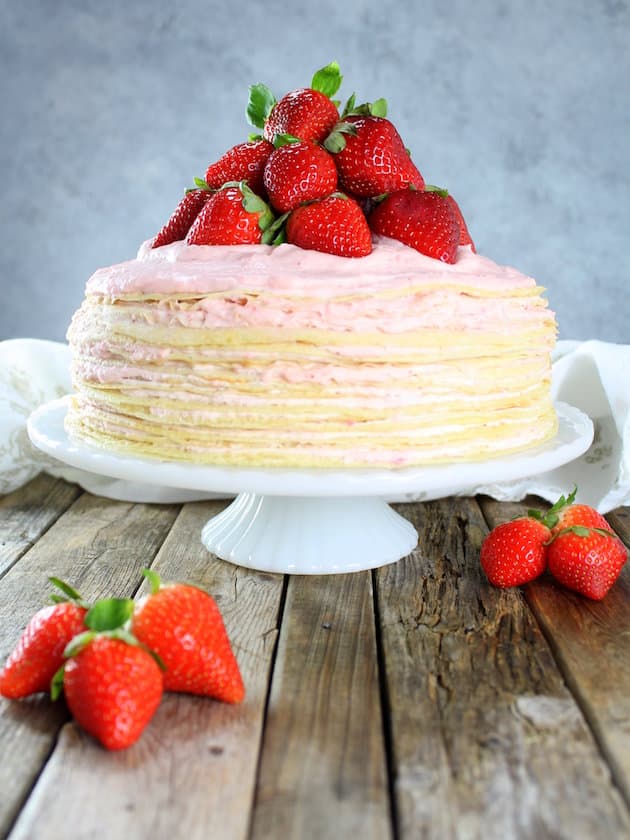 This special dessert is the perfect sweet treat to share with all the loves in your life.  Whether that's your sweetheart, the precious cherub babies living under your roof, or those friends, family members or co-workers that could use some extra loving – be extra sweet and spread the love this Valentine's Day!💌
Happy Heart Day my friend!!  Love & hugs from me and B!💖
I would love to connect with you!  Leave a comment and follow me on Instagram, Twitter, Facebook, & Pinterest!
Strawberry Lemon Creme Crepe Cake!
Click To Tweet
Looking for more sweetness for your sweetie?