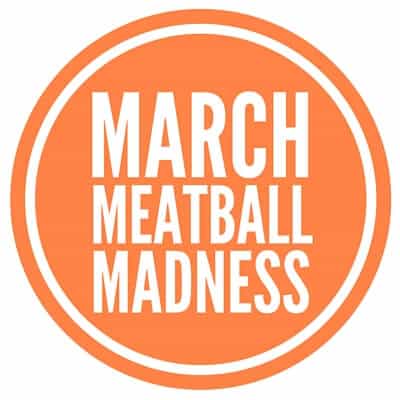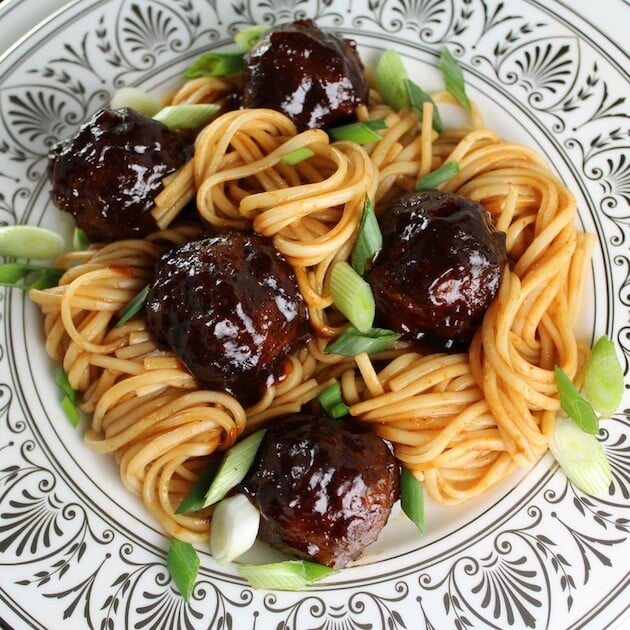 If you're looking for an easy and delicious weeknight dinner, these Sweet and Tangy Asian Meatballs are your new BFF.
Is anyone keeping up with March Madness?? You know one of the most watched sports championships ever? Well, as of yesterday we're down to the Sweet 16 (final 16 college basketball teams left in the tourney.) By Sunday the Sweet 16 will become the Final Four. I know – it's all very exciting, but what does this have to do with Meatballs??? Let me break-it-down for you!
We're all about meatballs… and it's March… so March Meatball Madness it is! (I know – rocket science going on over here.) And this week it's getting even sweeter around here with our Sweet and Tangy Asian Meatballs! What can I say? Sweetness is my weakness. Can I get a woot woot?
If you're just tuning in to meatball mania at Taste And See you've got some catching up to do. We've been shooting out all kinds of amazingness the last three weeks.✨ Who needs a recap???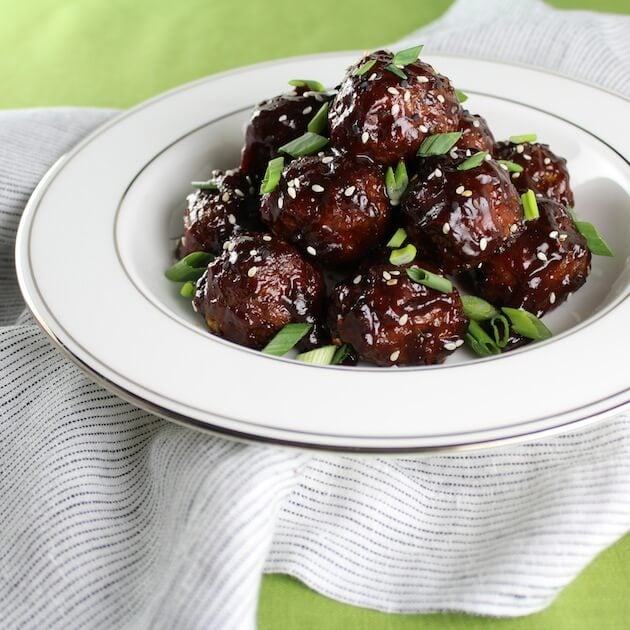 First there were the Buffalo Chicken Meatballs – so good they made an appearance on the Today Show. Yup – that's right – the TODAY SHOW! It may have only been for 25.3 seconds but who's counting?? Then there were the Lamb Meatballs– a personal family favorite over here with the addition of feta mixed into the little guys and a pool of tzatziki yogurt sauce to drench them in – I'm having a major MWM (mouth-watering moment) over here!!
Next in the line-up was the Italian Parmigiana Meatballs smothered in mozzarella and Parmesan cheese, coated in marinara sauce, and tucked into fluffy club rolls AKA pillows from heaven.☁ YUM!
And this week we're in a full-court press bringing the heat with these Sweet & Tangy Asian Meatballs. There's so much to love about these balls of goodness. They are jam-packed with flavor and sooo easy to make.
Let me highlight some of the drool-worthy ingredients in this week's masterpiece: minced garlic, yellow onion, fresh ginger, green onions, soy sauce, Gochujang (a sweet and slightly spicy Korean chili sauce), plus eggs, salt, pepper, and almond meal – my substitute for breadcrumbs cause I'm all about more protein sans the gluten.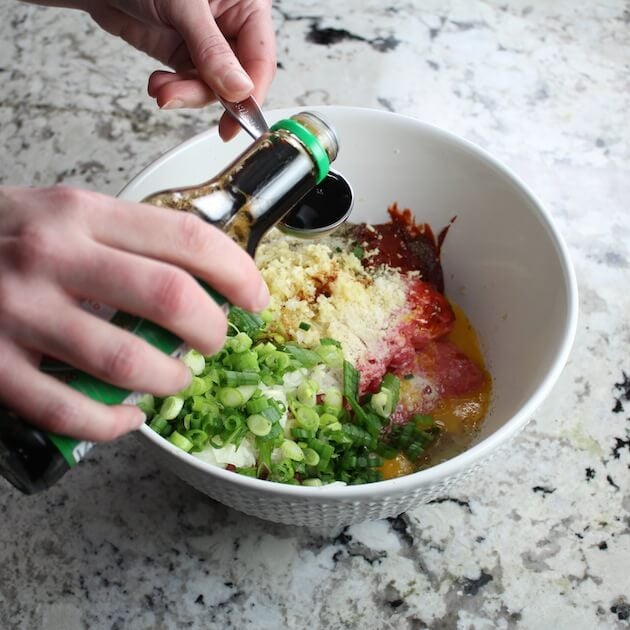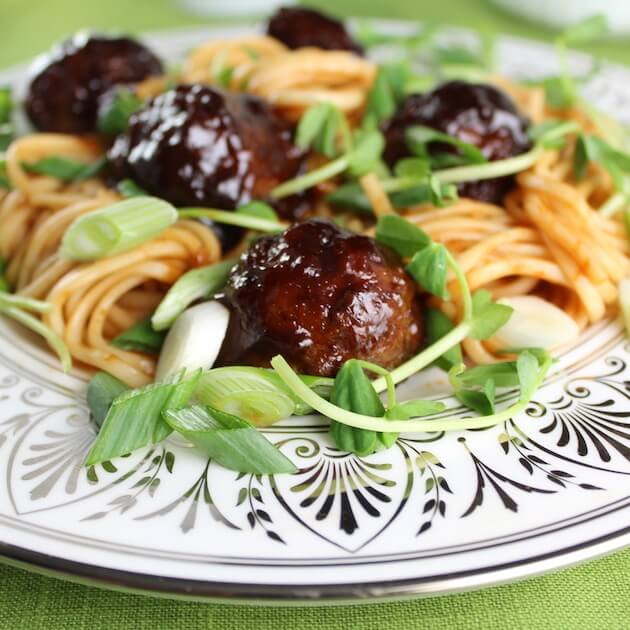 Here's a little drill I like to do now and then: think about your favorite Asian restaurant, then think about your favorite dish and how happy you are eating it, now picture yourself in your own kitchen with your family having that same experience – but better, because you paid a fraction of the cost and it's actually healthy!!!
Well, as long as you don't eat all 34 meatballs in one setting! (Proceed with caution my friends 'cause they're slightly addicting.)
These Sweet & Tangy Asian Meatballs are a triple-double in the recipe department! I know what you're thinking…what would you do without me? Good news – you'll never have to find out!
R-O-W-D-I-E, that's the way we spell rowdie, rowdie… let's get ROWDIE!
Lezzz Gooooo!
Yield: 10 servings
Sweet And Tangy Asian Meatballs
Sweet And Tangy Asian Meatballs - with onion, ginger, green onions, soy, Gochujang, and more. Jam-packed with flavor and so easy to make!
Ingredients
For The Meatballs:
1/2 cup almond meal, (or breadcrumbs)
16 ounces ground beef, 85 percent lean
16 ounces ground pork
4 cloves garlic, minced
1/2 small yellow onion, grated
3 green onions finely chopped, (whites + greens)
1 tablespoon fresh ginger root, peeled and grated
2 large eggs
2 tablespoon Gochujang Korean chili sauce
2 tablespoons reduced sodium soy sauce, (or reduced sodium/gluten free Tamari)
1 teaspoon salt and black pepper
For The Sauce:
2/3 cup hoisin sauce
1/4 cup seasoned rice vinegar
2 tablespoons Gochujang Korean chili sauce
2 tablespoons reduced sodium soy sauce, (or reduced sodium/gluten free Tamari)
1 teaspoon garlic powder
1/2 teaspoon ginger powder
Serve over fine Udon noodles (Asian pasta) or jasmine rice
For The Garnish:
Toasted sesame seeds
Scallions chopped on the diagonal
Pea shoots
Chopped peanuts
Lime wedges
Instructions
For The Meatballs:
Preheat oven to 400 degrees and line a baking sheet with parchment paper.
Gently mix together almond meal (or bread crumbs), meat, garlic, yellow onion, green onions, ginger root, eggs, Gochujang, soy sauce, salt and pepper.
Spray hands with cooking spray to make handling the meatballs easier. Use a 1 ½ inch scoop to ensure each meatball is the same size, and roll them by hand to give them a nice round shape before placing them evenly on the cookie sheet (this recipe should produce 34 meatballs).
Bake for about 20 minutes or until meatballs are cooked through.
While meatballs are baking steam the rice/cook the Asian noodles and set aside. If using Asian noodles gently fold in 1/4 of the sauce mixture.
Once cooked, place meatballs in a large bowl and gently fold in 3/4 of the sauce.
For The Sauce:
While meatballs are baking, in a small sauce pot over medium heat, stir in hoisin sauce, rice vinegar, Gochujang sauce, soy sauce, garlic powder, ginger powder and bring to a simmer.
Let cook for 1-2 minutes and set aside until meatballs are ready.
To Serve:
Place the sauce-coated Udon Noodles onto plates, top with sauce-coated meatballs.
Garnish with pea shoots, scallions, sesame seeds, chopped peanuts and a squeeze of fresh lime juice.
Nutrition Information
Yield
10
Serving Size
2 meatballs w/noodles
Amount Per Serving
Calories

492
Total Fat

24g
Saturated Fat

8g
Trans Fat

0g
Unsaturated Fat

14g
Cholesterol

127mg
Sodium

1446mg
Carbohydrates

34g
Fiber

4g
Sugar

12g
Protein

35g
This nutrition card uses an estimate provided by an online nutrition calculator. This estimate is not a substitute for a professional nutritionist's advice!
Looking for more amazing meatball recipes?
Check out my March Meatball Madness Series!
Vegetarian Meatballs with Tahini Sauce
Moroccan Lentils with Turkey Meatballs
Lamb Meatballs with Fava and Tzatziki