It's week 2 of March Meatball Madness, and we're down to our "final four" Meatball recipes! In case you missed it we're highlighting a new favorite meatball recipe every week this month. It's really a win-win for everyone…I get to taste-test all my new meatball creations and you get a new yummy recipe!? You're welcome and thank you! Teamwork makes the dream work baby!!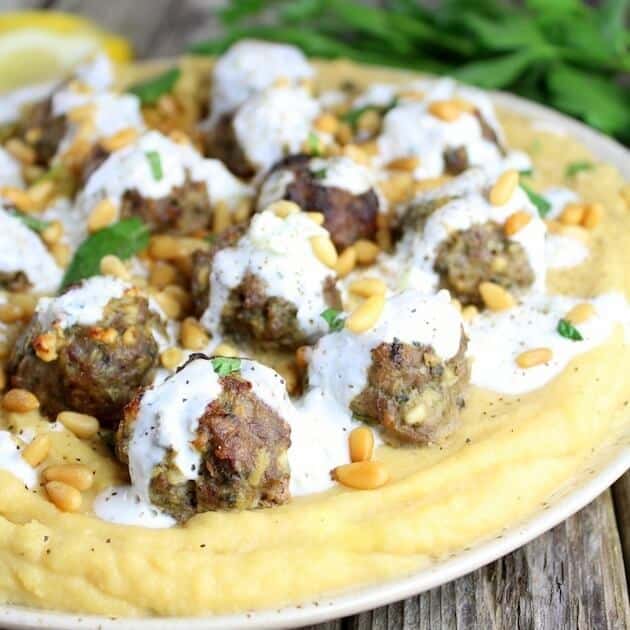 Today we're talking lamb and trust me when I say these meat bombs are a slam dunk!? Lamb might not be your jam – it wasn't always mine - but stay open, my friend, and read on.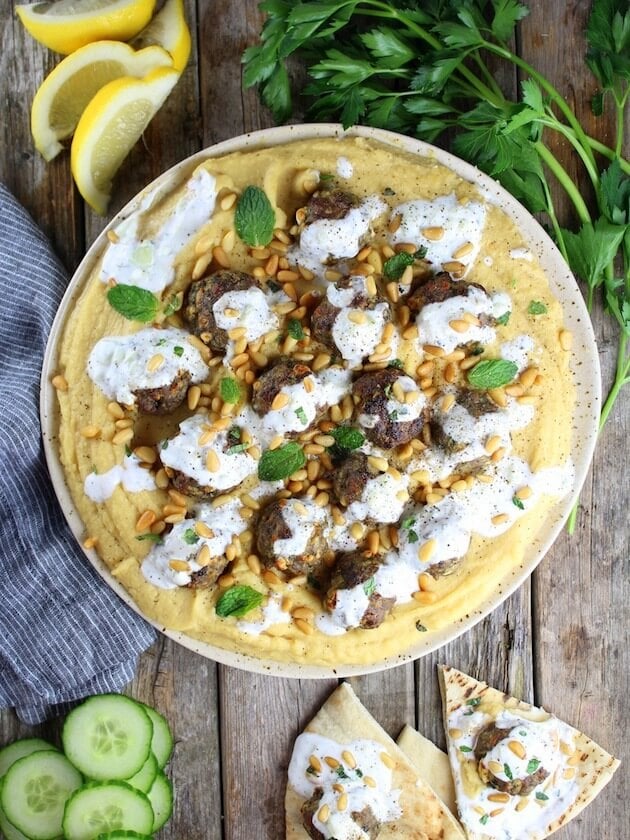 The B man went to Israel many years ago for his sister's wedding and came back a lamb-loving man. All I heard about was lamb shwarma, lamb kofta, lamb chops, lamburgers…just kidding but he did rave about how delicious the lamb was there.
At that point in my life I had never experienced lamb and since he made it sound so tasty I went to work. Lamb leg was my first undertaking and well, it was a miss. I think I cooked it too high for too long and it was like eating rubber from a tire (not that I know what that would taste like but it seems about right).
B was such a good sport I think he choked down that whole chewy leg over the course of a week. And it took him the WHOLE week cause he had no help from me. Zero. Nada. The big goose egg. I can't be wastin' my limited caloric intake on something that tastes like a bosu ball – True dat!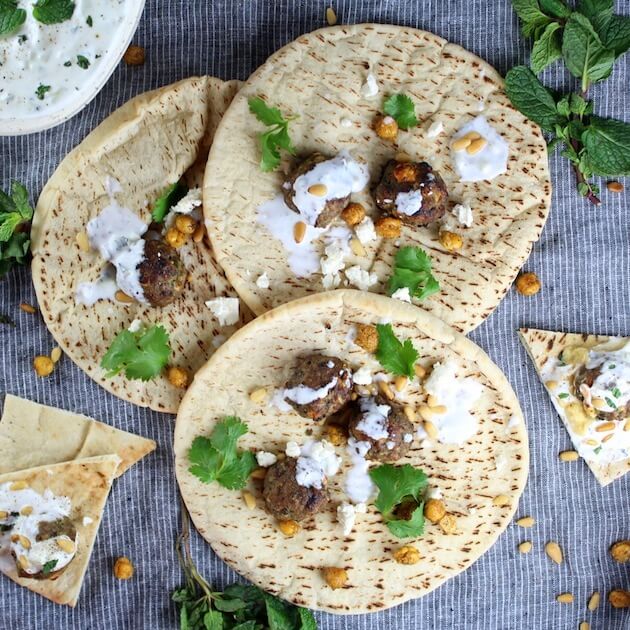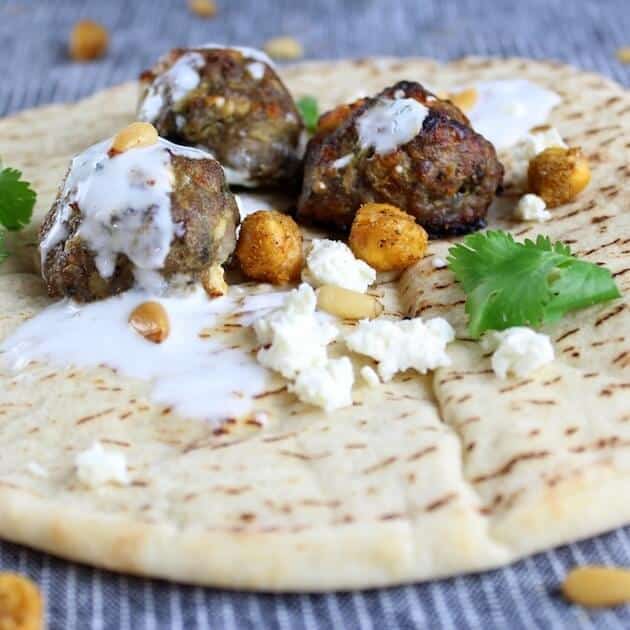 I continued to hone my lamb-cooking skills and I must admit, I am now a lamb lover! I searched and scoured the internet looking for the best leg of lamb recipe I could find. Hello "Seven Hours to Heaven" Lamb Leg recipe! Whoa! Heaven it is my friend! I'll have to share that one with you another day cause today is all about March MEATBALL Madness Lambapolooza!!✨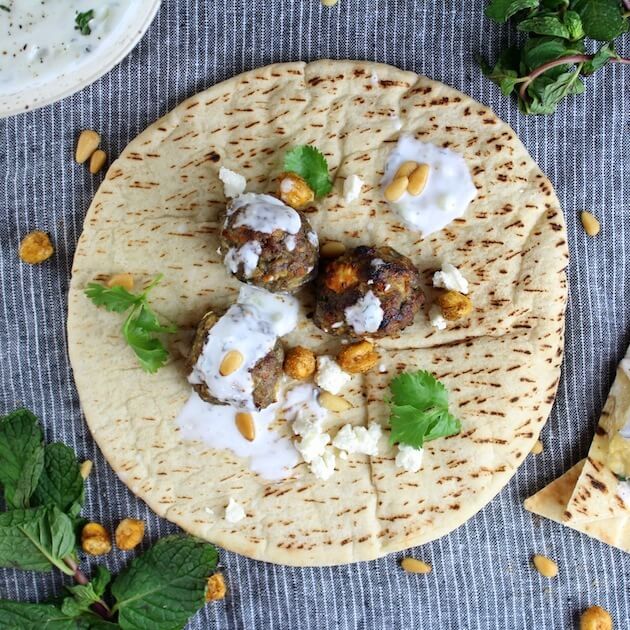 I'm over the moon about this recipe! It is so stinkin' good. And how could it not be with ingredients like feta cheese, garlic, cilantro, mint, cumin and lemon zest! My mouth is watering so much my nose is running. Sorry – just truth-telling here.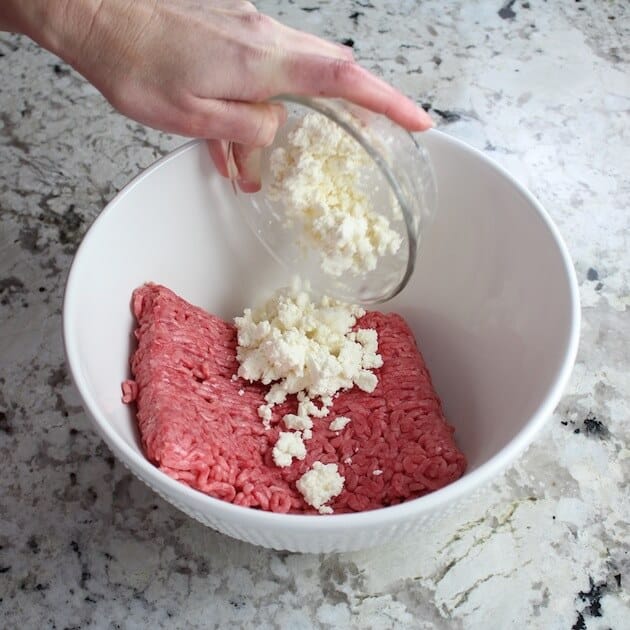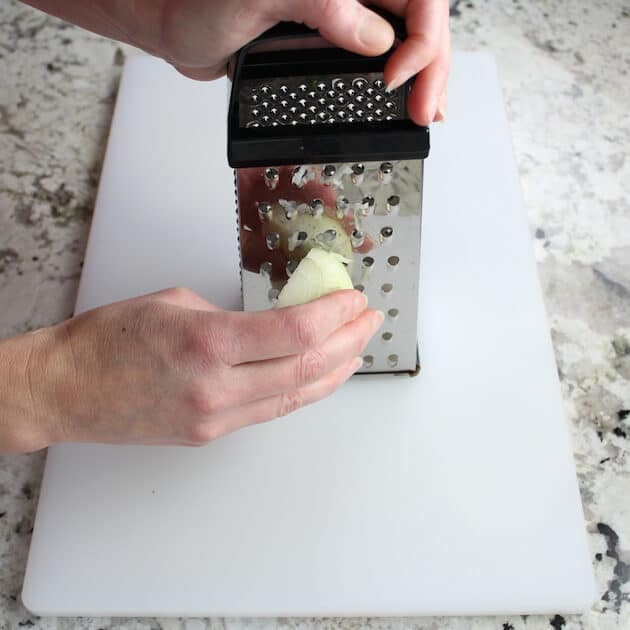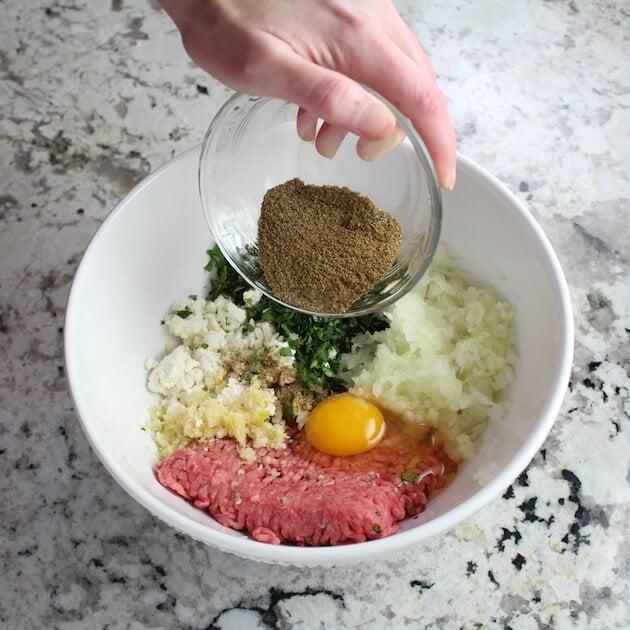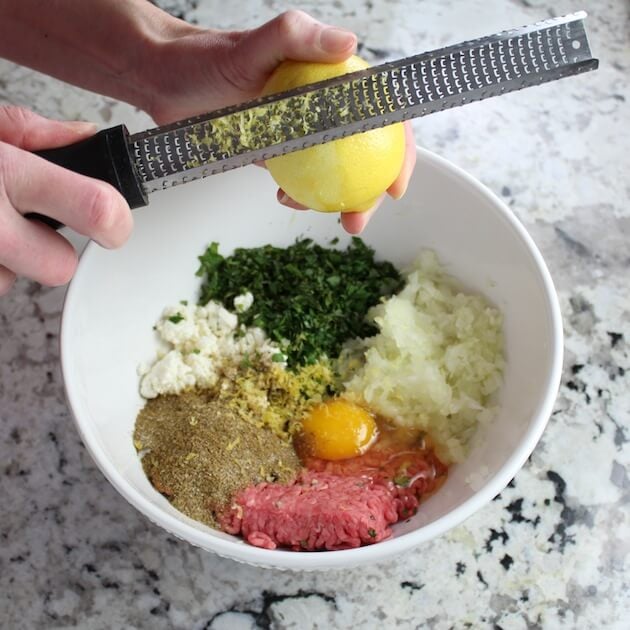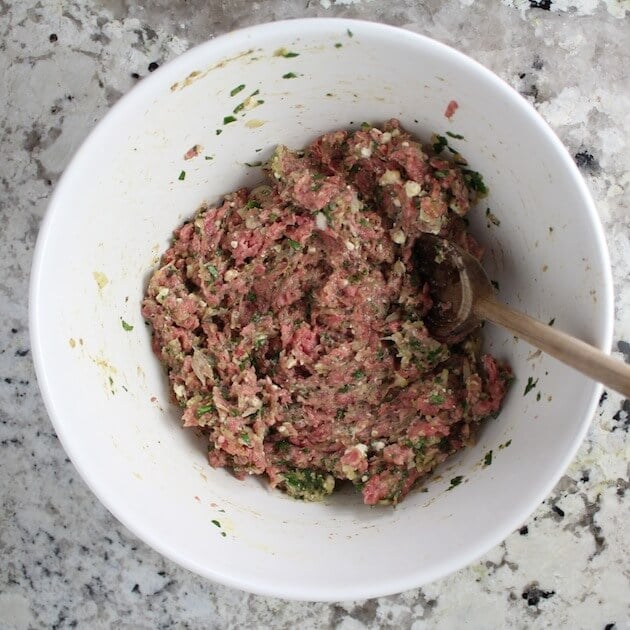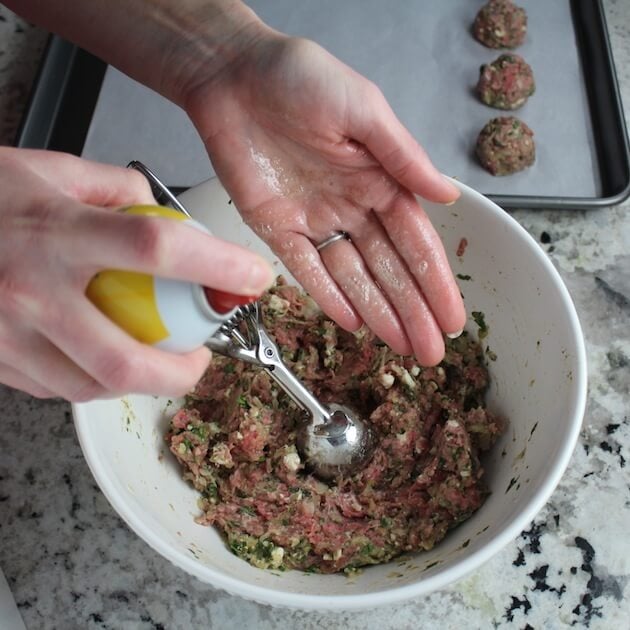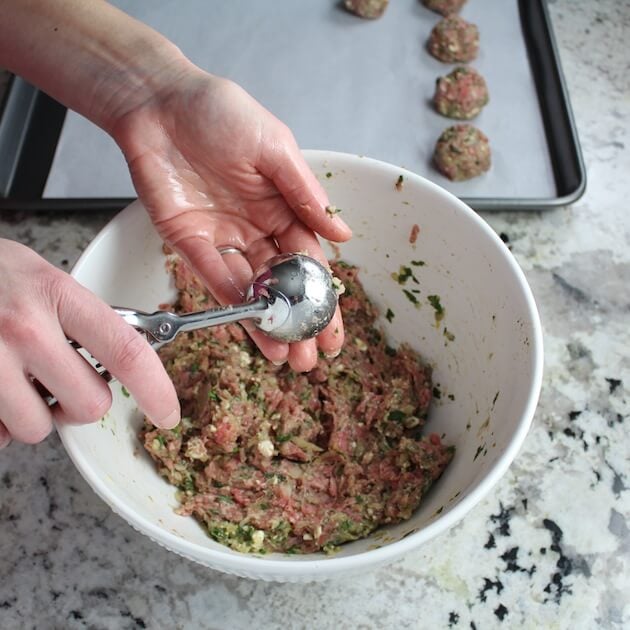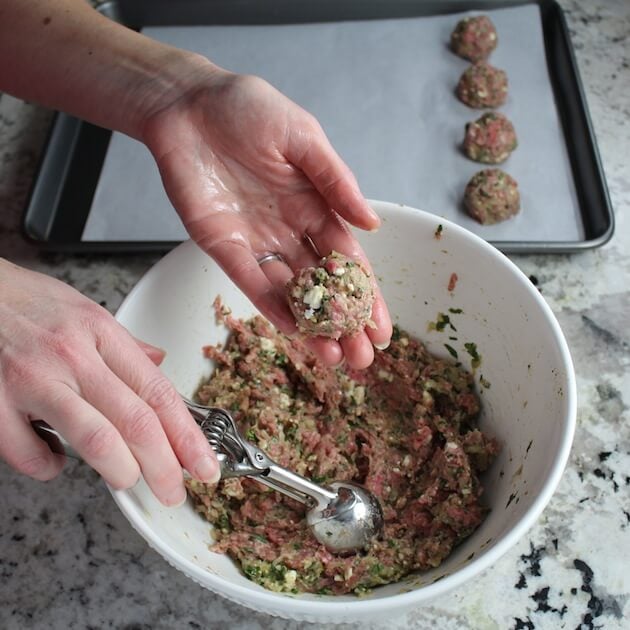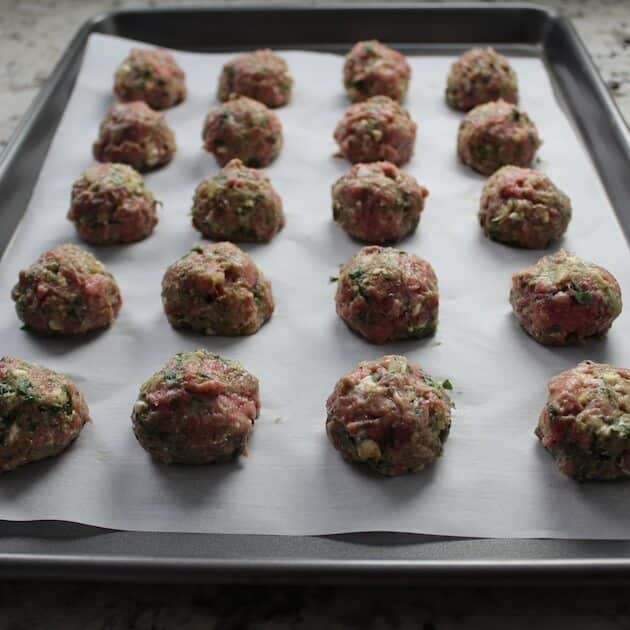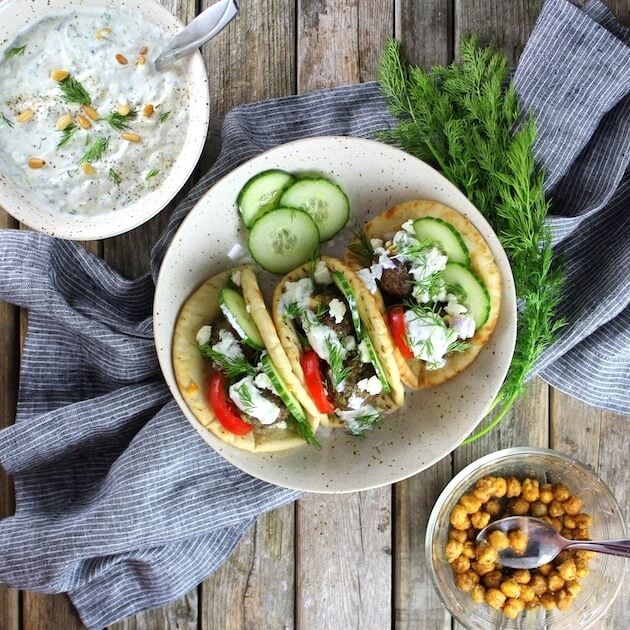 I LOVE to serve them with some tzatziki (yogurt cucumber sauce that will rock your block), pitas, feta, cucumber, and tomatoes. Mmmmmm – so incredibly delicious!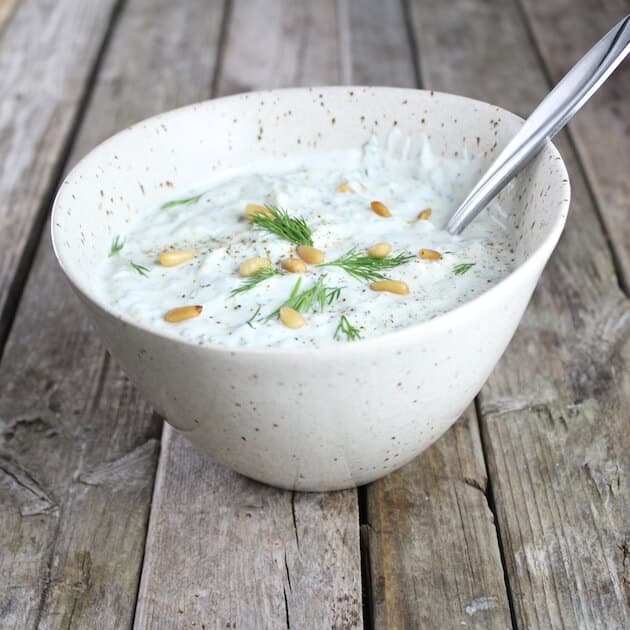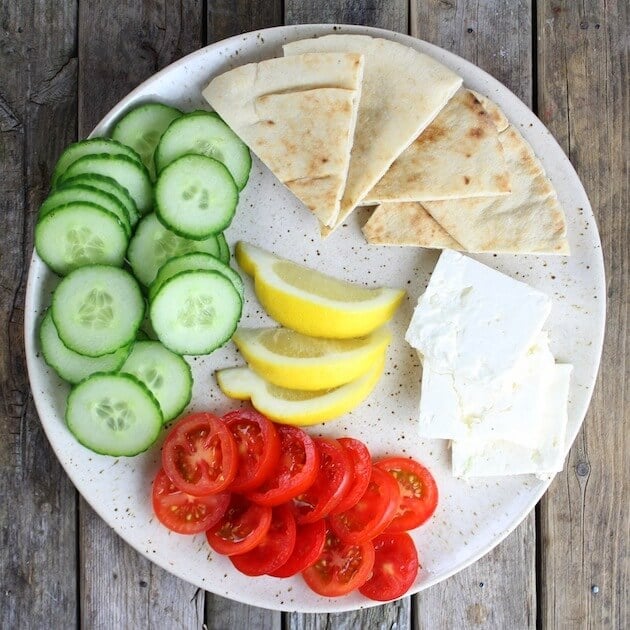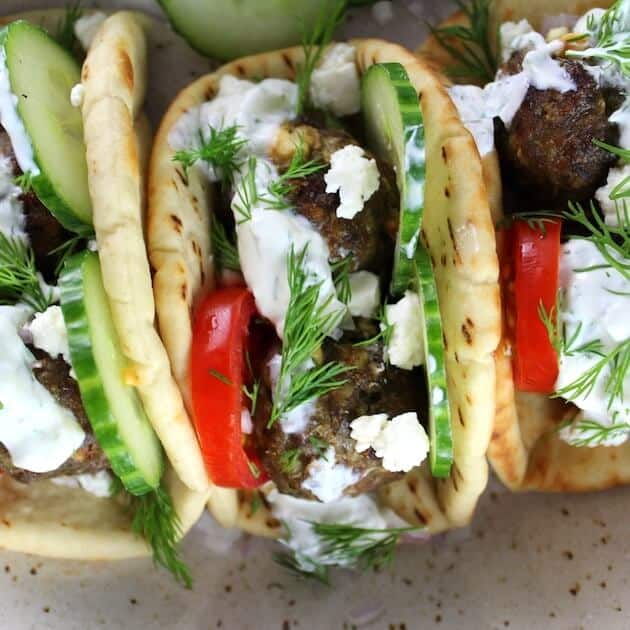 I added some Fava (yellow pea puree) to the lineup this time as well, even though I know I had you at "lamb." Just think of it as a special gift from me to you. "Can you feel the love tonight??"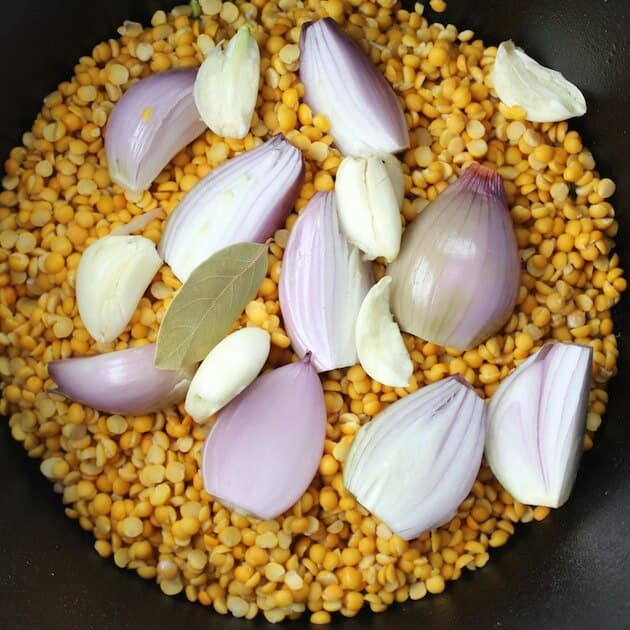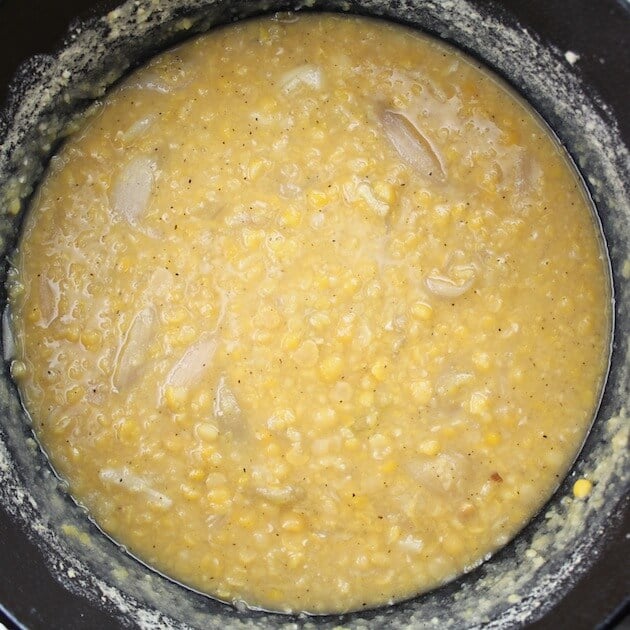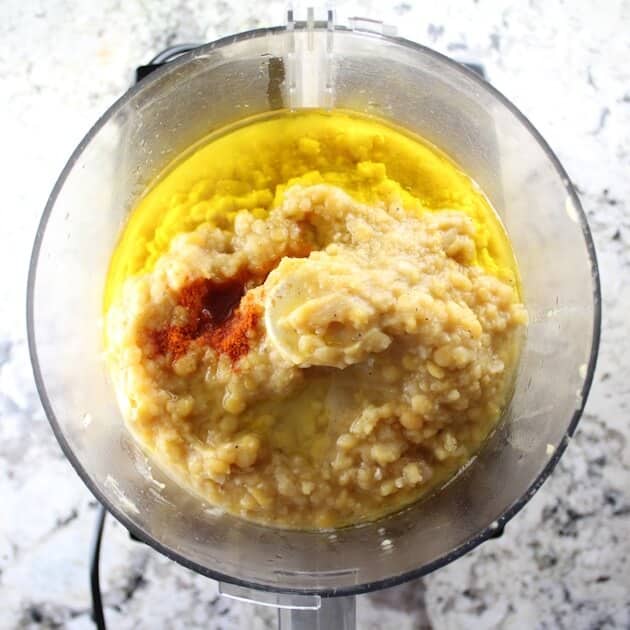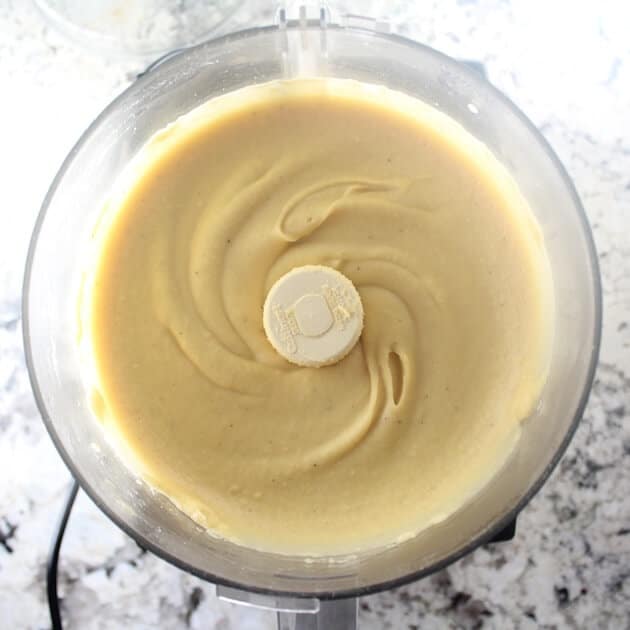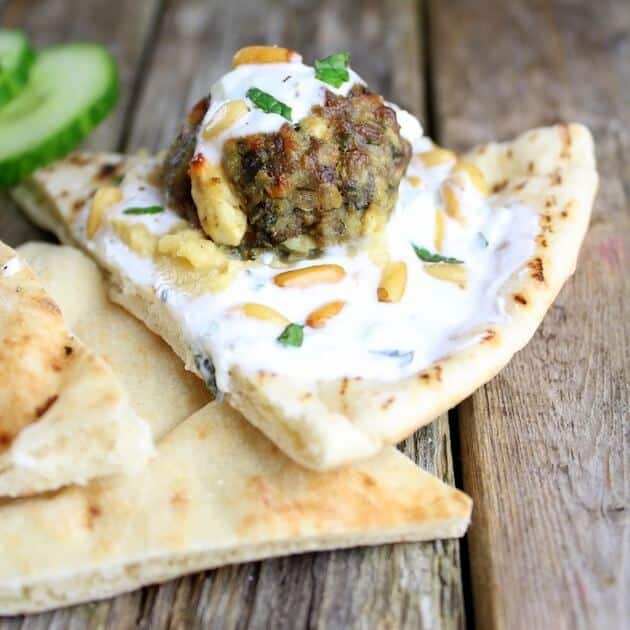 If you've never tried lamb before, then there's no time like the present! These meatballs are the perfect recipe to cut your teeth on – literally. And if you're already a lamb lover, I'm sure you'll agree with me that these luscious lamb meatballs are out-of-bounds!
Yield: 10 servings
Lamb Meatballs With Fava And Tzatziki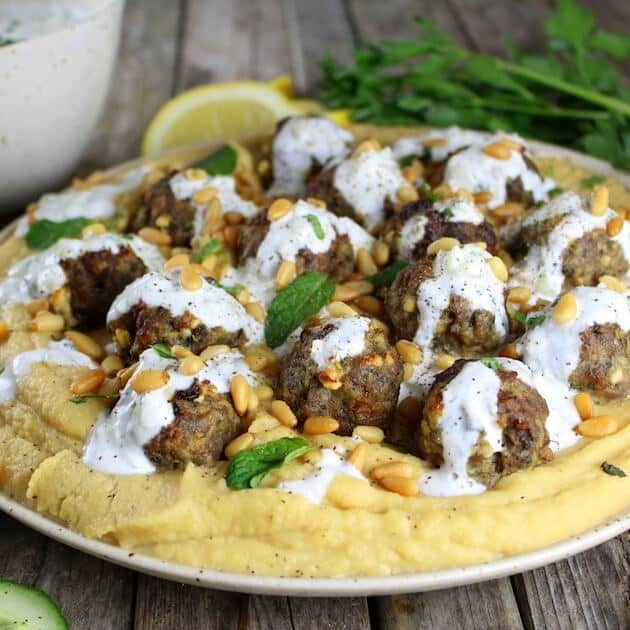 Lamb Meatballs with feta, garlic, cilantro, mint & cumin, balanced by a warm smooth fava bean puree, finished with classic Tzatziki yogurt cucumber sauce.
Total Time
1 hour
10 minutes
Ingredients
For The Tzatziki:
2 cups Greek yogurt
2 garlic cloves, minced
½ English cucumber, peeled and finely chopped, (If seeds are large remove them.)
1 teaspoon mint, finely chopped
¼ cup finely chopped dill
2 tablespoons fresh lemon juice
1 tablespoon olive oil
½ teaspoon salt
Dash of pepper
For The Fava:
16 ounces yellow split peas
3 shallots, peeled and quartered
5 cloves garlic, smashed and peeled
1 bay leaf
¼ teaspoon Cayenne pepper
3 tablespoons fresh lemon juice
½ cup olive oil plus more to drizzle when serving
2 ½ teaspoons salt
½ teaspoon pepper
For The Meatballs:
16 ounces ground lamb
1 egg
1 small onion, grated
4 cloves garlic, minced
Zest from half a lemon
3 ½ ounces feta cheese, crumbled (reserve another 5-6 ounces of fresh feta to serve with the finished product)
1 tablespoon ground cumin
¼ teaspoon allspice
3 tablespoons fresh cilantro
2 tablespoons fresh mint, finely chopped
½ teaspoon salt
½ teaspoon pepper
Cucumber, sliced
Tomatoes, sliced
Pita bread
Instructions
For The Tzatziki:
In a bowl stir together the yogurt, garlic, cucumber, mint, dill, lemon, oil, salt, and pepper.
Combine the mixture well.
Tzatziki should be made and chilled at least an hour before serving, and may be made a day in advance. Keep covered and chilled.
For The Fava:
Rinse the peas with plenty of cold water, then put in a medium saucepan and add enough cold water to cover them.
Add the shallots, garlic, and bay leaves then bring to a boil. If any white foam rises to the surface, skim it off with a spoon and discard.
Reduce heat to a simmer and cook for 35-40 minutes, stirring occasionally and adding more water if needed.
Remove the bay leaf and transfer the peas into a food processor. If there's a lot of cooking liquid, drain it and reserve.
Add half the quantity of olive oil, the lemon juice, salt and chili powder and pulse until smooth. If the mixture is too dry keep adding the olive oil until you have the right consistency. You can also use some of the reserved cooking liquid instead of olive oil.
If you are storing the fava, cover the surface with a generous amount of olive oil otherwise it will dry out and crack.
For The Meatballs:
Preheat oven to 400 and line a cookie sheet with parchment paper
In a large mixing bowl, thoroughly combine all ingredients except the cucumber, tomato, reserved feta, and pita bread.
Spray hands with cooking spray to make handling the meatballs easier. Use a 1 ½ inch scoop to ensure each meatball is the same size, and roll them by hand to give them a nice round shape before placing them evenly on the cookie sheet.
Bake for 18 to 20 minutes.
Serve the meatballs on a bed of Fava with pita, sliced feta, cucumbers, tomatoes, and lemons, accompanied by the Tzatziki.
Notes
I suggest making the Tzaziki the day prior if possible. This allows the flavors to marry and also saves some prep time the day of the meal.
This cook time assumes that you prep and bake the meatballs while the Fava is cooking.
Nutrition Information
Yield
10
Serving Size
2-3 meatballs w/fava
Amount Per Serving
Calories

470
Total Fat

26g
Saturated Fat

8g
Unsaturated Fat

0g
Cholesterol

60mg
Sodium

983mg
Carbohydrates

33g
Fiber

12g
Sugar

6g
Protein

25g
Looking for more amazing meatball recipes?
Check out my March Meatball Madness Series!
Vegetarian Meatballs with Tahini Sauce
Moroccan Lentils with Turkey Meatballs