Sweet Potato and Chickpea Salad with Garlic Lime Maple Vinaigrette... spicy, sweet and savory! This salad has got it going on with zesty roasted sweet potatoes and chickpeas, baby spinach, red onions, roasted pepitas and a garlicky, lime, maple syrup dressing! Hearty and comforting while still being bright and fresh!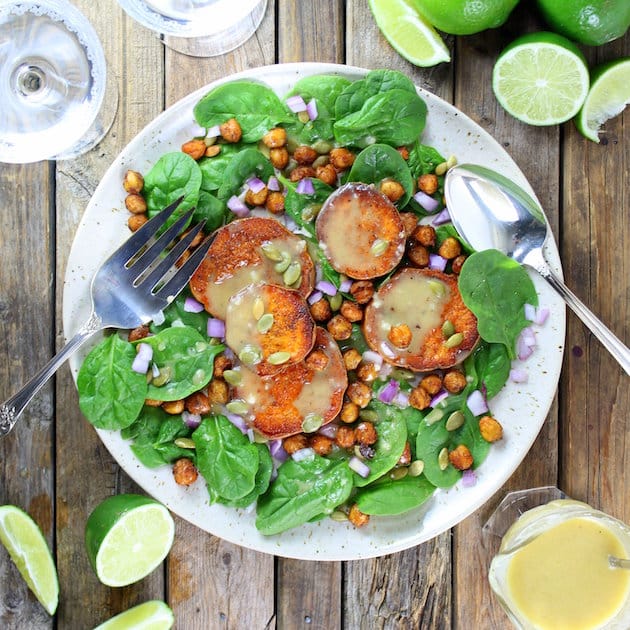 With this bizarrely warm winter we've had, I was in full force gearing up for spring: packing up those sweaters, boots, and mittens. Pondering all the new recipes to create filled with asparagus, peas, spinach and strawberries. Not all together of course, but different dishes elevating these seasonal ingredients. I mean spring official starts on March 20th.☀️🌷 Hip-hip hooray!🙌
And then it happened…
Stella got her groove back!🙄
Yep – ole' girl was in full force sweeping across the northeast and sprinkling lots of cold white pixie dust along her path.❄️ As fast as she blew in, she blew out!💨 And we've got about 12 inches of snow on the ground to show for it. Peace out Stella!✌️
I'll admit gearing up for this nor'easter did put a damper on my spring recipe vibe.😕 It was hard to think about picnics with strawberry rhubarb pie and puff pastry asparagus tarts when the ground wasn't even visible.
So, today's recipe is more of a crossover between the two seasons… a bridge or a connector between winter and spring. Celebrating the best of this crisp cozy spell while welcoming the beginnings of this bright budding season.🌱 What yummy fare could introduce us to one while still savoring the other? Great question!!!👍
This Sweet Potato and Chickpea Salad with Garlic Lime Maple Vinaigrette!!!👇
It's hearty and comforting while still being bright and fresh. The perfect way to bid ole' man winter goodbye, while welcoming sunny spring with a great big bear hug.👋🤗 Aww, we're all getting along so nicely.
I do love roasting veggies. The dry heat of the oven helps release and caramelize the natural sugars in vegetables, which brings an amazing depth of flavor to them.😋
It's all very scientific as you can imagine… "Different types of sugars caramelize at different temperatures: Sucrose and glucose around 320 degrees (F) and fructose at 230 degrees (F). In the last stage of caramelization, hundreds of new aromatic compounds form, creating a range of complex flavors."
Resulting in wonderfully balanced sweet, savory, nutty, flavor. Mmm!
And what better vegetable to roast than a sweet potato? Those medallions are sliced, seasoned and roasted to perfection. So much sweetness in there to get all caramelized and toasty.
Not to mention the chickpeas! They are so hearty and filling and have a meaty quality to them. I love seasoning them with spices and roasting them to have on hand for a quick snack. Or mixing them in with other yummy produce to create a satisfying and delicious meal like this Roasted Cauliflower and Chickpeas With Yogurt Sauce – so good!
For this tasty dish, we used some cumin, salt, pepper and chipotle chili pepper as our spices.🌶 In case you're not familiar with CCP let me do a proper introduction… this spicy seasoning consists of one ingredient - smoked, dried jalapenos that are crushed into powder form. Aren't you glad you met?👊
Since I'm a huge fan of all things smoky, and as my friend, Nancy likes to remind me… I put jalapenos in everything; this spice is a staple at the Taste And See test kitchen. I will caution you - it has some kick so use it sparingly if heat's not your jam.⚠️
The blend of all that spicy, salty smokiness truly takes the roasted veggies over the top. They. Are. Delectable.
But of course, there's more…
To balance out all those zesty flavors I've created a slightly sweet garlicky lime vinaigrette - the perfect accompaniment for those vegetables.
The dressing has fresh garlic, fresh lime juice, extra virgin olive oil, a tad of salt and pepper, and maple syrup. I absolutely LOVE using real maple syrup as a sugar substitute. And in this case, it is the perfect match for all that smokiness.👌
It almost tricks my taste buds into thinking I'm eating bacon.🤔 I know, it's strange. I think it has something to do with maple syrup, pancakes, and bacon on the side for breakfast thing my brain keeps going to. I can't explain it but I can sure gobble it up!💯
All of this fabulousness gets layered over some bright, springy spinach and then sprinkled with some finely diced red onions and roasted pepitas. (I know you were wondering when we were springing forward. I can't put anything past you.)
This Sweet Potato and Chickpea Salad with Garlic Lime Maple Vinaigrette is the perfect filling and healthy salad that acts like a meal. Waving goodbye with one hand to snow drifts and freezing temps, while linking grips to blooming daffodils and hatching blue birds with the other.🌾
This salad is super delicious. So much so, you might even find yourself making it all year round! Enjoy!
I would love to connect with you! Leave a comment and follow me on Instagram, Twitter, Facebook, & Pinterest!
Yield: 6
Sweet Potato and Chickpea Salad with Garlic Lime Maple Vinaigrette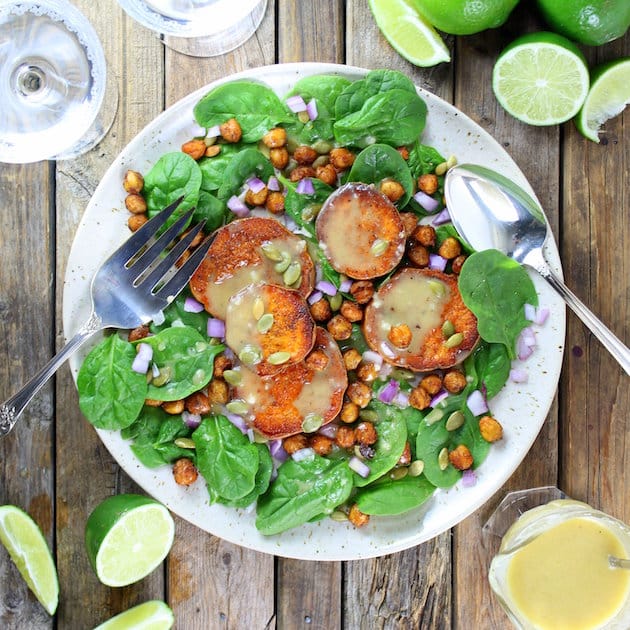 Ingredients
For The Salad:
2 large sweet potatoes, sliced into ½ inch-thick medallions
1 14-ounce can chickpeas, drained, rinsed, and dried
2 tablespoons olive oil
1½ teaspoons smoked chili pepper (use less to make less spicy)
1½ teaspoons cumin
1 teaspoon salt and pepper
5 ounces baby spinach
½ cup pepitas, toasted and salted
1 small red onion finely chopped
For The Garlic Lime Maple Syrup Vinaigrette:
2 tablespoons Extra Virgin Olive Oil
1 tablespoon maple syrup
Juice of 1 ½ limes (about 3 tablespoons)
2 garlic cloves, minced
3 teaspoons Dijon mustard
⅛ teaspoon salt
⅛ teaspoon freshly ground pepper
Instructions
Toss sweet potatoes and chickpeas in olive oil, smoked chili powder, cumin, salt, and pepper. Bake at 400 degrees on a large parchment lined baking sheet for 20 minutes.
Whisk the dressing ingredients together.
Arrange the spinach, sweet potatoes, and chickpeas on a plate. Sprinkle on pepitas and red onions. Drizzle on the dressing.
Notes
*Add grilled chicken for more protein
*Chipotle chili pepper is spicy.  Swap out with chili powder or smoked paprika for the same yummy flavor without the heat.
Nutrition Information
Yield
6
Serving Size
6 ounces
Amount Per Serving
Calories

176
Total Fat

12g
Saturated Fat

1g
Unsaturated Fat

0g
Sodium

509mg
Carbohydrates

14g
Fiber

2g
Sugar

4g
Protein

3g
Looking for more great salad recipes?
Roasted Butternut Squash, Cranberry & Spinach Salad