Brie glorious brie!  We're anxious to try it!  This recipe has most definitely got me singing!
I'm just not sure it gets much better than this…Baked brie with caramelized onions and bacon!   So decadent and delicious.  It's the perfect appetizer for having friends or family over during the holidays or anytime really.  It only requires 5 ingredients and you can throw it together and have it baked in 35 minutes!

I like to bake my bacon.  There is virtually no mess and it's super low maintenance.  Usually there will be baking instructions on the back of the packaging.  I line a baking sheet with aluminum foil and place the bacon slices as close as possible since they shrink while cooking.  Pop them into the oven (depending on the thickness the temperature will vary) wait about 15 minutes and voila – perfectly cooked bacon!  AND: no grease splatters on my stove top!  Can you hear me purring?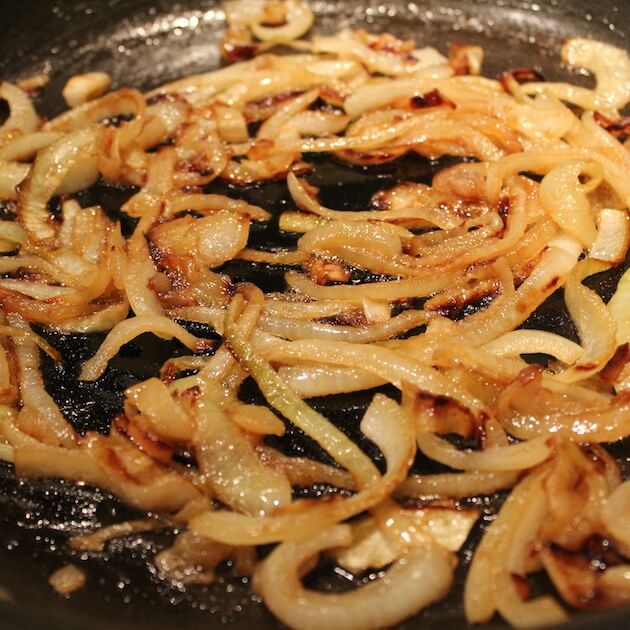 While all that pork is magically becoming salty, addictive, protein sticks, I slice up my onions and get them caramelizing on the stove.  It's definitely a low and slow process; you can't rush perfection.  Onions are naturally sweet, and when you slowly cook them over a period of time, the natural sugars in the onions caramelize.  Resulting in a wonderfully sweet and flavorful topping.  For this recipe I add a tablespoon of brown sugar to the onions just before they were finished cooking, to balance out the salty bacon and cheese.

If you're wanting to impress your guests with minimal effort this appetizer is your new BFF.  And then there's the bacon.❤  Nuff said.✌
Baked Brie with Caramelized Onions and Bacon
I'm just not sure it gets much better than this…Baked brie with caramelized onions and bacon!

Ingredients
1

tablespoon

brown sugar

2

tablespoons

extra light olive oil

16

ounces

brie, round

2

medium yellow onions

, cut into ¼-inch slices

5-6

slices

of bacon
Instructions
Cook bacon until almost crispy, let cool and finely chop.

Caramelize onion in olive oil on medium low heat for 20 minutes. Add brown sugar a few minutes before finished. Sauté another 1-2 minutes, until the sugar is dissolved.

Top the brie with the onions and chopped bacon.

Bake at 350 degrees until soft and starting to ooze, about 10 minutes.

Serve with French bread crostini's or crackers.