Baked Brie in Puff Pastry with Cherry Cranberry Sauce – meet your new favorite holiday appetizer! Creamy cheesy melty brie, lightly toasted almonds, a delightful sweet tart cherry cranberry sauce with a hint of orange zest, all perfectly packaged in light and fluffy golden puff pastry!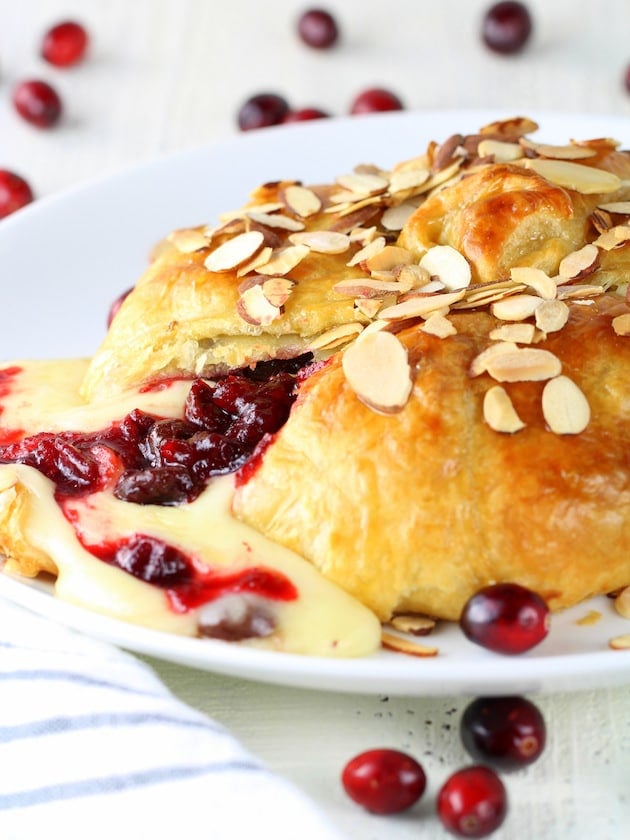 This post may contain affiliate links. As an Amazon Associate I earn from qualifying purchases. Please read my disclosure policy.
Aren't the holidays amazing! I mean when else are we encouraged to consume copious amounts of Christmas cookies, festive cocktails, crockpot meatballs, and creamy cheesy baked brie!!!?? It's truly the most wonderful time of the year!
Ahh what fun. I do love creating appetizers that put smiles on my people's faces - and lots of yummy goodness in their bellies.
What can I say I'm silly like that.
Usually I go with my "sure thing" recipes for my parties. You know the Mini Salmon Cakes, BBQ Pulled Pork Sliders, or Shrimp Cocktail, Baked Brie with Honey and Almonds in Puff Pastry… Mmmm! I'm officially drooling over here!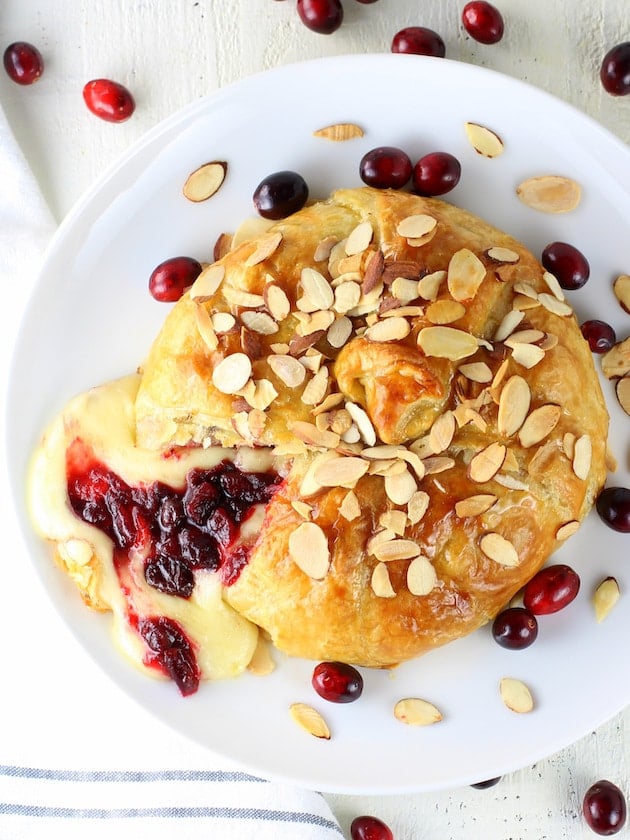 I have enough homerun hors d'oeuvre recipes that I rotate them and switch them out depending on the season. And now and then I like to add something new and different into the mix. This year was no exception.
I decided I wanted to try a new spin on my baked brie. I know what you're thinking "why mess with perfection" but you know me - I just can't help myself.
So, I grabbed my apron and went to work.
I must tell you – I could not be more pleased with my latest masterpiece… Baked Brie in Puff Pastry with Cherry Cranberry Sauce!!
I'm not sure I have words for how amazing this combination is. Aw heck who am I kidding – I always have words! 😀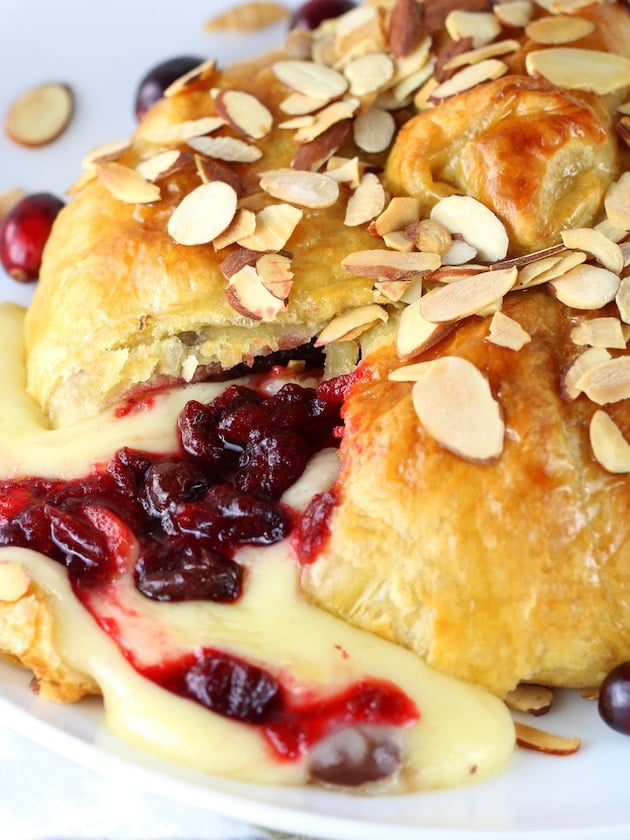 Baked Brie In Puff Pastry
It is everything my friend. Creamy cheesy melty brie with lightly toasted almonds, a delightful sweet tart cherry cranberry sauce with a hint of orange zest, all perfectly packaged in light and fluffy golden puff pastry. D – licious!!
I can't wait for you to try it!!
It's so yummy that my carnivore eating husband decided he was going to eat it for his dinner last night. No meat in sight people… un"brie"lievable – right!??
I'm just saying, if the B man chooses something over meat we all need to get on that bus stat! Have I convinced you yet?? 'Cause I can do this all day!
It's not only ridiculously delicious it's also pretty simple to put together as well.
You can even make the cranberry sauce ahead of time and then assemble it all and bake just before your guests arrive.
For this and all my baked brie recipes I use a double cream (double crème') brie. Although I adore triple cream I reserve that for just eating straight up with a cracker or a spoon. Ahem. Don't judge.
The biggest difference between Double Cream and Triple Cream is the type of milk that it used to make them. In order to make double and triple crème, fresh cream is added to whole milk for the cheese.
A "triple crème" has more creaminess than a "double crème..." It's really just a measure of the creaminess of the cheese.
Seems pretty logical – right!? Just thought I would break that down for you.
Also, I do have a few tips for you regarding working with puff pastry if you'll allow me to share…

Tips for Baking With Puff Pastry:
Thaw your frozen puff pastry in advance (preferably in the fridge, overnight). This allows the pastry to become pliable without softening too much.
Unfold your pastry only when fully thawed. While unfolding the pastry is a minor step in cooking, it can cause the pastry to crack or break.
Flour your work surface and your rolling pin. This will help the pastry to roll out smooth, and prevent any sticking and pulling.
Use restraint with your rolling pin. If you over-roll or use too much force, you'll roll out some of the flakiness (aka it won't "puff" as much).
Chill the pastry again before baking. This step gives the butter a chance to re-solidify, to get an even better "puff" on your pastry.
Serve as soon as possible so the pastry is the most crisp and fresh.
Ok, food science class dismissed! Thanks for indulging me. I just want you to have the most successful and delicious food experience possible!
Which brings me to all the details on how to make this yummy recipe!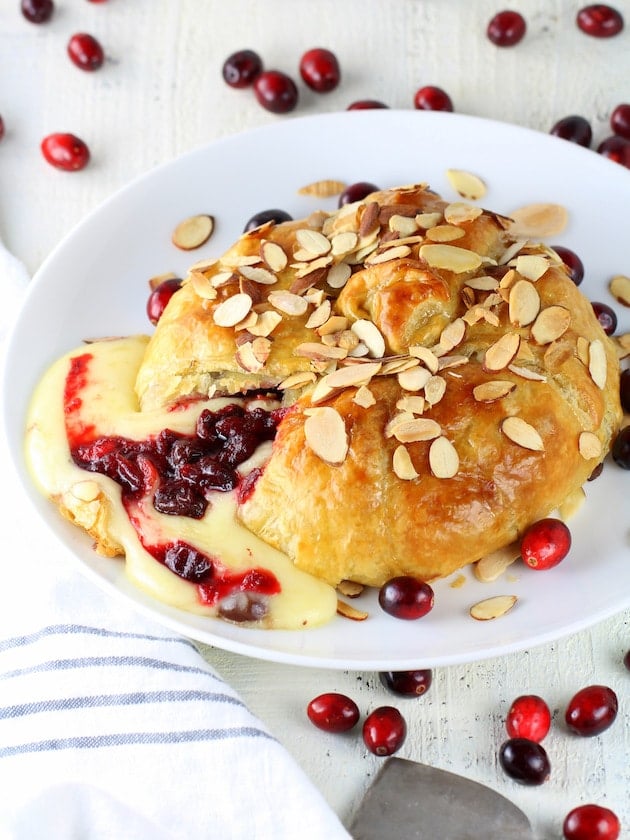 How to make baked brie in puff pastry
First, the day before you need it put one puff pastry in the fridge to defrost overnight.
Next, make your cranberry sauce. Pour ½ cup of cranberry juice cocktail in a small sauté pan (<- my fave!) over medium heat. Bring to a simmer and stir in your brown sugar.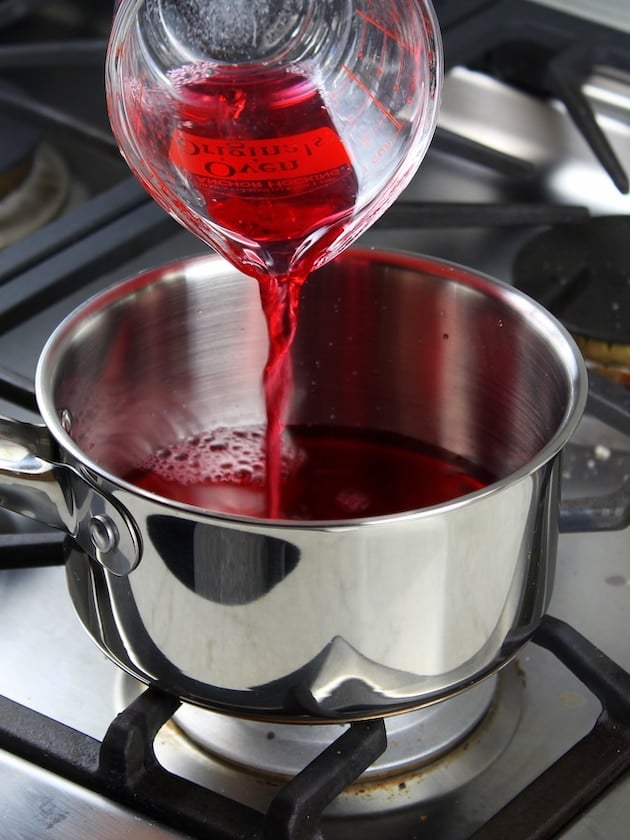 Now add a cup of fresh cranberries. The berries should start popping so cover them with a screen - or just be careful because the hot liquid can burn you. Sauté the cranberries for 3-4 minutes or until all the berries have cracked.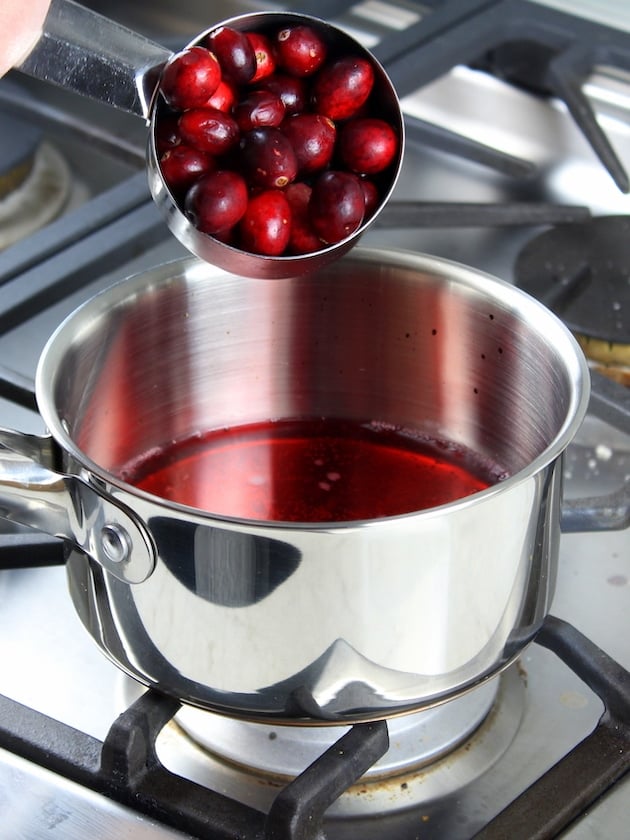 Now add your dried tart cherries. (Sometimes these can be harder to find. They should be with the other dried fruit in the grocery store. I purchase my dried cherries online because my family enjoys them so much, and they taste the best in my opinion.)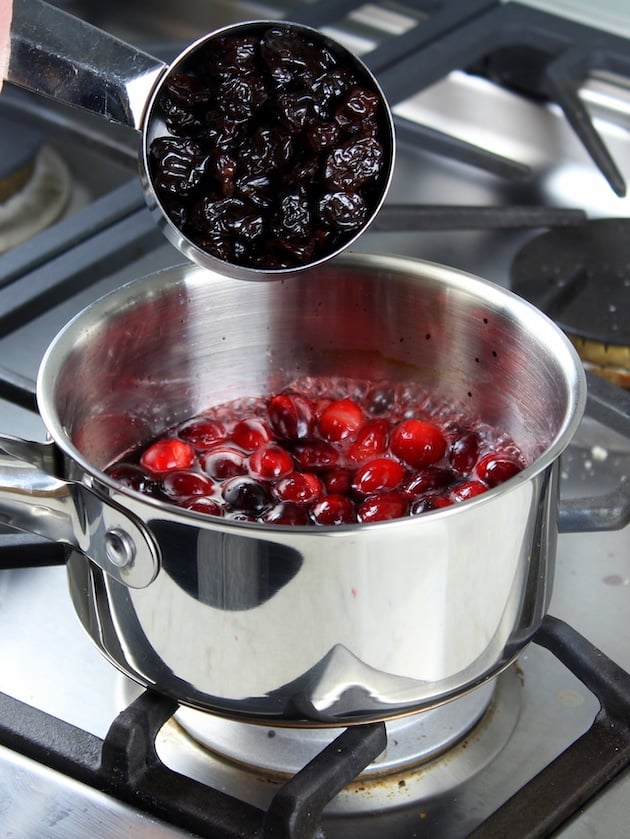 Allow that to cook one more minute then remove from the heat. Stir in the orange zest and allow to cool for about an hour in the fridge or until the mixture has thickened up nicely (I'll do this the day before so it's ready to go when I need it).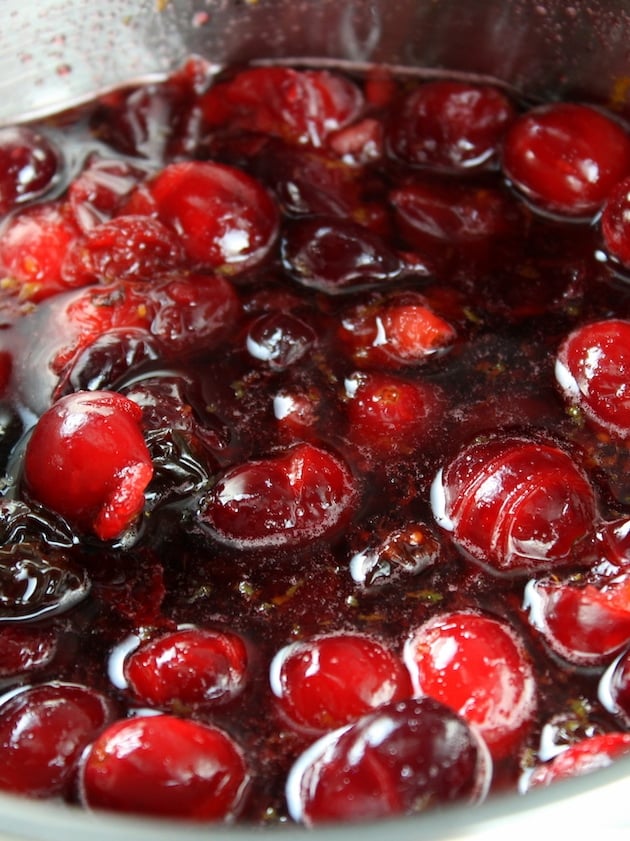 How to assemble your own baked brie:
Finally, it's time to assemble. Follow these steps and you will be good to go.
Roll out Puff Pastry Dough
Start with a well-floured surface so the pastry doesn't stick. Roll out the dough to 11x11 inch square.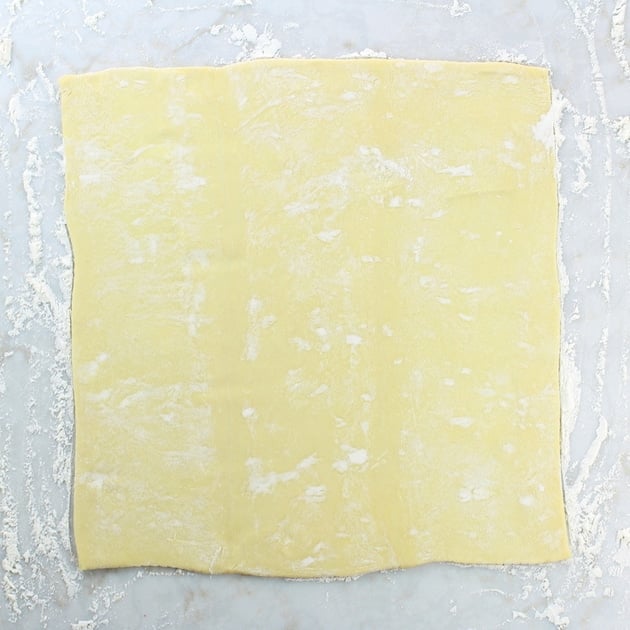 Add Brie To Puff Pastry
You can trim the white rind off if you prefer. Do this by using a serrated knife and scraping it gently over the entire wheel. The rind should come off easily.
Now place your brie in the middle of the rolled pastry.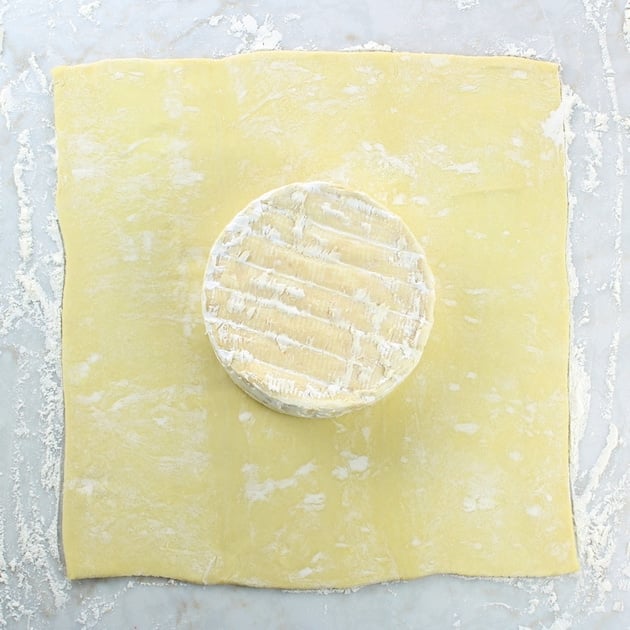 Add Fruit & Almonds To Brie before Baking
Scoop ⅔ of a cup of the cranberry sauce onto the cheese then top with half the toasted almonds.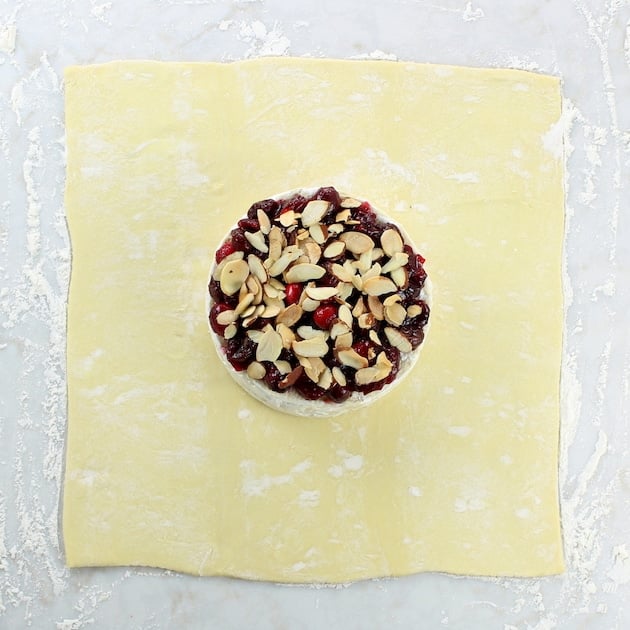 Prepare Your Egg Wash
Beat 1 egg with 1 tablespoon of water – you will use this to act as a "glue" as you wrap up your pastry package.
Wrap Brie in Puff Pastry
Starting with one corner, fold the pastry onto the brie. Be sure to brush the egg wash underneath any parts of the pastry that will touch each other. You want to be sure to keep all that melted cheese inside the package as it bakes!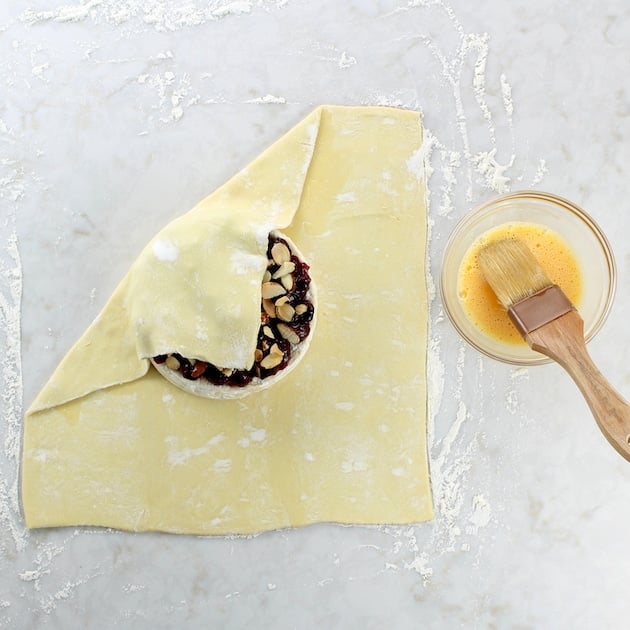 Continue to work your way around the wheel, folding and brushing with the egg wash. Using your fingers go back over the seams of the pastry and gently rub to ensure that it is sealed. And finally, brush the outside with egg wash.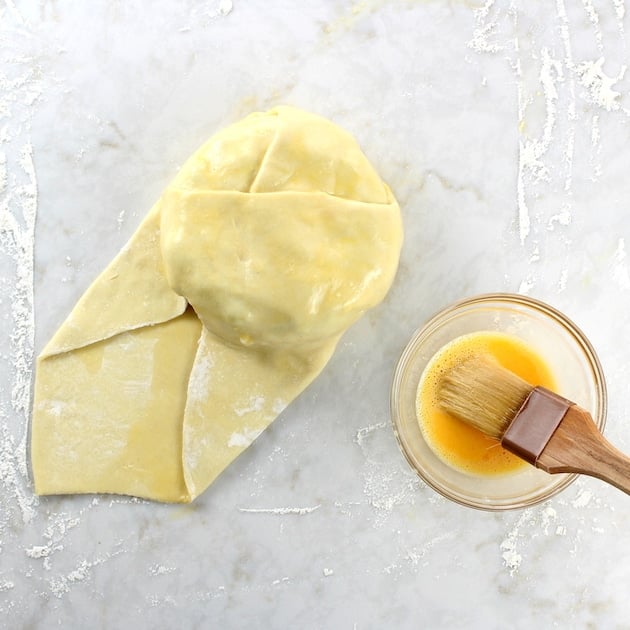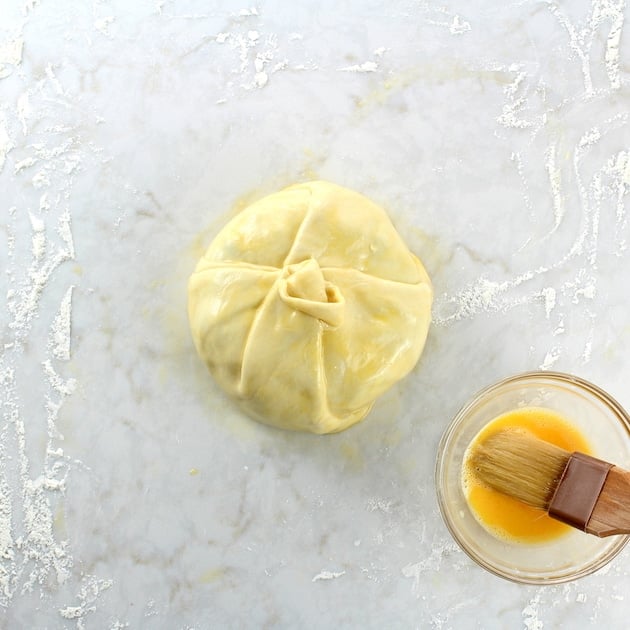 Chill Puff Pastry Wrapped Brie Before Baking
Spray a shallow baking dish with baking spray and gently place your pastry in the center. (You may want to check the bottom to make sure the puff pastry is intact. If there are any holes the cheese will ooze out while it's baking. If there are cuts or openings gently overlap the pastry in that area and use the egg wash to glue it back together. Just rub the area with your fingers and it should seal.)
Place it in the fridge uncovered for 20 minutes and preheat your oven to 400 degrees.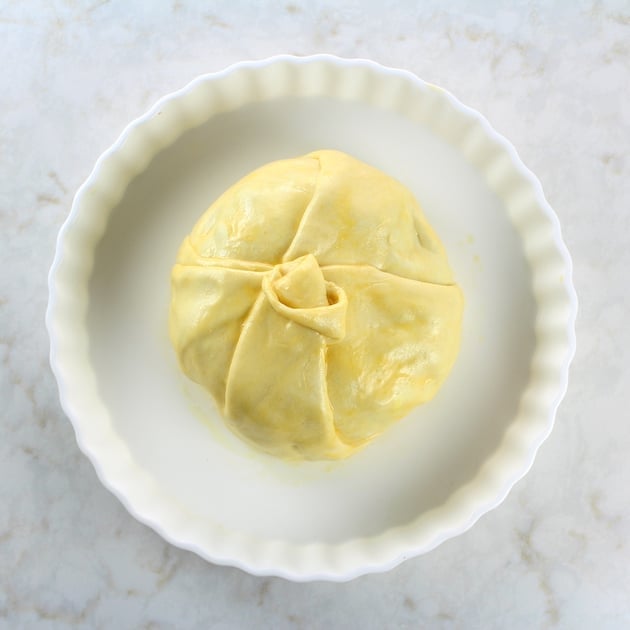 Bake the brie for 18-20 minutes. It should be puffed, golden and beautiful. If the top of the brie looks like it's getting too brown, place a loose-fitting piece of tin foil over the top while it's baking.
Remove the brie from the oven, drizzle it with a little honey and sprinkle the rest of your toasted almonds on top. Allow it to cool for 5-10 minutes then enjoy the fruits of your labor!
I'm certain you and your guests are going to adore this new tasty creation! After all, what's not to love about creamy cheesy goodness, topped with sweet fruit and wrapped in a light and crispy baked dough!
Baked Brie in Puff Pastry with Cherry Cranberry Sauce – your new favorite holiday appetizer!
Yield: 10 servings
Baked Brie with Fresh Cranberries and Dried Cherries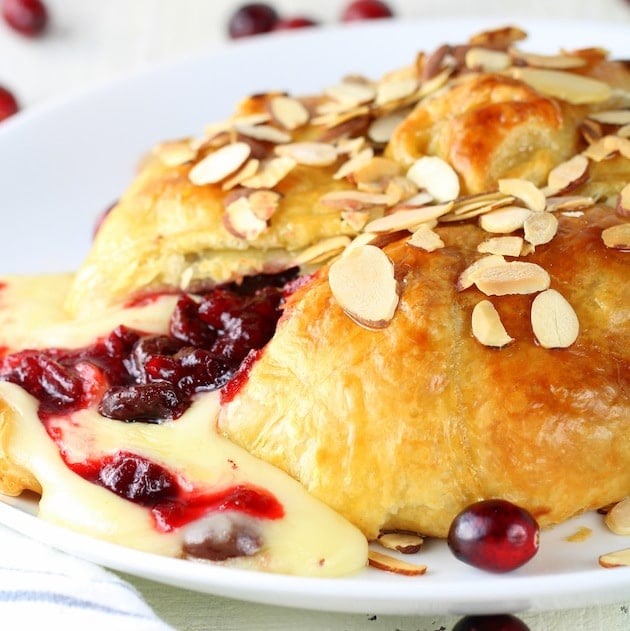 Creamy cheesy melty baked brie, lightly toasted almonds, a delightful sweet tart cherry cranberry sauce with a hint of orange zest, all perfectly packaged in light and fluffy golden puff pastry!
Inactive Time
1 hour
20 minutes
Total Time
2 hours
5 minutes
Ingredients
12 - 13 ounce wheel of Brie cheese, rind scraped off if preferred (I used Ile de France brand)
½ cup cranberry juice
3 tablespoons brown sugar (or substitute honey/pure maple syrup)
1 cup fresh cranberries
½ cup dried tart cherries
½ teaspoon grated orange zest
1 sheet puff pastry, defrosted, rolled out to 11 x 11 inches
⅓ rounded cup sliced toasted almonds
1 egg
1 tablespoon water
honey for drizzling
Instructions
Move one frozen puff pastry dough from the freezer to the fridge 24 hours before making this recipe. Or in a pinch, remove the pastry from the freezer and place on the counter for about an hour until it's completely defrosted.
Bring cranberry juice to a simmer in a small sauté pan, then stir in brown sugar (or other sweetener if using).
Add fresh cranberries and cook on medium for 3-4 minutes, until most of the cranberries have cracked open. Add dried cherries and cook 1 more minute, then remove from the heat.
Mix in the orange zest and let sit until the cherries are plump and the mixture has thickened. (I put it in a bowl in the fridge for about an hour, or make it the day before.)
In a small bowl, whisk the egg and water together to create an egg wash.
On a well-floured surface, roll the puff pastry into an 11-inch square. Place brie in center and top with ⅔ cup of the cranberry sauce (use the fruit rather than the juice). Sprinkle on half the almonds.
Fold up the corners of puff pastry one at a time, brushing all the dough with the egg wash as you go, using it like glue to hold the pastry together. Continue to brush the egg wash over the top and sides of the dough after formed.
Transfer to a baking dish, then chill for 20 minutes uncovered in the fridge. Preheat the oven to 400 degrees while the brie is chilling.
Bake the brie at 400 degrees for 18-20 minutes until the pastry is golden and puffed. Check around 15 minutes and if the pastry is getting too dark, if needed place a loose-fitting piece of foil over the top while it finishes baking to prevent over browning.
Remove from the oven and drizzle with a little honey and top with the rest of the almonds. Allow to cool down for 5-10 minutes then serve.
Nutrition Information
Yield
10
Serving Size
6 ounces
Amount Per Serving
Calories

190
Total Fat

9g
Saturated Fat

2g
Unsaturated Fat

0g
Cholesterol

16mg
Sodium

69mg
Carbohydrates

23g
Fiber

1g
Sugar

10g
Protein

2g