This Cast Iron Cuban Skillet is an easy one-pan variation on the classic Cuban sandwich! With shredded pork, ham, Swiss cheese and pickles, it's a low-carb crowd pleaser exploding with flavor and cheesy goodness. Bonus - not only is it low carb, it's also keto and gluten free!!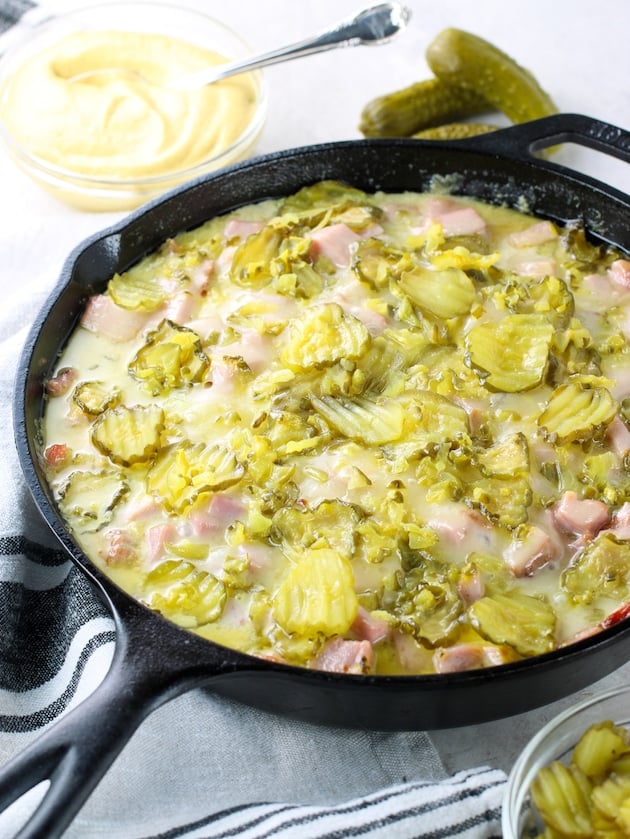 So my girlfriend turned me on to Cuban sandwiches a few years ago. She had lived in the south for many years and it was a staple in their house.
All I can say is why didn't someone share this deliciousness with me sooner!?? I could have been enjoying those cheesy savory pork filled sandwiches back in my prime years when my body actually metabolized food (instead of storing every calorie on my hips). Lol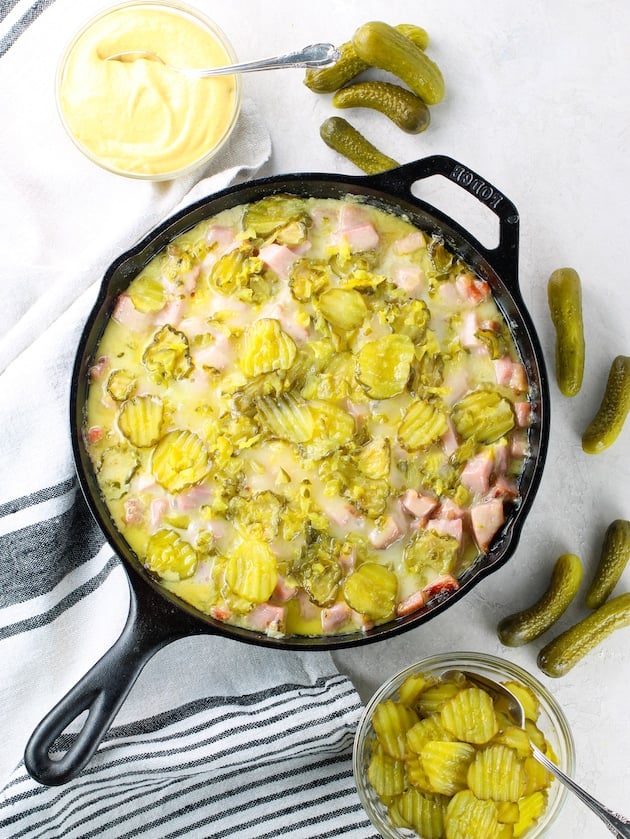 But you know me… I will find a way to eat that Cuban yumminess and I will make it low-carb so I can enjoy it without any guilt or extra pounds.
And that brings us to our yummy dinner recipe today… the low carb, keto friendly, gluten free Cast Iron Cuban Skillet!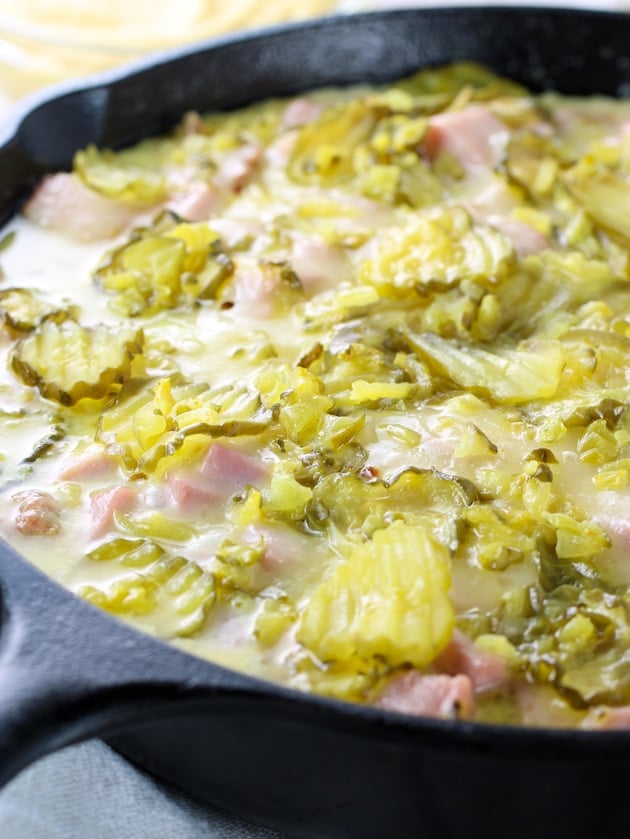 So some of you may be like me... you may not really even know about the Cuban Sandwich.
Allow me to share my knowledge on the topic with you…
What is a Cuban Sandwich?
The Cuban sandwich is a variation of a ham and cheese sandwich that likely originated in cafes catering to Cuban workers in Tampa or Key West. Both were early Cuban immigrant communities in Florida that centered around the cigar industry. Later on, Cuban immigrants also brought it to Miami, where it is still very popular.
The sandwich is made with ham, roasted pork, swiss cheese, pickles, mustard and sometimes salami on Cuban Bread. Salami is included in Tampa, where there is a large Italian population, but is not usually included in South Florida.
For our recipe today we're using Cuban sandwich ingredients sans the bread. So you've got your pulled pork, ham, swiss cheese, Dijon mustard and pickles.
What's not to love – right!??
Meat, cheese, pickles – HELLO!
This low-carb meal comes together pretty easily. Although, you will need to cook a pork butt or pork shoulder ahead of time, or purchase packaged pre-cooked pulled pork from your grocery store. You'll normally find them in the prepared food area where you get your roaster chickens or where they offer precooked meat dishes like this...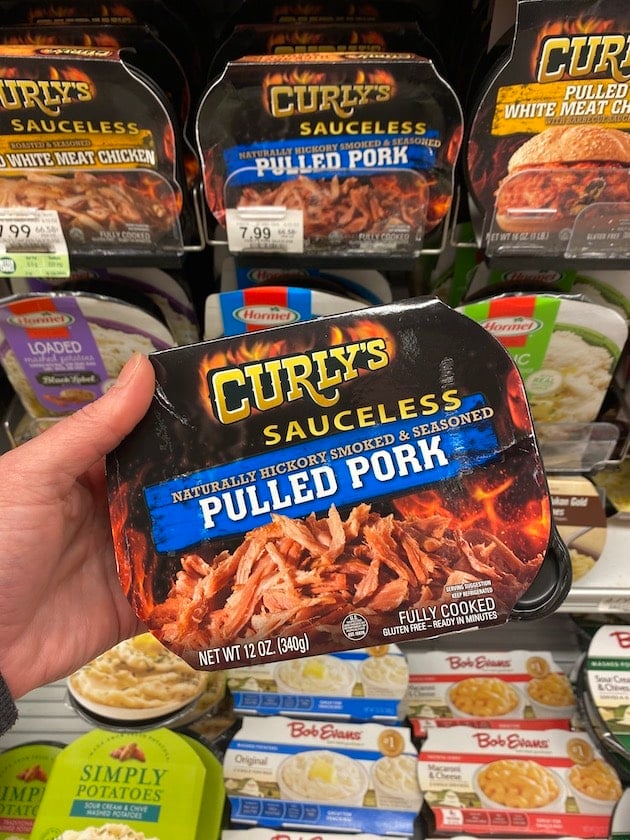 I have several methods for cooking pulled pork on the blog. You could make a large roast and then use it for several different meals like carnitas, bbq pulled pork sandwiches, and so much more.
Just to make sure you have lots of options, here are three different methods for cooking a pork shoulder at home: slow cooker pulled pork shoulder, instant pot pulled pork, or oven roasted pulled pork!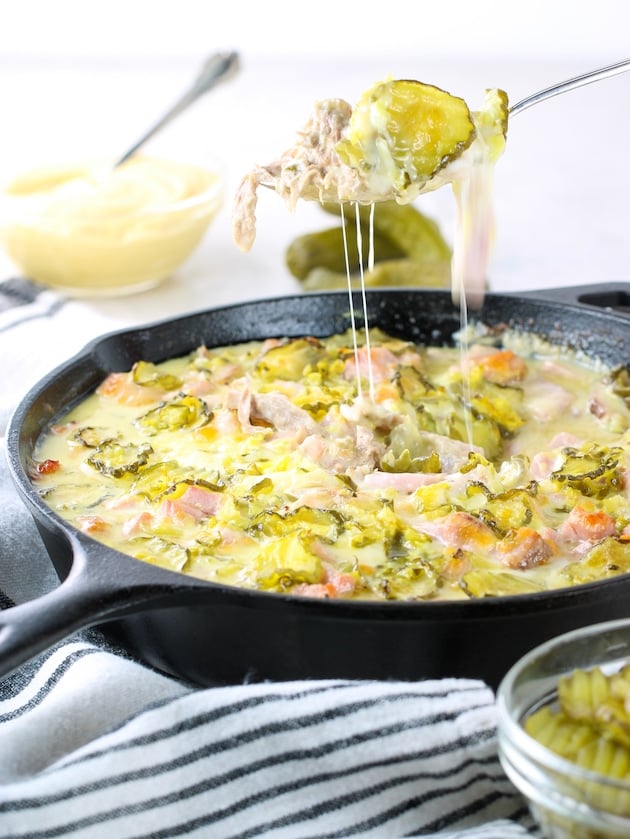 How To Make A Cuban Casserole
Preheat the oven to 375.
Shred pork into bite-sized pieces and simmer in a cast iron skillet with cream cheese, Dijon mustard, and chopped pickles.
Once the cream cheese has melted and mixed in with the pork, layer on the pickles.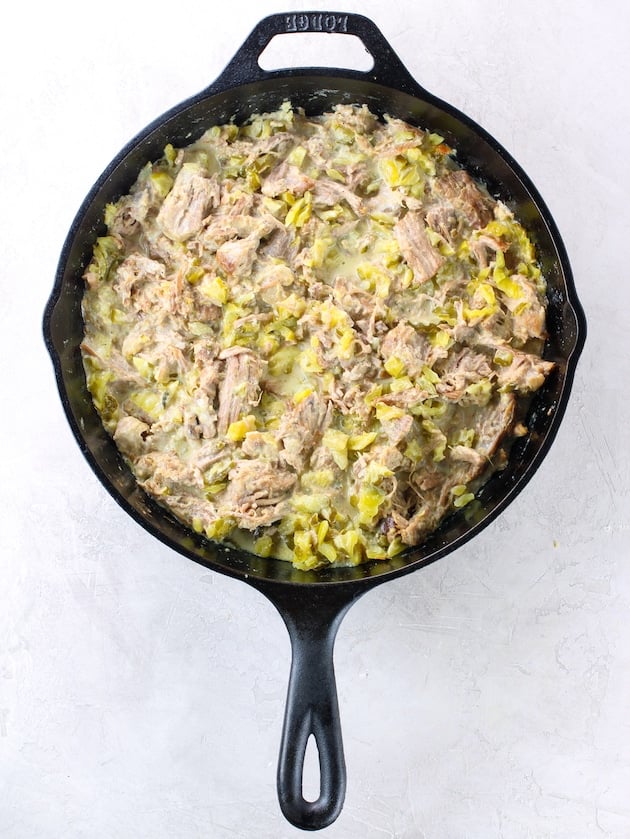 Top that off with ham (use low-sodium ham if you can)...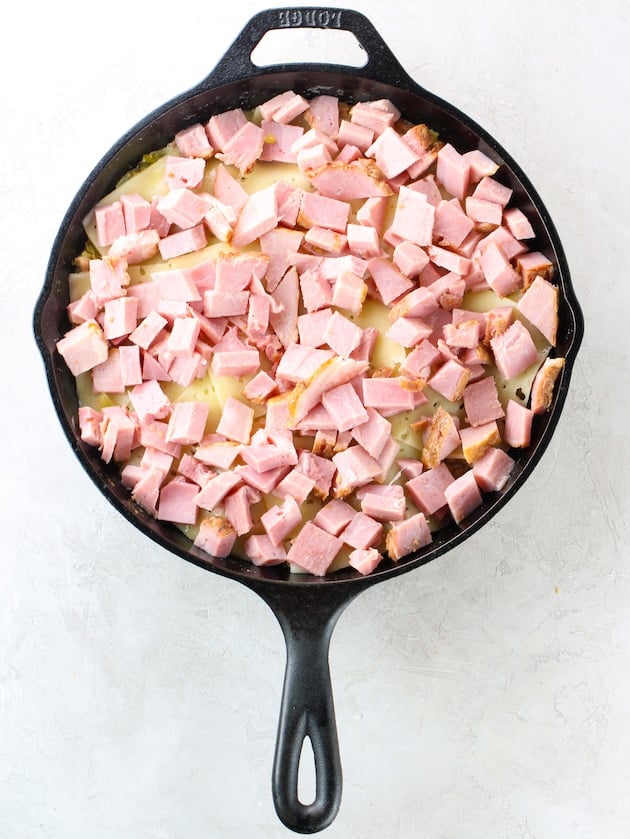 ... then Swiss cheese and more pickles.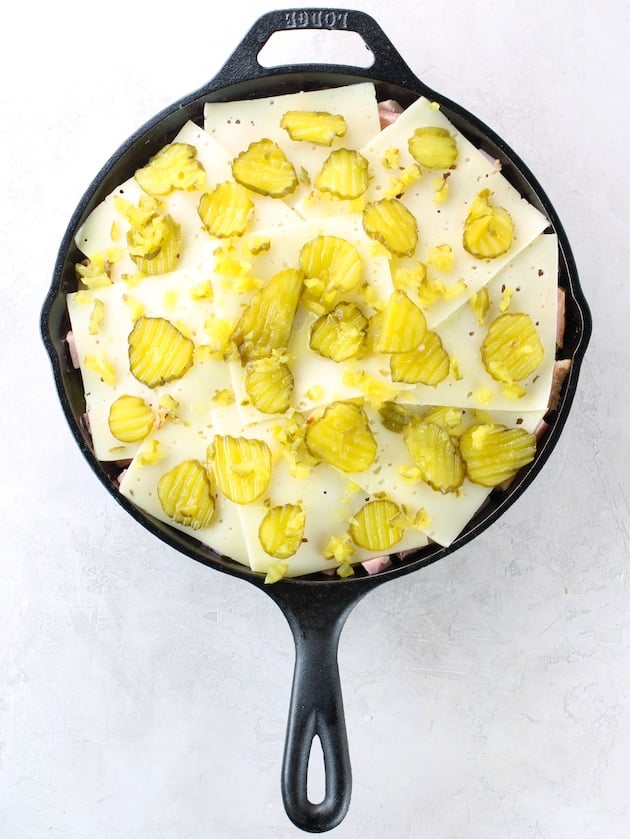 Bake for about 10-15 minutes until cheese is melted and the casserole is bubbly.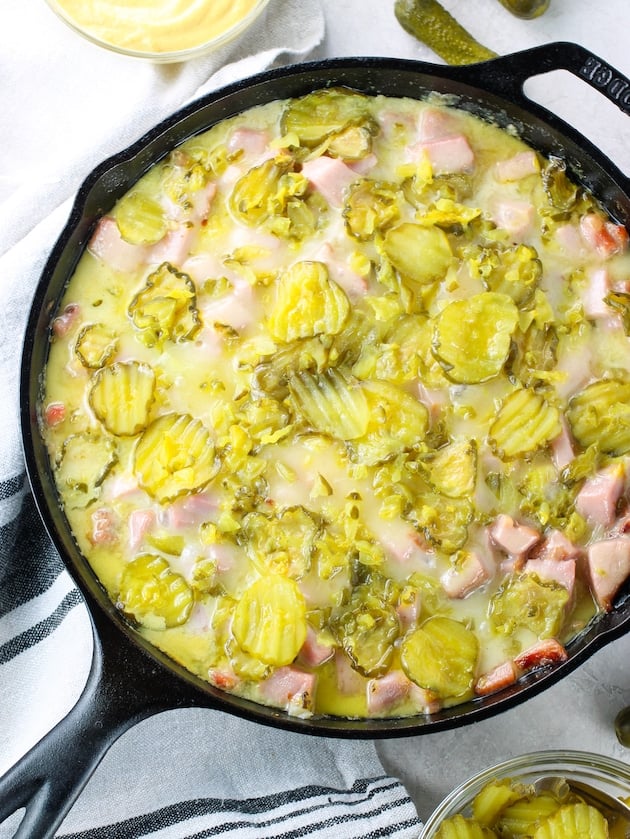 That's it. So easy and ridiculously delicious.
I can't wait for you to experience this cheesy protein-packed yummy meal!
Yield: 10 Servings
Cast Iron Cuban Casserole (Low Carb)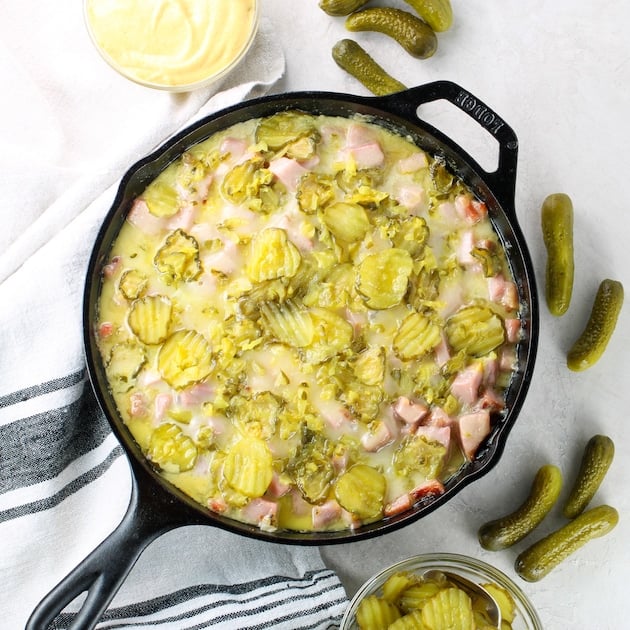 Cast Iron Cuban Skillet - A low carb take on the classic Cuban sandwich! With shredded pork, ham, Swiss cheese & pickles, it's a keto-friendly crowd pleaser exploding with flavor.
Ingredients
2 pounds cooked pulled pork
4 ounces cream cheese
2 tablespoons Dijon mustard (or Yellow Mustard if you prefer)
3 ounces chopped dill pickles
8 ounces ham, sliced or chopped (low-sodium if possible)
8 slices baby Swiss cheese
3 ounces sliced dill pickles (1 ounce chopped, 2 ounces sliced)
Instructions
Preheat oven to 375F.
Shred pork into bite-sized pieces.
in a 10-inch cast iron skillet, simmer the pork along with cream cheese and Dijon.
Once the cream cheese has melted and mixed in with the pork add 3 ounces of the chopped dill pickles.
Top the pork mixture with the chopped ham, then the 8 slices of Swiss cheese and the last 3 ounces of pickles that are chopped and sliced.
Bake 10-15 minutes until bubbly. Enjoy!
Nutrition Information
Yield
10
Serving Size
5 ounces
Amount Per Serving
Calories

316
Total Fat

16g
Saturated Fat

8g
Trans Fat

0g
Unsaturated Fat

6g
Cholesterol

79mg
Sodium

1122mg
Carbohydrates

5g
Fiber

1g
Sugar

0.5g
Protein

24g
This nutrition card uses an estimate provided by an online nutrition calculator. This estimate is not a substitute for a professional nutritionist's advice!