This Chicken Cordon Bleu Casserole with Broccoli and Swiss Cheese is hearty and cheesy, flavorful, and super delicious!
It's full of the tastiest ingredients... chicken tenders seasoned with salt, pepper, fresh thyme, and grated parmesan cheese, wrapped in Swiss cheese and slices of lean ham.
It's all topped off with some broccoli, onions, more seasoning, and more Swiss cheese - creating one amazingly tasty low-carb and gluten-free casserole!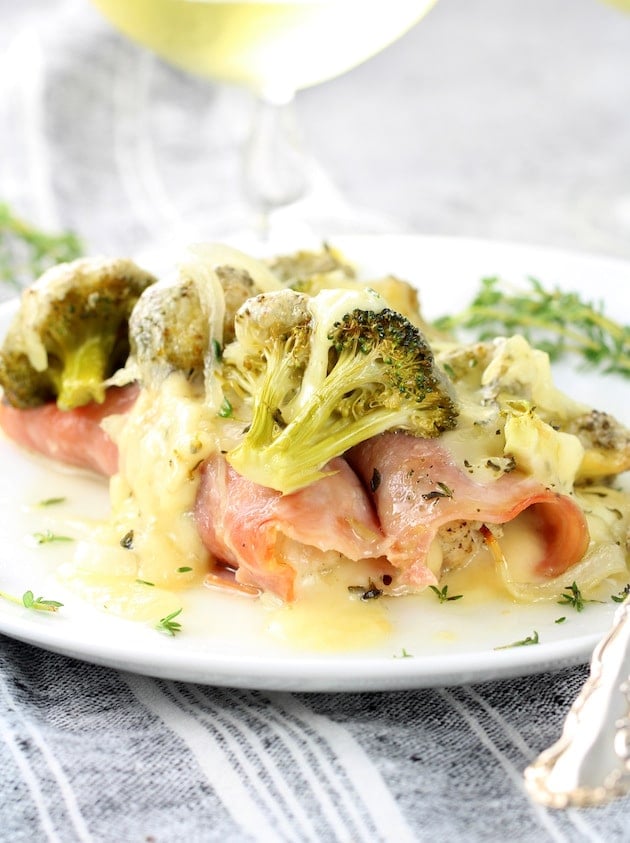 Jump to:
You may not know this but I've tasked myself with continually creating delicious, easy, one-pan, healthy recipes!
Here's why…
First of all, because that's really what I want to eat myself, and second, I know that's something you probably want as well – right?
Life is busy, so when you can get dinner on the table without too much time or effort, AND it's well-balanced and something everyone loves, winning!
Here are the things I consider when I'm creating these new one-pan wonders…
It usually starts with an approachable protein, a fan-favorite veggie, and some flavoring to make it special and different.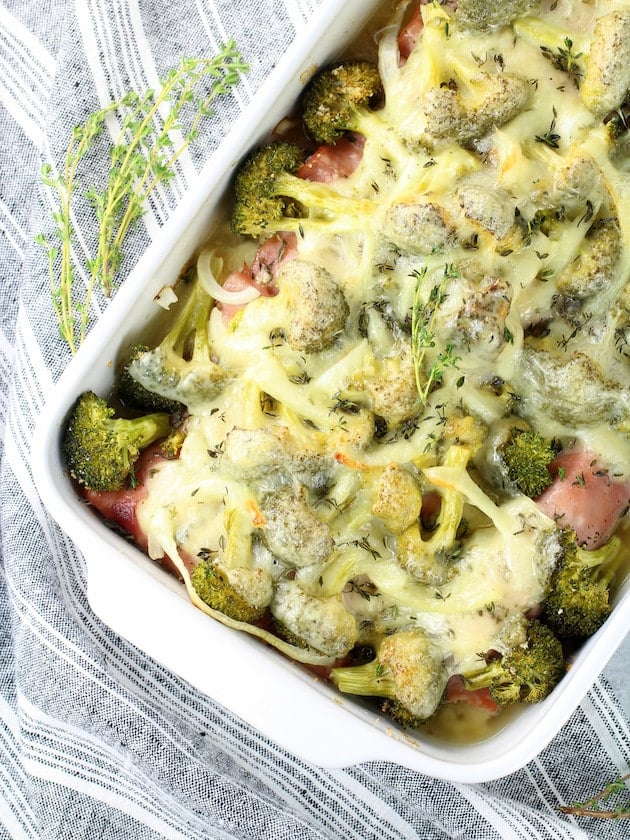 For me, it all started with the Ranch Broccoli Casserole – it's amazing and healthy and everyone that tries it testifies that it's a pan of yummy goodness. I mean what's not to love about chicken, broccoli, cheese, and ranch seasoning?
Then came the Mexican Chicken Casserole – doesn't everyone adore Mexican food? And especially when it takes the form of a super easy casserole full of delicious Mexican flavors.
Next came the Salsa Verde Chicken Casserole which might just be my favorite of all. It's zesty, cheesy, and oh so creamy - full of peppers and onions and lean chicken of course!
What can I say I've been working hard on my family casserole game!
That brings us to today and my latest creation… the one-pan masterpiece: Chicken Cordon Bleu Casserole with Broccoli and Swiss Cheese! It's everything you never knew you always wanted and more!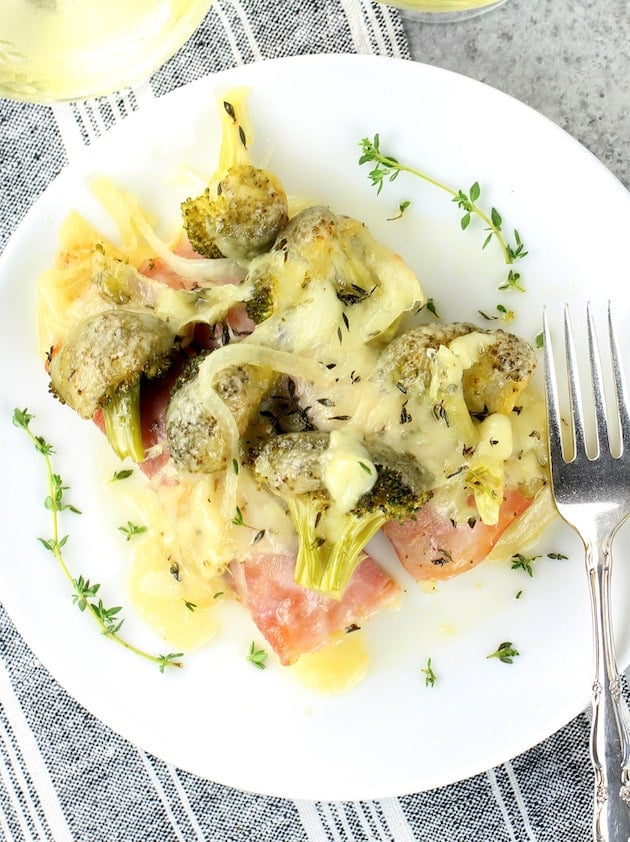 The most delicious chicken cordon bleu casserole!
It's just a few simple ingredients strategically placed and cooked to perfection. It's hearty and cheesy, flavorful, and super delicious!
Traditionally chicken cordon bleu consists of pounded chicken breasts delicately stuffed with a slice of ham and Swiss cheese. It can be baked or fried and sometimes has a creamy sauce poured over it. It's one of those dishes that evolved over time and takes on many different forms.
What's not to love about all that yumminess – right!?
Well, many times the stuffing, breading, and sautéing all of this goodness can be more challenging than you would think.
So in honor of making this ever-popular dish easy AND delicious, I've created my own version – casserole style.
Before we get into how to create this delicious chicken cordon bleu let's chat about a few things that make this recipe special.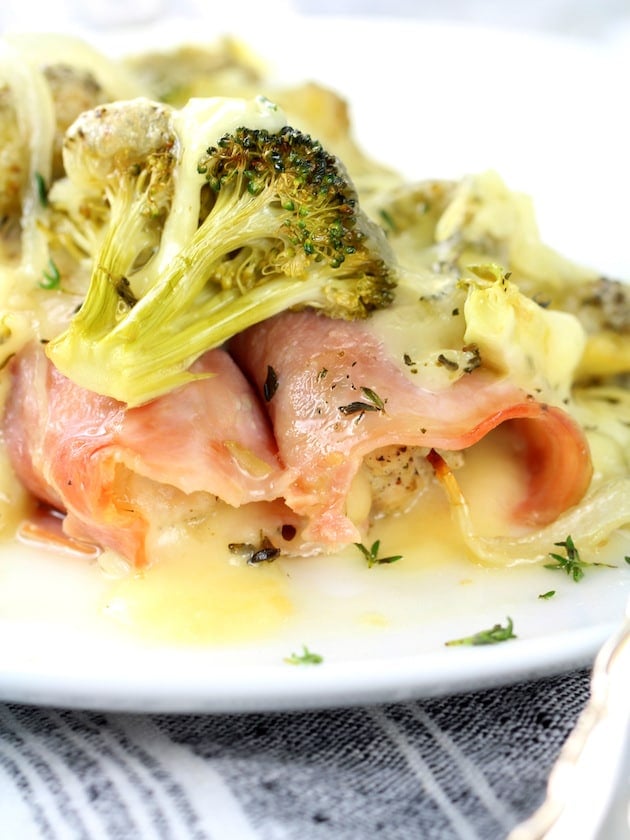 Some history about Swiss Cheese:
What kind of cheese is Swiss? Swiss cheese is the generic name for several varieties of cheese originally made in Switzerland. In the United States "Swiss cheese" is an imitation of the Swiss Emmental or Emmentaler.
What is the best cheese in Switzerland? The most recognizable and famous of Swiss cheeses is in fact Emmental cheese. This cheese is a mild cheese made from cow's milk with a firmer texture than baby Swiss and a decidedly mild taste that makes it perfect for fondue and gratin.
Is Gruyere Cheese and Swiss the same? The Swiss style of cheese known as Gruyere comes from a valley of the same name in the Swiss canton of Fribourg. Unlike the more bland-tasting Emmental variety, Gruyere's flavor is rich, nutty, and slightly sweet.
Is Swiss Cheese healthy to eat? Swiss cheese is among the healthiest of cheeses: it's lower in fat and sodium, making it an easy choice to fit into your healthful diet.
What goes in chicken cordon bleu casserole?
Broccoli – it's one of the most widely loved veggies and it's so good for you. Plus, it goes perfectly as an addition to this casserole.
Swiss cheese – this is actually a generic name for several varieties of cheese. The American version of Swiss cheese is known for being a shiny, pale yellow.
Chicken tenders – probably goes without saying but they are lean and so tender when cooked at the proper temperature for the right amount of time.
The ham is a nice hearty treat and almost gives off a hint of sweetness because many times it's been smoked in hickory or other hardwoods.
The spices and Parmesan cheese are essential to this dish because without them it's quite mild.
Doesn't it sound delectable!?? Well then, let's get cooking my friend.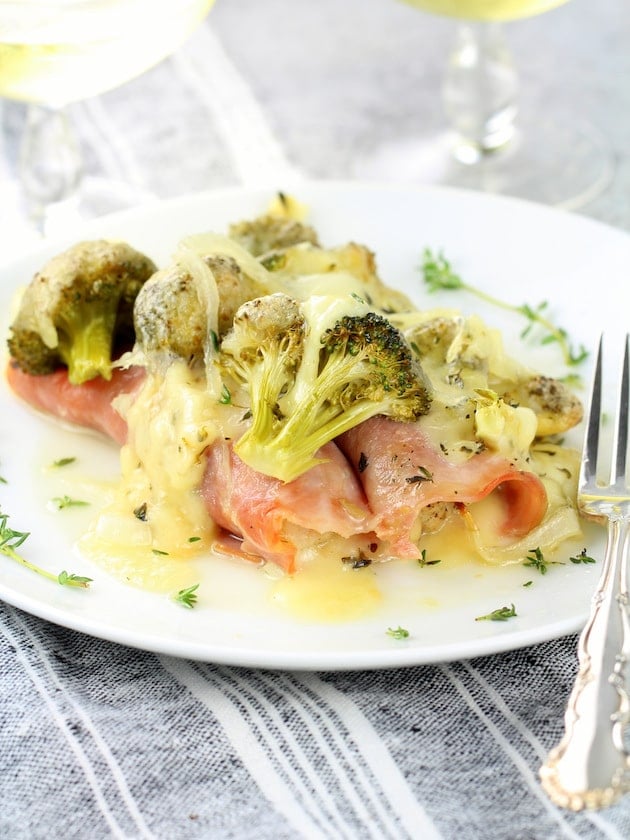 How do you make chicken cordon blue casserole:
Use a 9x13 baking dish and drizzle a tablespoon of olive oil in the bottom. Then sprinkle on some sliced onions.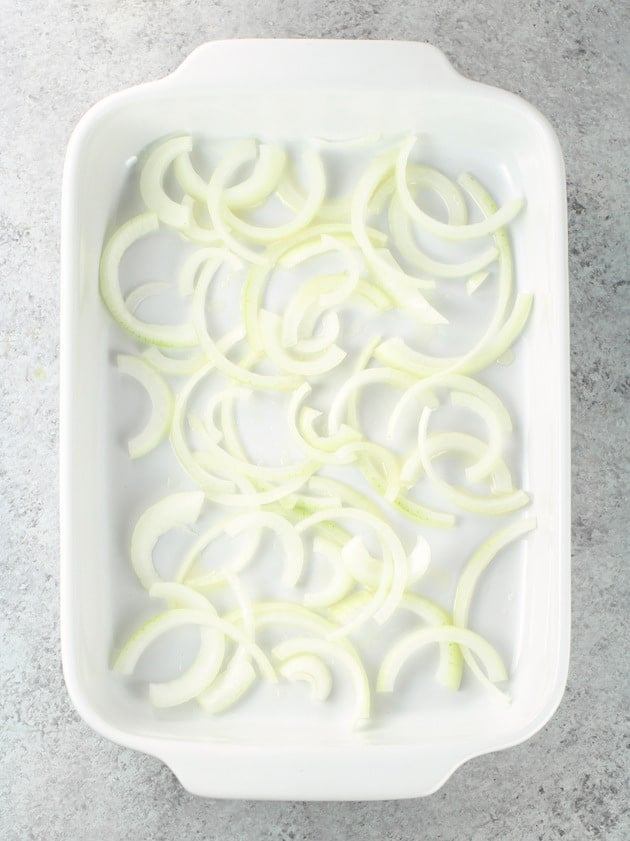 Next season the chicken tenders with thyme, Parmesan cheese, garlic powder, salt, and pepper.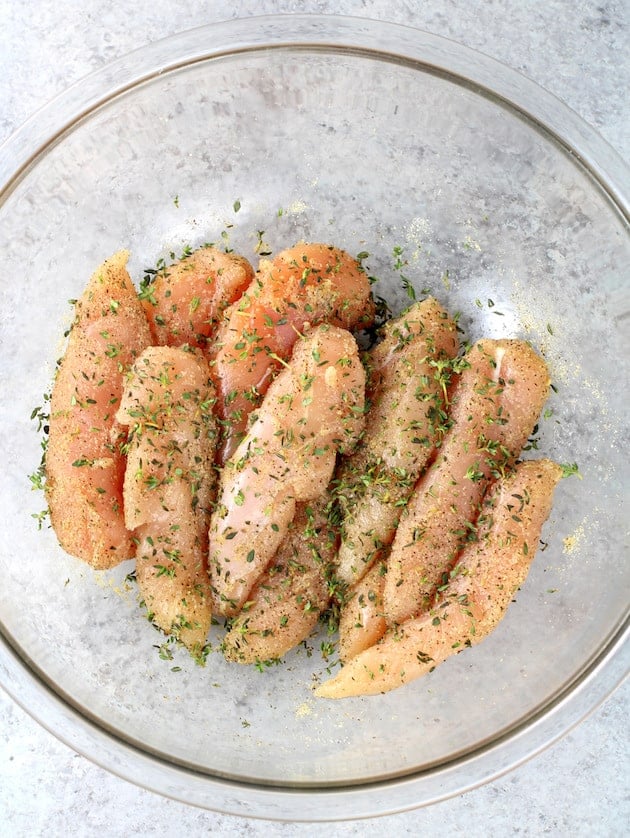 Wrap each chicken tender in a square piece of Swiss cheese, and then wrap in a piece of ham.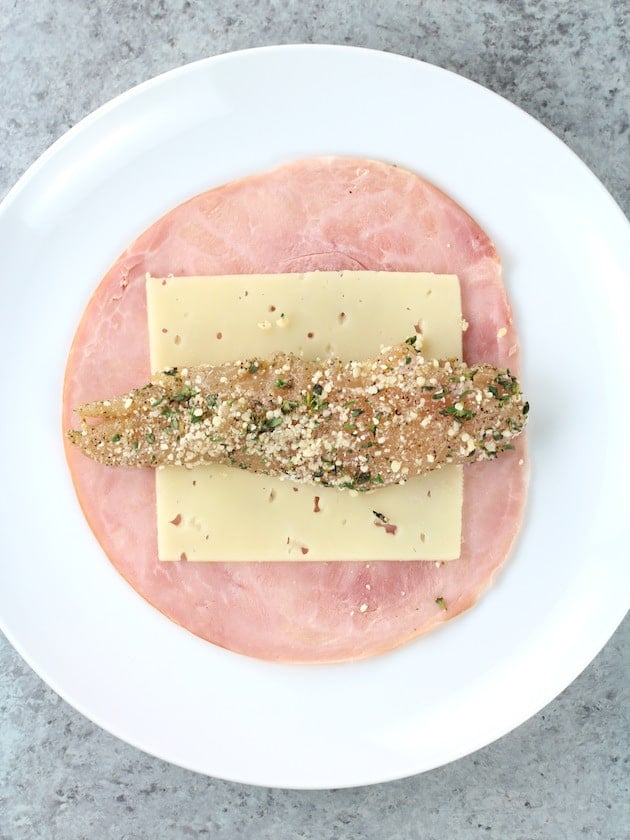 Place the seam side down on top of the onions in the baking dish.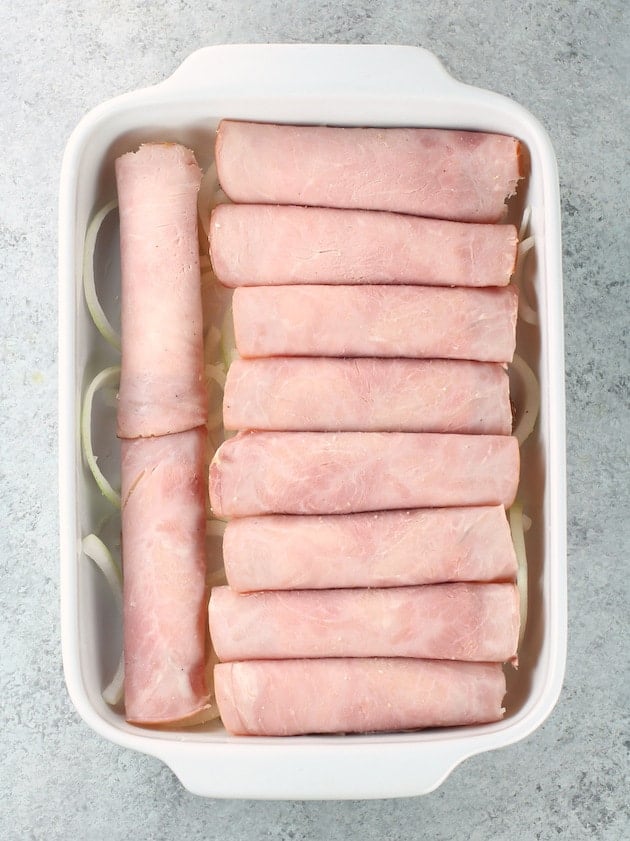 Next, add the broccoli florets and the rest of the onions on top of the layer of chicken rolls, and sprinkle on a bit more salt and pepper and some Parmesan cheese.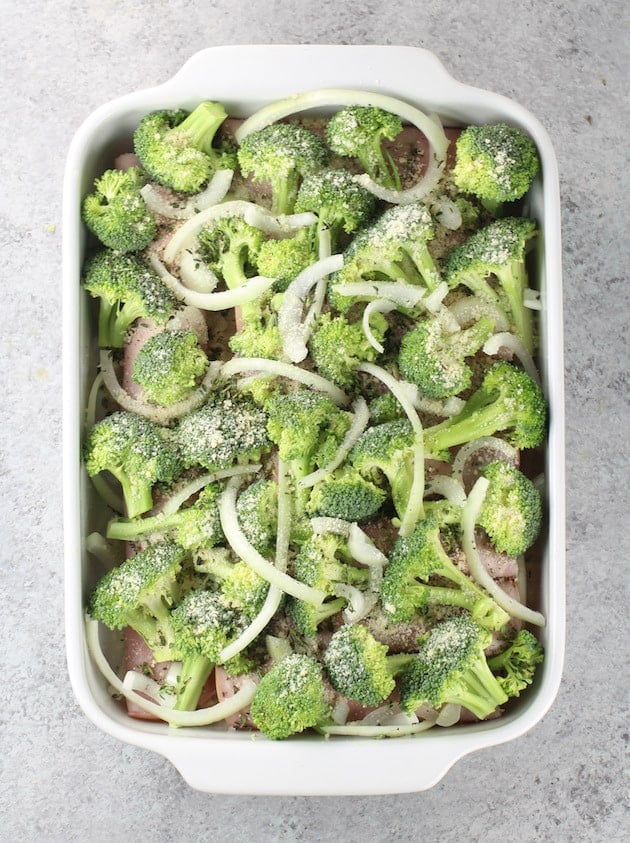 Finally, place Swiss cheese slices on top of the broccoli and the casserole and bake for 35-40 minutes at 350 degrees.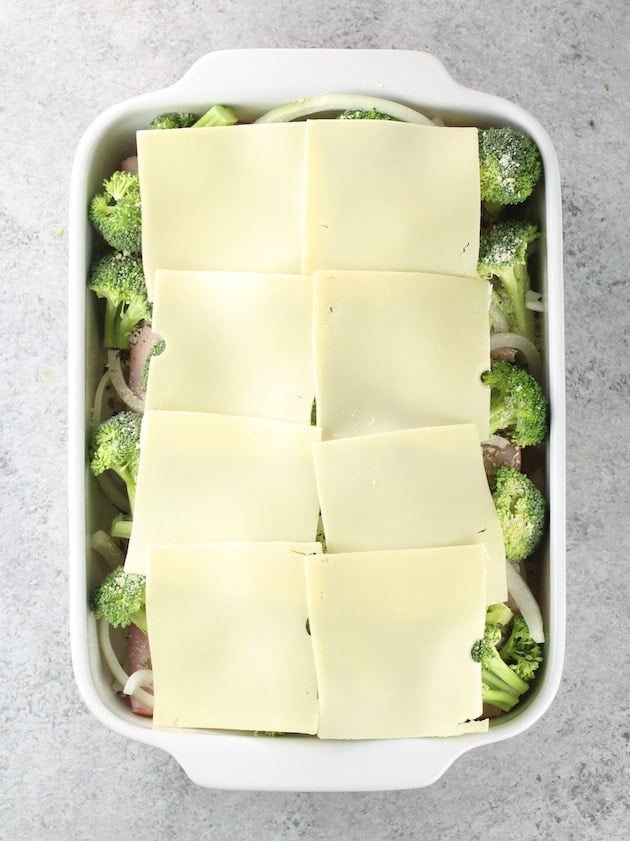 It is cheesy chicken perfection, my friend. As a mother of so many recipes, it's hard for me to love some over others… but this one is really something special!
It's hearty and filling from the ham and chicken, healthy and well-balanced from the veggies, and downright delicious from the combination of flavors, cheese, and herbs.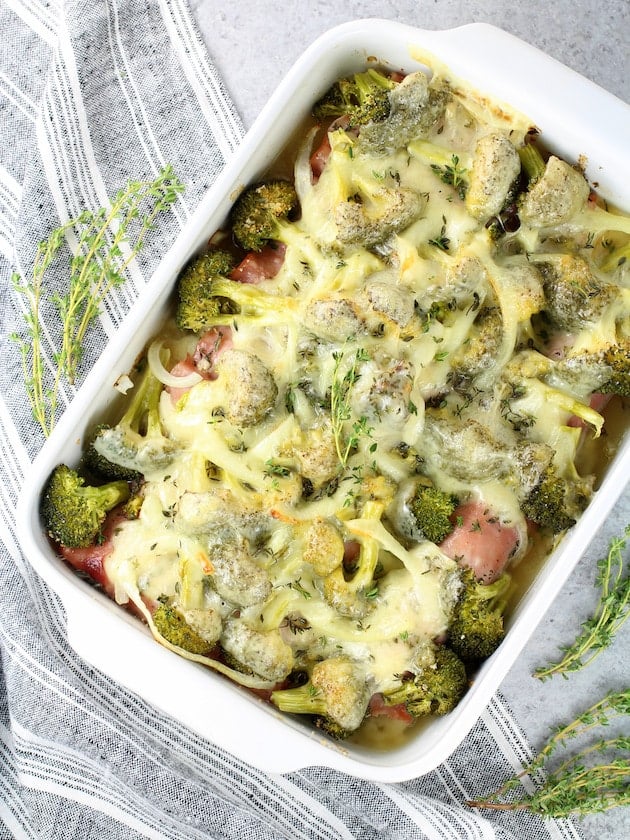 If you're looking for a delicious weeknight meal that the hubs and kids will all agree is amazingly tasty – this is it!
Plus, I've included an optional easy Swiss cheese sauce for those of you who want to take this casserole to a whole natha level!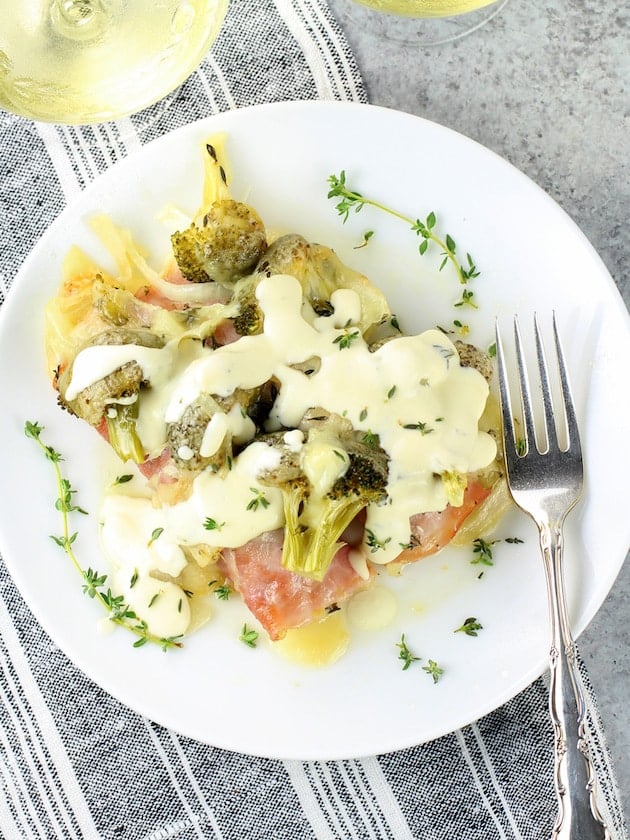 Did I mention it's low-carb and gluten-free!? Enjoy!!
Yield: 5 servings
Chicken Cordon Bleu Casserole with Broccoli and Swiss Cheese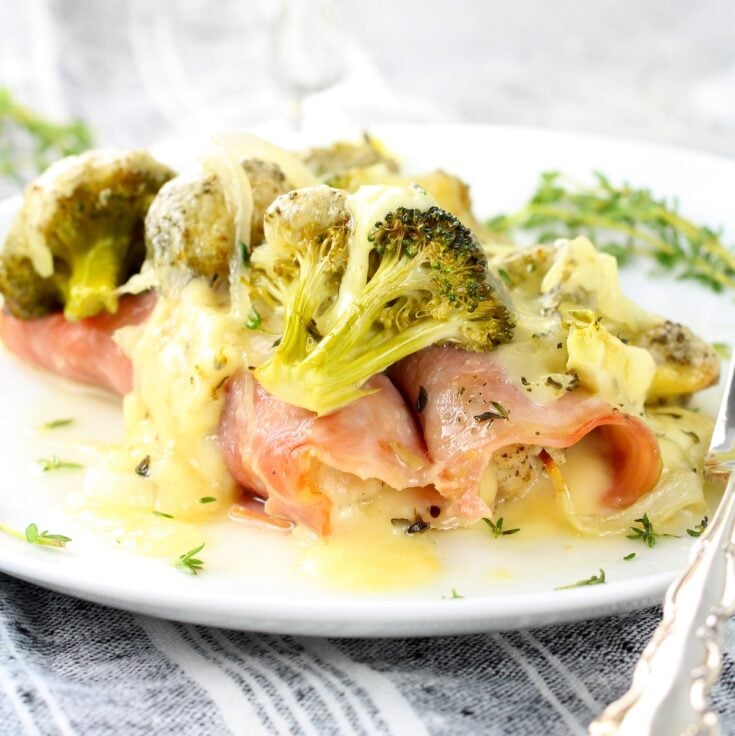 This Chicken Cordon Bleu Casserole with Broccoli and Swiss Cheese is hearty and cheesy, so flavorful and super delicious! Ready in just 45 minutes.
Ingredients
For The Casserole
2 tablespoons fresh thyme (1 for chicken and 1 for the broccoli)
1½ teaspoons salt (1 tsp for the chicken and ½ teaspoon for the broccoli)
1 teaspoon pepper
1 teaspoon garlic powder
1 teaspoon onion powder
3 tablespoons grated Parmesan cheese (1 Tbsp for chicken and 2 for seasoning the broccoli)
12 ounces broccoli florets (1 large head of Broccoli)
1 tablespoon olive oil
1 small yellow onion sliced thinly (optional but I like it for added flavor)
2 pounds chicken tenders (about 10 pieces)
6.5 ounces Swiss cheese (18 square slices)
10 ounces ham (sliced on the thicker side)
For The Cheese Sauce (Optional)
4 ounces cream cheese
3 slices Swiss cheese, chopped
2 tablespoons grated Parmesan cheese
½ teaspoon garlic powder
¼ teaspoon salt
Instructions
Preheat the oven to 350 degrees.
Toss the chicken tenders in the spices and 1 tablespoon of Parmesan cheese.
Add the olive oil to the bottom of a 9x13 casserole dish. Sprinkle ½ the onions on the bottom of the dish. Roll each chicken tender in a piece of Swiss cheese and a piece of ham. Place them seam side down in the pan.
Sprinkle on the rest of the onions and the cut up broccoli florets. Sprinkle on ½ teaspoon salt and 2 tablespoons parmesan cheese. Top with 8 slices of Swiss cheese to cover the broccoli.
Cook for 35-40 minutes uncovered, until the chicken temperature reaches 165 degrees.
If you are using the optional Swiss Cheese sauce, bring 1 cup chicken stock to a simmer in a small saute pan on the stove top. Then add in the rest of the cheese sauce ingredients and stir until everything is combined and thickened, about 3-4 minutes. Remove from the heat until ready to serve.
Remove casserole from the oven and allow it to rest 5 minutes before serving. Top with a dollop of Swiss cheese sauce if desired, and enjoy!
Nutrition Information
Yield
5
Serving Size
2 ham & chicken rollups
Amount Per Serving
Calories

427
Total Fat

26g
Saturated Fat

12g
Unsaturated Fat

0g
Cholesterol

97mg
Sodium

1509mg
Carbohydrates

11g
Fiber

3g
Sugar

6g
Protein

34g
More family-friendly, easy-to-make dinner recipes:
Parmesan Crusted Chicken
Shredded Mexican Chicken in the Instant Pot!
Grilled Chicken Caprese with Balsamic Sauce
Baked Lasagna Stuffed Peppers
Mozzarella and Pesto Chicken with Zoodles
Instant Pot Mexican Quinoa and Chicken