Harissa Chicken Sheet Pan Dinner… an easy and flavorful chicken dinner that cooks hands-free in 20 minutes! Chicken tenders coated in the most delicious harissa sauce, with garlic, herbs and spices, sweet bell peppers, and baby potatoes… all topped off with a cooling Greek yogurt, lemon wedges, sliced olives, and capers if you'd like. This North African-inspired dish is a nice flavor-infused change to the typical sheet pan chicken dinner.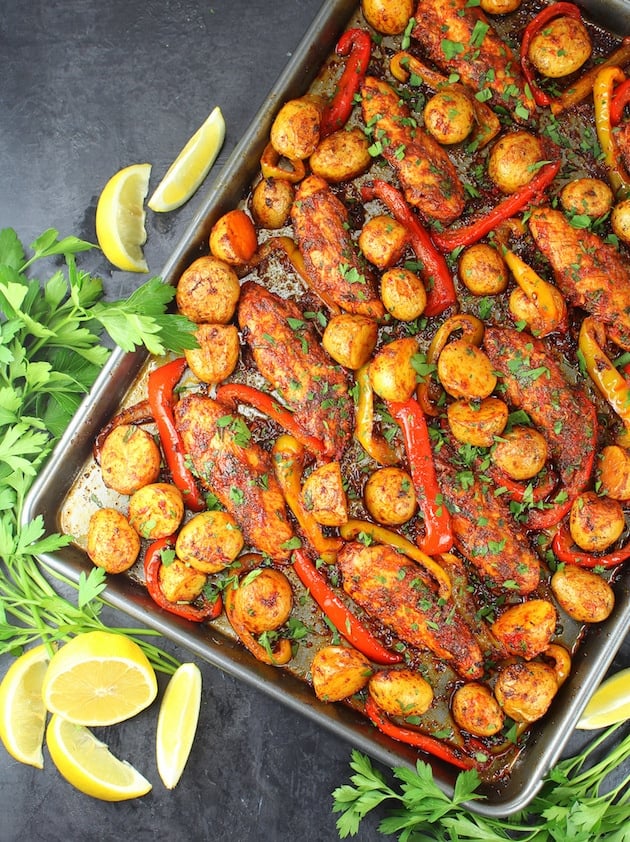 (This post contains affiliate links… read more here.)
So, ideally, I would have loved to publish this recipe during "Sheet Pan September" – yep, that's a thing. My super fan and sister-in-love made sure I knew about that. She's always looking out for me - thanks girl!!
Fast forward to today, October 21st – I'm not TOO far off target, right!?
Like they say, "all good things are worth the wait," and "anything worth having is worth waiting for," and "good things come to those who wait…" sorry I love to quote a good quote!
So, without further ado, I give you the Harissa Chicken Sheet Pan Dinner recipe!! It's quite tasty my friend!
What is harissa spice?
Have you tried Harissa before? If not you might be wondering "what is harissa?"… Allow me to shed some light: Harissa seasoning originated in North Africa and is essentially pureed red peppers (usually hot peppers too) with some spices, garlic and olive oil – very yummy!
The nice thing is you can purchase it in a mild or spicy version - or make it from scratch and make it as spicy as you'd like! I just buy mine at the grocery store and Mina Harissa is the brand I normally reach for. They even have a green harissa paste too!
I also have a stovetop version of this lemon chicken harissa recipe that people seem to really love. So, if sheet pan dinners aren't your jam I've totally got you covered.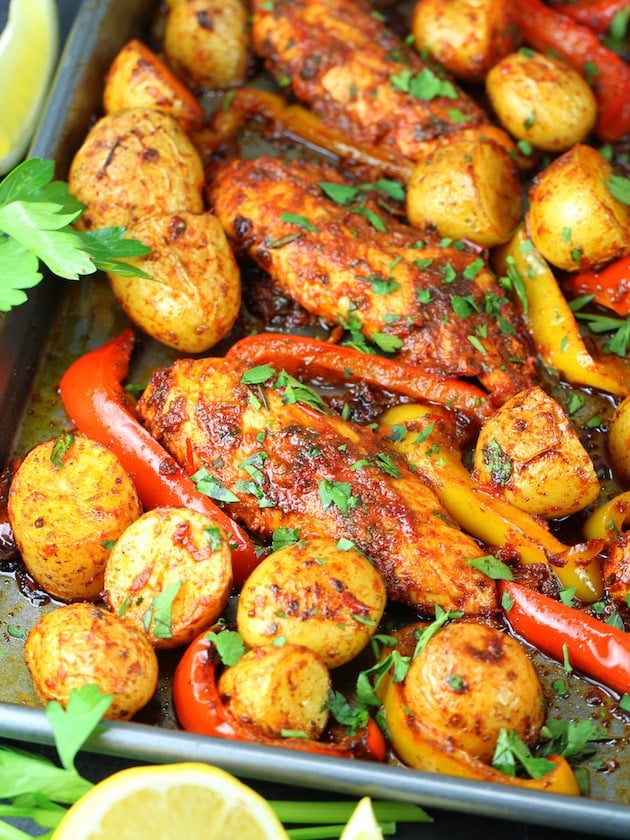 I think the harissa sauce in this recipe is a nice changeup from the typical chicken dinner recipe. If you're a chicken and roasted peppers fan – you're gonna love it!
In addition to chicken and harissa sauce, I like to add sweet bell peppers and some baby potatoes. It just seemed like the right combination of protein, veggie and starch for this harissa recipe combination!
Easy Harissa Chicken Sheet Pan Dinner:
First, I like to mix up a harissa paste using fresh garlic, lemon, olive oil, spices and harissa sauce.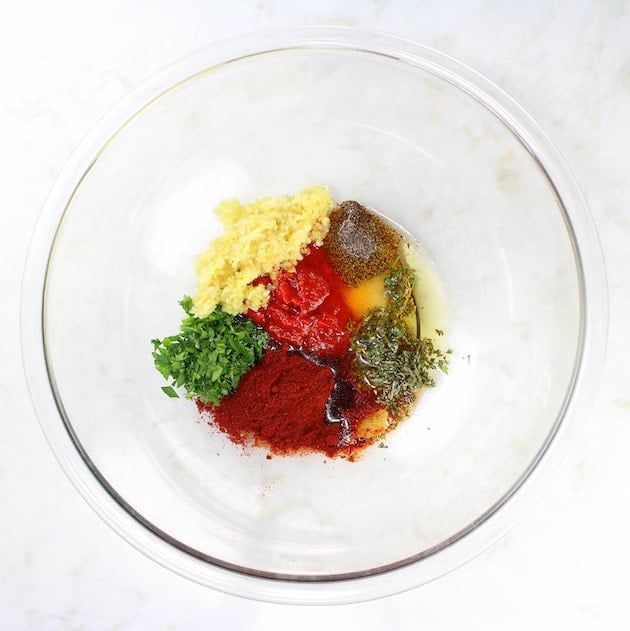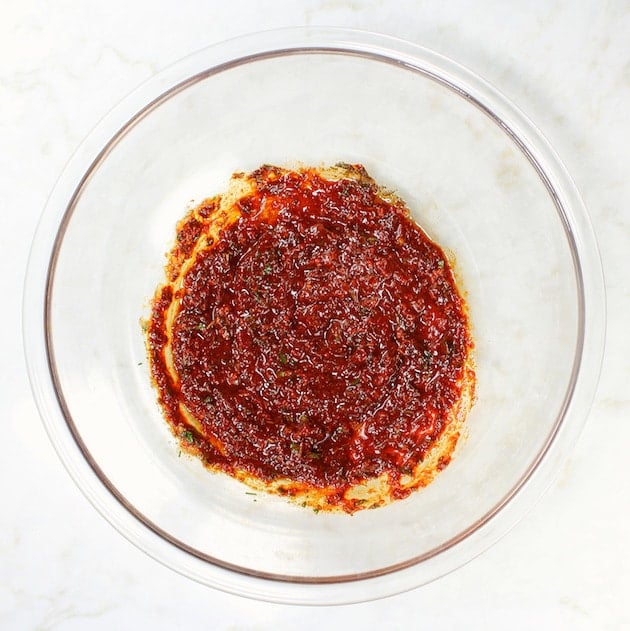 Then I add my chicken tenders right into the mixing bowl and completely immerse them in the paste. I let that marinate in the fridge for 3-6 hours.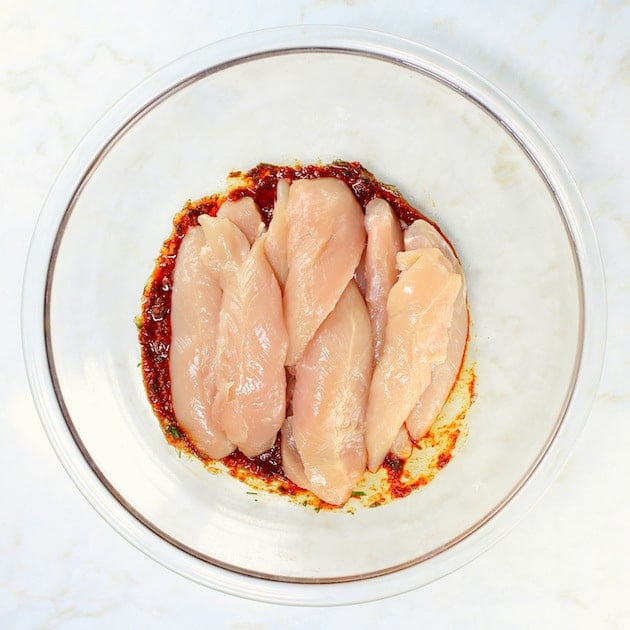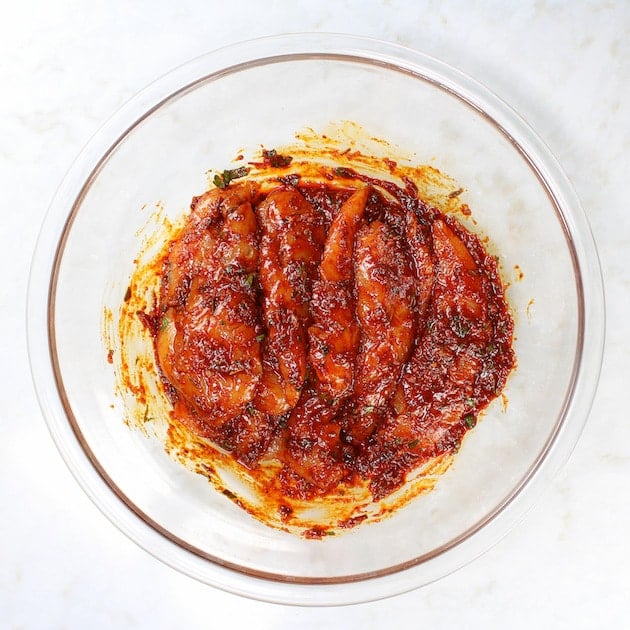 Meanwhile, I prep my peppers and potatoes. I like to slice my peppers and make sure my baby potatoes are all generally the same size, so they cook evenly. This may require cutting some in half.
When it's time, I preheat my oven to 450 degrees and wait for it to come up to temperature. I add the veggies to a baking sheet and sprinkle on my seasonings and olive oil. Then toss that all together so it's evenly coated.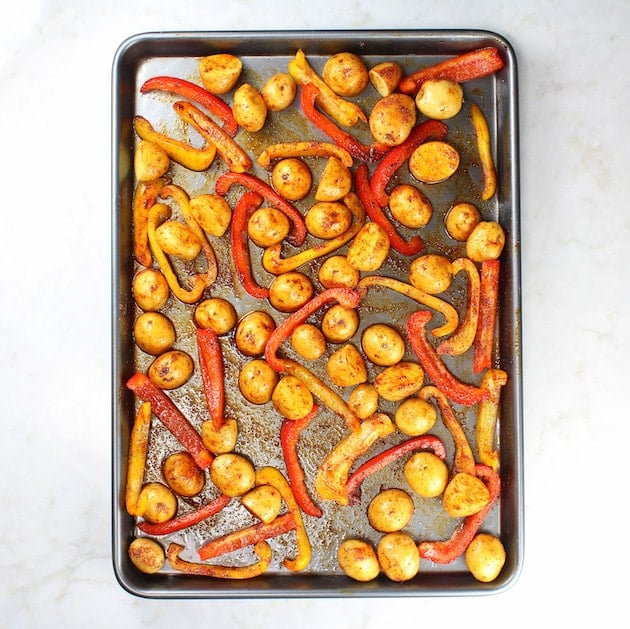 Finally, I add my chicken to the sheet pan (shaking off any excess harissa sauce.) Then into the oven for 18-20 minutes. Seriously, it cooks really fast at such a high temperature.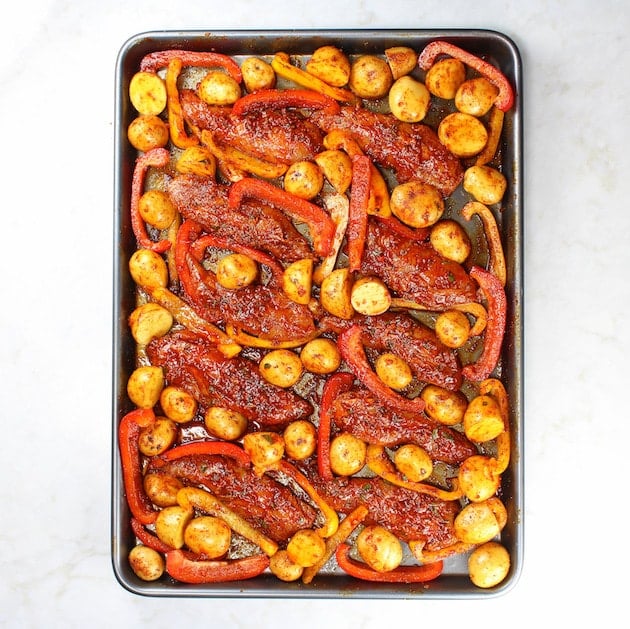 I always temp my chicken with my handy meat thermometer (<-my fave!) to make sure it reaches 165 degrees. Also, go ahead and check the potatoes with a fork, to be sure they're cooked to your liking. If the chicken is done but the potatoes aren't, just remove the chicken from the pan and cook everything else for another minute or two.
I would not be doing my job if I didn't mention how to serve this yummy sheet pan dinner so that it's mouthwateringly delicious.
The spices and peppers pair perfectly with some Greek yogurt, extra lemon wedges to squeeze on top, capers, and even sliced green olives. It really takes this North African inspired recipe to an amazing place of deliciousness!
But please, don't take my word… whip up this Harissa Chicken Sheet Pan Dinner for yourself! This one's a keeper - prepare to be swooned my friend!
I would love to connect with you! Leave me a comment and follow me on Facebook, Instagram, Pinterest, and Twitter!
Yield: 6 Servings
Harissa Chicken Sheet Pan Dinner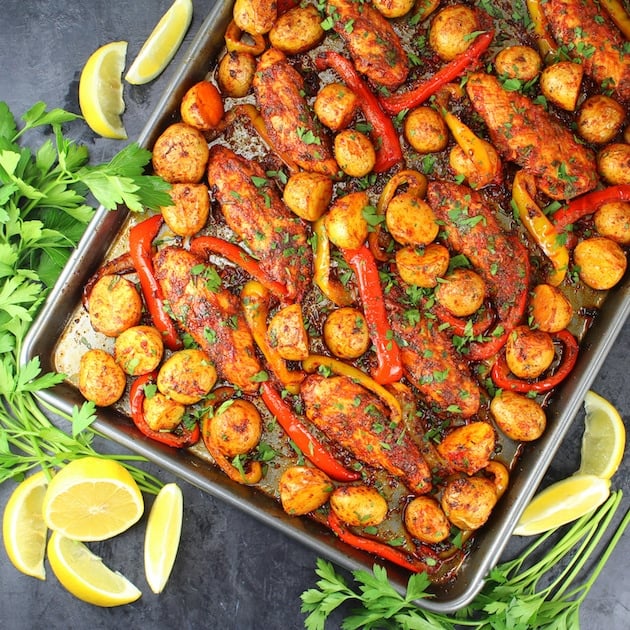 Harissa Chicken Sheet Pan Dinner an easy and flavorful chicken dinner that cooks hands-free in 20 minutes!
Total Time
3 hours
30 minutes
Ingredients
For the Chicken and Marinade:
3 tablespoons extra virgin olive oil
4 garlic cloves, minced
3 tablespoons freshly squeezed lemon juice
2 tablespoons fresh rosemary, finely chopped
1 tablespoon fresh parsley, chopped
2 tablespoons paprika or smoked paprika
2 tablespoons spicy harissa (or mild if preferred)
1 teaspoon salt and pepper
1 ¼ -1 ½ lbs chicken tenders (about 10 tenders)
For the Roasted Vegetables:
2-3 tablespoons olive oil
1 yellow pepper sliced, seeds and core removed
1 red pepper sliced, seeds and core removed
1 lb baby dutch potatoes gently scrubbed in water, cut larger ones in half so they are all the same size, (½" in diameter preferable. ¾" will work but may take longer to cook)
1 ½ teaspoons salt
1 teaspoon pepper
1 teaspoon paprika or smoked paprika
For the Garnish:
¾ cup plain Greek yogurt
Parsley, finely chopped
Sliced green and black olives (optional)
Capers for garnish (optional)
Instructions
For The Marinade:
In a large mixing bowl combine olive oil, garlic, lemon juice, rosemary, parsley, paprika, harissa, salt and pepper. Mix thoroughly.
Add the chicken tenders and fold in to cover them in the sauce, then refrigerate for at least 3 hours and up to 6 hours.
For The Veggies:
Arrange the peppers and potatoes on the baking sheet.
Drizzle with 2-3 tablespoons of olive oil and coat thoroughly.
Mix salt, pepper and paprika together, then sprinkle on veggies and toss until evenly coated.
To Cook:
Preheat oven to 450F
Remove excess marinade from the chicken and place on the pan with the veggies, spaced evenly.
Roast at 450 degrees for 18-20 minutes or until the chicken reaches 165F.
Serve the veggies and chicken with a dollop of Greek yogurt, and lemon wedges for squeezing. Garnish with parsley, sliced olives or capers.
Notes
The chicken may finish cooking before the potatoes, depending on their size.  If that happens, remove the chicken from the pan and continue to cook potatoes to your preference.
I used a non-stick 12x17 baking sheet pan.  Depending on the pan you use you may want to line it with parchment paper or tin foil.
Avoid the urge to add more marinade/sauce to the chicken when you put it on the baking sheet, because the high cook temperature will cause it to burn.
Nutrition Information
Yield
6
Serving Size
8-10 ounces
Amount Per Serving
Calories

300
Total Fat

14g
Saturated Fat

2g
Unsaturated Fat

0g
Cholesterol

61mg
Sodium

1166mg
Carbohydrates

16g
Fiber

4g
Sugar

2g
Protein

25g
What Can I Put Harissa On? (Answer: Everything!)
If you are looking for some great harissa and vegetable options, check out these Honey Harissa Rainbow Carrot or this Sweet and Spicy Roasted Cabbage. For a fantastic harissa seafood recipe, this Cedar Plank Harissa Smoked Salmon is sensational! Or if you want to keep things simple, then go with the original: Lemon Harissa Chicken!
Winner Winner, Sheet Pan Dinners: