BBQ Chicken Bacon Ranch Pasta Salad – completely drool-worthy summertime dish! This easy pasta salad recipe is brimming with the most delicious ingredients… smoky bacon, creamy avocado, bright tomatoes, hearty pasta, lean grilled chicken, and the most luscious homemade buttermilk ranch dressing!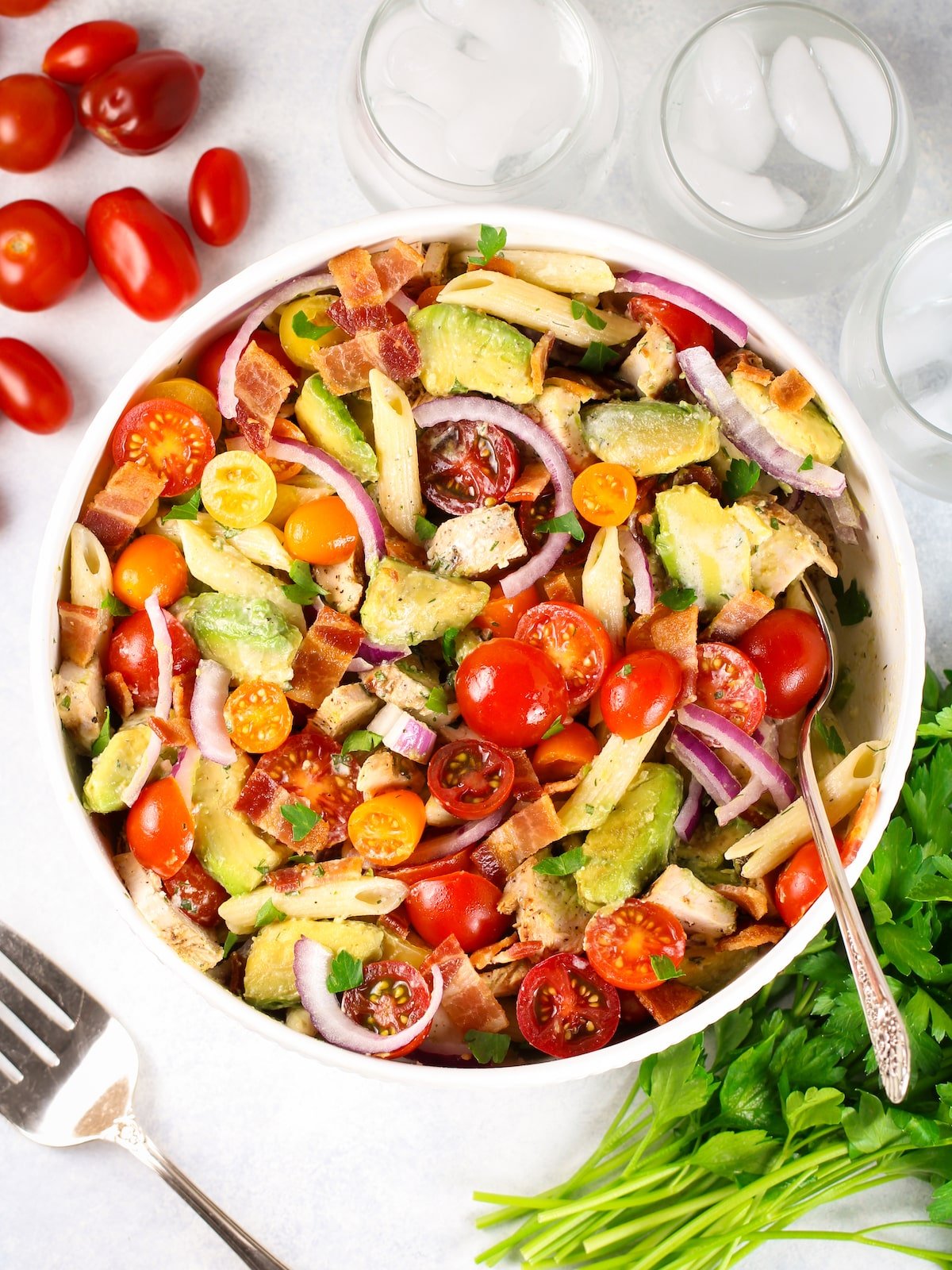 (This post contains affiliate links - learn more here.)
Jump to:
How's your summer going? Technically summer officially started a few days ago, but honestly, it's always summer where I live so I kind of lose track of the seasons. You gotta love the sunshine state - good ole' Florida.
We've got a few trips planned so far, nowhere incredibly fabulous, but we will get to see lots of dear friends which is my favorite part. Oh, and then there's the beach which is my other favorite part. Yes – there's just nothing like good friends, sunshine, and those turquoise waters. Ahh summertime livin'.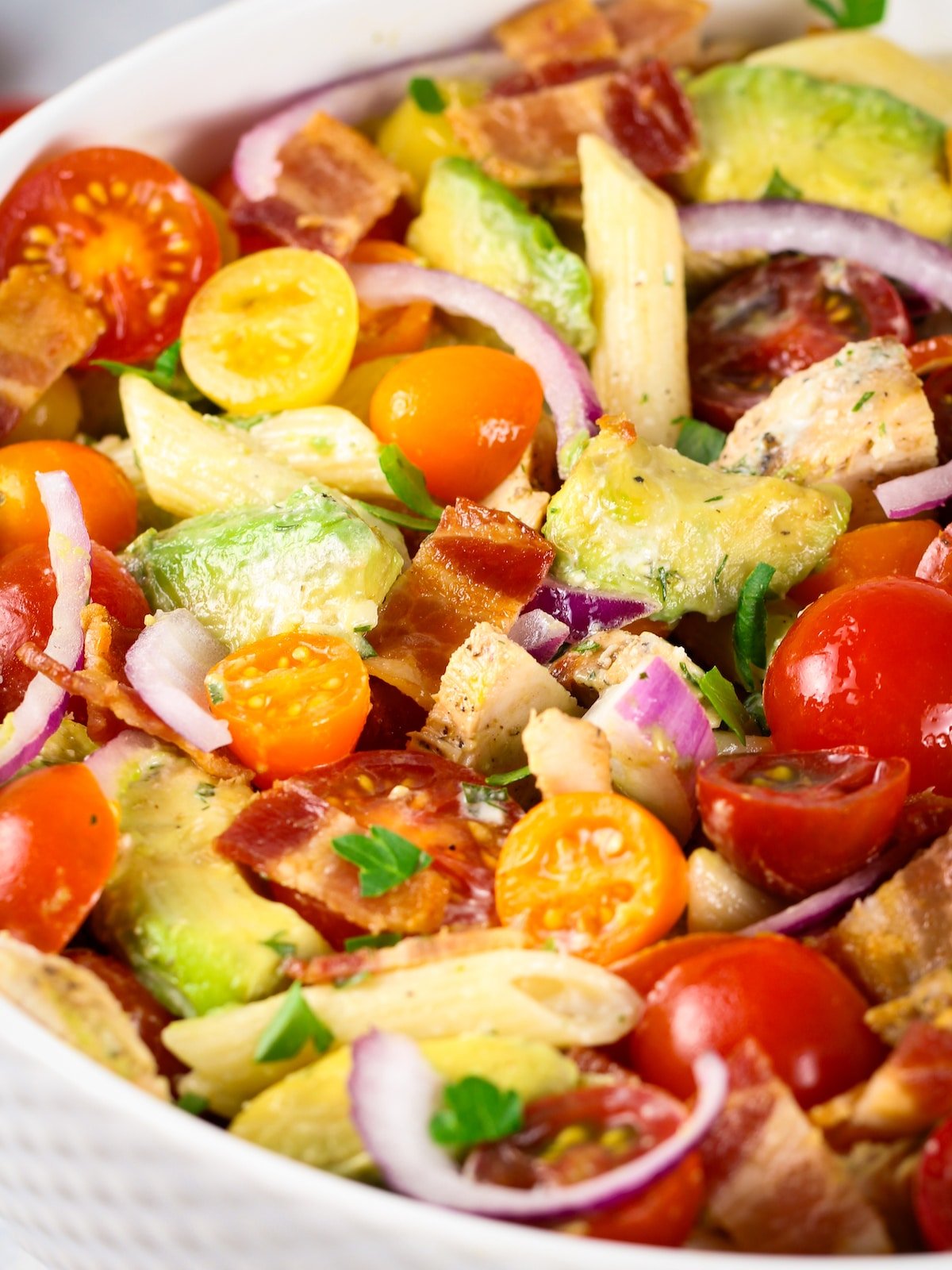 What about you, any fun plans? Family vacations? Day trips? Get-togethers or cookouts?
Sometimes you don't have to go anywhere, it's just nice to invite some friends and family over for some grilled yumminess. Right?
It's just so easy to heat up that grill and whip up something delcious. Like caprese chicken, sriracha pork chops, or a Philly cheesesteak dog.
And if you're like me there's all that summer produce that I'm longing to use for all my favorite side dishes and salads. Like my Broccoli Grape Salad which includes bacon as well (it seemed important to mention that), all my fresh corn dishes including my very favorite - Corn Salad with Jalapeno and Cilantro, then garden tomato-filled recipes, and of course, all recipes involving squash and zucchini.
I think summertime cooking is the best of all the seasons! This brings me to today's bright and tasty recipe… BBQ Chicken Bacon Ranch Pasta Salad with… wait for it… AVOCADO!
Isn't she just gorgeous!?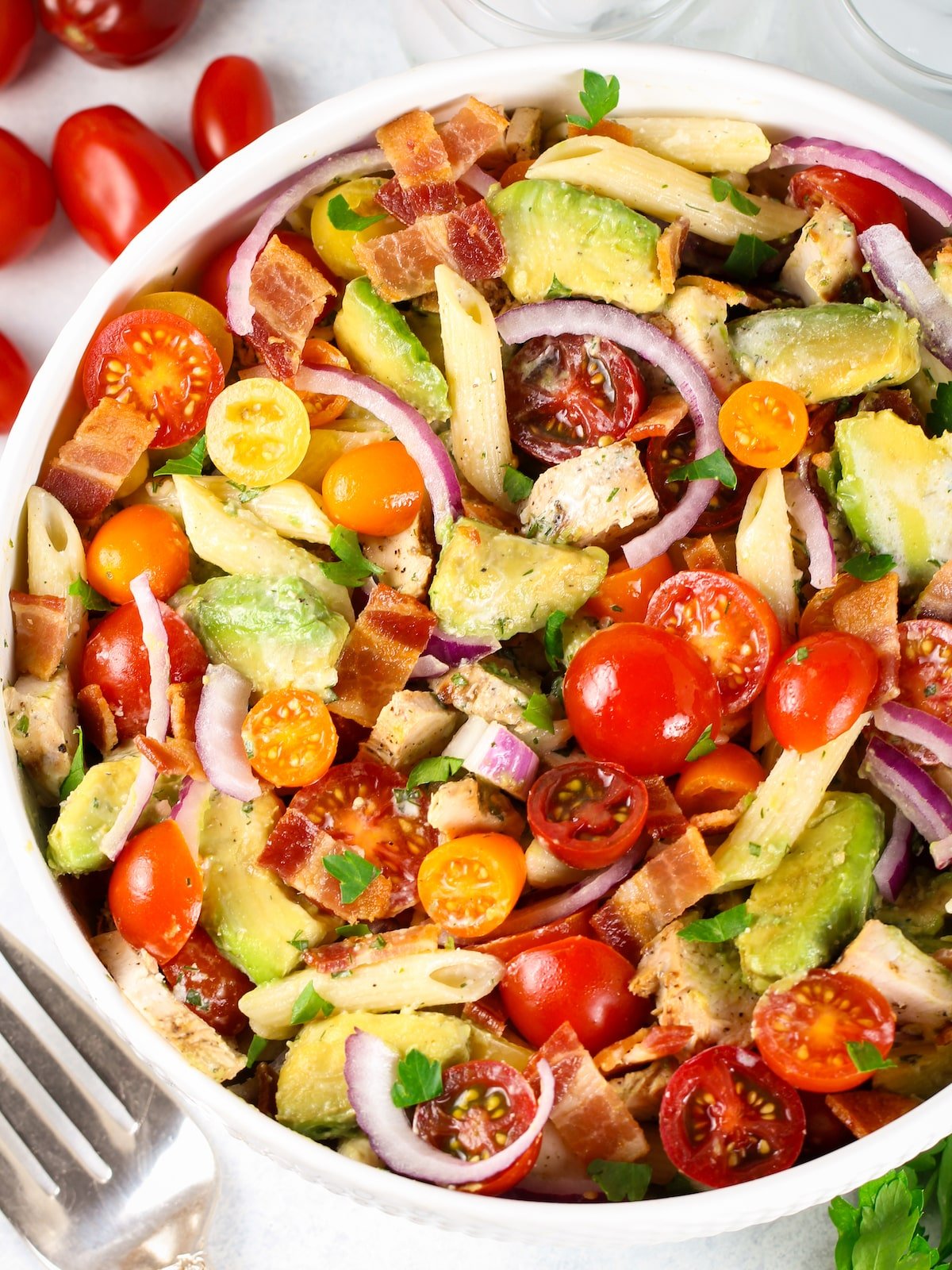 I think all of my favorite things are in this easy pasta salad.
There's grilled chicken, cherry tomatoes, red onions, homemade ranch dressing, avocado, and BACON! It's such a winning combination.
Allow me to share how this deliciousness comes together.
Making This Easy Chicken Bacon Ranch Pasta Salad:
This Creamy pasta salad recipe can really be broken into several steps – all of which can be prepared ahead of time and then assembled before serving.
First, mix together the dressing ingredients and refrigerate until you're ready to add them to the pasta.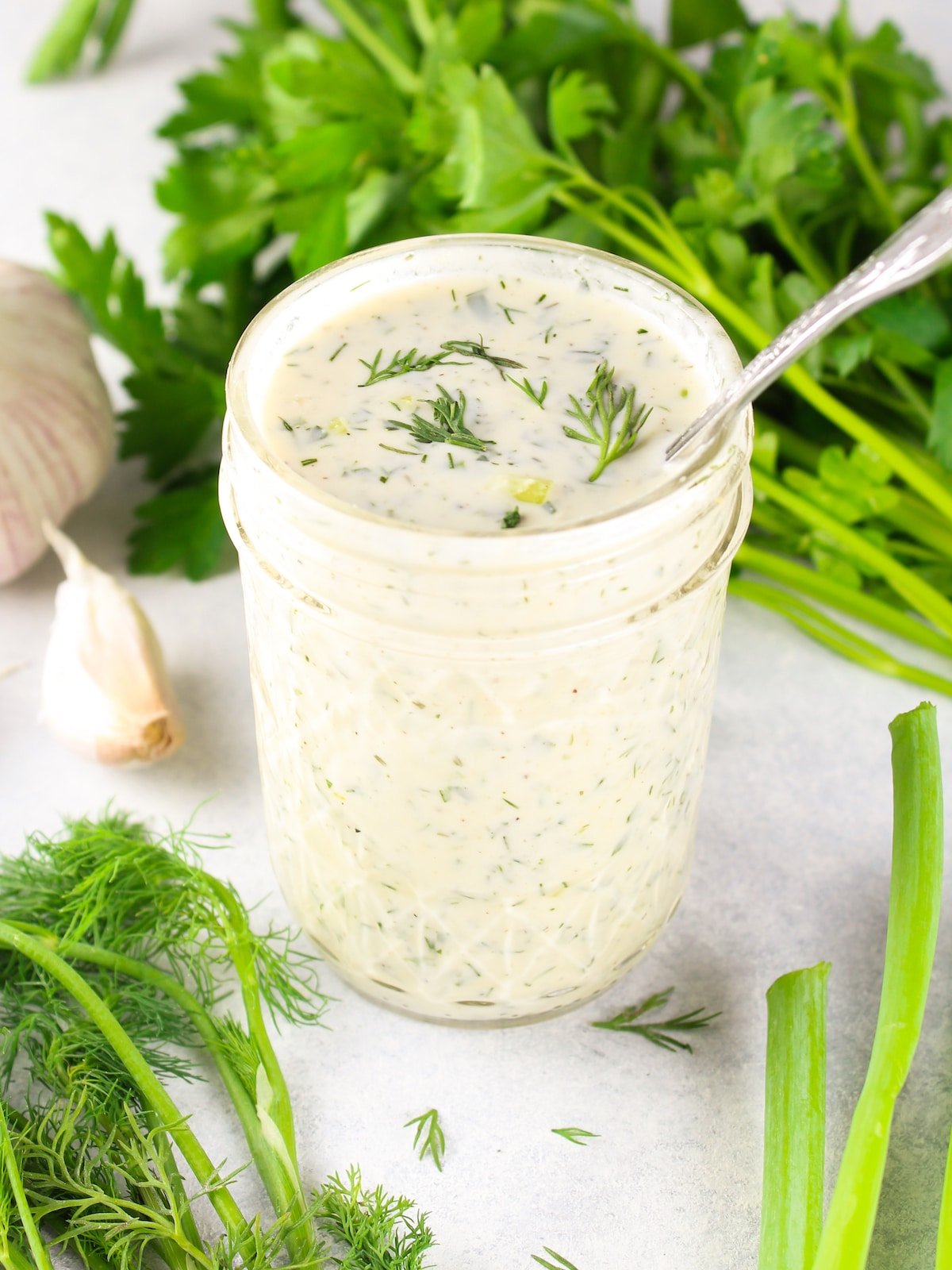 Then, turn the grill on high for the bbq chicken breasts, and preheat the oven to cook your bacon. I line a baking sheet with tin foil, add the strips of bacon, and voila… 10ish minutes later (depending on the thickness), perfectly cooked bacon with no grease splatters to clean up! #alwayswinning
Next, get your pasta cooking according to the package instructions. It's easy to turn this recipe into a gluten-free pasta salad, just be sure to use your favorite gluten-free penne pasta.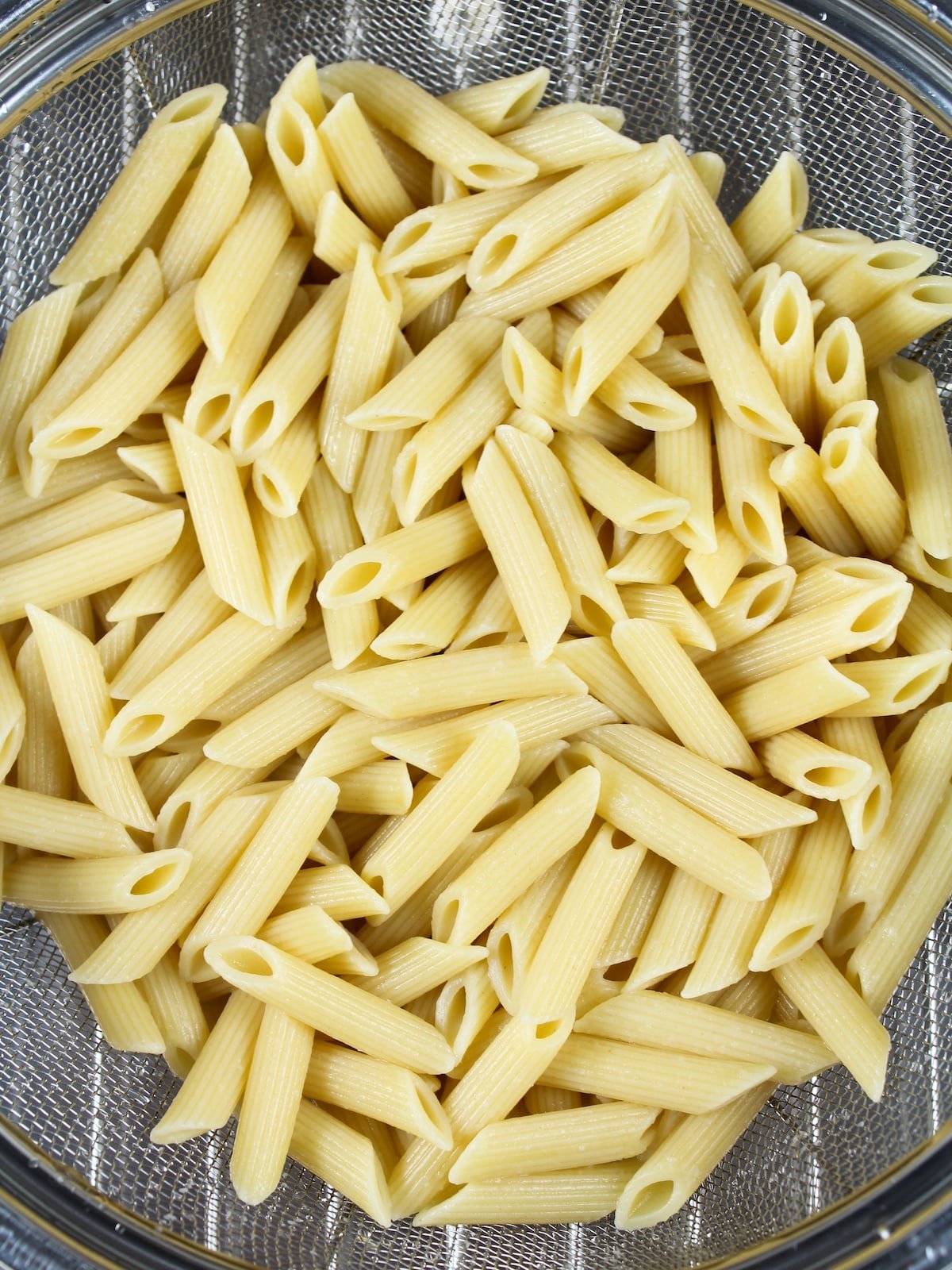 While that's cooking, season your chicken breasts with salt and pepper, spritz them with high-heat cooking spray, and grill them for 6-7 minutes per side (depending on how big your chicken breasts are and how hot your grill gets).
You'll want to let them rest for about 5 minutes so the juices don't run out, then cut them into bite-size pieces and set them aside.
PS: I always use a digital kitchen thermometer (<- affiliate link) to temp my chicken to be sure it's not over or undercooked. What can I say – I'm not much of a ceviche chicken girl. Lol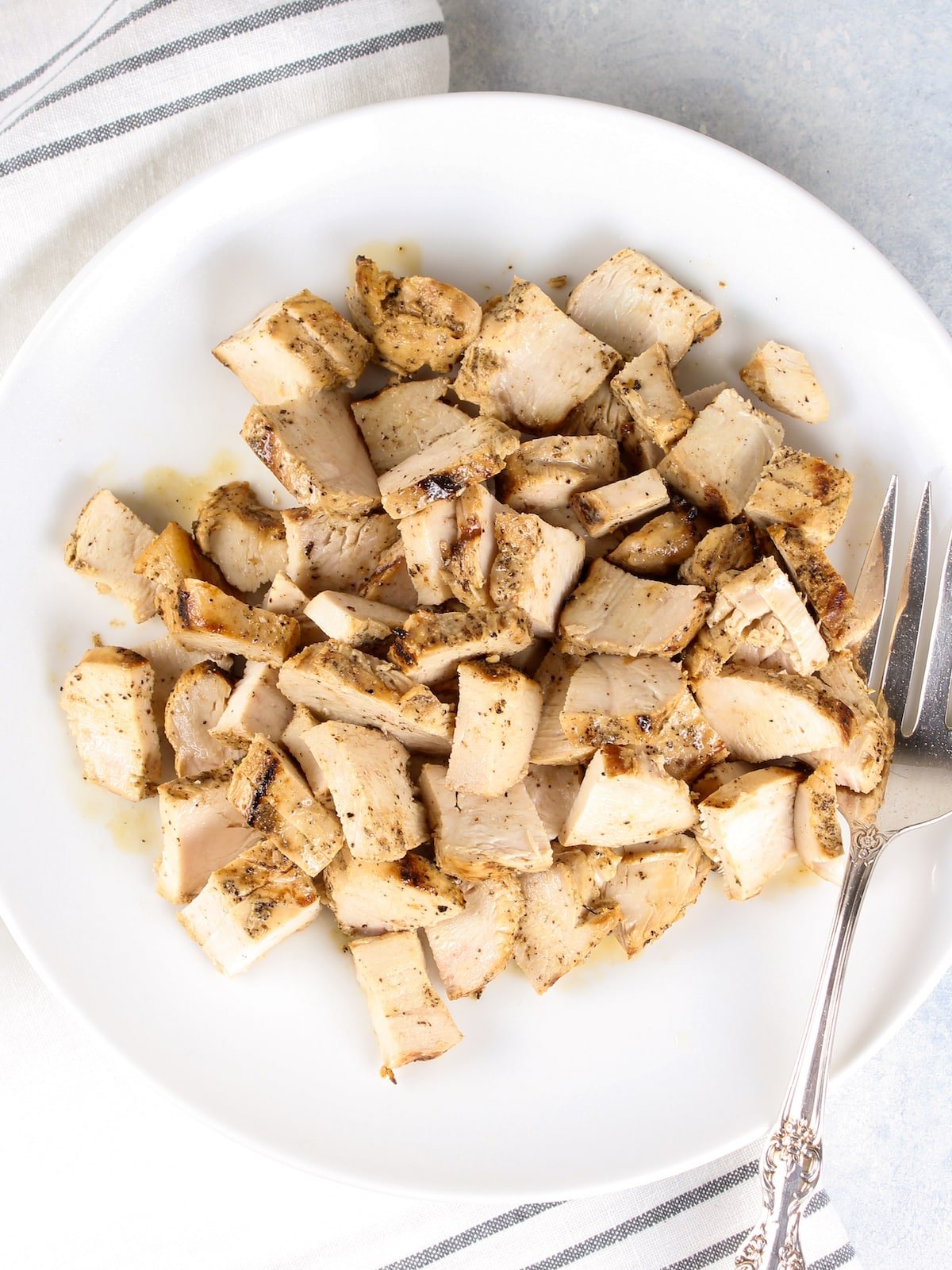 Be sure to set some timers on your phone/microwave for all these different ingredients you have cooking at once. Or if multitasking is not your thing just do them one at a time.
Finally, slice and cut the red onion, and cherry tomatoes.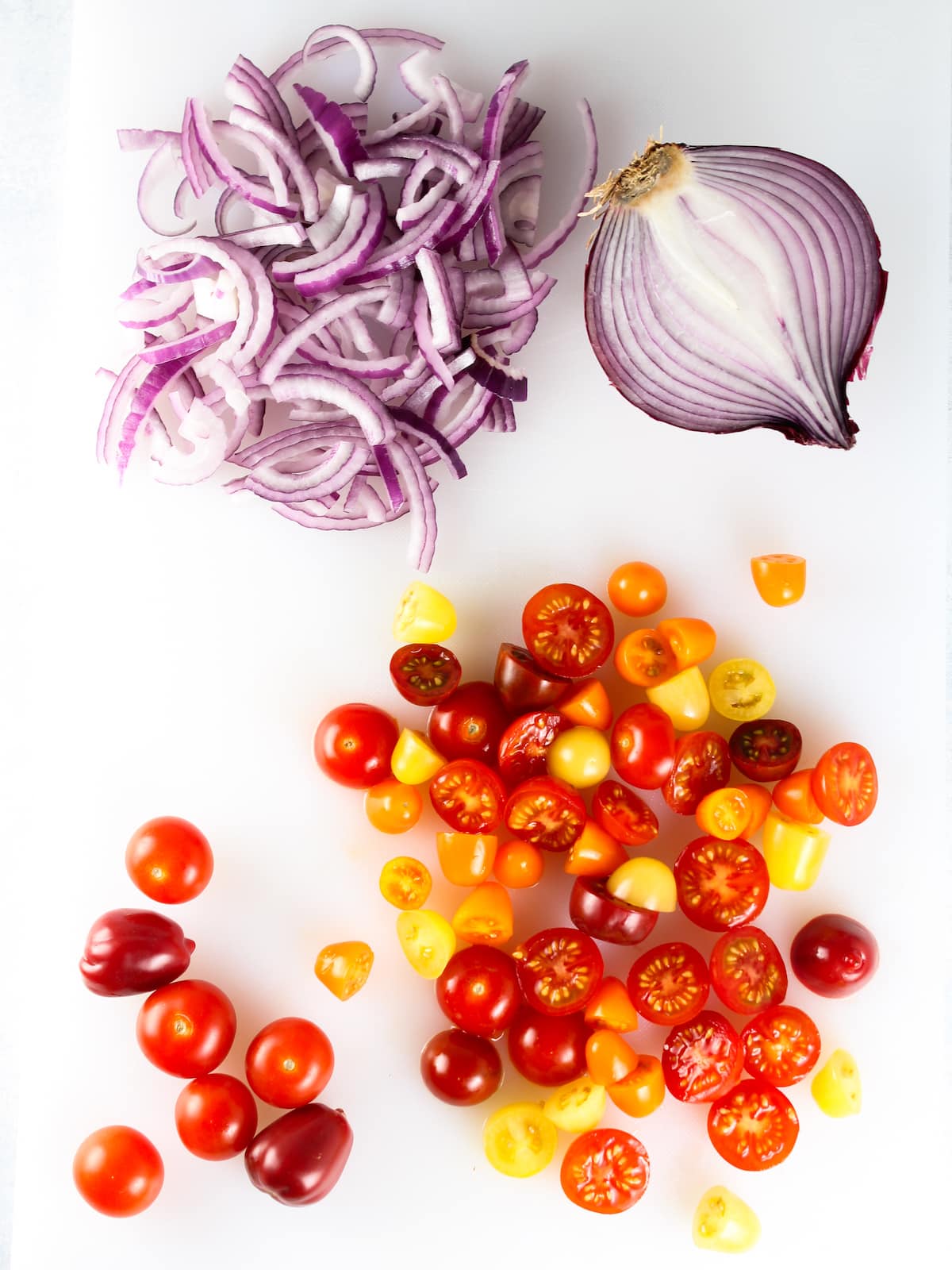 Chop up your bacon and cut the avocados into one-inch pieces.
Side note: Do you know anyone that doesn't enjoy avocados? Yeah, me neither. That would be unbelievable since there's so much to love about them.
Here's just a bit of avocado nutrition for you:
There are about 160 calories in half an avocado!
A medium-sized avocado contains 30 grams of fat: 4.2 grams of saturated fat, almost 20 grams of monounsaturated fat (aka the "good" fat), and 3.6 grams of polyunsaturated fat
One avocado has 13.5 grams of fiber - which can help you to feel fuller and more satisfied.
One avocado on the larger side has about 975 grams of Potassium. That's 27% of your daily requirement. Potassium helps maintain fluid balance, and allows the nerves and muscles to work properly.
Avocados are also a good source of vitamin C, vitamin K, and folate.
And if you're like me you're probably wondering "How many carbs in avocado?" They are very low on the glycemic index, rating less than 15, and won't spike your blood sugar. However, they do have about 17 carbs for a larger-size fruit... along with 4 grams of protein.
Yes – I said fruit! I'm not sure you've ever stopped to ask… is avocado a fruit or vegetable? Well, it is in fact a fruit. What can I say – I'm solving all your avocado mysteries here today!
For all of this and more avocado nutrition facts click here.
Moving on.
Now for the rest of this pasta salad recipe.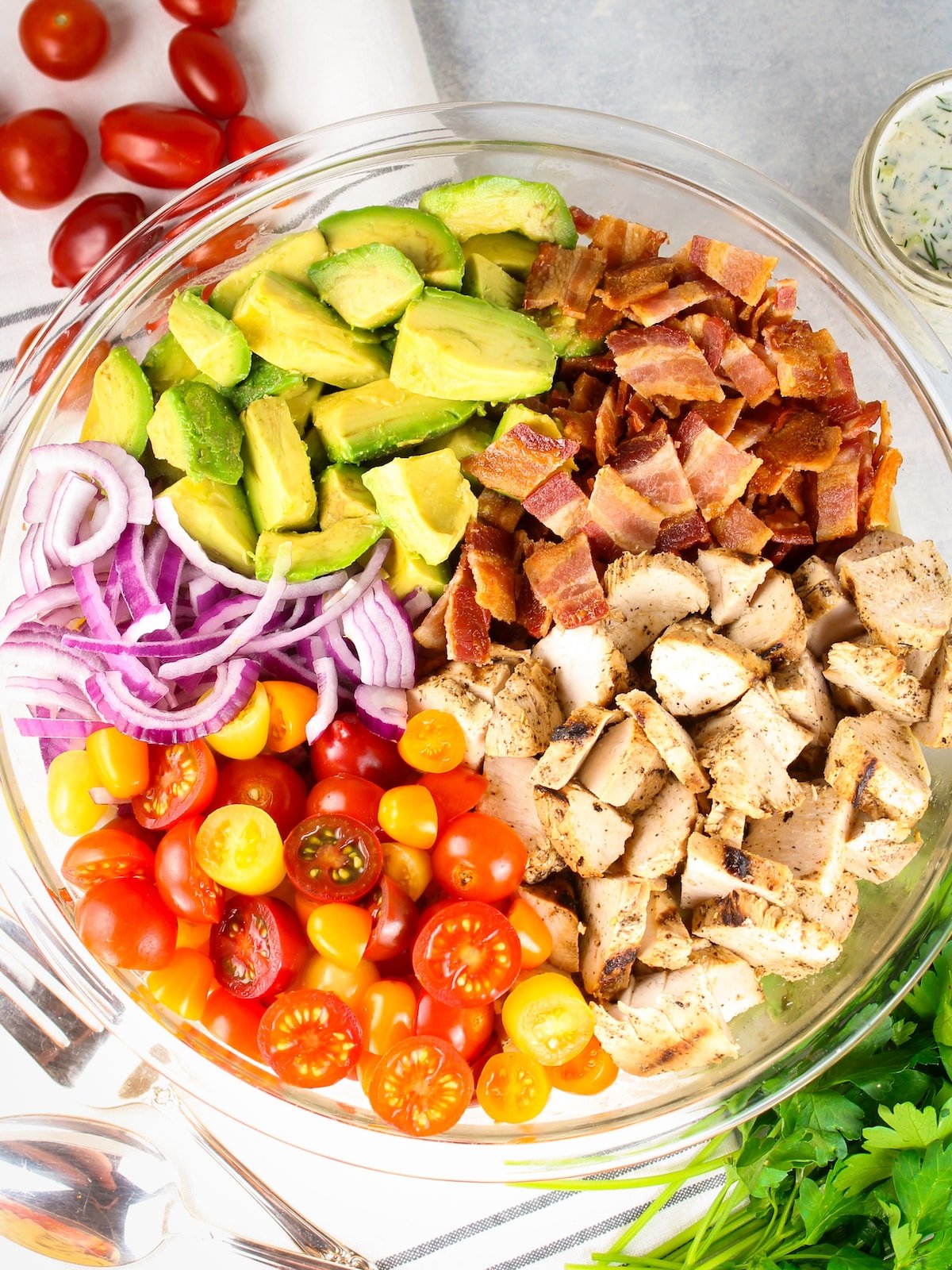 Once you have all of your ingredients in a big bowl, drizzle on your homemade ranch salad dressing (or your favorite store-bought version), give it a good toss, and devour!
This chicken penne pasta is brimming with the most delicious ingredients… Smoky bacon, creamy avocado, bright tomatoes, hearty pasta, lean grilled protein, and luscious buttermilk ranch dressing.
Are you drooling all over yourself??? Cause I am. I start salivating at just the thought of this heavenly BBQ Chicken Bacon Ranch Pasta Salad!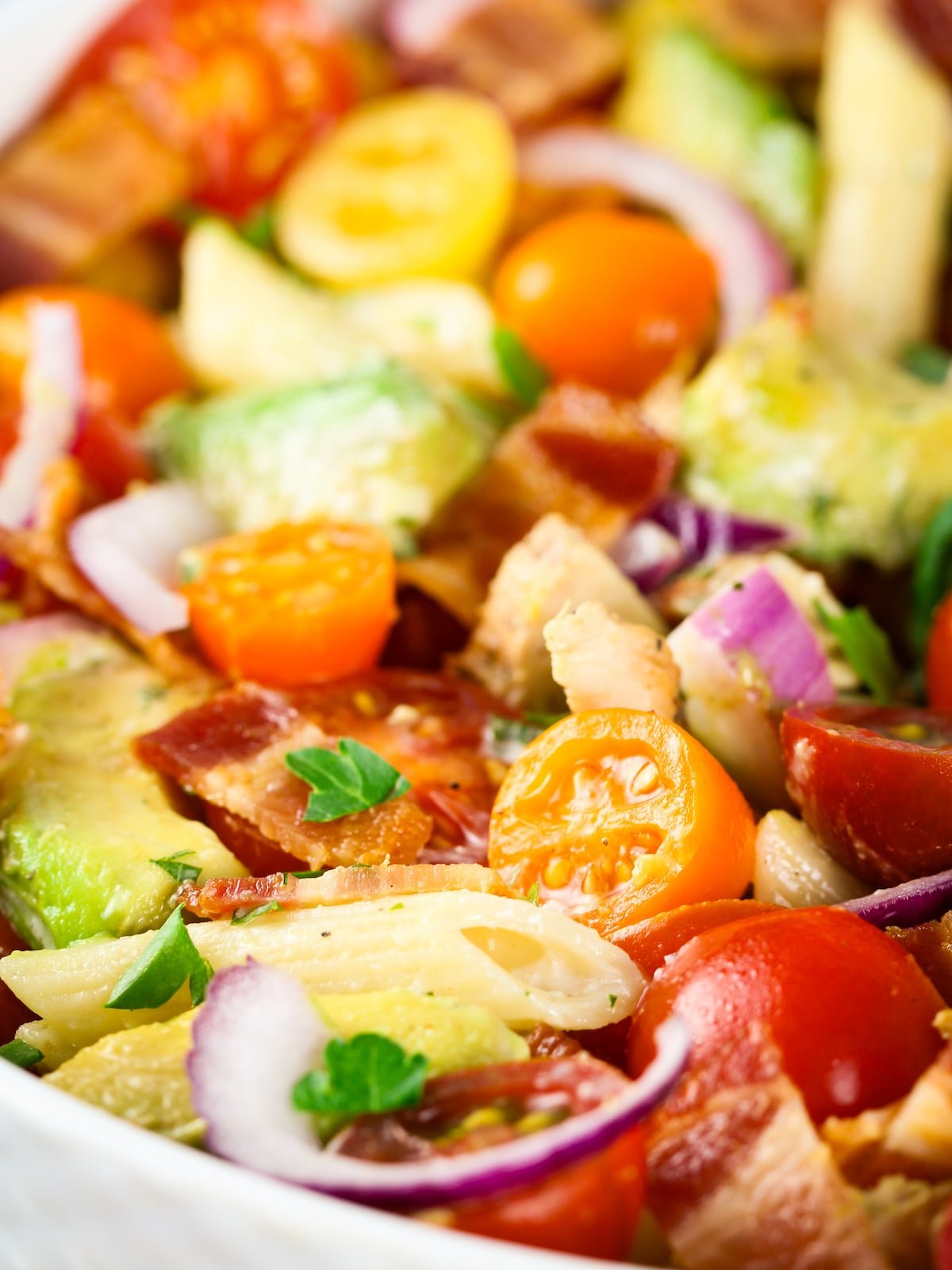 I can't wait for you to give this yummy summer recipe a try! Be sure to come back and let me know what you think in the comments below!
I would love to connect with you! Leave a comment and follow me on Instagram, Twitter, Facebook, & Pinterest!
Yield: 8 Servings
BBQ Chicken Bacon Ranch Pasta Salad Recipe
This chicken penne pasta salad is brimming with the most delicious ingredients… Salty bacon, creamy avocado, bright tomatoes, hearty pasta, lean grilled protein and luscious buttermilk ranch dressing.
Ingredients
For The Parmesan Buttermilk Ranch:
½ cup buttermilk
¼ cup Greek yogurt, (I used 2%)
3 tablespoons mayonnaise, (or more Greek yogurt)
1 tablespoon white balsamic vinegar, (or white vinegar)
2 cloves garlic, minced
2 green onions, finely sliced
2 tablespoons Italian parsley, minced
½ teaspoon freshly ground black pepper
1 tablespoon fresh dill, minced
¼ teaspoon onion powder
2 tablespoons grated parmesan cheese
¼ teaspoon salt, (optional – salt at the end only if needed)
Pinch cayenne pepper, (optional)
For The Pasta Salad:
1 cup Parmesan Buttermilk Ranch Dressing
10 slices thick cut bacon
1 pound chicken breasts, (boneless & skinless)
8 ounces penne pasta
1 pint cherry tomatoes, (or grape tomatoes)
½ red onion - sliced, then cut into 1½-inch pieces
2 avocados
Salt and pepper
Instructions
For The Parmesan Buttermilk Ranch:
Mix all of the ingredients together in a small bowl or mason jar. Refrigerate until ready to serve.
For The Pasta Salad:
Make the dressing and refrigerate until ready to use (this can be made a day or two ahead).
Preheat oven to 375 degrees to cook bacon. Also preheat grill to high heat for the chicken breasts.
Line a large baking sheet with tin foil (with the dull side facing up), add the strips of bacon, and bake for 13-15 minutes. Place bacon on a plate lined with paper towels, and set aside to cool. When cool, chop bacon into ½-inch pieces.
Meanwhile, season chicken breasts with salt and pepper. Spritz with grill spray and grill 6-8 minutes per side, depending on how large each breast is. Use a digital thermometer to temp chicken – and make sure internal temperature of chicken is 165F. Allow chicken to rest for 5 minutes, then slice into ¼-inch slices and cut slices into bite-sized pieces.
Cook pasta to package instructions, stirring in 1 tablespoon salt to the water before adding pasta for flavor. Drain cooked pasta and set aside.
Slice and cut avocados into 1 inch pieces. Cut the tomatoes in half.
Add the pasta, bacon, grilled chicken, red onions, avocado, and tomatoes to a large bowl. Pour dressing over and fold all the ingredients together.
Serve at room temperature or chill and serve cold.
Notes
If possible make dressing ahead at least 1 hour to allow flavors to come together.
Nutrition Information
Yield
8
Serving Size
10 ounces
Amount Per Serving
Calories

438
Total Fat

25g
Saturated Fat

6g
Unsaturated Fat

0g
Cholesterol

59mg
Sodium

404mg
Carbohydrates

30g
Fiber

4g
Sugar

4g
Protein

22g
A few other easy pasta salad recipes I can't wait to try this summer: