This Crockpot BBQ Chicken Pizza is a delicious deep-dish Chicago style pizza made in the slow cooker! The crust is cooked to perfection: crispy on the outside and fluffy on the inside. The BBQ Sauce, marinara, red onions, cilantro, shredded rotisserie chicken and the Italian 5 cheese blend make this one mouth-watering pie!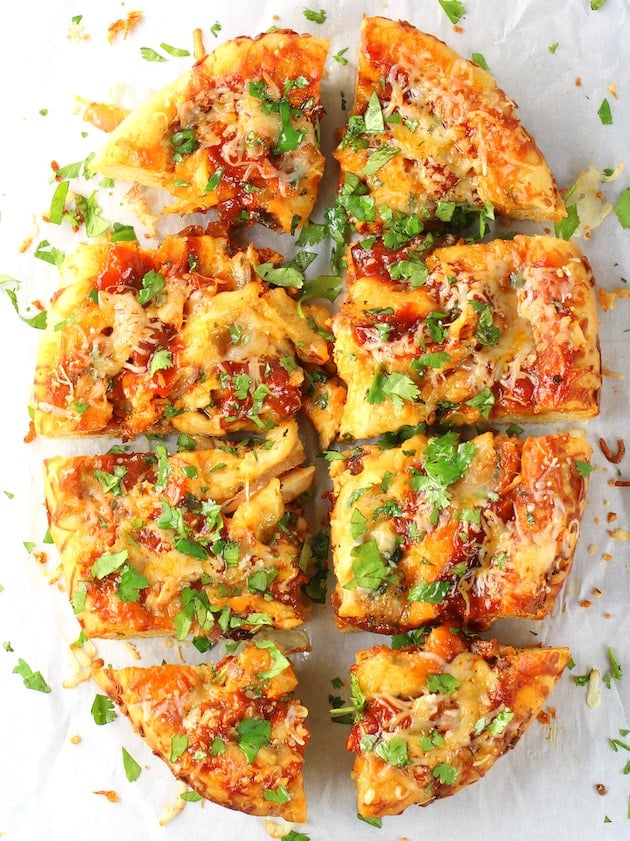 (This post contains affiliate links... read more here.)
Have you ever made pizza in your crockpot? Me either - until recently when this Crockpot BBQ Chicken Pizza was born. It is absolutely mouth-watering!
The crust turns into this deep dish masterpiece… crunchy on the outside and soft and pillowy on the inside. It's slow cooker pizza perfection my friend.
Plus, the flavor is so delicious with a combination of marinara and my favorite store-bought Sweet Baby Ray's Honey BBQ for the sauce. Some red onions that get all caramelized while cooking, a sprinkle of cilantro for some fresh herbaceous flavor, shredded rotisserie chicken, and of course cheese!! I used a 5-cheese Italian blend for some extra cheesy yumminess.
I must admit it's pretty amazing!
You could even switch it up and use different flavor combinations like buffalo chicken, meat lovers, or your favorite veggie version… but before you do you should try this bbq pie at least once – trust me it's ridiculously delicious!
My favorite crockpot bbq chicken idea…
I made my own pizza dough for this recipe – it's the one dough recipe that I can't seem to mess up. But store-bought dough would work great as well.
Here's a pro tip for you… If you have a favorite local pizza place you can usually buy their dough from them. It's a win-win – pizza dough you already know you love, that you didn't have to make yourself.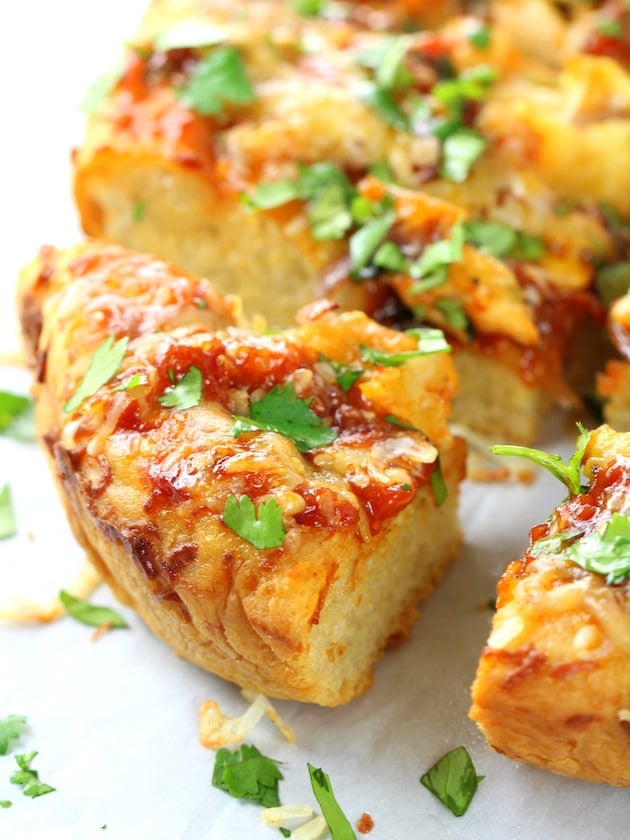 Of course you could just toss this pizza in the oven for instant gratification but you'd be missing out on that decadent deep dish crust (mmm) and the immense satisfaction and bragging rights from cooking a pizza in the slow cooker. I knew you'd see it my way.
This would be a really fun recipe to get your kiddos or nieces and nephews to help you with. It's an easy recipe without too much prep involved but enough to keep them interested. Plus, there's no chance of them burning themselves since it's being made in the crockpot. And watching their little faces light-up with a sense of accomplishment when it's finished cooking would be priceless.
How to make Crockpot BBQ Chicken pizza
First, prep your crockpot. Lay out a large piece of parchment paper and place the inner pot of your slow cooker on top. Now trace the bottom of the pot with a pencil and cut it out, then place it in the bottom of the inner pot.
Next, get a large piece of tin foil. You want it to come up on the sides so you can use it as handles to remove the pizza later. Now place it over the parchment paper and press it into the bottom of the crockpot. Give it a nice coating of cooking spray, and these two layers will prevent the pizza from burning.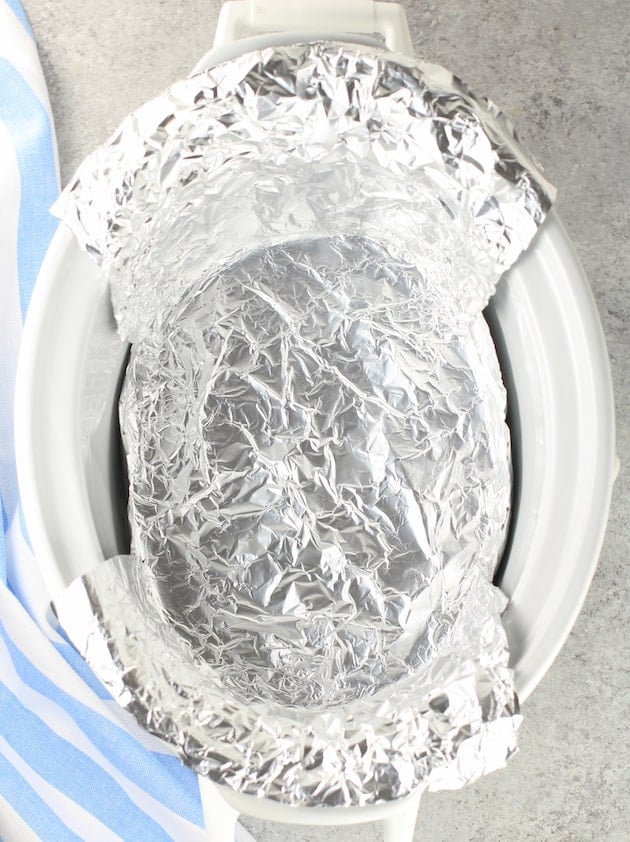 Now get out your pizza dough – you'll need 1 pound of dough for an oval 6- or 8- quart crockpot (if you're using a round crockpot, see notes in the recipe card). If you have multiple crockpots, I suggest you pull them out and make several of these babies – cause they're gonna go fast.
Place the dough on a well-floured surface and either using your hands or a rolling pin, stretch the dough to 11x14 inches.
Now carefully place the dough onto the tin foil in the slow cooker, using your hands to press and work it until it covers the whole area. Then roll the crust onto itself around the edge of the slow cooker, to make a raised crust edge.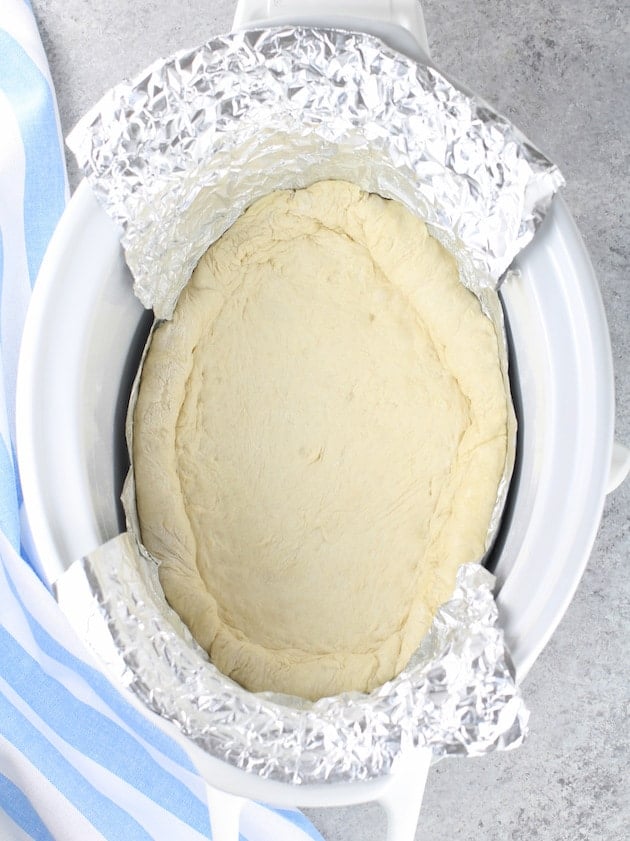 Next, it's time to assemble. Mix together the BBQ sauce and the marinara sauce, and smooth it over the pizza dough. Now sprinkle on some red onion slices and chopped cilantro.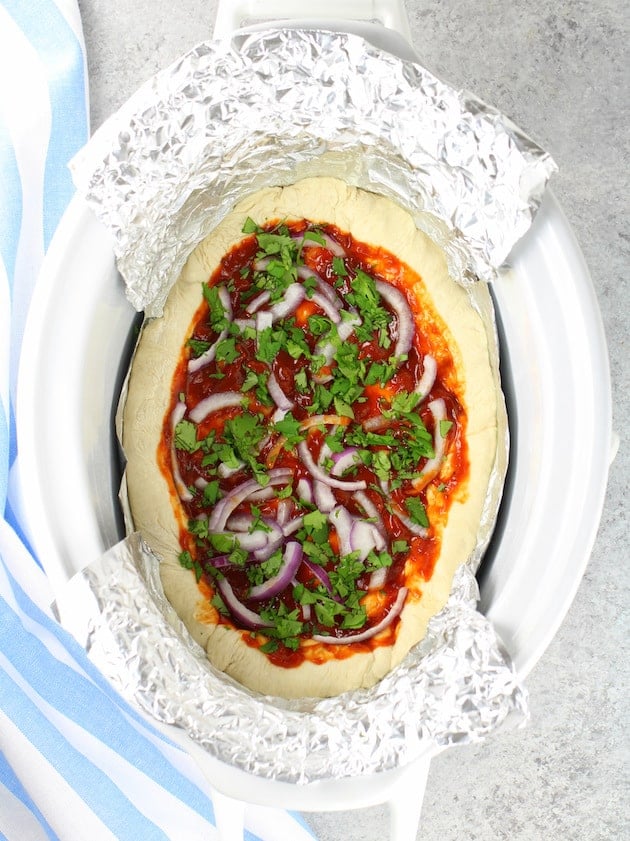 Now add the shredded chicken.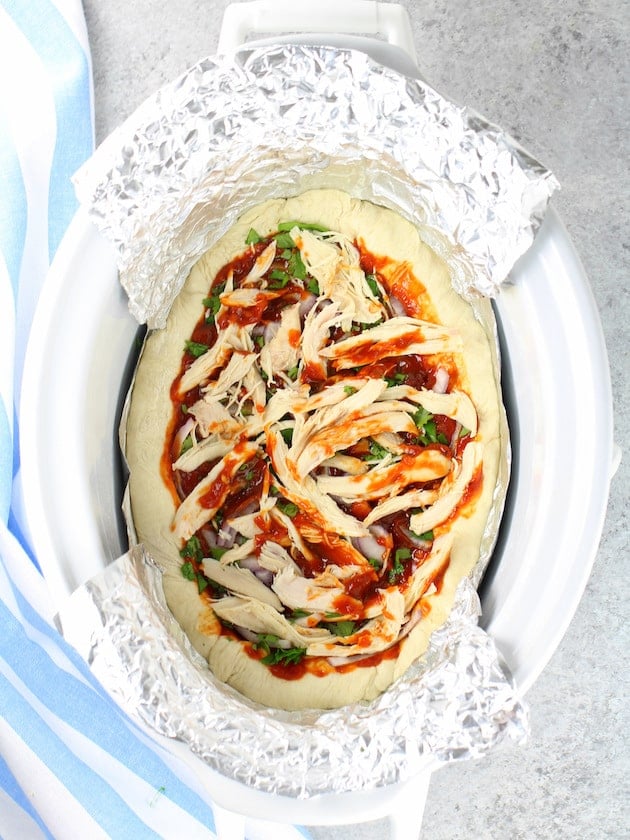 Sprinkle on the cheese. (I added a few more red onions on top for interest.)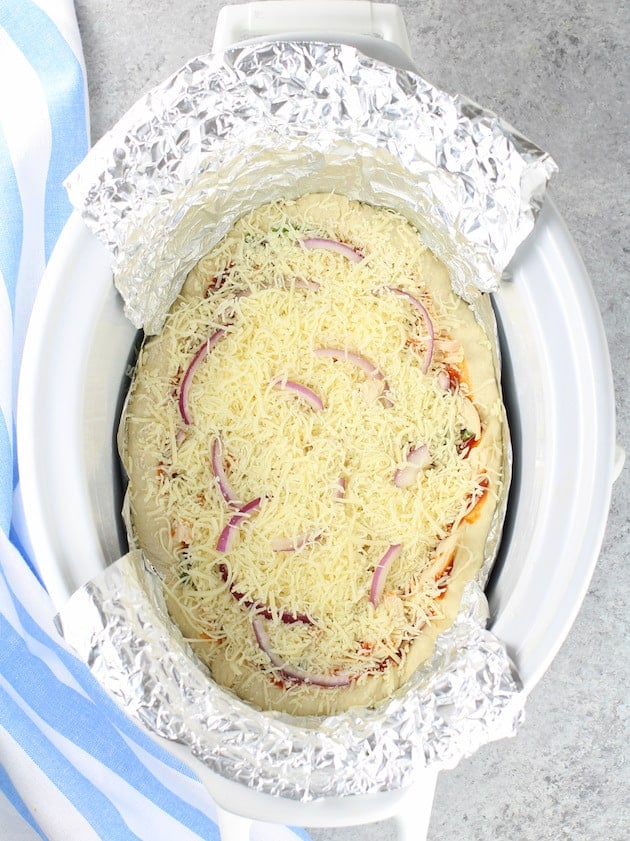 Finally, turn the heat up to high, grab a long sheet of paper towels and cover the top of the crockpot. This will prevent your pizza from getting soggy from the condensation. Now close the lid tight. Cook the pizza for 2 – 2½ hours on high.
Garnish with cilantro, green onions, or even more BBQ sauce if you'd like - and enjoy!
This deep dish Crockpot BBQ Chicken Pizza is drippin with all kinds of deliciousness!!
Slow Cooker BBQ Chicken Recipe:
Yield: 5 servings
Crockpot BBQ Chicken Pizza recipe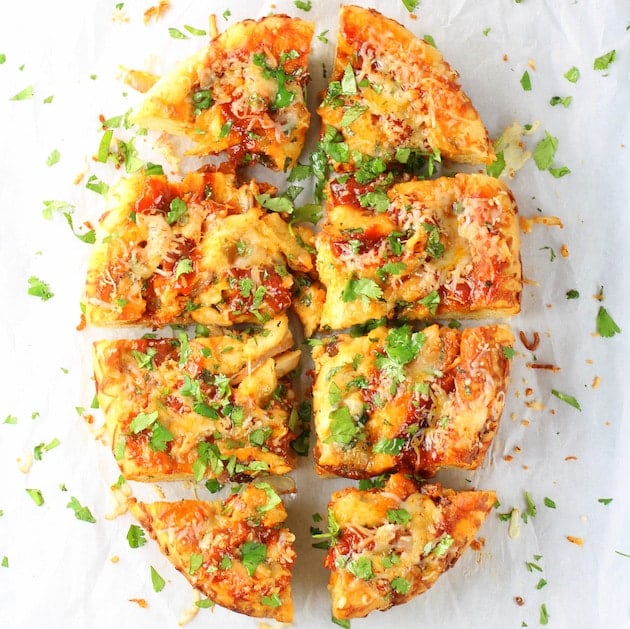 This Crockpot BBQ Chicken Pizza is a delicious deep-dish Chicago style pizza made in the slow cooker!
Cook Time
2 hours
30 minutes
Total Time
2 hours
40 minutes
Ingredients
Cooking spray
¼ cup marinara
¼ cup barbecue sauce
½ small red onion, sliced and cut into slivers or half moons
2 tablespoons cilantro, rough chopped - plus 1 tablespoon for garnish
1½ cups rotisserie chicken, shredded
6 ounces Italian 5-Cheese blend or Mozzarella (or whatever you prefer)
Green onions and more BBQ sauce if desired for garnish
Instructions
Line a 6- or 8-quart oval slow cooker with parchment paper (see note below), then with tin foil (see photo above). The foil should come up on the sides of the cooker (you will use this as a way to lift it from the crockpot when it's cooked). Spray the tin foil well with cooking spray.
Roll out the dough on a floured surface, to an 11x14 oval shape. Transfer the dough to the slow cooker, making sure it covers the entire surface area. Fold over the dough 1 inch around the edges, to create the raised outer crust.
Mix the marinara and BBQ sauce together and spread over the crust.
Now sprinkle on red onions, cilantro, shredded chicken and cheese.
Take a long sheet of paper towel and cover the top on the crockpot. It needs to fit the full length and width of the slow cooker. Now cover with the lid and cook on high for 2 to 2½ hours. Crust should be puffed up and golden.
Garnish with more cilantro, green onions and more BBQ sauce if desired.
Notes
If using a round 6-quart slow cooker you will only need about 14 ounces of pizza dough.
To make the parchment lining:  Lay out a large piece of parchment paper and place the inner pot of your slow cooker on top.  Now trace the bottom of the pot with a pencil and cut it out.  Then place the parchment in the bottom of the inner pot.
Nutrition Information
Yield
5
Serving Size
1-2 pieces
Amount Per Serving
Calories

454
Total Fat

16g
Saturated Fat

8g
Unsaturated Fat

0g
Cholesterol

68mg
Sodium

1196mg
Carbohydrates

51g
Fiber

1g
Sugar

11g
Protein

25g
Of course we have more barbecue recipes! Try these classic pulled pork sliders, along with this amazing sweet cornbread... if you're in a hurry you cannot go wrong with these Instant Pot Baby Back Ribs!