Oh say can you see…this yummy Grilled Chicken and Squash with Tomato Feta Pasta! Today I'm sharing one of my go-to summer recipes with you.☀️ This recipe is a complete meal all in one dish, full of savory cheesy tomato flavor and loaded with grilled zucchini, squash and chicken breasts, which makes it perfect for your next cookout or the 4th of July.✨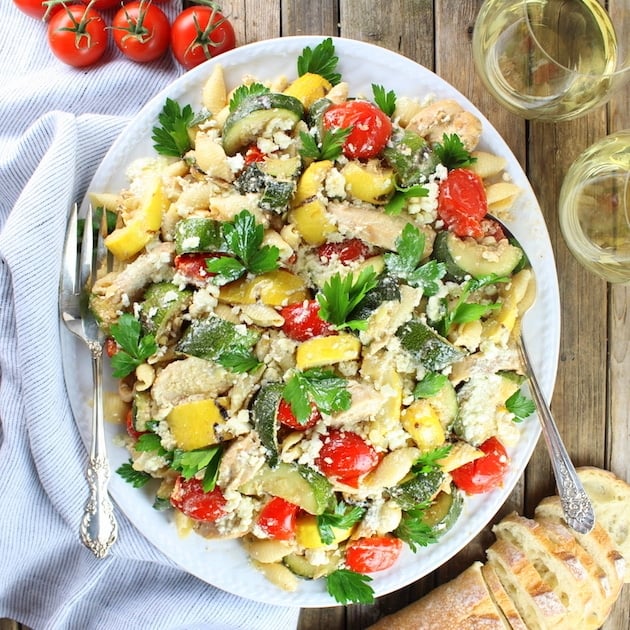 Which reminds me… Happy 240th Birthday America, and happy 4th of July everyone! Tomorrow is the big day. Don't you love that the 4th lands on a Monday this year? 4 day weekend – woohoo!
How will you be celebrating this year? Do you have big plans? Maybe a local parade, a pool party, or a backyard BBQ? We're not really parade people but we do love a big 'ole BBQ!!! And since we live in New England, and get some beautiful cool evenings in the summer we also enjoy a good fire pit with some milk chocolaty s'mores – of course!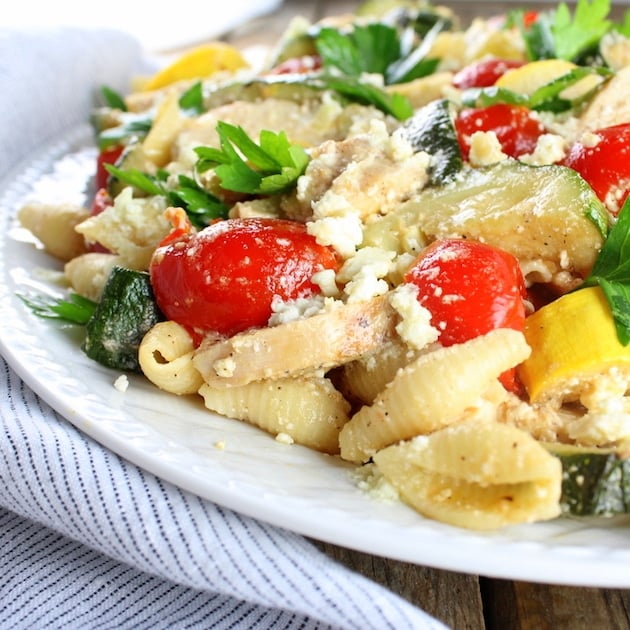 Sometimes we drive into Boston to watch the fireworks over the Charles River. It is really something to behold. It's 30 minutes of spectacular colorful shapes lighting up the sky and reflecting off the river. Gorgeous I tell ya! The event is really well known, and referred to as the Boston Pops Fireworks Spectacular.
It is all pretty amazing… the best of the best fireworks display, and then there's the music. The Boston Pops perform during the extravaganza, usually along with some very special guests (this year Nick Jonas and Demi Lovato will be joining the line-up). As you can tell Boston takes their 4th of July celebration very seriously - and why not since this is really where the fight for American freedom began? #USAalltheway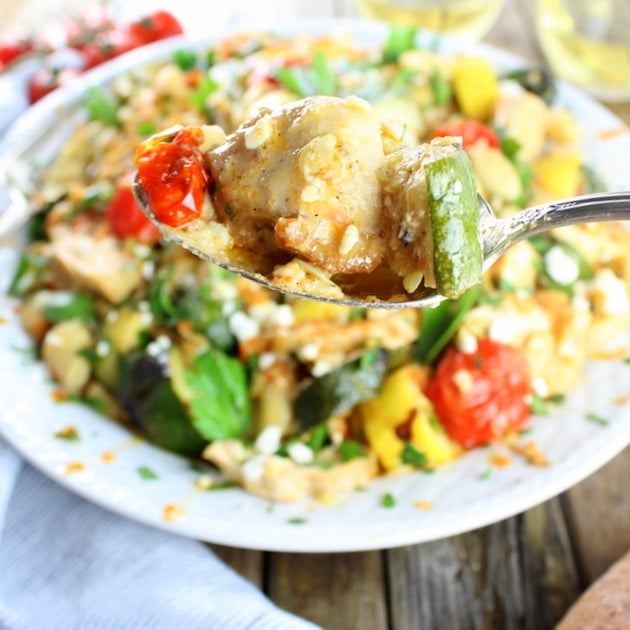 And with all of this magnificence also comes A LOT of people (half a million to be exact) that show up for this riverside musical laser light show. As wonderful as it is, there's really no personal space to be had and when the lights go down in the city, it's literally like the Running of the Bulls: a sea of people streaming, pushing and bustling to get out of there. In this case I think the experience outweighs the challenges, so if you don't have issues with claustrophobia or mobs of people heading upriver like wild salmon, then you should most definitely check out the Boston Pops Fireworks Spectacular!
Or you could always stay home, lights some sparklers and make this mouthwateringly delicious Grilled Chicken and Squash with Tomato Feta Pasta!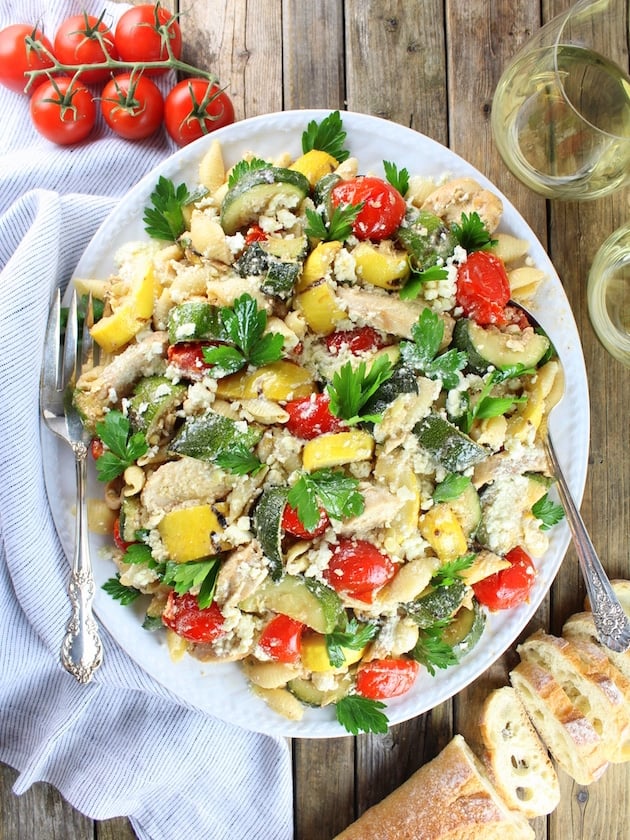 It's really easy to make, has less than 10 ingredients, and it's full of veggies!
I'm happy to report that the zucchini and squash for this recipe came from the Taste And See garden! That's 6 weeks from the time I put the plants in the ground until they yielded fruit (or I guess it's vegetables really).
It's so rewarding to plant and grow your own produce. If you have a sunny area around your house I encourage you to give gardening a try. It can be as small or big as you'd like it to be. You can even try growing a lettuce garden in a Whole Foods bag - or a container - like Kerry Michaels, a Container Gardening expert over at about.com!
Growing veggies is a wonderful activity for kids in the summer: it gives them a greater appreciation for nature, teaches them where their food actually comes from, and keeps them busy all summer long!
This recipe is the epitome of summer: squash which looks like sunshine, zucchini which is green like grass, grilled chicken which is how you cook chicken in the summer, and yummy feta cheese which looks like white hydrangea blossoms sprinkled on top!!
You're not seeing it?
Ok, so I'm probably reaching with that description but this dish is a delicious, easy all in one meal, which is exactly what you want in the summer!
This is a really straightforward recipe. It involves seasoning and grilling chicken breasts, zucchini and squash, then slicing them all up into large bite-sized portions... then boiling your pasta and creating the most divine sauce.
Here's how: Add salt to your tomatoes and then let them sit... this causes the tomatoes to release their liquids, which creates the base for your pasta sauce. Next add your feta cheese, olive oil and some of the pasta water to the tomatoes, and mix thoroughly to create the most divine flavoring. Combine this sauce with the chicken, pasta, squash and zukes, and you have the most tasty one-dish wonder!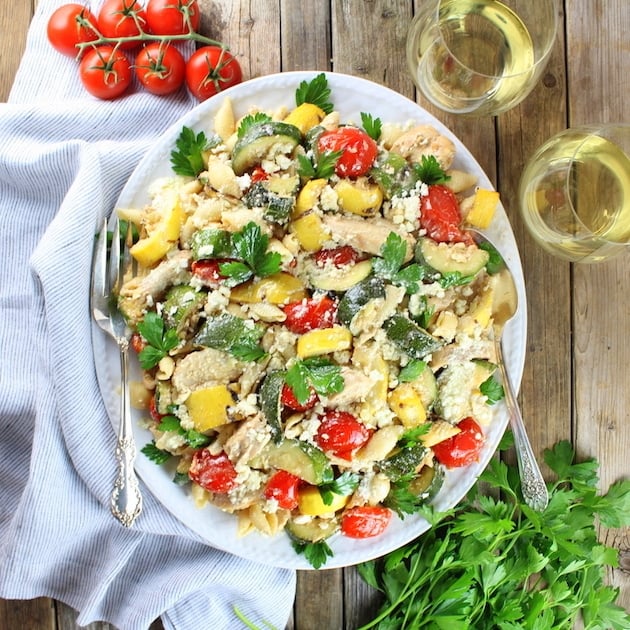 Grilled Chicken and Squash with Tomato Feta Pasta could just be your new go-to summer-loving meal!☀️✨
I would love to connect with you! Leave a comment and follow me on Instagram, Twitter, Facebook, and Pinterest!
Yield: 8 servings
Grilled Chicken and Squash with Tomato Feta Pasta
Grilled Chicken and Squash with Tomato Feta Pasta – a complete meal full of savory cheesy tomato feta flavor, loaded w grilled zucchini, squash, & chicken!
Ingredients
1 pound Campari tomatoes
2 teaspoons salt for tomatoes
½ pound medium pasta shells
2 small-medium zucchini
2 small-medium squash
Salt,pepper, & garlic powder for seasoning
Canola oil cooking spray
4 boneless skinless chicken breasts
8 ounces feta cheese
¼ cup olive oil
fresh chopped parsley or basil for garnish
Instructions
Cut tomatoes in half and place in a large bowl. Sprinkle about 2 teaspoons of salt over the tomatoes and stir, then let them sit while you prepare the rest of the dish. The salt will force the tomatoes to release all their juices and create a delicious base for the sauce.
Boil pasta in salted water, reserve ½ cup of the pasta water, then drain remaining water & set pasta aside.
Cut the squash & zucchini in half lengthwise. Season them with salt, pepper and garlic powder, spray them with cooking spray, then grill for 3 minutes per side on a 400-450 degree grill.
At the same time, season the chicken with salt and pepper, spray with cooking spray, then grill 5-6 minutes per side or until internal temperature reaches 165 degrees. Let the chicken rest for 5 minutes after grilling, then slice thinly.
Crumble ¾ of the feta cheese and add it to the tomatoes. Use a fork to mash and stir until the juice from the tomatoes and the feta creates a sauce. Now add about ¼ of a cup of olive oil, ¼ cup reserved pasta water, & ½ teaspoon of pepper to the tomato mixture and stir.
Slice the grilled squash and zucchini into 1-inch pieces and add them to the tomato mixture while they're still warm (you want the juices that run out of the squash to end up in the sauce, and the heat from the squash will blanch the tomatoes ever so slightly).
Add the sliced chicken and pasta into the squash and tomato mixture and fold in gently.
If the dish is too dry add a bit more olive oil, or reserved pasta water.
Crumble the remaining feta cheese and sprinkle on top. Garnish with fresh parsley or basil.
Nutrition Information
Yield
8
Serving Size
10 ounces
Amount Per Serving
Calories

330
Total Fat

15g
Saturated Fat

5g
Unsaturated Fat

0g
Cholesterol

61mg
Sodium

972mg
Carbohydrates

27g
Fiber

2g
Sugar

5g
Protein

21g
Looking for another summer time favorite? Check out these fresh veggies with
Sun-Dried Tomato Goat Cheese Dip & Spicy Green Hummus
!