Honey Mango Strawberry Margarita - fresh, fruity, boozy and delicious! With fresh strawberries and honey mangos, lime juice, tequila, Cointreau and strawberry liquor. The perfect cocktail for Taco Tuesday, Cinco de Mayo or anytime you want something tasty and refreshing.
*This post contains affiliate links - read more here.*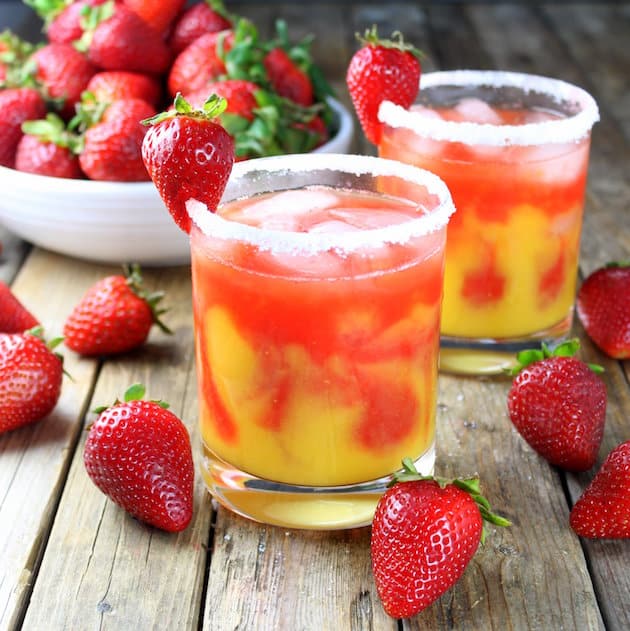 Did you know there are at least 7 different types of mangos? Me either, until now!
They are grown in different parts of the world and can be enjoyed at any time of the year. This makes me especially happy! We never have to go without fresh mangos! Sigh.
My favorite variety for sure is the Honey Mango. I'm sure you've seen them before. They're bright yellow, smaller and flatter than the green ones. But because they have a very small seed, there's a high flesh to seed ratio. That means more yumminess for our tummies. Can I get a woot woot!??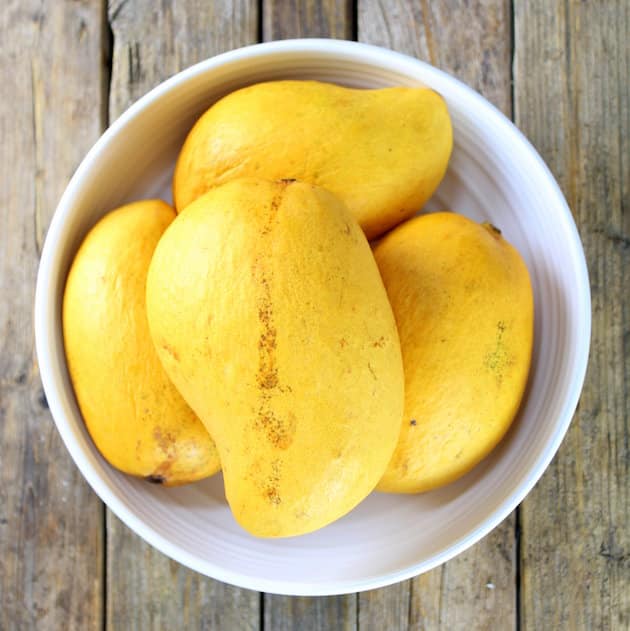 When they're fully ripe they start to get small wrinkles and the skin turns a deep golden color. AND they happen to be readily available right now!!💛
I love using them for smoothies, fish tacos or mango chicken. They add such an amazing sweet and tangy pop of flavor and literally brighten up so many recipes!☀️
Like this Honey Mango Strawberry Margarita!!👇 Isn't it just gorgeous!😍 It's just screaming "summah summah summah time" – isn't it!??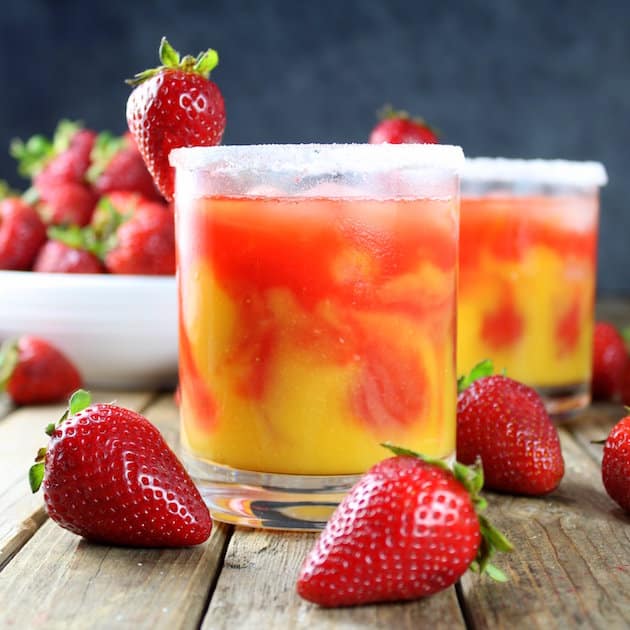 Just in case you're wondering there's no honey in this recipe, although maybe there should be. Hmmm.🤔
The title is in honor of… you guessed it… my dear friend the Honey Mango. Which makes this margarita amazingly delicious!✨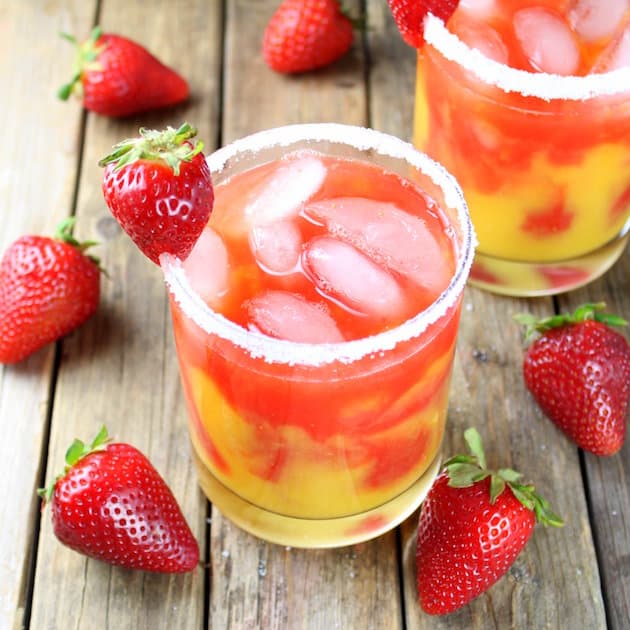 Have I told you I'm not really a big frozen drink kinda girl? Unless it's a healthy smoothie or I'm treating myself to a strawberry milkshake - then I'll tear it up!👌🙌
When it comes to my adult beverages, I like mine straight up or on the rocks. You know it's that "less is more thing." Less volume = fewer calories. It's probably all in my head but whatever gets me through the day - right?😁
All of that to say this mango margarita falls somewhere in between and ends up being the consistency of a puree - thanks to the blended fresh fruit. And there are no additional sugars or sweeteners, just fruit, and liquor - just the way it should be.💯 Amiright???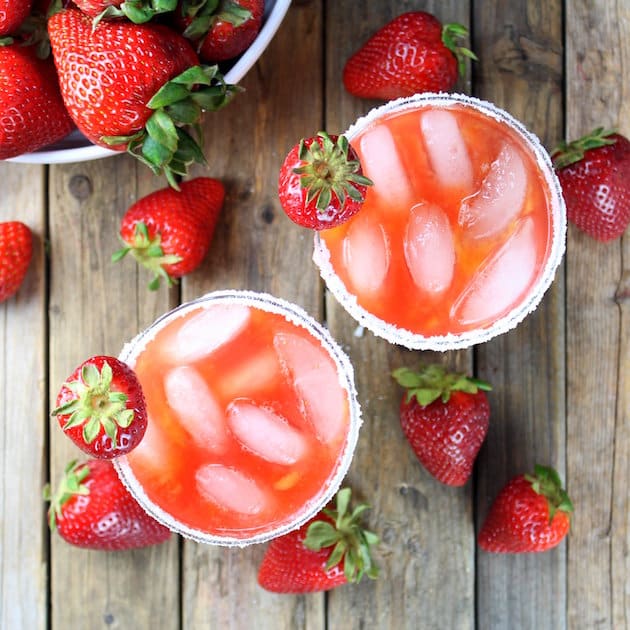 This is a two-part recipe. First, you add your tequila, Cointreau, fresh lime juice, and mango to the blender, food processor or if you're like me an immersion blender
. (I seriously love that thing❣️)
Then set the mixture aside, give it a quick rinse and blend together more tequila, strawberry liquor, fresh lime juice and some fresh strawberries.🍓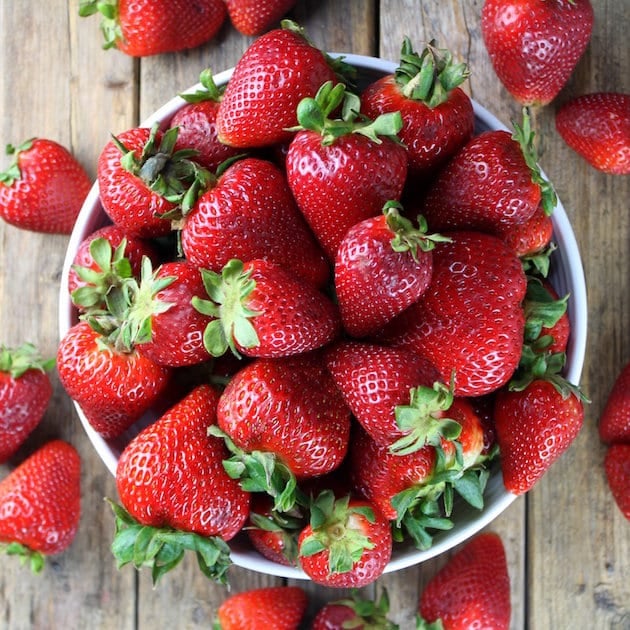 Rim the glass with a wedge of lime and some salt, add some ice, pour in you mango mixture first, then the strawberry, and get that party started!!🙌
Honey Mango Strawberry Margaritas - fresh, fruity, boozy and delicious!😋 The perfect drinks for sipping around the pool or toasting with friends! Pair it up with some yummy queso fundido and it's a fiesta!
Salud!🍹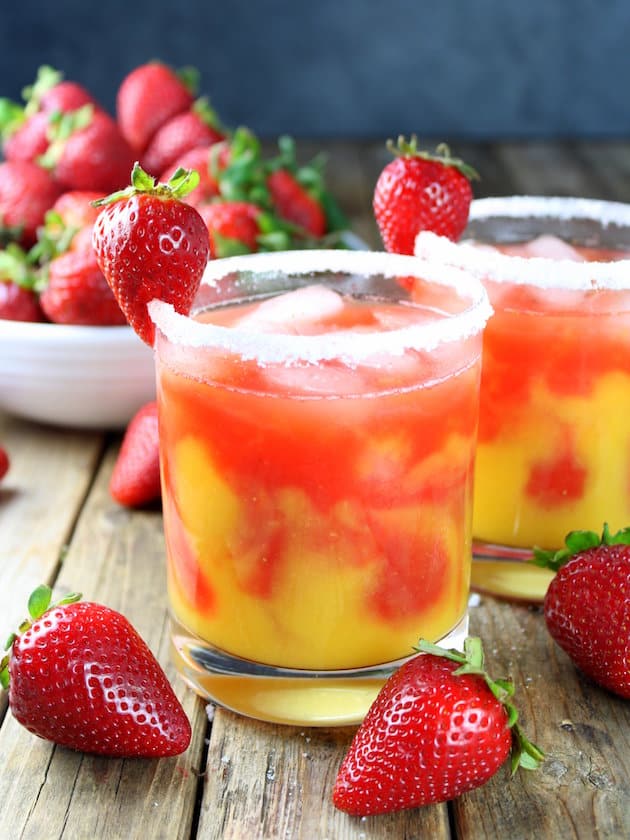 I would love to connect with you! Leave a comment and follow me on Instagram, Twitter, Facebook, & Pinterest!
Yield: 2 serving
Honey Mango Strawberry Margarita Recipe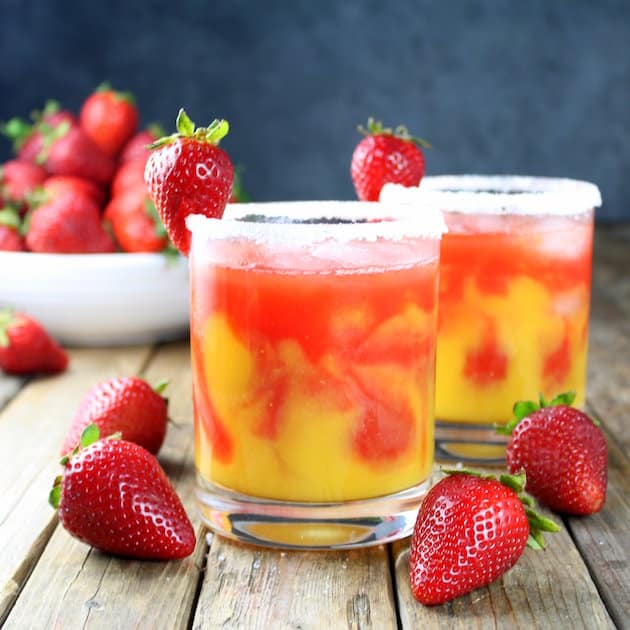 Honey Mango Strawberry Margarita: fresh, fruity, boozy and delicious!
Ingredients
For The Mango Layer:
1 honey mango, peeled and roughly chopped
2 ounces Reposado 100% Agave Tequila
1 ounce lime juice, freshly squeezed if possible (1 lime)
1 ounce Cointreau orange liqueur
For The Strawberry Layer:
5 large fresh strawberries
1.5 ounces strawberry liquor
2 ounces Reposado 100% Agave Tequila
⅓ ounce (2 teaspoons) freshly squeezed lime juice
Lime wedges and salt for rimming the glass (if desired)
2 whole fresh strawberries for garnish
Instructions
Make the mango layer by adding chopped mango, Cointreau, tequila, and lime juice to a blender and process until smooth. Pour into a Pyrex measuring cup and set aside, then rinse the blender.
Make the strawberry layer by adding strawberries, strawberry liquor, tequila, and lime juice to a blender, then process until smooth. Set aside.
Rim two glasses with a lime wedge and salt if desired. Fill each glass about halfway with ice, then pour half of the mango mixture into the bottom of each glass.
Carefully pour half of the strawberry margarita mixture into each of the two glasses, gently pouring it across the back of a spoon or a small spatula. It will mostly float on top of the mango layer.
To create the yellow/red swirl effect, gently insert the small spatula or spoon down one edge of the glass, and then pull it out. Repeat this step two more times at even intervals around the glass.
Garnish with fresh strawberries or lime wedges, and enjoy!
Nutrition Information
Yield
2
Serving Size
1 cocktail
Amount Per Serving
Calories

255
Unsaturated Fat

0g
Sodium

3mg
Carbohydrates

21g
Fiber

1g
Sugar

19g
Are you ready for Cinco de Mayo? Check out these favorite Mexican recipes!