These Stacked Chicken Enchiladas with Cheesy Poblano Sauce are creamy, savory and slightly sweet. The sauce is packed with tons of flavor from the grilled poblano peppers, cilantro, spinach, garlic, onions, low-fat milk, chicken stock, and a little Monterrey Jack cheese. Layered with toasted corn tortillas, shredded chicken and grilled corn removed from the cob. A delicious and fun take on classic enchiladas!
*This post contains affiliate links - read more here.*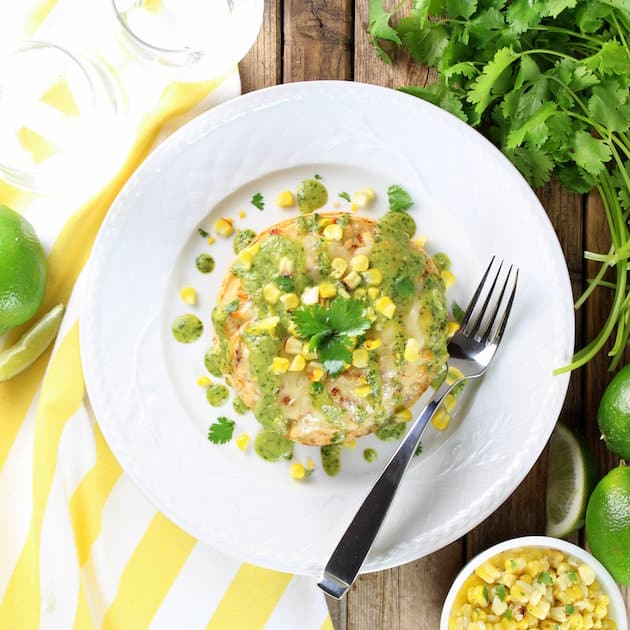 Isn't Cinco de Mayo the best holiday ever?? Ok so maybe you don't celebrate it… OR maybe you celebrate it everyday!!!🎉 That's what I'm talkin' about.✌️
Any day that is centered around eating fantastico Mexican food and enjoying a margarita, I'm all in!👌
Just a quick history lesson on this muy bueno Mexican holiday… Many people think Cinco de Mayo aka May 5 is the day Mexican Independence is celebrated. This is not the case. That day would be September 16.
Cinco de Mayo is actually the holiday commemorating the date of the Mexican army's 1862 victory over France at the Battle of Puebla during the Franco-Mexican War (1861-1867). Although a relatively minor holiday in Mexico, in the United States it has evolved into a celebration of Mexican culture and heritage, particularly in areas with large Mexican-American populations.
Ok, close your notebook - history lesson is over.
I just figured if we're going to partake in the occasion, we should understand why we're celebrating AND eating tacos and enchiladas all day!🌮 Woohoo!!😝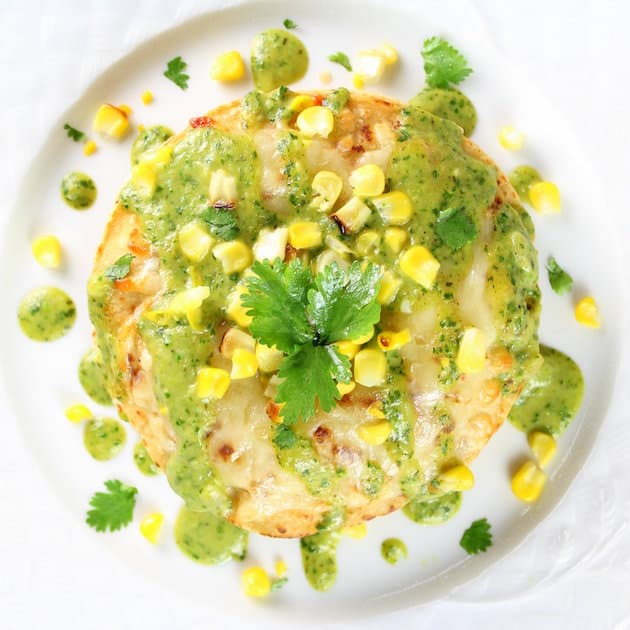 As you know I live in the Boston area. A mecca of all things seafood. Not so much a hub of authentic Mexican cuisine. To be honest the best Mexican food I eat in the area comes from my own kitchen.
I'm ok with that. I'll take the trade-off.👍
Although Boston isn't known for its Mexican street corn or chilaquiles or tamales, they do have a few yummy places to enjoy this oh so fabuloso fare.
One of those places is a chain called Rosa Mexicano and can be found in several large US cities and a few international locales like Dubai and Puerto Rico.
One thing they do very well is their tableside guacamole! And let's be honest, when you've got good guac you don't really need anything else.🙌 Well, maybe a Strawberry Margarita.😄 Seriously though, I can make that a meal.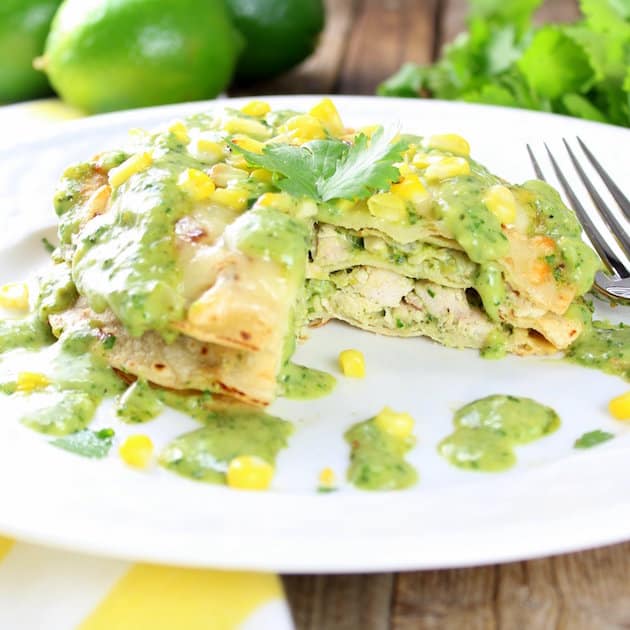 The restaurant is chic and modern and it's a nice place to have a good meal when the Taste And See kitchen is closed.
When we visit, one of us usually orders their Budín de Pollo - Braised chicken tinga layered with soft corn tortillas, Chihuahua cheese, roasted Mexican peppers and grilled corn, with poblano cream sauce. YUM – right!?😋
It's so delicioso.💯
So in honor of this yummy dish AND Cinco de Mayo I've created my own mouthwatering version… Stacked Chicken Enchiladas with Cheesy Poblano Sauce!✨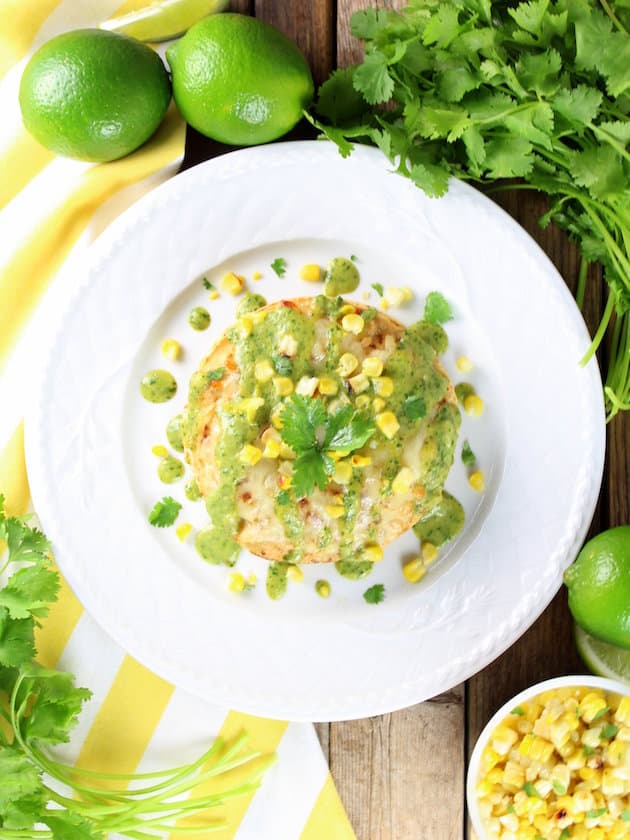 It's creamy and cheesy, a little earthy and sweet. And it looks gorgeous on the plate. Can you say upscale Mexican comida??🤔 (That means food. Sorry I failed to mention we're also brushing up on our Español today.)
I was able to locate the original Budin' de Pollo recipe thanks to my good friend Google, and the Washingtonian. And although I think it's super tasty, I wanted to try to recreate the dish but make it slightly healthier.
So I grabbed my apron and went to work.
How to make stacked chicken enchiladas:
The sauce is really the star of the show so it needs to be amazing.🌟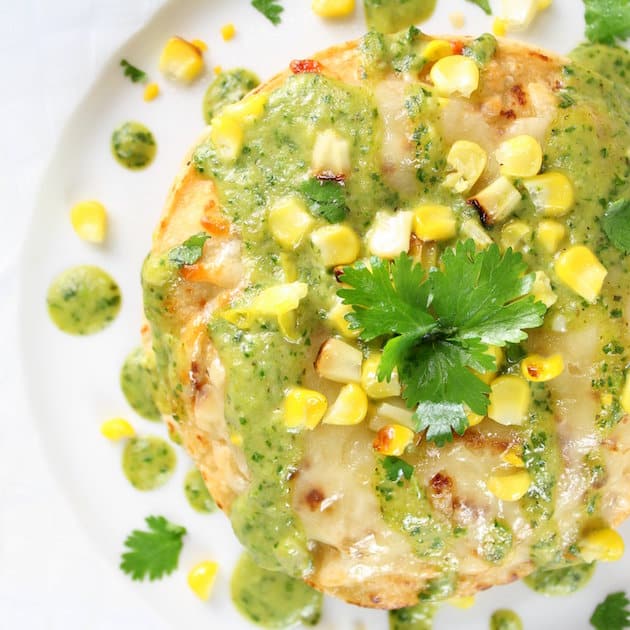 I started by grilling a couple poblano peppers and some corn on the cob. By roasting the peppers over an open flame it not only cooks them, it also blackens their skins and makes them very easy to remove.
Once the peppers are grilled I put them in a bowl and cover them with some plastic wrap. This will ensure the skins slide right off when the time comes.
Next, I toast some corn tortillas. I use my trusty cast iron skillet
but you could use any medium size saucepan. I heat the pan over high heat, then, one at a time hit each tortilla with a quick spritz of cooking spray and toast for 20-30 seconds on both sides.
As they're finished I lay them on a paper towel and repeat with the rest of the tortillas.
Now for the belle of the ball: the cheesy poblano cream sauce.👇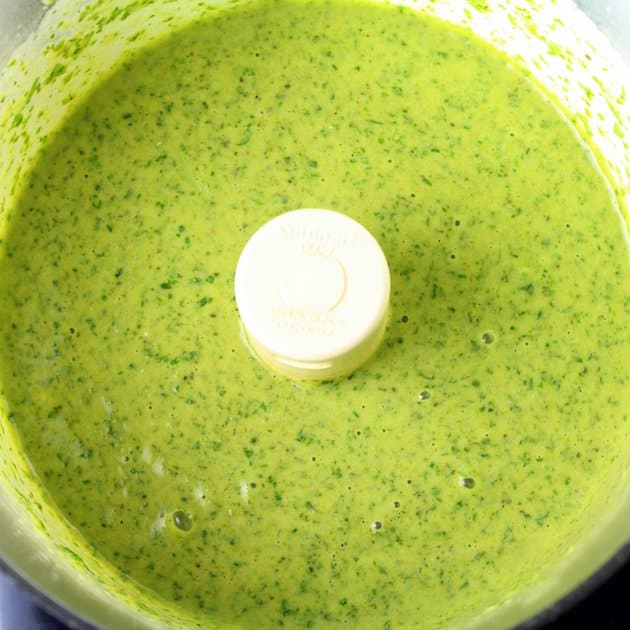 I sauté onions, garlic, salt, pepper and a bay leaf in a mixture of butter and vegetable oil over medium-high heat for 5 minutes. Then stir in the flour for 1-2 more minutes. Next, I slowly whisk in 1½ cups of warm milk and 2 cups of warm chicken stock. I keep stirring and let this thicken for about 5 minutes.
Now it's time to add some color… I remove the skins, seeds and stems from the poblano peppers and add them to my beloved food processor
along with spinach, cilantro, and half of the creamy sauce. I pulse and puree until it's creamy and the most beautiful color green.💚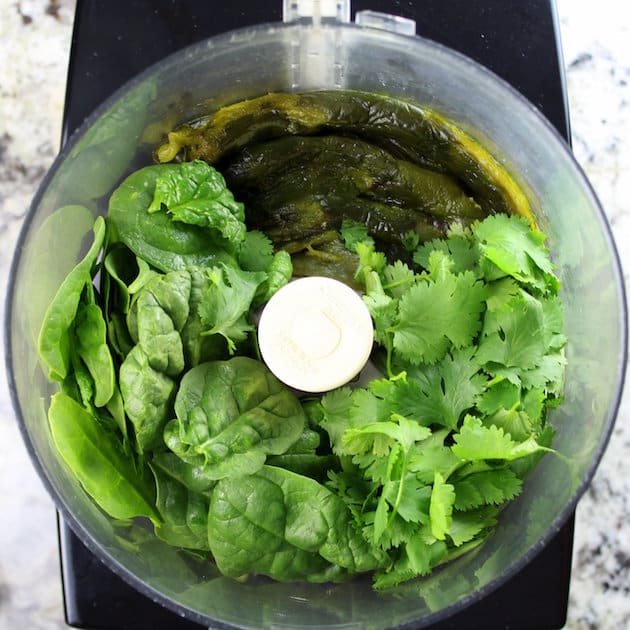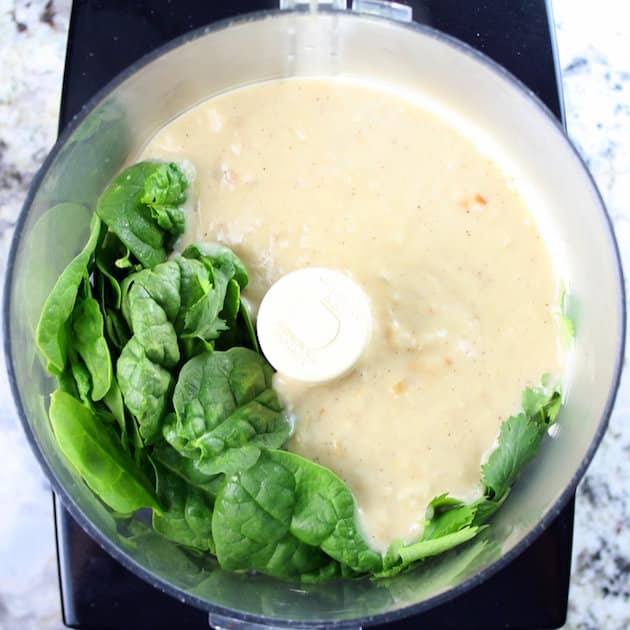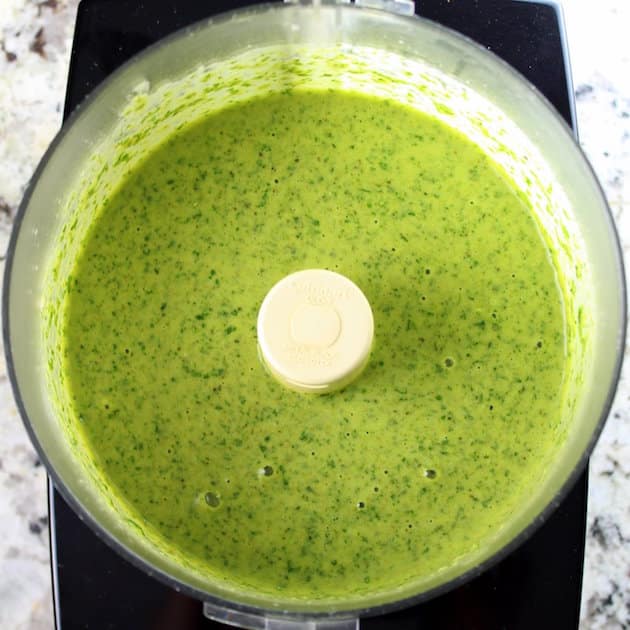 Then stir the grassy mixture back into the saucepan, add some Monterrey Jack cheese and a little more salt and try not to eat it all by the spoonful. Real. Talk.👌
Next, I add the shredded chicken, 1 cup of grilled corn (cut off the cob) and half of the poblano sauce to a large mixing bowl and fold together.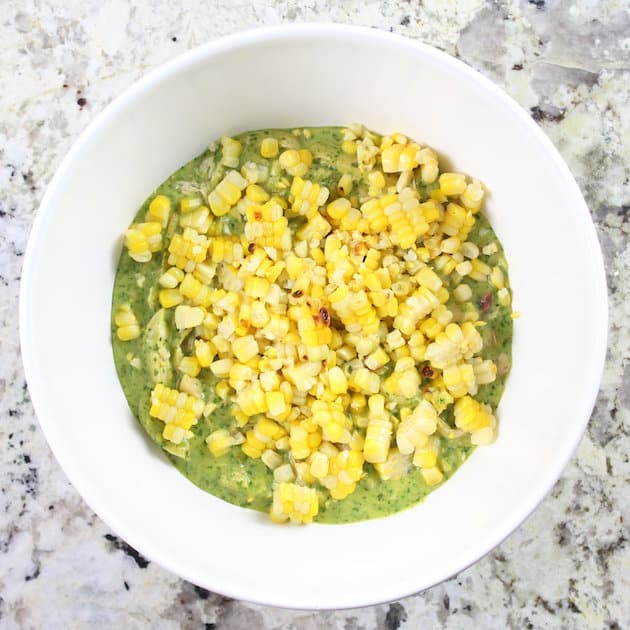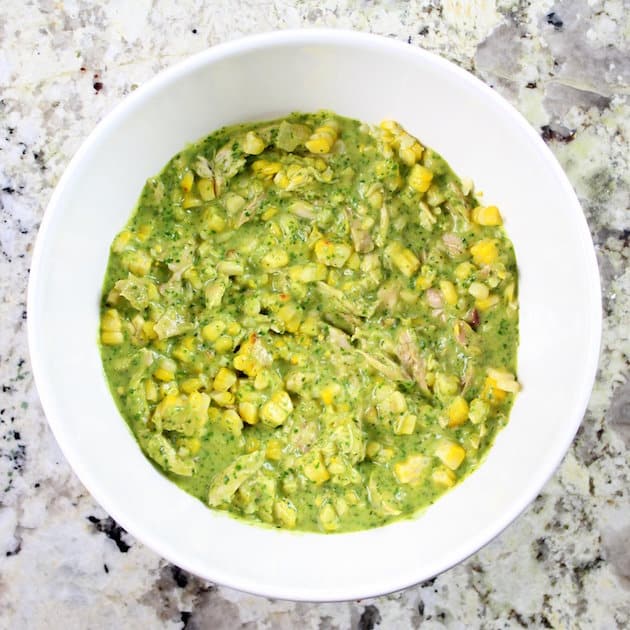 The stacked enchiladas can now be assembled.
Layer 6 toasted corn tortillas on a parchment lined baking sheet (you may need to use two baking sheets.) Add ¼ cup of the creamy chicken to each tortilla and spread evenly. Then another tortilla and more chicken. Finally, top each stack with the last tortilla and sprinkle with cheese. Bake in the oven for 8-10 minutes at 375 degrees.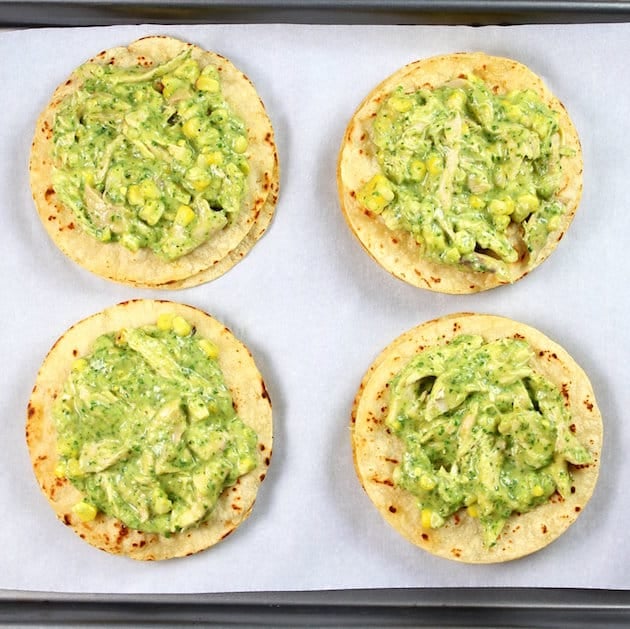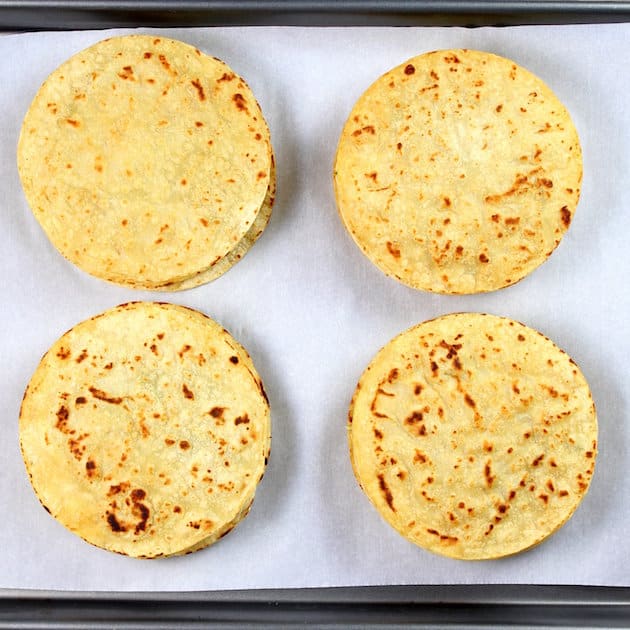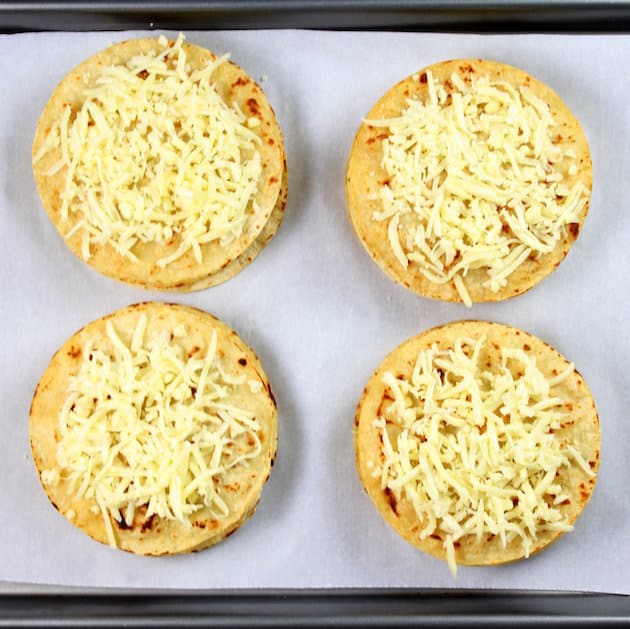 Then pull them from the oven, put one stack on each plate, spoon several tablespoons of poblano sauce over each one and sprinkle with grilled corn and fresh cilantro.🌽🌿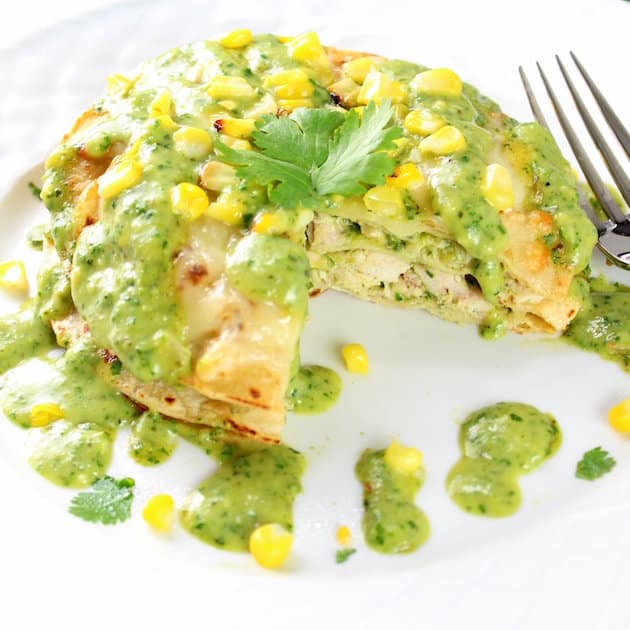 These Stacked Chicken Enchiladas with Cheesy Poblano Sauce are so creamy and filling. The perfect balance of sweet from the corn and milk, savory from the garlic, onions, and cheese, plus, a little earthy from the spinach, peppers, and cilantro.
Truly the most muy excelente Mexican creation everrr!!💛
Move over Cheesy Chicken Enchilada there's a new compadre in town!
Drop. The. Tortilla.🖐🌮
I would love to connect with you! Leave a comment and follow me on Instagram, Twitter, Facebook, & Pinterest!
Yield: 9
Stacked Chicken Enchiladas Recipe with Cheesy Poblano Sauce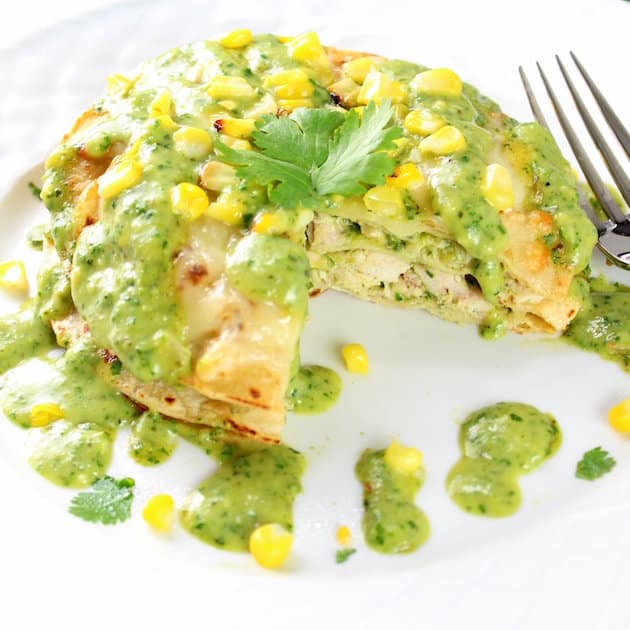 Stacked Chicken Enchiladas Recipe with Cheesy Poblano Sauce is creamy, savory and slightly sweet. Packed with tons of flavor from the grilled poblano peppers, cilantro, spinach, garlic, onions, low-fat milk, chicken stock, and a little Monterrey Jack cheese.
Ingredients
2 tablespoons butter
2 tablespoons olive oil or vegetable oil
1 onion, finely chopped
4 cloves garlic, minced
1 bay leaf
¼ teaspoon pepper
¾ teaspoon salt
⅓ cup all-purpose flour (for gluten-free, use all-purpose gluten free flour!)
2 cups chicken stock (warm)
1 ½ cups 2% milk (warm)
1 cup packed spinach
2 poblano peppers
½ cup cilantro leaves (more for garnish)
2 cups shredded chicken (I used a roaster chicken)
18 corn tortillas
8 ounces shredded Monterey Jack cheese
cooking spray
1 ½ cups corn fresh off the cob (3 ears) or frozen
Instructions
Prepare corn in advance by either grilling in the husk (follow these grilling directions) or shucking and cooking at a full boil for 5 minutes. (If you'd like you can also substitute frozen corn).
For The Creamy Poblano Sauce: **See Note**
Char whole poblanos directly over a gas flame, on a grill or in broiler until blackened all over. Place in a bowl and cover with plastic wrap, and let stand 10 minutes. Peel off blackened skin, remove stem and seeds and set aside.
Melt butter in a large saucepan over medium-high heat. Add onion, garlic and bay leaf and cook for 5 minutes until the onion is tender. Add flour, salt, & pepper and stir the mixture for 1-2 minutes.
Slowly whisk in the warm milk and chicken broth. Whisk and simmer until smooth and thick, 5 minutes
Add half of the sauce mixture to a food processor or blender (covered loosely *see note) with the previously roasted poblano peppers, spinach, and cilantro. Pulse until smooth.
Transfer the mixture back to the saucepan and combine with remaining creamy sauce base.
Remove from the heat and add 4 ounces (1 cup) of shredded Monterey Jack cheese to the pan and stir. Season with ¼ teaspoon salt.
For The Stacked Enchiladas:
Preheat oven to 375F.
Heat a medium-sized skillet over high heat. Give each side of the tortilla a quick spray with cooking spray and cook for 20- 30 seconds per side, turning with tongs. Transfer tortilla to a paper towel-lined plate. Repeat with remaining tortillas.
Add the shredded chicken, ½ the poblano sauce, and 1 cup of corn to a large mixing bowl and fold the ingredients together.
To assemble enchiladas, divide 6 tortillas onto two parchment lined baking sheets. Top each tortilla with ¼ cup of the shredded chicken mixture and spread evenly, add another tortilla and another ¼ cup chicken mixture, and then one more tortilla. Sprinkle each enchilada stack with 2 tablespoons shredded cheese.
Bake uncovered for 10 minutes at 375F.
Remove from the oven and plate, adding several tablespoons of sauce on top of each stack, then garnish with corn and cilantro.
Notes
Use extreme caution when blending the poblano sauce in your food processor or blender... the steam from the hot liquid can build up and force off the lid while blending!  To prevent this, remove the small center part of the lid so steam can escape, then place a folded kitchen towel over the opening.  Firmly hold the towel in place while blending to keep everything safe & tidy!
For a gluten-free version of this recipe, simply substitute all-purpose gluten free flour. 
Nutrition Information
Yield
9
Serving Size
1 stacked enchilada
Amount Per Serving
Calories

468
Total Fat

23g
Saturated Fat

9g
Unsaturated Fat

0g
Cholesterol

73mg
Sodium

512mg
Carbohydrates

39g
Fiber

4g
Sugar

5g
Protein

26g
Are you ready for Cinco de Mayo? Check out these favorite Mexican recipes!