This is a sponsored post for HemisFaresTM brand that is available exclusively at Kroger family of stores. All opinions are honest and 100% my own! This Pesto Shrimp With Parmesan Polenta is a rich and luscious meal full of all your favorite Italian flavors!
With creamy cheesy Parmesan polenta, tomatoes simmered in garlic and olive oil, fresh shrimp sautéed and tossed in pesto, topped off with some crispy pancetta and fresh basil. A delightful homemade Italian feast on the table in 30 minutes!
I'm all about creamy yummy polenta with some fresh sautéed shrimp tossed in pesto with stewed cherry tomatoes, olive oil and garlic. OHGEEE!! My mouth is watering as I type this. Not kidding.
I'm so excited to share this delicious recipe with you today. It's not only insanely delicious, it's ready and on the table in less than 30 minutes. I'm so your girl!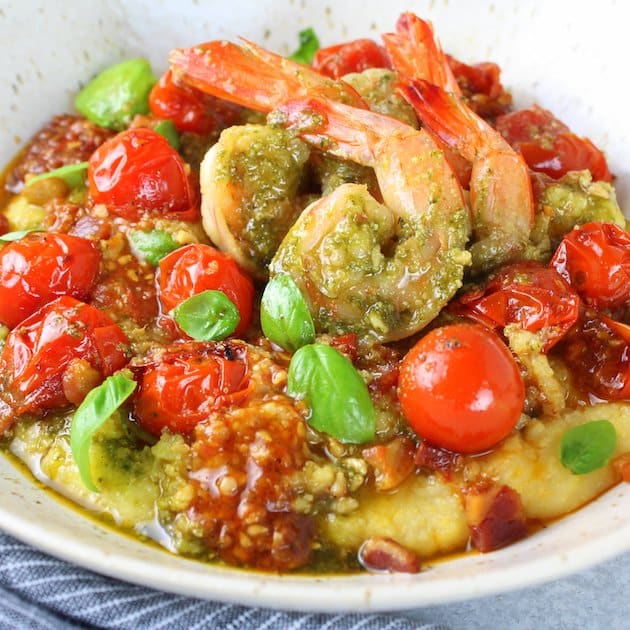 We're using this Pesto Alla Genovese from HemisFares (a high-quality product line that can be found at your local Kroger store) for our recipe today.
It's part of an amazing collection of international culinary treasures from HemisFares – they are completely dedicated to sourcing and curating only the absolute best products from a variety of countries.
Each one of their products are individually sourced, imported from the country of origin, and sealed with a unique "find number." Today's Pesto alla Genovese is number 50… And it's the focal point of our fabulous recipe today.
Aren't you so excited!?? #pestoisthebesto #pestoismajesto #pestopower #Icoulddothisallday
Moving on!
A few weeks ago I shared another recipe highlighting more of Hemisfares' fabulous Italian creations in my Tagliatelle with Burrata, Tomatoes, and Pine Nuts. We used their Tagliatelle Pasta (aka Italian flat egg noodles) and unfiltered extra virgin olive oil for that recipe. It's so tasty you have to try it - right after you try this one!
As I mentioned for today's culinary masterpiece we're using the Pesto alla Genovese… a cheesy pesto recipe that originated from the notebook of an Italian nonna (meaning grandma) from Piedmont. Its time-honored flavors are still delicious today, down to the smallest detail!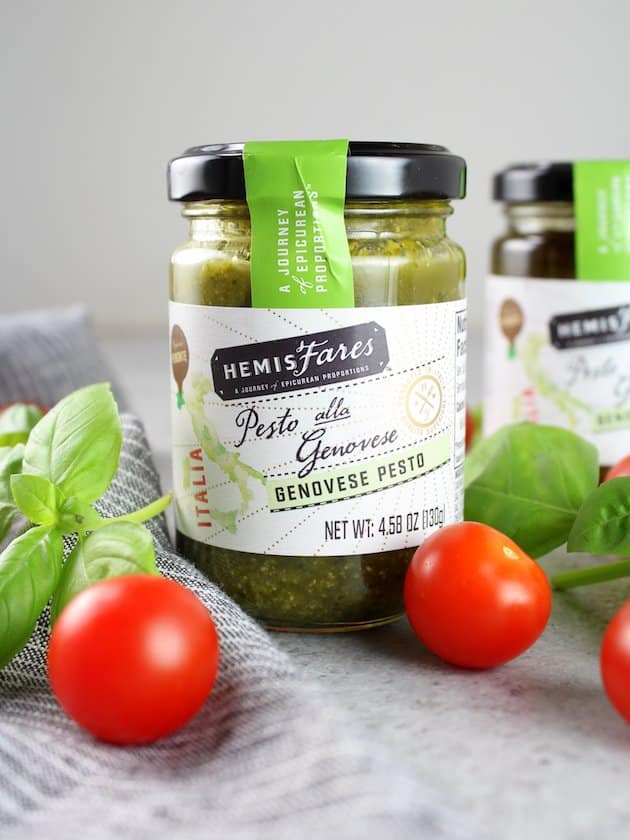 There's just nothing quite like a rich pesto sauce. It's cheesy, herbaceous, unctuous, and soooo good. Plus, it goes nicely with so many things… like pasta, chicken, veggies, pizza, polenta, shrimp, and tomatoes!
And as fate would have it, three of those yummy ingredients are in our recipe today. Yes – I know, it's almost too good to be true!
First, let's talk polenta. It's about to get serious ya'll - listen up!
I've been making my Parmesan Polenta recipe for years. I swap it out all the time for mashed potatoes or pasta or whatever. It's the perfect substitute for so many reasons…
It adds some nice variety to Italian meals – (literally I make a killer lamb lasagna recipe with polenta (mmm – so good),
it cooks in less than 5 minutes,
plus, it's naturally gluten-free,
AND most importantly, it tastes AHHH-mazing!!
When this corn-based carb is smeared with some of HemisFares pesto sauce it becomes the perfect base for this delectable dish!
Then there's the shrimp. I mean a person's gotta get enough protein in their diet – right?? Well, why not shrimp!? After all, it's relatively low in calories, it's a great source of vitamins and minerals, and it tastes like sweet buttery seafood goodness.
AND when it's tossed with some more of that pesto sauce – it's OTTT good!
Next would be the cherry tomatoes. I'll be honest it's hard for me to eat any other tomato. They're by far the sweetest and have the most "tomato-ey" flavor. Plus, they're so plump and juicy, and create another layer of rich flavor for this dish when cooked with olive oil, garlic, pepper, salt and a pinch of crushed red pepper.
Can you say heavenly reduction of tomatoey nectar!?? (I know – it's kind of a mouthful. But it's just so true.)
Have I tortured you enough with all these lavish and scrumptious details of this recipe!??
Well what do ya say – let's get cooking!
Pesto Shrimp with Parmesan Polenta – a restaurant-quality meal made in less than thirty minutes in the comfort of your own home.
Buon appetito amico!
Yield: 6 servings
Pesto Shrimp with Parmesan Polenta Recipe
This Pesto Shrimp With Parmesan Polenta is a rich and luscious meal full of all your favorite Italian flavors!
Ingredients
1 cup Instant Polenta
⅔ cup grated Parmesan cheese
1 teaspoon salt
3 quarter-inch-thick slices of Pancetta (about 5 ounces), cubed
1 pound of 16/21 fresh Gulf shrimp (or substitute your favorite shrimp, between 16-21 shrimp per pound)
3 ounces HemisFares Pesto alla Genovese
1 tablespoon olive oil
1 pint cherry tomatoes
½ teaspoon red pepper flakes
1 teaspoon salt
1 teaspoon pepper
Fresh basil, rinsed and dried
Instructions
Peel shrimp and devein, leaving the tails intact, then set aside.
In a medium saucepot, bring 3 cups chicken stock to a boil. Add polenta and begin whisking. Add Parmesan cheese, and salt, then continue whisking while cooking over medium heat. Add more chicken stock as needed and continue cooking until smooth, about 5 minutes total.
Add pancetta to a large sauce pan and sautee over medium heat until browned on all sides, about 3 minutes. Remove using a slotted spoon and set aside.
Add shrimp to the saucepan and cook over medium heat. Watch them closely and turn after about 1 minute, ensuring they are cooked to a firm, opaque texture – about 3 minutes total. Toss shrimp with 1 tablespoon of pesto, then remove from heat and set aside.
In a fresh saucepan, add 1 tablespoon of olive oil and bring to medium heat. Add cherry tomatoes, salt, pepper, garlic, and red chili pepper flakes. Continue to cook until tomatoes blister and form a tomato sauce.
To assemble, plate polenta, then add more pesto as desired. Top with tomato sauce and shrimp, and finish with pancetta and small pieces of basil.
Nutrition Information
Yield
6
Serving Size
3 shrimp with polenta
Amount Per Serving
Calories

265
Total Fat

21g
Saturated Fat

6g
Trans Fat

0g
Unsaturated Fat

13g
Cholesterol

44mg
Sodium

1134mg
Carbohydrates

8g
Fiber

1g
Sugar

1g
Protein

12g
This nutrition card uses an estimate provided by an online nutrition calculator. This estimate is not a substitute for a professional nutritionist's advice!
If you've never tried HemisFares before, check them out at your local Kroger family store. And if you want to learn more about their products, check out ,
check out HemisFares on Facebook
!
Looking for more of our favorite Easy Italian Recipes?
Tagliatelle with Burrata, Tomatoes, and Pine Nuts