This Easy Zucchini Lasagna is a delicious and lighter take on the Italian classic! There are very few meals that satisfy like warm cheesy lasagna, and this version is just as scrumptious without all the carbs. With sliced zucchini instead of lasagna noodles, a hearty meat sauce, a ricotta and Parmesan cheese mixture, and of course mozzarella cheese!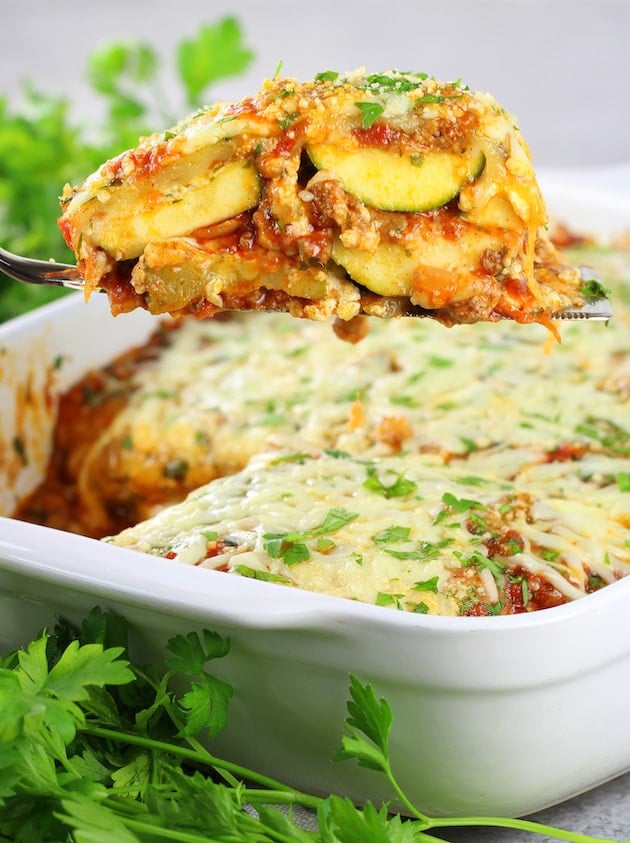 Easy Zucchini Lasagna (Low Carb)
Annnd I've done it again! Another one-pan, low-carb, gluten-free mouth-watering recipe!!
What can I say? This girl is on fire!!!
Today we're talkin' about Zucchini Lasagna! Yesss my friend it has the Italian deliciousness found in traditional homemade lasagna except we're swapping out the noodles for slices of zucchini. Trust me it's so good you won't miss the pasta.
Genius – right!??
It's an incredibly delicious, well-balanced one-pan meal! The meat sauce is hearty and flavorful, the ricotta layer is herbaceous and cheesy, and the zucchini noodles soak up all that flavor like the veggie sponges they are!
I can't wait for you to experience this yumminess!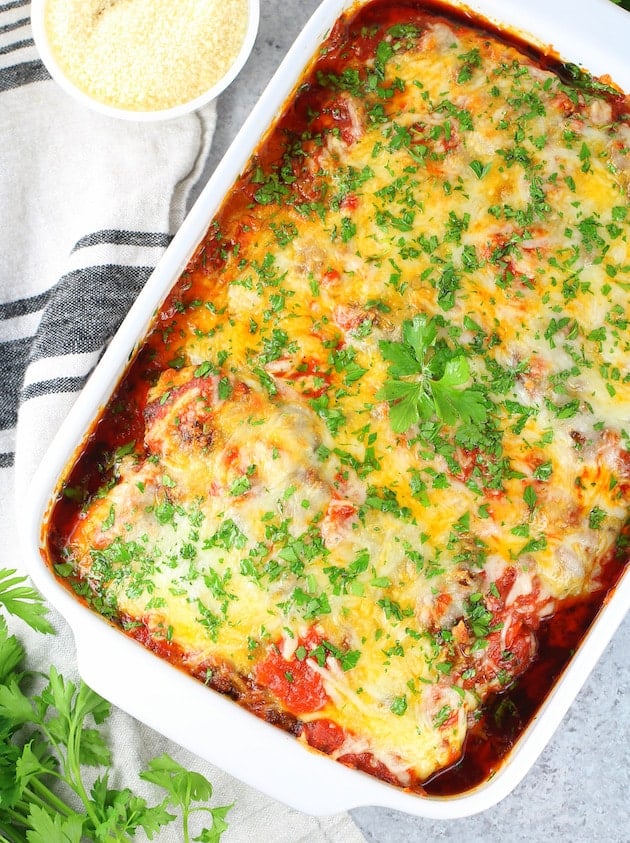 Gluten Free Lasagna Noodles
I've realized that so many of my low-carb recipes end up being gluten-free as well. And after a reasonable amount of research I've found that zucchini sliced lengthwise makes for the perfect gluten-free lasagna noodles, as well as the tastiest low carb lasagna!
You could also try this with eggplant or summer squash, although you might have to experiment with the cook times a bit.
How To Prepare Zucchini For Zucchini Lasagna
The zucchini "noodles" (aka slices) are an intricate part of this dish so we need to talk about that for a minute.
I didn't want my zucchini to be mushy (sliced super thin) but I still wanted to be able to bake all of those Italian flavors together so they could permeate the whole dish.
Here's what I did:
I took 3 medium zucchini, washed them well, and dried them.
Next, I cut off the end with the stem and place it cut side down on the cutting board.
Then I carefully cut all the way down the body of the zucchini (lengthwise), three times creating 4 equal sized slices – one at a time. Just go slow.
You should have 4 slices from each zucchini.
Next, I layered them out on a parchment lined baking sheet and sprinkled both sides with salt. I let them sit there and "sweat" while I prepared the meat sauce and the ricotta filling.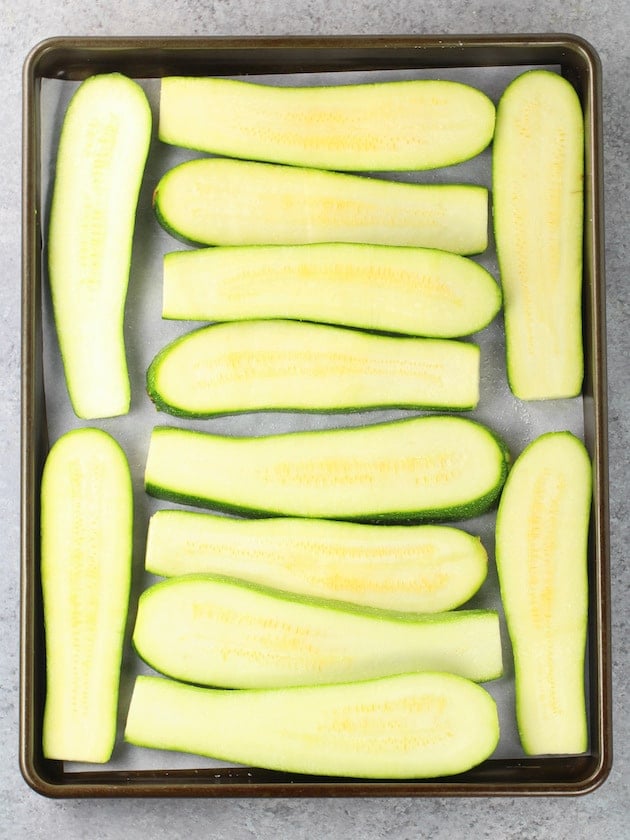 How To Make Zucchini Lasagna
For the meat sauce… You can use any ground meat that you'd like. I would recommend something that is at least 90% lean. I used ground lamb for mine and it was outstanding!
Saute the meat for 5-6 minutes, breaking it up as it cooks and season with salt and pepper while it cooks (if you're using ground lamb, add allspice at this point). Now add the chopped onions and minced garlic and saute for about 4 more minutes. Sprinkle in the fresh chopped parsley and the marinara sauce. Allow it to come to a simmer and cook for a few more minutes then set it aside.
Next, in a small bowl mix together the ricotta, grated Parmesan cheese, and chopped parsley.
Now it's time to assemble this amazingness!
How To Make Zucchini Lasagna
Use paper towel to blot and dry the zucchini. Add 1 ½ cups of the meat sauce to the bottom of a 9x13 lasagna pan or baking dish.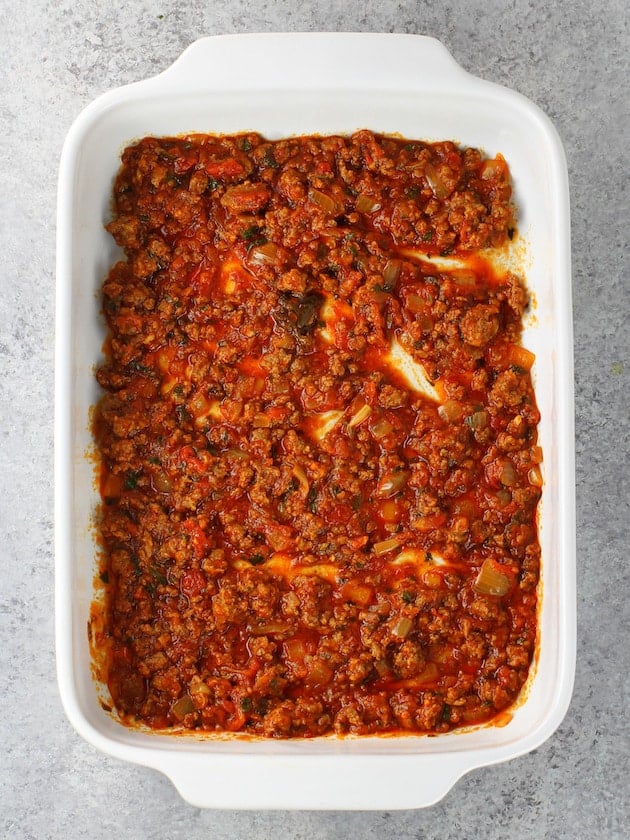 Place 6 slices of zucchini side by side, covering the meat sauce.
Spread half the ricotta mixture on top on the zucchini noodles.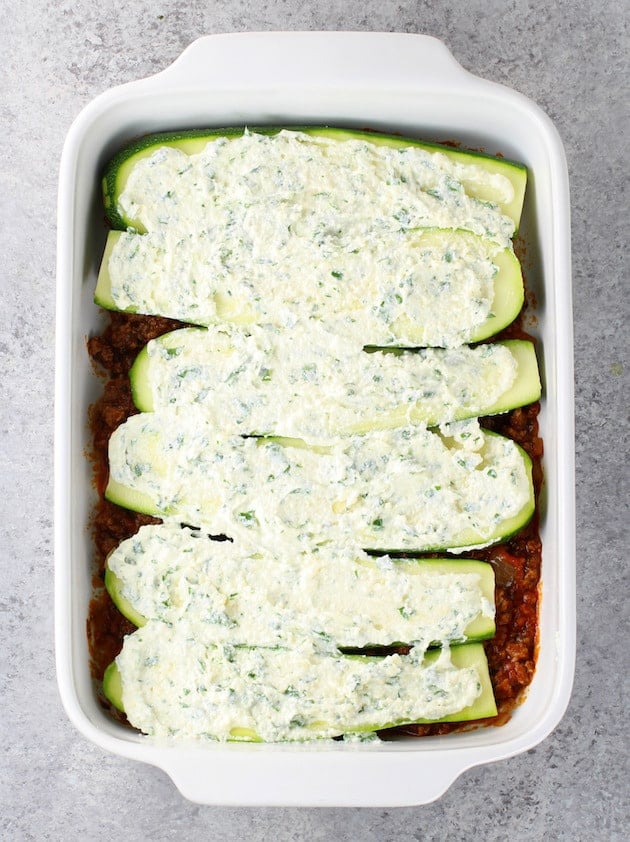 Sprinkle 1 cup (4 ounces) of mozzarella cheese on the ricotta.
Then add another 1½ cups of meat sauce, layer on 6 more slices of zucchini, and then the other half of the ricotta mixture, and another cup (4 ounces) of the mozzarella cheese.
Finally, finish with another layer of the remaining meat sauce – it should be about 1½ cups.
Now bake at 375 for 20 minutes. Sprinkle on 4 more ounces of the mozzarella cheese and bake 10 more minutes, or until the lasagna is bubbling around the edges.
This cheesy hearty gluten free lasagna is satisfying comfort food without all the carbs! Another easy and delicious family meal!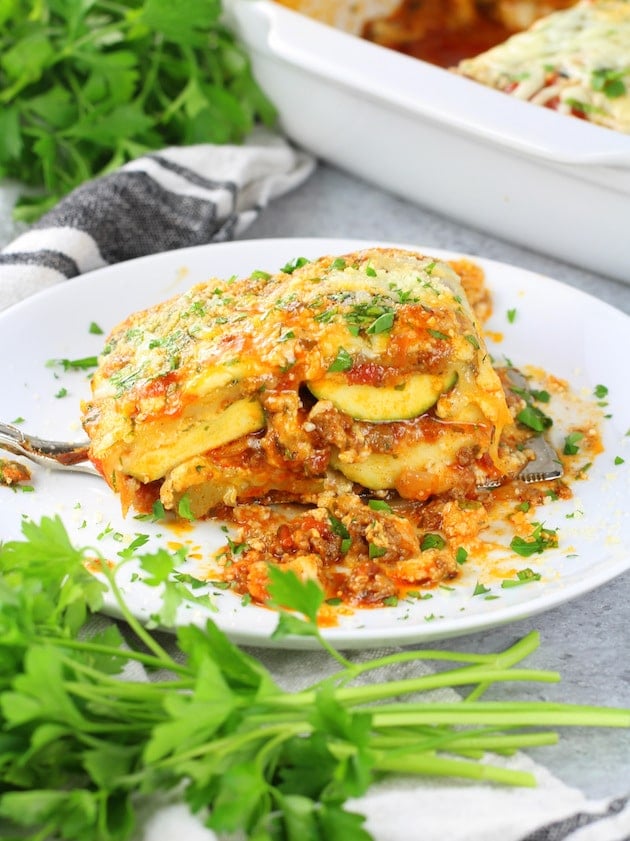 Some Other Veggies Can You Use In this Lasagna recipe
Mushrooms – either portabella or sliced cremini
Eggplant
Summer squash
Cooked spaghetti squash
Sweet peppers
Spinach
Kale
Yield: 8 servings
Easy Zucchini Lasagna (Low Carb & Gluten Free)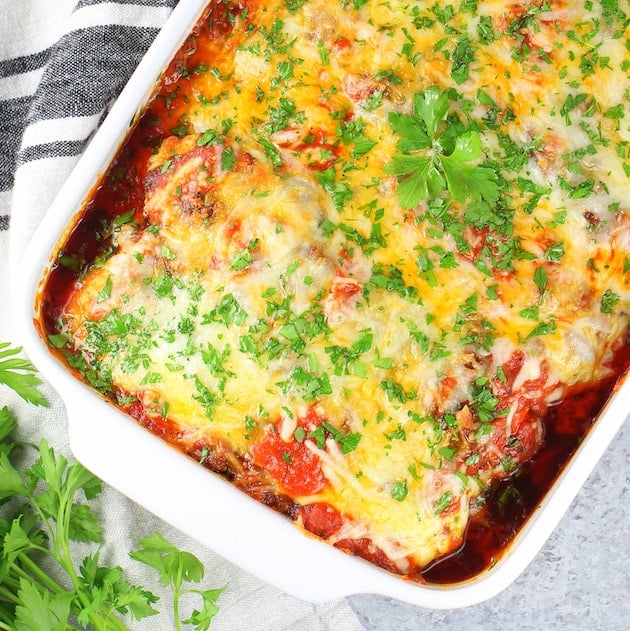 A delicious and lighter take on the Italian classic! Gluten Free & Low Carb.
Ingredients
For The Lasagna Noodles:
3 medium zucchini, washed thoroughly and cut into 4 even slices lengthwise
Salt
3 cups Mozzarella cheese
Fresh chopped parsley and parmesan cheese for garnish
For The Meat Sauce:
1 tablespoon olive oil if needed
1 pound ground meat (I used lean ground lamb)
1 teaspoon allspice (only use this if you chose lamb)
1 teaspoon salt
1 teaspoon pepper
1 large onion, diced
5 cloves minced garlic
¼ cup chopped fresh parsley
24 ounces marinara sauce (I use Rao's brand!)
For The Ricotta Mixture:
1 cup ricotta cheese
⅓ Parmesan cheese, plus more for garnish
¼ cup chopped fresh parsley
Instructions
Prep The Zucchini Noodles:
First, preheat the oven to 375 degrees.
Slice 3 medium-sized zucchini lengthwise into 4 even slices.
Sprinkle both sides of the zucchini with salt and set aside (you should notice drops of liquid pooling on the veggie slices).
For The Meat Sauce:
Saute the ground meat in a pan on the stovetop over medium high heat (if you're using really lean meat you'll need a little olive oil). Season the meat with salt and pepper (and the allspice if using ground lamb).
Add the onions and garlic and saute for 4-5 more minutes.
Stir in ¼ cup parsley and the marinara sauce, bring to a simmer and cook for 3-4 more minutes.
For The Ricotta Mixture:
Mix the ricotta cheese, parmesan cheese and ¼ cup chopped parsley together in a small bowl.
Assemble The Zucchini Lasagna:
Wipe all the liquid off the zucchini with paper towels.
Add 1½ cups of meat sauce to the bottom of a 9X13 baking dish.
Layer onto that six slices of zucchini side by side.
Spread half of the ricotta cheese mixture onto the sliced squash.
Sprinkle on 4 ounces of shredded mozzarella cheese.
Add another 1½ cups of meat sauce.
Next use 6 more slices to make another layer of zucchini, and continue layering the ricotta, mozzarella, and top with remaining sauce.
Bake the lasagna uncovered for 20 minutes.
Sprinkle on 1 more cup of cheese and bake 10 more minutes uncovered.
(Makes 4½ cups meat sauce.)
Nutrition Information
Yield
8
Serving Size
6 ounces
Amount Per Serving
Calories

368
Total Fat

25g
Saturated Fat

13g
Unsaturated Fat

0g
Cholesterol

89mg
Sodium

815mg
Carbohydrates

9g
Fiber

3g
Sugar

5g
Protein

25g
More favorite Italian Dinner Recipes:
Lamb Lasagna with Parmesan Polenta
Baked Lasagna Stuffed Peppers
Full Flavored Vegetable Lasagna
Italian Meatball Subs
Chicken Alfredo with Penne and Peas