This German Potato Salad is warm and tangy, savory and slightly sweet... it's the perfect side for all your cookouts, BBQ's and family dinners! With easy options for the Instant Pot or stove top, you'll be making this delicious potato salad for all your get-togethers!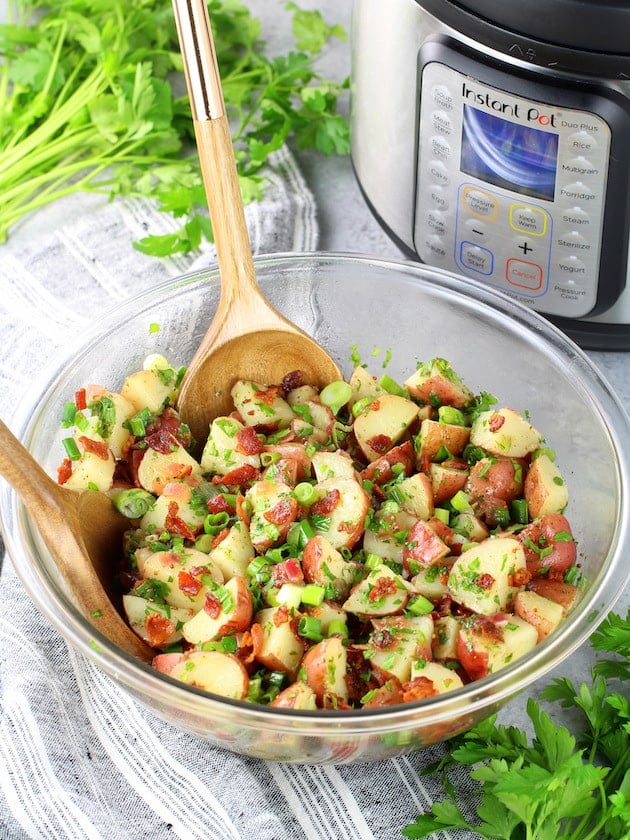 So I know I'm a little late to the party over here…
I have to admit I've never had German Potato Salad. Ever!
I also had no idea it's the most popular type of potato salad that people search for. I'm not sure how I missed that one but you know what I say… better late than even later!
We're not talking about just any Potato Salad my friend. Oh no – it's Instant Pot Potato Salad!
(By now you know that the instant pot duo is among my favorite kitchen appliances, right?)
You may remember I posted a more traditional Instant Pot Potato Salad a little while back. It's creamy and delicious with celery, potatoes, onions, eggs, and the most delicious and flavorful, creamy dressing.
And now today I'm happy to present my latest Potato Salad Sensation – Instant Pot German Potato Salad!!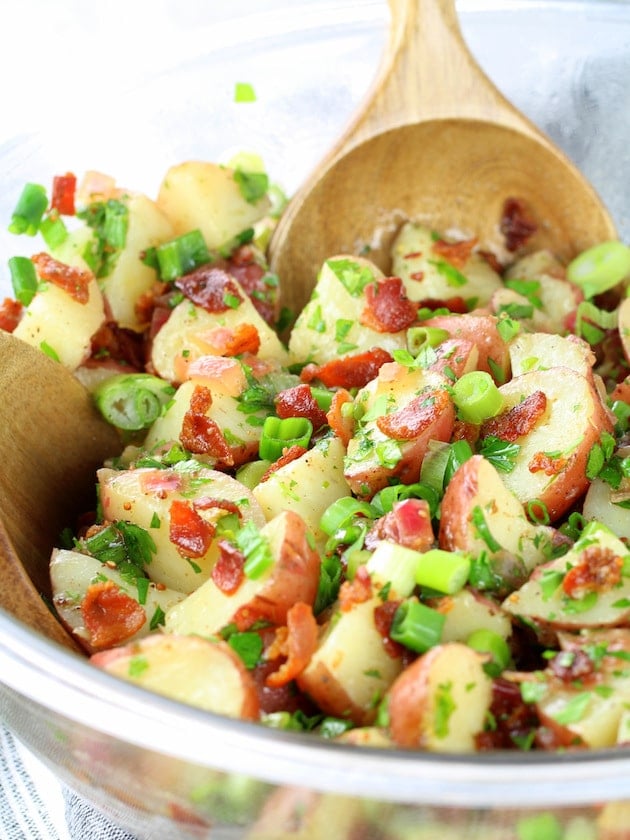 Annnd for those of you who haven't taken the plunge into the Instant Pot world I've got a stove top version as well. You're so welcome!
This salad is sooo good ! It's not like your traditional mayo and mustard based potato salads. It's more of a tangy vinegar and mustard sauce with a touch of sweetness. It's so amazingly delicious!! Plus, there's bacon!
Now I've got your attention – right!??
There are many types of potatoes out there and they come in so many shapes and sizes. For this recipe I used use red baby/petite potatoes. Not only do they look pretty since I leave the skins on but they're a little waxier than other potatoes so they hold their shape really nicely.
Instant pot potatoes are the best! They're so easy and effortless whether you're making mashers, "baked" potatoes, or steamed... it's kind of a no-brainer.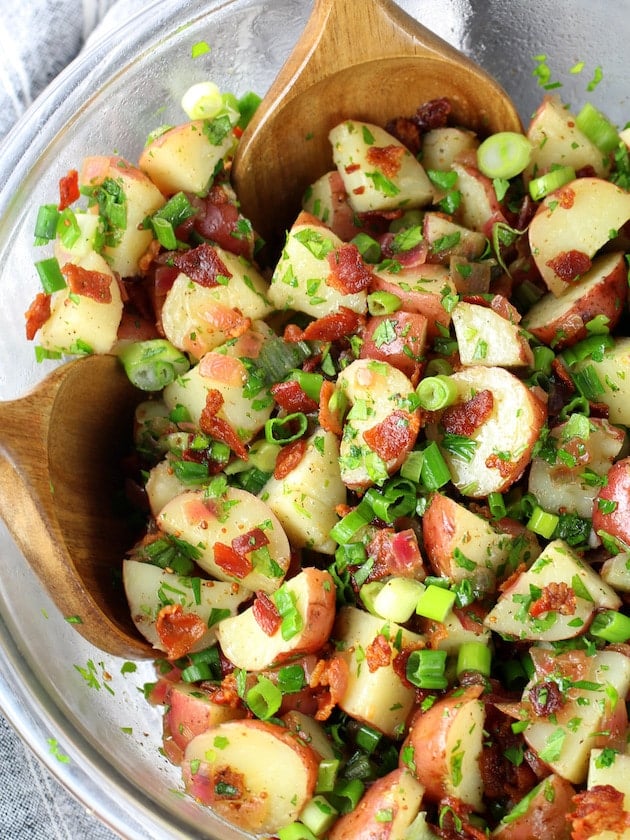 How to make German Potato Salad
For this recipe I added water to the IP, then added some spices to give the potatoes some flavor. I cut the potatoes into 1-inch pieces and placed them on a trivet in the inner pot, then pressure cooked them for 3 minutes, and viola! Perfectly steamed red potatoes!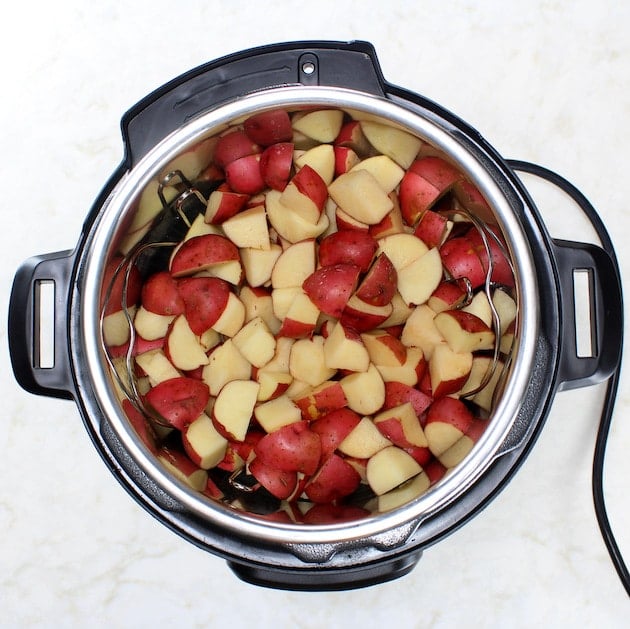 I removed the cooked potatoes from the IP and drained them.
Then turned the IP to saute and cooked the chopped bacon until it was crispy – about 9 minutes. (Or you can always saute it in a pan on the stove top while the potatoes cook if you prefer.)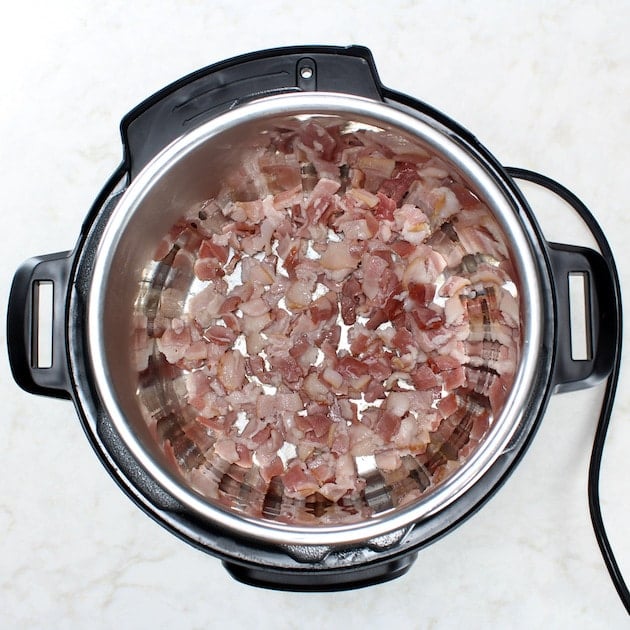 Next, using a slotted spoon I removed the bacon and placed it on a paper towel-lined plate to absorb the bacon grease. Leaving behind some of the bacon fat- AKA heaven's butter.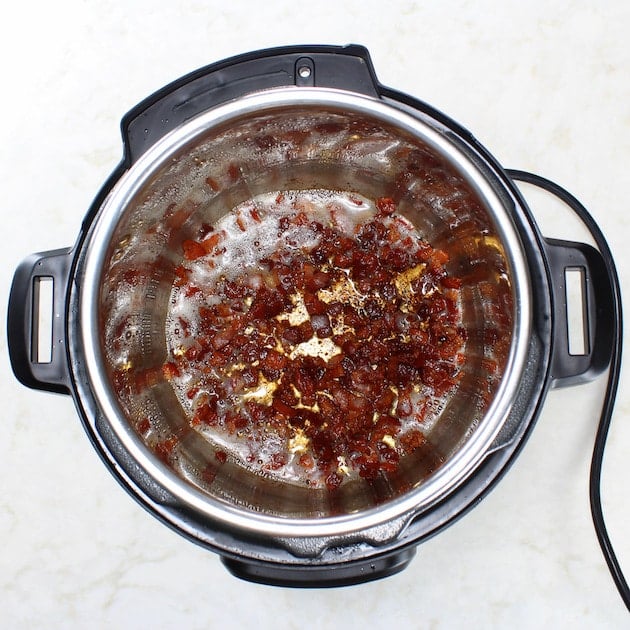 Then I added the onions to the IP and sauteed them for 4 minutes, stirring occasionally.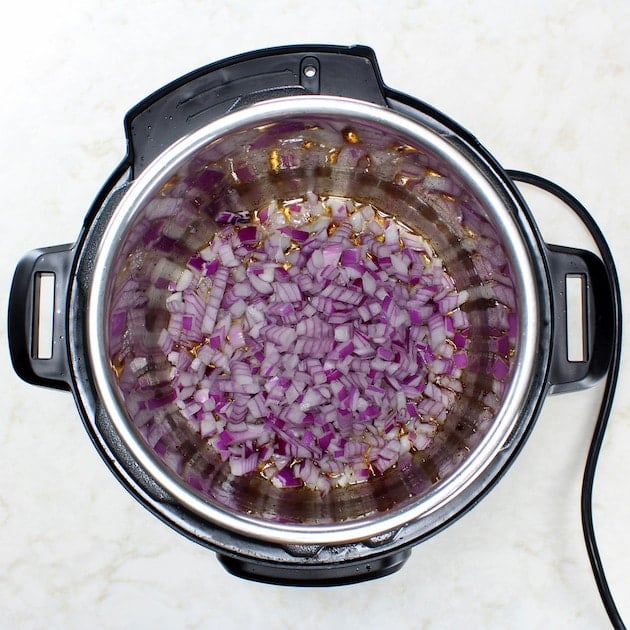 I carefully added the vinegar, mustard, & maple syrup to the onions and cooked for 2-3 more minutes. Then I whisked in the olive oil and added the salt and pepper... and turned off the IP.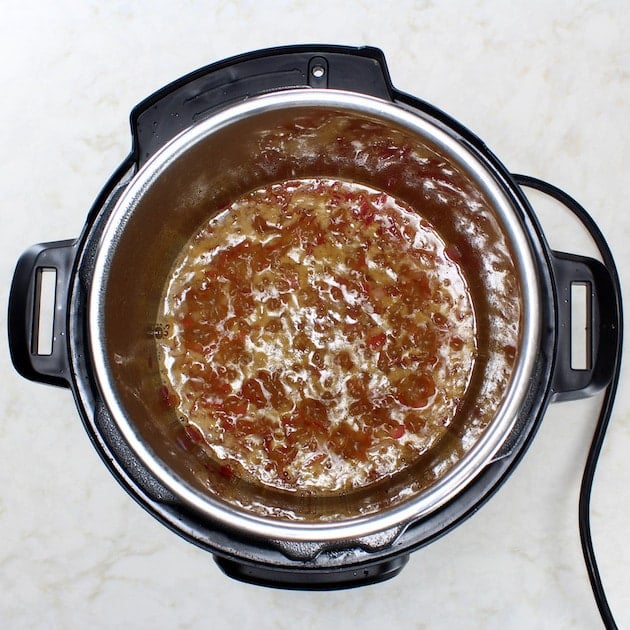 Finally, I sprinkled the bacon, parsley and green onions over the potatoes and drizzled on the warm dressing from the Instant Pot. Then folded it all together to coat with the dressing.
I think this potato salad is best if you serve warm, but you can also let it cool and stir occasionally so that the flavors marry even more.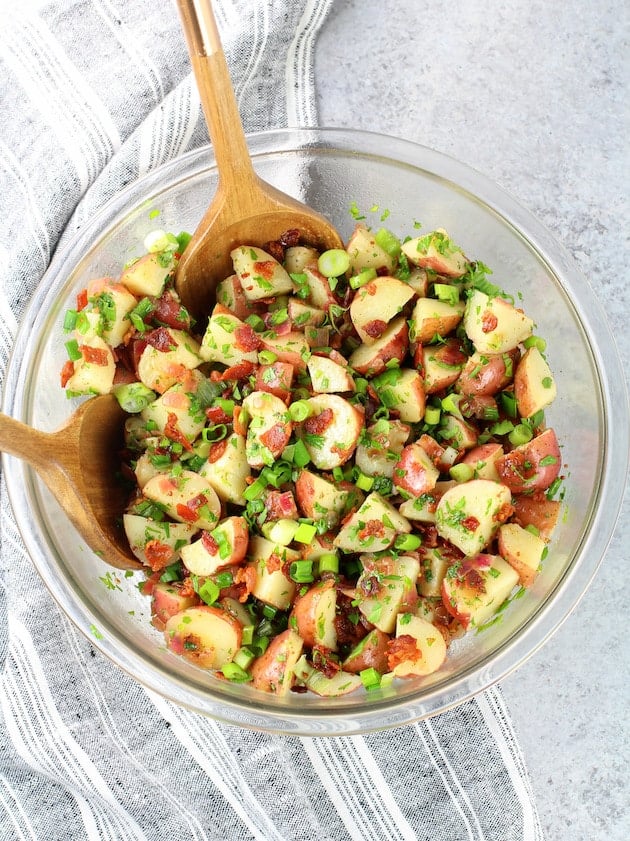 Ummm, can I just say mind-blowing! Why have I been depriving myself of this deliciousness all these years!??
It's warm and tangy, savory and slightly sweet. The potatoes act like little sponges and soak up all that dressing, the onions and parsley add some nice fresh herbaceous flavor, and the bacon is crispy and salty and finishes this dish off with a bang!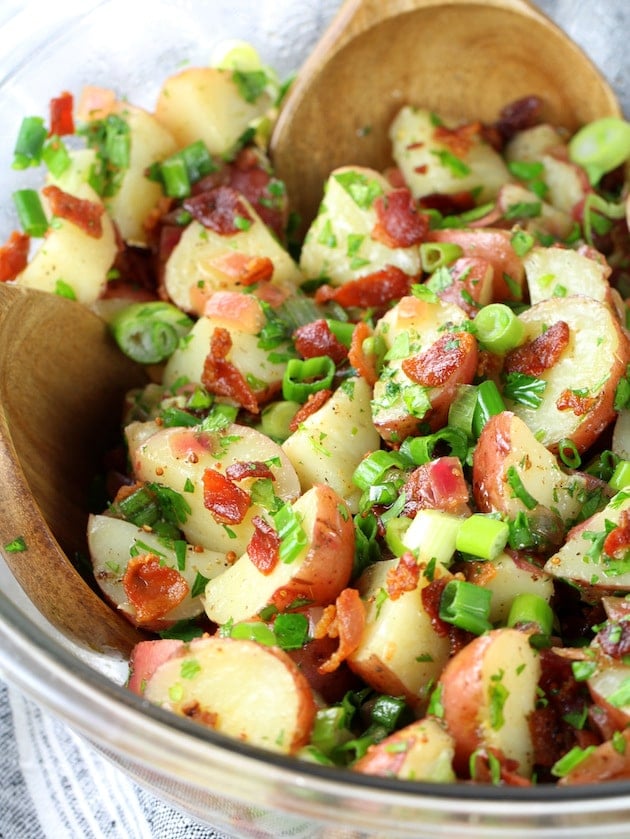 I know you're going to love this Instant Pot German Potato Salad as much as I do. It's the perfect side dish for all your cookouts, BBQ's and family dinners.
Whether you make it in the Instant Pot or on the stovetop it's sure to be your new go-to side dish!
Yield: 10 servings
German Potato Salad (Instant Pot & Stove Top)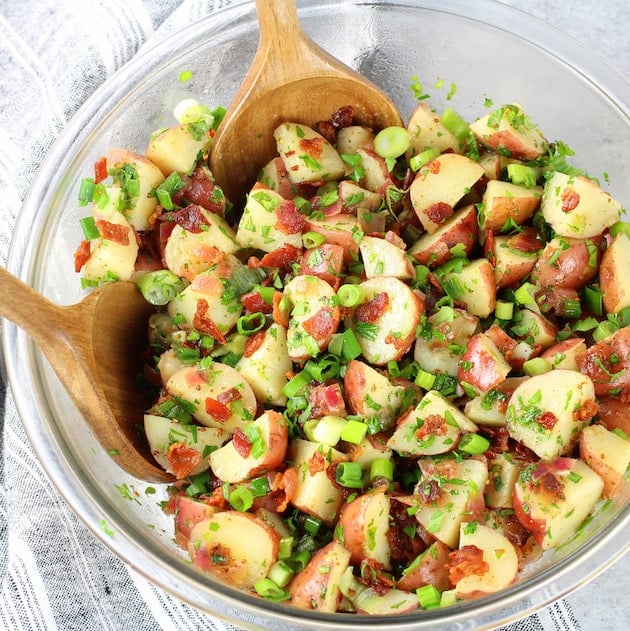 Potato Salad with a tangy vinegar mustard sauce, and a touch of sweetness… plus bacon!! It's amazingly delicious!!
Ingredients
For The Potatoes:
1 cup water
1 teaspoon onion powder
1 teaspoon garlic powder
1 teaspoon salt
3 pounds petite red potatoes, washed and cut into 1 inch pieces
For The Potato Salad:
½ pound thick cut bacon, cut into ½-inch pieces
1 red onion
½ cup apple cider vinegar
2 tablespoons stone ground Dijon mustard
3 tablespoon pure maple syrup
3 tablespoons olive oil
1 teaspoon salt
1 teaspoon pepper
½ cup parsley, chopped
8 green onions, chopped
Instructions
Add water, onion powder, garlic powder, and salt to Instant Pot, then place trivet in the pot. Add in cut up potatoes and cook on high pressure for 3 minutes. It will take around 18 minutes to come to pressure.
Do a manual release, which will take around 3 minutes for the pressure to release. Remove the potatoes from the IP, drain, place in a large mixing bowl or serving bowl, and tent to keep warm.
Remove any remaining water from the Instant Pot, turn saute mode, and cook the bacon until crispy… about 9 minutes. (Or you can cook it on the stove top if you prefer while the potatoes pressure cook. Then follow the next two steps on the stove top as well.)
Use a slotted spoon to remove bacon and place on a paper towel-lined plate.
Add the onion to the hot bacon grease in the IP and saute for 4 minutes, stirring occasionally.
Carefully add the vinegar, mustard, maple syrup and cook for 2-3 more minutes. Whisk in the olive oil, and add salt and pepper.
Add the bacon, parsley, and green onions to the potatoes, then drizzle on the warm dressing. Gently fold to coat thoroughly and enjoy!
Notes
To make this recipe on the stovetop: 
Add the cut potatoes to a large pot and bring to a boil, cooking until tender (about 7-10 minutes).  Add to a large mixing bowl and tent to keep warm.  
Cook the bacon in a large saute pan until crispy, then follow the remaining steps #4 through #7 listed above. 
Nutrition Information
Yield
10
Serving Size
5 ounces
Amount Per Serving
Calories

258
Total Fat

14g
Saturated Fat

4g
Unsaturated Fat

0g
Cholesterol

15mg
Sodium

680mg
Carbohydrates

29g
Fiber

3g
Sugar

6g
Protein

6g
More Instant Pot Recipe Favorites:
Instant Pot Garlic Parmesan Chicken Wings
Instant Pot Spaghetti Squash Buffalo Chicken (Low Carb!)
Instant Pot Beef Barbacoa
Easy Instant Pot Chicken And Rice
Shredded Mexican Chicken (Slow Cooker & Instant Pot)
Summer Time Recipe Entertaining Recipes!
Grilled BBQ Chicken Drumsticks
Jalapeno Cilantro Mexican Corn Salad
Dill Potato Salad with Mustard Buttermilk Dressing
Greek Tortellini Pasta Salad with Feta Cheese
Southwest Avocado Chicken Salad
Boiled Lobster with Drawn Butter
Broccoli Salad with Grapes and Bacon