This Easy Instant Pot Beef Barbacoa Recipe is hearty and rich, smoky and saucy, and all kinds of delicious!! It takes a fraction of the time to cook in the Instant Pot and shreds effortlessly.
It's perfect for tacos, burritos, burrito bowls, enchiladas, tostadas, or straight-up with a fork!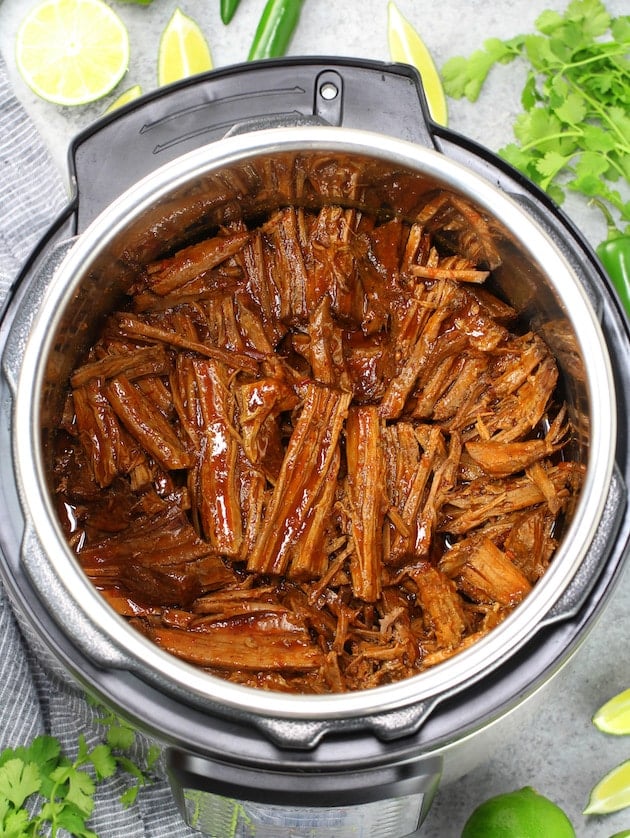 Jump to:
Several years ago I created a Slow Cooker Beef Barbacoa recipe. That was before I embraced the Instant Pot trend. It was so tender, juicy, a little spicy, and super flavorful!
Recently I had one reader write a review and tell me her mom has been enjoying it for a while now, and it's her go-to recipe! Gotta love that!
The only downside to the dish was that it took several hours to slow cook in the crockpot. But not anymore…
I give you Easy Instant Pot Beef Barbacoa!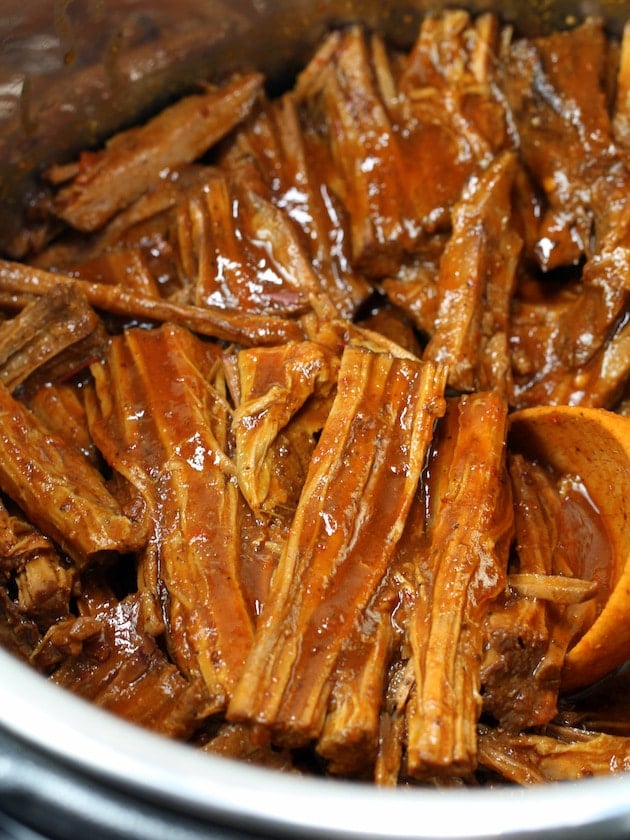 It's the same tender meat with the most delicious smoky flavor from the chipotle peppers in adobo sauce, garlic, and cumin. But it's pot-to-table in 2 hours. And most of that time is hands-off cooking.
And this is why we lovingly refer to the Instant Pot as the "Miracle Pot" in our house.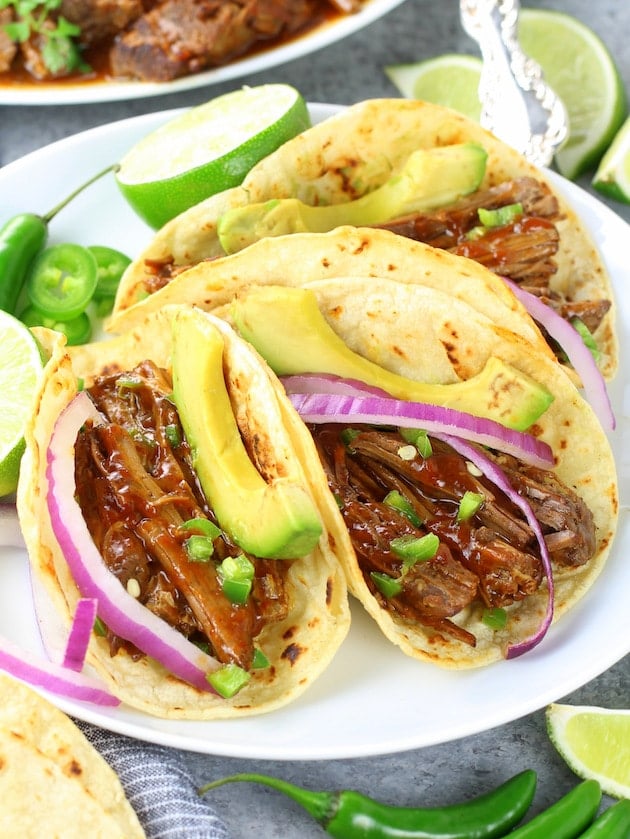 What is Beef Barbacoa?
"Barbacoa" is often said to be the grandfather of modern-day BBQ. It was initially made with beef tongue and beef cheek meat, or even whole sheep.
Believed to have originated in Barbados, it was a method of slow-cooking marinated hunks of meat (wrapped in fire-resistant fig branches) over an open fire or cooked in a hole dug in the ground.
But not today!
We're all modern and fancy and using a beef roast and our Instant Pot. What can I say? Times change – and I'm totally ok with that! (I'm sure the original beef barbacoa was delicious, but I'll pass on the beef tongue.)
So you may be wondering… what cut of meat to use for this barbacoa recipe?
I'm so glad you asked!

What type of beef do you use in barbacoa?
There are several cuts of beef that would work for this recipe. When I make it in the slow cooker, my go-to cut is a chuck roast. It's a more fatty cut than others and does well with a long slow cook time. But I usually end up trimming a decent amount of the fat off the roast before cooking.
And sometimes I still end up separating some of the fat from the sauce when it's finished cooking as well.
I've also used a top round roast, and bottom round roast in the slow cooker as well. I've never used brisket but I know many people like that cut.
For our Instant Pot Barbacoa Recipe today I'm suggesting the bottom or top round roast. Here's why: there is very little fat marbled throughout the meat and the fat that is on the outside edge is really easy to trim off. Which saves a reasonable amount of time in prepping the roast.
And I really like the texture of the meat a bit better after it's shredded. It keeps its shape nicely and doesn't just become one big ball of shredded meat yarn.
Plus, since these cuts are leaner they are healthier as well. #nailedit
How about we take a few minutes and talk about how to cook barbacoa beef?
How to make barbacoa beef
First, I add all the ingredients for the sauce together and use my immersion blender to puree it until it's really smooth.
Next, I trim the visible fat off the roast and cut it into 4-inch x 4-inch pieces of meat. I season the meat with salt and pepper and drizzle on a little olive oil to coat.
Then I turn my Instant Pot to saute mode (hot) and allow it to heat up.
I add olive oil to the inner pot and start browning the meat in two batches for 1-2 minutes a side.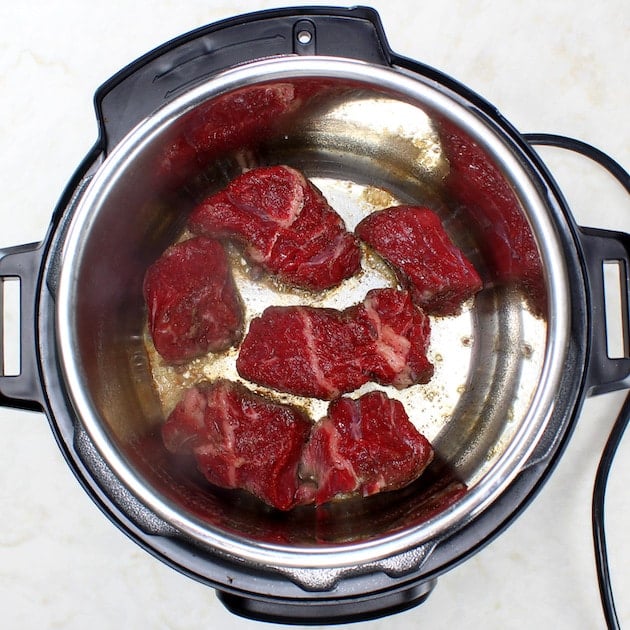 I remove the meat and pour the sauce into the inner pot, then work the brown bits off the bottom ultimately. (This will ensure you don't get the burn notice.)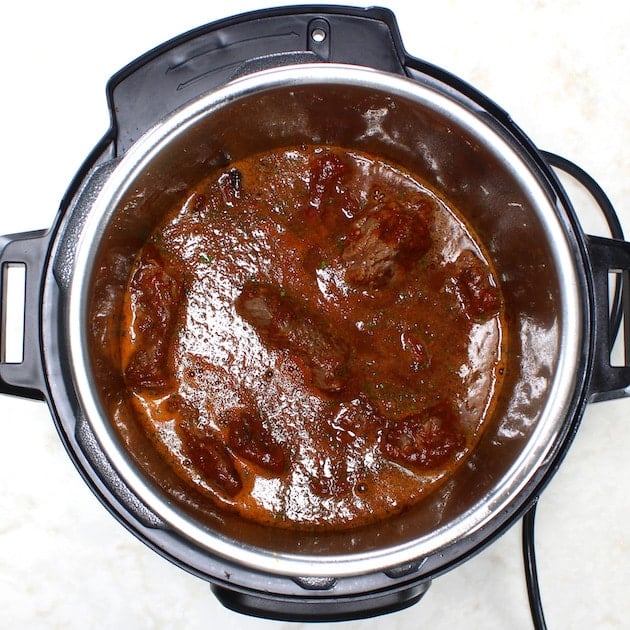 Finally, I add the meat back in and pressure cook it on high pressure for 60 minutes. I allow it to release pressure naturally for 25 minutes. Then finish with a quick release, remove the lid, and turn the pot off.
Next, I remove the meat and shred it.
At this point, you can drizzle the sauce over your meat and toss it together.
Or, if you like a thicker sauce then turn the IP to saute mode and make a slurry of water and cornstarch in a small bowl. Then whisk it into the sauce and simmer until it thickens – about 3 minutes.
Next, pour as much as you'd like over the meat, gently toss and devour!
This barbacoa beef recipe is truly something special… hearty, rich, and smoky with a little kick.
And it makes a ton of meat, which can be stored in the refrigerator for 4-5 days in a sealed container.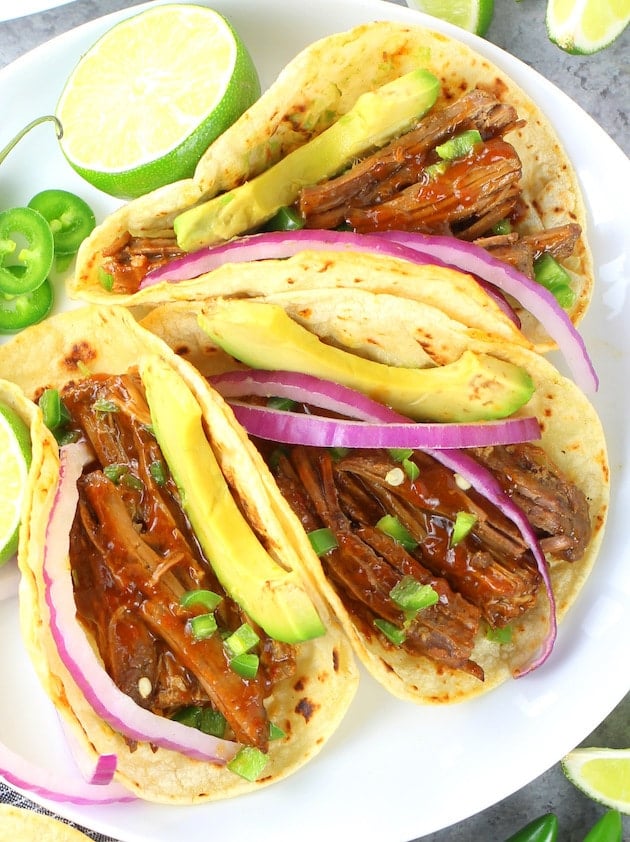 This Instant Pot Barbacoa Beef Recipe is so delicious to serve as tacos, burritos, burrito bowls, enchiladas, tostadas… or straight up with a fork like me!
Enjoy, my friend!
Yield: 10
Easy Instant Pot Beef Barbacoa
This Easy Instant Pot Beef Barbacoa is hearty and rich, smoky and saucy, and all kinds of delicious!! It takes a fraction of the time to cook in the Instant Pot and shreds effortlessly.
Cook Time
1 hour
10 minutes
Pressurize + Depressurize Time
35 minutes
Ingredients
For The Beef:
3.5 pound boneless beef roast (bottom round is my preferred cut for this recipe but other options are top round, or chuck roast trimmed of fat)
3 tablespoons olive oil
2 teaspoons salt
1 teaspoon pepper
For the Barbacoa Sauce:
6 large cloves of garlic, minced
½ cup cilantro, finely chopped
3 tablespoons cider vinegar
1½ tablespoons cumin
3 chipotle peppers in Adobo sauce chopped finely (5 peppers if you like it spicy.)
2 tablespoons Adobo Sauce
3 ounces tomato paste
1 tablespoon brown sugar
1 tablespoon onion powder
8 ounces beef stock
For the Sauce Thickener (optional):
1 tablespoon corn starch
2 tablespoons room temp water
Instructions
For the Barbacoa Sauce:
Mix the sauce ingredients together in an immersion blender, blender or food processor until very smooth.
For The Beef:
Trim and discard excess fat from the meat. This will ensure that you're not left with oily, greasy cooking liquid. Cut meat into 4x4 inch hunks.
Coat the meat with salt, pepper and 1-2 tablespoons of olive oil.
Turn the Instant Pot to the saute mode. When it is hot, add 1 tablespoon of olive oil to the bottom of the inner pot. Saute the meat in 2 batches (add more olive oil if needed between batches), turning and browning 1-2 minutes per side. Turn the IP off.
Remove all the meat and add the sauce to the inner pot. Stir and scrape the brown bits off the bottom of the pot (this will prevent the burn notice).
Add the meat back to the IP and submerge it in the sauce. Seal the IP lid and pressure cook for 60 minutes on high. Depending on the exact size of your roast and your IP, it will take about 9-12 minutes to come to pressure.
After the 60 minute cook period, allow the pot to naturally release for 25 minutes then do a quick release to completely depressurize. Turn the IP off and remove the lid.
At this point, the meat should be tender and pull apart easily. Use tongs or a slotted spoon to transfer the meat to a cutting board, then pull the roast with two forks.
Skim any fat off the cooking liquid. Then place the pulled meat in a serving dish and ladle the desired amount of sauce over it.
Or if you prefer a thicker sauce: After you remove the meat from the Instant Pot, set the IP to saute mode. Make a slurry of water and corn starch in a small bowl, then whisk it into the sauce and cook until it the sauce has thickened – about 3 minutes.
Serve warm with your favorite toppings on corn or flour tortillas, corn tostadas, corn taco shells, or by itself with some rice and beans.
Nutrition Information
Yield
10
Serving Size
5.5 ounces
Amount Per Serving
Calories

353
Total Fat

23g
Saturated Fat

9g
Unsaturated Fat

0g
Cholesterol

110mg
Sodium

750mg
Carbohydrates

6g
Fiber

1g
Sugar

3g
Protein

32g
Be sure to check out these other great instant pot recipes!