Heirloom Tomato Cornbread Salad is an easy side dish for any summertime meal! This hearty salad highlights spicy arugula, crusty cornbread, shaved Parmesan cheese, & late summer heirloom tomatoes - all drizzled in olive oil and white balsamic vinegar.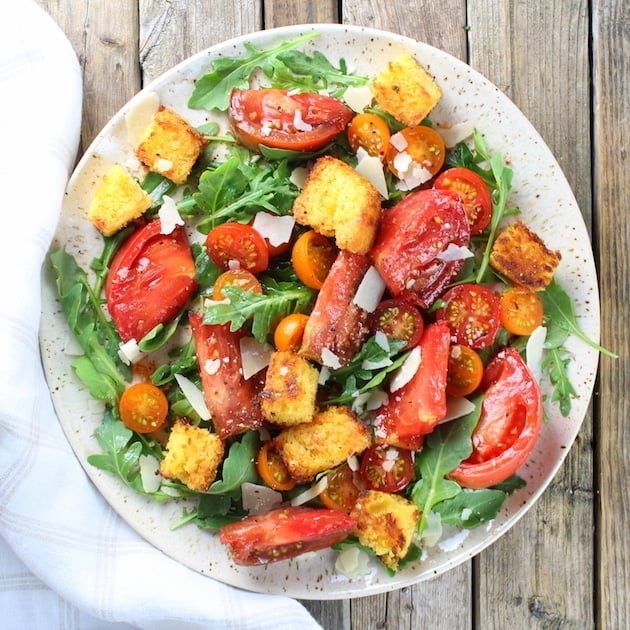 Have I ever shared with you my love of Chipmunks?? How is it possible that something is so adorable!? With their teeny tiny T-Rex arms, their miniature fur-bodies and short little tails they hold straight up in the air like an antenna when they run. Sigh. I love them.❤️ They are my outdoor pets. So I've named them – of course. "Chips" is what I call them - except for the babies, which are all called "Nips" (did I mention I love them?). ❤️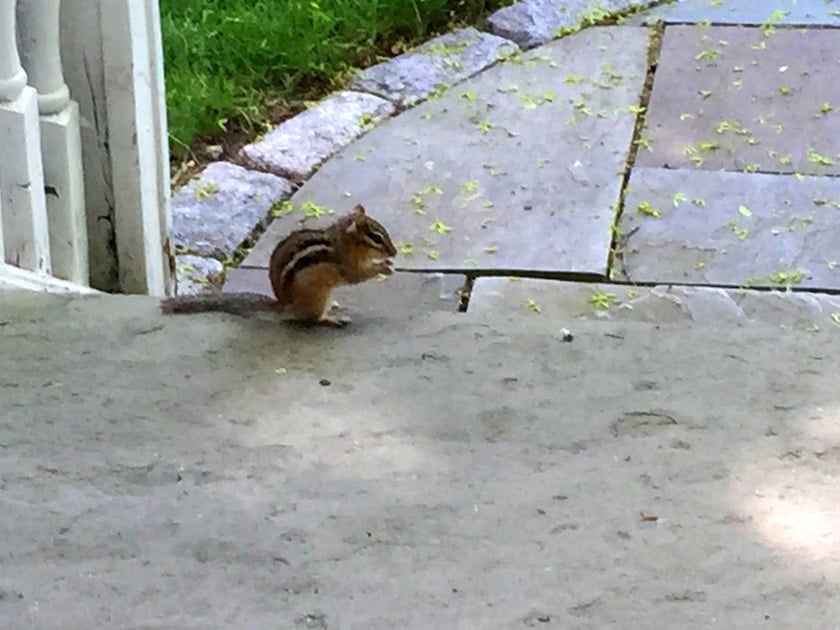 Since we don't deter them in any way, we have a small colony living around our property. Sometimes they take sun naps on our front porch. Yes – I know they're sleeping 'cause their little eyes are closed. So precious I don't have words. It's really a wonderful compliment that they feel comfortable enough to take a nap on my porch. They pretty much have free reign of our property. And I'm ok with that.✌️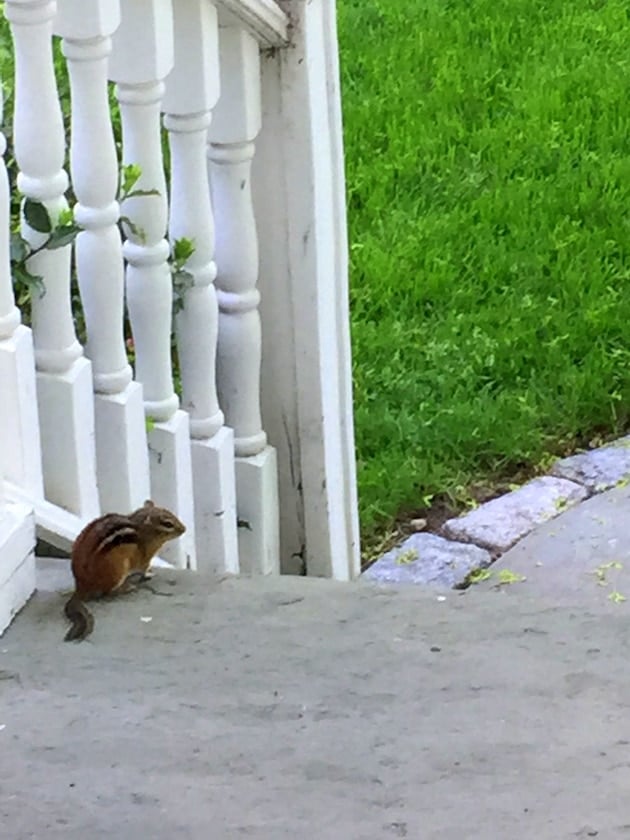 Once in a while I'll be sitting on the back patio and one will come running by – almost stepping on me. When they realize I'm there, they get all shocked and surprised like I'm this foreign object in the midst of their colony. And while that is probably true, it is my house, my yard and my patio - Hello! OK, who am I kidding – it's all theirs. And as long as I get to watch them be adorable I'm totally fine with that.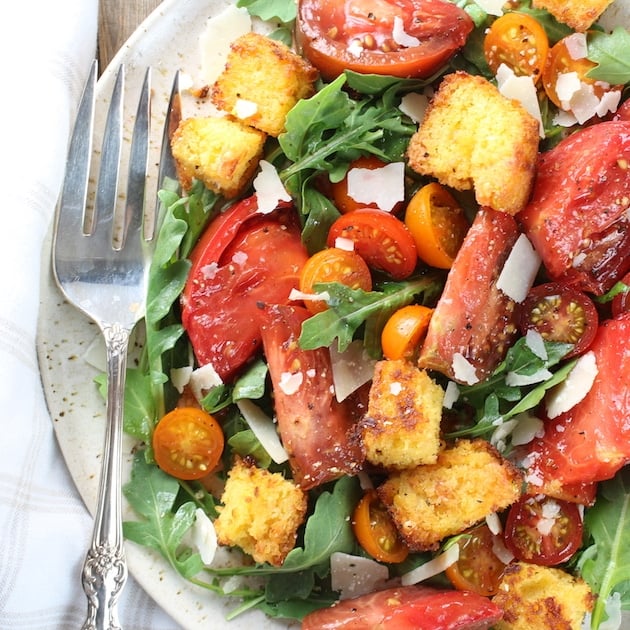 Have you heard them chirp at each other? Their whole bodies shake. I'm not surprised, because for something so tiny they are really loud. Once in a while, usually in the morning one of them will chirp over and over again in this rapid fire sequence. It literally goes on for several minutes. We've decided it's the momma Chips calling the all the baby Nips back home for a nap. (Swoon.)?
I've lived in multiple locations throughout my life, when I moved to New England it was the first time I saw a live chipmunk. Maybe that's why they're so special to me. And the fact that our house is a pet-free zone.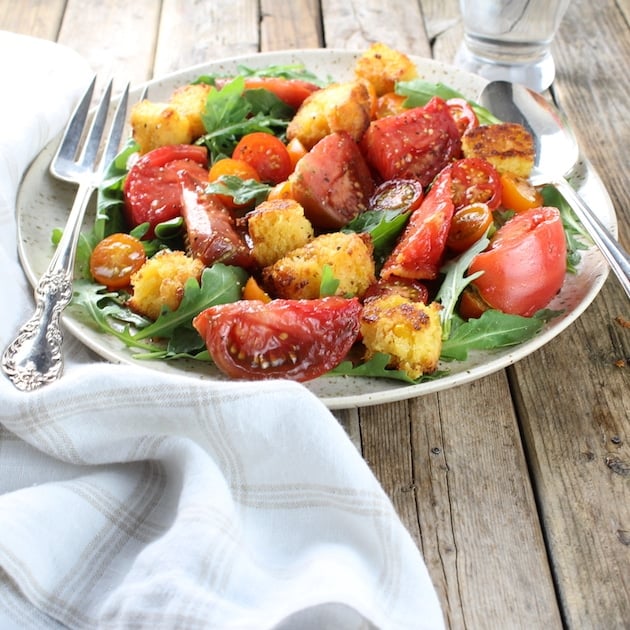 Unfortunately, there are some animal allergies in my household, thus no "inside pets." But I'll keep enjoying my sweet Chips and Nips from afar... (one day I'll get some chickens and maybe a goat, but that can just be between me and you).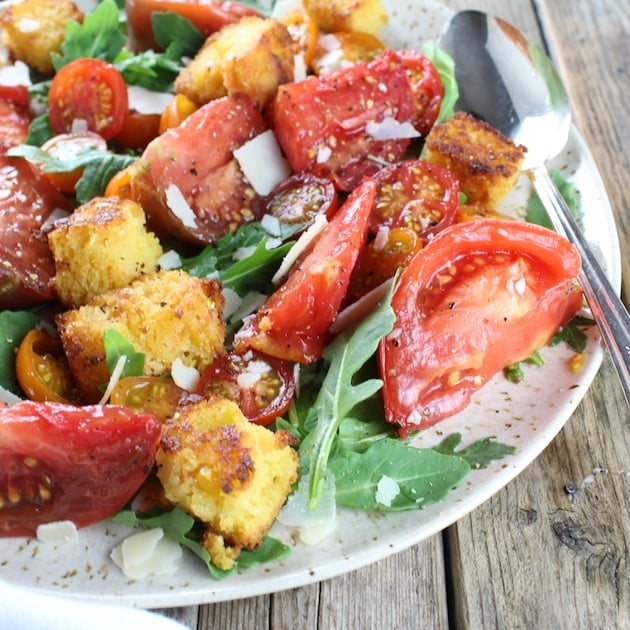 What does this have to do with and Heirloom Tomato Cornbread Salad you're asking yourself? The answer is quite simply - absolutely nothing. Sorry I have no creative tie ins for all of this. I'm just a girl sitting on the back porch attempting to write a post about this amazing salad, getting distracted by all these teeny tiny precious chipmunks. You understand I'm sure. But this salad…
It's so simple and so delicious!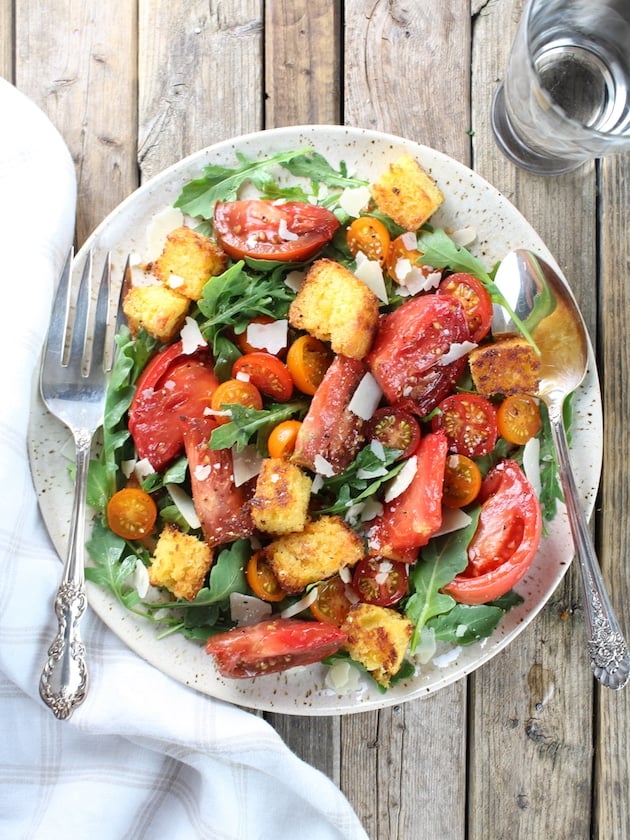 I have such a great appreciation for heirloom tomatoes. Their taste cannot be matched by other varieties. They are definitely one of my favorite things about summer.☀️
Because they're so delicious, you really don't want to distract from their incredible flavor.
So today's recipe is all about elevating the heirloom tomato to the baller status they deserve. I give you… Heirloom Tomato Cornbread Salad.? ? Fresh, bright and super satisfying.✨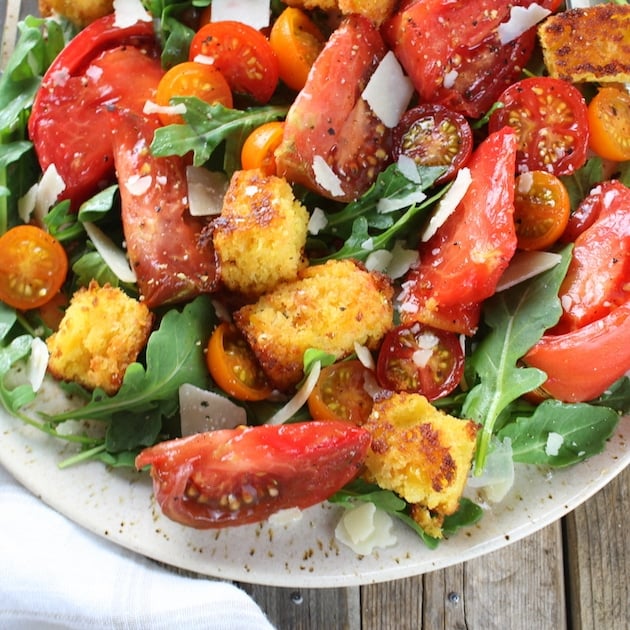 First I whip up one of my cornbread recipes…. Caribbean Cornbread for something on the sweeter side, and Edith's' Cornbread for something a bit more savory. Then I either cut it into cubes and let it sit on the counter overnight, or I cube it and bake it at 400 degrees for 15-20 minutes. The goal is a slightly crunchy, dry cornbread crouton.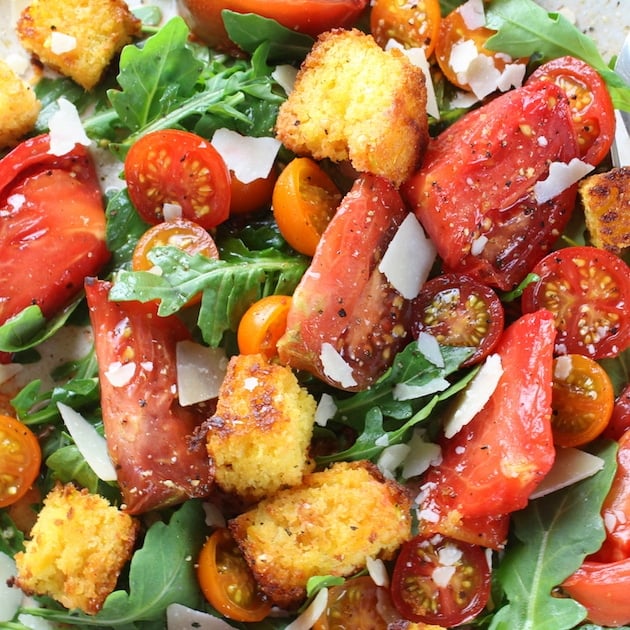 Next I cut my heirloom tomatoes into wedges and sprinkle with some salt and fresh ground pepper. Then mix together 2 tablespoons white balsamic vinegar and extra virgin olive oil. And now we're ready to assemble.
I scatter some baby arugula on a platter, and then layer on my tomatoes, and the cornbread. Then drizzle on the oil and vinegar mixture, sprinkle with some shaved Parmesan, more salt, and freshly ground pepper.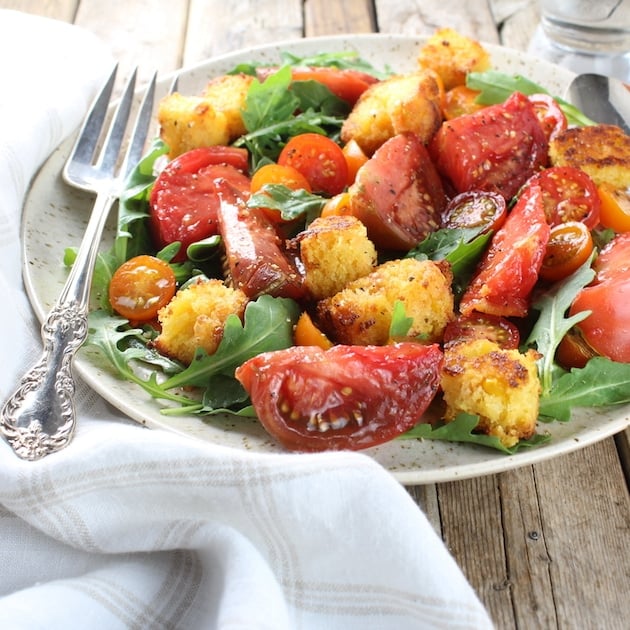 So easy, fresh and delicious! The prefect recipe to elevate those fancy tomatoes and give you a big ole plate of juicy summer goodness.
Heirloom Tomato Cornbread Salad - another tasty way to enjoy all the veggie delights that summer has to offer. Buon Appetito!
I would love to connect with you! Leave a comment and follow me on Instagram, Twitter, Facebook, & Pinterest!
Yield: 6 servings
Heirloom Tomato Cornbread Salad Recipe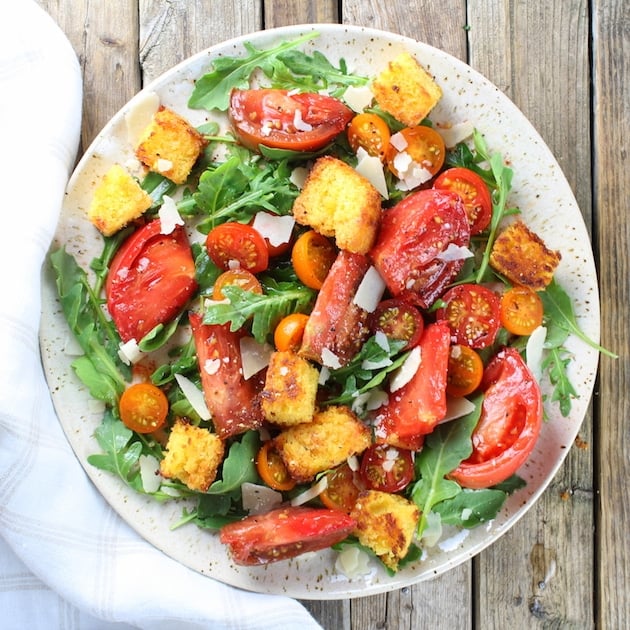 Heirloom Tomato Cornbread Salad - easy, fresh, delish! Heirloom tomatoes, homemade cornbread, white balsamic, olive oil, & shaved Parmesan on baby arugula.
Ingredients
3-4 cups of (one-inch) cubed sweet or savory cornbread
2 pounds heirloom tomatoes, (any color shape or size)
2.5 ounces baby arugula, washed and dried
2 tablespoons extra virgin olive oil
2 tablespoons white balsamic vinegar
1 teaspoons salt
1 teaspoon fresh cracked pepper
¼ cup shaved Parmesan cheese
Fresh basil for garnish, (optional)
Instructions
After cutting cornbread into one-inch cubes, either leave on counter overnight, or bake in 400 degree oven for 15 minutes. You want it to dry out and become crusty. Allow cubed cornbread to fully cool before assembling the salad.
Cut heirloom tomatoes into wedges (or in half if smaller) and sprinkle with salt and pepper.
In a small bowl, mix together 2 tablespoons white balsamic vinegar and extra virgin olive oil.
Scatter baby arugula on a platter, then layer on tomatoes, cornbread, and fresh torn basil (if desired).
Drizzle on the oil and vinegar mixture, sprinkle with more salt, freshly ground pepper, and shaved parmesan.
Nutrition Information
Yield
6
Serving Size
6 ounces
Amount Per Serving
Calories

191
Total Fat

8g
Saturated Fat

2g
Unsaturated Fat

0g
Cholesterol

19mg
Sodium

646mg
Carbohydrates

23g
Fiber

2g
Sugar

9g
Protein

5g
Three Cheese Tomato Thyme Galette: